Jump to Recipe
This Chickpea Hummus post includes affiliate links. When I find a great product or service, I like to share it with my readers. Sometimes I use affiliate links so I can earn a commission for my recommendations. Thank you for your support!
Enjoy the Flavors of the Mediterranean with this Easy Chickpea Hummus Recipe
If there's a list of go-to plant-based foods, then chickpea hummus is certainly on it. This rich, flavorful spread can be enjoyed so many ways, any time of the day. I spread it on toast in the morning, dip vegetables in it in the afternoon and toss it in pasta in the evening.
What is in Chickpea Hummus?
Chickpeas (aka garbanzo beans) are the primary ingredient in hummus. These popular legumes are incredibly versatile, finding their ways into many different cuisines. Chickpeas are also packed with nutrition, providing a good source for protein, fiber, folate and manganese.
In addition to chickpeas, classic chickpea hummus recipes typically include tahini. Tahini is a thick paste made from sesame seeds, similar to nut butters like almonds or peanuts. Unlike almond or peanut butter though, tahini has a deep earthy flavor and a smooth creamy texture.
Garlic, extra virgin olive oil, fresh lemon juice, cumin and salt round out the ingredient list for this chickpea hummus recipe, creating a richly creamy, deeply flavorful dip, spread or sauce.
How Do You Make Chickpea Hummus?
When I make chickpea hummus, I like to start with dried chickpeas. This, of course, adds some time to the recipe, but I prefer the flavor over canned chickpeas.
You can prepare the chickpeas by soaking them overnight and then simmering them in water to soften them. If you have an Instant Pot, then you can save a lot of time by prepping them in there. Simply add the dried chickpeas to the Instant Pot and add 2 cups of water. Then pressure cook on high for 45 minutes and allow for a natural release.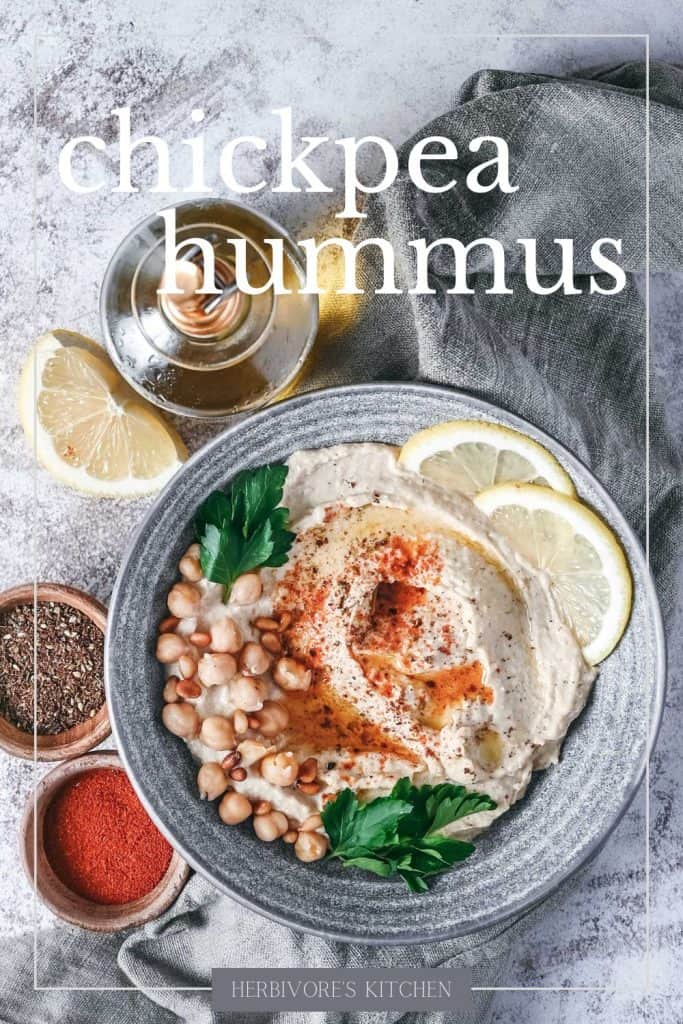 Once the chickpeas are ready, give them a quick rub with a clean kitchen towel. This will help them to shed their skins and give the hummus a creamier texture. Then set them aside, as you'll add them to the rest of the blended ingredients last.
What Do You Eat with Hummus?
When most people think of hummus, they think of it as a dip. And while it's true that hummus is the perfect complements to carrot & celery sticks, pepper slices and pita bread, there are plenty of other ways to enjoy it.
One of my favorite ways to enjoy hummus is tossed in pasta. I just add a little hot water to thin the hummus slightly and then toss in my favorite pasta. Some diced tomatoes, cucumbers and kalamata olives add additional color and flavor.
Chickpea Hummus also makes for a great savory breakfast option. Spread it on toast and add cucumber slices, peppery arugula, microgreens, pumpkin seeds and some everything seasoning and you'll power through your morning!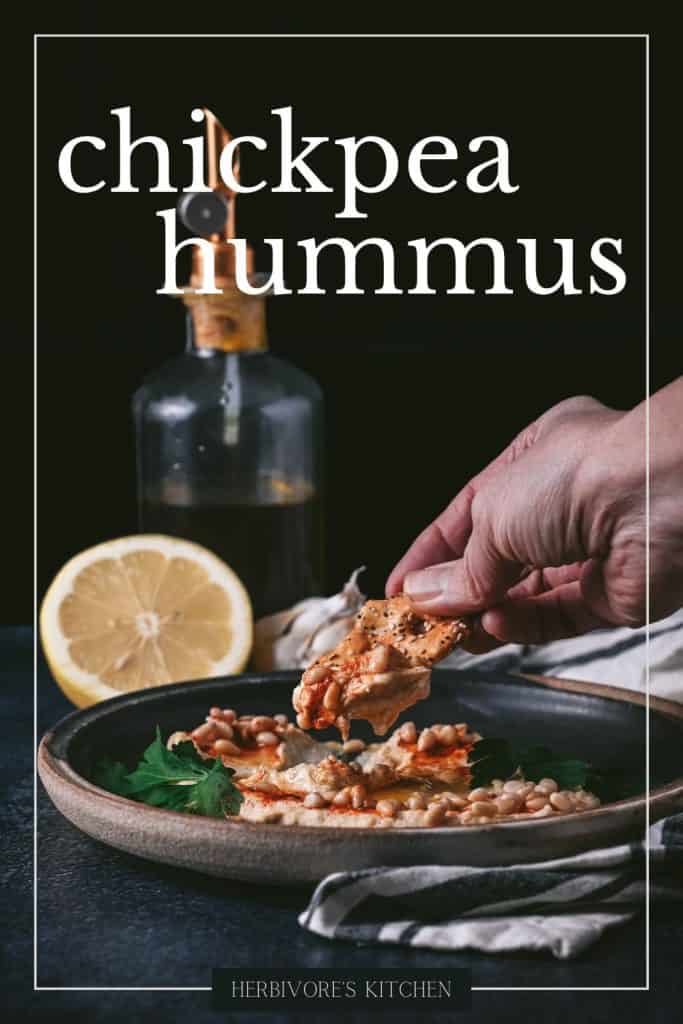 Do You Love This Chickpea Hummus Recipe?
Do you love this Chickpea Hummus recipe? Then be sure to check out my other Mediterranean recipes! If you're into toppings, then you've got to try my Mediterranean Salsa! It's the perfect complement to this Chickpea Hummus! Forever-searching for a good falafel recipe? Then you'll love my Baked Falafel Sandwiches!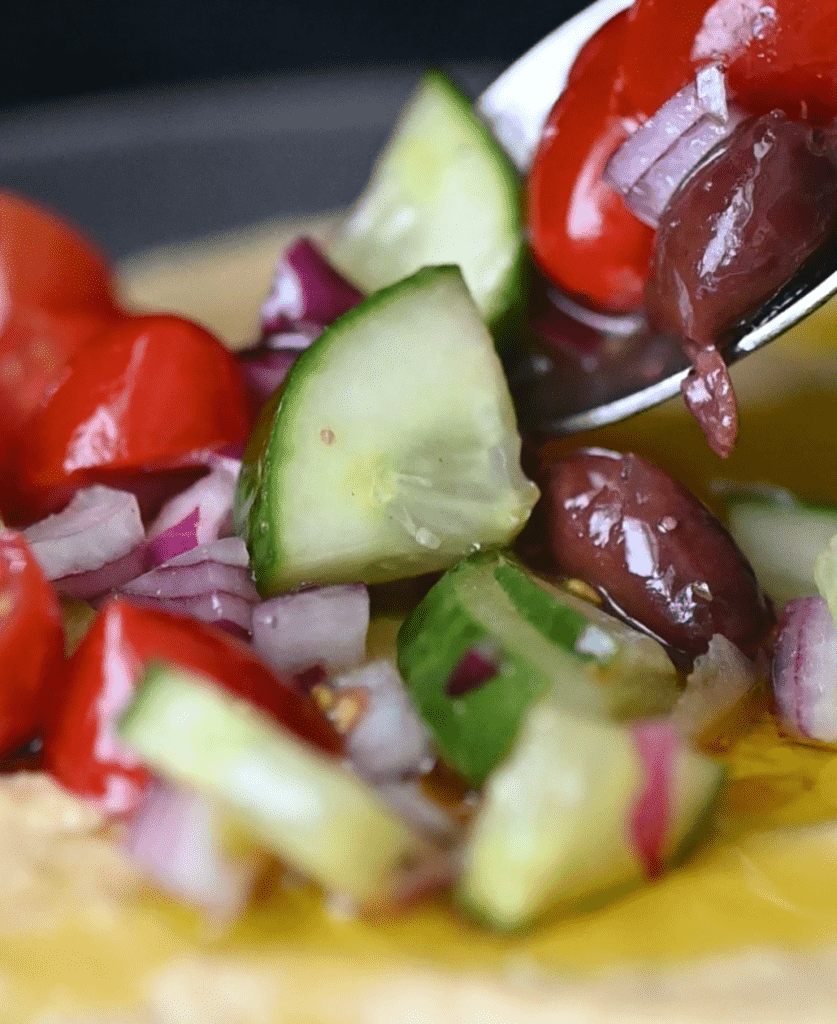 It's time to think about salsa beyond the confines of a tortilla chip dip or a taco topping. Don't get me wrong – dipping chips is salsa fresca is one of my favorite pass times. But when you expand your salsa horizons you'll be amazed by the amazing flavor combinations you can explore.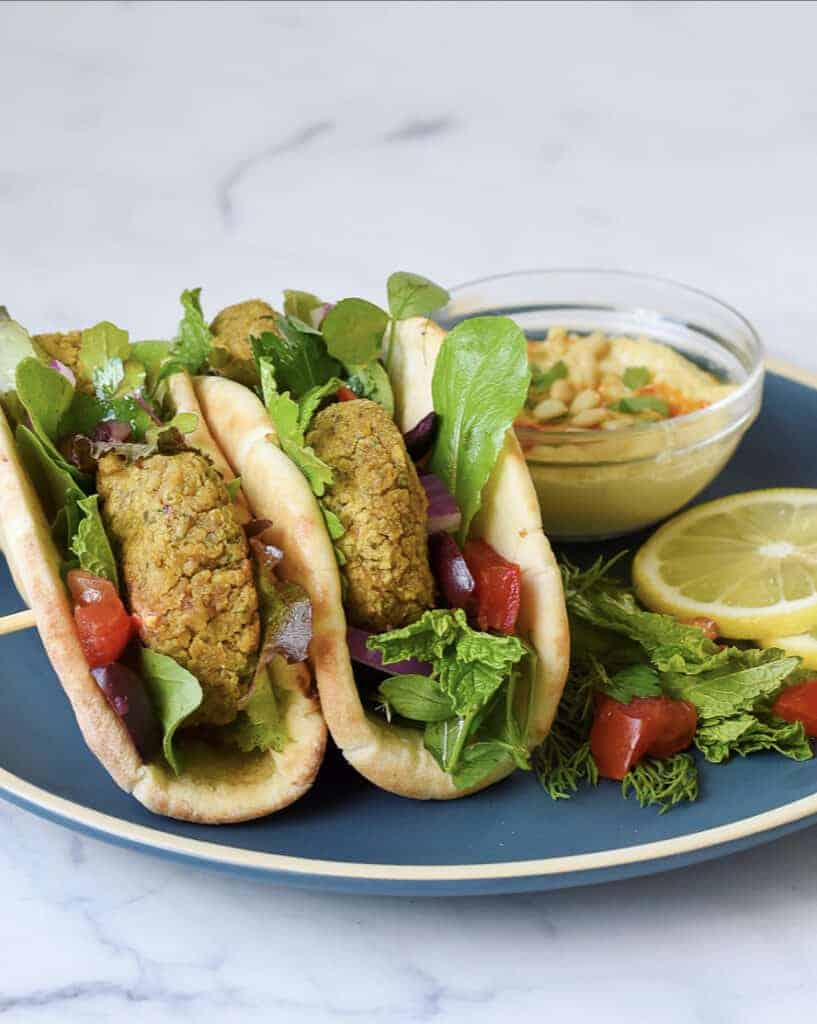 Looking for a healthy vegan lunch? These baked falafel sandwiches are full of healthy ingredients – like fresh herbs, chickpeas and flaxseed meal. I wrapped my falafel sandwich is a warm pita and topped it with chopped tomatoes, fresh garden greens, homemade hummus and a cashew cream dill sauce.
What's in My Kitchen to Make This Chickpea Hummus Recipe Easier?
Want to know what tools and resources I keep on hand to make my vegan cooking even easier? Here's a short list of what helped me create this blog post and recipe. For the complete list, visit my Shop where you can find the kitchen gadgets I like as well as a list of books that I recommend.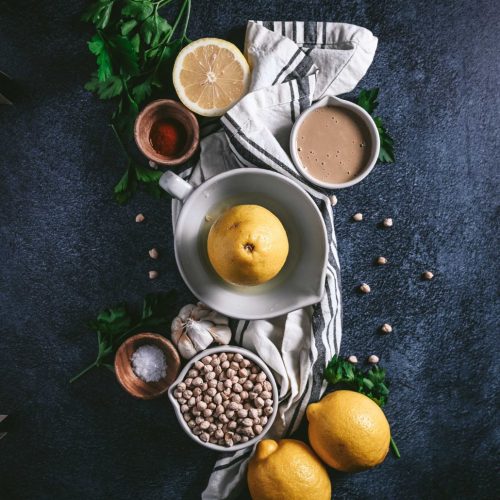 Chickpea Hummus
Enjoy the flavors of the Mediterranean with this easy chickpea hummus recipe. This creamy hummus recipe makes a great dip, spread & sauce!
Ingredients
1

cup

dried chickpeas

see Recipe Notes if using canned chickpeas

2

cups

water

2-3

fresh lemons

juiced

2

cloves

garlic

peeled

1

tsp

salt

1

cup

tahini

1

tbsp

cumin

1/4

cup

extra virgin olive oil

1/2

cup

ice water

as needed

toasted pine nuts

as optional garnishment

smoked paprika

as optional garnishment

fresh parsley

as optional garnishment
Instructions
Prepare the chickpeas by soaking overnight. Drain and rinse and then add the soaked chickpeas to a small stockpot. Cover with water, then bring to a simmer. Simmer for ~1 hour, covered, until the chickpeas are soft. In the alterative, add the chickpeas to an Instant Pot along with 2 cups of water. Pressure cook on high for 45 minutes and allow for a natural release.

Drain and rinse the chickpeas and lay them out on a dry, clean kitchen towel. Fold the end of the towel over the top of the chickpeas and gentle rub to remove the skins. Set aside.

Add the fresh lemon juice, garlic and salt to the food processor and blend until the garlic is reduced. Set aside for 10 minutes.

Add the tahini, cumin and extra virgin olive oil to the food processor and blend to a smooth paste. Add the chickpeas to the food processor and blend on high until the desired consistency is achieved. This may take several minutes. Add ice water 1 tbsp at a time to thin the consistency if necessary.

Store the hummus in an airtight container in the refrigerator. Serve with a drizzle of extra virgin olive oil, toasted pine nuts, smoked paprika and fresh parsley, as desired.
Notes
You can use 1 25 oz can of chickpeas (garbanzo beans) in lieu of dried chickpeas. Drain and rinse the chickpeas, then add to a small stock pot and cover with water. Simmer the chickpeas, covered, for about 30 minutes or until soft. Drain and rinse, then lay the chickpeas out on a dry, clean kitchen towel. Fold the end of the towel over the top of the chickpeas and gentle rub to remove the skins. Set aside.
About Herbivore's Kitchen
Herbivore's Kitchen is a plant-based food blog started by me, a vegan home chef, cookbook author, aspiring food photographer and how-to-be-a-better-food-blogger junkie. You'll mostly find creative and tasty vegan recipes and detailed deep dives into vegan ingredients (check out my Vegucation section) on my blog. I love knowing as much as I can about the food that I make. I'm also really into running a food blog as a business, so I've also got a section of my blog titled: Confessions of a Food Blogger where I get into the nitty gritty on how to build, manage, market and monetize a food blog.