Jump to Recipe
This Zucchini Involtini recipe includes affiliate links. When I find a great product or service, I like to share it with my readers. Sometimes I use affiliate links so I can earn a commission for my recommendations. Thank you for your support!
Explore the Pleasures of Plant-Based Eating with this Vegan Involtini Recipe
Need proof that plant-based eating can be amazing? Then you have to try this Zucchini Involtini recipe!
Great plant-based recipes are often the product of diligent restaurant reconnaissance. And this vegan involtini recipe is the direct result of one of the best restaurant meals I've had in recent memory. It's wildly decadent, despite being 100% dairy free, featuring vegan basil pesto and plant-based almond ricotta cheese.
And it's a stunner – perfect for date night or vegan entertaining.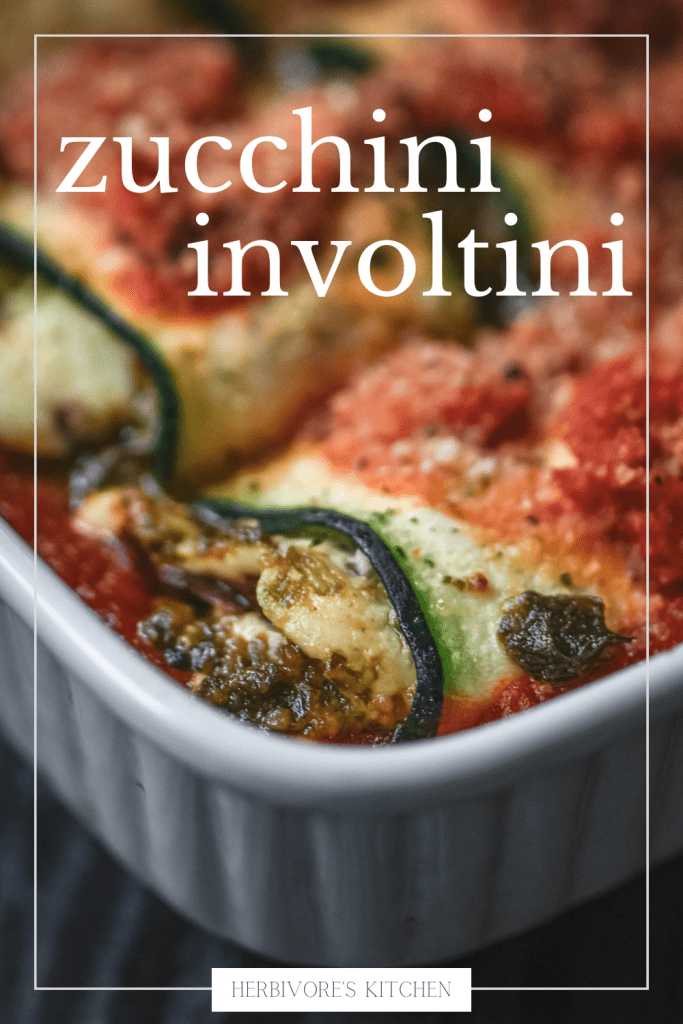 What is Involtini?
Before we hit the kitchen, let's talk definitions: involtini definition.
So, what is involtini?
If you haven't come across involtini before: welcome. It is one delicious bundle of Italian cuisine. Linguistically. Involtini covers a broad category of small bite dishes where the bites consist of a savory filling wrapped in an outer layer.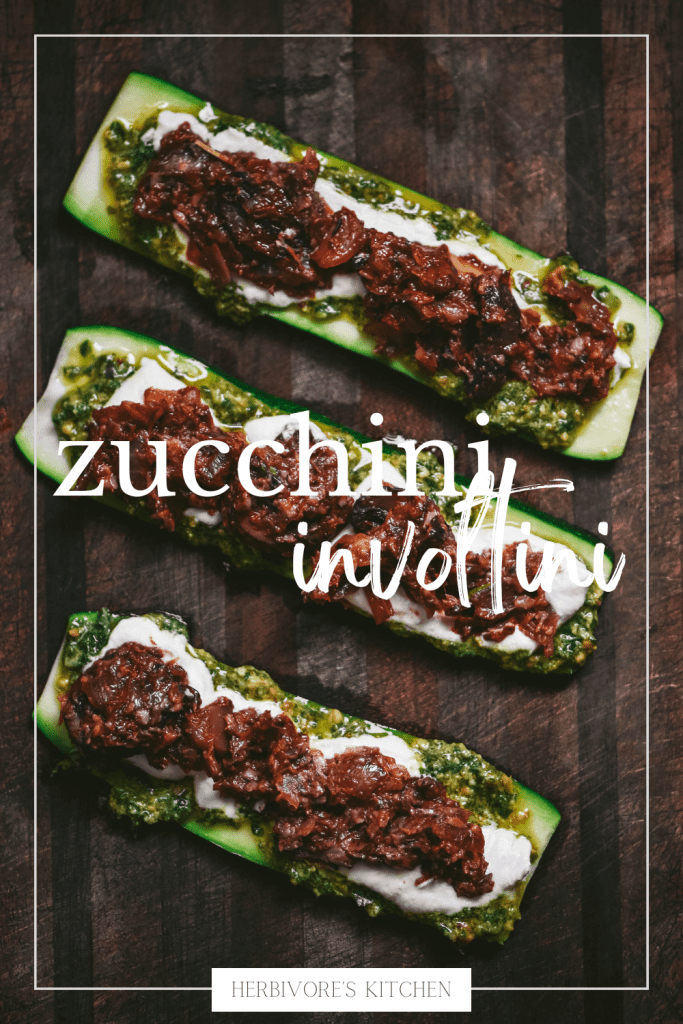 Involtini recipes often include meat wrappers, but there are plenty of vegetarian involtini recipes out there as well. And now…? Well, now, you have this delicious plant-based involtini recipe.
What is the Difference Between Involtini and Rollatini?
In a word: geography. Involtini is a traditional Italian dish, while rollatini is an Americanized version of the same.
How To Make Zucchini Involtini
Granted, this dish does take some time to put together. Particularly if you decide to go 100% from scratch, making your own vegan basil pesto, almond ricotta and marinara sauce.
Fresh Basil Pesto Sauce
I highly recommend taking the time to make your own basil pesto and almond ricotta. Jarred basil pesto, which is pasteurized, isn't nearly as flavorful and fresh basil pesto.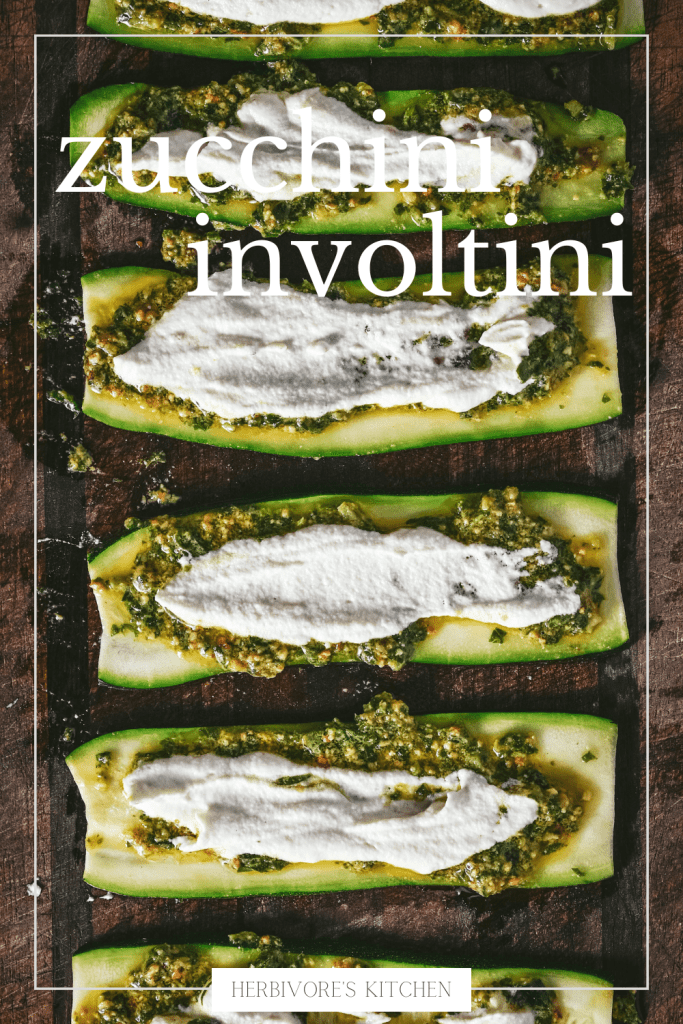 Homemade Almond Ricotta
And plant-based cheese? Well… I'm just not into the idea of swapping out a rich, creamy homemade vegan cheese sauce with store-bought shreds. It's not a fair fight. Homemade wins ever time in this category.
Fortunately, homemade vegan almond ricotta is really, really easy to make. It takes a little time, yes. But that's just because the almonds need to be soaked prior to being blended. Choosing blanched almond slivers will speed up the process and the soaking is timed around other preparation steps.
Marinara Sauce Swap
Marinara sauce, while pretty easy to make, is the one place where I think it's totally fine to cut corners. Look for a good store-bought sauce with limited added sugar and salt.
Zucchini Involtini Filling
The filling for this vegan involtini recipe is veggie-packed! It includes onions, garlic, diced zucchini, sauteed mushrooms and rich tomato paste.
To really make this involtini recipe sing, I sauteed the mushrooms in red wine before adding the onions, garlic and zucchini to the mix. If you're not into wine, then it's fine to swap it out with water or veggie broth, but don't skip this early sauté step. Pre-cooking mushrooms reduces the amount of oil needed later in the recipe.
I also threw the finished filling into my mini food processor for a quick minute (I already had it out for the vegan basil pesto sauce). A quick process makes it easier to roll the zucchini.
Do You Love This Vegan Involtini Recipe?
Do you love this Zucchini Involtini recipe? Be sure to check out my other plant-based Italian dishes! If you're into alfredo sauce, then my Creamy Cashew Alfredo with Vegan Pancetta & Peas is for you! Forever-searching for an easy plant-based pasta dish? Then you'll love my Vegan Pasta Puttanesca!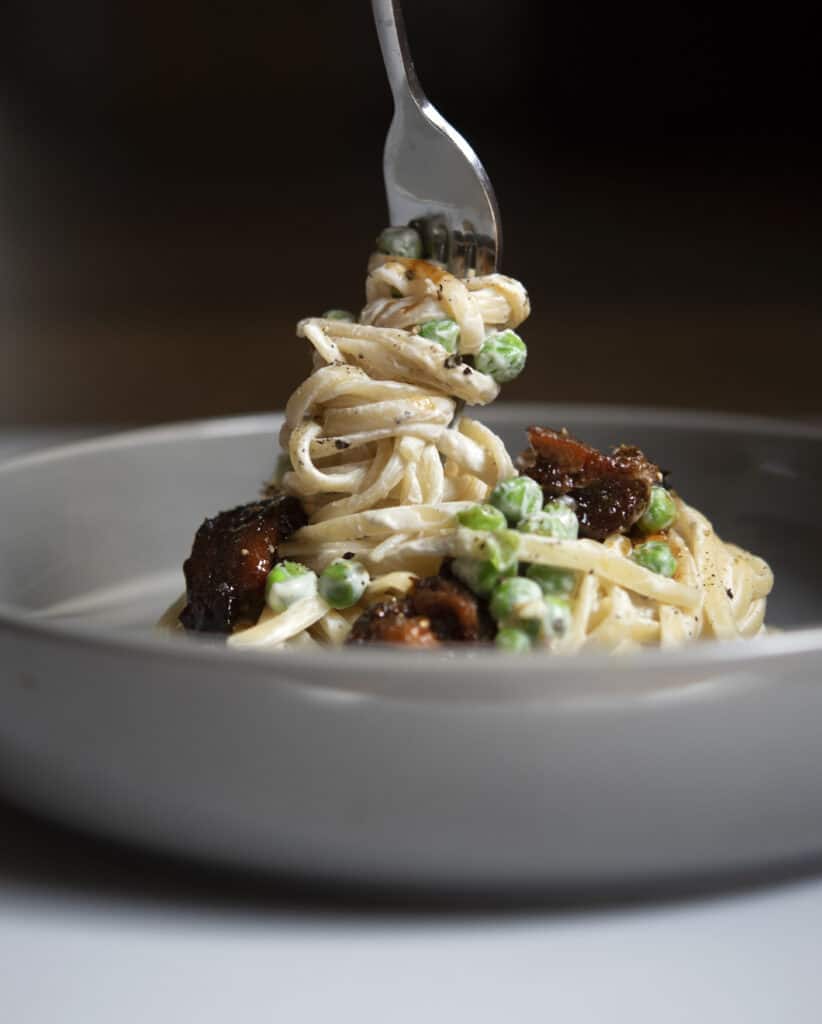 There are few foods that check the comfort food box like Fettuccini Alfredo. It's creamy and carb-y – the perfect food for when the weather is gloomy. One notch above classic Fettuccini Alfredo is Pasta Carbonara, which adds the decadence of eggs and bacon to the perfection of chewy, al dente pasta.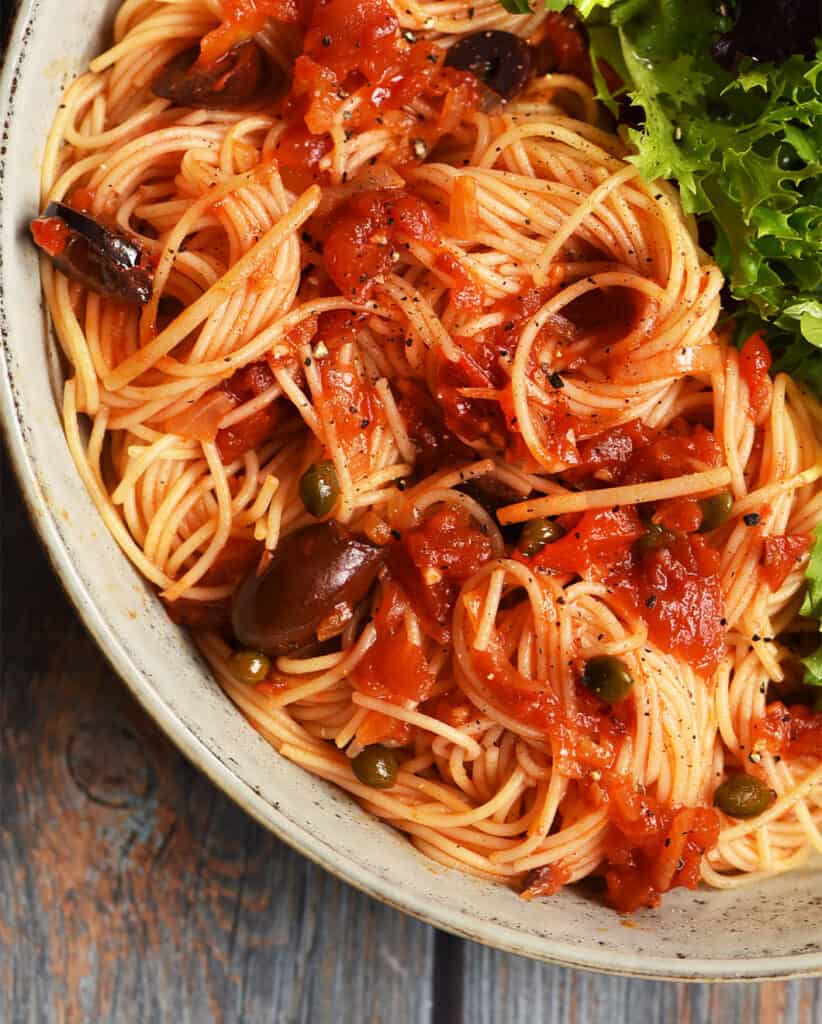 Looking for a quick & easy, wholly satisfying dinner? You need to add this vegan puttanesca pasta recipe to your repertoire. This carb-tastic, plant-based meal is the perfection combination of salty, sweet and acidic — the twist that everyday vegan spaghetti needed!
What's in My Kitchen to Make This Vegan Involtini Recipe Easier?
Want to know what tools and resources I keep on hand to make my vegan cooking even easier? Here's a short list of what helped me create this blog post and recipe. For the complete list, visit my Amazon Shop where you can find the kitchen gadgets I like as well as a list of books that I recommend.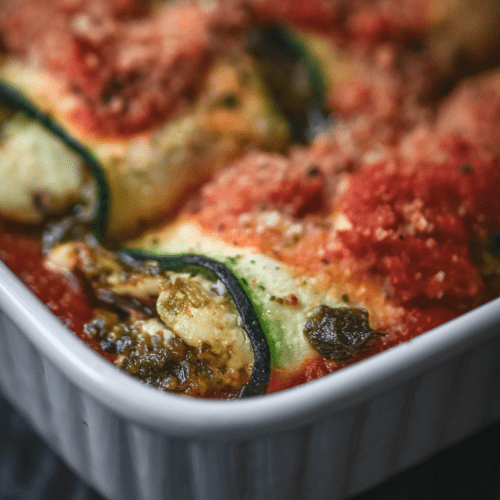 Zucchini Involtini with Basil Pesto & Almond Ricotta
This Zucchini Involtini recipe is wildly decadent, despite being 100% dairy free. This vegan involini recipe features fresh basil pesto and plant-based almond ricotta cheese.
Ingredients
Almond Ricotta
1

cup

blanched almonds

3/4

cup

water

1

lemon

juiced

2

tbsp

nutritional yeast

1/2

tsp

salt
Basil Pesto
1/4

cup

pine nuts

toasted

2

cups

fresh basil

plus additional basil leaves as garnishment

1

clove

garlic

peeled

1/2

tsp

salt

1/2

lemon

juiced

2

tbsp

nutritional yeast

1/2

tsp

crushed red pepper

1/2

cup

extra virgin olive oil
Zucchini Involtini
3

medium zucchinis

washed

1/2

tsp

salt

+ additional salt to sprinkle on zucchini

1

lb

cremini mushrooms

washed and sliced

1/2

cup

red wine

optional

2

tbsp

extra virgin olive oil

1/2

yellow onion

diced

3

cloves

garlic

minced

1

tbsp

Italian seasoning

2

tbsp

tomato paste

3

cups

marinara sauce

1/4-1/2

cup

bread crumbs

salt & pepper

to taste
Instructions
Add the blanched almonds to a heat-safe bowl and cover with boiling water. Set aside.

Heat a small skillet on medium-low heat. When hot, add the pine nuts to the skillet and toast lightly. About 2 minutes. Set aside to cool.

Combine the fresh basil, cooled pine nuts, garlic clove, salt, lemon juice, nutritional yeast & crushed red pepper in a food processor. Pulse until no large pieces remain. Stir in the extra virgin olive oil. Set aside.

Dice one zucchini. Set aside.

Trim the ends of the remaining two zucchinis. Stand each zucchini on a trimmed end and slice lengthwise into thin strips. When all the zucchini has been sliced, lay the slices out on a clean towel and sprinkle with salt. Set aside.

Add the sliced mushrooms and red wine to a large skillet. Bring to a simmer and cook, stirring occasionally, until the wine has cooked off.

Add 2 tbsp extra virgin olive oil, salt, diced onion and diced zucchini to the skillet. Sauté until the onions are soft and slightly browned. About 6-8 minutes.

Add the minced garlic, Italian seasoning and tomato paste to the skillet. Stir until the mushrooms and zucchini are coated and sauté until the tomato paste is fragrant and dark red. Remove from heat and allow to cool.

Drain the soaked almonds and combine the drained almonds, ¾ cup water, lemon juice, salt and nutritional yeast in a high-speed blender. Blend until smooth, adding additional water 1 tbsp at a time if necessary.

Preheat the oven to 350º.

Pat the zucchini dry with a clean towel and wrap in a paper towel. Steam the zucchini in the microwave for 30 seconds to soften. Be careful when removing the zucchini from the microwave.

Cover the bottom of an oven-safe casserole dish with 2 cups of marinara sauce.

Lay out the slices of zucchini on a cutting board and add a thin layer of basil pesto.

Add a small amount of almond ricotta and 2-3 tsp of the mushroom & zucchini filling.

Roll each of the zucchini slices and place them in the casserole dish. Add a spoonful of marinara sauce to the top of each roll. Sprinkle with breadcrumbs.

Bake the involtini in the oven for 30 minutes. The sauce should be bubbling and the zucchini bright green.

Serve immediately, garnished with fresh ground pepper, crushed red pepper and fresh basil.
Notes
Watch the pine nuts carefully. They will go from toasted to burned very quickly!
Salting the zucchini helps it to shed its water content. This will prevent your finished dish from being watery.
Want to skip the wine? No problem, just swap it out for an equal amount of water or vegetable broth.
After it was fully cooked, I pulsed the filling in my mini food processor for a quick minute. It makes it easier to roll the zucchini.
This recipe makes more almond ricotta than required. You can freeze it and use it in a later recipe for about 3 months.
Quickly steaming the zucchini in the microwave makes it more pliable for rolling.
Gluten free? Skip the breadcrumbs.
Want to make it more of a meal? Serve the involtini with angel hair pasta tossed in any leftover marinara sauce and pesto sauce.
About Herbivore's Kitchen
Herbivore's Kitchen is a plant-based food blog started by me, a vegan home chef, cookbook author, aspiring food photographer and how-to-be-a-better-food-blogger junkie. You'll mostly find creative and tasty vegan recipes and detailed deep dives into vegan ingredients (check out my Vegucation section) on my blog. I love knowing as much as I can about the food that I make. I'm also really into running a food blog as a business, so I've also got a section of my blog titled: Confessions of a Food Blogger where I get into the nitty gritty on how to build, manage, market and monetize a food blog.