Jump to Recipe
This Gluten Free Gazpacho: Make the Most of Summer with this Easy Vegan Gazpacho Recipe includes affiliate links. When I find a great product or service, I like to share it with my readers. Sometimes I use affiliate links so I can earn a commission for my recommendations. Thank you for your support!
Make the Most of Summer with this Easy Vegan Gazpacho Recipe
If you're like me, you might find yourself with an overwhelming amount of fresh produce at the end of a trip to the farmer's market. I have a hard time saying no to just picked, locally grown tomatoes…and cucumbers…and peppers.
Luckily, I've got some really great ways to use up thee ingredients, including this Gluten Free Gazpacho Recipe.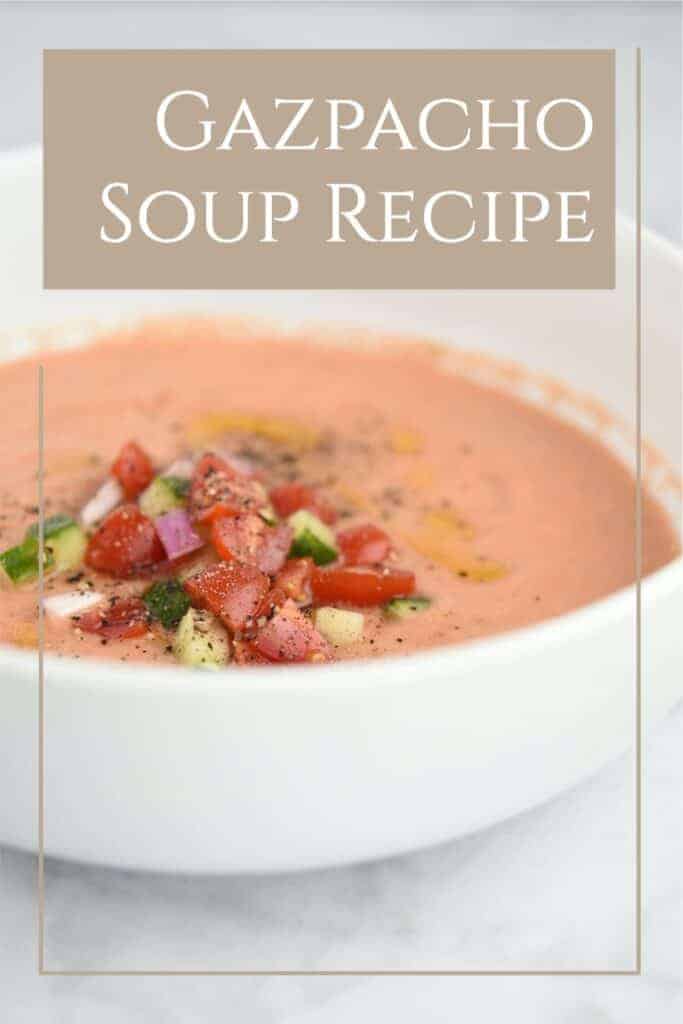 What is Gazpacho?
If you're not familiar with this summer treat, it's time for you to get acquainted. Gazpacho is (usually) a soup made up of blended raw fruits & vegetables that is served cold. It hails from Spain where is it served almost ubiquitously in the summer time. This wonderfully simple dish coming to you, of course, from the country that honors the siesta.
In its traditional preparation, gazpacho is made with tomatoes, cucumbers, peppers and garlic and is seasoned with sherry vinegar, olive oil, salt & pepper. A piece of stale white bread is often used to thicken the soup.
There are many variations out there, sometimes with clever twists — like watermelon or peach gazpacho. And, naturally, this gluten free gazpacho recipe which uses protein-packed healthy white beans in place of the bread.
Why is Gazpacho Served Cold?
Spain in the summertime.
Or lately… anywhere in the summertime.
It's really not any more complicated than that. Gazpacho is just a really refreshing way to stay cool in the summertime.
Making this Vegan Gazpacho Gluten Free
The vegan part of this recipe is easy – gazpacho is naturally a vegan food. As I mentioned above, this gazpacho recipe gets its gluten free status by swapping out the bread with 1 cup of white beans.
In this case, I selected butter beans (sometimes also called baby lima beans) for their soft creamy texture and mild flavor. I do think that any white bean would work in this recipe. If you need a little help understanding what distinguishes one white bean from another, be sure to check out my Ultimate Guide to White Beans here.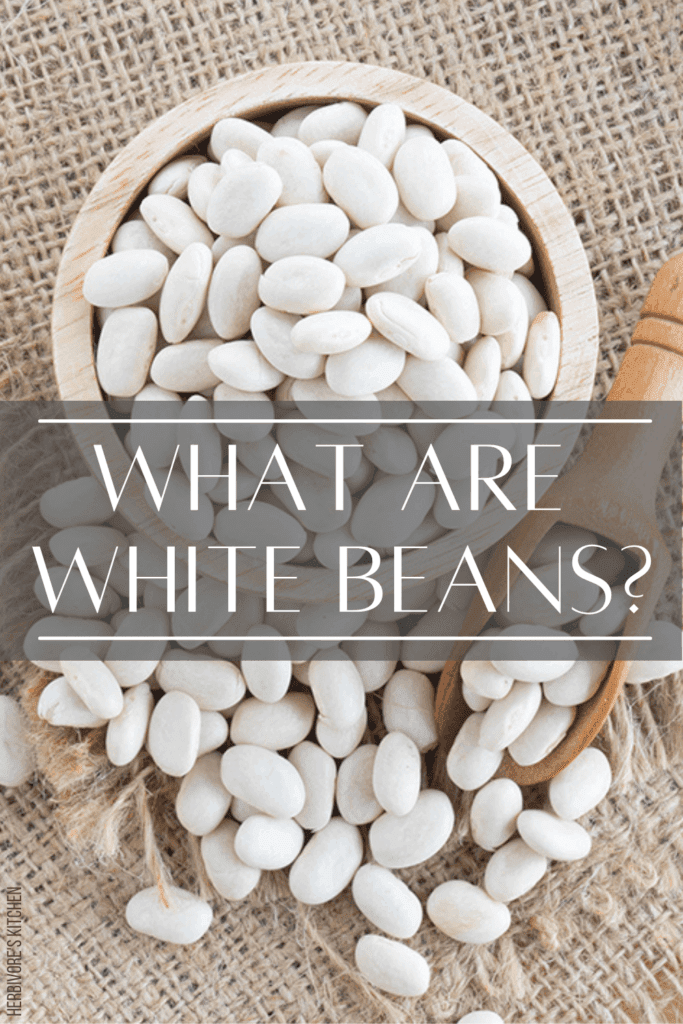 Is Gazpacho Healthy?
On the whole, yes! It's packed with fresh, hydrating vegetables.
Raw tomatoes, of course, are a great source of lycopene, Vitamin C, potassium, folate and Vitamin K. Blending the tomatoes with the skin on is a great way to maximize the benefits.
Cucumbers, despite their high water content, actually deliver in the department of vitamins and minerals, especially Vitamins K & C. Like the tomatoes, cucumbers are blended into gazpacho soup with the skin on, which is why I prefer to use an English cucumber.
White beans, which are one of my favorite soup thickening hacks (check out my White Bean & Asparagus Soup) are loaded with fiber and protein and also serve as a source of copper, iron and folate.
This vegan gazpacho recipe isn't fat free though, with ½ cup (about 2 tbsp per serving) of extra virgin olive oil to give the soup a level of complexity and a rich, silky taste. In the fat world, extra virgin olive oil tends to bring the most health benefits to the table. It's mono-saturated and contains anti-oxidants and anti-inflammatory properties.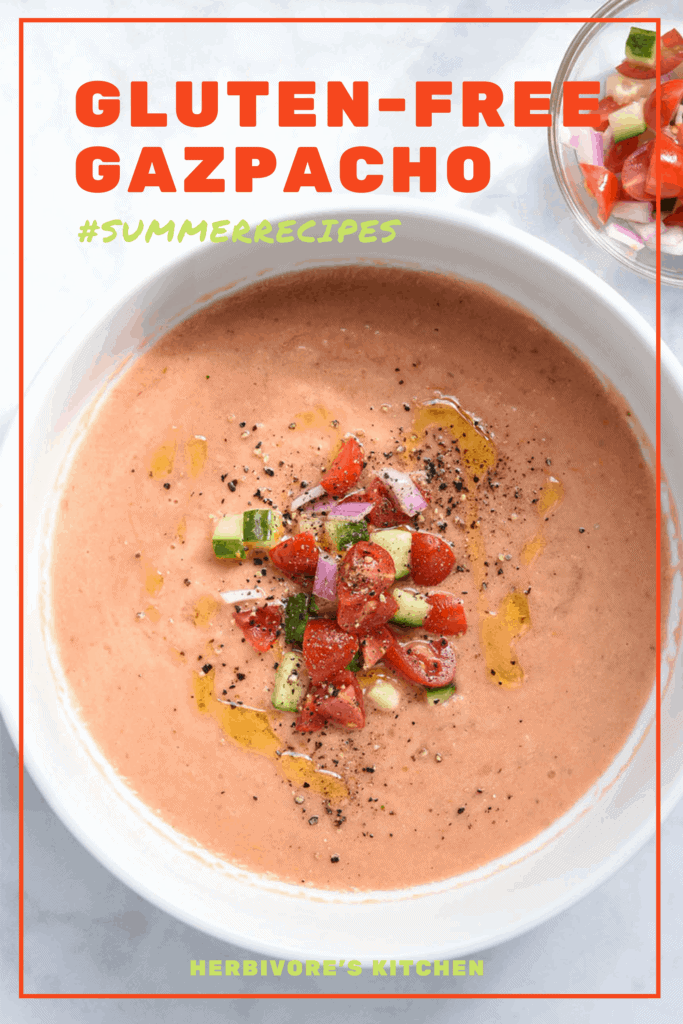 The Key to Good Gazpacho
I should say keys because I think that there are two of them. First, the tomatoes. You need about 2 lbs for this recipe, which usually ends up being 4-6 medium-to-large tomatoes. For fun (and for extra flavor) if you can get your hands on a few heirloom tomatoes, I highly recommend it! In any case, the more fresh and ripe the tomato, the better the gazpacho.
The other key ingredient (IMHO) is sherry vinegar. Sherry vinegar is derived from fermented sherry wine. Like the whole, this part of the recipe is Spanish in original. Sherry vinegar is easy to find and is relatively inexpensive. It's less acidic than red or white vinegars and carries a slightly caramel flavor.
If you're unable to find sherry vinegar or just need to have gazpacho now and can't detour with a trip to the grocery store, you can swap it out for my favorite vinegar – rice vinegar. Like sherry vinegar, rice vinegar is less acidic. Just make sure you select unseasoned rice vinegar. Seasoned rice vinegar has added sugar and salt. In a pinch, you can try apple cider vinegar, but add it slowly as it is considerably more acidic than sherry vinegar.
How to Garnish This Gluten-Free Gazpacho
You can garnish gazpacho in a lot of different ways. Olives, sweet corn, a diced fresh avocado are great additions that keep this vegan gazpacho gluten free. For this recipe, I kept it in the family and added diced tomatoes, cucumbers and red onions, along with a drizzle of extra virgin olive oil and fresh ground pepper. ­
Do You Love This Gluten Free Gazpacho Recipe?
Do you love this Gluten Free Gazpacho recipe? Be sure to check out my other summer recipes! If you're into summertime grilling, then my Teriyaki Tofu Shish Kebabs are for you! Forever-searching for a summer snack? Then you'll love my Quick-Pickled Dilly Beans.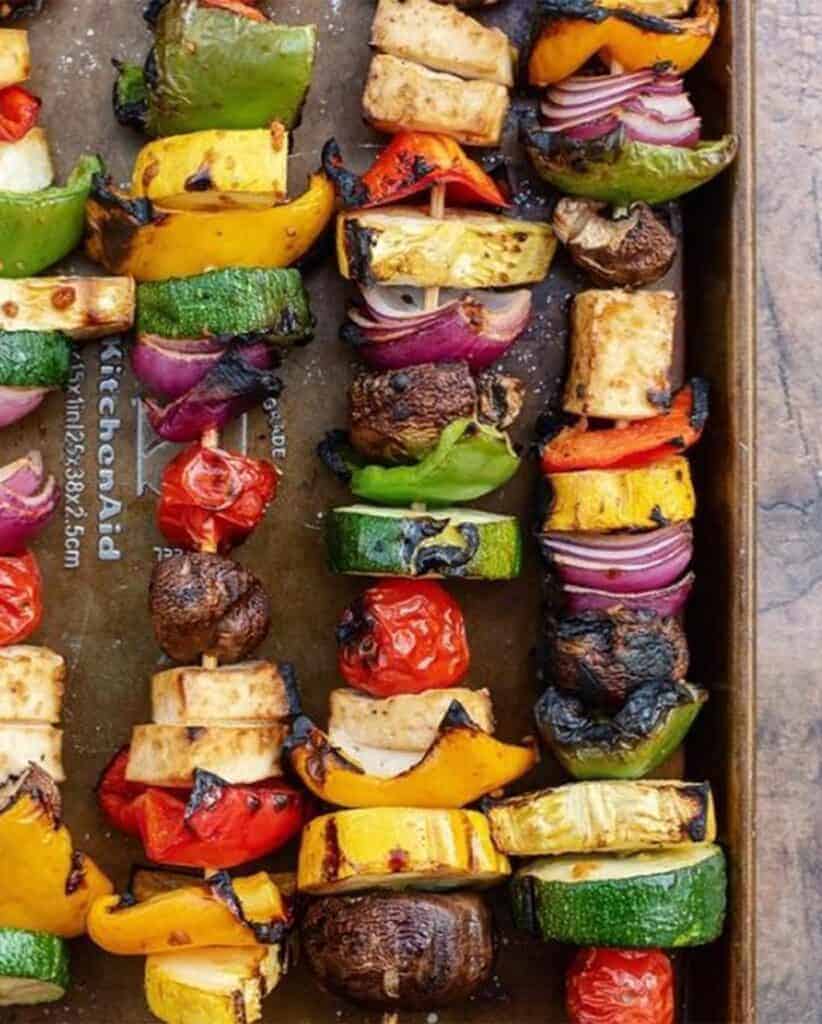 All the summer feels! Nothing tastes quite as good as shish kebabs right off the grill! Featuring teriyaki tofu, mushrooms, peppers and squash, this shish kebab recipe is an easy way to get plenty of healthy vegetables on the table.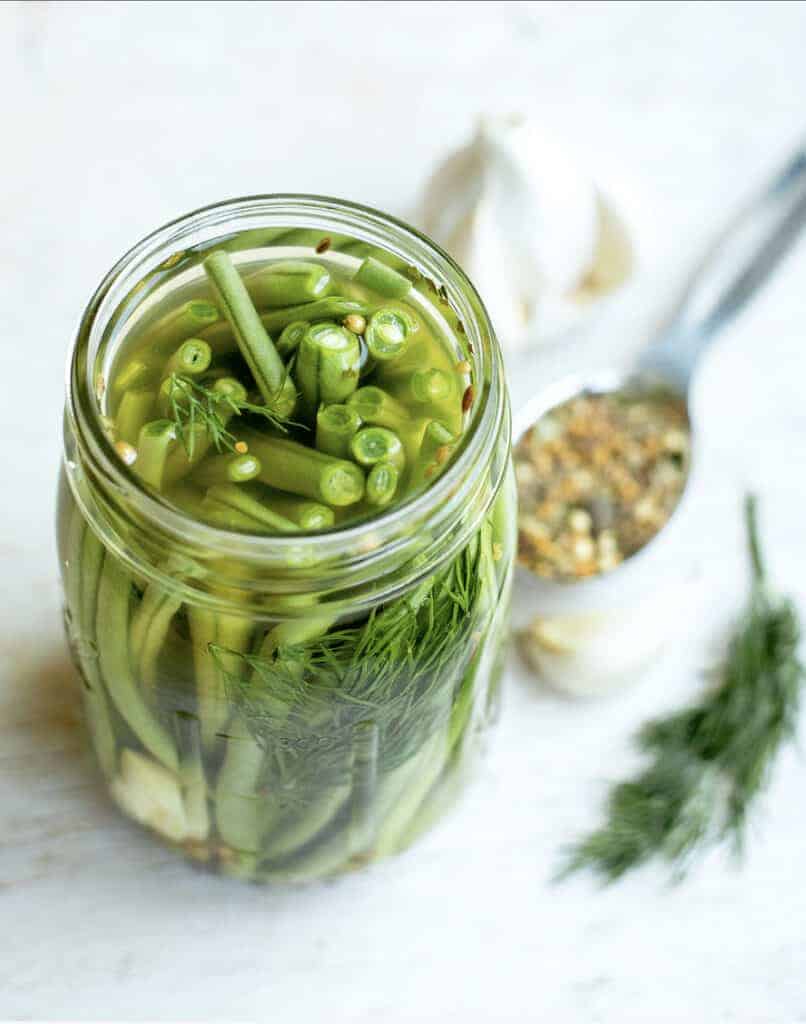 Got green beans? Making dilly beans is a great way to preserve your summer harvest. This quick pickle recipe makes a great addition to a vegan cheese platter or as a salty side for a sandwich.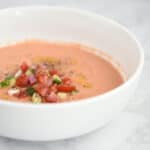 Gluten-Free Gazpacho Soup Recipe
Make the most of summer with this gluten free gazpacho recipe. Made with fresh tomatoes & cucumbers – this vegan gazpacho recipe is the perfect way to beat the heat on hot days.
Ingredients
~2

lbs

ripe red tomatoes

washed, cored and roughly chopped

1/2

English cucumber

roughly chopped

1

Anaheim pepper

deseeded and roughly chopped

1/4

red onion

peeled and roughly chopped

1

cup

canned butter beans

drained and rinsed

1

clove

garlic

peeled

1 1/2

tbsp

sherry vinegar

1/2

cup

extra virgin olive oil

salt & pepper

to taste
Instructions
Add the tomatoes, cucumber, green pepper, red onion, butter beans, garlic &sherry to a high-speed blender. Depending on your blender size, you may need to work in batches. Blend until smooth.

Chill for at least 1 hour. Serve cold, seasoned with salt and pepper. Diced tomato, cucumber and red onion can be used as garnishment.
About Herbivore's Kitchen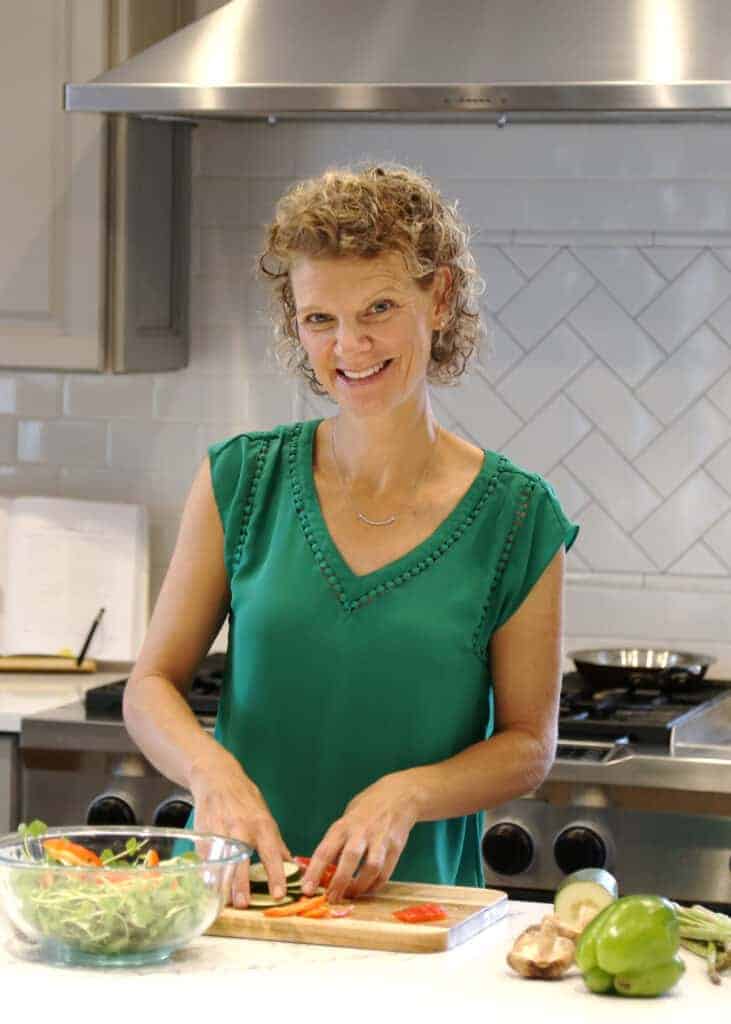 Herbivore's Kitchen is a plant-based food blog started by me, a vegan home chef, cookbook author, aspiring food photographer and how-to-be-a-better-food-blogger junkie. You'll mostly find creative and tasty vegan recipes and detailed deep dives into vegan ingredients (check out my Vegucation section) on my blog. I love knowing as much as I can about the food that I make. I'm also really into running a food blog as a business, so I've also got a section of my blog titled: Confessions of a Food Blogger where I get into the nitty gritty on how to build, manage, market and monetize a food blog.