Jump to Recipe
Quick Pickled Red Onions (and Other Quick Pickled Vegetables)
Have you ever made pickled red onions? This simple condiment will transform your tacos, I swear! And don't stop there! With this quick pickled vegetable recipe, you can pickle a variety of vegetables, including pickled carrots, purple cabbage, cauliflower, green beans and…of course…cucumbers!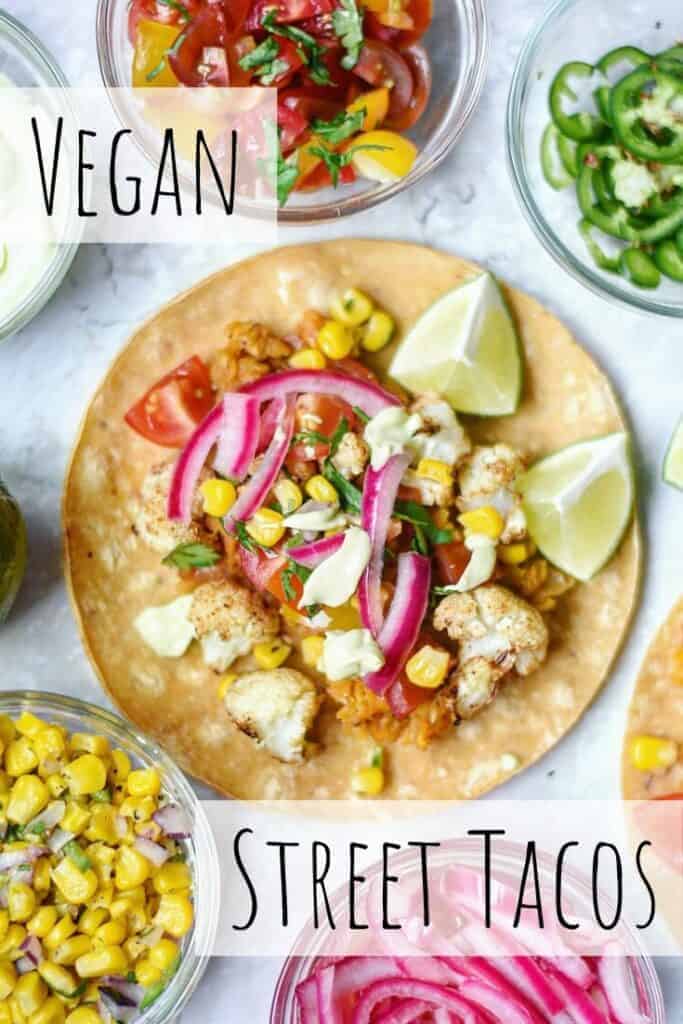 What is Quick Pickling?
Quick pickling is a way to enjoy that tangy, briny deliciousness without going through the canning process. Sometimes called refrigerator pickling or refrigerator pickles, this method will make a whole new set of flavors available to you in a very short amount of time.
Quick pickling is also a way to minimize food waste. Take, for example, purple cabbage. I love having red cabbage in my Veggie Loaded Vegan Pho, but I have never needed an entire head of it. A quick solution – quick pickle the remaining purple cabbage and use it throughout the next couple of weeks to dress up tacos, Mediterranean dishes like falafel or for making an appetizer board for pre-game snacking.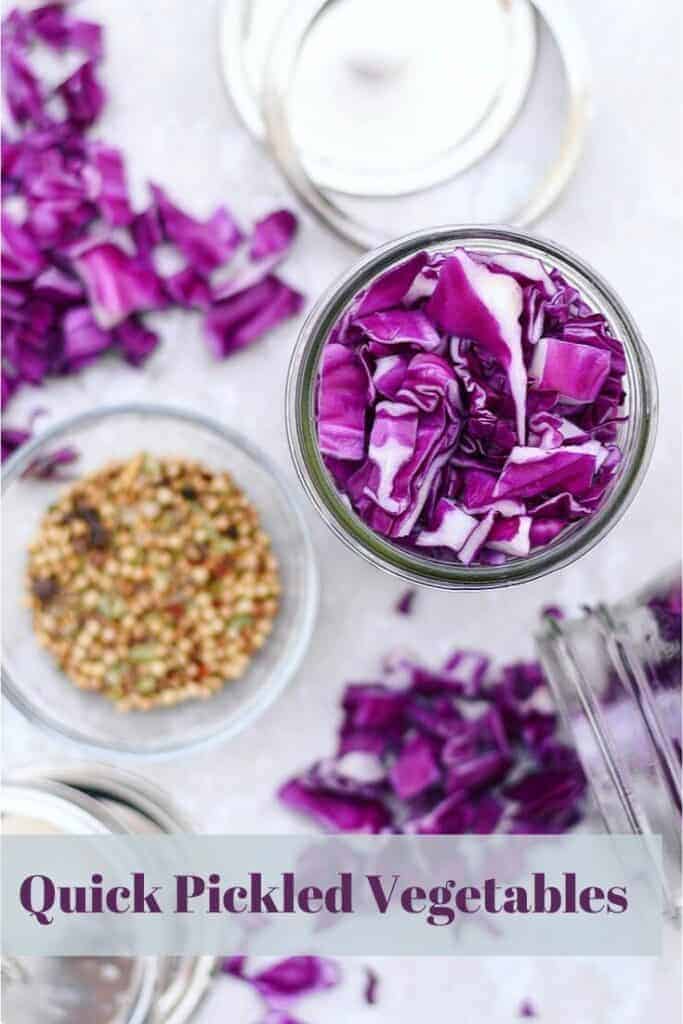 Pickled Red Onions and Other Pickled Vegetable Uses
I find myself making quick pickled red onions any time I'm planning on serving tacos…or burrito bowls…or enchiladas… Put another way, pickled red onions add a certain je ne sais quoi quality to almost any Mexican dish. Not only do they add a tremendous amount of flavor, they also have a way of showcasing a meal.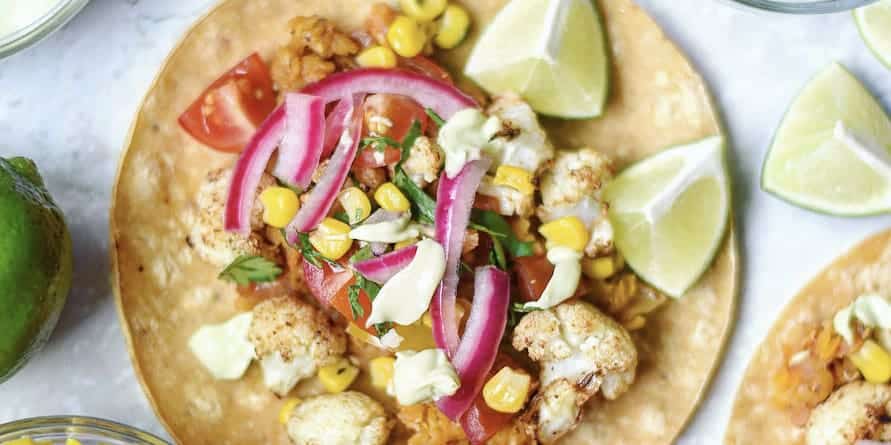 Pretty appetizing, huh? And, I don't limit myself to pickled red onions and street tacos. Pickled vegetables are an asset to any number of dishes. You'll find them in Southeast Asian dishes like Bahn Mi and Korean dishes like Bibimbap. Frankly though, they'll also just fun to snack on. I'm sure you've seen appetizer spreads with pickled cauliflower, carrots, green beans and tomatoes.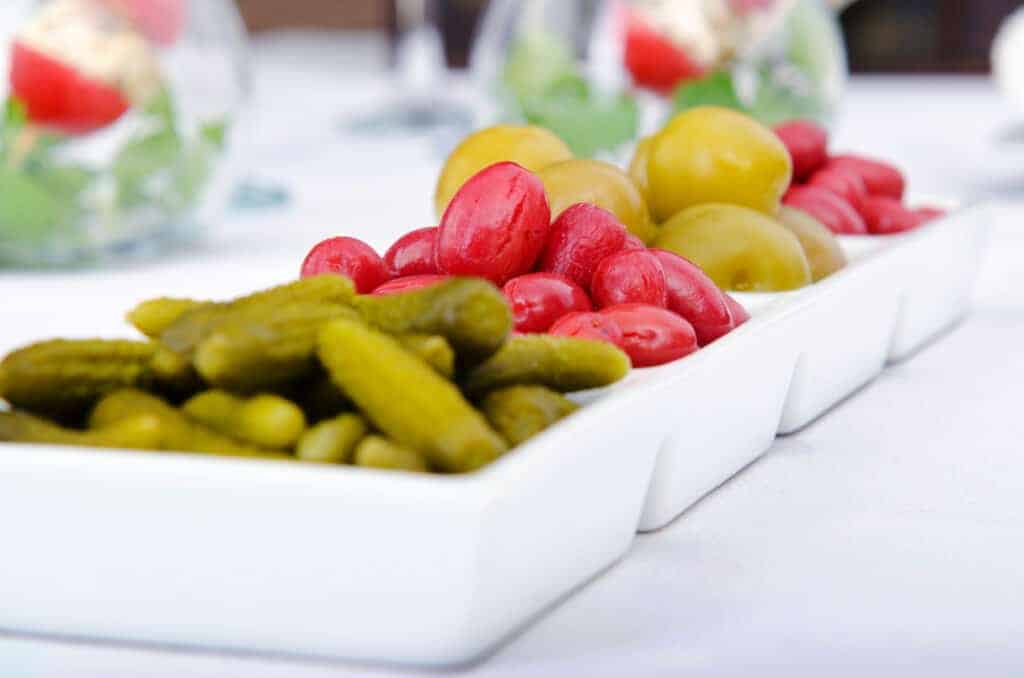 And don't forget… a Vegan Sushi is not complete without pickled ginger!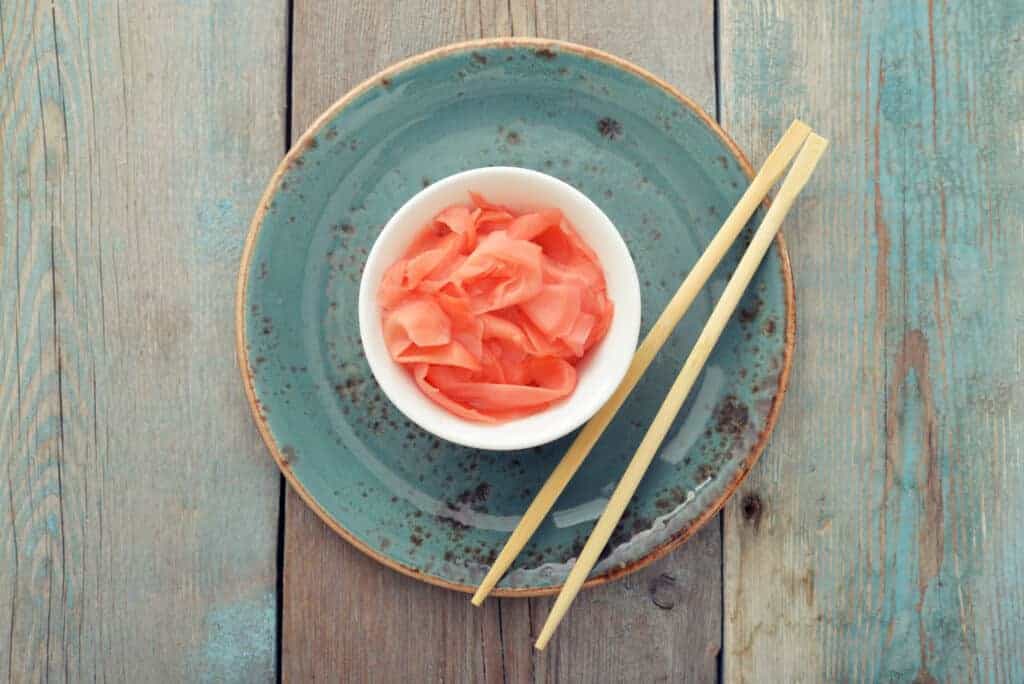 How Do You Make Quick Pickled Vegetables?
Quick pickled vegetables are really simple. To make quick pickled red onions or many other vegetables, you first need to start with your fresh vegetables. It's sometimes fun to mix them up, as I did below for my Vegan Bibimbap. Or, in the case of the pickled red onions, I like to keep them simple for my Vegan Street Tacos. See below for tips on how to best cut your vegetables for quick pickling.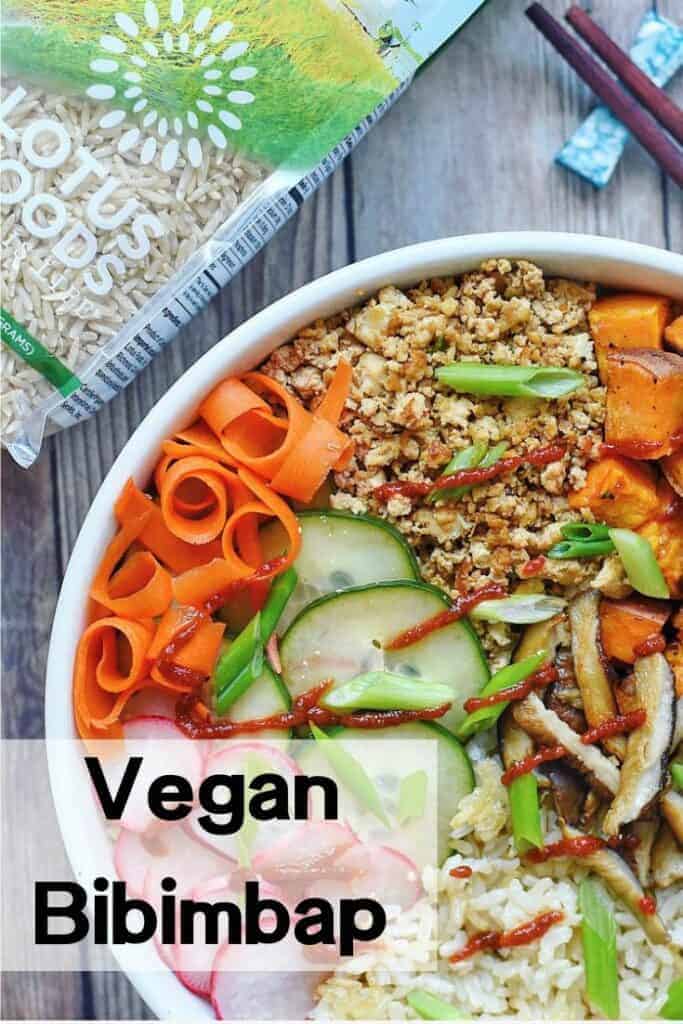 After the vegetables are prepared, you'll add them to a clean mason jar for storage in the refrigerator. If I am planning on using them right away (like I do for my Vegan Bahn Mi Pizza), I'll just put them in a covered glass bowl in the refrigerator. A brine consisting of water, vinegar (I like to use apple cider vinegar), sugar (I use maple syrup) and salt is made by bringing the water and vinegar to a boil until the salt is dissolved. Spices can also be added to change the flavor. See below for some ideas around that.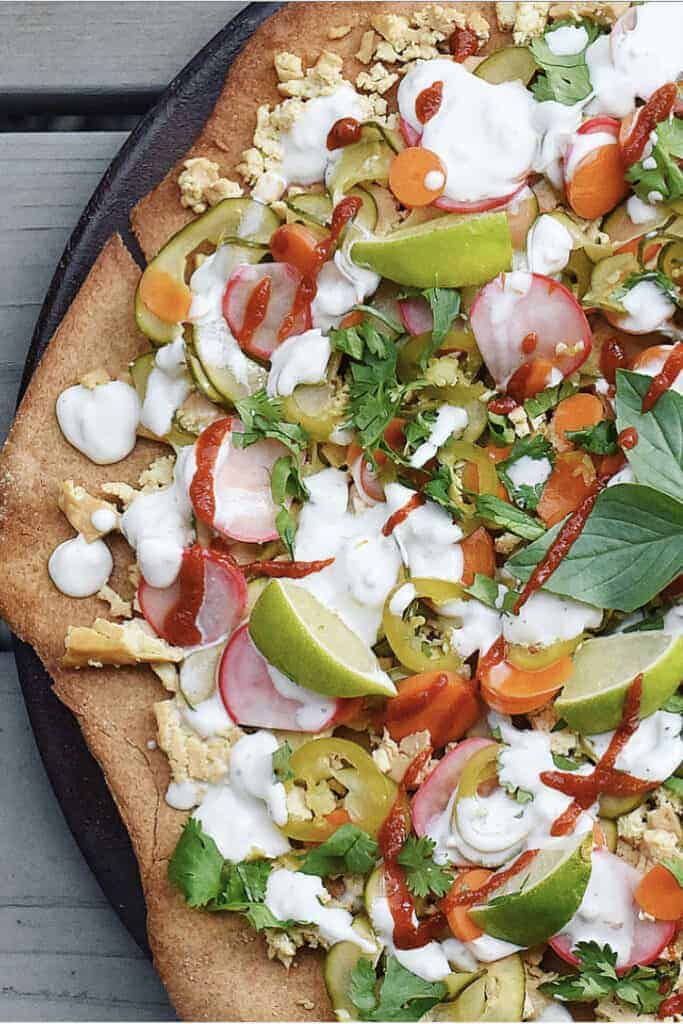 How to Best Cut Your Vegetables for Quick Pickling
The thinner (or smaller) you make your vegetable pieces, the more surface area will be exposed to the brine. This matters less if you're going to leave them in the refrigerator all week. But, if you're making dinner and want them within an hour, slice 'em thin.
Here's a quick list of suggestions for quick-pickling veggie prep:
To pickle carrots and cucumbers cut them into spears, or slice them into coins
Slice red onions and purple cabbage thinly to pickle it.
Break cauliflower into small florets to pickle it.
To pickle green beans, try blanching them first and put them in the jar whole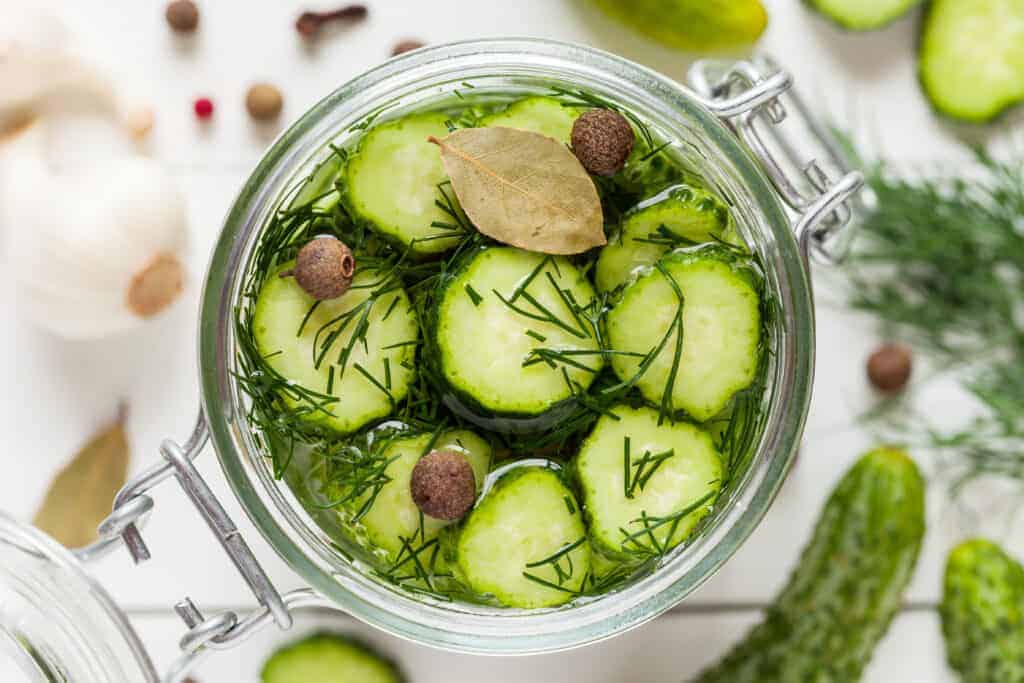 Get Spicy! How to Add Spices to Your Quick Pickled Vegetables
You can easy change up the flavor profile of your quick pickled vegetables by adding different spices. I have a go-to pickling spice combo. It includes dill, mustard seed, coriander, chili flakes, all spice, ginger, black pepper and cloves. I only use this when I'm planning on quick-pickling something to be in the refrigerator for at least a few days. If I'll pickling something for dinner in an hour, I'll just add garlic and crushed red pepper.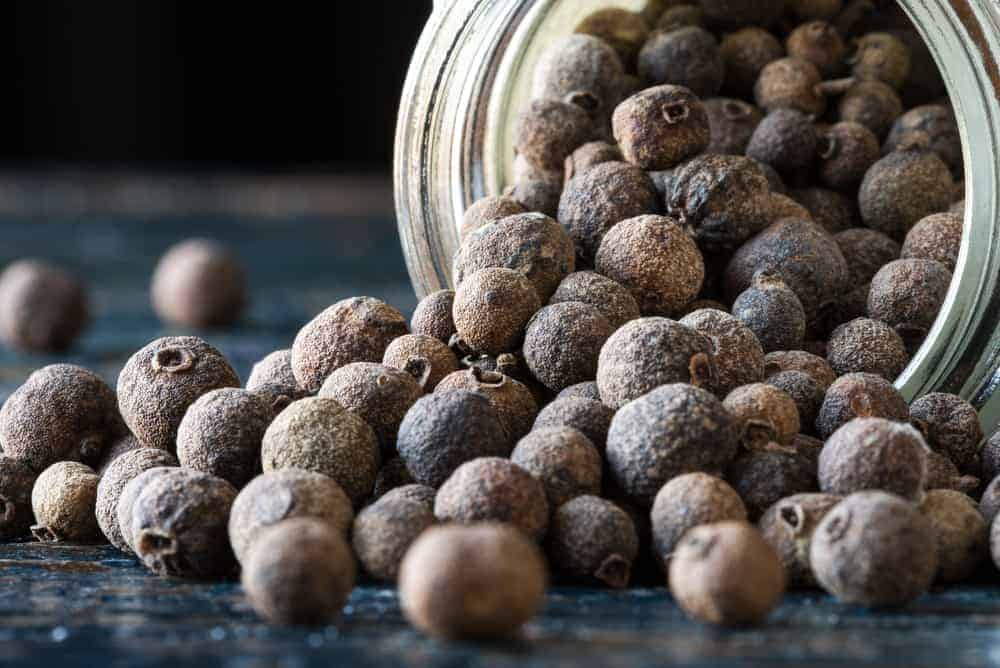 Keep your cuisine in mind too when pickling. You'll often see quick-pickled vegetables in Southeast Asian and Korean dishes (like my Vegan Bahn Mi Pizza or my Vegan Bibimbap). For an idea of what kind of spices might be fun to try, check out The Savory Spice Shop's recipe for Southeast Asian Pickling Spice.
Quick Pickled Vegetable Tips
Here are some other tips to make your quick-pickling experience a success:
Unlike with canning, you do not need to sterilize your jars. But you should make sure that they're very clean. Wash them out with hot, soapy water and then towel them dry.
Place your veggie-packed mason jars in the sink before adding your hot brine. This makes for easy clean up.
Pack the jars almost to the brim with your vegetables leaving enough room to have them completely submerged in the brine. I suggest leaving about an inch of space between the top of the vegetables and the top of the jar.
Yes, I do make versions of quick-pickled vegetables for dishes that I plan on serving an hour later. That being said though, quick-pickled vegetables taste better the longer you let them rest. Within a few days, they'll be in their prime.
Remember that this method is not shelf-stable, but quick pickled vegetables can last in the fridge for several weeks. When retrieving your pickled vegetables, use a clean utensil.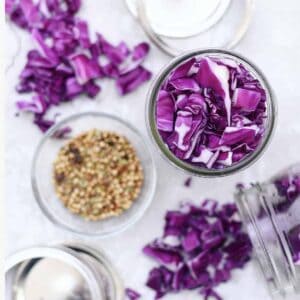 Quick Pickled Red Onions (and Other Pickled Vegetables)
Have you ever made pickled red onions? This simple condiment will transform your tacos, I swear! And don't stop there. With this quick pickled vegetable recipe, you can pickle a variety of vegetables, including pickled carrots, cauliflower, green beans and…of course…cucumbers!
Ingredients
1

cup

apple cider vinegar

or other vinegars, to taste

1

cup

water

1

tsp

table salt

1

tbsp

maple syrup

or other sweetener

spices

as desired, see my blog post for suggestions

vegetables

as desired, see my blog post for suggestions
Instructions
Carefully wash and dry mason jars and lids.

Cut vegetables into desired sizes and shapes (see blog post for suggestions based on each dish).

Pack the vegetables into the mason jars, leaving about 1 inch between the top of the mason jar and the top of the vegetables.

Bring the water and vinegar to a boil. Once boiling add the maple syrup (or sugar) and salt.

Reduce to a simmer and simmer until the salt (and if applicable, sugar) is dissolved.

Pour the hot brine over the vegetables. Allow to cool slightly, then seal with lid and refrigerate.

Quick-pickled vegetables are best after being allowed to rest for a couple of days. They can be used out of the refrigerator for several weeks.
Notes
For some recipes, I'll need quick-pickled vegetables that day or within an hour or two. If that's the case, I just leave them in a glass bowl in the refrigerator until I am ready for them. They won't be quite a pickled as those left for a few days, but they can still add nice flavor to a dish.
I use maple syrup because I don't normally keep sugar in the house. It works fine, but table sugar works just as well.
About Herbivore's Kitchen
Herbivore's Kitchen is a blog run by me, a plant-based home chef and aspiring food photographer. I switched my and my family's diet to a plant-based diet after learning about the health benefits of going vegan. Making this change has prompted a variety of food and holistic-lifestyle related questions that I explore through this blog. I talk about how to pick and prepare the most nutritious foods, to how to reduce waste at home, to how to live a more sustainable lifestyle while on the road.