Jump to Recipe
---
This Miso Glazed Tofu recipe includes affiliate links. When I find a great product or service, I like to share it with my readers. Sometimes I use affiliate links so I can earn a commission for my recommendations. Thank you for your support!
---
Miso Glazed Tofu: This Miso Marinade is Simply the Best Way to Serve Up a Tofu Dish!
I know I'm baised, but this Miso Glazed Tofu Recipe is truly fabulous! In fact, I'd wager that it will have you going full vegan faster that you can say "Meatless Monday." It's sticky, sweet, salty and oh.so.delicious and it's great as a meal with a side of rice and vegetables or as an accessory to a dish, like my Veggie Loaded Vegan Pho.
How to Cook Tofu
I think one of the things that keeps people from trying tofu is just that they don't quite know how to cook tofu. Rest assured though, if you are in this camp, there's nothing to it.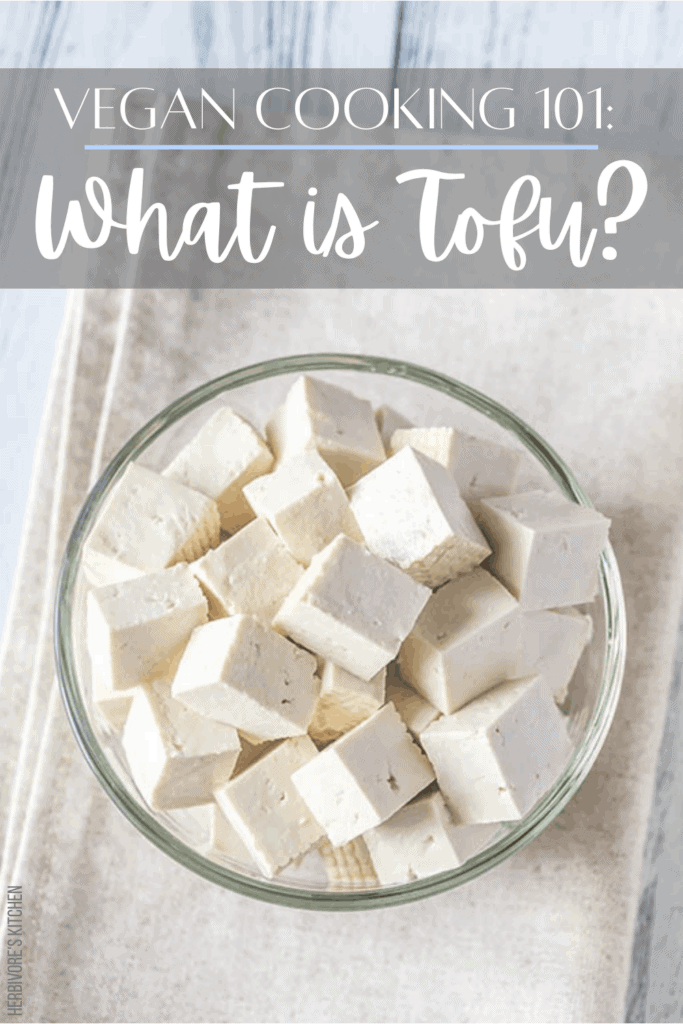 The Different Types of Tofu
Tofu, a vegan meat substitute darling, is actually really easy to prepare. Tofu is made from soy milk that has been coagulated into curds, which are then sold in varying consistencies. When you're at the store, you may see extra firm, firm, soft and silken varieties. The firmness of the tofu type is determined by the amount of water in the tofu with silken tofu being the softest and extra firm tofu being the most firm (although you may encounter super firm from time-to-time).
Silken tofu has the most moisture and has a "silkier" texture. I use it when I'm making creamy dishes, like vegan chocolate mousse. Soft tofu holds its shape slightly more than silken tofu. You'll often see this version used in soups because it dissolves slightly, giving them a creamier texture. It also works well in vegan tofu "egg" scrambles. Firm tofu and extra-firm tofu are similar, with extra firm being a little less absorbent than firm tofu. However, extra firm tofu holds up a bit better when baking or frying and is less likely to fall apart if you're tossing it in a sauce. You might choose firm tofu if you're making a tofu crumble, as I did in my Vegan Bibimbap Bowl with a Korean Tofu Crumble and extra firm tofu if you're tossing it in a marinade as I did in this recipe. (*)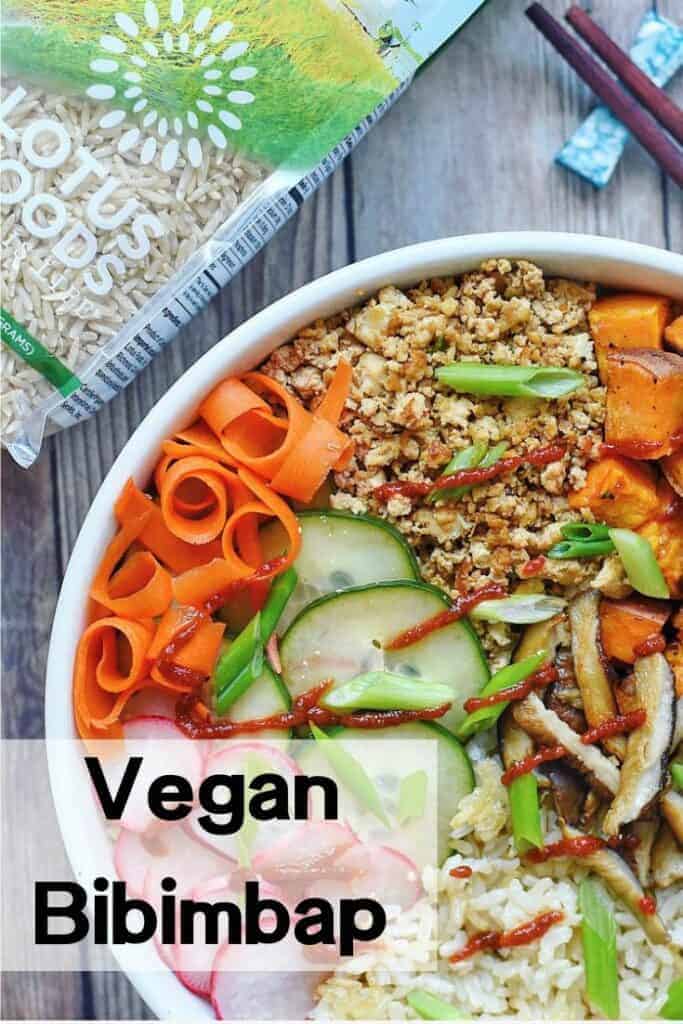 How to Press Tofu
It's best to press firm and extra firm tofu varieties. Tofu is shipped and stored in liquid. When you open a container, you'll be able to pour a fair amount of the liquid out of it, but some liquid will still be retained in the tofu itself. Pressing tofu releases this additional moisture.
Most recipes will suggest pressing your tofu for about an hour, so I like to do that first when I'm preparing a dish. I also find that an hour isn't really necessary, so I usually press my tofu for as long as it takes me to prepare my other ingredients. In some cases, this may afford me an hour or more. In the case of this dish, the miso glaze is the only other ingredient, so I would allow my tofu to press for at least 30 minutes while prepping the glaze and preheating the oven.
You can press tofu simply by wrapping the block of tofu in a clean towel and placing something heavy on top of it – like a cast iron skillet. I did this for a number of years without issue until my cast iron skillet tipped off of the tofu and landed on my new hardwood floor, denting it. My husband gave me this tofu press for Christmas after that.
I will say, though, that this tofu press is pretty slick. It applies even pressure to the block of tofu and I have found that the amount of pressure matters. Too little and you won't drain enough of the liquid. Too much and you'll crush your tofu, making it impossible to cube it for even cooking.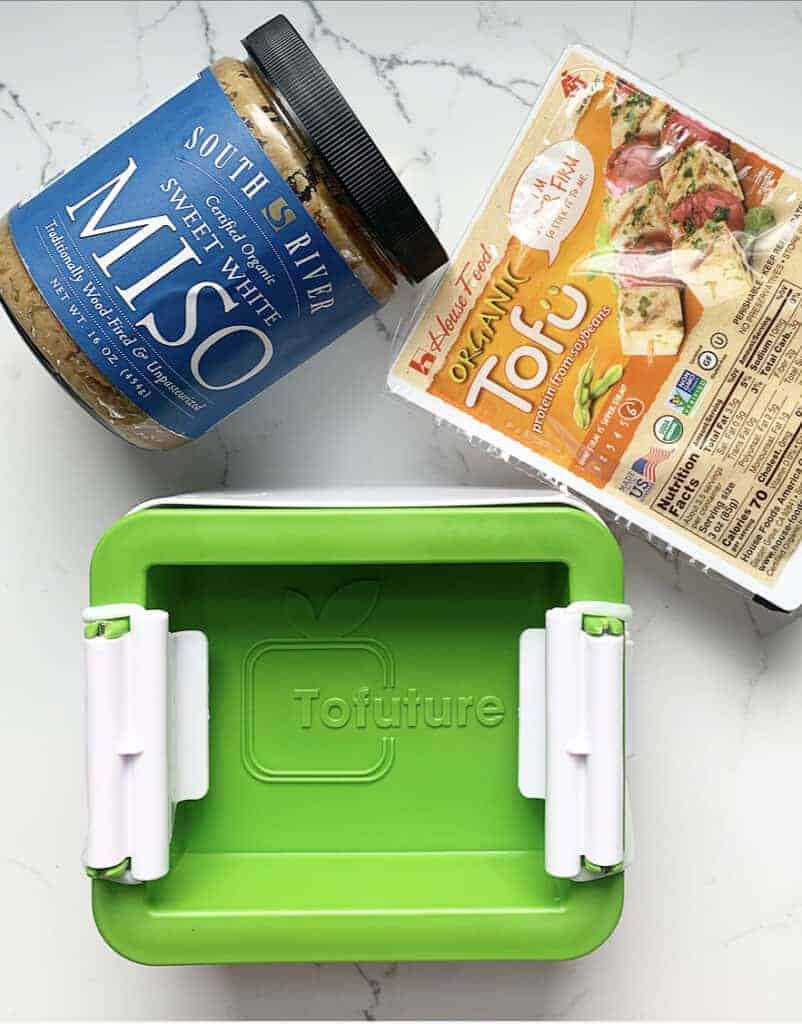 A Note on Not Pressing Your Tofu
You may have noticed my seemingly carefree attitude toward the amount of time you should press your tofu. I do want to emphasize though, that skipping this step altogether will likely lead to a disappointing outcome. When tofu is too moist, it will create steam when baked (or spatter when fried). The steaming will prevent the tofu from becoming crispy on the outside. The spatter? Well, that just hurts. A lot.
How to Cut Tofu
Believe it or not, how you cut your tofu matters as well. Tofu, by itself, doesn't have a ton of flavor. It's noteworthy quality (aside from being a good source of vegan protein) is that it is excellent at absorbing the flavors its cooked in. That being the case, if you want a lot of flavor, cut your pieces smaller. That way, you marinade-to-tofu ratio will be higher as the marinade will only absorb so far into each cube.
Making this Miso Glazed Tofu
For this vegan recipe I used an extra firm tofu. I wasn't marinating it, so I opted for a variety that would keep its shape when baked, tossed and broiled. Because I wanted A LOT of the miso glaze flavor (and, trust me, you will when you taste it), I cut the cubes fairly small so that the ratio of miso glaze to tofu would be pretty high.
Once the cubes were cut, I tossed them very lightly in sesame oil and put them on a lightly greased baking sheet, making sure to spread them apart. Because of the high temp requirements for this recipe, I DO NOT recommend using parchment paper or a silicon baking sheet. If you've greased your baking sheet, clean up should be easy enough without it. In my research, I also learned that certain baking sheet fare better under high temperatures, so I opted to use my new Aluminum Baking Sheets.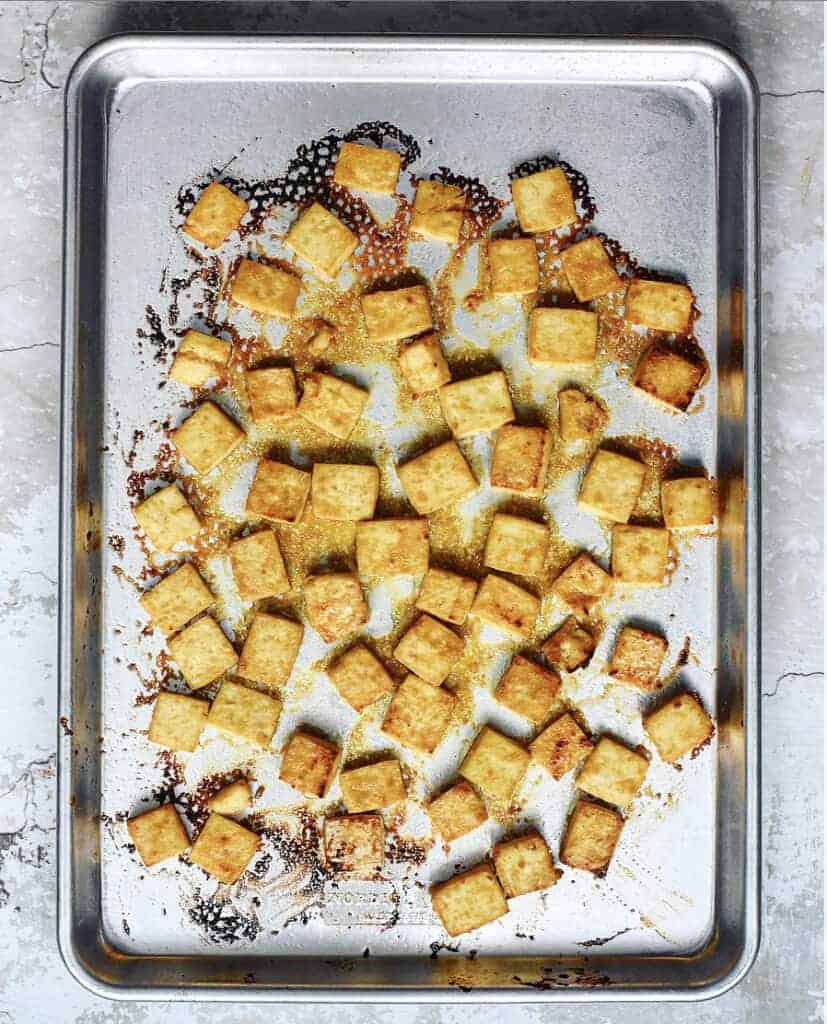 After baking the tofu for 10 minutes, I flipped each piece. Yes, each piece. It's a little painstaking, but it's worth it. Then I baked it for an additional 10 minutes. Once baked, I removed it from the baking sheet and tossed it in the miso glaze. This tossing step can be hard on the tofu, causing it to fall apart. This is another reason extra firm tofu is a good choice. You should also toss delicately. You don't to do too much damage to what is about to become a life-altering tofu experience.
After tossing the tofu, I put in back in the oven, this time under the broiler (middle rack) and broiled it for 5 minutes, checking on it frequently. The sugars in the miso glaze will caramelize quickly (exactly what you want) but can go from golden, crispy brown to burned in a matter of a minute (exactly what you don't want).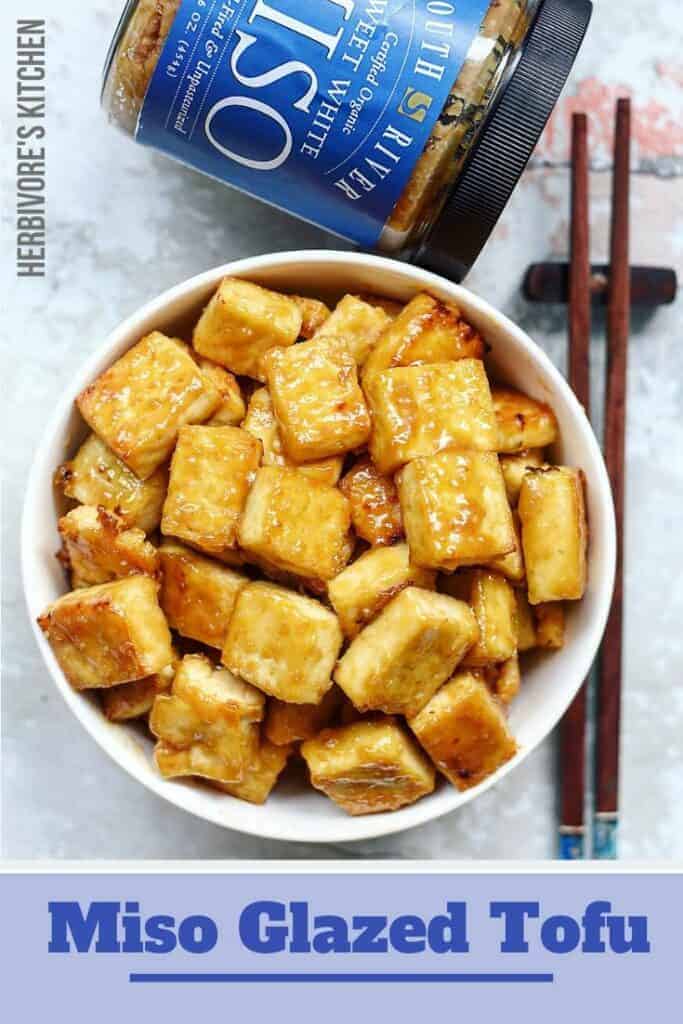 How to Enjoy This Miso Glazed Tofu
Honestly, there's no wrong way to enjoy this tofu. I often swap out plain, baked tofu in recipes with this tofu recipe and the results are amazing. I recently added it to my Veggie Loaded Vegan Pho and served it at a dinner party. Friends were (politely) gunning for the last pieces. It really is that good.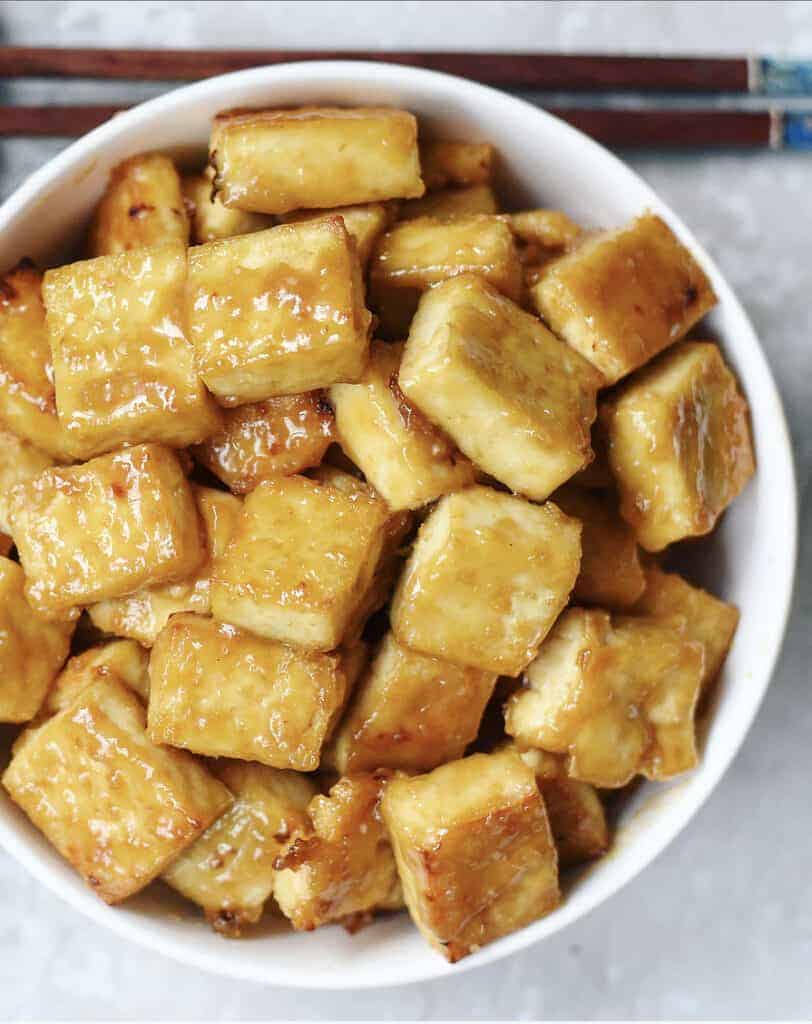 What's In My Kitchen to Make This Vegan Recipe Easier?
Want to know what tools and resources I keep on hand to make my vegan cooking even easier? Here's a short list of what helped me create this blog post and recipe. For the complete list, visit my Shop where you can find the kitchen gadgets I like as well as a list of books that I recommend.
There are a few tools in my kitchen that get used all the time and this mini 4-cup food processor is one of them. It's perfect for sauces that don't require me to bring out the big guns. Clean up is easy and it doesn't take up much space.
Admittedly, I didn't own a tofu press for a long time. I pressed my tofu by wrapping my tofu in a clean tower and topping it with a heavy cast iron skillet. I did this for a number of years without issue until my cast iron tipped off of the tofu on day and landed on my new hardwood floor, denting it. My husband gave me this tofu press for Christmas after that.
Now that I have a tofu press, I'm all about them. And this tofu press is pretty slick. It applies even pressure to a block of tofu. And pressure matters. Too little and you won't drain enough of the liquid. Too much and you'll crush your tofu, making it impossible to cube it for even cooking.
No, that's not the brand. It's just the idea! But,I own this set of Global™ knives and They're some of my most prized possessions in the kitchen. This set is universally well-rated for the at-home chef and will get you a good, solid set of knives without totally breaking the bank.
Down a broiler pan? These aluminum baking sheets come highly recommended by the cooks who know best – Epicurious, Cooks Illustrated and Food & Wine. I bought mine because I needed a good, sturdy baking sheet to use under the broiler. One that wouldn't warp – and this one lives up to the task.
Aluminum is a good conductor of heat, so these baking sheets cook evenly. They're also light in color, so they discourage over-browning.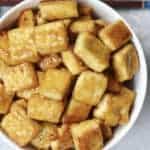 Baked Tofu with a Miso Glaze
This Baked Tofu with a Miso Glaze recipe will make you a vegan faster that you can say "Meatless Monday." Plant-based newbies are often wondering how to cook tofu and this easy, tasty recipe is a great way to introduce it. Crispy tofu bites are baked in the oven and then broiled with a homemade miso marinade rendering them sticky, sweet, salty and oh.so.delicious.
Ingredients
2

blocks

extra firm tofu

drained and pressed (see my blog post for tips on pressing tofu)

2

tsp

sesame oil

for baking the tofu

1/4

cup

mirin

4

tbsp

light miso paste

I like South River Miso's Sweet White Miso

3

tbsp

maple syrup

2

tsp

sesame oil

for the miso glaze
Instructions
Preheat your oven to 400 degrees.

Set each pressed block of tofu on its side and slice it down the middle, creating two slabs (see my blog post for tips on how to press your tofu). Then cut each slab into equal, bite-sized cubes.

Toss the cubes in the sesame oil and arrange on a baking sheet. Bake at 400 for 10 minutes, then flip each piece and bake for an additional 10 minutes.

While the tofu is baking, prepare the miso glaze by combining the mirin, miso paste, maple syrup and sesame oil in a mini food processor. Pulse until smooth.

When the tofu is done baking, remove it from the baking sheet and toss it in the miso glaze.

Return the glazed tofu to the baking sheets, being careful to spread them out, and broil on the middle rack for about 5 minutes, checking frequently. The tofu is done when the miso glaze has caramelized and the outside of the tofu has become crispy.
About Herbivore's Kitchen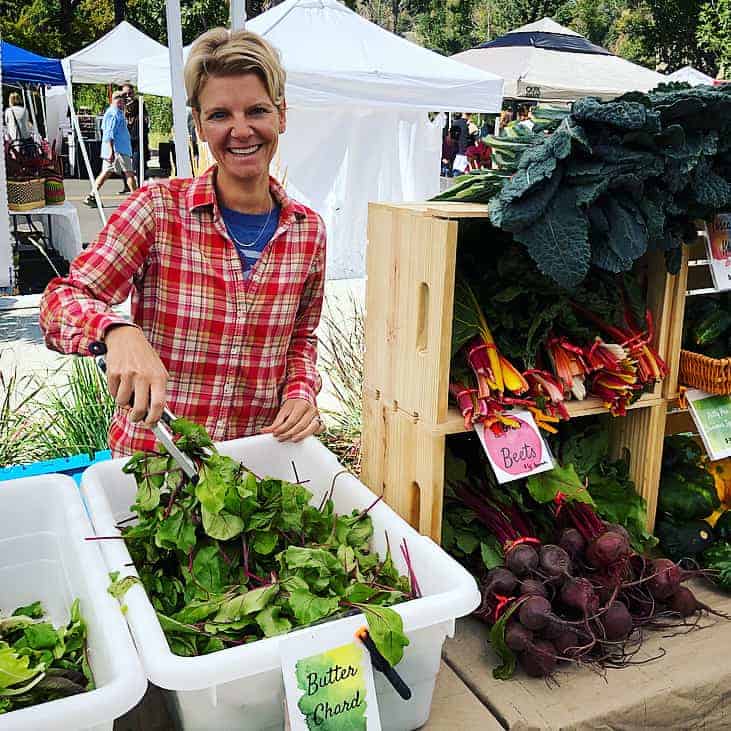 Herbivore's Kitchen is a blog run by me, a plant-based home chef and aspiring food photographer. I switched my and my family's diet to a plant-based diet after learning about the health benefits of going vegan. Making this change has prompted a variety of food and holistic-lifestyle related questions that I explore through this blog. I talk about how to pick and prepare the most nutritious foods, to how to reduce waste at home, to how to live a more sustainable lifestyle while on the road.