Jump to Recipe
---
This Miso Glazed Tofu: This Miso Marinade is Guaranteed to Make Your Tofu Next Level post includes affiliate links. When I find a great product or service, I like to share it with my readers. Sometimes I use affiliate links so I can earn a commission for my recommendations. Thank you for your support!
---
This Miso Marinade is Guaranteed to Make Your Tofu Next Level
If you've been eating plant-based for a while, you already know the truth behind what I'm about to say: tofu is truly fabulous. It's versatile, protein-packed & loves a good marinade. And this Miso-Glazed Tofu recipe is when tofu looks its best.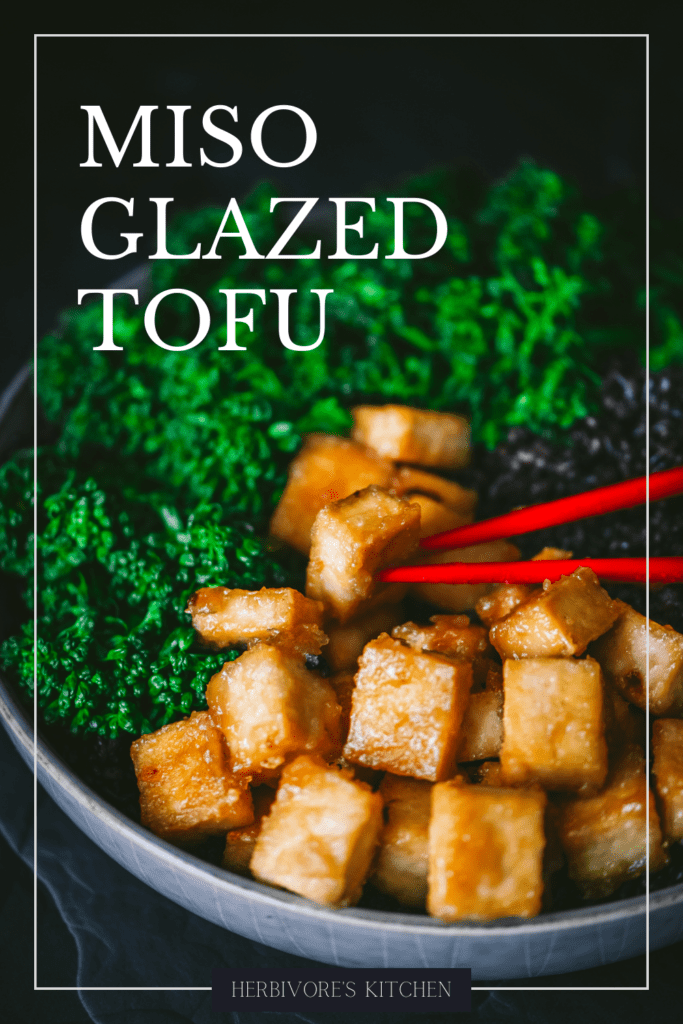 What is Tofu?
If you're new to vegan cooking, you might be scratching your head and wondering: what is tofu made of and why does it come silken, soft, firm and extra firm?
Tofu is a soy product, made by pressing soy curds into blocks. The firmness – from silken to extra firm – accounts for the length of time the tofu was pressed and the resulting water content left.
Want to learn more about tofu? Check out my Vegan Cooking 101: What is Tofu blog post, where I dig into all things tofu.
How to Cook Tofu
Remember that water content I referenced above? Well, with a recipe like this Miso Glazed Tofu, that can get in the way producing crispy tofu cubes. So, it's best to start with tofu variety that contains less water – like firm or extra firm.
I also think that using a tofu press is essential. A tofu press is a small kitchen tool that reduces tofu's water content by gently pressing it for a short period of time. Reducing the water content enables each tofu cube to become crispy when baked by limiting the production of steam.
How Long Should You Press Tofu?
Longer is usually better, but I usually just press tofu while I am preparing the other ingredients in my recipe. In this case, while I am making the miso marinade. I find that 20 to 30 minutes works just fine.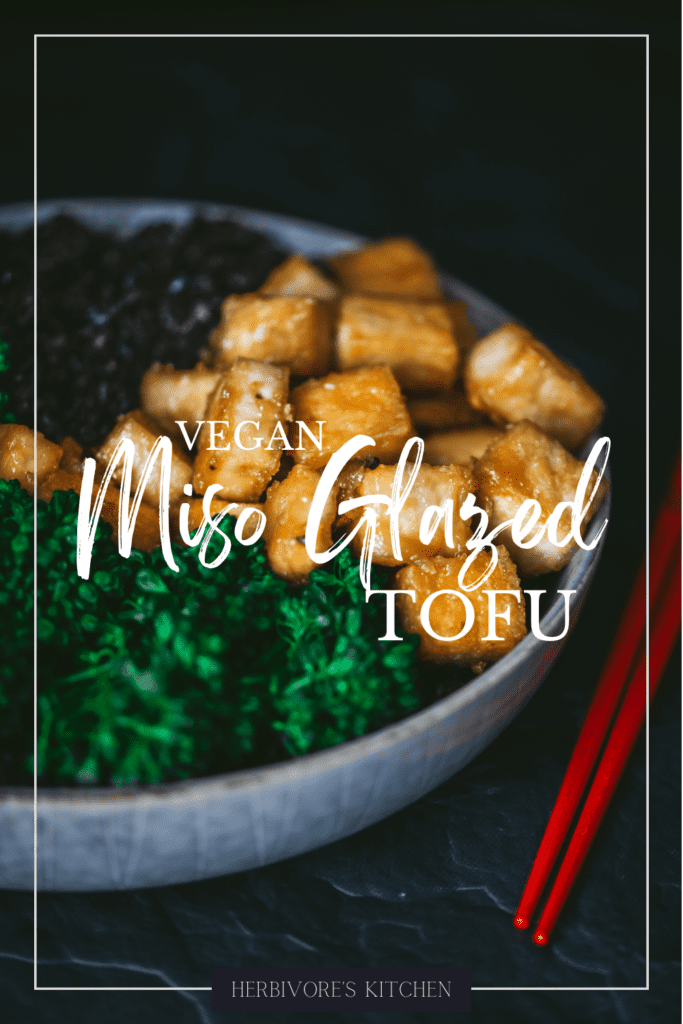 How to Cut Tofu
Believe it or not, how you cut your tofu matters as well. Tofu, by itself, doesn't have a ton of flavor. It's noteworthy quality (aside from being a good source of vegan protein) is that it is excellent at absorbing flavors. That being the case, I recommend cut your tofu into cubes creating more miso-marinated surface area per bite.
It's also important to cut your tofu cubes into roughly the same size. This will enable the tofu to cook evenly.
What Does Miso Marinade Taste Like?
This miso glaze recipe has it all. It's a little bit sweet, slightly tangy and deliciously salty.
The key ingredient, of course, is miso paste. Like tofu, miso paste is a soy product. It's made by fermenting soybeans. Also like tofu, miso paste comes in a few varieties, with the most common being white miso, yellow miso and red miso. These varieties range in flavor depth, with white being mild and sweet and red being the strongest, most pungent.
The fermentation process is what makes miso paste so savory. Often, you'll hear people refer to it as being high in umami – the Japanese word for "savory." When paired with mirin, maple syrup and sesame oil, miso is transformed into a complex and delightful combination of flavors.
Making This Miso Glazed Tofu
For this vegan recipe, I used extra firm tofu. Extra firm tofu has a low water content and it maintains its shape well when cooked.
While the tofu was pressing, I made the miso marinade by whisking the mirin, maple syrup, sesame oil and miso paste into a thick glaze.
When the tofu had finished pressing, I cut each block into 24 equal sized cubes and added them to a large mixing bowl. I then tossed them with some safflower oil and sprinkled a couple of tablespoons of cornstarch over the tofu blocks. I then tossed them again to ensure that each piece was coated evenly.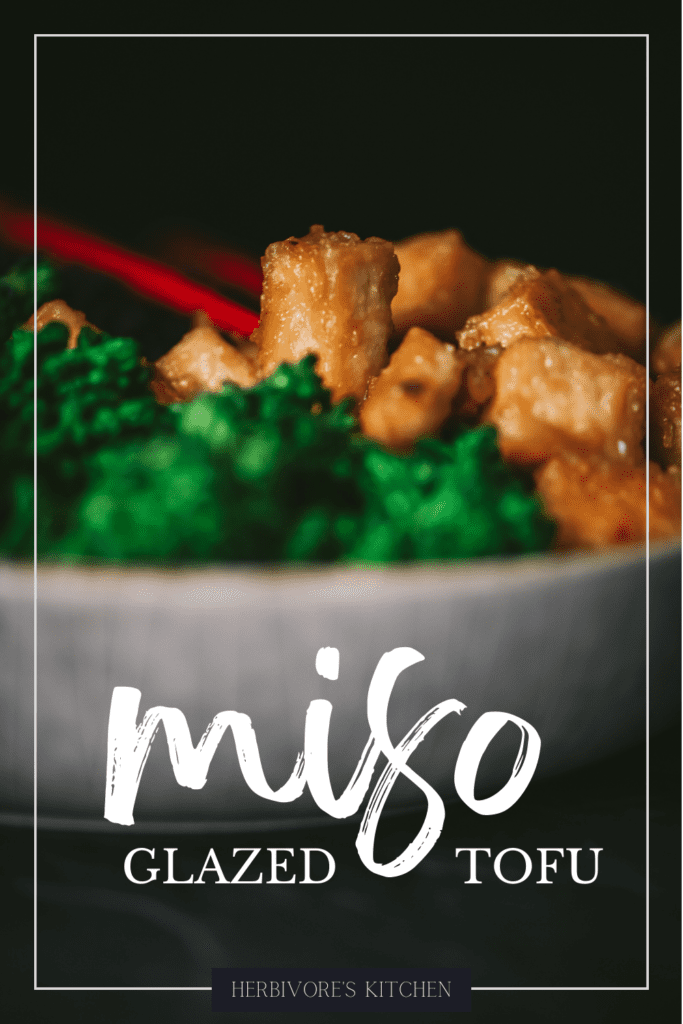 From there, I laid the blocks out in a single layer on a baking sheet lined with a silicon baking mat. This recipe, while delicious, can make a mess of your baking sheets. I recommend a silicon baking sheet over parchment paper because of the high oven temperature. Then I roasted the tofu for 20 minutes — pausing at 10 minutes to flip each piece – until the tofu was golden brown.
Adding the Miso Glaze
This is where this recipe gets really good! As a final step, I toss the roasted tofu cubes in the miso marinade, making sure that every side of each piece gets coated. Then I put them back into the oven – this time under the broiler – for just a minute. And then, VOILA! Perfectly caramelized, crispy miso-glazed tofu.
How to Eat Miso Glazed Tofu
Oh, let me count the ways!
One of my favorite ways to eat miso-glazed tofu is to add it to my Vegan Pho Chay. The sweet, salty accent of the miso glaze pairs really well with pho broth, complementing the lemongrass, cloves and star anise.
But enjoying this miso glazed tofu recipe doesn't have to be complicated. On busy weeknights, I like to pair it with some black rice and steamed broccolini. It's one of my family's favorite meals.
Do You Love This Miso Glazed Tofu Recipe?
Do you love this Miso-Glazed Tofu recipe? Be sure to check out my tofu dishes! If you're into teriyaki, then my Teriyaki Tofu Shish Kebabs are for you! Got dessert on the brain? Then you'll love my Silken Tofu Chocolate Mousse recipe!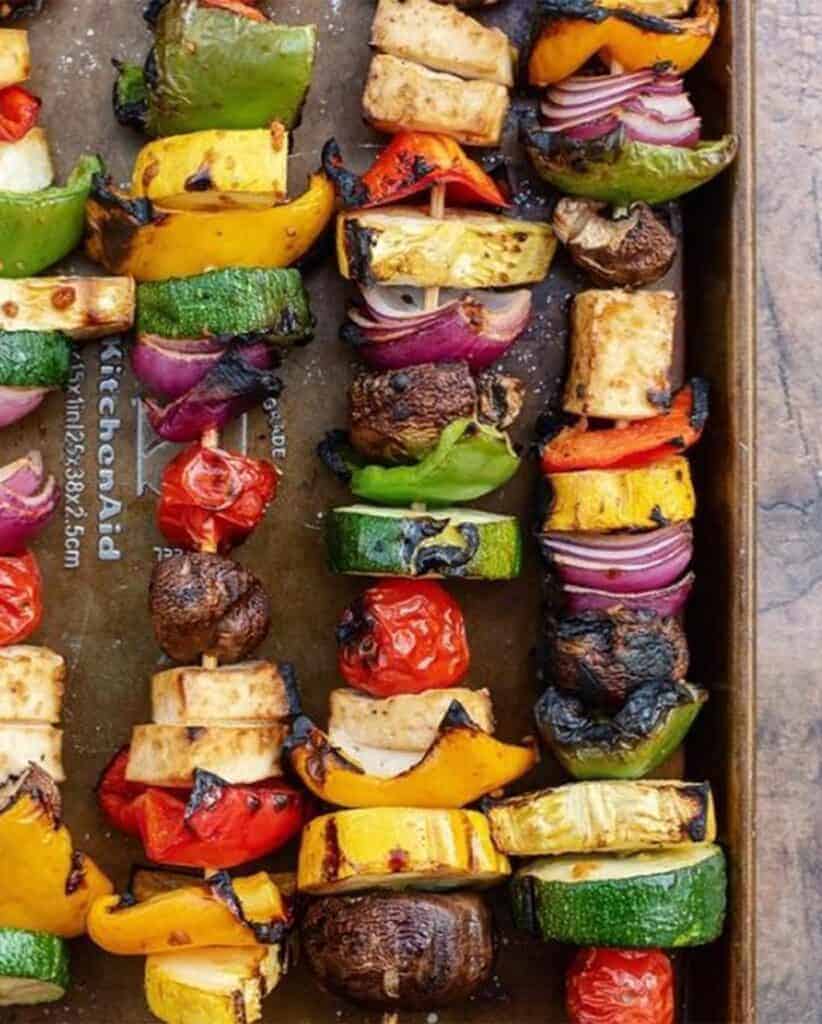 All the summer feels! Nothing tastes quite as good as shish kebabs right off the grill! Featuring teriyaki tofu, mushrooms, peppers and squash, this shish kebab recipe is an easy way to get plenty of healthy vegetables on the table.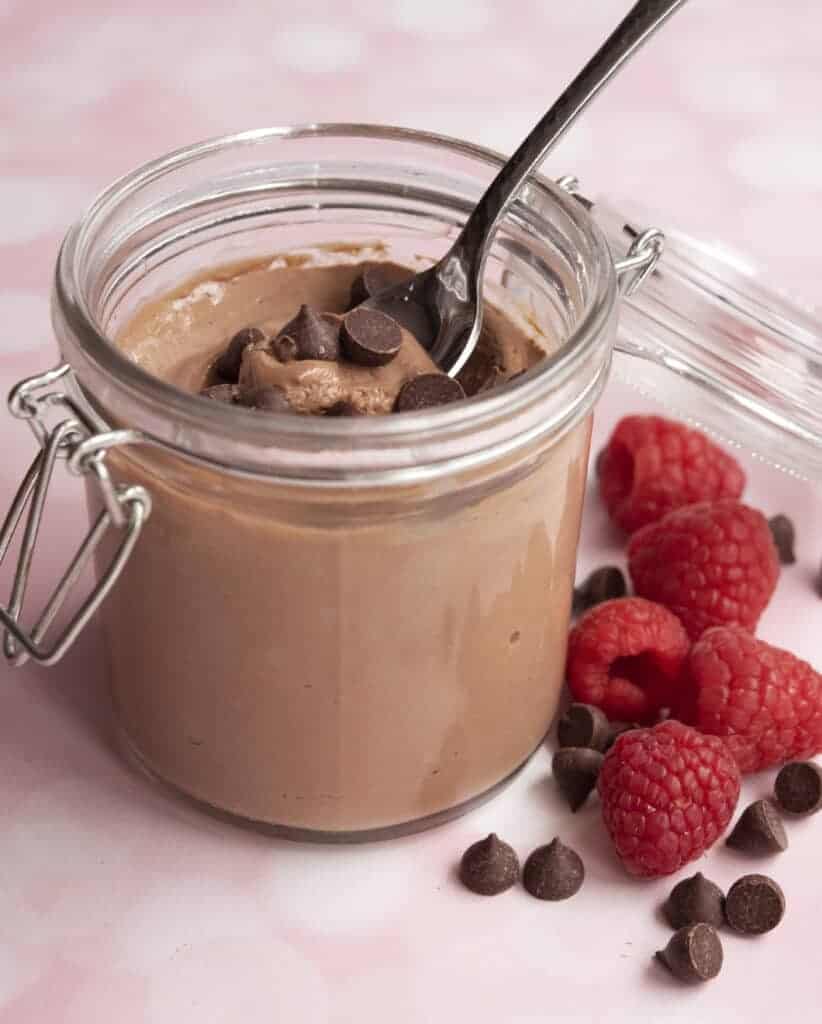 Wait! Stop! I know what you're thinking: tofu for dessert? I totally get it. This one took me a little while to work up the courage to try, but it's so worth bringing into your vegan dessert rotation. It's easy, 5 ingredients and light as air – just as chocolate mousse should be!
What's in My Kitchen to Make This Miso Glazed Tofu Recipe Easier?
Want to know what tools and resources I keep on hand to make my vegan cooking even easier? Here's a short list of what helped me create this blog post and recipe. For the complete list, visit my Shop where you can find the kitchen gadgets I like as well as a list of books that I recommend.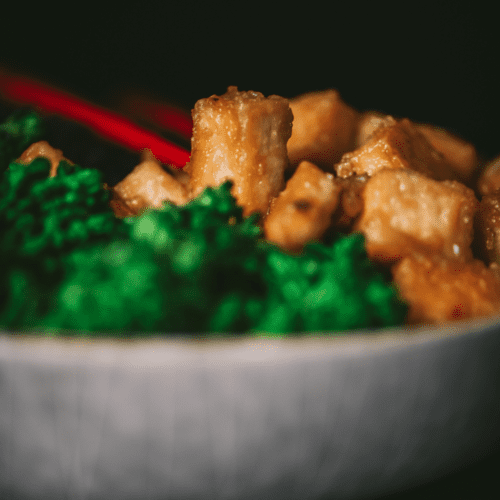 Miso Glazed Tofu
This Baked Tofu with a Miso Glaze recipe will make you a vegan faster that you can say Meatless Monday.
Ingredients
Instructions
Preheat the oven to 425º.

Set each pressed block of tofu on its side and slice it down the middle, creating two slabs. Then cut each slab into equal bite-sized pieces.

Toss the cubes in the safflower oil, then sprinkle with cornstarch. Toss again to coat each block evenly.

Arrange the cubes on a baking sheet. I recommend lining the baking sheet with a silicon baking mat. Bake the tofu for 10 minutes, then pause and flip each piece. Return the tofu to the oven and bake for another 10 minutes.

While the tofu is baking, prepare the miso glaze by combining the mirin, miso paste, maple syrup and sesame oil in a small bowl. Whisk until smooth. A miso whisk is a great tool for the job!

Remove the tofu from the oven and put it into a large bowl. Pour the marinade over the tofu and toss to coat. Return the glazed tofu to the baking sheet, being careful to spread it out into a single layer. Broil the tofu for 1-2 minutes on the middle rack, being careful not to burn it.

The tofu is done when the miso glaze has caramelized, and the outside of the tofu has become crispy.
About Herbivore's Kitchen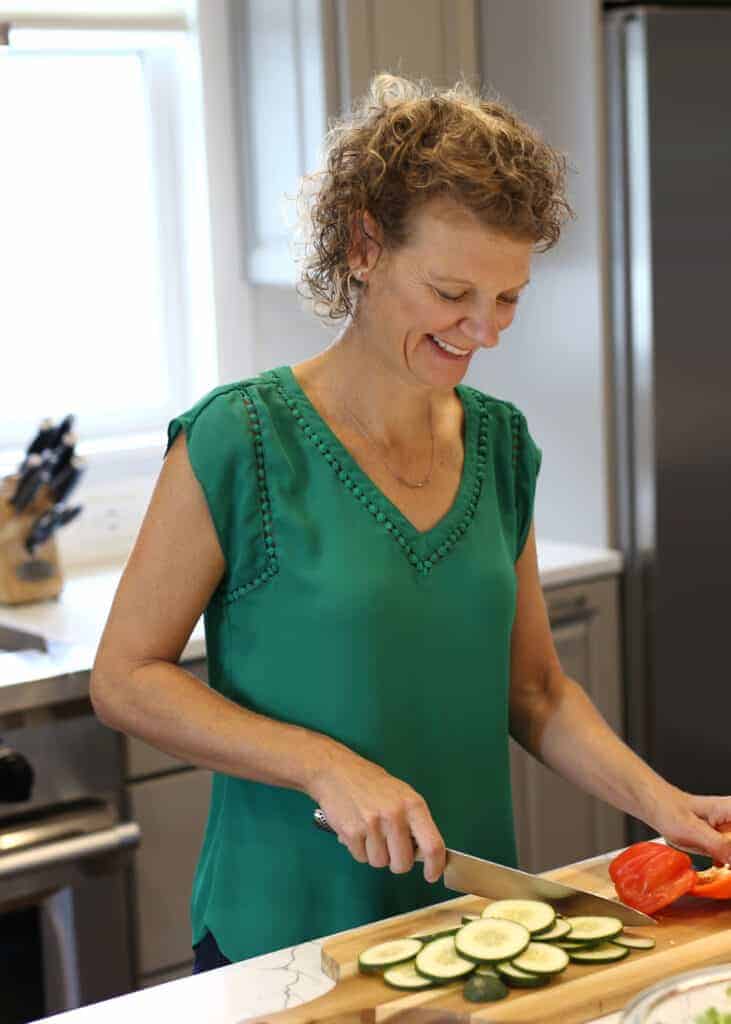 Herbivore's Kitchen is a plant-based food blog started by me, a vegan home chef, cookbook author, aspiring food photographer and how-to-be-a-better-food-blogger junkie. You'll mostly find creative and tasty vegan recipes and detailed deep dives into vegan ingredients (check out my Vegucation section) on my blog. I love knowing as much as I can about the food that I make. I'm also really into running a food blog as a business, so I've also got a section of my blog titled: Confessions of a Food Blogger where I get into the nitty gritty on how to build, manage, market and monetize a food blog.