Jump to Recipe
This Vegan Thirteen Bean Soup recipe includes affiliate links. When I find a great product or service, I like to share it with my readers. Sometimes I use affiliate links so I can earn a commission for my recommendations. Thank you for your support!
Vegan Thirteen Bean Soup
Looking for healthy vegan dinner options? This savory thirteen bean soup is packed with both flavor and protein. Seasoned with sautéed tomato paste and creamy coconut milk, this vegan bean soup is a meal in and of itself. It's an easy way to put a vegan dinner on the table in the chilly winter months!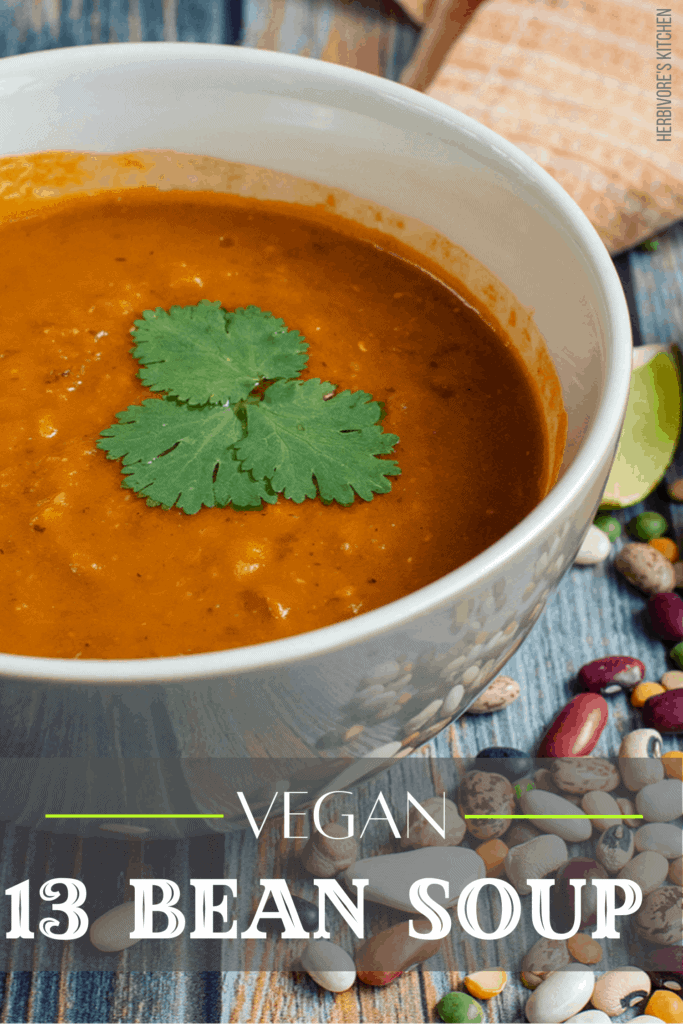 Vegan Bean Soup: An Easy Weeknight Meal
One of the things I like most about this vegan soup recipe is that I almost ways have all of the ingredients that I need on hand. Most of this simple dinner idea is from the pantry, so it's easy to throw it together mid-day without having to make a trip to the grocery store.
Dried beans & legume blends are a great vegan pantry staple. For this vegan soup, I use Bob's Red Mill 13 Bean Soup Mix. It's a robust blend of navy, black, red, pinto, garbanzo, great northern, kidney, baby lima and large lima beans; black-eyed, yellow split and green split peas; and brown and red lentils. As you can imagine, it's loaded with protein and vitamins and plenty of texture and flavor.
With the help of my KitchenAid Multi-Cooker, this one-pot recipe is largely hands off. It takes me about 20 minutes to get everything prepped and into the multi-cooker. Once I have that going, I'm pretty much out of my kitchen for the rest of the day.
What is a Multi-Cooker?
It's a similar to a crockpot in style and the ability to slow cook food, but it has the advantage of enabling a variety of other cooking techniques. These include: searing, sautéing, boiling and steaming. In addition, it has settings for making risotto, rice, soup and yogurt. These features enable me to do things like sauté my onions and toast my tomato paste for extra flavor without having to use any additional pots or pans. It's also programmable, so if I want it to slow cook on high for an hour, then finish my soup on slow-cook low, I'm able to do that without having to remember to change the settings.
Getting the Most Flavor Out of Vegan Ingredients
Before I really got into vegan recipe development, I thought that soups made with beans and water had no chance of being flavorful. That's not the case at all though. By using a variety of cooking techniques and a few vegan-friendly ingredients, including dried herbs and spices, I'm able to make a vegan meal that is both flavorful and healthy.
Drawing flavor out of your vegetables is key. To start, I like to slowly sauté my onions in some salt until they're a reduced to rich, browned flavor bombs. Yes, this takes some extra time, but it so worth it. I also like to toast my dried herbs and tomato paste to bring out their flavor. To do this, I add these ingredients to my soup pot and cook them on medium-high heat before adding any of my liquid ingredients.
The Trick to Making this Vegan Bean Soup Kid Friendly
While I'll eat this soup as is, my kids are often turned off by thick chunks of tomatoes, onions and any identifiable beans. They prefer a pureed consistency which is easy enough to do. With a few pulses of my immersion blender, this broth soup becomes more like a thick, chili-like dish. This simple trick helps me to a deliver veggie-loaded, plant-based dinner to the table that they'll both eat with enthusiasm.
Like this Vegan Bean Soup Recipe? Then Check Out Some of My Other Vegan Soup Recipes!
Vegan soups are a great option in the chilly winter months. I like some variety in my soups. Some nights I am in the mood for a thick chili, while others I want a brothy, veggie-loaded bowl. Here are some of my favorite vegan soups for you to try!
This is another vegan soup recipe that's easy to deliver to my table without a lot of fuss. Vegan pantry ingredients like canned tomatoes, vegetable broth and coconut milk come together in a thick, savory soup that hits the mark!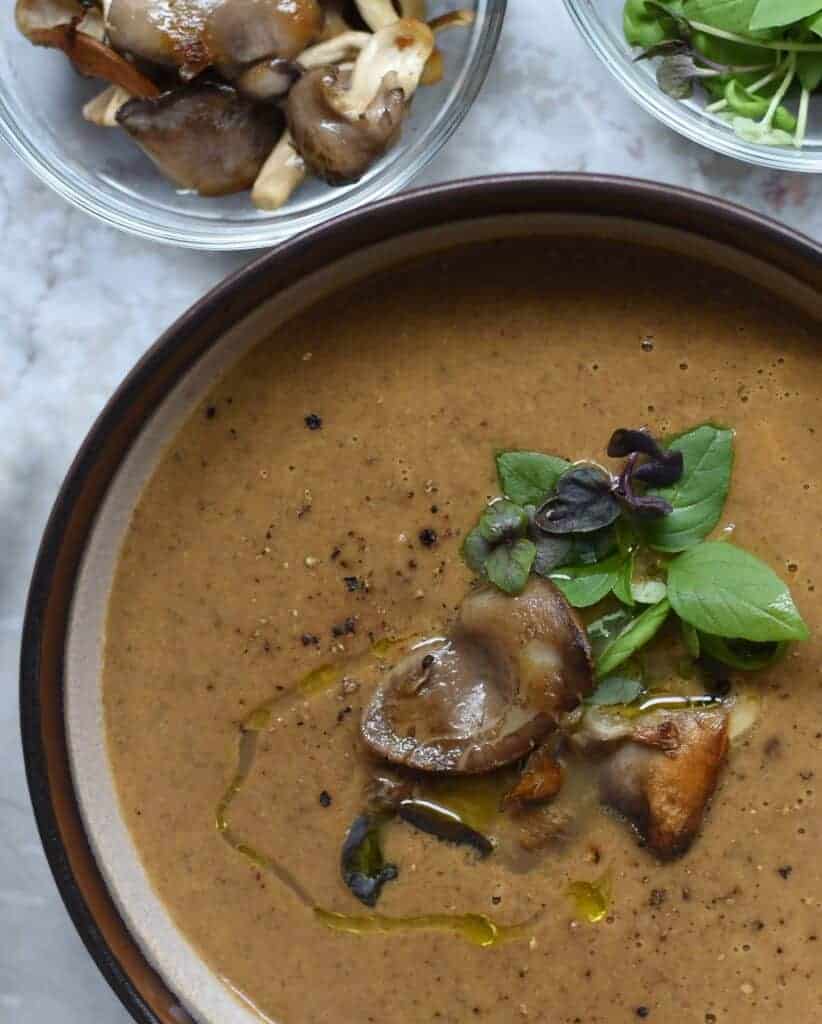 This vegan mushroom bisque recipe is one of my all-time favorites. As you may know, mushrooms are an umami-rich vegan ingredient, so this soup is satisfyingly savory. Red wine, tomato paste and a variety of dried herbs and spices make this a must-try vegan soup!
If you're into simple curry recipes, this Coconut Curry Sweet Potato Soup is one to add to your list. This soup gets its thick, rich consistency from blended sweet potatoes and carrots, while its warm fragrance comes from a simple curry powder blend. It's a great way to put a vibrant dinner on the table in 30 minutes.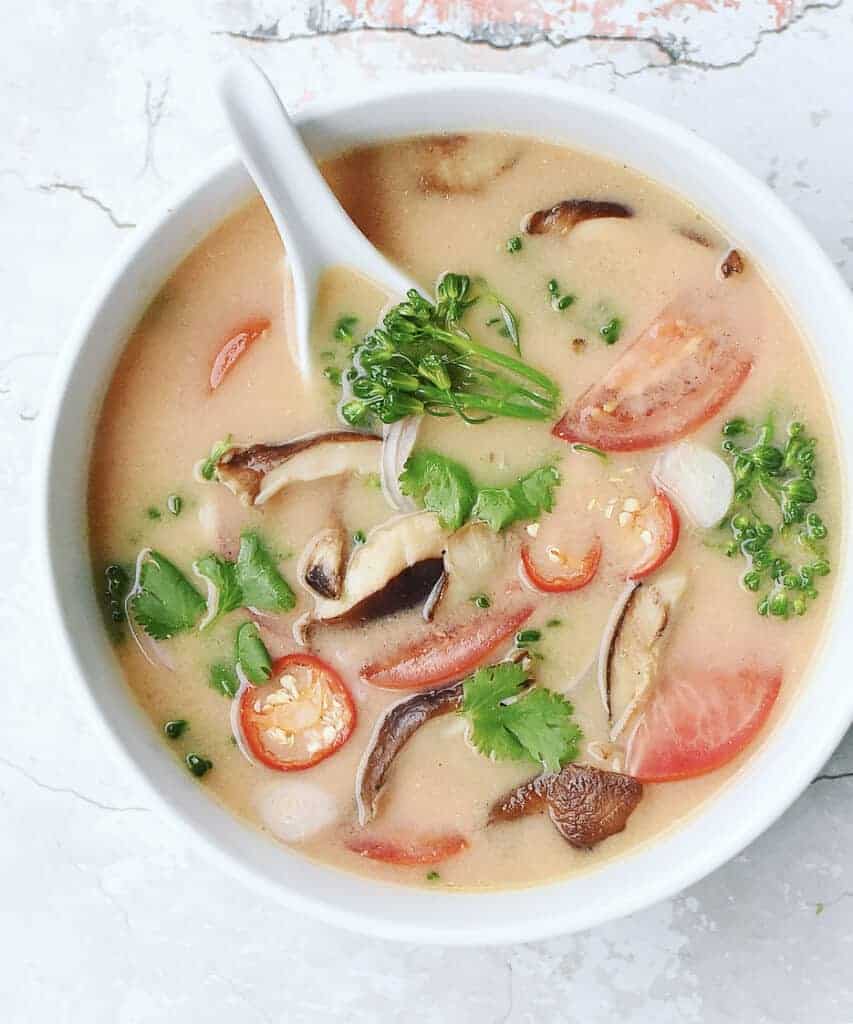 If you're craving Thai takeout, but want to stick to a plant-based diet, then this Simple Vegan Tom Yum Soup is for you! It's loaded with vibrant veggies and sings with the flavors of fresh ginger and lemongrass.
What's in My Kitchen to Make This Vegan Thirteen Bean Soup Recipe Easier?
Want to know what tools and resources I keep on hand to make my vegan cooking even easier? Here's a short list of what helped me create this blog post and recipe. For the complete list, visit my Shop where you can find the kitchen gadgets I like as well as a list of books that I recommend.
A couple of years ago, I replaced my traditional crockpot with this multi cooker. I love this thing. It has settings for sautéing, simmering, braising, boiling and warming (among others). It's one-pot, slow cooking at its finest. I sauté my onions and garlic, then bring my broth to a boil, reduce it to a simmer and low, slow cook it all afternoon. All in one device.
As I said above, having an immersion blender is like having a magic wand capable of getting your kids to eat vegetables. And, yes, I know. A lot of people didn't like it when Jessica Seinfeld tricked her kids into eating veggies. If that makes me a bad mother, then so be it.
No, that's not the brand. It's just the idea! But, I own this set of Global™ knives and They're some of my most prized possessions in the kitchen. This set is universally well-rated for the at-home chef and will get you a good, solid set of knives without totally breaking the bank.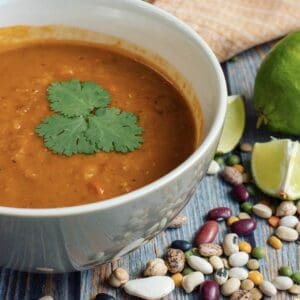 Vegan Thirteen Bean Soup
Looking for healthy vegan dinner options? This savory thirteen bean soup is packed with both flavor and protein. Seasoned with sautéed tomato paste and creamy coconut milk, this vegan bean soup is a meal in and of itself. It's an easy way to put a vegan dinner on the table in the chilly winter months!
Ingredients
1

tbsp

extra virgin olive oil

1/2

yellow onion

diced

1

tsp

salt

1

tbsp

fresh garlic

minced

2

tbsp

tomato paste

1

tsp

dried rosemary

1

tsp

dried thyme

1

tsp

dried oregano

1

stalk

celery

washed and sliced into 1/4" pieces

2

carrots

washed and sliced into 1/4" pieces

1

sweet potato or garnet yam

washed and cut into bite-sized pieces

1

cup

dried bean soup mix

(I like Bob's Red Mill 13 Bean Soup Mix)

1

14 oz can

unsalted diced tomatoes

1

14 oz can

full-fat, unsweetened coconut milk

3

cups

water

+ additional water as necessary

salt & pepper

to taste
Instructions
Note: I like to cook this entire meal in my KitchenAid Multi Cooker. It sautés, boils, simmers and slow cooks all without dirtying another pot.

Heat the extra virgin olive oil on low-medium heat until shimmering. Add the onions and salt and sauté, covered, for about 10 minutes. At this point, the onions should have become translucent. Continue to cook the onions uncovered on low heat for another 10-15 minutes until they are richly brown. Stir occasionally.

Add the minced garlic and sauté 1-2 minutes more.

Increase the heat to medium-high and add the rosemary, thyme and oregano. Sauté until fragrant. About 1-2 minutes.

Add the tomato paste. Sauté, stirring frequently, until the tomato paste becomes a dark red. About 2-3 minutes.

Add the diced tomatoes, water and coconut milk.

Bring the soup to a boil, then reduce to a simmer by setting the multi-cooker on slow-cook low for 4-5 hours. The soup is done when the beans and potatoes are soft. Check the cooker periodically. You may need to add water to the broth.

For a thicker consistency, use an immersion blender and blend until the desired consistency is reached.

Season with salt & pepper, as desired.
About Herbivore's Kitchen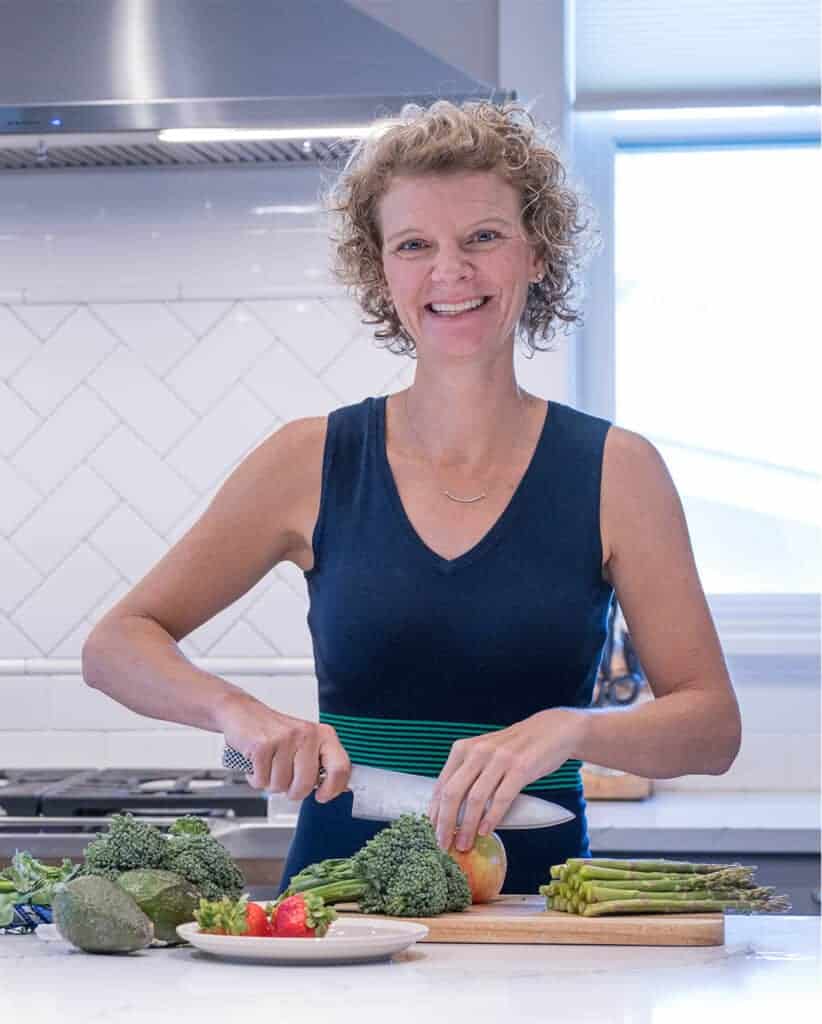 Herbivore's Kitchen is a blog run by me, a plant-based home chef and aspiring food photographer. I switched my and my family's diet to a plant-based diet after learning about the health benefits of going vegan. Making this change has prompted a variety of food and holistic-lifestyle related questions that I explore through this blog. I talk about how to pick and prepare the most nutritious foods, to how to reduce waste at home, to how to live a more sustainable lifestyle while on the road.