Jump to Recipe
This Thai Red Curry Lemongrass Soup Recipe includes affiliate links. When I find a great product or service, I like to share it with my readers. Sometimes I use affiliate links so I can earn a commission for my recommendations. Thank you for your support!
Thai Red Curry Lemongrass Soup
Few dishes make me as happy as a homemade noodle bowl. I could eat one every single day. They're such a great way to put a healthy vegan meal on the table. And they're FUN! So much fun, that I have several of them on my food blog. Some of my favorites include my Veggie Loaded Easy Vegan Ramen Soup, Miso Ramen with Miso-Glazed Delicata Squash and my Thai Red Curry Ramen Noodle Bowls. As you can see they're all full of flavor with variety of colorful ingredients. This Thai Red Curry Lemongrass Soup is my latest addition to this vegan soup collection.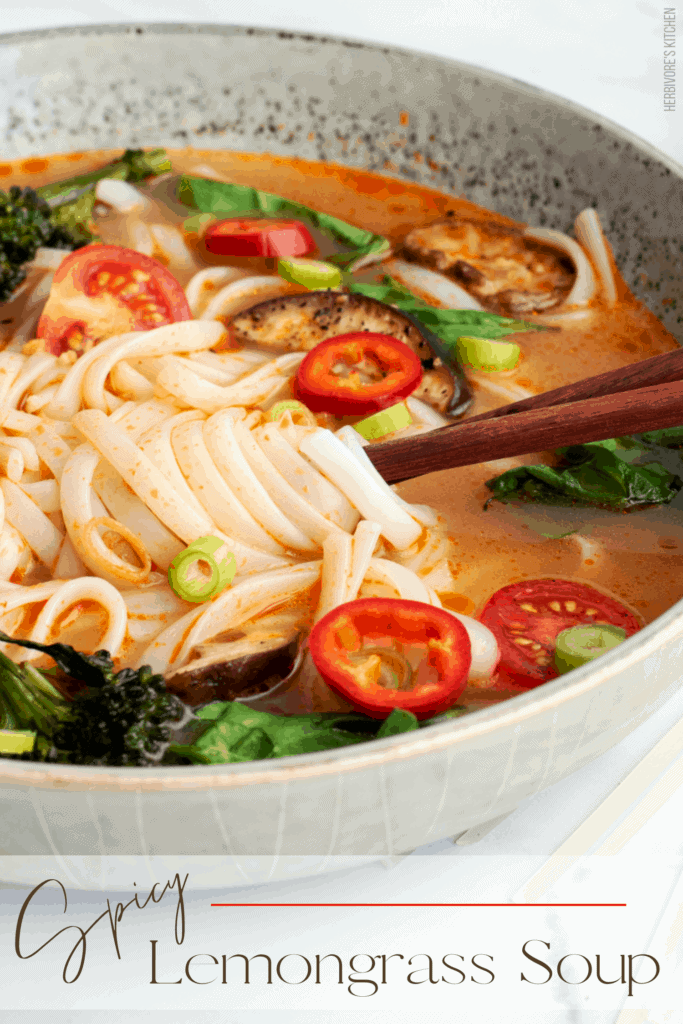 For this vegan soup recipe, I created spicy broth with a touch of coconut creaminess. It features lemongrass along with ginger, scallions and red curry paste. Like its predecessors, I filled it with a variety of healthy vegetables — roasted broccolini, spinach, tomatoes and shiitake mushrooms — as well as a large serving of pad Thai rice noodles.
What is Lemongrass?
In terms of flavors, lemongrass ranks really high on my list. As its name suggests, lemongrass is, in fact, a lemon-scented grass. In addition to citrus, lemongrass imparts an herbal flavor. The result is a bright lemony essence with hints of mint and ginger. It's truly fantastic!
How to Shop for Lemongrass
Fresh lemongrass — my preferred way to cook with it — can usually be found in the produce section at the grocery store. Look for small bundles of stalks that are green at the tip and become white with hints of purple toward the root. It should be firm, not rubbery. Avoid any stalks that are brown or appear dried out. When you bring it home, wrap it lightly and store it in the refrigerator.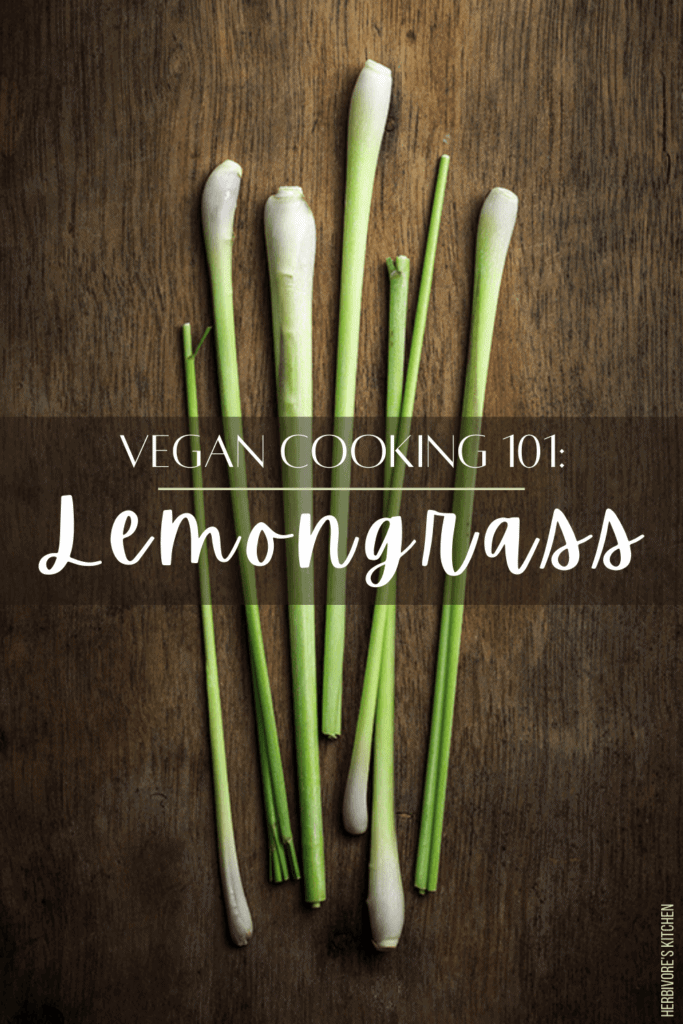 How to Cook with Fresh Lemongrass
Fresh lemongrass is fibrous, so you don't want any large pieces floating in your broth. Instead, I prep the stalks by trimming the bulb at the root end as well as upper part of the stalk. I use the remaining middle portion of the stalk (about 3 inches) to infuse the broth. To do this, I score each stalk with a sharp knife, then bend it back and forth to expose the inner leaves, but leaving the stalk intact. The stalk simmers in the broth during the cooking process and is removed at the end, just before serving.
Substitutions for Fresh Lemongrass
If you can't find fresh lemongrass in the produce section, look for frozen lemongrass stalks in the freezer section. You can also use dried lemongrass or lemongrass powder, although I opt for lemongrass powder over dried lemongrass. One teaspoon of lemongrass powder is roughly equivalent to one stalk of fresh lemongrass. As a last resort, fresh lemon zest can be used as a substitute. The zest of one lemon is roughly equivalent to 2 stalks of lemongrass.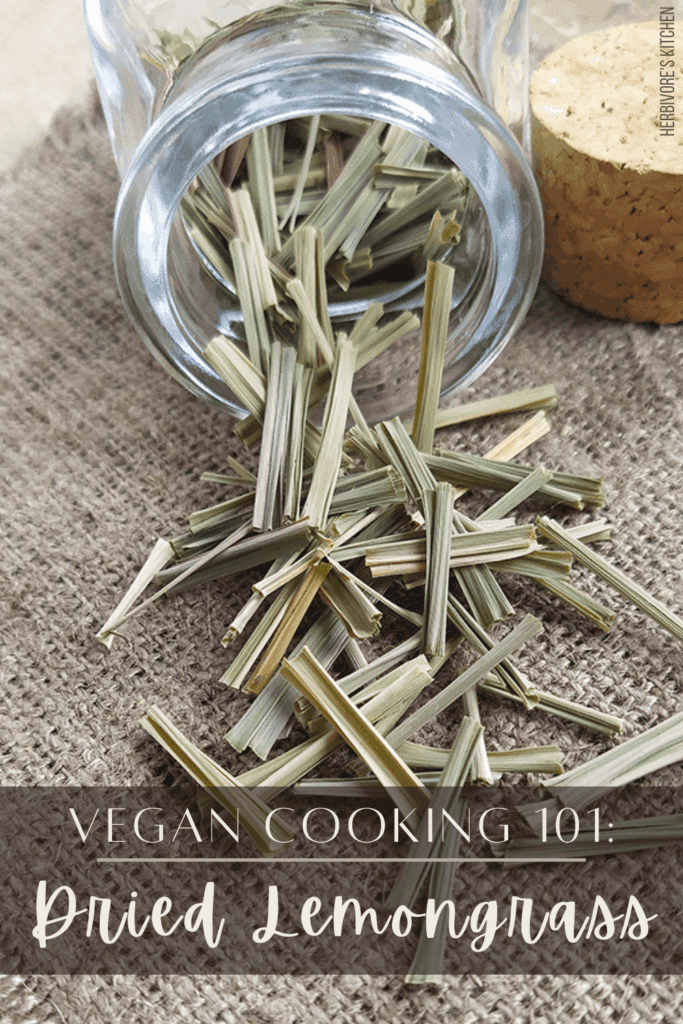 Loading This Thai Red Curry Lemongrass Soup with Veggies
Traditional lemongrass soup isn't as vegetable heavy as my version here. It usually features tomatoes and mushrooms and often includes shrimp. I'm not one to miss an opportunity to load up on vegetables though, so I added broccolini and fresh baby spinach to the traditionally included tomatoes and mushrooms for this vegan version of lemongrass soup.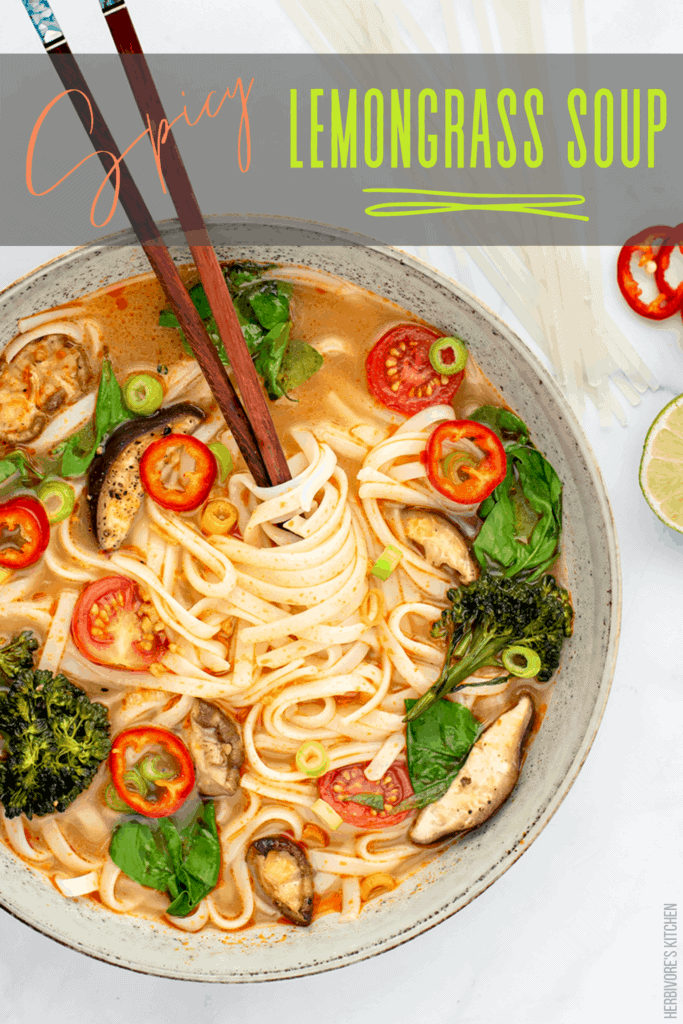 While it takes some extra time, I roast the broccolini, mushrooms and tomatoes before adding them to my soup. Roasting them changes the texture and flavor in positive ways, so I think it's worth it. I also utilize a trick I learned some time ago — brining my mushrooms before roasting them. This step infuses the mushrooms with just the right amount of salt and ensures that they stay plump and moist when roasted instead of drying out.
Putting This Thai Red Curry Lemongrass Soup Together
This vegan soup recipe has four parts that come together in the end. There's the broth, which simmers while I work on the other two parts. The vegetables are the second part, the pad Thai noodles are the third part and the garnishments are the fourth part. They don't come together until just before serving when I pile each serving bowl with noodles and veggies and then top it off with hot broth, Thai chilies and scallion greens. I like doing it this way for several reasons.
It ensures that every ingredient goes into the soup with the right texture upon serving. For example, I like my pad Thai noodles to have a chewy al dente texture. If they sit in a hot broth too long, they'll become overcooked and mushy.
It allows my guests to build their own bowls. It makes dinner an interactive affair with each person getting to select what goes into their bowl in accordance with their like and dislikes. Some people, as much as I don't understand them, don't like mushrooms. Making this vegan dish in four parts is a great way to keep them happy.
In a word… leftovers. This vegan soup as a leftover is so much better if you assemble it the next day. If you combine everything before refrigeration, the spinach will wilt beyond its brilliant green color, the noodles will become soft and the Thai chilies will impart more heat over time making it very spicy.
Want More Recipes Like This Thai Red Curry Lemongrass Soup?
If you've discovered that you love lemongrass too, be sure to check out some of these other Herbivore's Kitchen recipes!
Vegan pho might be the perfect cure to the wintertime blues, especially when it's as vibrant as this bowl. This vegan recipe includes a homemade pho broth, tons of vegetables, zucchini noodles and lots of fresh herbs. It's a must-try vegan recipe!
Are you craving vegan Thai food? Tom Yom Soup has always been a favorite of mine. This Tom Yum Soup recipe uses my vegan fish sauce in place of traditional fish sauce. It also seeks to simplify the ingredients to those that you can find in your regular grocery store, omitting the need to travel to more than one place to bring this delicious Tom Yum Soup recipe to your table.
No vegan recipe collection is complete without a Thai green curry recipe! Green curry is spicy, rich and flavorful and makes for an easy vegan dinner option. I like to pack my green curry bowls with healthy vegetables and flavorful rice varieties to add in extra color and nutrition. For this green curry bowl, I added sautéed shiitake mushrooms, asparagus, broccolini and cumin-spiced sweet potatoes. I also swapped out the rice for ramen rice noodles to mix up my vegan dinner options.
What's in My Kitchen to Make This Thai Red Curry Lemongrass Soup Recipe Easier?
Want to know what tools and resources I keep on hand to make my vegan cooking even easier? Here's a short list of what helped me create this blog post and recipe. For the complete list, visit my Shop where you can find the kitchen gadgets I like as well as a list of books that I recommend.
No, that's not the brand. It's just the idea! But, I own this set of Global™ knives and They're some of my most prized possessions in the kitchen. This set is universally well-rated for the at-home chef and will get you a good, solid set of knives without totally breaking the bank.
Designed to serve pasta, I use these shallow dinner bowls all. the. time. I love that I can present all of the ingredients of a dish without over-serving in terms of portion. With a standard bowl, food ends up being stacked and that's no way to display all of your hard work. These bowls are an inexpensive, practical way to present everything from pasta bowls, curry bowls and burrito bowls.
Like the noodle bowls, eating miso ramen is more fun with the right spoon. These Asian soup spoons are perfect for this ramen noodle bowl!
Here's my theory: food tastes better if it's eaten with the utensils it was designed for. This is why I use Ramen Soup Spoons for my ramen bowls (check out my Veggie Loaded Veggie Ramen) and why I use chopsticks for dishes like my Vegetable Lo Mein.
These fiberglass chopsticks are attractive, inexpensive and reusable and won't give you splinters!
">Aluminum Baking Sheets
Down a broiler pan? These aluminum baking sheets come highly recommended by the cooks who know best – Epicurious, Cooks Illustrated and Food & Wine. I bought mine because I needed a good, sturdy baking sheet to use under the broiler. One that wouldn't warp – and this one lives up to the task.
Aluminum is a good conductor of heat, so these baking sheets cook evenly. They're also light in color, so they discourage over-browning.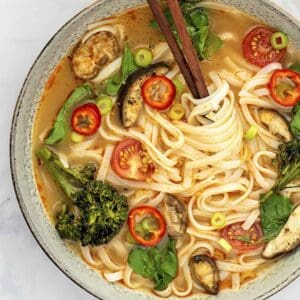 Thai Red Curry Lemongrass Soup
This vegan Thai Red Curry Lemongrass Soup recipe is easy and healthy! Plenty of veggies complement the spicy, creamy coconut broth with hints of ginger and lemongrass. This vegan soup is also packed with deliciously chewy pad Thai ramen noodles, making it a simple vegan meal!
Ingredients
12-15

shiitake mushrooms

washed, destemmed and thickly sliced

1

quart

warm water

1

tbsp

salt

2

stalks

fresh lemongrass

trimmed, scored and bent to expose the inner leaves; see Recipes Notes

2

scallions

washed and thinly sliced with the white parts separated from the green parts

1

tbsp

fresh garlic

minced

1

tbsp

fresh ginger

minced

2

tbsp

red curry paste

I like Thai Kitchen's red curry paste

1/4

cup

tamari

1 1/2

quarts

water

2

bunches

broccolini

washed and trimmed

1

tbsp

safflower oil

or other high-temp tolerant oil

1/2

pint

grape tomatoes

rinsed and sliced in half

1

tbsp

fresh lime juice

2

tsp

sugar

1

5 oz can

full-fat, unsweetend coconut milk

8

oz package

pad Thai rice noodles

cooked in accordance with the package directions; I like Lotus Foods' Organic Traditional Pad Thai Rice Noodles

1

cup

fresh baby spinach

loosely packed

Thai red chilies

washed, deseeded and sliced

sriracha sauce

optional, for additional spice
Instructions
Preheat your oven to 400º.

Prepare a brine solution by combining one quart of warm water with 1 tbsp of salt. Stir until the salt has dissolved, then add the shiitake mushrooms. Place a small bowl or dish over the mushrooms to fully submerge them. Set aside for 10 minutes. See Recipe Notes.

Warm a large stockpot on low heat. Add the coconut oil and heat until shimmering. See Recipe Notes.

Add the lemongrass, scallion whites, fresh garlic and fresh ginger. Stir and cook until fragrant. About 1-2 minutes.

Add the red curry paste and increase the heat to medium. Stir to thoroughly coat the aromatics with red curry paste. Sauté until the red curry paste darkens in color. About 2-3 minutes.

Add the tamari and 1 1/2 quarts of water. Cover and simmer for 20 minutes.

While the broth is simmering, drain the shiitake mushrooms and pat them dry. Then spread them and the broccolini out on a baking sheet. Drizzle with 1 tbsp safflower oil and use your hands to coat the mushrooms and broccolini. Roast the vegetables on the middle rack for ~20 minutes, pausing to toss the vegetables halfway through. See Recipe Notes.

When tossing the roasted vegetables, add the tomatoes to the baking sheet before returning it to the oven.

Retrieve the lemongrass stalks from the broth and discard.

Add the lime juice, sugar and coconut milk to the broth. Simmer for 2-3 minutes to meld the flavors and warm the broth.

Prepare each serving bowl with a serving of pad Thai rice noodles. Add some roasted shiitake mushrooms, broccolini, fresh baby spinach and blistered tomatoes.

Add the broth to each bowl and top with scallion greens, Thai red chilies and sriracha sauce, if desired.
Notes
Prep the lemongrass stalks by trimming the bulb at the root end as well as upper part of the stalk. Use the remaining middle portion of the stalk (about 3 inches) to infuse the broth. To do this, score each stalk with a sharp knife, then bend it back and forth to expose the inner leaves, but leaving the stalk intact. The stalk will simmer in the broth during the cooking process and be removed before serving.
Brining mushrooms before roasting them ensures that they'll stay plump and moist during the roasting process instead of becoming dry and crispy.
Coconut oil has a low smoke point, so you don't want the pot to be hot when you add it. Just warm the pot a little bit before adding the oil.
Unlike coconut oil, safflower oil has a high smoke point. It's neutral in flavor and inexpensive. It's a great choice for roasting vegetables.
About Herbivore's Kitchen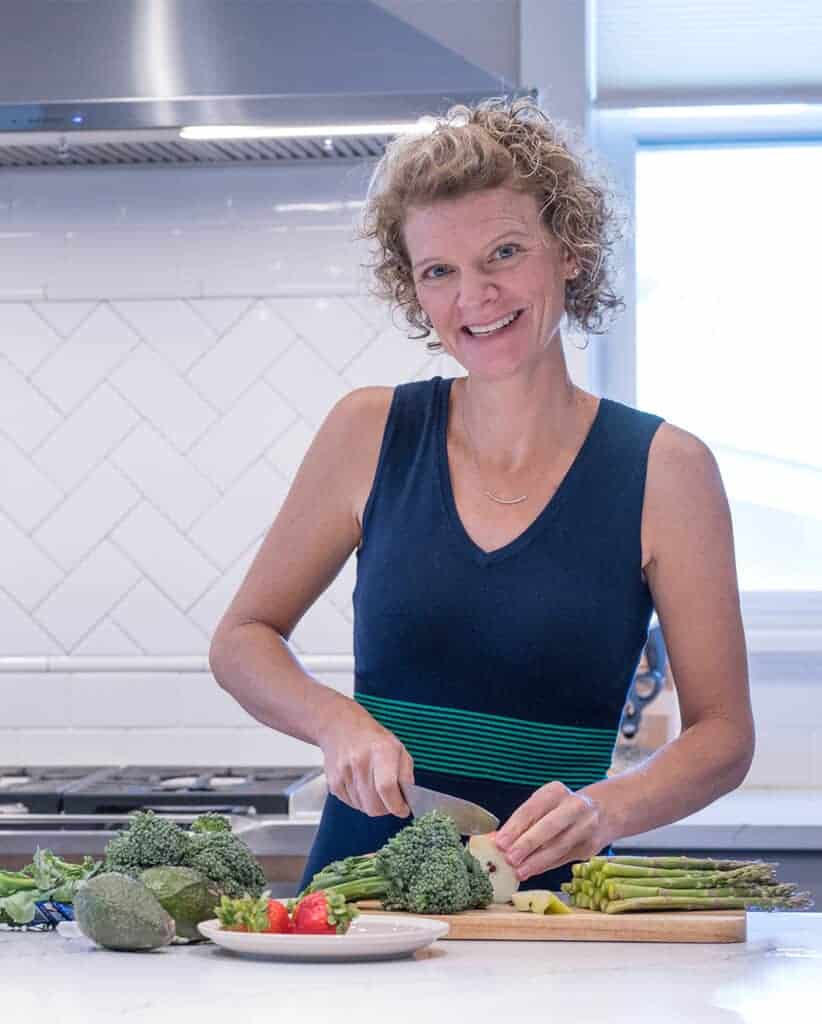 Herbivore's Kitchen is a blog run by me, a plant-based home chef and aspiring food photographer. I switched my and my family's diet to a plant-based diet after learning about the health benefits of going vegan. Making this change has prompted a variety of food and holistic-lifestyle related questions that I explore through this blog. I talk about how to pick and prepare the most nutritious foods, to how to reduce waste at home, to how to live a more sustainable lifestyle while on the road.