Jump to Recipe
This Creamy Vegan Mashed Potatoes Recipe includes affiliate links. When I find a great product or service, I like to share it with my readers. Sometimes I use affiliate links so I can earn commission for my recommendations. Thank you for your support!
Creamy Vegan Mashed Potatoes: The Best Side Dish for Your Vegan Thanksgiving
Are you celebrating Thanksgiving with your favorite vegan? These creamy vegan mashed potatoes are an easy, tasty way to include all of your family members! The vegans will be happy and the carnivores won't notice the difference! This mashed potato recipe uses Yukon Gold potatoes and coconut milk for a rich, creamy result. Vegan Thanksgiving never tasted so good!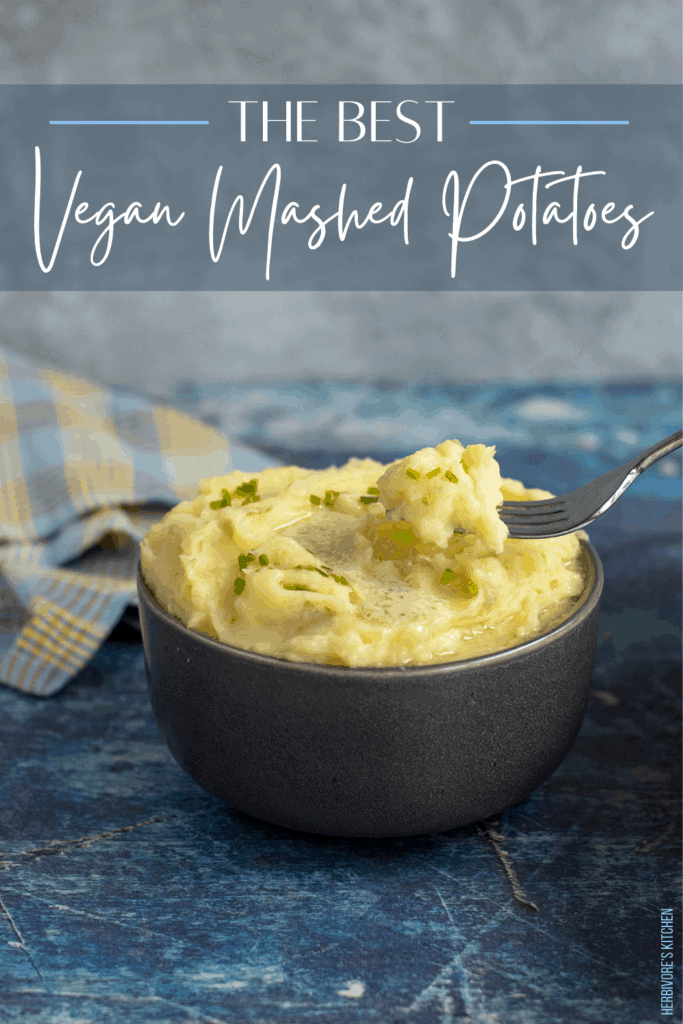 Yukon Gold Potatoes: The Secret to These Creamy Vegan Mashed Potatoes
As you may know, not all potatoes are created equal. But the differences between one type of potato and another go beyond their size, shape and color. Different varieties of potatoes contain different amounts of starch. The amount of starch in a potato has a lot to do with whether the potato holds its shape when cooked, or melts into a smooth, creamy result.
Take Red Bliss potatoes, for example. Red Bliss potatoes are commonly roasted or used in summer picnic favorites like potato salad. These low-starch potatoes hold their shape when baked, boiled or roasted, making them the perfect potato candidates for such dishes.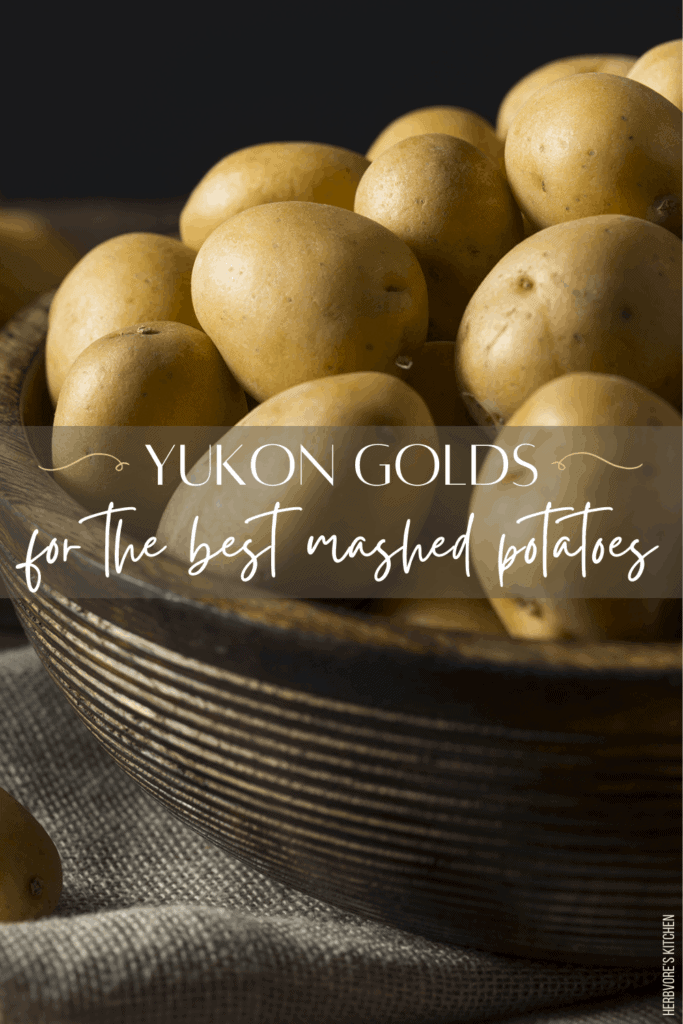 Russet potatoes, on the other hand, fall apart. Just think of the last time you had a baked potato on your plate. You cut it open, gave it a couple of mashes with your fork and it just fell apart. It's this trait that makes baked Russet potatoes the perfect vehicle for topping with black beans, creamy vegan nacho cheese, pickled red onions and salsa for a healthy twist on tacos.
The Yukon Gold potato falls in between. These spuds not overly starchy or prone to keeping their shape. This is what makes them the perfect candidate for creamy vegan mashed potatoes. Yukon Gold potatoes have a deep yellow color, giving the finished dish that delicious golden hue.
Swapping Out the Dairy to Make Vegan Mashed Potatoes
Traditional mashed potatoes are made with plenty of butter and cream. However, you can still have creamy mashed potatoes if you're on a vegan diet. For this vegan recipe, I simply swap dairy butter out for a little vegan butter. And the cream? I use coconut milk. Not the watered-down version you find in a carton in the grocery store, but the unsweetened, full fat coconut milk that comes in a can.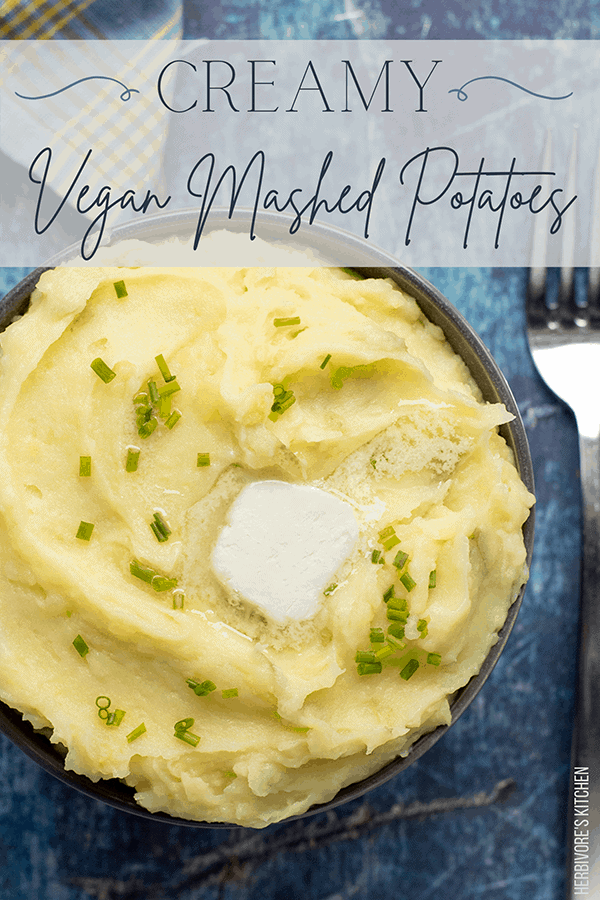 If your first thought is that your Thanksgiving dinner will have the aroma of coconuts, don't worry. I find that coconut milk doesn't have an overpowering flavor at all. Trust me, these mashed potatoes won't taste like they're from the tropics.
Planning Out Your Vegan Thanksgiving? Here Are Some Other Recipes to Try
If you're planning a plant-based Thanksgiving celebration this year, here are some ideas to see you through.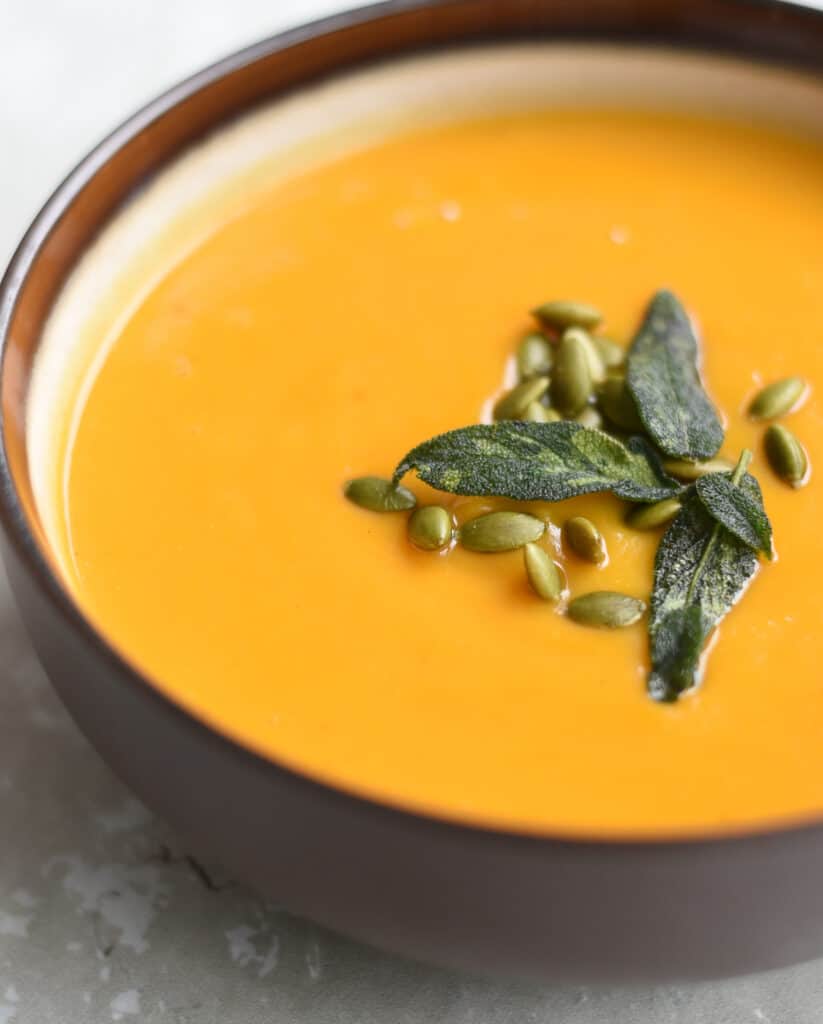 There's no better starter than soup and this rich, creamy bisque has Thanksgiving written all over it! This vegan soup's thick consistency is all vegetable! The roasted butternut squash easily purees into this silky bisque. Apple sauce sweetens the deal, while coconut milk lends a creamy flavor.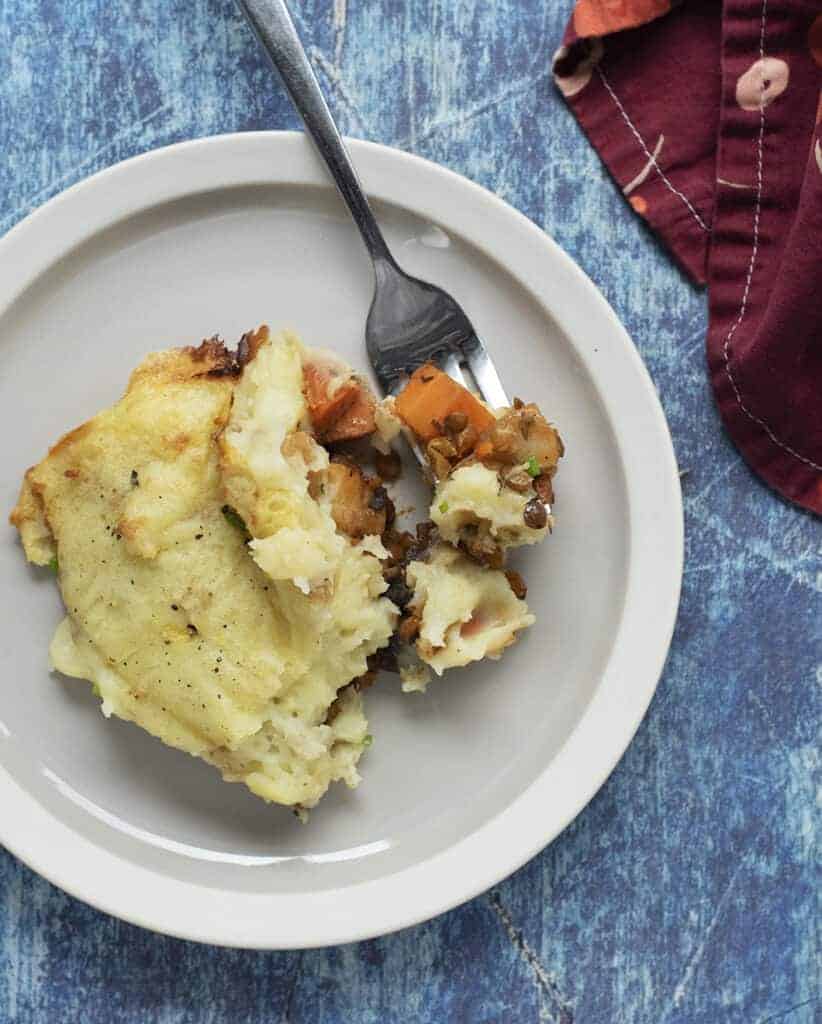 Forget serving mashed potatoes as a side. Use them to top a healthy version of Shepherd's Pie! This vegan recipe swaps out the meat for green lentils and packs in plenty of healthy vegetables!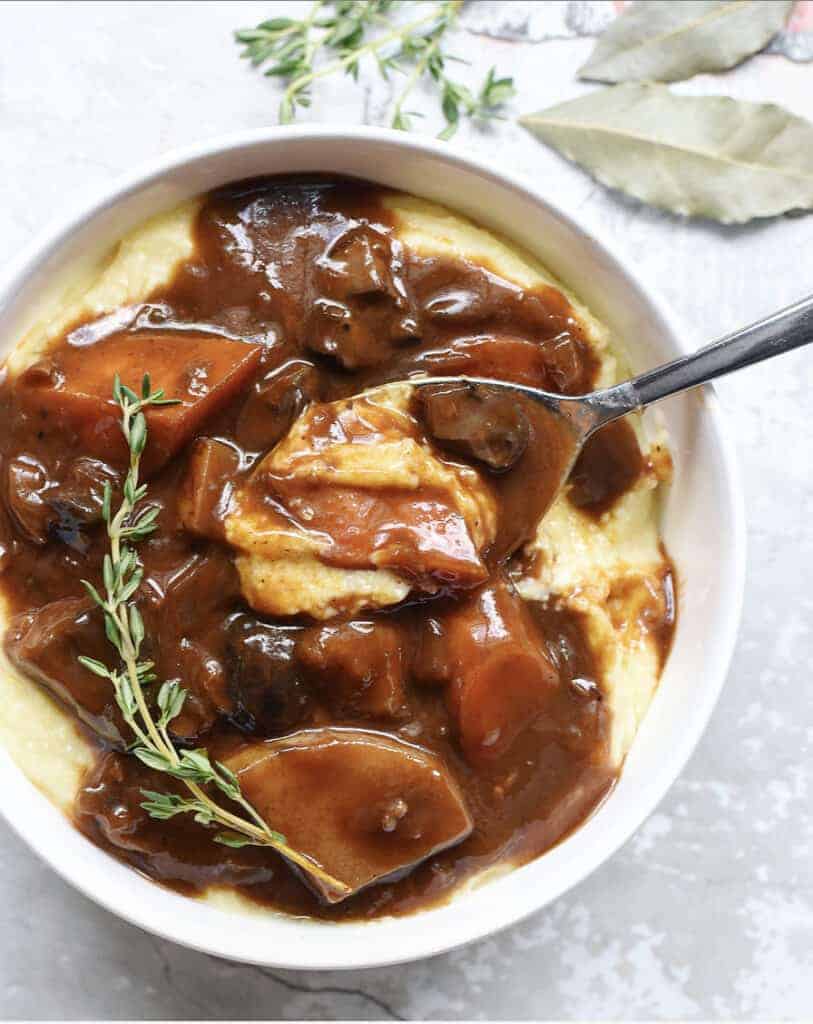 Looking for your gravy fix this Thanksgiving? This thick, rich no coq au vin is as savory as they come! While a little non-traditional for Thanksgiving fare, this vegan recipes is packed with vegetables and flavor!
What's in My Kitchen to Make This Creamy Vegan Mashed Potatoes Recipe Easier?
Want to know what tools and resources I keep on hand to make my vegan cooking even easier? Here's a short list of what helped me create this blog post and recipe. For the complete list, visit my Shop where you can find the kitchen gadgets I like as well as a list of books that I recommend.
Steaming vegetables is an excellent way to retain their nutrients. It's also a great pre-roasting trick for vegetables like cauliflower. Steaming cauliflower before roasting it gives it a wonderful soft-on-the-inside, crispy-on-the-outside texture which is great for recipes like my Cauliflower Buffalo Wings and Roasted Cauliflower in a Sticky Lemon Sauce.
I love this steamer basket because it's simple, resizable and cleans up easily. It's also inexpensive and compacts well for easy storage in the kitchen.
Before you ask… yes, I do have a standing KitchenAid mixer. You might be wondering why a person with a standing mixer would also need a handheld mixer. The answer is pretty simple though — it's all about effort.
Standing mixers are fantastic for heavy duty projects. Like dough. But they're not required for every job. Take mashed potatoes for example. They whip up in no time flat. Actually, probably in less time than it takes to set up your standing mixer. For those jobs, I like a simple, easy to clean handheld mixer and that's exactly what this is.
No, that's not the brand. It's just the idea! But, I own this set of Global™ knives and They're some of my most prized possessions in the kitchen. This set is universally well-rated for the at-home chef and will get you a good, solid set of knives without totally breaking the bank.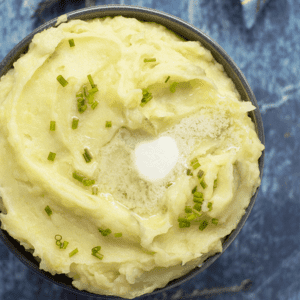 Creamy Vegan Mashed Potatoes Recipe
Are you celebrating Thanksgiving with your favorite vegan? These creamy vegan mashed potatoes are an easy, tasty way to include all of your family members. The vegans will be happy and the carnivores won't notice the difference!
Ingredients
~4

lbs

Yukon Gold potatoes

washed and cut into large pieces

1/4

cup

vegan butter

+ vegan butter as an optional topping

5

oz

full-fat, unsweetened coconut milk

1

tsp

salt

fresh chives

washed and finely diced

salt & pepper

to taste
Instructions
Bring a large pot of water to a boil. Add the cut Yukon Gold potatoes and continue to boil for 20-25 minutes until the potatoes are easily pierced with a fork.

Drain the potatoes and add them back to the large pot along with the vegan butter, coconut milk and salt.


Using a hand mixer, combine all of the ingredients until creamy.

Top with vegan butter and fresh chopped chives. Season with salt and pepper, to taste.
About Herbivore's Kitchen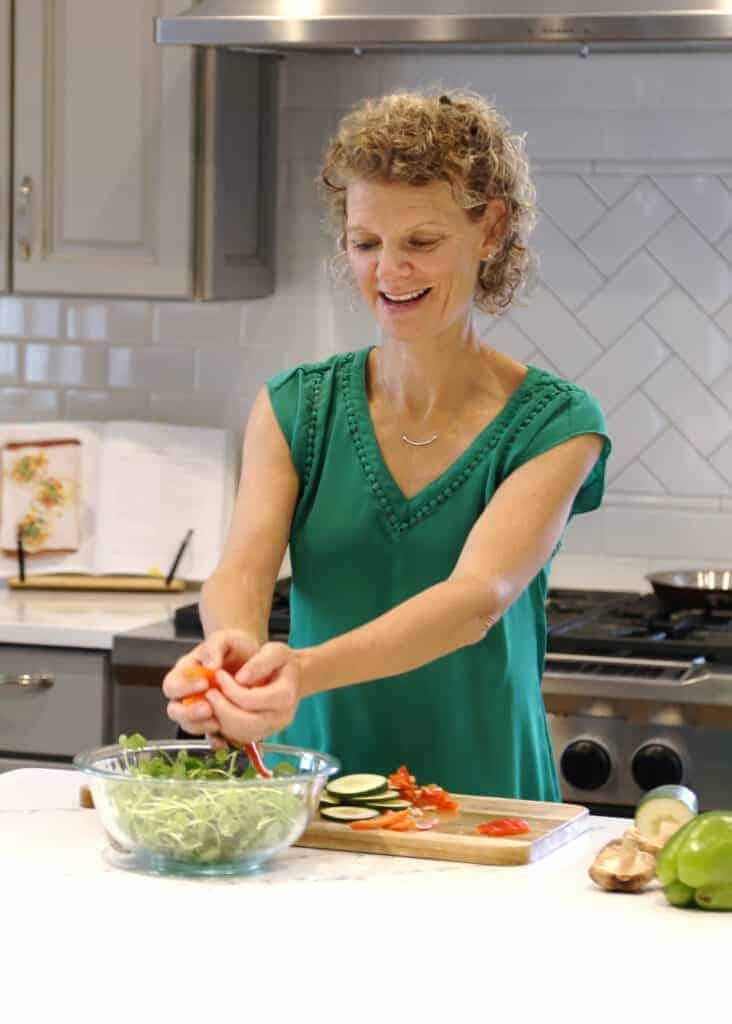 Herbivore's Kitchen is a blog run by me, a plant-based home chef and aspiring food photographer. I switched my and my family's diet to a plant-based diet after learning about the health benefits of going vegan. Making this change has prompted a variety of food and holistic-lifestyle related questions that I explore through this blog. I talk about how to pick and prepare the most nutritious foods, to how to reduce waste at home, to how to live a more sustainable lifestyle while on the road.