Jump to Recipe
This Double Chocolate Vegan Brownies: These Easy Plant-Based Brownies Will Win Over Even the Biggest Diehard Dessert Fans! recipe includes affiliate links. When I find a great product or service, I like to share it with my readers. Sometimes I use affiliate links so I can earn a commission for my recommendations. Thank you for your support!
Double Chocolate Vegan Brownies: These Easy Plant-Based Will Win Over Even the Biggest Diehard Dessert Fans!
I'm so pleased to announce this new vegan recipe: Double Chocolate Vegan Brownies! I've been working on this for a while now, but I think I've finally put together the best vegan chocolate brownies. They're moist and dense and packed with chocolate flavor. Seriously, these egg free brownies are sure to win over even the biggest diehard dessert fans!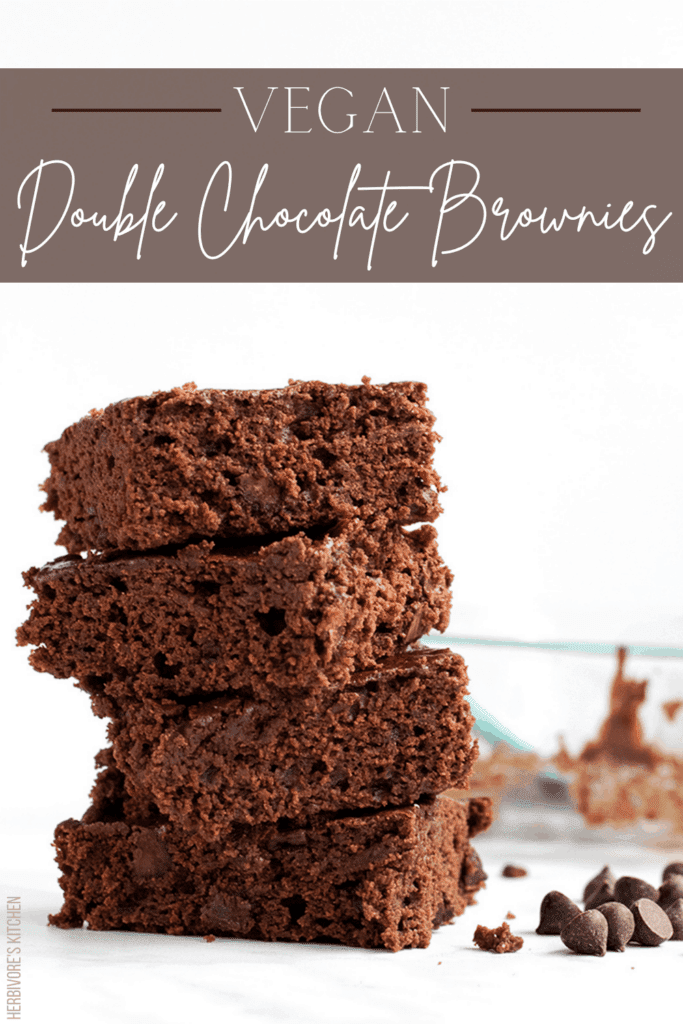 What I love most about these Double Chocolate Brownies is how easy they are to make! Brownies, in general, are kind of a spur-of-the-moment, I'd-really-like-to-have-some-chocolate-right-now kind of dessert. They generally require ingredients that you already have on hand, can be whipped up quickly and don't take very long to back. These plant-based brownies are no exception!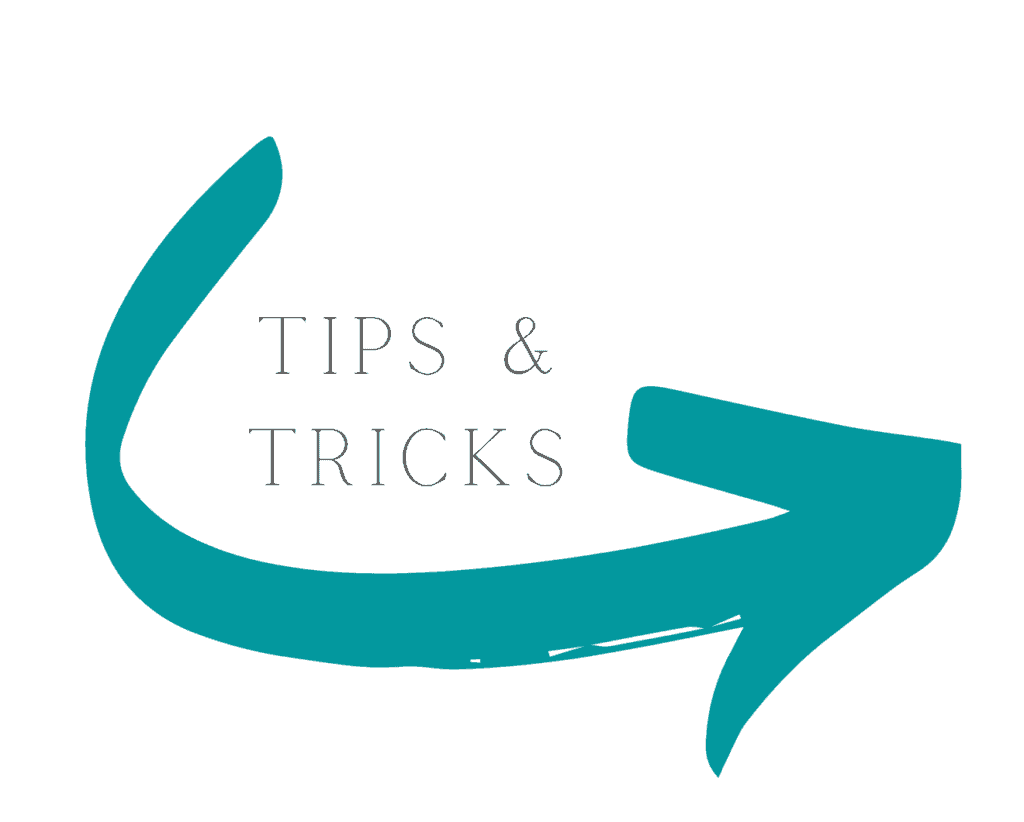 Wondering what you should have in your pantry to put together these Double Chocolate Vegan Brownies and other vegan recipes? Download my free Vegan Staples Shopping List!
What's in These Double Chocolate Vegan Brownies?
I'm glad you asked! This Double Chocolate Vegan Brownies recipe is very much like its traditional brownie recipe counterparts. These vegan brownies have cocoa powder, baking powder, sugar and flour (sorry gluten-free friends – I will work on a gluten free version in the very near future). They differ though, with the inclusion of flaxseed eggs, coconut oil and oat milk.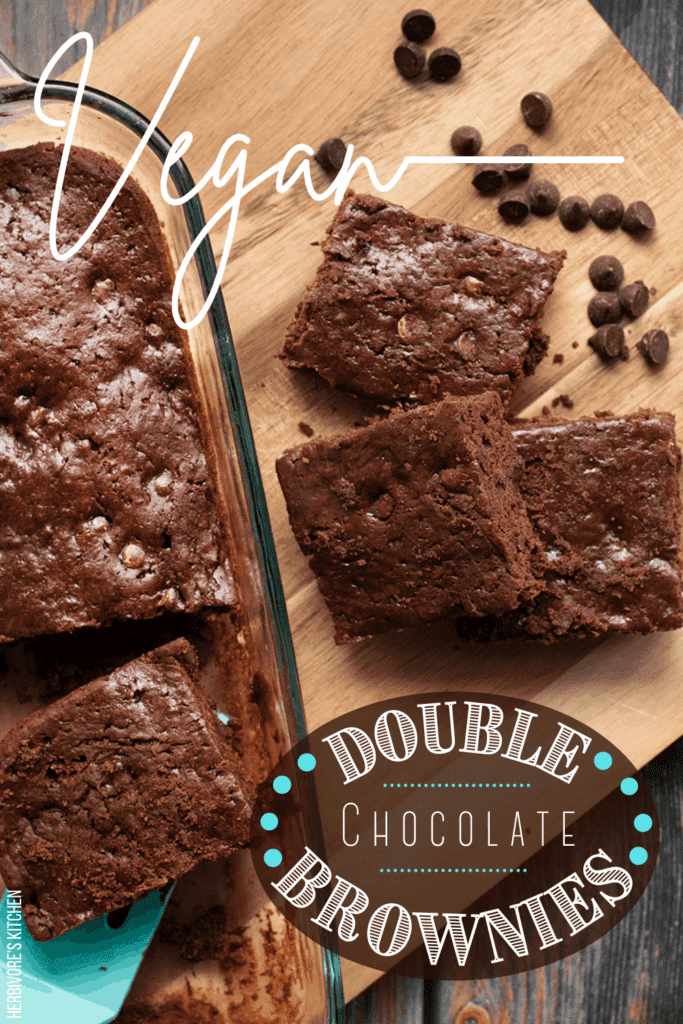 How Healthy Are These Double Chocolate Vegan Brownies?
I need you to remember – while these are egg free brownies (and dairy free brownies) they are still a dessert. That being the case, they're not as healthy as eating steamed broccoli, but they're for sure a step above those boxed brownies that you used to love. And every bit as good!
These Egg Free Brownies Use Flaxseed Meal Instead
I swapped out eggs for flaxseed eggs. If you're not familiar with flaxseed eggs, they're a popular egg substitute in vegan cooking. They're made by combining flaxseed meal with water and letting it rest for ~5 minutes. As the flaxseeds absorb the water, the mixture becomes gelatinous and works as a binding agent in vegan baking.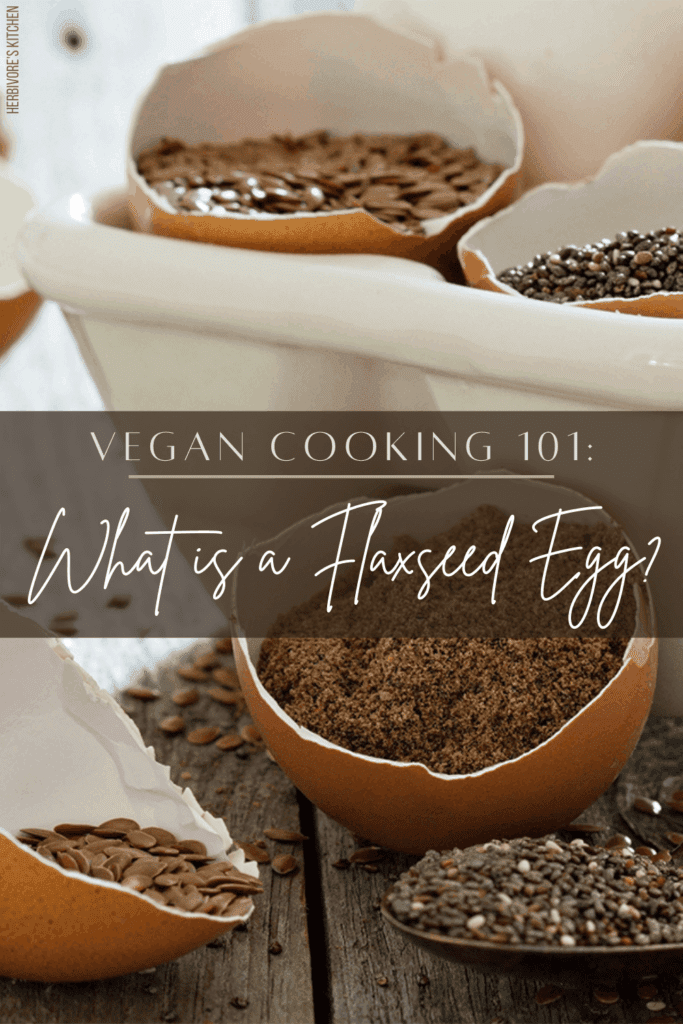 Making Dairy Free Brownies with Oat Milk and Coconut Oil in Place of Butter
Many traditional brownie recipes use butter and milk to obtain that rich, fudgey texture. This plant-based brownie recipe swaps out those ingredients with dairy free oat milk and coconut oil. When baking, I prefer to use oat milk for its creamy texture and lightly sweetened flavor.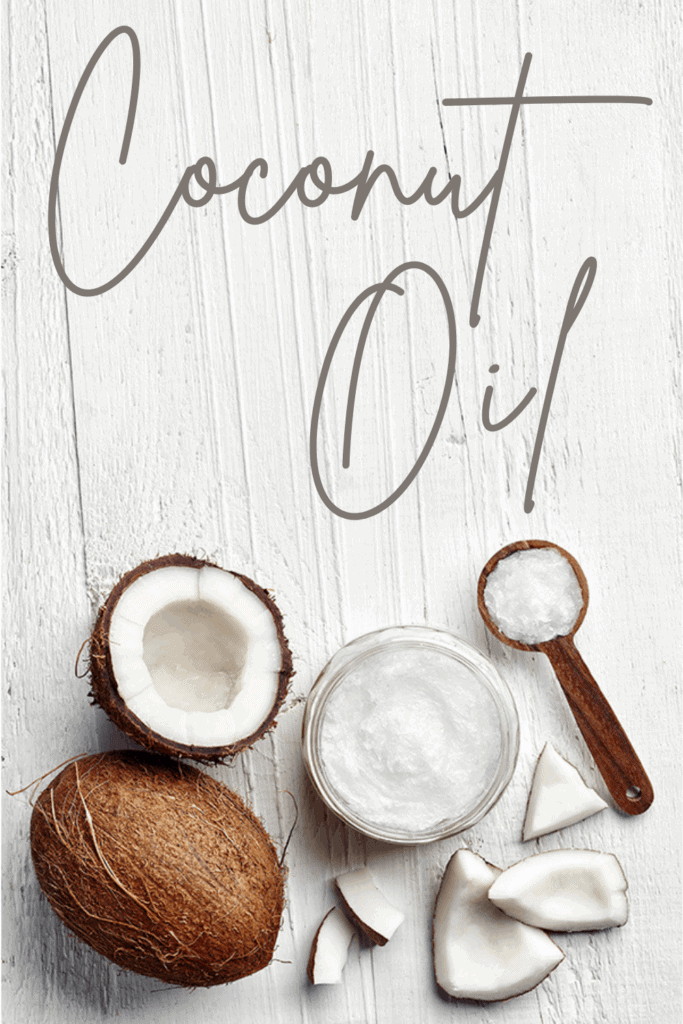 Plant-Based Brownies: Cutting Back on Refined Sugar
When I first started making this recipe, I used 100% organic cane sugar – something I rarely do. My plant-based brownies kept coming out too dry and crumbly though. I finally found a nice balance by using ½ cane sugar and ½ maple syrup. Maple syrup is a wonderful, unrefined sugar substitute and helps to create the dense texture of the brownies.
Plant-Based Brownie Eaters Want to Know: Are Chocolate Chips Vegan?
Yes they are! In fact, it's easier to find vegan chocolate chips than you might have imagined. Many popular semi-sweet chocolate chips are vegan-friendly. Here's why:
Chocolate is made from the cacao bean, which is naturally dairy free and vegan-friendly. Cacao nibs are the edible part of the bean, which is used to produce cocoa powder, cocoa butter and cocoa liquor. Sounds like a dairy-laden, alcoholic product, doesn't it? It's not. Despite its name, cocoa butter is dairy free and there is no alcohol in cocoa liquor.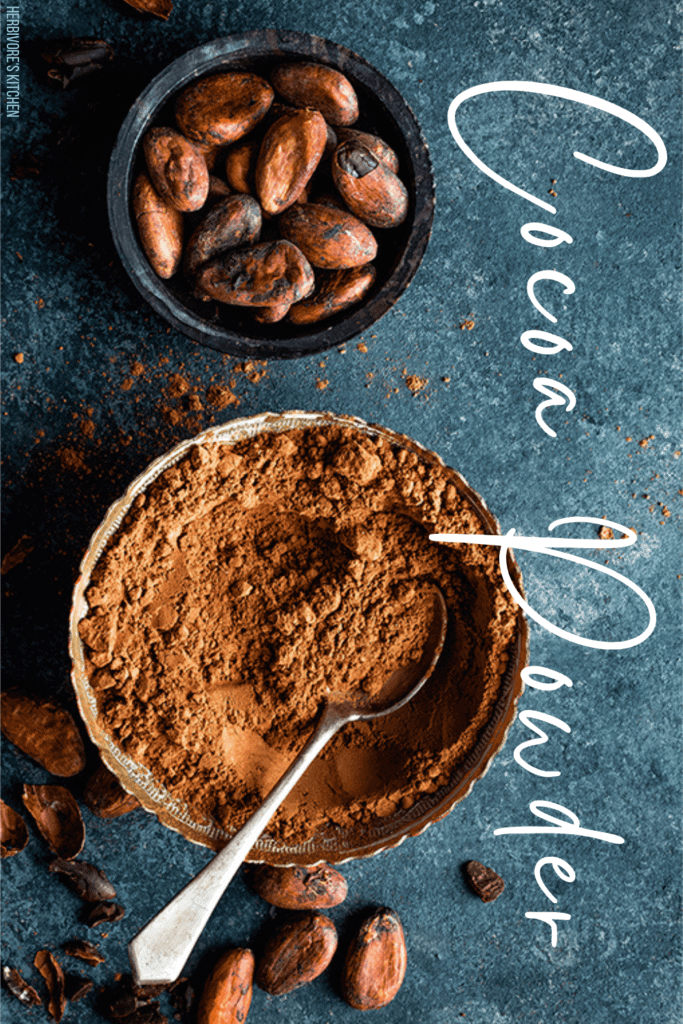 So, when you are shopping for chocolate chips, look for semi-sweet options. Manufacturers add sugar to these (pure chocolate is a highly acquired taste) and make sure that the label doesn't contain ingredients like: milk, milk fat, butter, lactose or whey.
Do You Like These Double Chocolate Vegan Brownies? Be Sure to Check Out Some of My Other Vegan Desserts!
Going vegan doesn't mean giving up dessert. Vegan desserts can be every bit as good as the originals! Just ask these plant-based brownies. However, if you're more into fruit, be sure to check out my Strawberry Rhubarb Galette. Of, if ice cream is more your speed, my Chocolate Peanut Butter Pretzel Nice Cream!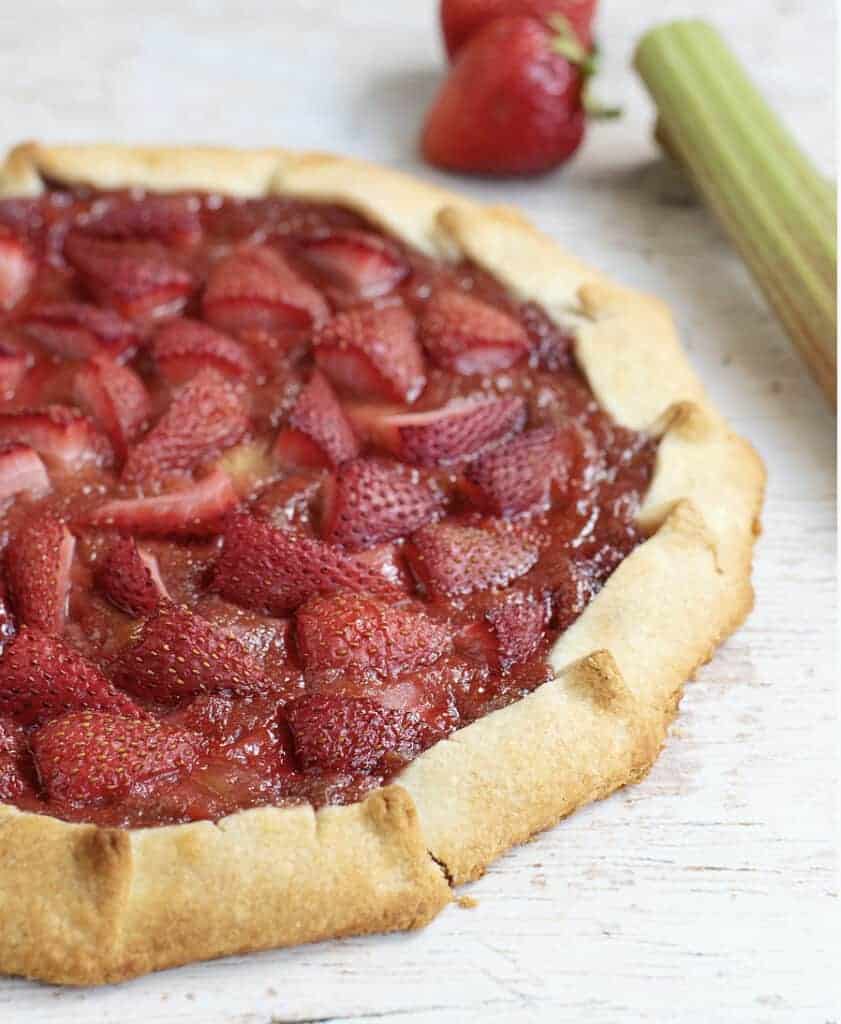 This galette recipe features a homemade vegan pie crust, but you can make things even easier by using a store-bought crust for "practice." The filling for this strawberry rhubarb galette is silly easy. I made it with fresh strawberries and rhubarb, sugar, lemon juice and chia seeds.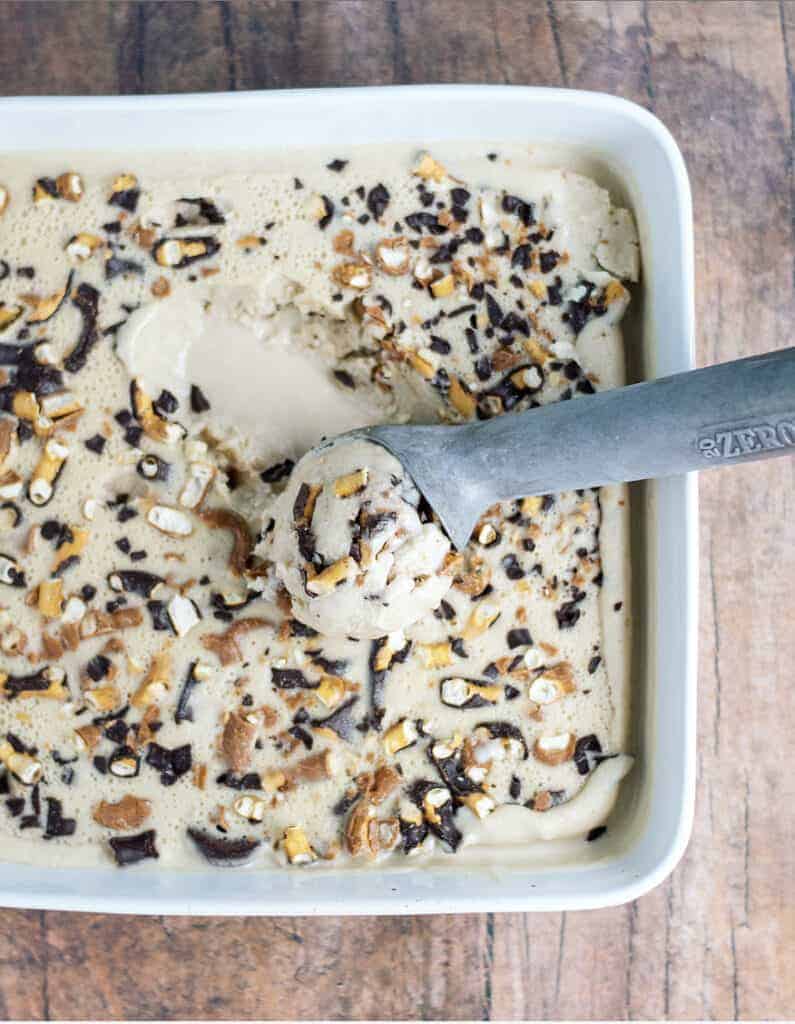 Satisfy your summer sweet tooth with this chocolate peanut butter banana nice cream! Never heard of nice cream? It's exactly what it sounds like – a vegan version of ice cream! This nice cream recipe mimics Ben & Jerry's Chunky Monkey® but uses a creamy cashew base instead of dairy cream. Chocolate and peanut-butter covered pretzels and just a hint of banana make this nice cream recipe truly delicious!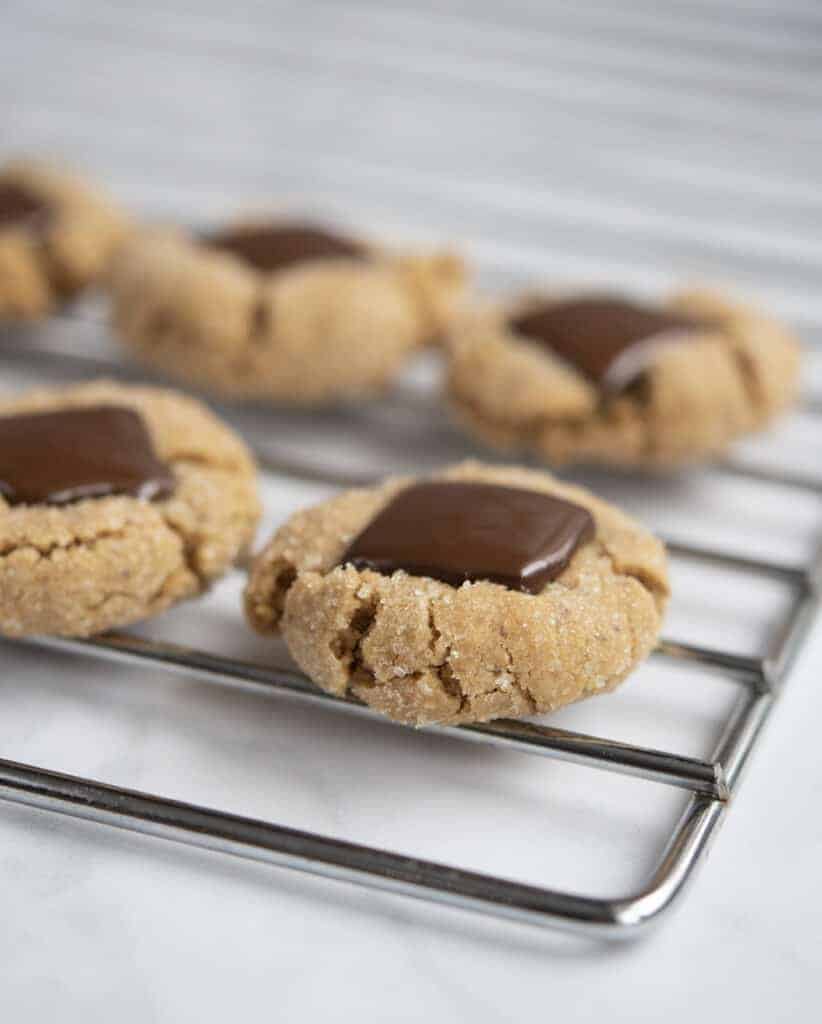 Satisfy your sweet tooth with these vegan peanut butter blossom cookies! You can enjoy these vegan Christmas cookies with a few simple swaps on a traditional peanut butter blossom recipe.
What's in My Kitchen to Make These Double Chocolate Vegan Brownies Easier?
Want to know what tools and resources I keep on hand to make my vegan cooking even easier? Here's a short list of what helped me create this blog post and recipe. For the complete list, visit my Shop where you can find the kitchen gadgets I like as well as a list of books that I recommend.
I think we can all agree — brownies are fun. That is, until you burn yourself baking them! These pot holders are heat safe to 540 degrees and two come in a package.
These Pyrex glass casserole dishes are a must have for any kitchen. They're great for making dishes like my Easy Vegan Shepherd's Pie or my Easy Vegan Lasagna. I especially love the fitted lids — perfect for storing leftovers away in the refrigerator.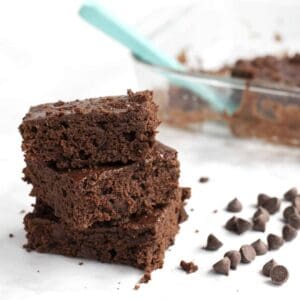 Double Chocolate Vegan Brownies
Checkout these Double Chocolate Vegan Brownies! These easy plant-based brownies aresure to win over even the biggest diehard dessert fans.
Ingredients
2

tbsp

flaxseed meal

5

tbsp

water

1/2

cup

unsweetened cocoa powder

1/2

cup

organic cane sugar

1/2

cup

maple syrup

1/4

cup

coconut oil

softened

3/4

cup

oat milk

or other plant-based milk

1/2

tbsp

vanilla extract

1

cup

all-purpose flour

1

tsp

baking powder

1

tsp

salt

1/3

cup

vegan chocolate chips
Instructions
Preheat the oven to 350º.

Combine the flaxseed meal and water in a small bowl. Stir thoroughly and set aside.

Combine the cocoa powder, sugar, maple syrup, coconut oil, oat milk and vanilla in a small mixing bowl. Stir to combine.

Add the flaxseed mixture. Stir to combine.

In a larger mixing bowl, combine the flour, baking powder and salt. Mix well.

Add the chocolate mixture to the dry ingredients and mix thoroughly. Stir in the chocolate chips.

Pour the brownie batter into a well-greased 8×8 baking dish. I like to use a small amount of coconut oil to grease the dish.

Bake for ~20 minutes on the middle rack. Check for doneness by inserting a toothpick into the brownies. If it comes out clean, the brownies are done. Allow to cool before serving.
About Herbivore's Kitchen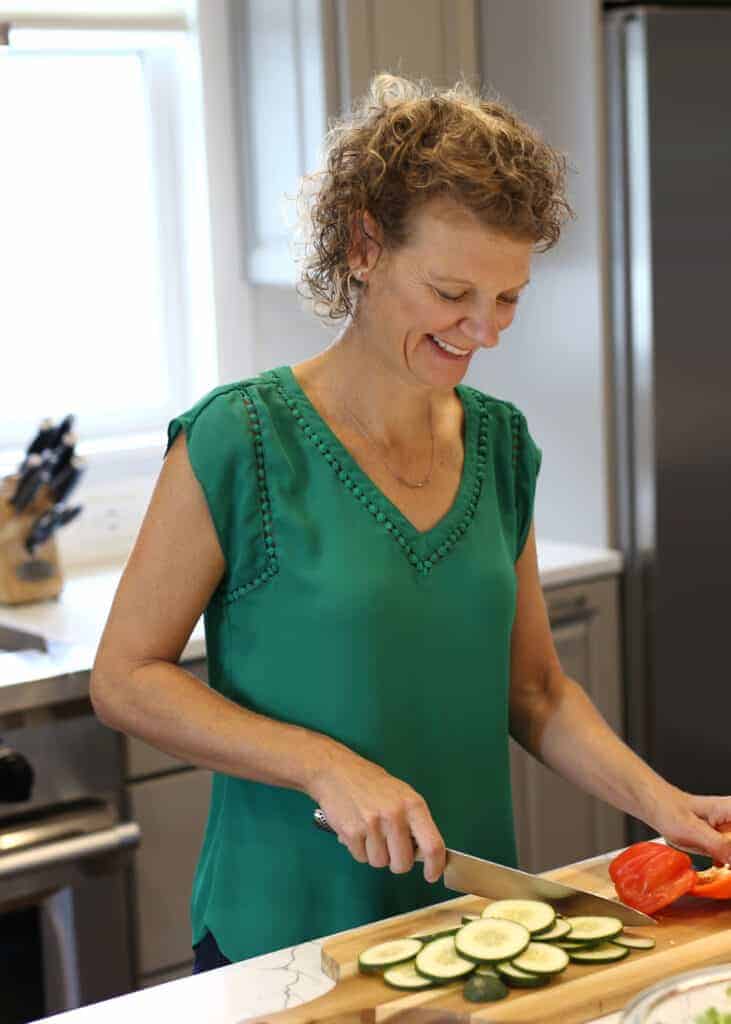 Herbivore's Kitchen is a blog run by me, a plant-based home chef and aspiring food photographer. I switched my diet to a plant-based diet after learning about the health benefits of going vegan. Making this change has prompted a variety of food and holistic-lifestyle related questions that I explore through this blog. I talk about how to pick and prepare the most nutritious foods, to how to reduce waste at home, to how to live a more sustainable lifestyle while on the road.