Jump to Recipe
This Vegan Vegetable Stew: Veggies Are the Showcase Ingredients in this Hearty Vegetable Stew! includes affiliate links. When I find a great product or service, I like to share it with my readers. Sometimes I use affiliate links so I can earn a commission for my recommendations. Thank you for your support!
Vegan Vegetable Stew: Veggies Are the Showcase Ingredients in this Hearty Vegetable Stew!
This vegan vegetable stew is a great way to put a vegan meal on the table! Loads of vegetables and white beans make this hearty vegetable stew the perfect vegan lunch. Or pair it with my Creamy Vegan Mashed Potatoes for a cozy vegan dinner to warm you during the winter months.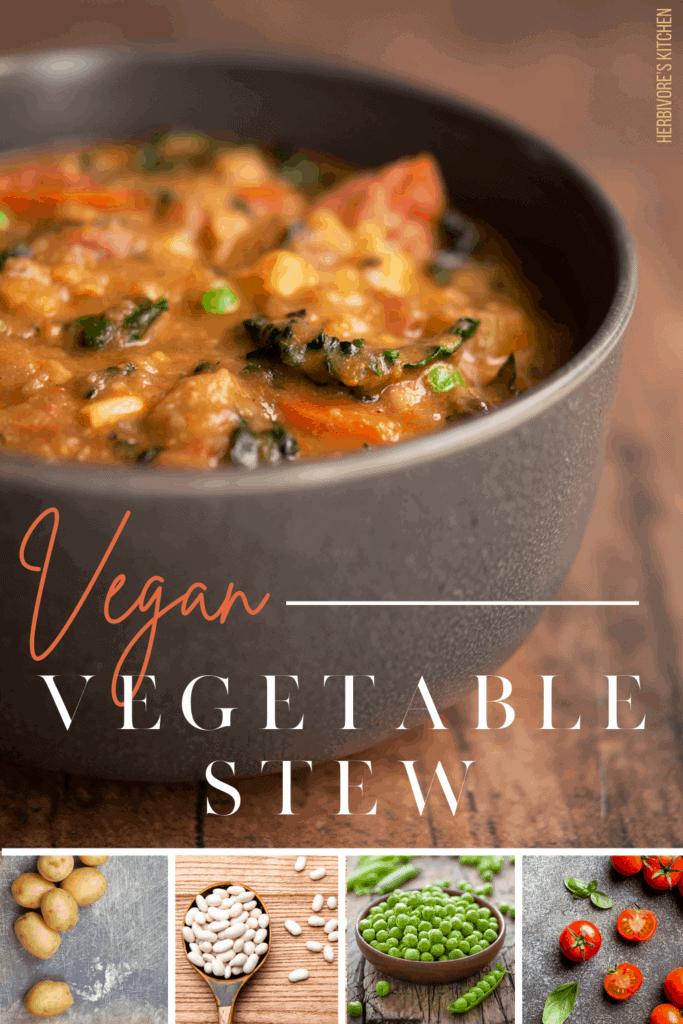 What's in this Hearty Vegetable Stew?
The name says it all! It's packed with vegetables like carrots, celery, tomatoes, mushrooms, kale, sweet peas and corn. For protein, I added white cannellini beans. The flavor comes from the slow-simmered vegetables, sautéed onions and garlic, as well as oregano, parsley and thyme.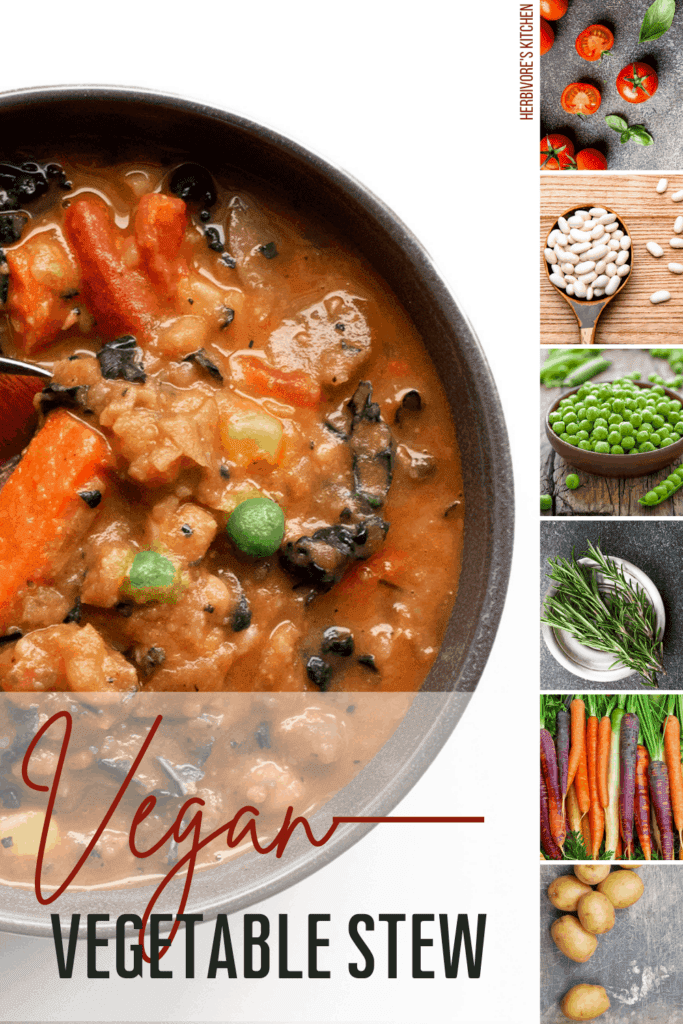 Vegan Vegetable Stew: The Perfect Vegan Lunch
I originally created this hearty vegan stew to serve as a simple vegan lunch. I don't know about you, but sometimes I find it hard to eat a balanced lunch. It's usually a meal I eat on the run without a lot of planning. It's always nice to have a jar of this in the refrigerator available for a quick reheat.
Vegan Vegetable Stew Served Over Creamy Vegan Mashed Potatoes
What started as an easy vegan lunch also works out to be a very tasty and filling vegan dinner. I've tossed this into penne pasta (very good), but my favorite way to eat this hearty vegan stew is over my Creamy Vegan Mashed Potatoes.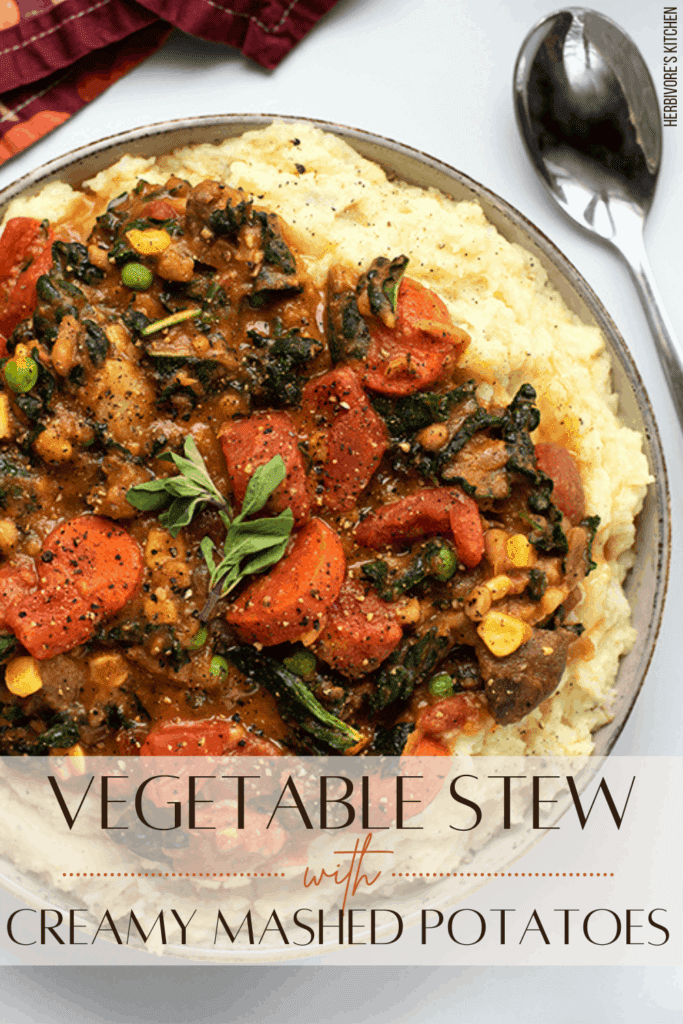 If you haven't tried vegan mashed potatoes, you're missing out. I use Yukon Gold potatoes which whip up into a creamy mash better than any other potato I've tried. I add vegan butter and unsweetened coconut milk to double down on the texture and season them with salt and a little bit of pepper. It's pure potato bliss!
Like this Hearty Vegan Stew Recipe? Then Check Out my Other Vegan Soups!
Did you like this Vegan Vegetable Stew? Be sure to check out some of my other vegan soup recipes. From Savory Vegan Mushroom Soup to rich Vegan Beef Stew, there's something to please everyone at your table!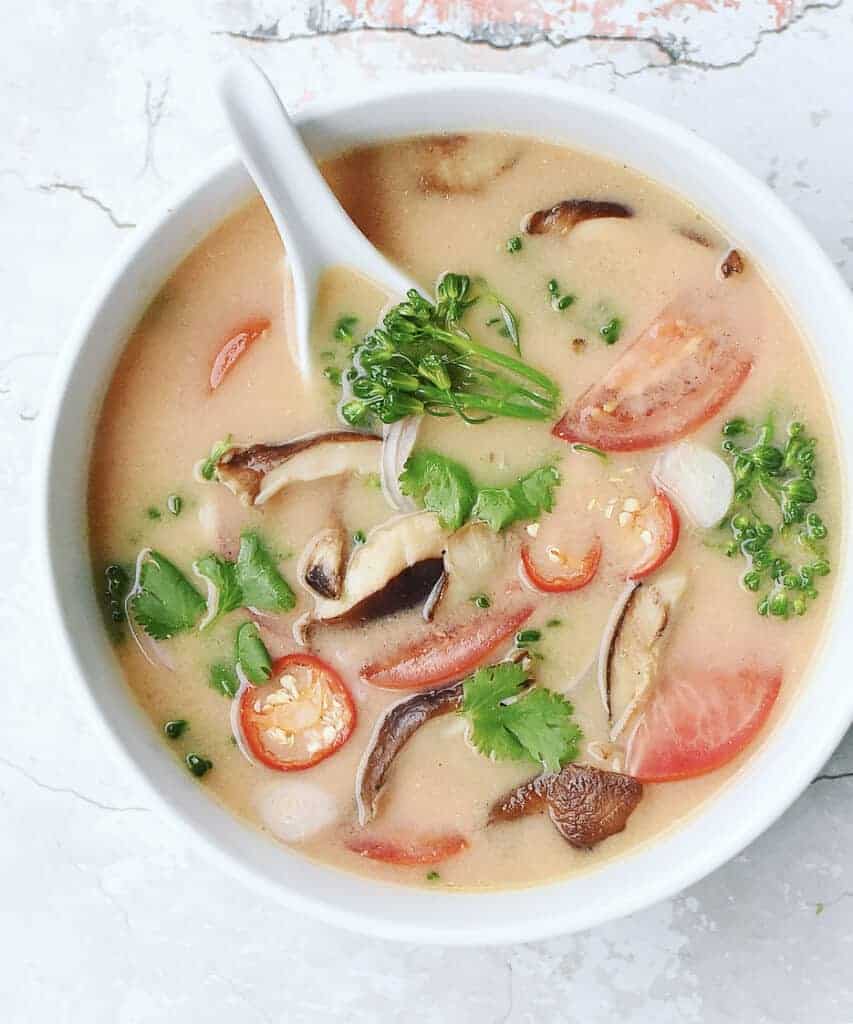 Tom Yum Soup is one of my favorite soups! Then again, I love anything with lemongrass. This vegan-friendly soup features plenty of fresh vegetables, a hint of citrus and a little bit of spice. The creamy coconut broth will keep you warm and cozy on a chilly evening.
This soup is on the regular rotation in my kitchen! I know it probably doesn't look like it, but I can get this one on the table in under 30 minutes and you can too! I pack it full of vegetables like crisp broccolini, vibrant red bell pepper and savory sautéed mushrooms. It's totally slurpworthy!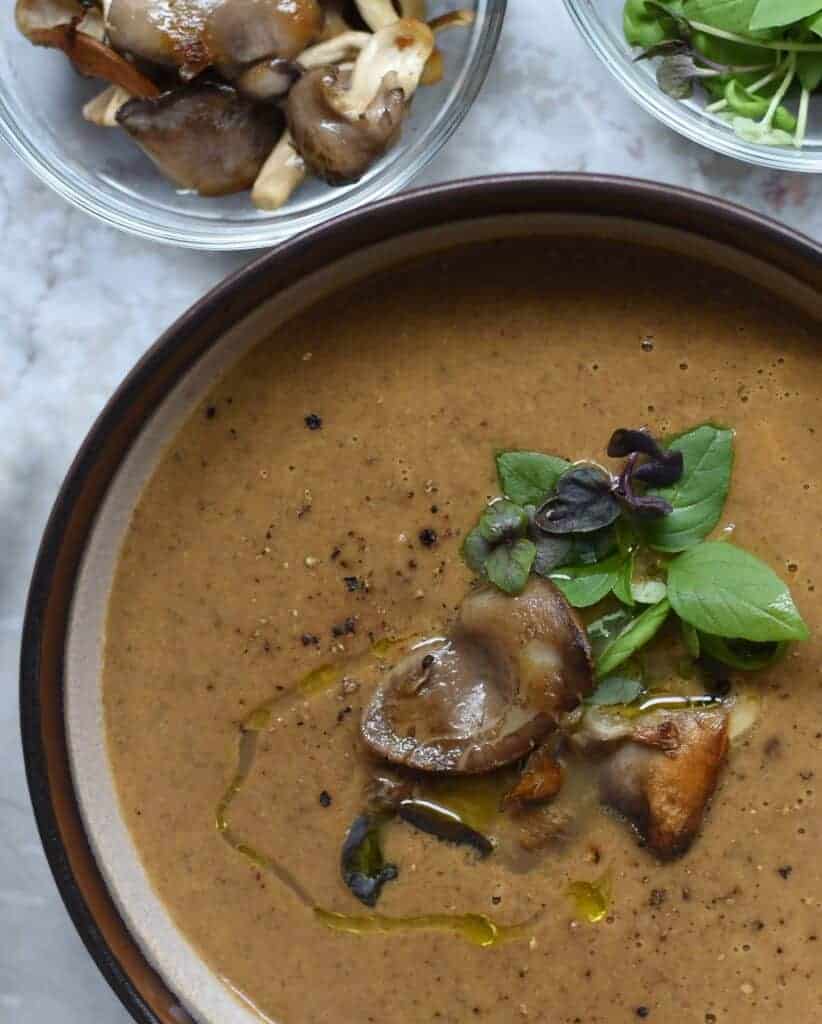 This vegan soup is sooo good! Honestly, it is a must try for anyone who is skeptical that vegan food can't taste as good as what the omnivores eat. This mushroom soup gets its flavor from cremini mushrooms slow simmered in red wine, plenty of herbs and my personal favorite kitchen hack – sautéed tomato paste.
What's in My Kitchen to Make Vegan Vegetable Stew Easier?
Want to know what tools and resources I keep on hand to make my vegan cooking even easier? Here's a short list of what helped me create this blog post and recipe. For the complete list, visit my Shop where you can find the kitchen gadgets I like as well as a list of books that I recommend.
No, that's not the brand. It's just the idea! But, I own this set of Global™ knives and They're some of my most prized possessions in the kitchen. This set is universally well-rated for the at-home chef and will get you a good, solid set of knives without totally breaking the bank.
I love this addition to my kitchen. Being able to effectively dry lettuces and herbs makes salads taste better. Wet lettuce leaves prevent the oils in salad dressings from sticking to the lettuce, rendering a gorgeous plate of greens soggy before their time. Another good reason to invest in a salad spinner: dry greens store better and last longer in the fridge.
This garlic peeler is a simple silicon tube. Despite its simple design, it skillfully removes even the toughest of garlic skins. I'm so much happier not peeling garlic cloves with my fingernails. I'm pretty sure I'll collectively get at least a day of my life back because of this device.
I've read a dozen posts about why you shouldn't use a garlic press. One of them actually suggested that they take up valuable kitchen space. I mean, I guess if you have a tiny kitchen you might have to make those choices. They're smaller than a can opener. I love mine. I hate, hate, hate mincing garlic.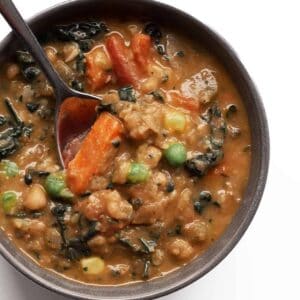 Vegan Vegetable Stew
This vegan vegetable stew is a great way to put a vegan meal on the table! Loads of vegetables and white beans make this hearty vegetable stew the perfect vegan lunch.
Ingredients
10-12

cremini mushrooms

washed and cut into bite-sizedpieces

1/4

cup

water

2

tbsp

extra virgin olive oil

1/2

yellow onion

diced

1

tsp

salt

3

cloves

garlic

minced

1

tsp

dried oregano

1

tsp

dried thyme

1

tsp

dried parsley

1/4

cup

tomato paste

2

carrots

washed and cut into bite-sized pieces

1

celery stalk

washed and cut into bite-sized pieces

2

14 oz cans

cannellini beans

drained and rinsed

1

14 oz can

diced tomatoes

2-3

cups

water

see Recipe Notes

2

bay leaves

1

bunch

kale

washed, destemmed and cut into bite-sized pieces

1/2

cup

frozen sweet peas

1/2

cup

frozen sweet corn

1

tbsp

fresh lemon juice

salt & pepper

to taste
Instructions
Add the mushrooms and ¼ cup of water to a large stock pot. Bring to a simmer and cook until the water has nearly cooked off. Then add the extra virgin olive oil, maintain the heat on medium and sauté the mushrooms until they begin to brown. About 3-5 minutes.

Add the onions and the salt and reduce the heat to medium low. Slow cook the mushrooms and onions until the onions are soft and just beginning to brown. About 10-12 minutes. Add the garlic and cook for 1-2 minutes more.

Sprinkle in the oregano, thyme and parsley and cook until fragrant. About 1 minute.

Add the tomato paste and increase the heat to medium. Stir to combine the ingredients in the pot and sauté the tomato paste until it becomes a dark red. About 2 minutes. Be careful not to burn and adjust the heat accordingly.

Add the carrots and celery and stir to coat.

Add the cannellini beans, diced tomatoes, water and bay leaves. Cover the soup and simmer for ~20 minutes. The carrots should be easily pierced with a fork.

While the broth is simmering, put the cut kale in a medium-sized bowl and massage it with your hands until it softens and becomes dark green. About 1-2 minutes.

After the broth has simmered, add the kale, frozen sweet peas and corn and remove the bay leaves. Heat thoroughly. Add the lemon juice and season with salt & pepper.
Notes
I like a thick, chunky consistency for this soup. I recommend adding 2 cups of water to start and then adding more water to thin the soup to your liking.
On the other hand, if this soup is too chunky for your liking, just pulse it a few times with an immersion blender. This will create a smooth, silky broth. I do this for my kids to hide the onions!
This soup makes for a great lunch. I make it and keep a jar in the refrigerator to eat over several days. If you want more of a meal, toss in some cooked pasta or serve it over my Creamy Vegan Mashed Potatoes!
About Herbivore's Kitchen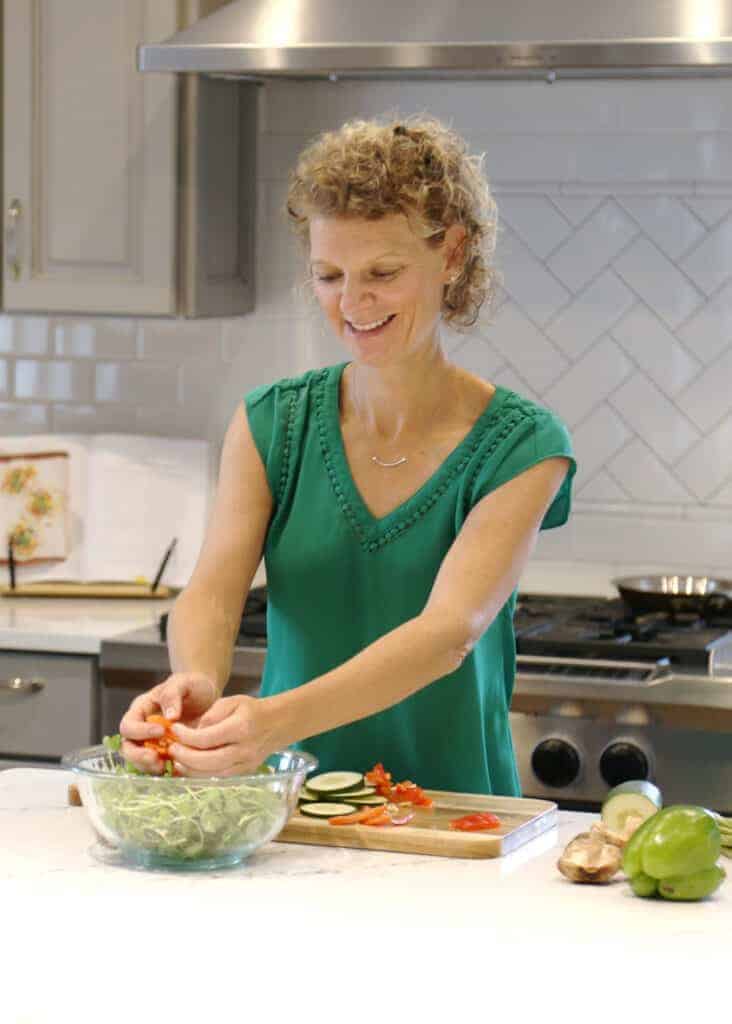 Herbivore's Kitchen is a blog run by me, a plant-based home chef and aspiring food photographer. I switched my diet to a plant-based diet after learning about the health benefits of going vegan. Making this change has prompted a variety of food and holistic-lifestyle related questions that I explore through this blog. I talk about how to pick and prepare the most nutritious foods, to how to reduce waste at home, to how to live a more sustainable lifestyle while on the road.