Jump to Recipe
This Vegan Burrito Bowl: This Healthy Burrito Bowl Recipe Features Crispy Roasted Sweet Potatoes and Loads of Other Healthy Vegan Ingredients! post includes affiliate links. When I find a great product or service, I like to share it with my readers. Sometimes I use affiliate links so I can earn a commission for my recommendations. Thank you for your support!
Vegan Burrito Bowl: A Healthy Burrito Bowl Recipe Featuring Crispy Roasted Sweet Potatoes and Loads of Other Healthy Vegan Ingredients!
This vegan burrito bowl recipe with crispy roasted sweet potatoes is an easy way to put a healthy vegan dinner on the table! And, these days, I am loving anything easy. After all, I'm nearly a year into homeschooling and I still don't understand 5th grade math. #covid19timecapsule
Luckily, this vegan bowl recipe doesn't require much in the way of multiplying fractions. There's some chopping, slicing and dicing, but it's build-your-own status also means you can make it whatever you want it to be. For me, that includes two parts red rice to one part black beans, plus corn salsa and pickled red onions all multiplied by fresh avocado.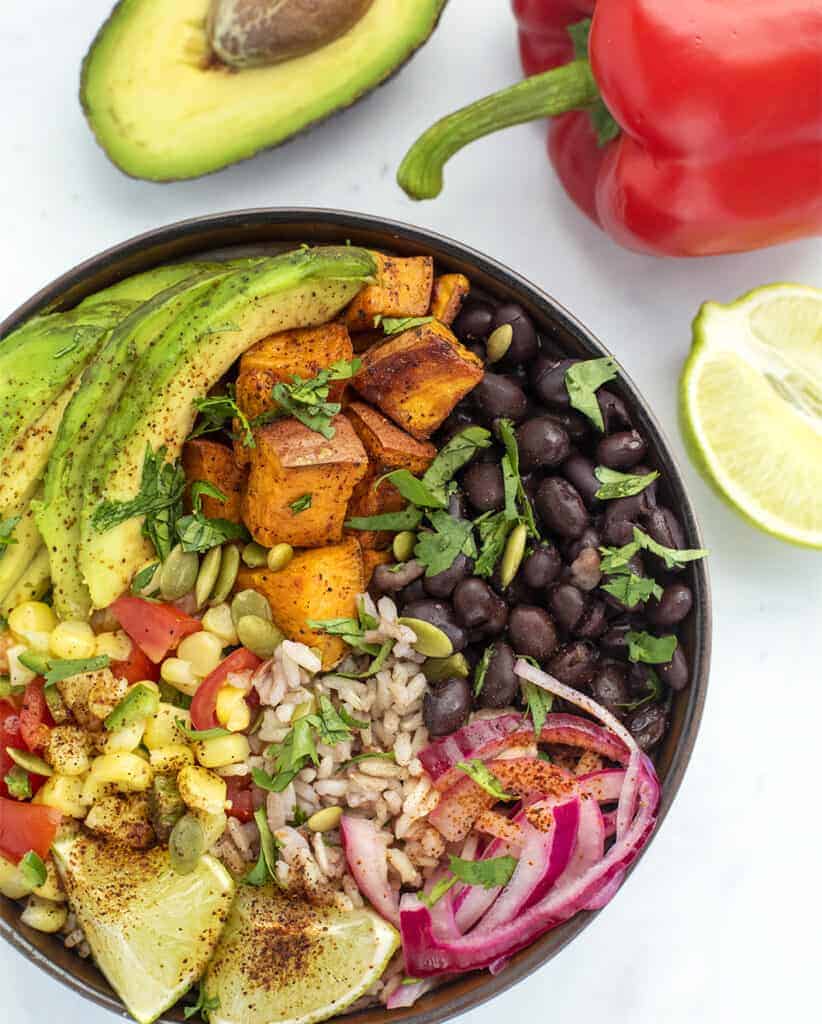 The Benefits of Vegan Bowl Recipes
In my humble opinion, making vegan bowls is one of most glamorous things a vegan chef can do. For starters, it's just so easy to make them look pretty! What's not eye-catching about the brilliant colors of fresh avocado, pickled red onions, tomatoes, corn and sweet potatoes lined up next to each other?
Vegan bowl recipes are also an easy way to load up on lots of good-for-you ingredients. Plant-based ingredients like sweet potatoes are packed with fiber and plenty of vitamins and minerals, like Vitamin A, Vitamin C and Manganese. Likewise, black beans, are a great source of vegan protein as well as fiber and B Vitamins.
Making Crispy Roasted Sweet Potatoes for this Vegan Burrito Bowl
Without question, the showcase ingredient in this healthy burrito bowl is the crispy roasted sweet potatoes. They're oven roasted at 425º with a splash of safflower oil, a healthy sprinkling of cumin and a dash of chili powder. The result: soft on the inside, crispy on the outside, spicy sweetness.
What Else is in this Healthy Burrito Bowl?
The better question might be: what isn't in this healthy burrito bowl? The corn salsa featured here is an easy, colorful addition. It's a simple combination of sweet corn, diced grape tomatoes, finely chopped jalapeno, cilantro, lime juice and a touch of olive oil.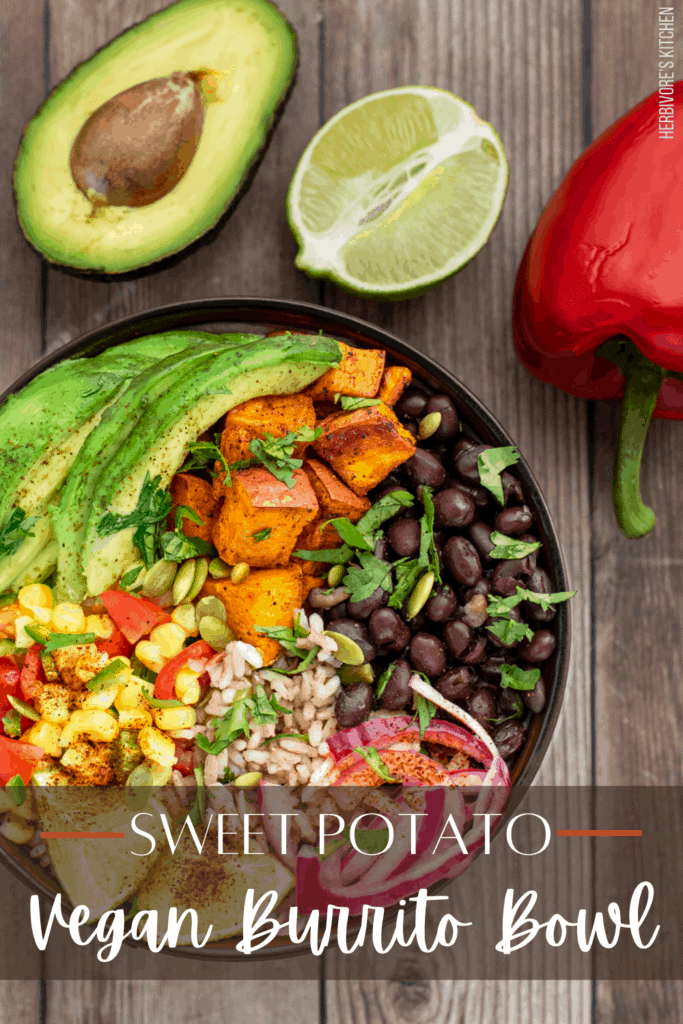 How to Dress Up Black Beans
I always like to simmer my black beans for about 20 minutes before adding them to my vegan burrito bowl. It heats them up and softens them slightly. First though, I'll sauté onion and garlic in the pot and then add the drained beans and some water. This gives them extra flavor!
No Healthy Burrito Bowl is Complete Without Pickled Red Onions
Of course, no vegan burrito bowl would be complete without pickled red onions. I keep a jar of these in the refrigerator… always. I'll add them to my avocado toast in the morning as well as to a number of other dishes (like my Black Bean and Sweet Potato Vegan Enchiladas). You can find the recipe for my Pickled Red Onions here.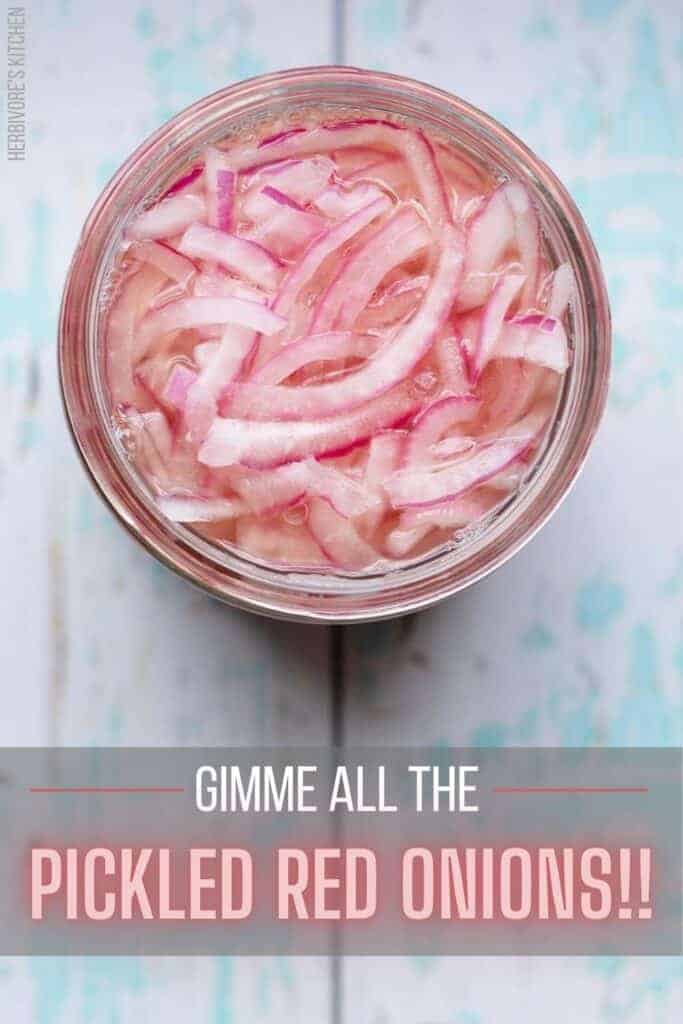 How to Top Your Vegan Burrito Bowl
Finally, I love roasted pumpkin seeds and hot sauce as toppings. Like pickled red onions, I keep a jar of roasted pumpkin seeds in my pantry. They are so simple to make and they work just as well as a soup and salad topping. You can find the recipe for them here. As for hot sauce, when I am feeling ambitious, I make my own Chile de Árbol Hot Sauce, but my commercial go-to is Yellowbird's Original Habanero.
Putting this Vegan Burrito Bowl Together
One of the best things about this healthy burrito bowl is it's build-your-own possibilities. As much as I love them, not everyone is as into pickled red onions as I am. That's not a problem with this recipe though! Just let each family member dress it up the way they like, and everyone is happy.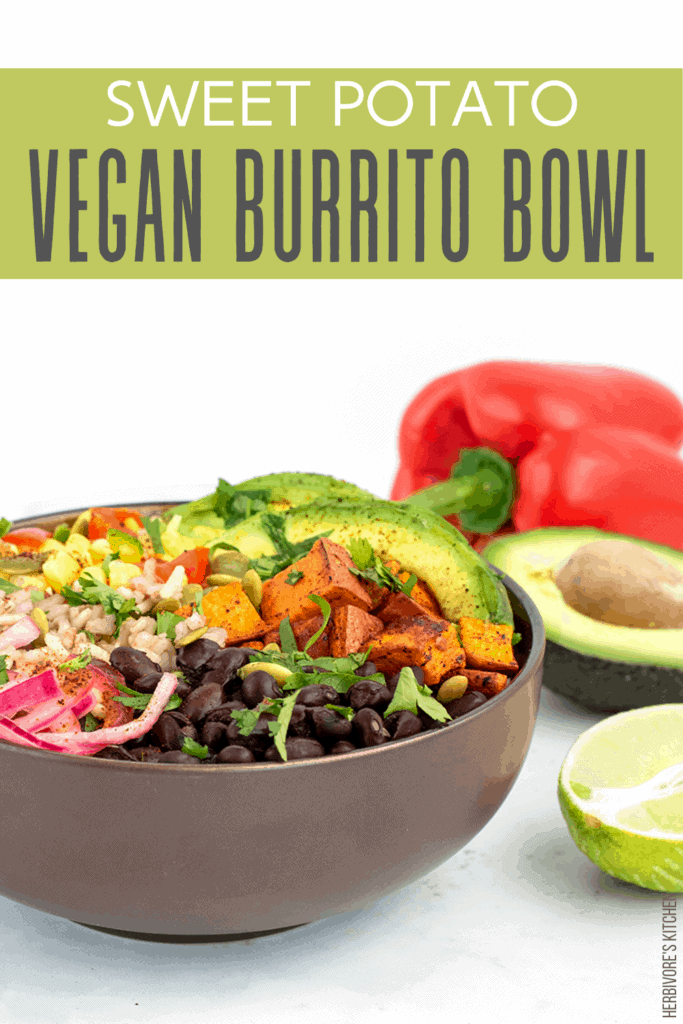 I start by building a bed of red rice blend in the bottom of my bowl. Then I add the crispy roasted sweet potatoes and beans as my main ingredients. I flank those with corn salsa, avocado and pickled red onions and then garnish the whole bowl with fresh lime juice, cilantro, chili powder, roasted pumpkin seeds and hot sauce.
One Last Thing…You Can't Beat Chimichurri!
I didn't feature it on this healthy burrito bowl but adding a big spoonful of homemade chimichurri sauce just makes it that much better. If you're not familiar with chimichurri, it's an Argentinian sauce made with cilantro, parsley, red onions, red wine vinegar, garlic and olive oil. Check out my Homemade Chimichurri Sauce Recipe here.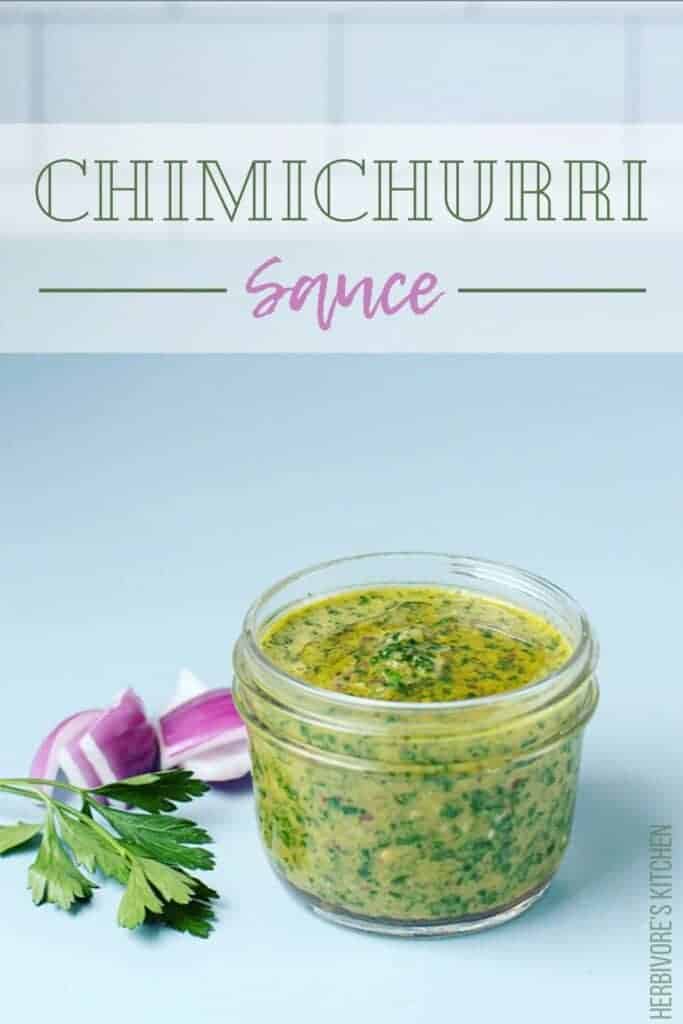 Digging This Vegan Burrito Bowl? Check Out Some of My Other Vegan Bowl Recipes!
If you like the idea of a simple bowl packed with good-looking (and tasting) ingredients, be sure to take a look at some of these other vegan bowl recipes I've put together!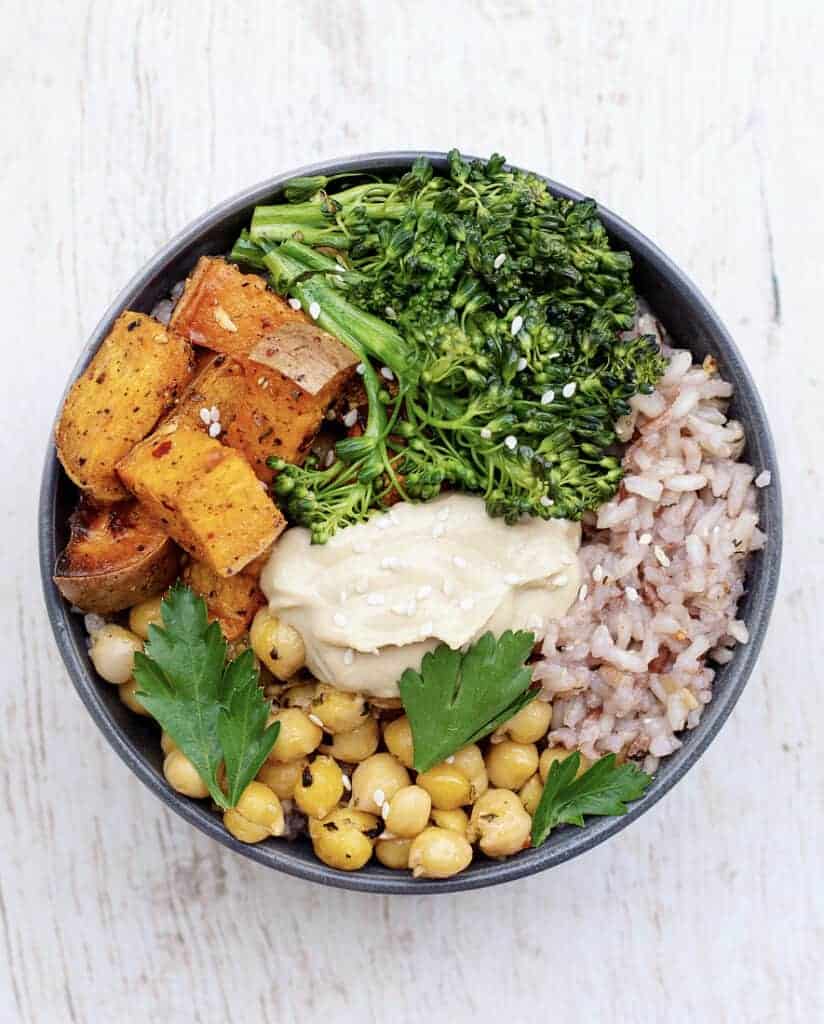 There's something so perfect about a buddha bowl. It's a simple and delicious way to put dinner on the table. This vegan buddha bowl is loaded with healthy ingredients — whole grain rice, chickpeas, sweet potatoes and broccolini and then topped with oh.so.tempting tahini dressing. This vegan recipe is so easy (to make and on the eyes) – what's not to love!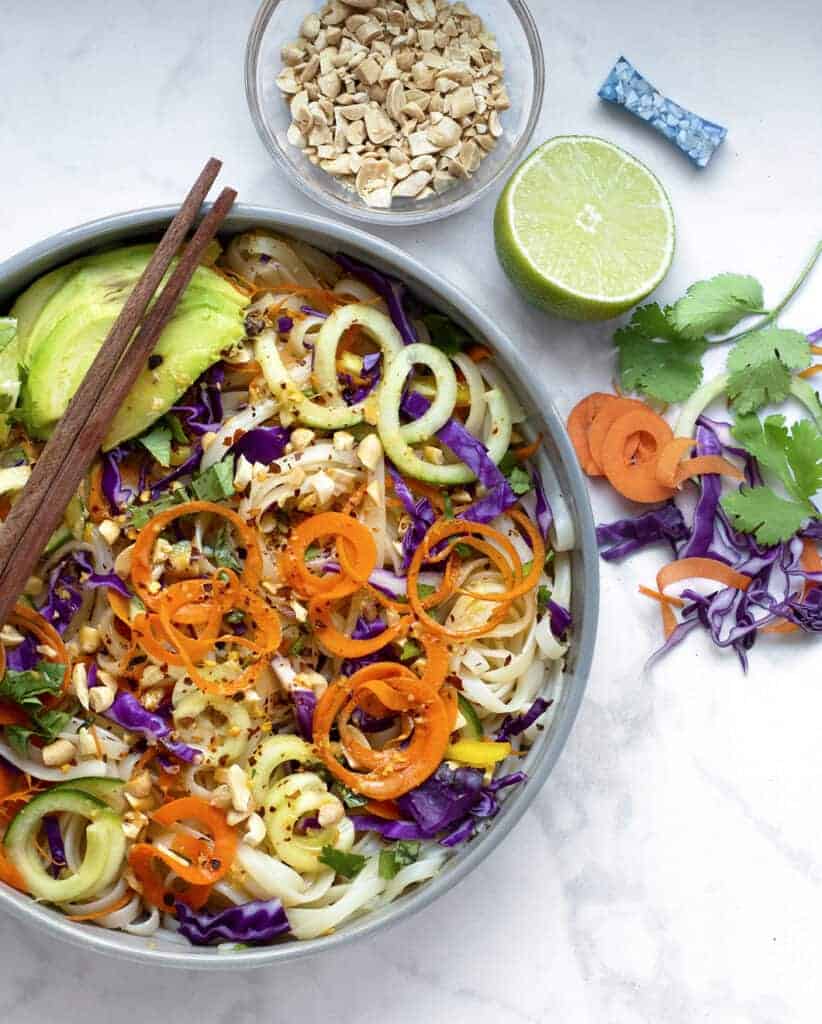 These Vegan Spring Roll Bowls offer all the bright, vibrant colors and flavors that spring roll recipes provide without the hassle of wrapping with rice paper. These vegan bowls feature carrot and zucchini spirals, fresh avocado and homemade Thai sweet chili sauce!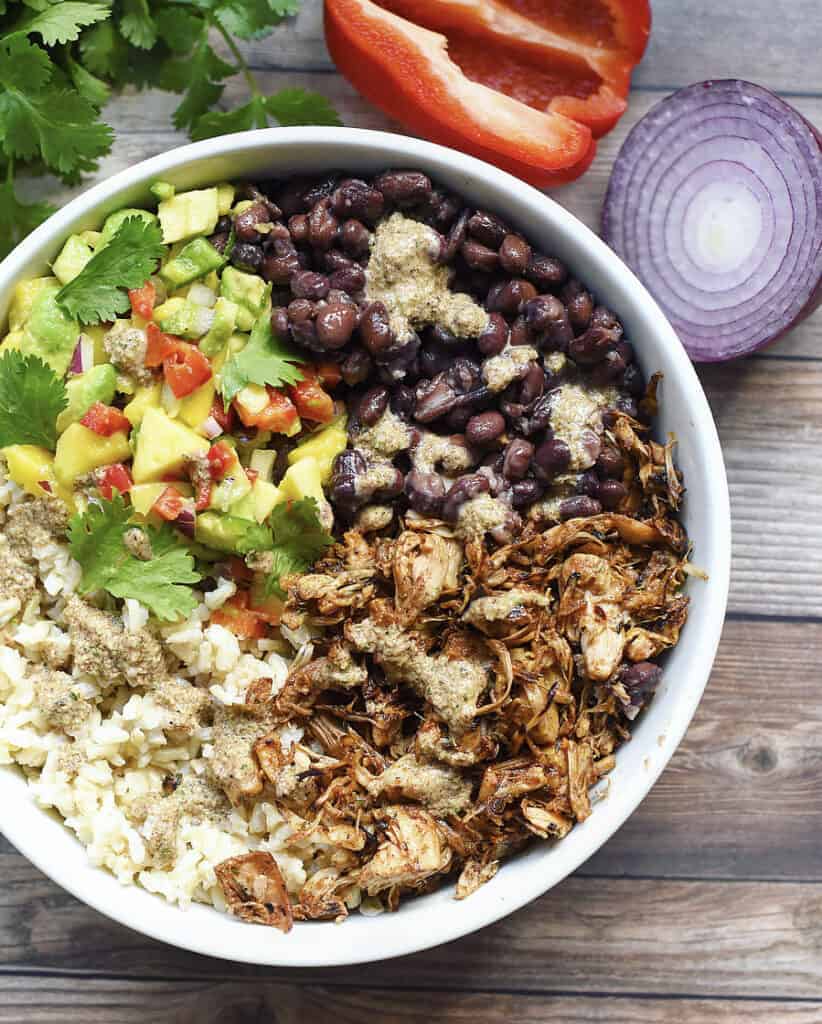 This Jamaican Jerk Jackfruit with Jamaican Rice & Beans and Mango Salsa is one of my favorite vegan dinner ideas! This post includes a jerk seasoning recipe as well as a Jamaican jerk sauce for extra spice. I combined the Jamaican jerk jackfruit with Jamaican rice and beans and a homemade mango salsa to give a punch of citrusy and sweet to all that spice.
What's in My Kitchen to Make Vegan Burrito Bowl with Crispy Roasted Sweet Potatoes Easier?
Want to know what tools and resources I keep on hand to make my vegan cooking even easier? Here's a short list of what helped me create this blog post and recipe. For the complete list, visit my Shop where you can find the kitchen gadgets I like as well as a list of books that I recommend.
Designed to serve pasta, I use these shallow dinner bowls all. the. time. I love that I can present all of the ingredients of a dish without over-serving in terms of portion. With a standard bowl, food ends up being stacked and that's no way to display all of your hard work. These bowls are an inexpensive, practical way to present everything from pasta bowls, curry bowls and burrito bowls.
Down a broiler pan? These aluminum baking sheets come highly recommended by the cooks who know best – Epicurious, Cooks Illustrated and Food & Wine. I bought mine because I needed a good, sturdy baking sheet to use under the broiler. One that wouldn't warp – and this one lives up to the task.
Aluminum is a good conductor of heat, so these baking sheets cook evenly. They're also light in color, so they discourage over-browning.
Love to cook? Ever forget how hot those pans get? Yeah, me too. The Ove Glove will help to protect your hands when cooking (and forgetting).
These pot holders are heat safe to 540 degrees and two come in a package – one for holding the handle and one for supporting the bottom of your cast iron skillet (because we all know it's too heavy to pick up with one hand).
This garlic peeler is a simple silicon tube. Despite its simple design, it skillfully removes even the toughest of garlic skins. I'm so much happier not peeling garlic cloves with my fingernails. I'm pretty sure I'll collectively get at least a day of my life back because of this device.
I've read a dozen posts about why you shouldn't use a garlic press. One of them actually suggested that they take up valuable kitchen space. I mean, I guess if you have a tiny kitchen you might have to make those choices. They're smaller than a can opener. I love mine. I hate, hate, hate mincing garlic.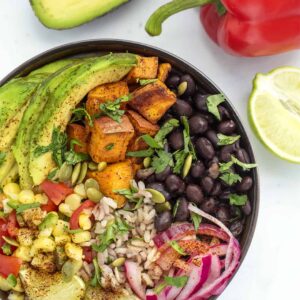 Vegan Burrito Bowl with Crispy Roasted Sweet Potatoes
This vegan burrito bowl recipe with crispy roasted sweet potatoes is an easy way to put a healthy vegan dinner on the table.
Ingredients
1 1/2

cups

dry red rice blend

(I like LotusFoods' Organic Tri-Color Rice Blend)

2

sweet potatoes (garnet yams)

washed and diced

2

tbsp

safflower oil

divided

1

tbsp

cumin

1/2

tbsp

chili powder

1/2

yellow onion

diced

1

tsp

salt

2

cloves

garlic

minced

1

25 oz can

black beans

drained and rinsed

1

cup

frozen sweet corn

defrosted

1/2

pint

grape tomatoes

diced

1/2

jalapeno

washed, deseeded and diced

1

bunch

cilantro

washed and torn

1/2

tbsp

fresh lime juice

1/2

tbsp

extra virgin olive oil

salt & pepper

to taste

1

lime

washed and cut into wedges

1

avocado

sliced

pickled red onions

find the recipe here, to taste

roasted pumpkin seeds

find the recipe here, to taste

chili powder

as optional seasoning
Instructions
Preheat the oven to 425º.

Prepare the rice in accordance with package directions.

Toss the sweet potatoes in 1 tbsp safflower oil, cumin and chili powder. Spread the sweet potatoes out on a large baking sheet and roast on the middle rack for 15 minutes. Pause to stir the potatoes and continue roasting for another 15 minutes. The potatoes should be easily pierced with a fork with a crispy exterior.

While the potatoes are roasting, add 1 tbsp safflower oil to a medium-sized sauce pan and turn the heat to medium. When the oil is shimmering, add the onion and the salt. Sauté the onion until it starts to brown. About 12-15 minutes. Then add the garlic and sauté for 1-2 minutes more. Add the drained black beans and enough water to cover the beans. Simmer for 15-20 minutes until the beans have softened slightly. Drain the water and set aside.

Combine the corn, grape tomatoes, jalapeno, 2 tbsp of torn cilantro leaves, fresh lime juice, olive oil and salt and pepper. Toss and set aside.

Build your vegan burrito bowls by starting with a bed of red rice blend. Add the crispy roasted sweet potatoes and black beans as your main ingredients. Flank the sweet potatoes and beans with sliced avocado, lime wedges, pickled red onions and corn salsa. Top with additional cilantro, roasted pumpkin seeds and chili powder.
About Herbivore's Kitchen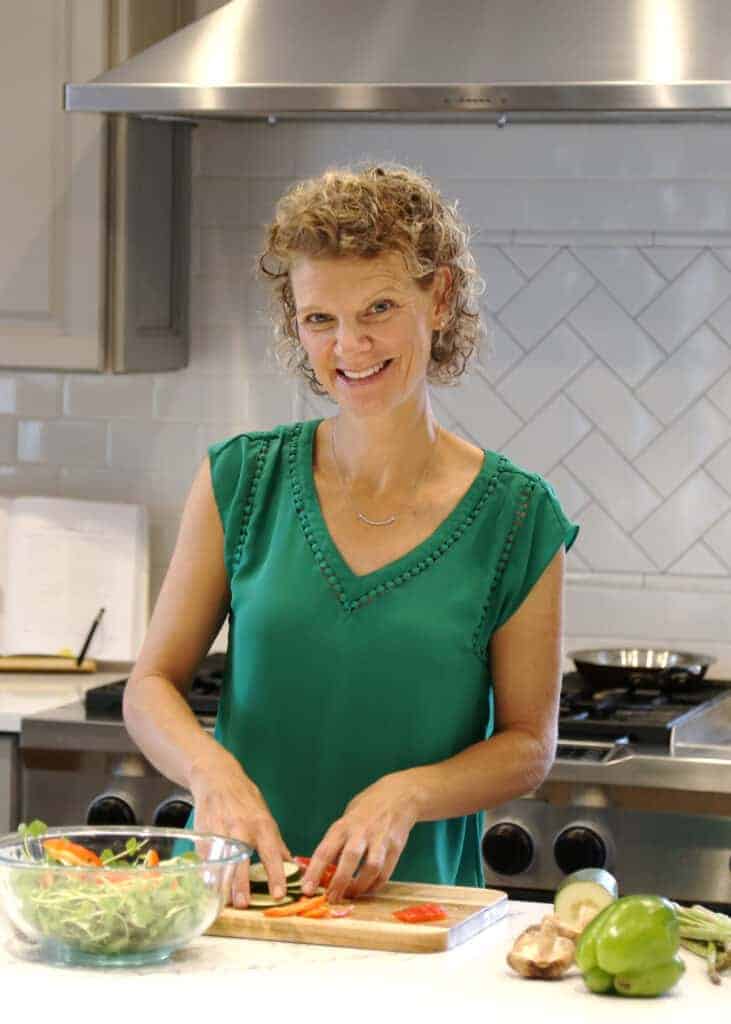 Herbivore's Kitchen is a blog run by me, a plant-based home chef and aspiring food photographer. I switched my diet to a plant-based diet after learning about the health benefits of going vegan. Making this change has prompted a variety of food and holistic-lifestyle related questions that I explore through this blog. I talk about how to pick and prepare the most nutritious foods, to how to reduce waste at home, to how to live a more sustainable lifestyle while on the road.