Jump to Recipe
This Baked Peach Turnovers Recipe: Celebrate Summer with Homemade Vegan Peach Hand Pies post includes affiliate links. When I find a great product or service, I like to share it with my readers. Sometimes I use affiliate links so I can earn a commission for my recommendations. Thank you for your support!
Celebrate Summer with Homemade Vegan Peach Hand Pies!
I've started a love affair. With phyllo dough.
Up until recently, recipes with phyllo dough were something that I enjoyed when other people made them. Then I discovered that baking with phyllo dough isn't nearly as mysterious as I thought.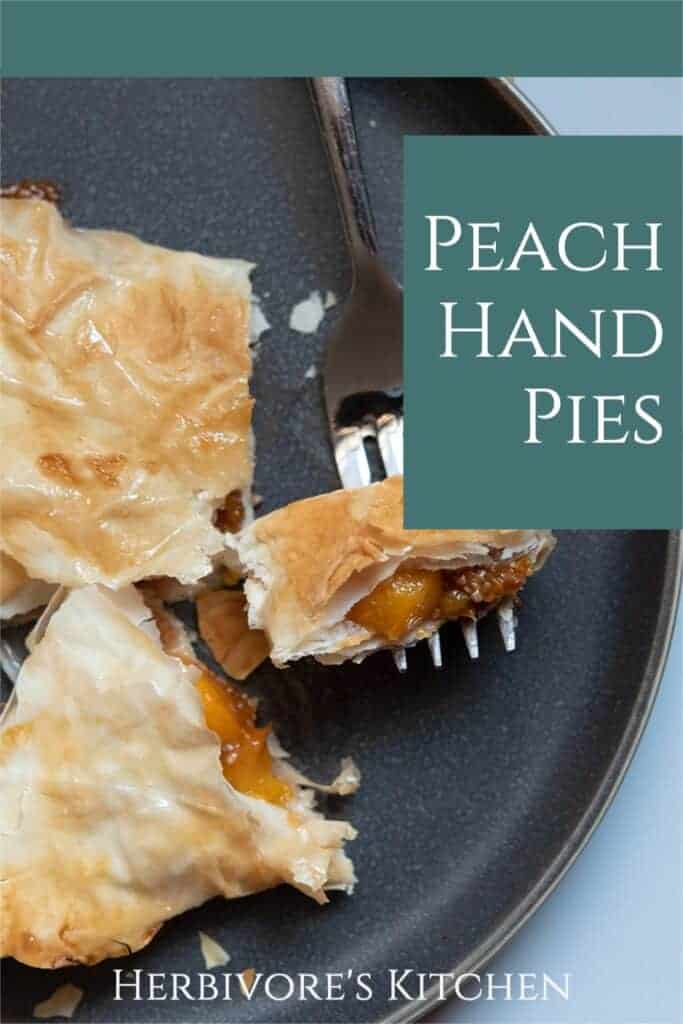 This discovery coincided with the delivery of a case of fresh peaches this August and inspired this Baked Peach Turnovers Recipe. Peach turnovers, also known as peach hand pies and peach popovers, marry the simple flavor of fresh peaches with the flakiest of crusts. This ensemble is then finished with a drizzle of homemade peach glaze.
Believe it or not, these Peach Hand Pies are also dairy free and vegan. If that's not enough to make you feel good about eating dessert, they also use chia seeds as a natural thickener, adding vegan protein, antioxidants and fiber.
What is Phyllo Dough?
Phyllo dough (also spelled filo dough) is a paper-thin sheet of dough that's used in both savory and sweet recipes. It's Greek by origin (filo means leaf in Greek) so if you've encountered it before, it's was likely in a recipe for Spanakopita or Baclava.
Phyllo dough is a simple combination of flour and water. It contains very little fat, but most recipes recommend brushing each layer of phyllo dough with oil to achieve a flaky, crispy layered crust.
Phyllo dough is usually vegan so it's an easy thing to pick up ready-made at the grocery store. You will typically find it in the freezer section.
To defrost it, leave it in the refrigerator and then bring it to room temperature just before baking with it. Phyllo dough's super thin texture makes it susceptible to drying out, so cover and sheets you are not working with, with a damp towel.
Leftover phyllo dough can be rewrapped and stored in the refrigerator for use within 1-3 days. Defrosted phyllo dough should not be refrozen. It will become brittle if returned to the freezer.
What is a Turnover Pastry?
Turnover pastries are exactly as the name suggests. They're made by adding a filling to a length of dough, then turning it over, sealing it and then baking or frying it. Phyllo dough turnovers are folded over several times, allowing for many different layers of dough to separate and expand as the turnovers bake.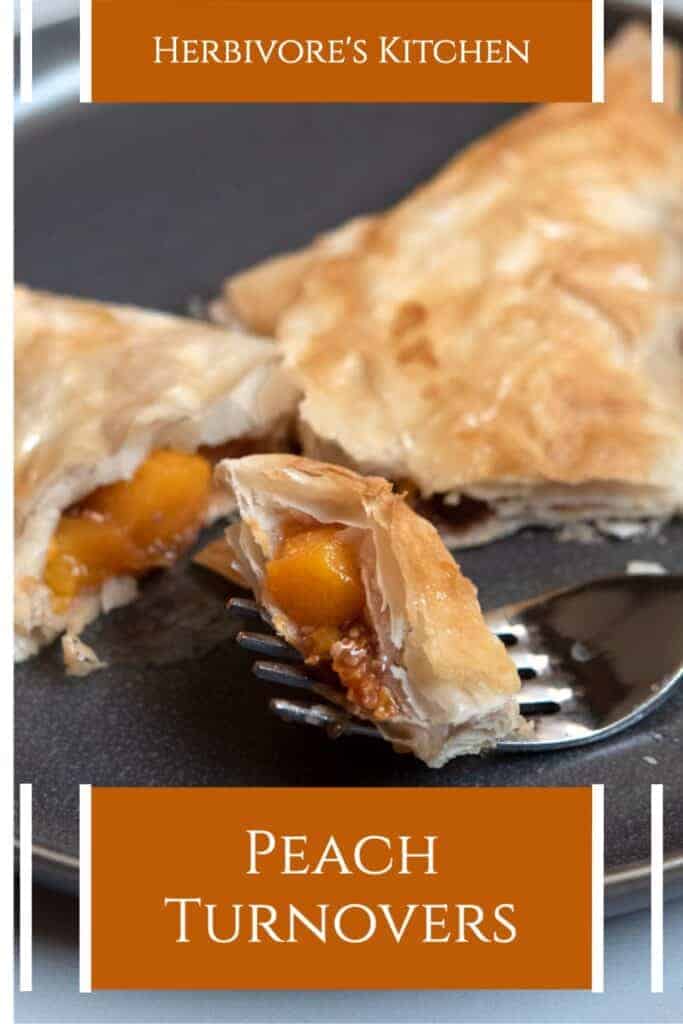 Turnover pastries can be both savory and sweet, with a variety of options for the fillings. Fruit hand pies, like these Baked Peach Turnovers, apple turnovers and blueberry turnovers are among the most popular, while savory hand pies might include a mushroom or potato filling.
Baked Peach Turnovers: How to Make the Filling
The filling for these Peach Hand Pies is really simple. It uses only fresh peaches, maple syrup and chia seeds. The fresh peaches are first cooked on the stove on medium-low heat. As they cook, the peaches release their juices, some of which is used to create the peach glaze that is added at the very end of the recipe.
A small amount of pure maple syrup enhances the natural sweetness of the peaches and chia seeds work to absorb the juice so that the filling is naturally thickened before being folded into the turnovers.
[Tips & Tricks] In addition to being vegan-friendly, chia seeds are also a health food. Known as a superfood, chia seeds pack a lot of nutritional punch into a very small space. They're high in anti-oxidants and fiber. To learn more about cooking with chia seeds, be sure to check out my How to Cook with Chia Seeds post.
For this recipe, I used white chia seeds. Their light color allows the natural color of the peaches to shine. From a nutritional standpoint, white chia seeds are essentially the same as black chia seeds. They're slightly less common to find in grocery stores — with black chia seeds seeming to dominate – but if you can get your hands on them, they're great in recipes with other like-colored food.
How to Make Vegan Peach Hand Pies
Many hand pie recipes use butter and/or cream in the making of the filling, but it's pretty easy to avoid if you want to make vegan hand pies.
For this recipe, I didn't use any butter to make the filling, relying only on the juices from the fruit and some maple syrup. Then, instead of brushing each layer of phyllo dough with butter, I simply sprayed it with a thin layer of coconut oil.
To use as little oil as possible, I added coconut oil to this refillable oil spray dispenser. It's non-aerosol, easy-to-clean and provides a fine mist of oil with each pump.
Baked Peach Turnovers: Making a Vegan Egg Wash
An egg wash is a common feature in the pastry world. This whipped combination of egg and milk is brushed over pastry doughbefore baking to give the final product a glossy, golden brown finish. Egg washes also work as a seal, preventing a pastry's filling from leaking during baking.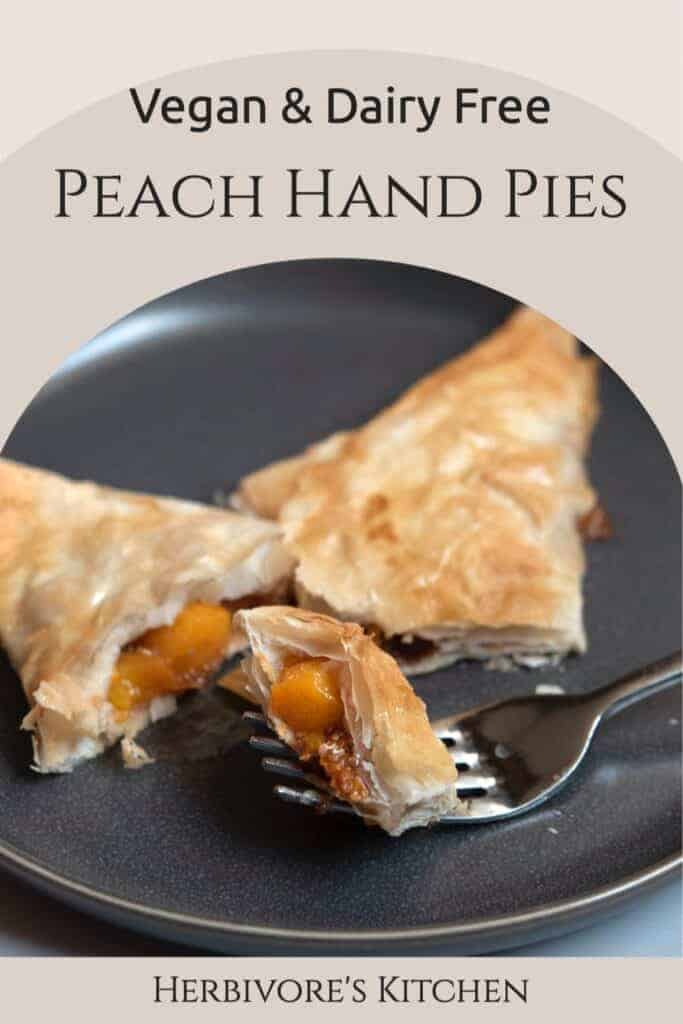 Needless to say, the combination of eggs and milk aren't vegan friendly, but that doesn't mean that a vegan pastry can't look equally divine when it comes out of the oven. I've tried a couple of different recommendations, but the best one I've come across is a blend of plant-based milk and maple syrup.
Combined at a ratio of 1 tablespoon of plant-based milk to 1 tsp of maple syrup, this vegan egg wash serves the duel-purpose of sealing pastries and giving them that out-of-the-oven golden glow.
Do You Love This Baked Peach Turnovers Recipe: Celebrate Summer with Homemade Vegan Peach Hand Pies!
Do you love this Baked Peach Turnovers recipe? Be sure to check out other vegan desserts! If you're into fruit, then my Strawberry Rhubarb Galette is for you! Chocolate more your style? Then you'll love my Silken Tofu Chocolate Mousse.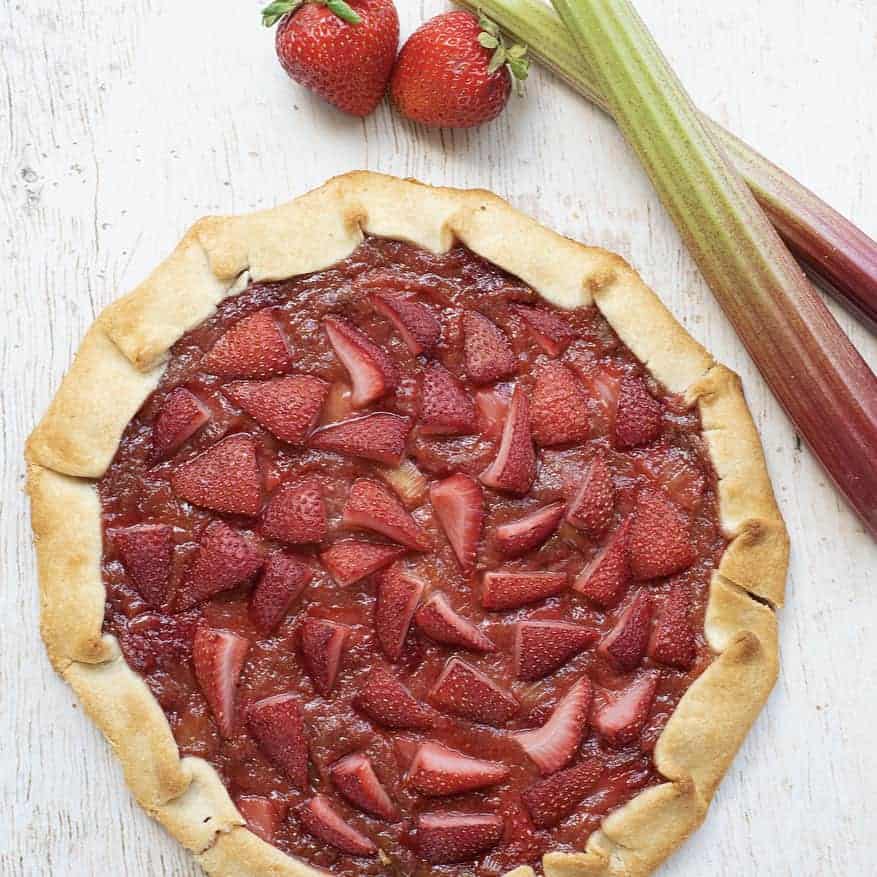 I am galette obsessed. Peach, plum, mushroom…this strawberry rhubarb galette. Not familiar with galettes? All you really need to know is how easy they are to make. This galette recipe features a homemade vegan pie crust, but you can make things even easier by using a store-bought crust for "practice" (as I like to call it). The filling for this strawberry rhubarb galette is silly easy. I made it with fresh strawberries and rhubarb, sugar and chia seeds.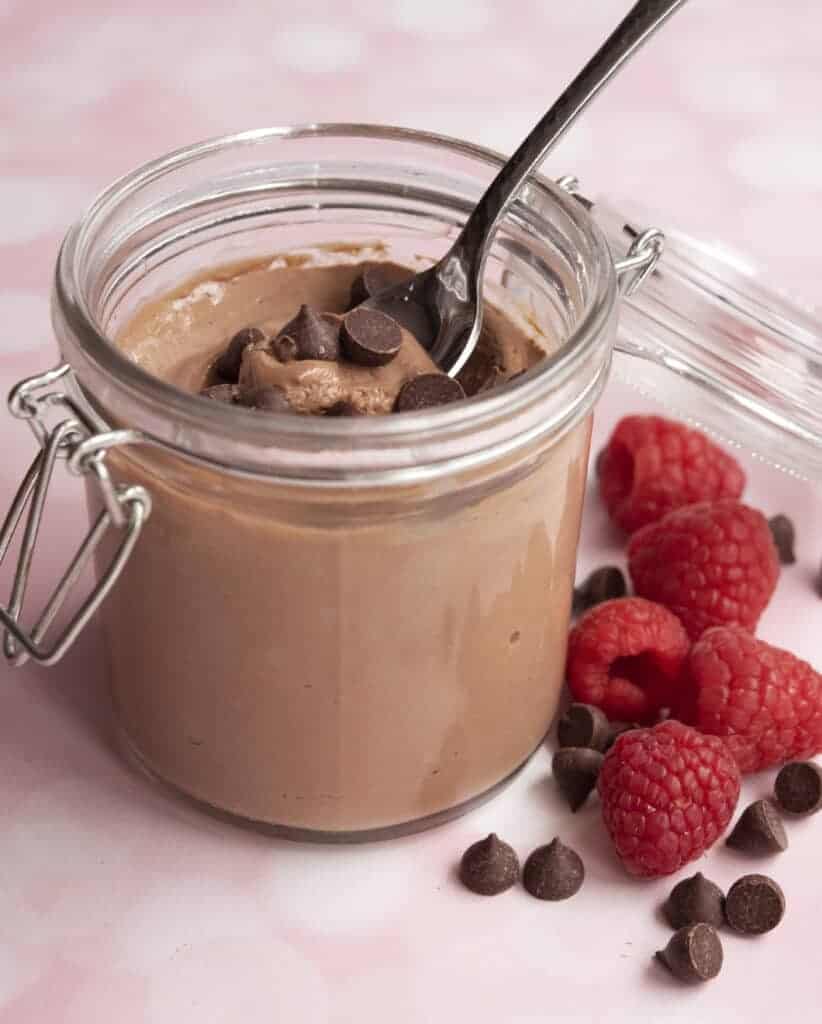 Wait! Stop! I know what you're thinking: tofu for dessert? I totally get it. This one took me a little while to work up the courage to try, but it's so worth bringing into your vegan dessert rotation. It's easy, 5 ingredients and light as air – just as chocolate mousse should be!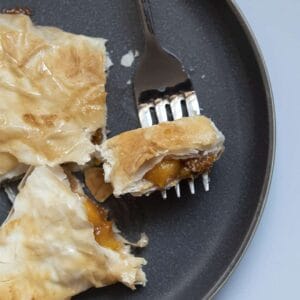 Baked Peach Turnovers Recipe
This baked peach turnover recipe showcases summer-fresh peaches. Made with phyllo dough, these peach hand pies are the best of vegan desserts!
Ingredients
For the Peach Hand Pie Filling
4-5

fresh peaches

washed, pitted and roughly chopped

1/4

cup

pure maple syrup

2-3

tbsp

white chia seeds
For the Vegan Egg Wash
3

tbsp

oat milk

or other plant based milk

3

tsp

maple syrup
For the Peach Icing
1/2

cup

confectioner's sugar

1-2

tbsp

fresh peach juice

see Instructions
For the Peach Hand Pies
6-8

sheets

phyllo dough

defrosted in accordance with the package directions and brought to room temperature

1/8

cup

liquid coconut oil

or other neutral-tasting oil
Instructions
Preheat the oven to 375º.

Add the chopped peaches to a large sauce pan and bring to a simmer over medium-low heat. Stir the peaches occasionally to keep them from sticking to the bottom of the pan. Cook for 10 minutes.

As the peaches simmer, they should release their juices. Reserve 2 tablespoons of the peach juice.

Add the pure maple syrup and stir to combine. Remove the peaches from the heat and add 2 tablespoons of chia seeds. Stir to combine thoroughly. Set aside for 10minutes. The chia seeds will absorb the liquid from the peaches, thickening the filling. If the filling is too thin, add the remaining tablespoon of chia seeds.

While the chia seeds are absorbing the liquid from the peaches, make the vegan egg wash by combining the oat milk and maple syrup in a small bowl.

Make the peach icing by combining the cooled peach juice with the confectioner's sugar. Start by adding ½ tablespoon on the peach juice to the sugar. If the icing is too thick, continue adding the peach juice until you achieve the desired consistency.

Remove the phyllo dough from the packaging and carefully peel off one sheet. Cover the unused phyllo dough with a damp towel.

Lightly brush the single sheet of phyllo dough with the coconut oil (or, as recommended in the blog post, spray the sheet with coconut oil using a refillable oil dispenser).

Fold the phyllo dough in half lengthwise and spray the top of the folded sheet with additional coconut oil.

Place a small amount of the peach filling in the bottom corner of the folded sheet.Then gently take the corner of the phyllo dough by the filling and pull it over the filling to the opposite edge, creating a triangle. Press the edges of the phyllo dough together, then fold the filled portion of the phyllo dough over to the other side of the sheet, creating another triangle.

Continue to fold the phyllo dough until the end of the sheet is reached.

Gently add the peach turnover to a baking sheet lined with parchment paper.

Continue making turnovers until all of the filling has been used.

Lightly brush the turnovers with the vegan egg wash and place the baking sheet in the oven on the middle rack.

Back for 18-20 minutes until the turnovers are puffed and golden brown. Remove the baking sheet from the oven and allow the turnovers to cool completely.

Once cooled, drizzle the icing over the turnovers using a fork or a miso whisk. See Recipe Notes.
About Herbivore's Kitchen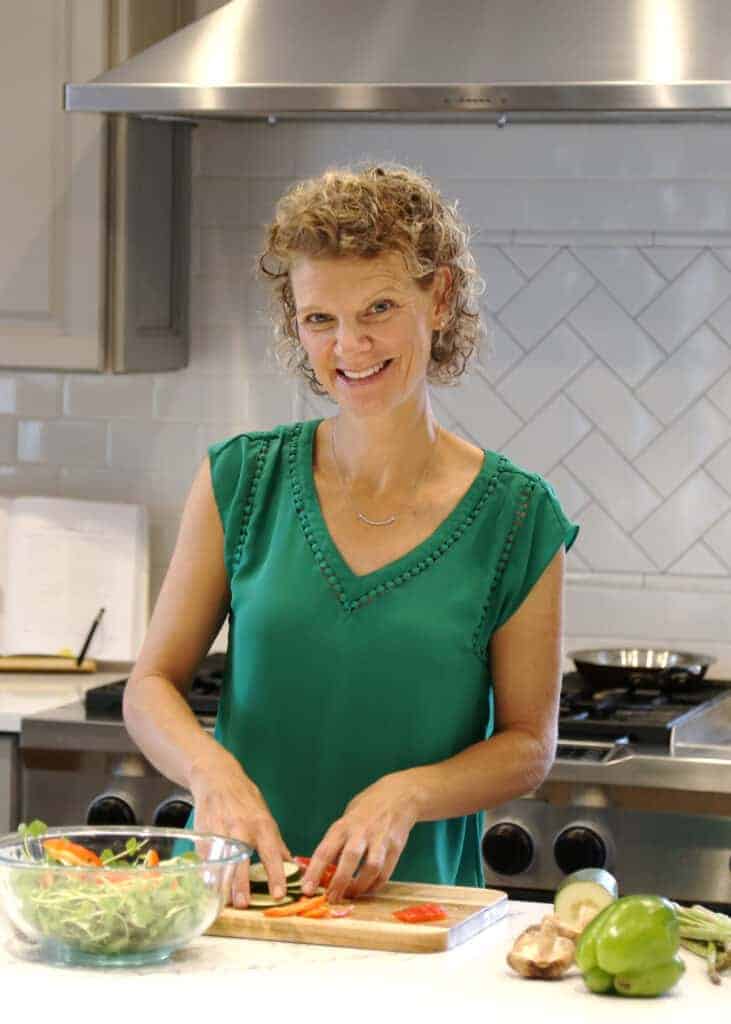 Herbivore's Kitchen is a plant-based food blog started by me, a vegan home chef, cookbook author, aspiring food photographer and how-to-be-a-better-food-blogger junkie. You'll mostly find creative and tasty vegan recipes and detailed deep dives into vegan ingredients (check out my Vegucation section) on my blog. I love knowing as much as I can about the food that I make. I'm also really into running a food blog as a business, so I've also got a section of my blog titled: Confessions of a Food Blogger where I get into the nitty gritty on how to build, manage, market and monetize a food blog.