Jump to Recipe
This Creamy Cashew Alfredo with Vegan Pancetta and Peas recipe includes affiliate links. When I find a great product or service, I like to share it with my readers. Sometimes I use affiliate links so I can earn a commission for my recommendations. Thank you for your support!
Get Your Vegan Comfort Food Fix with this Creamy Vegan Pasta Recipe
There are few foods that check the comfort food box like Fettuccini Alfredo. It's creamy and carb-y – the perfect food for when the weather is gloomy. One notch above classic Fettuccini Alfredo is Pasta Carbonara, which adds the decadence of eggs and bacon to the perfection of chewy, al dente pasta.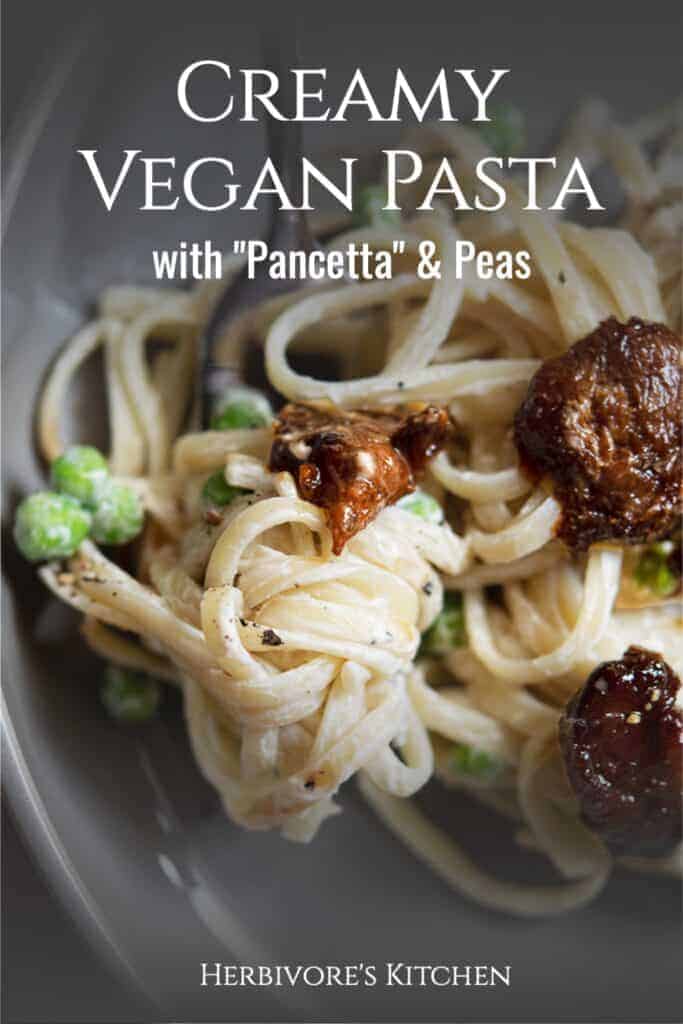 As a plant-based eater, you may have thought that you had to say goodbye to these tasty combinations, but that's not the case at all. These classic dishes are quite easily and deliciously replicated as vegan-friendly meals with the help of creamy cashew alfredo sauce and vegan pancetta.
How to Make Non-Dairy Alfredo Sauce
Traditional alfredo sauce is a rich combination of butter, heavy whipping cream and parmesan cheese. And while all that dairy may seem hard to substitute, a simple combination of soaked cashews and water, creates the creamy vegan equivalent to a heavy cream sauce.
In lieu of parmesan cheese, a tablespoon of nutritional yeast and fresh lemon juice lend this vegan pasta dish the same notably satisfying tang. Add a little garlic and salt and – Viola! – you have yourself an outstanding creamy cashew alfredo sauce.
What is Pancetta?
When veganizing a recipe, it helps a lot to know what it is you're looking to substitute with a plant-based ingredient. In the case of this Creamy Cashew Alfredo recipe, I needed to come up with a satisfying pancetta substitute.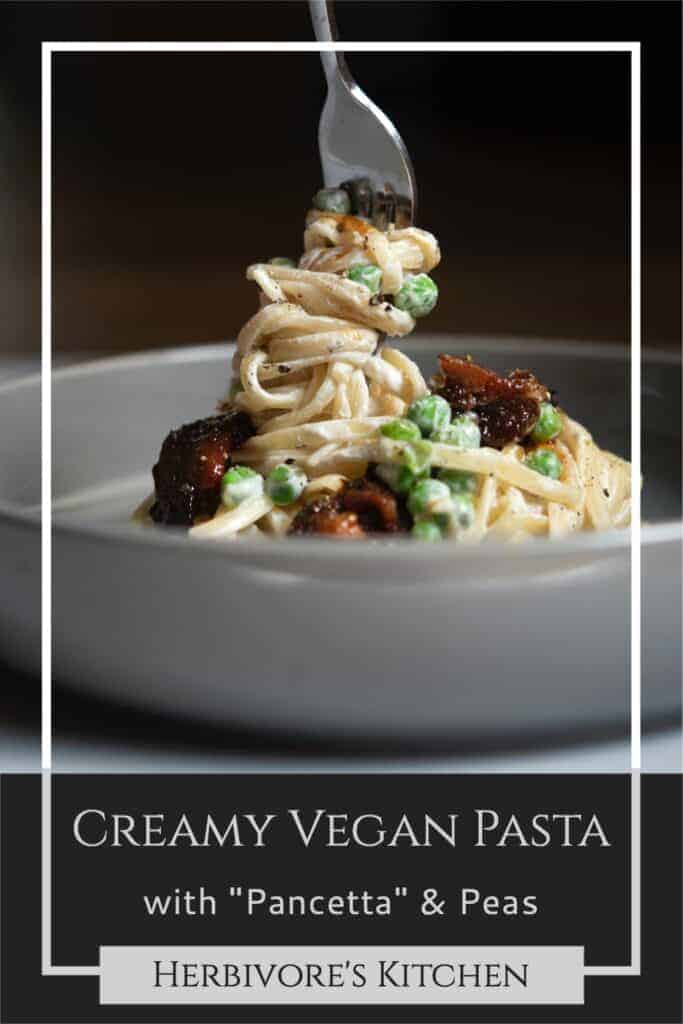 If you haven't come across it before, pancetta is very similar to bacon. It's pork belly cured with salt and it's often served in cubes that are pan-fried before being added to a dish. As such, I knew I was after a salty with a hefty dose of creamy fat. And, because my best memories of bacon are of the maple-smoked kind, I wanted to add a little sweetness as well.
Vegan Pancetta: Mushrooms Make the Best Pancetta Substitute
If you've been following my recipes lately, you know that I have access to some pretty interesting mushroom varieties. I've had the good fortune of connecting with a local mushroom grower / hunter and they hook me up every week with some really fun mushrooms.
In the past month, I've played with King Oyster mushrooms, Chestnut mushrooms, Grey Dove mushrooms, Shiitakes and Lion's Mane mushrooms. I've even taken a crack at cooking Morels and Porcini mushrooms.
As I get a handle on the different tastes, textures and cooking techniques for each variety, I've been trying them out in different recipes. For example, a couple of weeks ago I used Lion's Mane mushrooms to create really tasty, texturely accurate Vegan Crab Cakes.
I was so impressed by the meatiness of the Lion's Mane mushrooms that I decided to try them out as a pancetta substitute in this Creamy Cashew Alfredo vegan pasta dish. They result was pretty divine.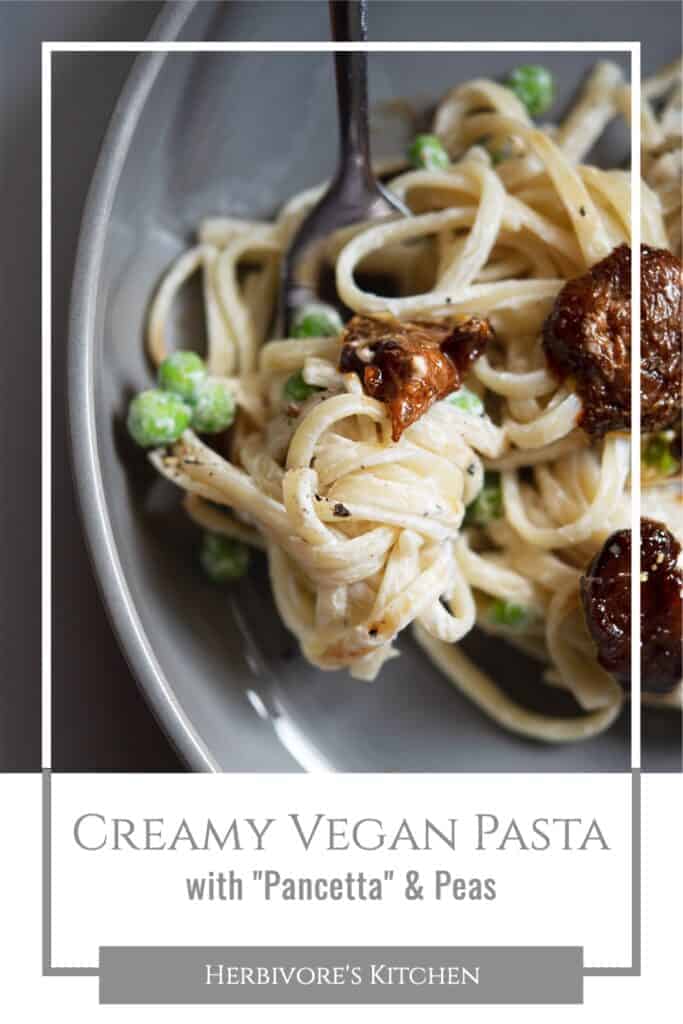 I know that access to specialty mushrooms isn't readily available for everyone, so rest assured that this tasty vegan pancetta substitute will work equally well with different mushrooms, like button mushrooms or shiitakes. Chopped Portobello mushrooms would also work very well, I think.
Getting the Maple-Smoked Flavor into Your Vegan Pancetta
Whatever mushroom you decide to work with, you'll get the bacon flavor from a combination of tamari, maple syrup, balsamic vinegar and smoked paprika. To thicken the sauce, I add a cornstarch slurry. When cooked, this sauce becomes thick and sticky. Add that to the crispy exterior of the mushrooms and you've got a really tasty pancetta substitute to work with.
How to Serve this Creamy Cashew Alfredo with Vegan Pancetta and Peas
When serving this dish, I like to time it so that the pasta and peas are hot when they're tossed together. Given that I only have two hands, I will already have the mushrooms cooked and the cashew alfredo sauce made.
The best way to reheat the cashew alfredo sauce is to re-blend it in a high-speed blender. This keeps it from becoming dry, as it will on the stovetop or in the microwave. After 1-2 minutes in the blender, the cashew alfredo sauce will be creamy and hot and ready to be added to the pasta and peas.
To keep the crispy exterior of the vegan pancetta, I recommend reheating the mushrooms in a skillet. As soon as they're hot, add them to the pasta and serve it immediately with fresh ground pepper.
Do You Love This Creamy Cashew Alfredo with Vegan Pancetta and Peas Recipe?
Do you love this Creamy Cashew Alfredo with Vegan Pancetta and Peas recipe? Be sure to check out other vegan pasta dishes. If you're into red sauce, then Vegan Penne Alla Vodka is for you! Forever-searching for a vegan Bolognese sauce? Then you'll love my Vegan Lentil Bolognese.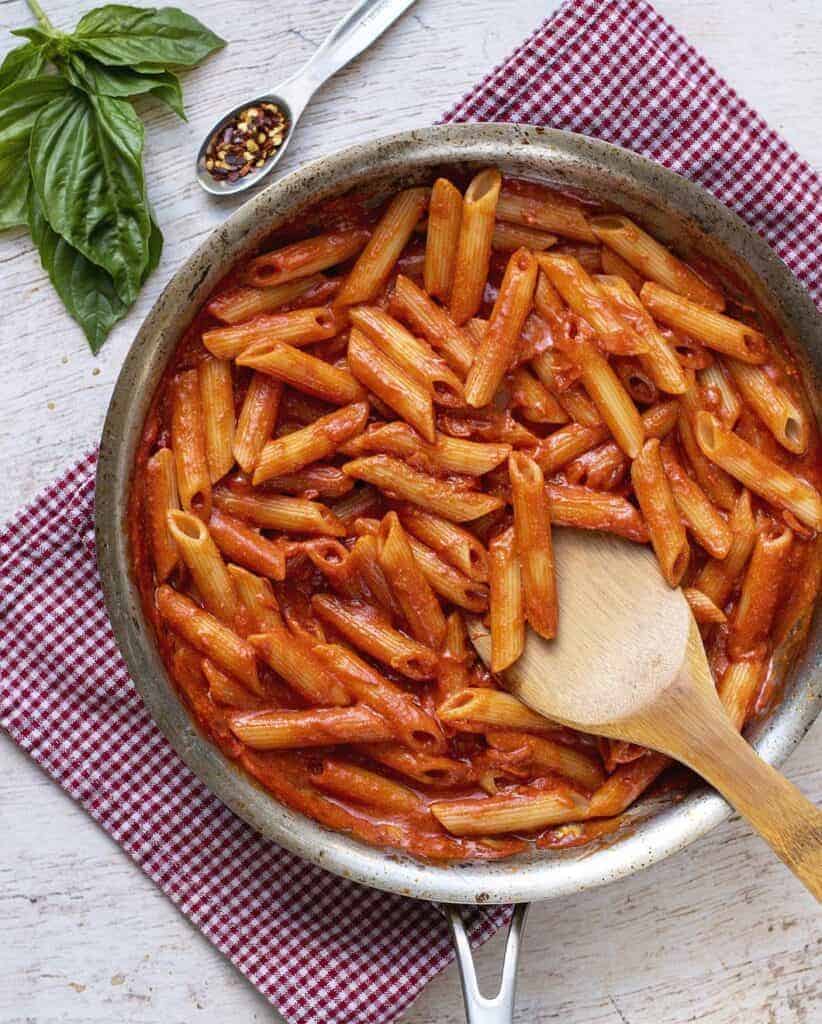 Nothing says comfort food like a big bowl of pasta with a rich, homemade vodka sauce. And now, with this vegan vodka sauce recipe, plant-based eaters can get the same satisfaction. This dairy-free vodka sauce is creamy, bright and so easy to make! It comes to you straight out of my new cookbook 5-Ingredient Vegan Cooking: 60 Plant-Based Recipes with Few Ingredients and Lots of Flavor. I thought you might like to a do a little test drive of this collection, so here it is! On my blog with all of the details!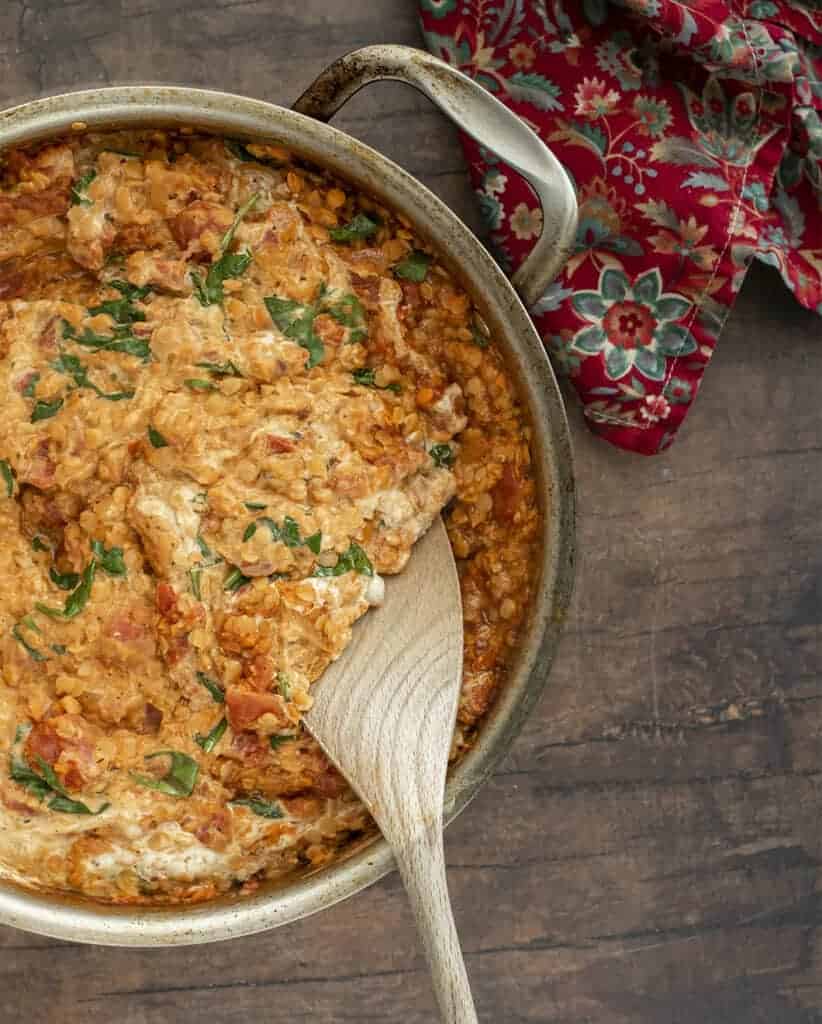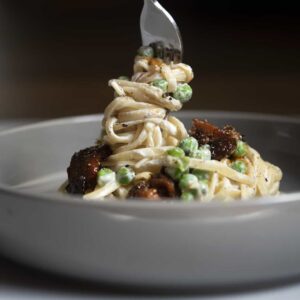 Creamy Cashew Alfredo with Vegan Pancetta and Peas
Nothing says comfort food like this Creamy Cashew Alfredo with Vegan Pancetta & Peas. Get your fix with this cream vegan pasta recipe.
Ingredients
Vegan Pancetta
~4

oz

Lion's Mane mushrooms

wiped clean of dirt and roughly chopped; see Recipe Notes

1/4

cup

tamari

2

tbsp

pure maple syrup

1

tsp

balsamic vinegar

1/2

tsp

smoked paprika

1

tbsp

cornstarch

1

tbsp

water

1

tbsp

safflower oil

or other high-heat tolerant cooking oil
Creamy Cashew Alfredo Sauce
1

cup

cashew pieces

soaked in hot water for at least 30 minutes

3/4

cup

water

1

tbsp

nutritional yeast

1

tbsp

fresh lemon juice

1

tsp

salt
Pasta & Peas
1

lb

fettuccini

cooked in accordance with the package directions

1

cup

frozen peas

defrostedin hot water

fresh ground pepper
Instructions
Prepare the sauce for the vegan pancetta by combining the tamari, maple syrup, balsamic vinegar & smoked paprika in a small bowl.

Make a cornstarch slurry, by combining the cornstarch and water in a separate bowl. Mix thoroughly and add the slurry to the pancetta marinade.

Heat the safflower oil in a large skillet until hot. Add the Lion's Mane mushrooms and pan fry until golden brown. 2-3 minutes.

Add the vegan pancetta sauce and cook on high heat until the sauce is reduced. The mushrooms should be sticky and crispy. Set aside.

Add the cooked fettuccini and cooked peas to a large bowl.

Combine the soaked cashews,¾ cup water, garlic, nutritional yeast, fresh lemon juice and salt in a high-speed blender and blend until creamy and hot. See Recipe Notes.

Add the cashew alfredo sauce to the pasta and peas and gently toss the pasta to coat.

Plate the pasta and peas and then top with the vegan pancetta. Season with fresh ground pepper and serve immediately.
Notes
Lately, I've been having a blast trying out new mushroom varietals. I picked Lion's Mane mushrooms for this recipe because they have a meaty texture, which I thought would be a great pancetta substitute. Feel free to swap Lion's Mane mushrooms out for a different variety. I have also tried this with simple buttons mushrooms as well as shiitake mushrooms. Just note that the cook time for a different type of mushroom may vary.
The best way to heat up cashew alfredo sauce is to blend it in a high-speed blender. This will make the sauce hot and help to avoid it becoming dried out, as it might in a saucepan and definitely would in the microwave.
If you're not planning on serving this dish immediately, don't add the cashew alfredo sauce. Wait until just before serving and reheat the cashew alfredo sauce in a high-speed blender and then serve as described in the Directions.
About Herbivore's Kitchen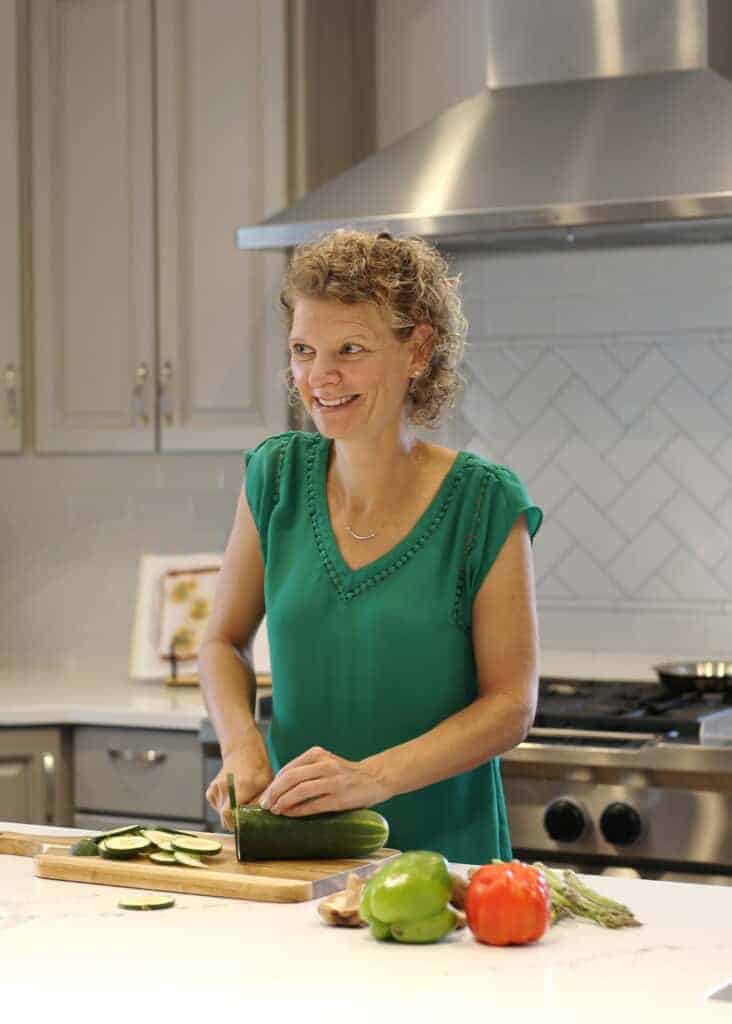 Herbivore's Kitchen is a plant-based food blog started by me, a vegan home chef, cookbook author, aspiring food photographer and how-to-be-a-better-food-blogger junkie. You'll mostly find creative and tasty vegan recipes and detailed deep dives into vegan ingredients (check out my Vegucation section) on my blog. I love knowing as much as I can about the food that I make. I'm also really into running a food blog as a business, so I've also got a section of my blog titled: Confessions of a Food Blogger where I get into the nitty gritty on how to build, manage, market and monetize a food blog.