This Vegan Pasta Puttanesca: A Twist on Everyday Vegan Spaghetti post includes affiliate links. When I find a great product or service, I like to share it with my readers. Sometimes I use affiliate links so I can earn a commission for my recommendations. Thank you for your support!
This Vegan Pasta Puttanesca is a Twist on Everyday Vegan Spaghetti
Looking for a quick & easy, wholly satisfying dinner? You need to add this vegan puttanesca pasta recipe to your repertoire.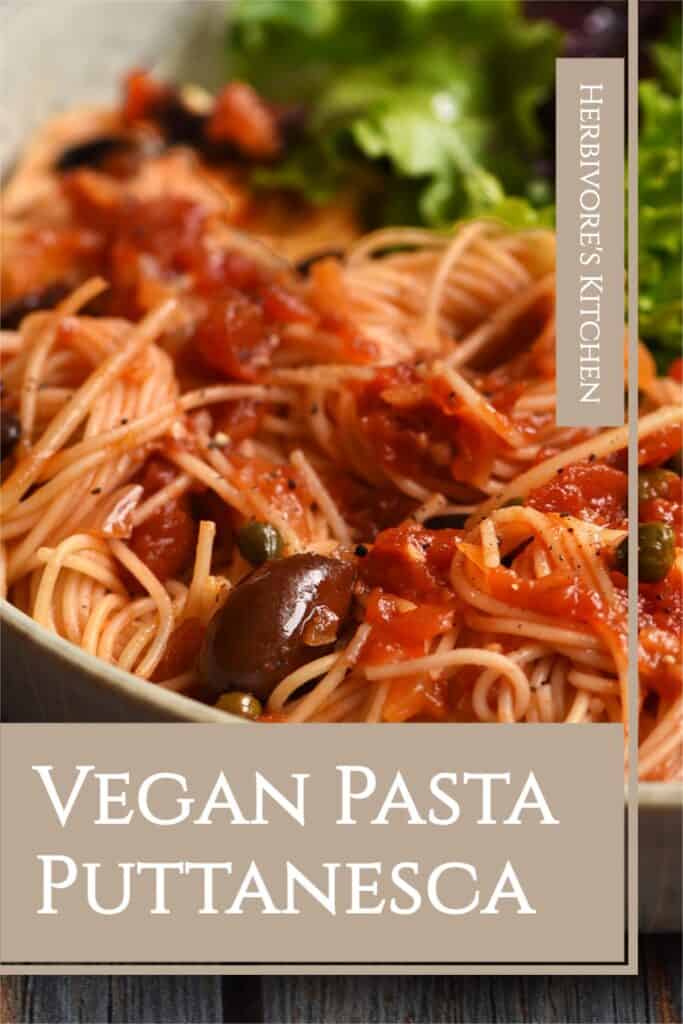 This carb-tastic, plant-based meal is the perfection combination of salty, sweet and acidic — the twist that everyday vegan spaghetti needed!
What Are the Ingredients in Puttanesca Sauce?
What makes Puttanesca Sauce so wonderful is its simplicity. Which is likely also what gave it its name, but more on that in a minute.
Traditional Puttanesca Sauce is made with olive oil, tomatoes, garlic, capers, olives, anchovies and crushed red pepper. This simple sauce was tossed with spaghetti and often enhanced with canned tuna to make it more of a meal.
And while purists would disagree, but many people also add a bit of shredded parmesan cheese to their Puttanesca pasta.
What's in this Vegan Pasta Puttanesca?
This Vegan Pasta Puttanesca skips the anchovies, tuna and parmesan cheese, but it finds flavor with a few vegan-friendly swaps.
In lieu of yellow onions, I prefer the sweeter, more mellow flavor of shallots. I also like to give this sauce a boost by adding a little bit of tomato paste to the base and then sauteing it until it's dark red in color (one of my favorite food hacks).
Traditional puttanesca recipes favor black olives, but I much prefer the salty, briny bliss that is kalamata olives. And, finally, I add a tablespoon of lemon juice at the end to bring all of the flavors in this sauce to life.
Are Capers Vegan?
The star of this vegan puttanesca sauce is, without question, capers. And, rest assured, that despite their salty flavor that complements the anchovies that are typically found in this dish, they are a vegan-friendly ingredient.
If you haven't cooked with capers, they're an ingredient that you need to familiarize yourself with. They're fermented in brine, which gives this dish a mild tang.
When you're shopping for them, look for brined, nonpareil capers. They're smaller and easier to prepare than capers that are packed in salt.
Why is it Called Puttanesca Sauce?
What does puttanesca mean in Italian? What does pasta puttanesca mean in English?
When it comes to this dish, these are tantalizing questions indeed.
Puttanesca translates as "in the style of prostitutes" making this dish's moniker a slightly scandalous topic. Legend supposes that the name described how sex workers attracted customers.
The more widely accepted explanation looks to the root work puttan, which in Italian means "shit." Not much better, right? But puttan doesn't describe the quality. Rather, it refers to the basic act of making a simple meal out of what you have available.
How Do You Pronounce Puttanesca?
Luckily this vegan spaghetti recipe comes with an easy pronunciation. Puttanesca is pronounced poo-tuh-neh-skuh – mercifully free of the lost art of phonetic symbols.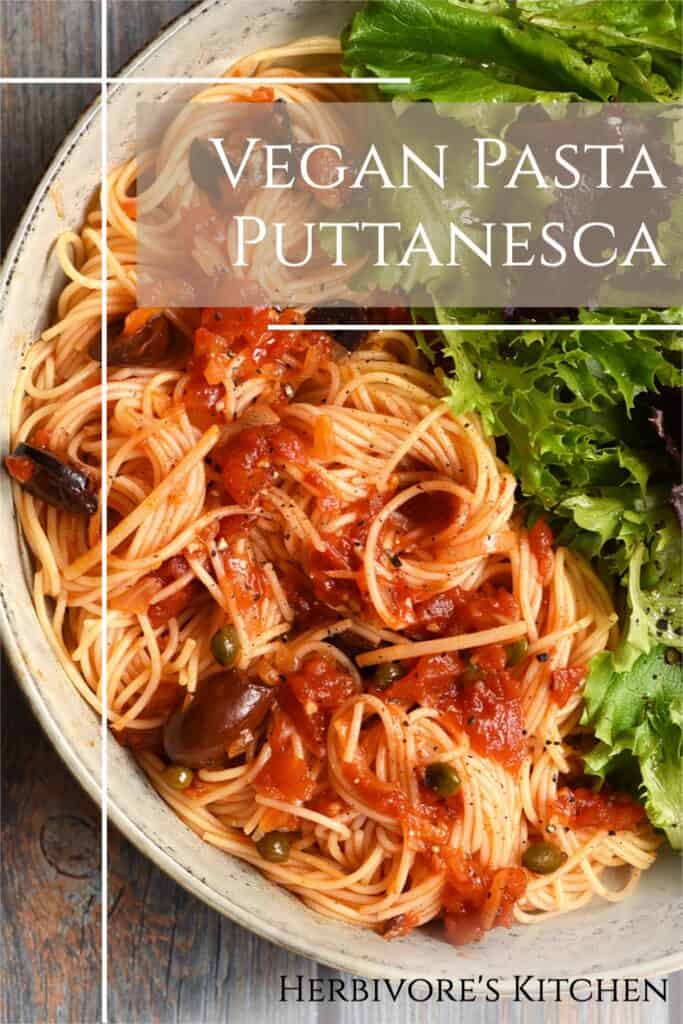 What Kind of Pasta Goes Best with This Vegan Puttanesca Sauce?
Traditionally, puttanesca sauce is cooked with spaghetti or capellini. But, it's not unusual to find recipes using penne or other pasta shapes.
I will use pretty much an excuse to eat capellini (also referred to as angel hair). But, believe it or not, different types of pasta shapes work better with different types of pasta sauce.
This vegan puttanesca sauce (or any puttanesca sauce for that matter) works best with long strand style pasta. This shape is desirable when cooking with less hearty tomato or olive oil-based sauces because it can coat each strand.
What to Serve with this Vegan Pasta Puttanesca?
Pasta Puttanesca is a simple dish. As such, I think keeping the presentation simple is a nice complement.
For this briny twist on vegan spaghetti, I took a page from my friend Sara Tercero's book (Sara is the popular vegan food blogger behind Better Food Guru). Sara is always creating beautiful vegan-friendly pastas with a simple salad… in the same bowl. Trust me, it looks as good as it tastes.
In this case, I made a mixed greens salad with a simple dressing of 1:1 extra virgin olive oil, apple cider vinegar, a touch of maple syrup and a dash of Dijon mustard.
Do You Love This Vegan Pasta Puttanesca Recipe?
Do you love this twist on vegan spaghetti? Be sure to check out other vegan pasta dishes! If you're into creamy and delicious, then my Creamy Cashew Alfredo with Vegan Pancetta & Peas is for you! Forever-searching for the ultimate vegan comfort food? Then you'll love my Vegan Baked Pasta Recipe!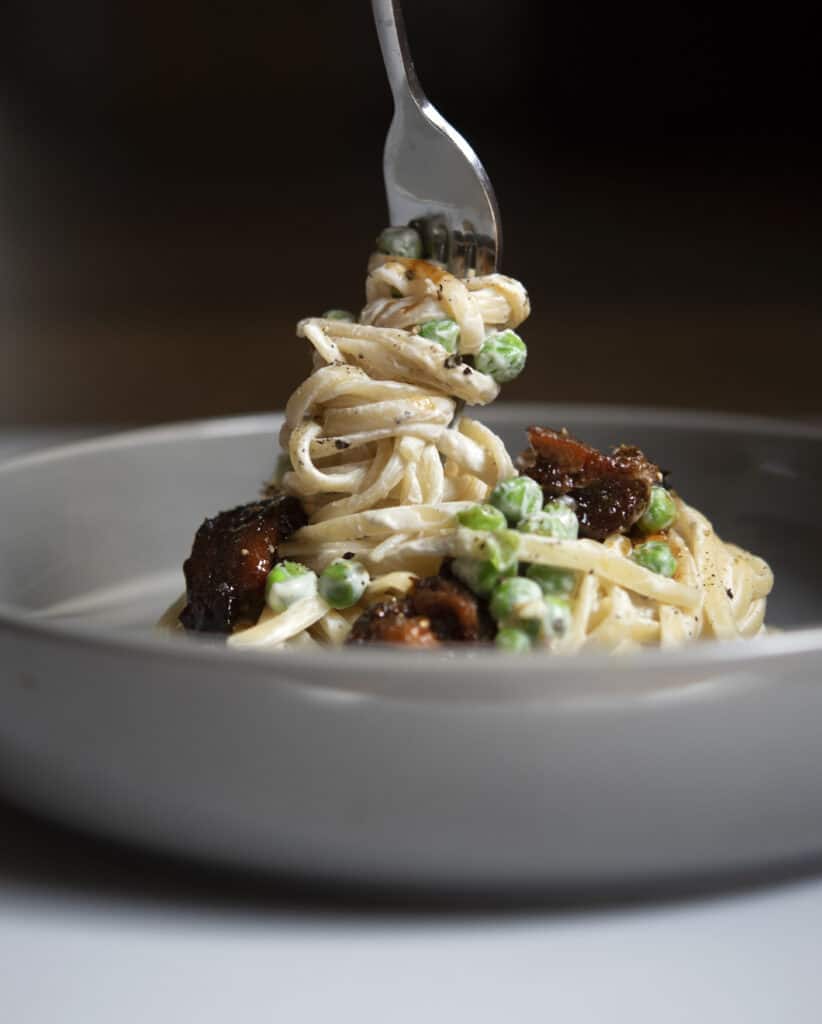 There are few foods that check the comfort food box like Fettuccini Alfredo. It's creamy and carb-y – the perfect food for when the weather is gloomy. One notch above classic Fettuccini Alfredo is Pasta Carbonara, which adds the decadence of eggs and bacon to the perfection of chewy, al dente pasta.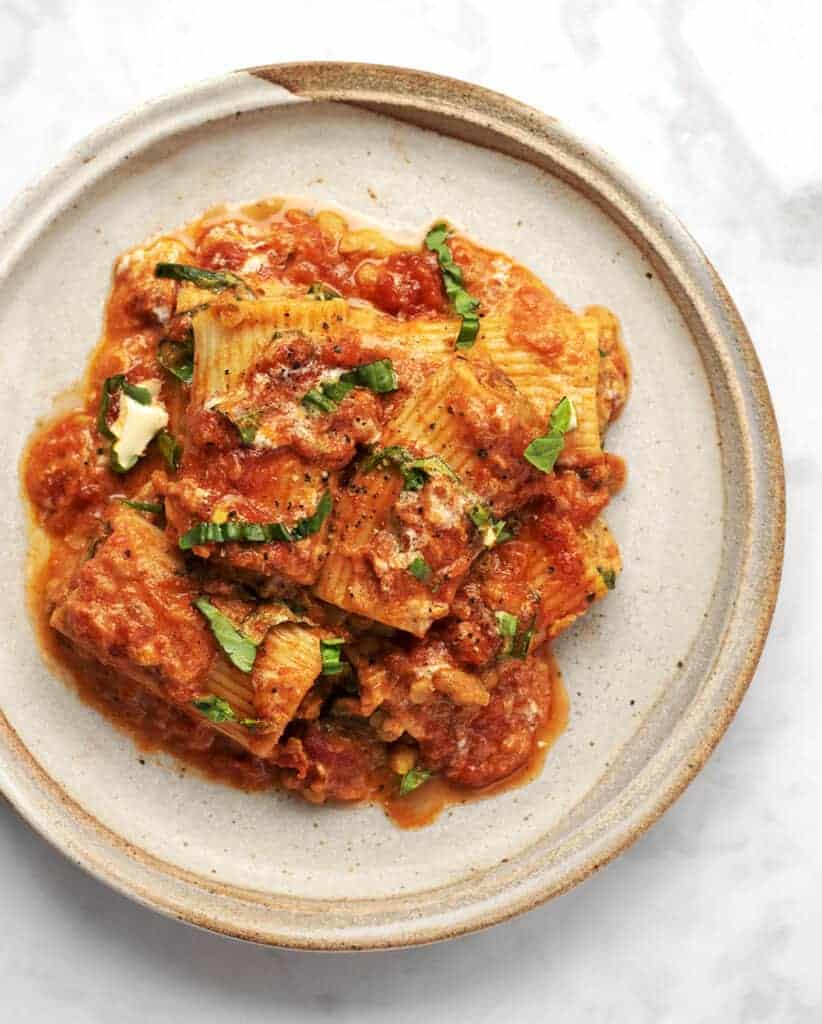 This healthy, vegan baked pasta recipe features lentil-stuffed rigatoni pasta nestled in a rich tomato sauce with a savory cashew cream drizzle.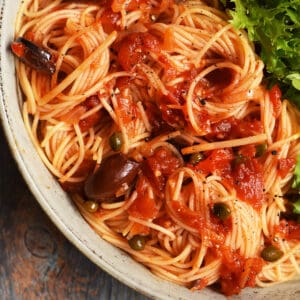 Vegan Pasta Puttanesca
Want to take vegan spaghetti to the next level? Try this Vegan Pasta Puttanesca! It's salty, sweet and acidic in every wonderful bite!
Equipment
Garlic Peeler

This garlic peeler is a simple silicon tube. Despite its simple design, it skillfully removes even the toughest of garlic skins. I'm so much happier not peeling garlic cloves with my fingernails. I'm pretty sure I'll collectively get at least a day of my life back because of this device.

Chef's Knife

I own this set of Global™ knives and They're some of my most prized possessions in the kitchen. This set is universally well-rated for the at-home chef and will get you a good, solid set of knives without totally breaking the bank.
Ingredients
1

lb

cappellini pasta

prepared in accordance with the package directions

2

tbsp

extra virgin olive oil

divided

2

shallots

skins removed and diced

3

cloves

garlic

peeled and pressed

1

tsp

salt

2

tbsp

tomato paste

2

14 oz cans

whole peeled tomatoes

undrained

1/2

cup

pitted kalamata olives

roughly chopped

2

tbsp

capers

nonpareil & packed in brine

1/2

tsp

crushed red pepper

1

tbsp

fresh lemon juice

fresh ground pepper

to taste
Instructions
Heat the olive oil in a medium-sized saucepan until shimmering.

Add the shallots, garlic and tsp of salt to the olive oil. Sauté on medium-low heat until the shallots and garlic have softened. 2-3 minutes.

Increase the heat to medium and add the canned tomatoes. Cover and simmer for 10 minutes.

Using a wooden spoon, break the tomatoes into bite-sized pieces.

Add the kalamata olives, capers, crushed red pepper and black pepper, to taste.Simmer for an additional 10 minutes. Add the fresh lemon juice.

While the sauce is simmering, bring a large pot of lightly-salted water to a rolling boil. Add the capellini pasta and cook in accordance with the package directions.

When done, drain the pasta and toss with the finished puttanesca sauce.

Season with fresh ground pepper and serve with a simple side salad and enjoy!
About Herbivore's Kitchen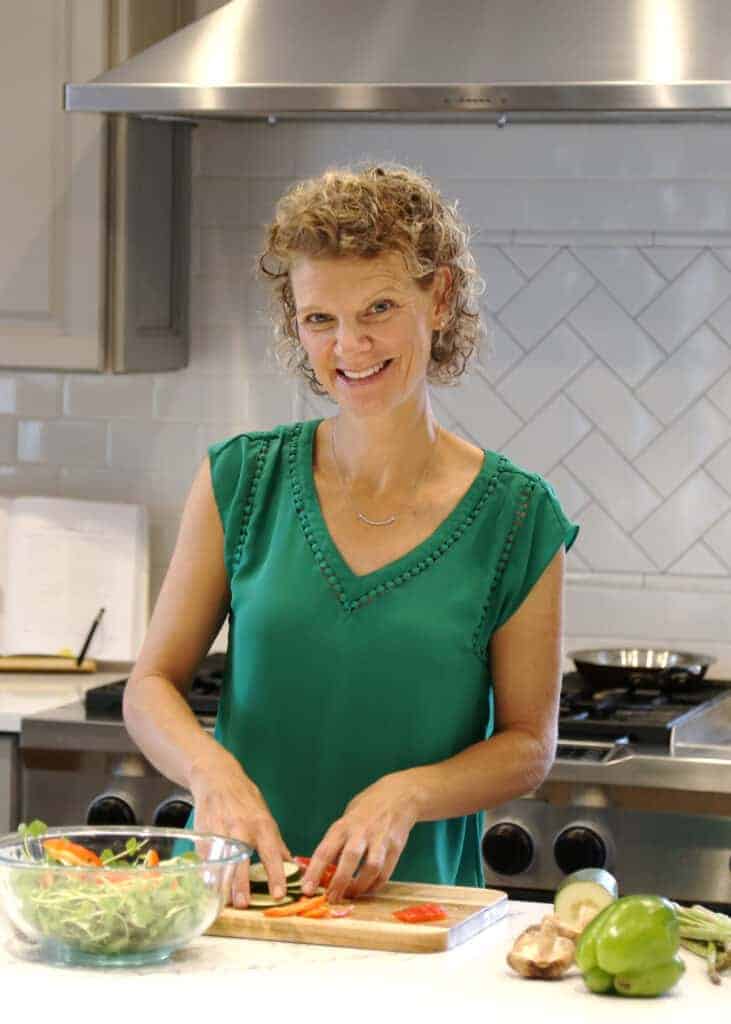 Herbivore's Kitchen is a plant-based food blog started by me, a vegan home chef, cookbook author, aspiring food photographer and how-to-be-a-better-food-blogger junkie. You'll mostly find creative and tasty vegan recipes and detailed deep dives into vegan ingredients (check out my Vegucation section) on my blog. I love knowing as much as I can about the food that I make. I'm also really into running a food blog as a business, so I've also got a section of my blog titled: Confessions of a Food Blogger where I get into the nitty gritty on how to build, manage, market and monetize a food blog.