This Vegan Bangers and Mash: How Vegans & Vegetarians Celebrate St. Patrick's Day! post includes affiliate links. When I find a great product or service, I like to share it with my readers. Sometimes I use affiliate links so I can earn a commission for my recommendations. Thank you for your support!
Food to Celebrate Vegan St. Patrick's Day
Are you looking for plant-based ways to celebrate St. Patrick's Day?
Any quick Google search will quickly reveal that many St. Patrick's Day meals favor meat and well, plenty of potatoes. So, what's a vegan to do when it comes time to celebrate this occasion?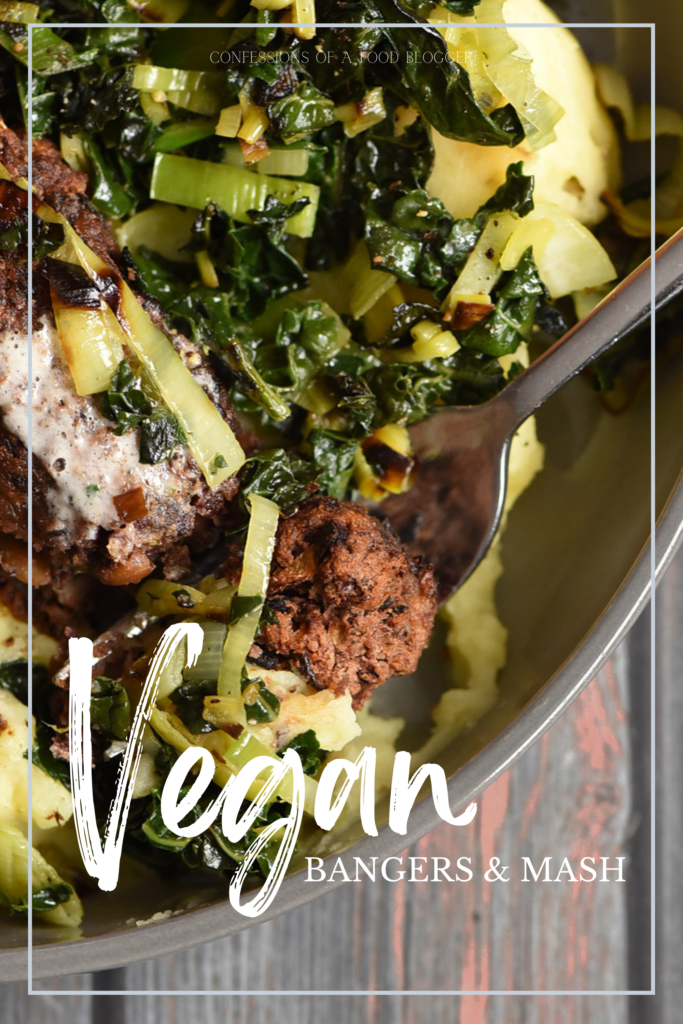 The answer, of course, is to adapt. Many favorite meals can be modified to a plant-based diet. And today, I'm taking the Irish-inspired Bangers and Mash and giving it a vegan facelift.
What Is Bangers and Mash?
Bangers and Mash is a simple dish featuring sausage and mashed potatoes. It's usually topped with an onion gravy. Perfect for a chilly, rainy day of celebrating.
The term "bangers" refers to the sausages. The nickname dates back to WWII when meat shortages led producers to include increase the water content. When they were cooked, these water-packed sausages tended to pop or "bang."
Mash, of course, refers to the mashed potatoes served alongside the sausages.
Is Bangers & Mash Irish or British?
This meal is traditionally British, but it's been widely adopted across Ireland.
If that's not enough to satisfy you that this is an acceptable dish to serve on St. Patrick's Day, consider this: I adapted this dish to include sauteed cabbage. And what's more Irish than cabbage?
Further to my argument, sautéed cabbage and mashed potatoes are the primary ingredients in an Irish side dish called Colcannon.
How to Make a Vegan Bangers and Mash
One of my goals with this recipe was not to make it too complicated. So, while it's a few steps more than its traditional counterparts, it's still a pretty easy vegan recipe to put together.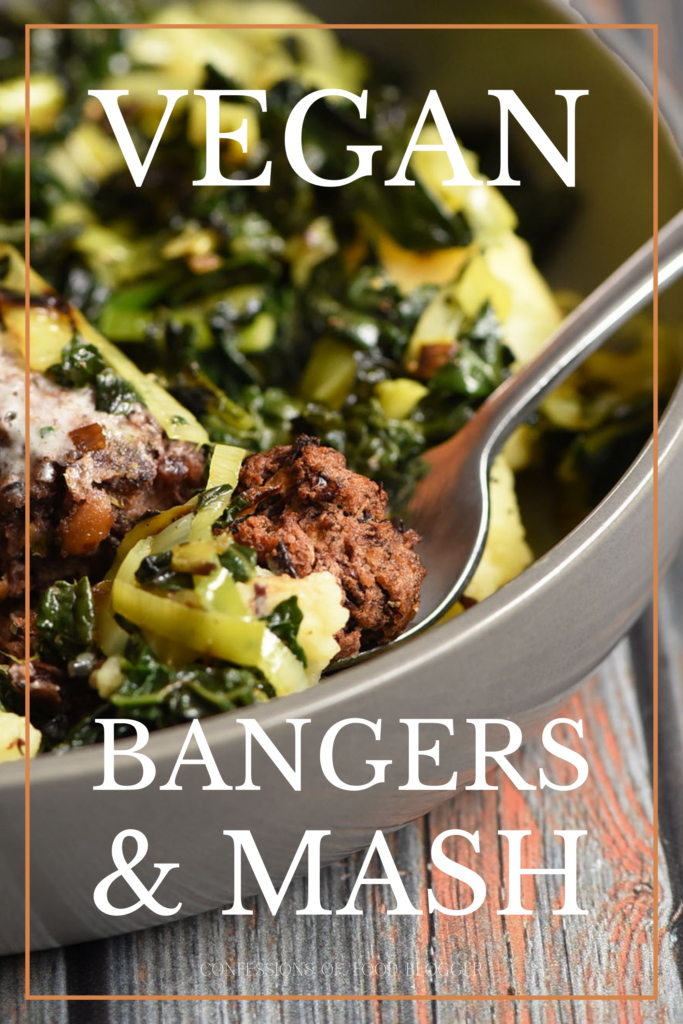 In place of the sausages, I turn to my favorite meat-substituting bean: the kidney bean. Kidney beans are a meaty (for lack of a better word), dark red bean. I use them whenever I'm looking to make vegan sausage substitutes.
Normally, I would mash and mix kidney beans with a combination of flaxseed meal, baked potatoes and sundried tomatoes and roll the mixture into meatballs or sausage links. For this recipe though, I decided just to spice them up with traditional sausage spices like parsley, basil, oregano, thyme, black pepper, paprika and fennel seeds.
How to Make Colcannon
Colcannon, as I mentioned above, is a combination of mashed potatoes and cabbage. Colcannon recipes sometimes also include leeks.
For this recipe, I started with my plant-based Mashed Potatoes recipe. This recipe substitutes vegan butter and coconut milk in place of dairy butter and cream. The result is creamy, delicious vegan mashed potatoes.
Then, rather than simply sautéing cabbage and leeks, I first swapped the cabbage for kale. Kale as a substitute isn't unheard of in this traditional dish. And while cabbage is a healthy dish, I prefer the texture of sauteed kale with the mashed potatoes.
Do You Love This Vegan Bangers and Mash Recipe?
Do you love this vegan bangers and mash recipe? Be sure to check out my other Irish-inspired recipes! If you're into savory, then my Vegan No Beef Stew is for you! Forever-searching for the perfect cold-weather comfort food? Then you'll love my Vegan Shepherd's Pie!
Fall has arrived! Personally, I think that there is no better vegan comfort food than stew. This vegan beef stew recipe is reminiscent of traditional beef stew with a thick, rich sauce and plenty of tender vegetables. It's hearty and healthy and makes getting a tasty vegan dinner on the table easy!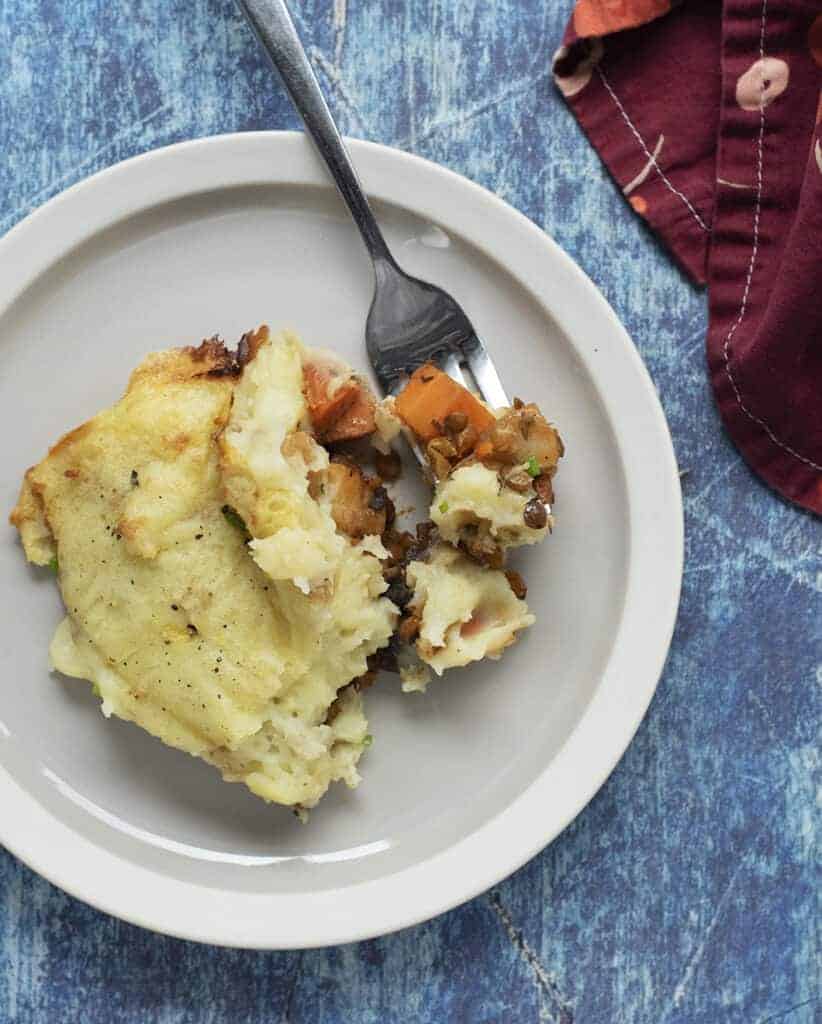 This Vegan Shepherd's Pie Recipe is an easy way to get your comfort food fix and stay healthy. Made with lentils and plenty of fall-friendly vegetables, this savory vegan version of Shepherd's Pie is a dinner your whole family will enjoy!
Vegan Bangers and Mash
Looking for plant-based ways to celebrate St. Patrick's Day? Be sure to check out this healthy vegan Bangers & Mash recipe! It's filled with plant-based goodness!
Ingredients
1 1/2

cups

dried kidney beans

see Recipe Notes

3

cups

water

~4

lbs

Yukon Gold potatoes

washed and cut into large pieces

1/4

cup

vegan butter

+ vegan butter as an additional topping

5

oz can

full fat, unsweetened coconut milk

1

tsp

salt

1

fresh leek

well washed and thinly sliced

1

bunch

lacinato kale

washed and roughly chopped

1

tbsp

extra virgin olive oil

salt & pepper

to taste

1/4

cup

yellow onion

diced

1

tbsp

Italian seasoning

1/2

tsp

red pepper flakes

1/2

tsp

garlic powder

1/2

tsp

smoked paprika

1/2

tsp

crushed fennel seeds

salt & pepper

to taste

1

tbsp

safflower oil

for brushing on the finished vegan sausages
Instructions
Add the dried kidney beans and 3 cups of water to an Instant Pot. Cook on high for 50 minutes. Naturally release the steam, then drain and rinse the kidney beans. Allow to cool. For a canned kidney bean substitute, see the Recipe Notes.

While the kidney beans are cooking, wash and cut the potatoes into large chunks. Fit a steamer basket into a large pot and add the potatoes. Steam for ~25 minutes or until the potatoes are soft. Drain the pot and add the cooked potatoes back to the pot.

While the potatoes are cooking, add the roughly chopped kale to a large bowl. Massage the kale until the leaves a dark green and the texture has softened. Add the sliced leeks, 1 tbsp of extra virgin olive oil and season with salt and pepper. Lightly massage to combine. Set aside.

When the kidney beans have cooled, add them to a large bowl. Add the diced onion and seasonings. Using your hands mash the beans and combine the onions and spices.

Roll the bean mixture into sausage links. Lightly brush with safflower oil and air fry to 10-12 minutes, pausing to flip the links at 5-6 minutes.

While the vegan sausages are cooking, add the kale and leeks to a large skillet. Sauté the vegetables on medium-low heat until they are slightly browned. About 6-8minutes.

While the vegetables are sautéing, add the vegan butter, coconut milk and salt to the pot of potatoes. Using a hand masher or a hand mixer, mash the potatoes to the desired consistency.

Serve the mashed potatoes topped with the vegan sausages and sauteed vegetables. Season with salt and pepper.
Notes
You can substitute 1 25 oz can of kidney beans for dried kidney beans. Drain and rinse the beans, then add them to a pot and cover with water. Simmer for ~20 minutes until the beans are softened, then drain and allow to cool.
About Herbivore's Kitchen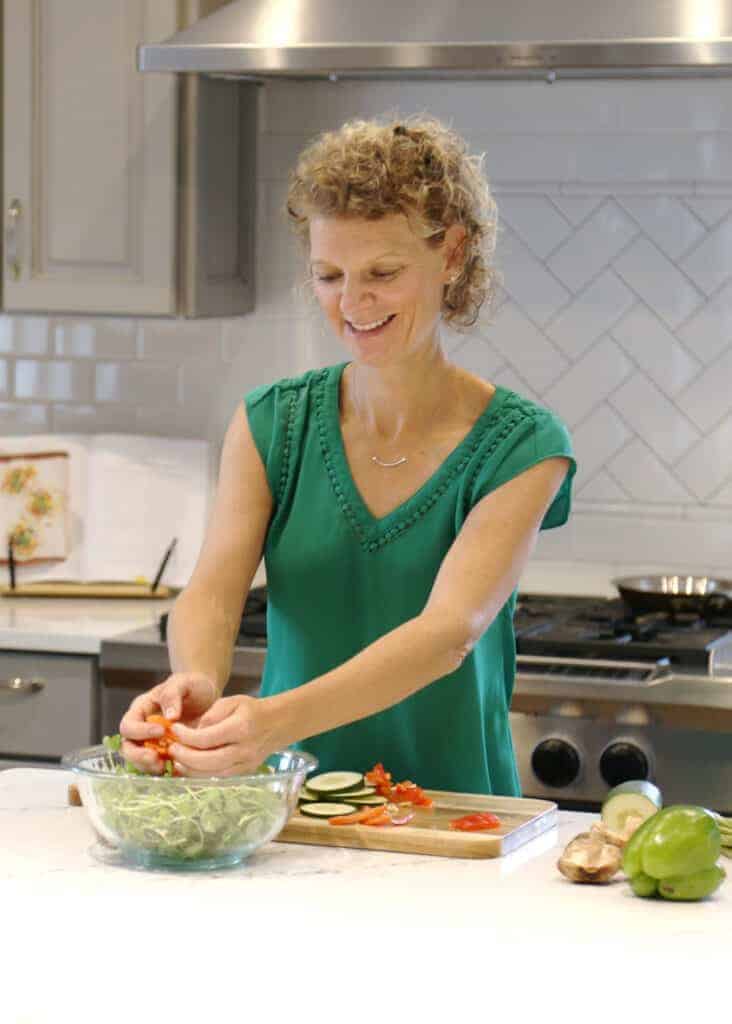 Herbivore's Kitchen is a plant-based food blog started by me, a vegan home chef, cookbook author, aspiring food photographer and how-to-be-a-better-food-blogger junkie. You'll mostly find creative and tasty vegan recipes and detailed deep dives into vegan ingredients (check out my Vegucation section) on my blog. I love knowing as much as I can about the food that I make. I'm also really into running a food blog as a business, so I've also got a section of my blog titled: Confessions of a Food Blogger where I get into the nitty gritty on how to build, manage, market and monetize a food blog.