This Vegan Pesto Pasta Recipe: Surprise Your Tastebuds with this Dairy-Free Pesto Recipe post includes affiliate links. When I find a great product or service, I like to share it with my readers. Sometimes I use affiliate links so I can earn a commission for my recommendations. Thank you for your support!
Surprise Your Tastebuds with this Dairy-Free Pesto Recipe
This simple Vegan Pesto Pasta recipe is a great way to indulge in deliciousness! With a few plant-based substitutions, you can surprise your tastebuds with the same rich, tangy wonder that traditional pesto recipes provide.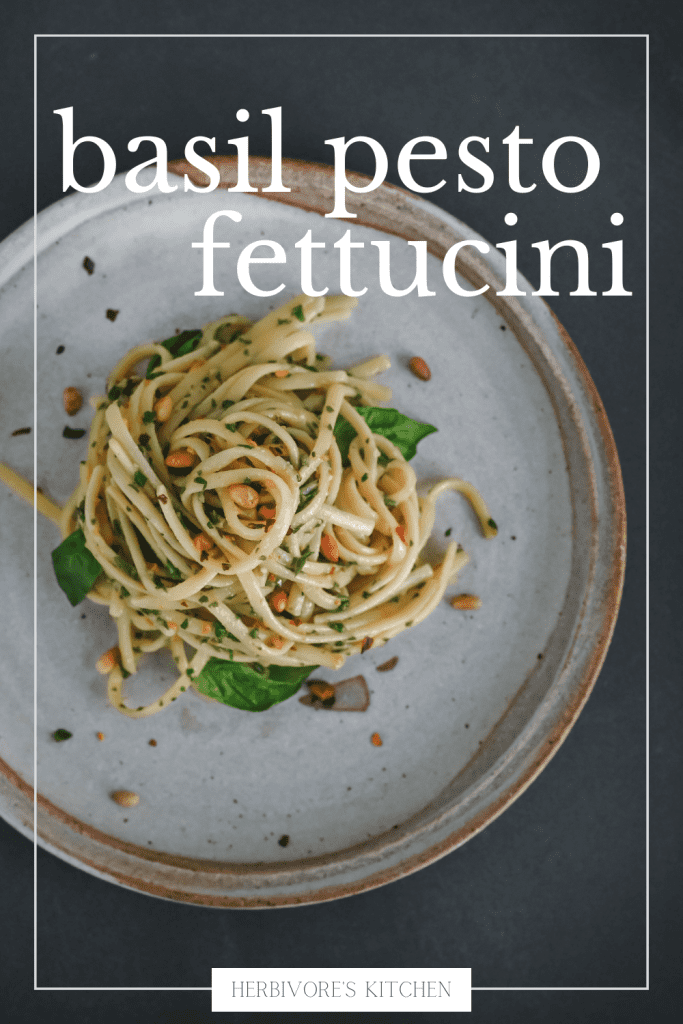 Is Pesto Vegan?
Traditional pesto sauce is not vegan. Recipes typically include parmesan cheese, but a dairy-free pesto sauce is not only possible, it's delicious!
Is Cheese Necessary for Pesto?
I don't think so! While parmesan cheese gives pesto sauce a distinct tanginess, there are plant-based substitutes that make this vegan pesto pasta recipe equally pleasing.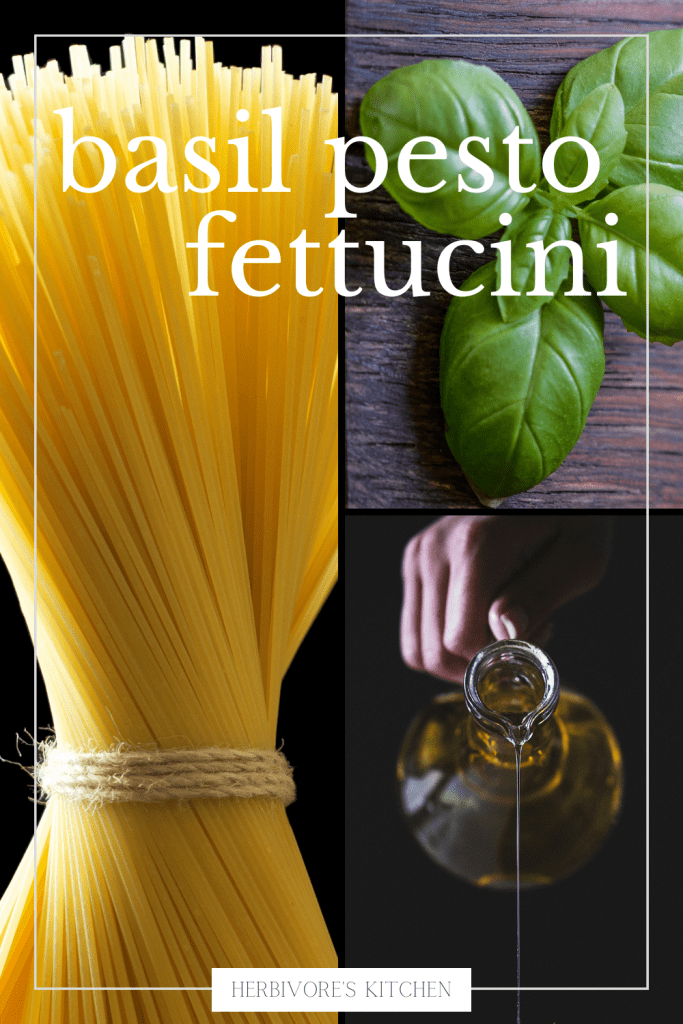 What Can I Use Instead of Parmesan in Pesto?
Nutritional yeast is an often-used plant-based substitute for cheese. This inactive yeast is easy to find in most grocery stores and had a nutty, cheesy flavor. I combine it with lots of fresh lemon for the perfect amount of tang.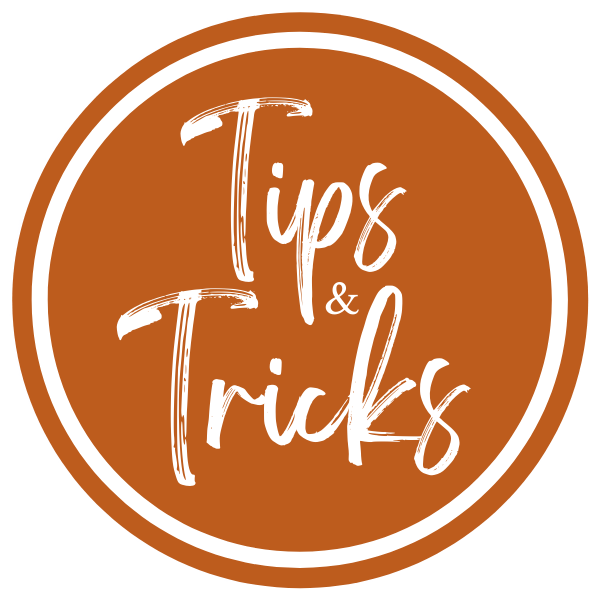 Can Pesto Be Added to Pasta?
Of course! This vegan pesto pasta recipe is one of the best ways to eat pesto! If you find your pesto sauce is a little too thin for even coverage, reserve a small amount of the pasta water and add it 1 tbsp at a time until the desired consistency is achieved.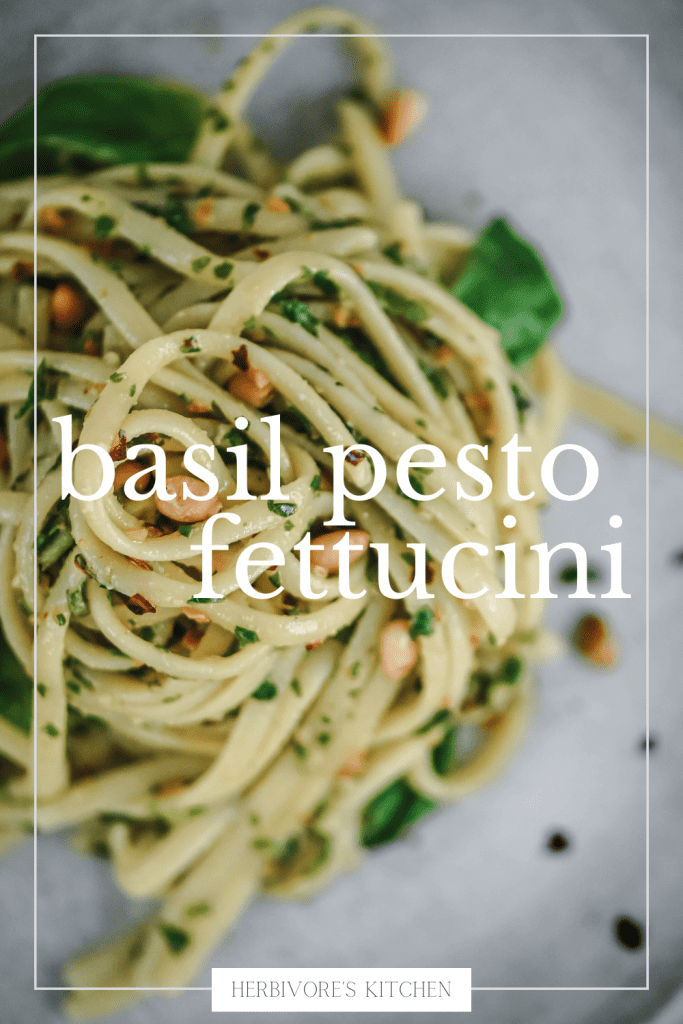 What Pasta Goes with Pesto?
Believe it or not, certain pasta shapes are better suited for different sauces. When it comes to this vegan pesto pasta recipe, I recommend a long strand, like a fettuccini, linguini, or spaghetti.
To learn more about choosing the right pasta shape for your pasta sauce, check out my Guide to Perfect Plant-Based Pasta.
Do You Love This Vegan Pesto Pasta Recipe?
Do you love this dairy free pesto recipe? Be sure to check out other pesto dishes then! If you're into fresh salads, then my Vegan Caprese Salad is for you! Looking for unique ways to incorporate vegan pesto sauce? Then you'll love my Roasted Cauliflower & White Bean Soup with Pesto Croutons.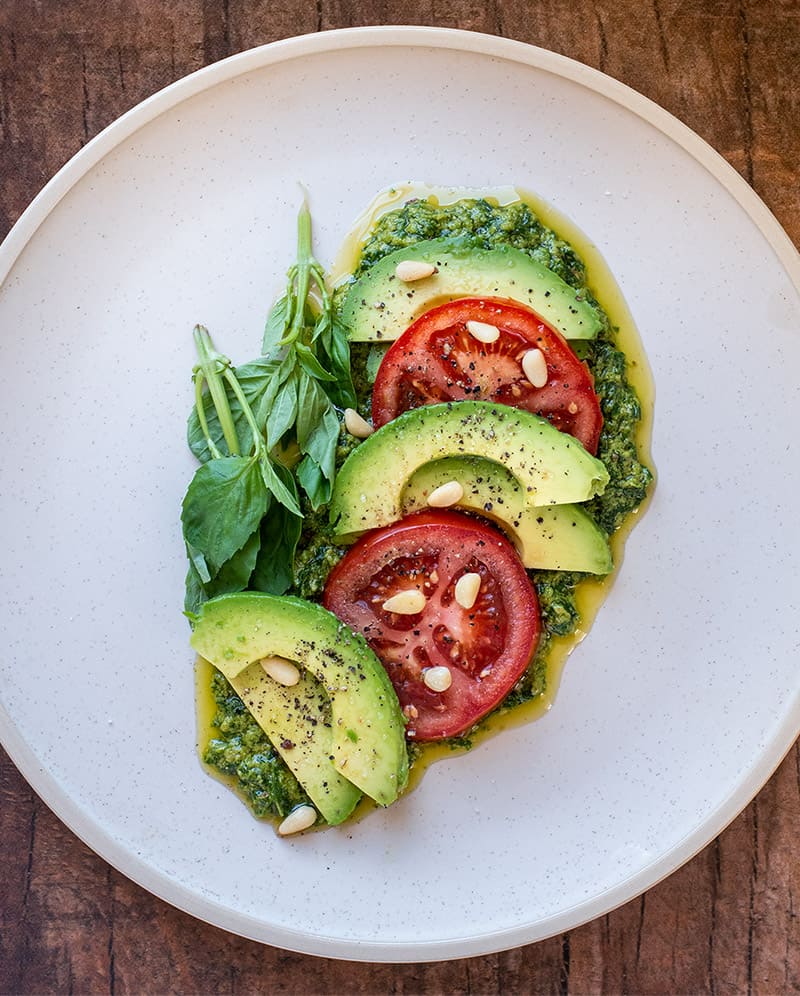 Keep your summer cool with this vegan caprese salad recipe! With a twist on the traditional, this easy caprese salad features avocado, grape tomatoes, English cucumbers and a vegan pesto. Serve it as an appetizer or a vegan side dish.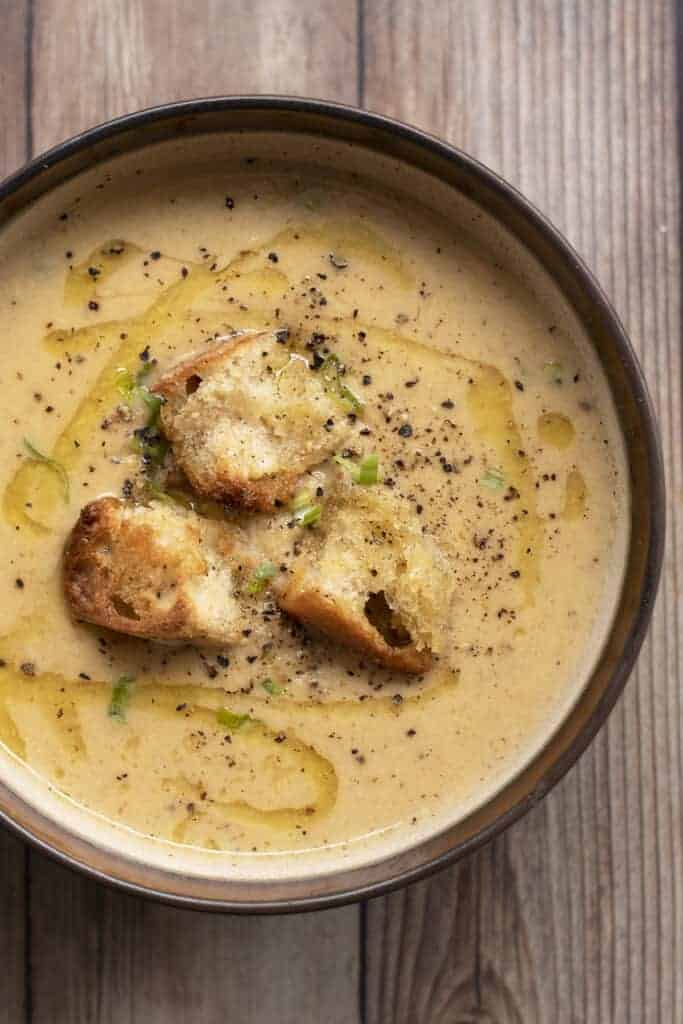 Get cozy this winter with this healthy Roasted Cauliflower and White Bean Soup! This vegan cauliflower soup is rich and creamy, but totally dairy free! And did you catch those basil pesto vegan croutons? That's right! They give this plant-based cauliflower soup some extra flavor!
What's in My Kitchen to Make This Vegan Pesto Pasta Recipe Easier?
Want to know what tools and resources I keep on hand to make my vegan cooking even easier? Here's a short list of what helped me create this blog post and recipe. For the complete list, visit My Favorite Things where you can find the kitchen gadgets I like as well as a list of books that I recommend.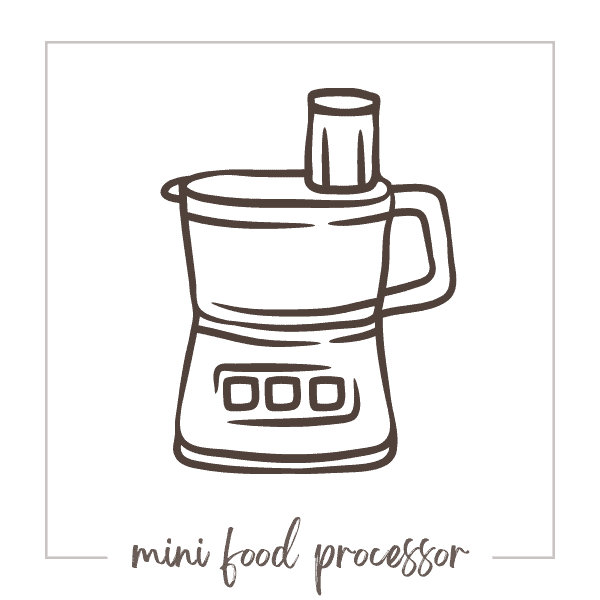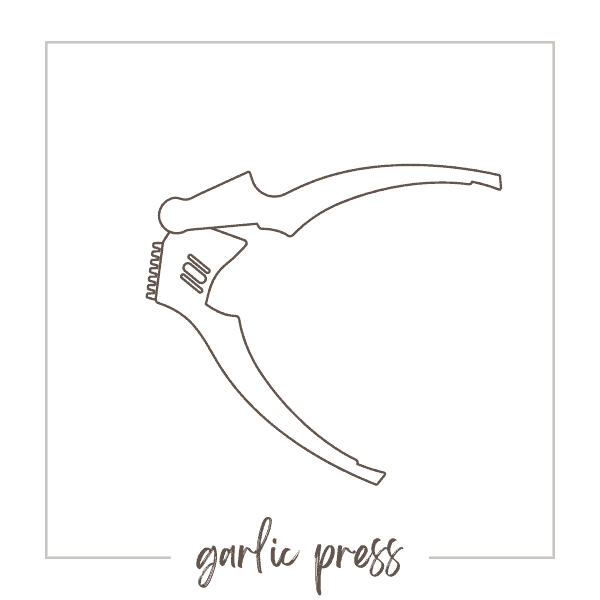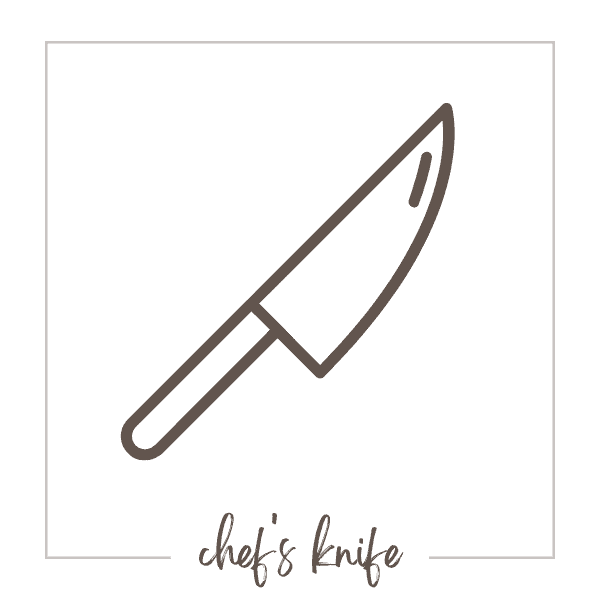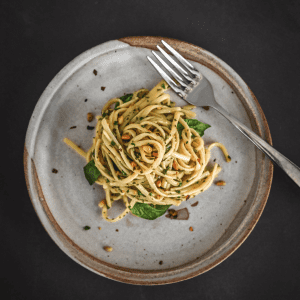 Vegan Pesto Pasta Recipe
This Vegan Pesto Pasta Recipe is a great way to indulge in deliciousness! This simple dairy free pesto recipe is paired with perfectly cooked al dente noodles.
Ingredients
1

lb

fettucine

cooked in accordance with package directions

2

cups

fresh basil

washed, patted dry and loosely packed

2

cloves

garlic

1/2

tsp

salt

1/4

cup

pine nuts

toasted; see Recipe Notes

2

tbsp

nutritional yeast

1/2

tsp

crushed red pepper

1/2

cup

extra virgin olive oil

2

tsp

fresh lemon juice

fresh ground pepper

to taste
Instructions
Bring a large stockpot of water to a boil. Add a pinch of salt and cook the linguini in accordance with the package directions. When cooked, drain and reserve 1/2 cup of the pasta water.

Prepare your basil by washing and drying the leaves.

Combine the fresh basil, garlic cloves, salt, pine nuts, nutritional yeast and crushed red pepper into your mini food processor. Blend until all ingredients have been reduced to small pieces.

Remove the ingredients from the food processor. Stir in the olive oil and lemon juice.

Add fresh ground pepper, to taste.

Add the cooked pasta to a large bowl. Add the pesto sauce to the pasta and gently toss until thoroughly coated. If the sauce is too thick, add pasta water 1 tbsp at a time.

Season with torn fresh basil, salt and crushed red pepper, to taste.
Notes
Toasting pine nuts adds to their richness. To toast pine nuts, add them to a hot, dry skillet. Stir them constantly until they just begin to brown. About 2 minutes. Then remove them from the heat immediately. Their high fat content will cause them to burn quickly.
About Herbivore's Kitchen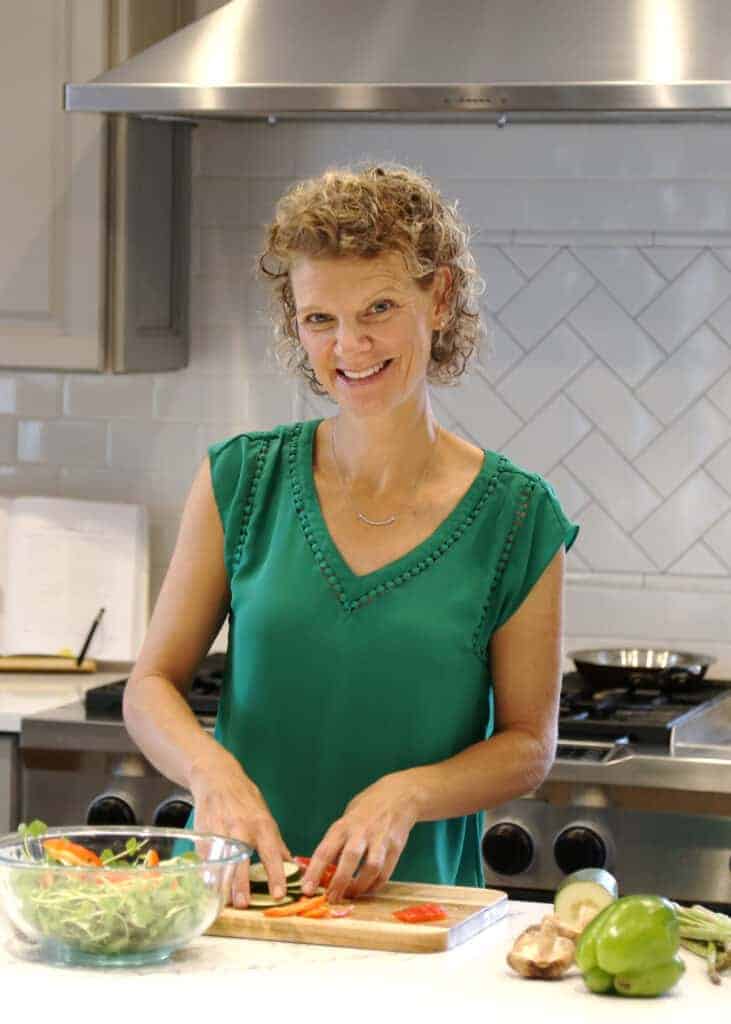 Herbivore's Kitchen is a plant-based food blog started by me, a vegan home chef, cookbook author, aspiring food photographer and how-to-be-a-better-food-blogger junkie. You'll mostly find creative and tasty vegan recipes and detailed deep dives into vegan ingredients (check out my Vegucation section) on my blog. I love knowing as much as I can about the food that I make. I'm also really into running a food blog as a business, so I've also got a section of my blog titled: Confessions of a Food Blogger where I get into the nitty gritty on how to build, manage, market and monetize a food blog.