This Matcha Pistachio Donuts Recipe: Satisfy Your Sweet Tooth with this Vegan Donut Recipe post includes affiliate links. When I find a great product or service, I like to share it with my readers. Sometimes I use affiliate links so I can earn a commission for my recommendations. Thank you for your support!
Satisfy Your Sweet Tooth with this Vegan Donut Recipe
This Matcha Pistachio Donuts Recipe was inspired by one of my favorite cold-weather drinks: a matcha pistachio latte. And while I have this beverage on my blog, it's not my original idea. It's an interpretation of a drink prepped by a local restaurant – a special treat after a bike ride or a hike. But at $6 a pop, I was prompted to figure out how to make it myself.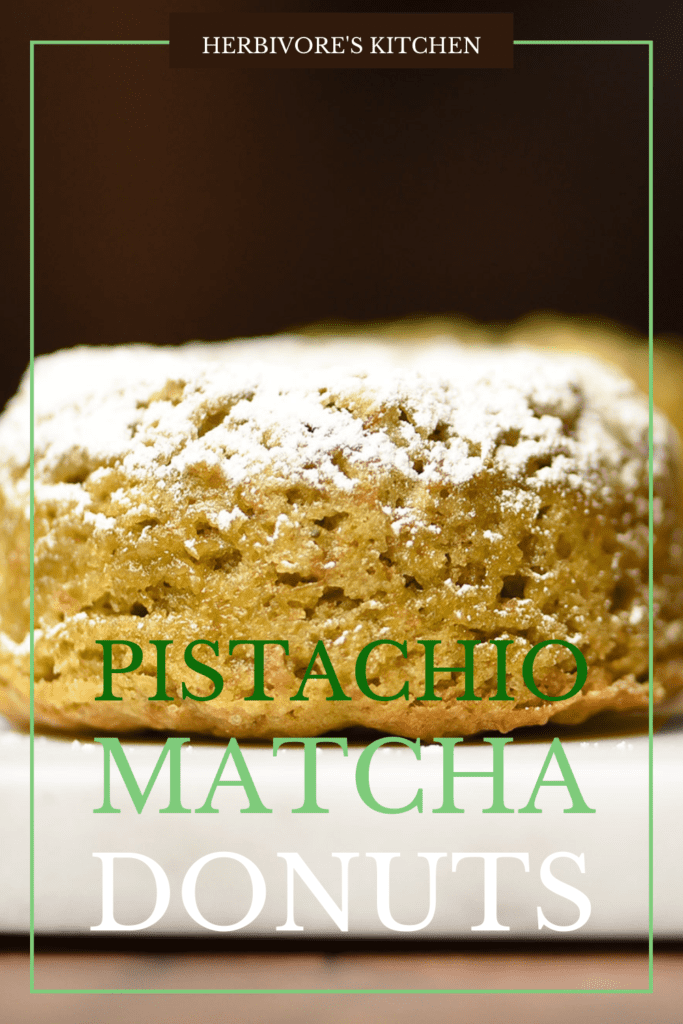 My obsession with this drink collided with a barrage of vegan donut recipes appearing on Instagram. The result: this Matcha Pistachio Donuts Recipe. And what a happy clash of inspiration this vegan donut recipe turned out to be!
What Does Matcha Taste Like in Cake?
If you're not familiar with matcha, it's a fine powder made from ground green tea leaves.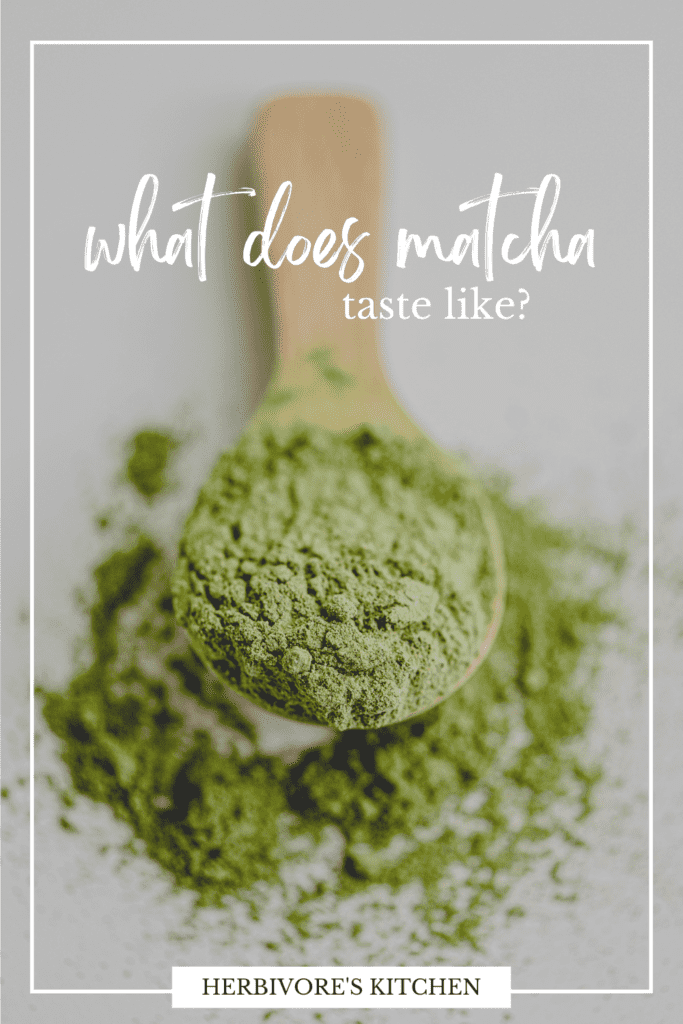 On its own, matcha has an earthy, grassy, slightly bitter flavor. But when combined with creamy oat milk, rich olive oil and a sweetener, matcha harmonizes in a chorus of these other flavors.
Is Matcha Good for You?
Perhaps you've heard about the health benefits of green tea? That it's high in antioxidants and may play a role in reducing your risk of cancer, diabetes and heart disease.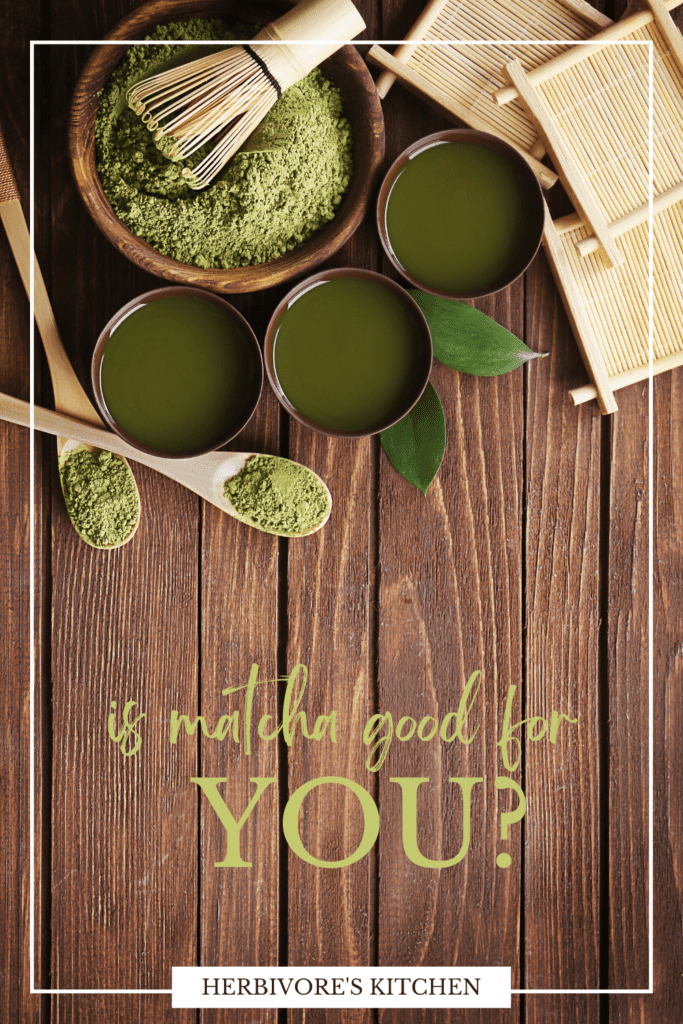 Now imagine those boosted tenfold — that's the magic of matcha.
Because matcha is the whole green tea leaf in powder form, the health benefits of green tea are amplified. And you don't have to just drink it in tea. Matcha is an excellent component to sweet treats, like this Matcha Pistachio Donuts Recipe.
Wait? Can Vegans Eat Donuts?
Traditionally, no. Donut recipes usually include milk, eggs or cream, taking them off the menu for strict vegans. But with a few tweaks, it's pretty easy to veganized this popular American treat. And — as is the case with these baked, pistachio matcha donuts – make them a whole lot healthier in the process.
How Do You Make Vegan Glazed Donuts?
The first step, of course, is to make the donut batter using plant-based ingredients. In this vegan donuts recipe, I swap out eggs with flaxseed meal. When combined with water, flaxseed meal takes on a gelatinous consistency, similar to that of an egg. This combination, often referred to as a flaxseed egg, is a common egg substitute in vegan baking.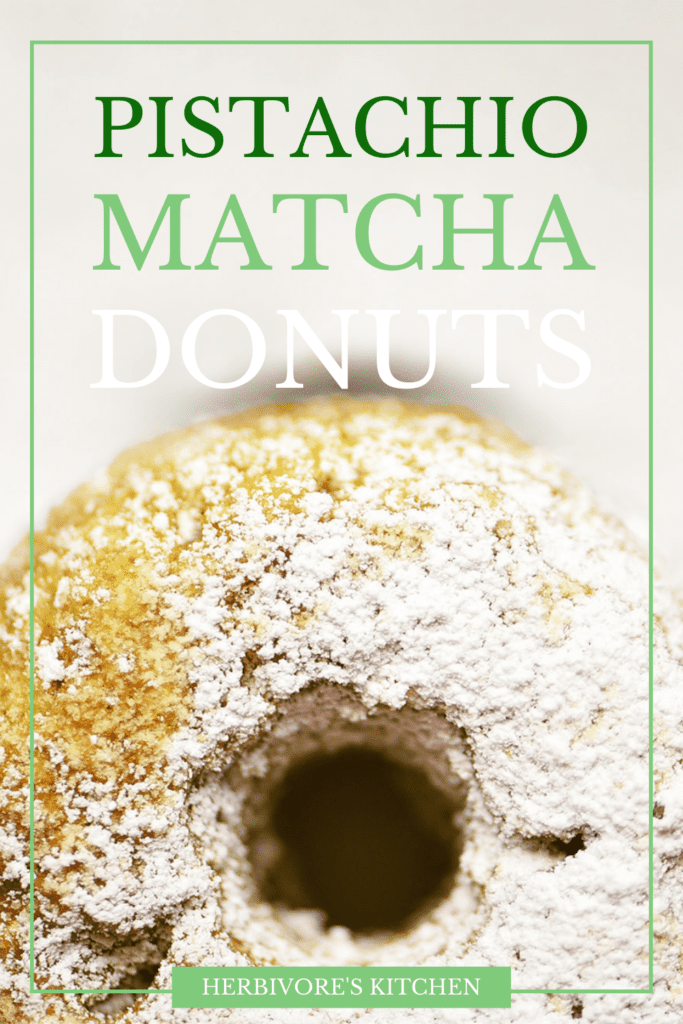 In lieu of butter, cream or any dairy-based fat, I opt for extra virgin olive oil. And before you jump to any conclusions, hear me out. Olive oil is an excellent ingredient to use when you're seeking a moist end-product. This unsaturated fat is also richly satisfying, giving your baked goods an incredible depth of flavor.
And finally, in place of dairy milk, I use oat milk. Of the plant-based milks, I almost always reach for oat milk when I'm baking. Oat milk is rich and creamy and has just a touch of sweetness.
How Do You Make Vegan Donuts in the Oven?
I'm not sure why all donuts aren't baked. I definitely like them better!
Rather than tasting the oil from a deep fryer, baking your donuts allows you to enjoy all of the flavors in the donut itself. In this case, you'll discover matcha's earthiness, the fragrant sweetness of pistachio and – of course – the creamy, sugary goodness of cake.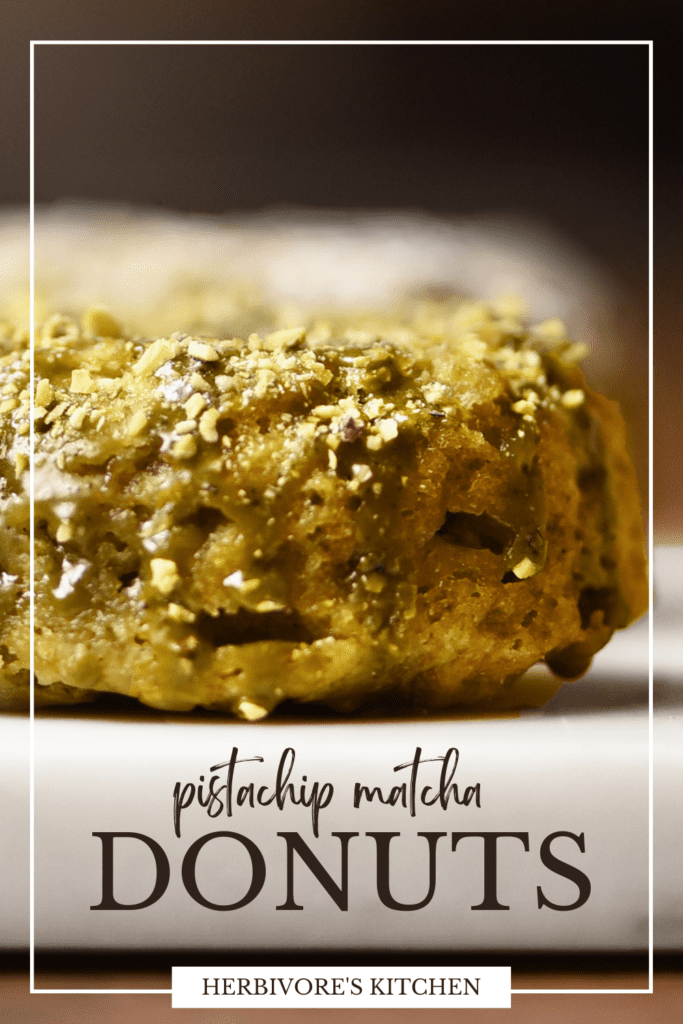 Baking vegan donuts is easy. It's really no different than making muffins. Just be sure to do a good job greasing your donut pan for easy donut removal. For this, I like to use cold vegan butter or solid coconut oil.
How to Get the Pistachio in this Matcha Pistachio Donuts Recipe
No, the answer is not pistachio nut butter (although that idea might be worth some experimentation…). Like many baking recipes, the hint of pistachio in this vegan donuts recipe comes from an extract.
Do You Love This Matcha Pistachio Donuts Recipe?
Do you love this vegan donut recipe? Be sure to check out my other vegan breakfast options! If you're into savory, then my Sweet Potato & Kidney Bean Breakfast Burritos are for you! Forever-searching for a good homemade granola? Then you'll love my Lemon Granola Recipe.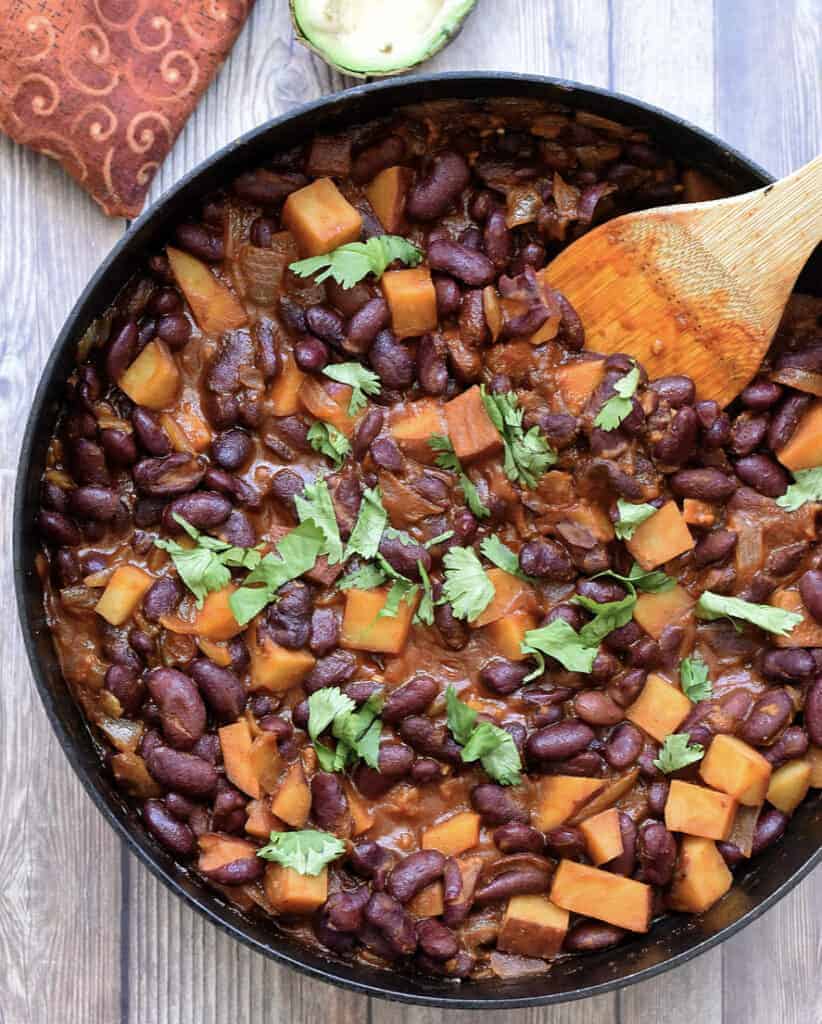 Easy, healthy vegan breakfast burritos make Sunday brunch look a little different around my house. This Mexican-inspired vegan breakfast burrito features sweet potatoes and kidney beans simmered in tomatoes, cumin and chipotle chili powder tucked in a tortilla wrap with fresh spinach, avocado, chopped tomatoes and toasted pumpkin seeds. What more could you want for a healthy, easy vegan breakfast recipe?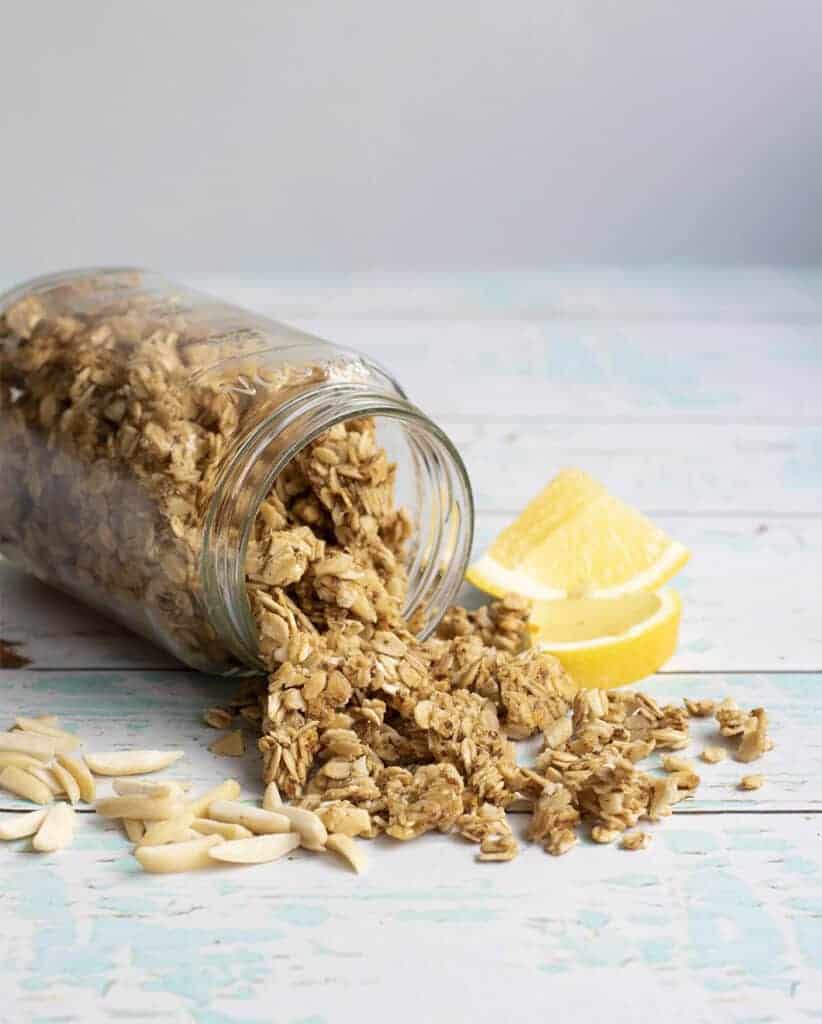 If you're looking to make your mornings sweeter, look no further than this homemade Lemon Granola Recipe. It's a little bit sweet, a little bit tart and a lot crunchy!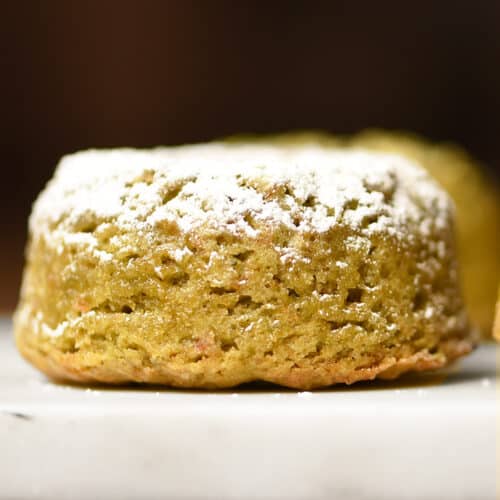 Matcha Pistachio Donuts Recipe
Satisfy your sweet tooth withthis Matcha Pistachio Donuts Recipe. It's true! Plant-based eaters can enjoy sweettreats with this vegan donut recipe.
Ingredients
3

tbsp

flaxseed meal

1/3

cup

water

2

cups

all-purpose flour

1

tbsp

matcha

sifted

2

tsp

baking powder

1/2

tsp

salt

1/2

cup

unsweetened oat milk

1

tsp

pistachio extract

1

cup

organic can sugar

1/2

cup

extra virgin olive oil

coconut oil or vegan butter

for greasing the donut pan

1/2

cup

confectioner's sugar

1

tsp

matcha

sifted

2

tbsp

water

1

tsp

pistachio extract
Instructions
Preheat the oven to 350º.

Combine the flaxseed meal and water. Stir to combine and set aside for at least 5 minutes.

Add the flour to a large mixing bowl. Using a fine strainer, sift the tbsp of matcha over the flour. Add the baking powder and salt. Stir to combine and set aside.

Combine the oat milk, sugar, olive oil, pistachio extract and flaxseed mixture in a separate bowl. Stir to combine.

Add the wet ingredients to the dry ingredients and stir to combine. The batter will be thick.

Generously grease the donut pan with coconut oil or vegan butter and spoon the batter into each mold until ½ full.

Bake the donuts on the middle rack for 20-22 minutes.

While the donuts are baking, combine ½ cup of confectioner's sugar, 1 tsp of sifted matcha, 2 tbsp water and 1 tsp of pistachio extract in a small bowl. Mix until well combined.

When the donuts have cooled, drizzle the matcha glaze over the donuts and sprinkle with crushed pistachios.
About Herbivore's Kitchen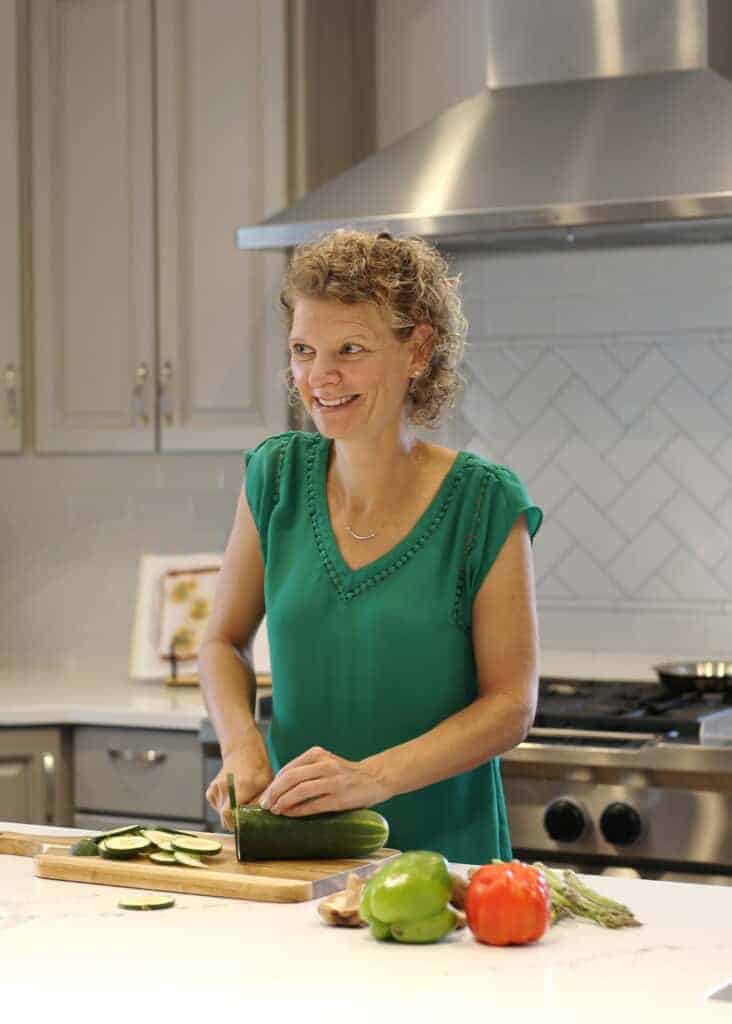 Herbivore's Kitchen is a plant-based food blog started by me, a vegan home chef, cookbook author, aspiring food photographer and how-to-be-a-better-food-blogger junkie. You'll mostly find creative and tasty vegan recipes and detailed deep dives into vegan ingredients (check out my Vegucation section) on my blog. I love knowing as much as I can about the food that I make. I'm also really into running a food blog as a business, so I've also got a section of my blog titled: Confessions of a Food Blogger where I get into the nitty gritty on how to build, manage, market and monetize a food blog.