Jump to Recipe
This Buffalo Cauliflower Sandwich: The Best Vegan Hot Chicken Sandwich Recipe Out There! includes affiliate links. When I find a great product or service, I like to share it with my readers. Sometimes I use affiliate links so I can earn a commission for my recommendations. Thank you for your support!
Buffalo Cauliflower Sandwich: The Best Vegan Hot Chicken Sandwich Recipe Out There!
If you've ever encountered the Nashville Hot Chicken Sandwich, you'll know that I had no choice but to create the vegan version. This recipe goes out to my husband and my friend Erin G. — two of my favorite people who are fans of this Southern-fried fare.
The Nashville Hot Chicken Sandwich is fried chicken sandwich, coated with a hot buffalo-style sauce and topped with a cool, tangy coleslaw and sweet, crisp pickle chips. It's everything you'd expect comfort food to be — crispy, deep-fried spicy savoriness with hints of tangy sweetness.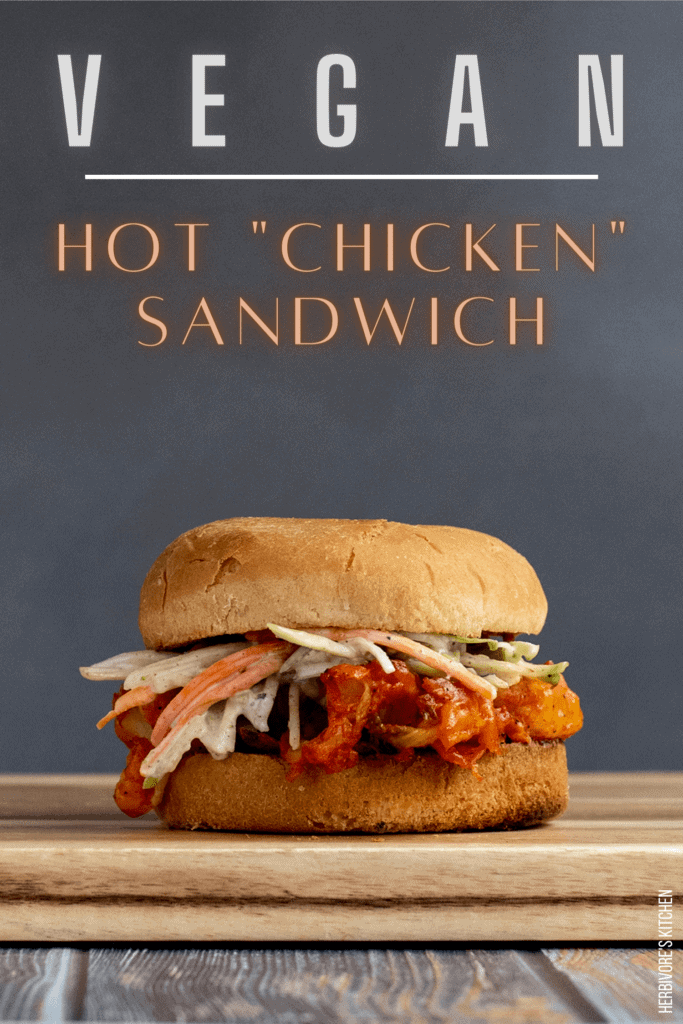 The Nashville Hot Chicken Sandwich originated in Nashville almost a century ago. As the tale goes, it is the product of the fury of a woman scorned. The classic hot chicken sandwich is made with buttermilk-drenched bone-in chicken, dredged in flour and then deep-fried until it achieves a thick, crispy exterior. It is the stuff Southern fried food dreams are made of.
In addition to its crispy, breaded exterior, the Nashville Hot Chicken Sandwich's claim to fame is its spicy sauce. Featuring cayenne pepper and brown-sugar this sauce gives this fried chicken sandwich is namesake adjective: HOT.
Buffalo Cauliflower Sandwich: How the Hot Chicken Sandwich Gets Veganized
Just because I'm into plant-based cooking doesn't mean that I don't enjoy classic comfort food. I know the joys of deep-fried food. Believe me, I knew what I was up against when I embarked on the journey to recreate the Nashville Hot Chicken Sandwich as vegan-friendly fare.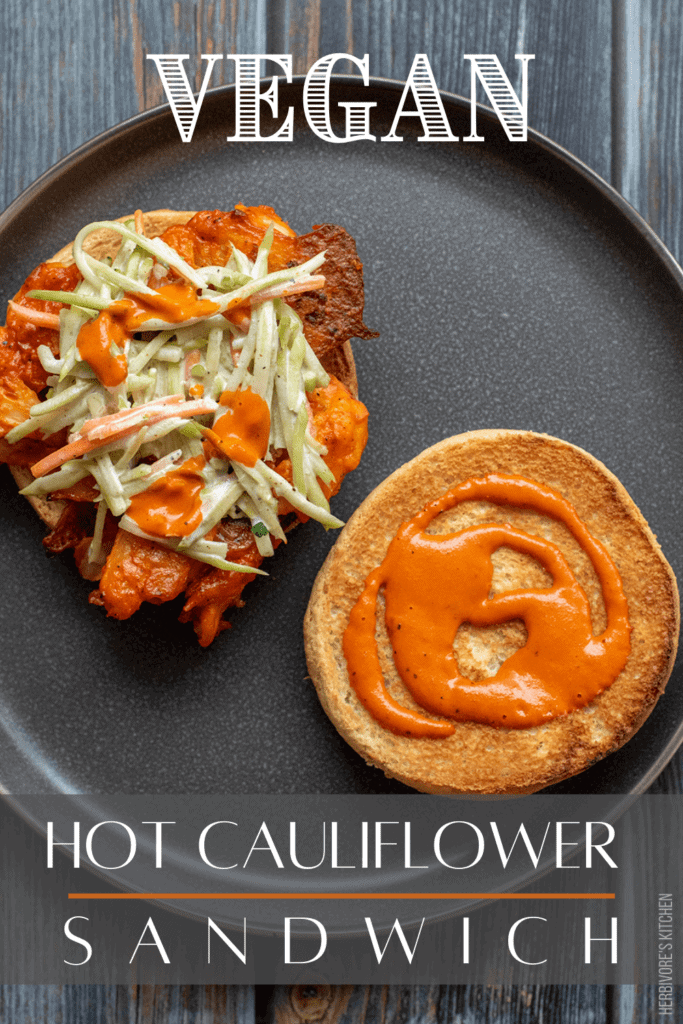 In addition to veganizing a classically meat-based dish, I also decided I wanted to bake it. So, if you're skeptical, I can certainly understand that. You'd be wrong to dismiss this version out of hand though. It's really good. So good my husband claims that he could "eat it every day."
Buffalo Cauliflower: The Vegan's Answer to Chicken
As the title suggests, I swap out the chicken in this recipe with cauliflower. If you're wondering how this cruciferous vegetable makes for a better-than-suitable substitute, here's the trick. You steam the cauliflower first.
Steaming the cauliflower ensures that the center will be soft while the exterior will be crispy. I use this trick a lot actually. You might not believe it, but when prepared this way cauliflower florets make a great substitute for chicken in a number of vegan recipes. If you're curious, check out my Crispy Orange Cauliflower with Steamed Asparagus or my Crispy Cauliflower Vegan Tacos.
Baking Versus Frying
This vegan version of the hot chicken sandwich is also baked instead of fried. It's true — baking at a high temperature can yield some pretty spectacular results.
Baking the cauliflower florets requires a lot less oil than frying. I use only 2 tbsp of safflower oil for a recipe that will serve 4-6 people. One tablespoon is used to baste the bottom of the baking sheet and then I lightly spray the other tablespoon on the cauliflower part way through the baking process. To control the amount of oil, I use a refillable spray oil dispenser. I love this kitchen gadget as a tool for even oil distribution. It's also non-aerosol and refillable.
Add Some Crunch to Your Buffalo Cauliflower Sandwich with Vegan Coleslaw
Coleslaw is a major component of a successful crispy cauliflower sandwich. The creamy, crunchy tanginess of the coleslaw is the perfect offset to the heat of the crispy cauliflower. To achieve this, I season mine with spicy brown mustard, tangy apple cider vinegar and the simple wonders of salt and fresh ground pepper.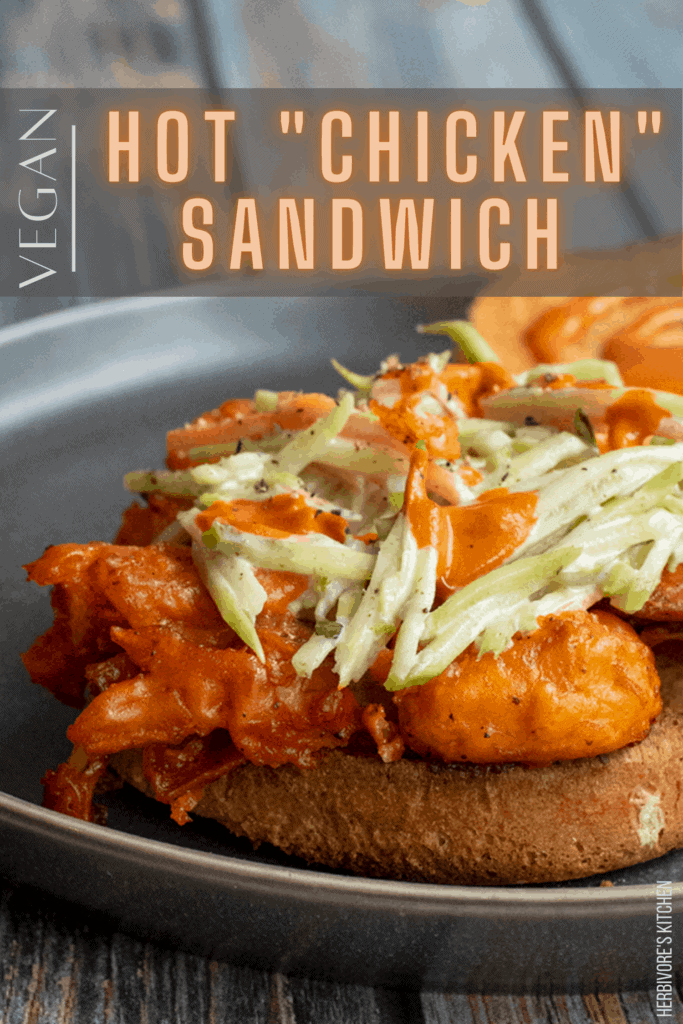 For this vegan recipe, I decided to make a broccoli slaw. To keep things easy, I bought a pre-shredded, pre-mixed bag of the slaw. If you haven't had it before, broccoli slaw swaps out cabbage for shredded broccoli stalks. It's a nice twist on the original.
I swapped out regular mayonnaise with vegan mayonnaise and cut the amount used in traditional recipes in half. If you haven't tried vegan mayonnaise, I'm willing to bet that you're going to be very pleasantly surprised. Vegan mayonnaise is very tasty! It's made with plant-based oils, usually grapeseed or avocado, plant-based milk, vinegar and salt. You can make your own vegan mayonnaise, but I always keep a jar of Follow Your Heart Vegenaise in my fridge.
Buffalo Sauce: Finding a Vegan Version for this Buffalo Cauliflower Sandwich
Traditional hot chicken sandwiches feature a homemade buffalo sauce. This sauce is heavy on cayenne pepper and features brown sugar, garlic and paprika. I simplified this recipe by using one of my favorite vegan bottled hot sauces. It's locally made, so I feel good about it. If you're looking to replicate this short-cut, the ever-popular Frank's Buffalo Hot Sauce is vegan.
Buffalo Cauliflower Sandwich — Putting This Vegan Sandwich Together
First things first — you have to toast the hamburger buns. Toasting brings out the flavor in the bread and provides satisfying texture for this sandwich.
The crispy, baked cauliflower is best served right out of the oven. If you have to make this dish in advance, be sure to warm the cauliflower in the oven. Reheating it in the microwave will result in a soggy outcome.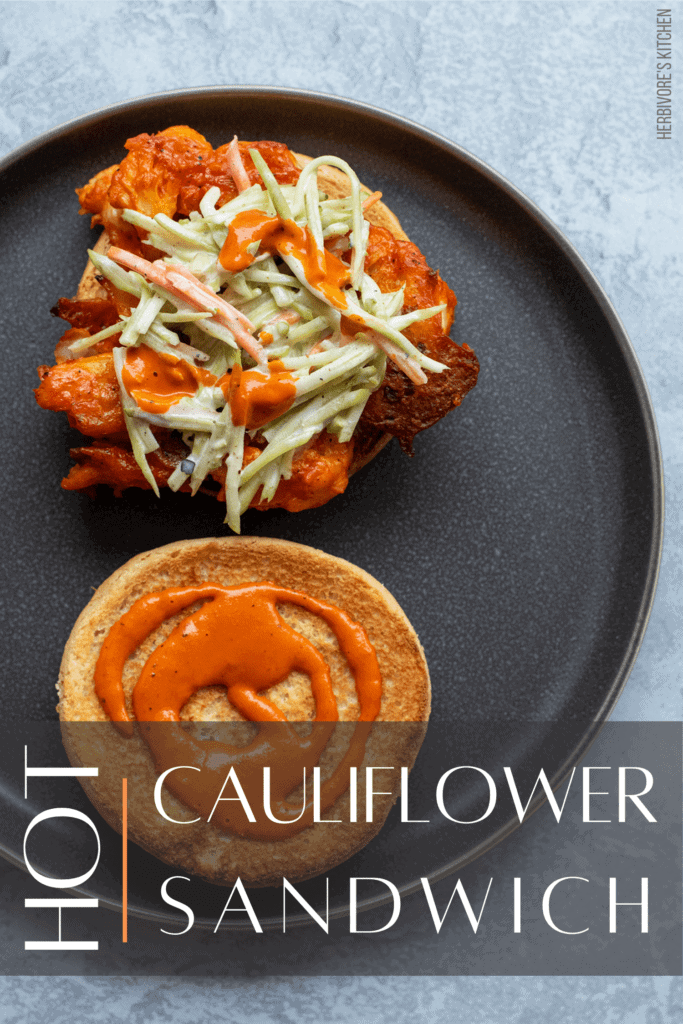 I like to make the broccoli slaw in advance and let it chill in the refrigerator while the cauliflower bakes. This gives the flavors in the dressing a chance to meld. I also really like the contrast between the hot, spicy cauliflower and the cool, tangy coleslaw.
For the final touches, I like to add a bit more buffalo sauce to my sandwich. I love things spicy! Traditionally, hot chicken sandwiches are served with a few sweet pickle chips on top. I've just never warmed up to sweet pickles. If that sounds good to you, by all means pile them on!
Buffalo Cauliflower Bites: Simplified for the Vegan Snacker!
This buffalo cauliflower recipe is built on my earlier recipe for Buffalo Cauliflower Bites. Taking a page from the Buffalo wing's book, these bites are actually cauliflower florets baked to crispy perfection and tossed in spicy buffalo sauce. Put them on your list for vegan game day snack options!
Vegan Comfort Food: Other Vegan Recipes to Make You Feel Cozy!
Are you interested in exploring more vegan twists on comfort food? If so, be sure to check out some of my other vegan comfort food recipes, like:
This easy stuffed shells recipe is the perfect introduction to vegan pasta. Whether you're feeding omnivores or a true carnivore, you can't go wrong with this vegan recipe. For starters, everyone loves pasta shells. They're just a fun way to eat pasta. They're also the perfect vehicle for taking a traditional red sauce pasta dish to new levels. There's just so much capacity for flavor!
This Vegan Shepherd's Pie Recipe is an easy way to get your comfort food fix and stay healthy. Made with lentils and plenty of fall-friendly vegetables, this savory vegan version of Shepherd's Pie is a dinner your whole family will enjoy!
Looking for new and interesting vegan dinner options? Then you've got to check out these BBQ Black Bean Vegan Nachos! These vegan nachos are far healthier than their traditional counterpart. They feature slow-simmered, fiber-loaded bbq black beans and Vitamin A packed sweet potatoes. And that creamy "cheese" sauce? That's 100% homemade, plant-based vegan cashew cream sauce. The party doesn't stop there though! As you can see, these vegan nachos have achieved fully loaded nacho status.
Satisfy your summer sweet tooth with this chocolate peanut butter banana nice cream! Never heard of nice cream? It's exactly what it sounds like – a vegan version of ice cream! This nice cream recipe mimics Ben & Jerry's Chunky Monkey® but uses a creamy cashew base instead of dairy cream. Chocolate and peanut-butter covered pretzels and just a hint of banana make this nice cream recipe truly delicious!
What's in My Kitchen to Make This Crispy Vegan Buffalo Cauliflower Sandwich Recipe Easier?
Want to know what tools and resources I keep on hand to make my vegan cooking even easier? Here's a short list of what helped me create this blog post and recipe. For the complete list, visit my Shop where you can find the kitchen gadgets I like as well as a list of books that I recommend.
I've tried a lot of non-aerosol oil dispensers over the years. Most of them were disappointments, either because they delivered a direct stream of oil instead of a mist before becoming clogged or because my hand would cramp so badly trying to hand pump out a few measly drops.
These dispensers are game changers though. I have the set of two, one that keeps olive oil and a second that I filled with grapeseed oil. They help me to use a fine amount of oil when I only need a small amount.
Steaming vegetables is an excellent way to retain their nutrients. It's also a great pre-roasting trick for vegetables like cauliflower. Steaming cauliflower before roasting it gives it a wonderful soft-on-the-inside, crispy-on-the-outside texture which is great for recipes like my Cauliflower Buffalo Wings and Roasted Cauliflower in a Sticky Lemon Sauce.
I love this steamer basket because it's simple, resizable and cleans up easily. It's also inexpensive and compacts well for easy storage in the kitchen.
This wire skimmer is a handy kitchen tool to have around. I use it when I make Homemade Soft Pretzels and homemade bagels. It makes retrieving both from the hot alkaline solution so much easier. I also like to have it for recipes like this Roasted Tomato Compote or my Vegan "Tuna" Towers, both of which require blanching tomatoes.
Down a broiler pan? These aluminum baking sheets come highly recommended by the cooks who know best – Epicurious, Cooks Illustrated and Food & Wine. I bought mine because I needed a good, sturdy baking sheet to use under the broiler. One that wouldn't warp – and this one lives up to the task.
Aluminum is a good conductor of heat, so these baking sheets cook evenly. They're also light in color, so they discourage over-browning.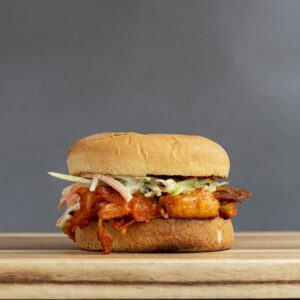 Crispy Vegan Buffalo Cauliflower Sandwich
The ultimate vegan sandwich is here! Just wait until you taste this crispy vegan buffalo cauliflower sandwich! This baked cauliflower recipe is my vegan take on the Nashville Hot Chicken Sandwich. It is so tasty, you'll never miss the chicken! I promise!
Ingredients
1

head

cauliflower

washed and cut into large florets (see Recipe Notes)

~2

tbsp

safflower oil

divided

1

cup

all-purpose flour

1

cup

water

1

tsp

salt

1

9 oz pkg

unprepared broccoli slaw

1/2

cup

vegan mayonnaise

2

tbsp

apple cider vinegar

2

tbsp

spicy brown mustard

salt & pepper

to taste

1

cup

vegan buffalo sauce

+ additional sauce as an optional topping

hamburger buns

sweet pickle chips

as an optional topping
Instructions
Preheat your oven to 450º.

Set up your steamer basket in a large pot, adding enough water to generate steam. You do not want the water to come into contact with the food. Make sure that the lid to your pot fits on securely.

Bring the water in the pot to a boil and add the cauliflower to the steamer basket. Steam the cauliflower for 6-8 minutes.

While the cauliflower is steaming, combine the broccoli slaw, vegan mayonnaise, apple cider vinegar, salt & pepper into a large mixing bowl. Stir to combine, then cover and refrigerate until you're ready to serve the sandwiches.

Combine the flour, water, salt and pepper into a large bowl. Mix until a batter is formed. The batter consistency should be similar to pancake batter. You might need to add more water 1 tbsp at a time.

Using a basting brush, coat the bottom of your baking sheet with 1 tbsp of safflower oil.

When the cauliflower is done steaming add small batches of the cauliflower florets into the batter and gently stir them to coat. Use a wire skimmer to remove the cauliflower, allowing the excess batter to drip off. Then add the cauliflower to the baking sheet.

Bake the cauliflower on the middle rack. After 20 minutes, flip each piece and spray or baste it with additional safflower oil (see Recipe Notes). Then bake for another 10 minutes. The cauliflower should become browned and crispy.

Remove the baking sheet from the oven and drizzle the buffalo sauce over the baked cauliflower. Gently toss the cauliflower to fully coat it in the buffalo sauce. Return the baking sheet to the oven for an additional 6-8 minutes.

Toast the hamburger buns.

To serve the sandwiches, pile several buffalo cauliflower florets on top of the bottom bun. Then top with the chilled broccoli slaw and a drizzle of additional buffalo sauce. Season with salt & pepper and sweet pickle chips, as desired.
Notes
The first time I tried this recipe, I had envisioned cutting the cauliflower into "steaks" to mimic a chicken breast. I found, however, that this led to 2-3 steaks and a lot of small, broken florets. Instead, I recommend cutting the cauliflower into large florets. The florets work just as well when made into a sandwich.
To limit the amount of oil in this recipe, I lightly spray the cauliflower with safflower oil using this Refillable Oil Spray Dispenser.
Toasting the hamburger buns is a must-do! It takes a few extra minutes, but adds so much to these sandwiches!
About Herbivore's Kitchen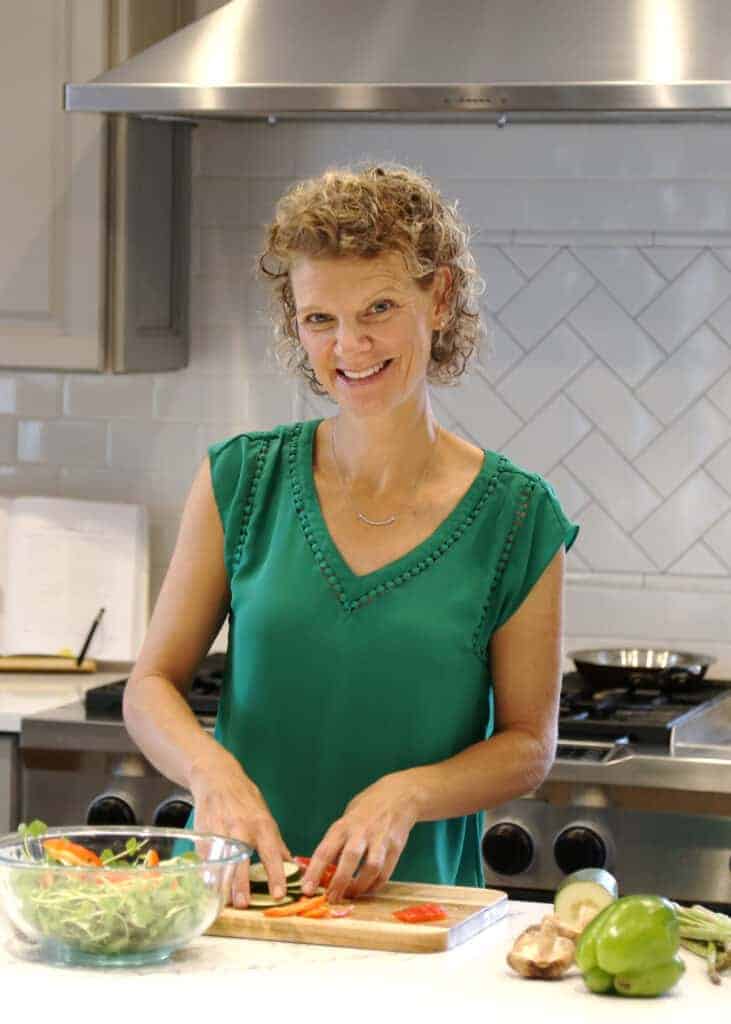 Herbivore's Kitchen is a blog run by me, a plant-based home chef and aspiring food photographer. I switched my and my family's diet to a plant-based diet after learning about the health benefits of going vegan. Making this change has prompted a variety of food and holistic-lifestyle related questions that I explore through this blog. I talk about how to pick and prepare the most nutritious foods, to how to reduce waste at home, to how to live a more sustainable lifestyle while on the road.