Jump to Recipe
This Vegan Thanksgiving: Savory Vegan Stuffing Recipe includes affiliate links. When I find a great product or service, I like to share it with my readers. Sometimes I use affiliate links so I can earn a commission for my recommendations. Thank you for your support!
Savory Vegan Stuffing Recipe
With Thanksgiving a little over a week away, I decided it was time to get my dinner menu in order. Especially the side dishes, because everyone knows that the side dishes are the best part of Thanksgiving dinner. Mashed potatoes, gravy, green beans, sweet potato pie, fresh dinner rolls, cranberry sauce and, my favorite — the Thanksgiving stuffing. Am I making you hungry?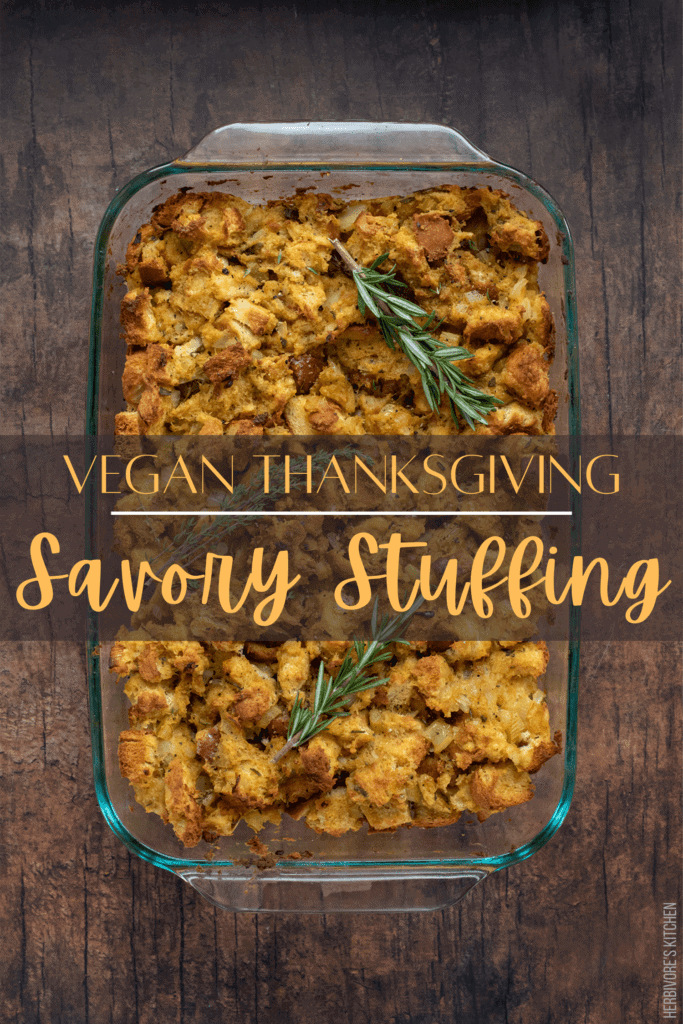 Of course, this year Thanksgiving will be anything but traditional. It will forever be known The Year Covid-19 Ruined Thanksgiving. Like many, many Americans, I won't be getting together with extended family this year. Instead, I'll be celebrating with my husband and kids as a family of four for the first time ever. While I'm disappointed in a lot of ways, I'm planning on filling the day with a marathon of family board games. And, if that doesn't work, well… I will have this vegan stuffing recipe to comfort me.
Vegan Stuffing Recipe: Traditional Meets Plant-Based
As I said, stuffing is hands-down my favorite Thanksgiving meal. Yes, I said that. It's my favorite Thanksgiving meal. As long as I can remember, my Thanksgiving plate was 90% stuffing with a few bites of mashed potatoes. And gravy — lots of gravy.
Growing up, Thanksgiving dinner was very traditional. Our annual stuffing recipe included plenty of butter and chicken broth. One batch was baked in a casserole dish in the oven, while the other was cooked inside the turkey. Sautéed onions and celery accompanied thick cubed bread, seasoned with poultry seasoning — a blend of thyme, sage, marjoram, rosemary, black pepper and nutmeg. I have the fondest memories around that stuffing.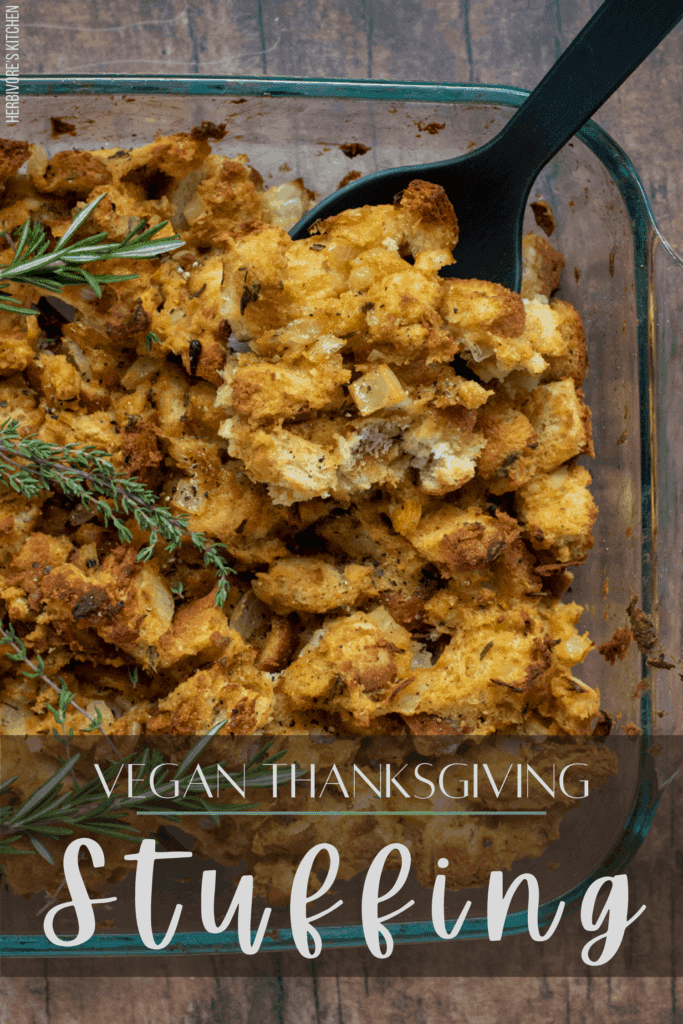 For my upcoming vegan Thanksgiving, I wanted to come up with a vegan recipe that matched those memories. So this vegan stuffing recipe is traditional in a sense. For example, as a stuffing purist, I don't like cranberries, apples, carrots or raisins in my stuffing. Or cornbread. I respect that some people like sweet with their savory. It's just not for me. Onions and celery are all the vegetables I need, along with thick-cut white bread.
Speaking of the bread — it's gotta be stale to start. So I make sure to either toast it on low heat to dry it out, or leave it out on the counter the night before. You might be thinking, why the extra work? I used to think so too, but there's a good reason. Soft bread turns to mush when you combine it with the broth, resembling more of a bread pudding. When it's all said and done, you want golden, brown cubes of bread in your stuffing. Starting with stale bread or croutons is the way to do that.
Plenty of Butter — How to Replicate this in a Vegan Stuffing Recipe
Classic stuffing recipes are pretty simple — croutons (or stale bread cubes), onions, garlic, celery, poultry seasoning and chicken broth — baked to crispy perfection. While all of the ingredients contribute, it's really the baked butter that makes stuffing what it is. So how does a vegan cook accommodate?
Make Your Own Plant-Based Butter
True story. I made the butter that I used for this vegan stuffing recipe. It was an experiment a long time in the making, spawned by my deep love of creamy, salty butter. One of my favorite things in the world is crusty bread with a thick, cold pat of butter on it. I've tried recreating this with store-bought vegan butter, but it just lacks that creaminess. So, I decided to experiment with making my own.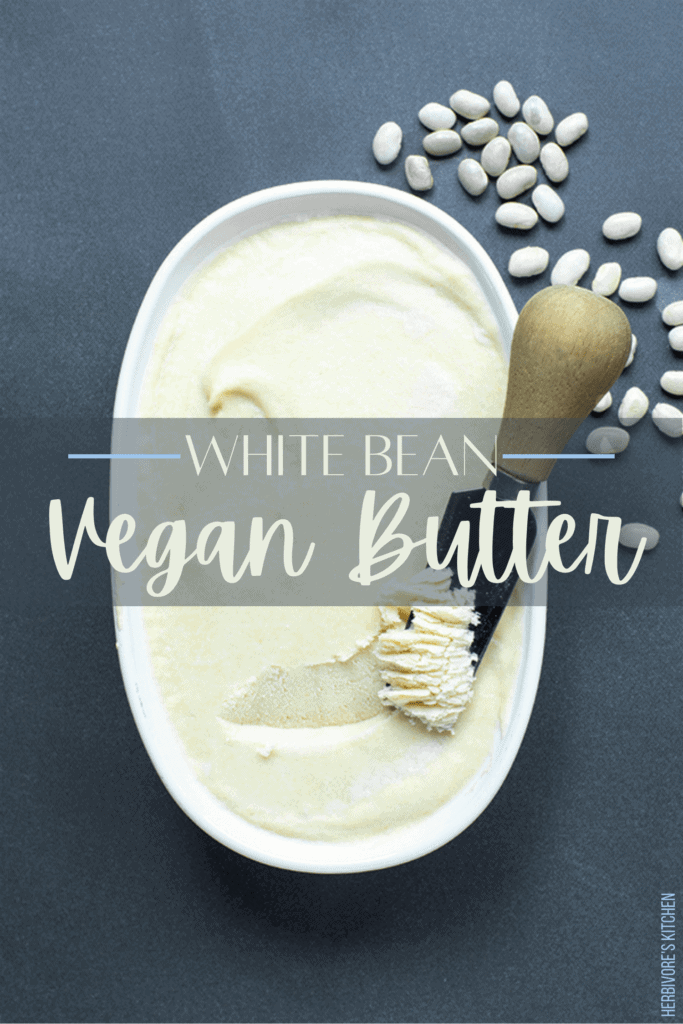 My version, which I'm still tweaking a little bit, is a blend of slow-cooked butter beans (makes total sense, doesn't it?), refined coconut oil, salt and apple cider vinegar. The slow-cooked beans give it a creamy texture, while the apple cider vinegar lends that cultured flavor. Refined coconut oil, which solidifies at room temperature provides the texture. And the salt. Well, the salt is just the perfect complement to the cold creaminess. Stay tuned for this — I'll be sharing it soon.
Seriously? You Want Me to Make My Own Butter?
No, no. I get it. It's very nerdy of me to have done that. And you don't need to. Making vegan Thanksgiving dinner is hard enough, right? You can definitely use the vegan butter of your choice. Personally, when I'm buying vegan butter at the store, I prefer Miyoko's European Style Cultured Vegan Butter. Miyoko's is free of palm oil and includes cashews, which enables it to brown in cooking.
Use Fresh Herbs in this Vegan Stuffing Recipe
You can definitely take a pass on the homemade vegan butter, but don't skip using fresh herbs in this vegan stuffing recipe. Fresh herbs impart so much flavor and make your kitchen smell amazing. I use fresh sage, rosemary and thyme and sauté them with the onions, garlic and celery.
How to Serve this Vegan Stuffing Recipe
I'm guessing you don't need too much in the way of suggestions for pairing this vegan stuffing recipe. If you're new to vegan Thanksgiving though, I do have a few other yummy Thanksgiving side dishes that you might also want to bring to your holiday table.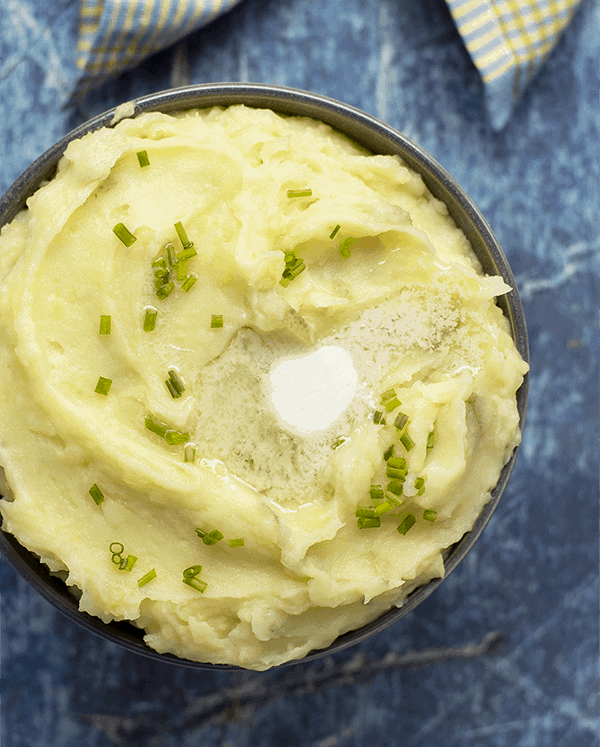 Are you celebrating Thanksgiving with your favorite vegan? These creamy vegan mashed potatoes are an easy, tasty way to include all of your family members! The vegans will be happy and the carnivores won't notice the difference. This mashed potato recipe uses Yukon Gold potatoes and coconut milk for a rich, creamy result. Vegan Thanksgiving never tasted so good!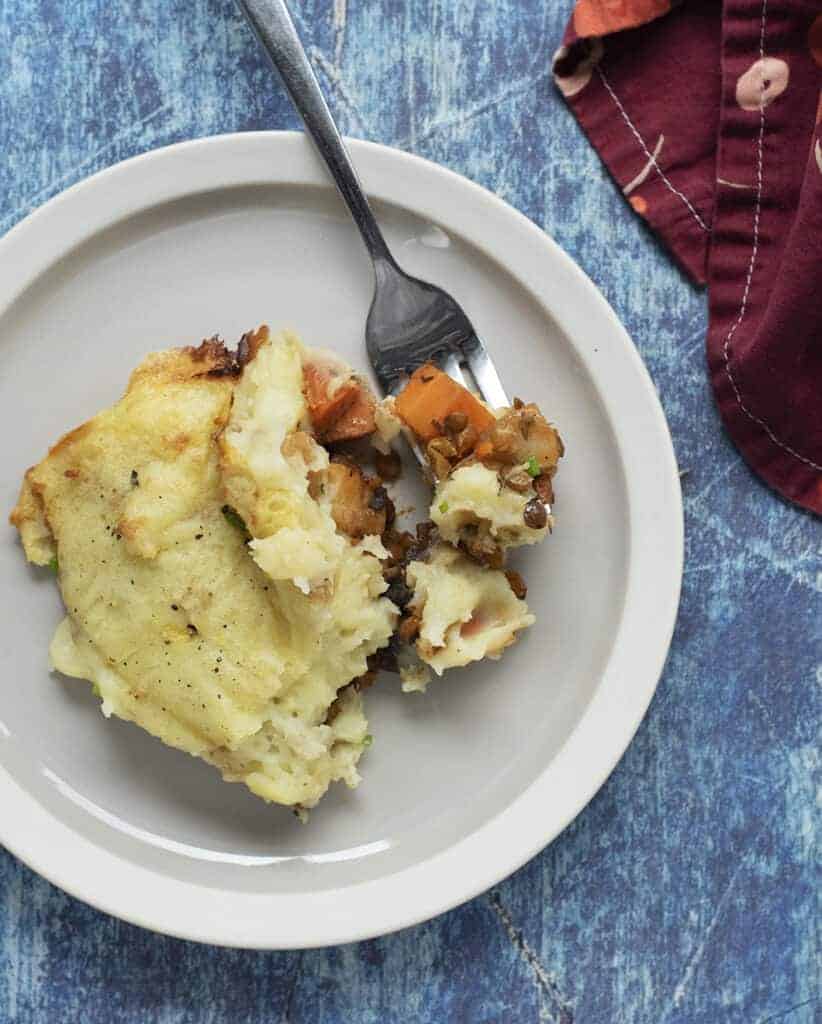 This Vegan Shepherd's Pie Recipe is an easy way to get your comfort food fix and stay healthy. Made with lentils and plenty of fall-friendly vegetables, this savory vegan version of Shepherd's Pie is a dinner your whole family will enjoy. Consider this dish for your vegan Thanksgiving! It's a great way to feed a crowd.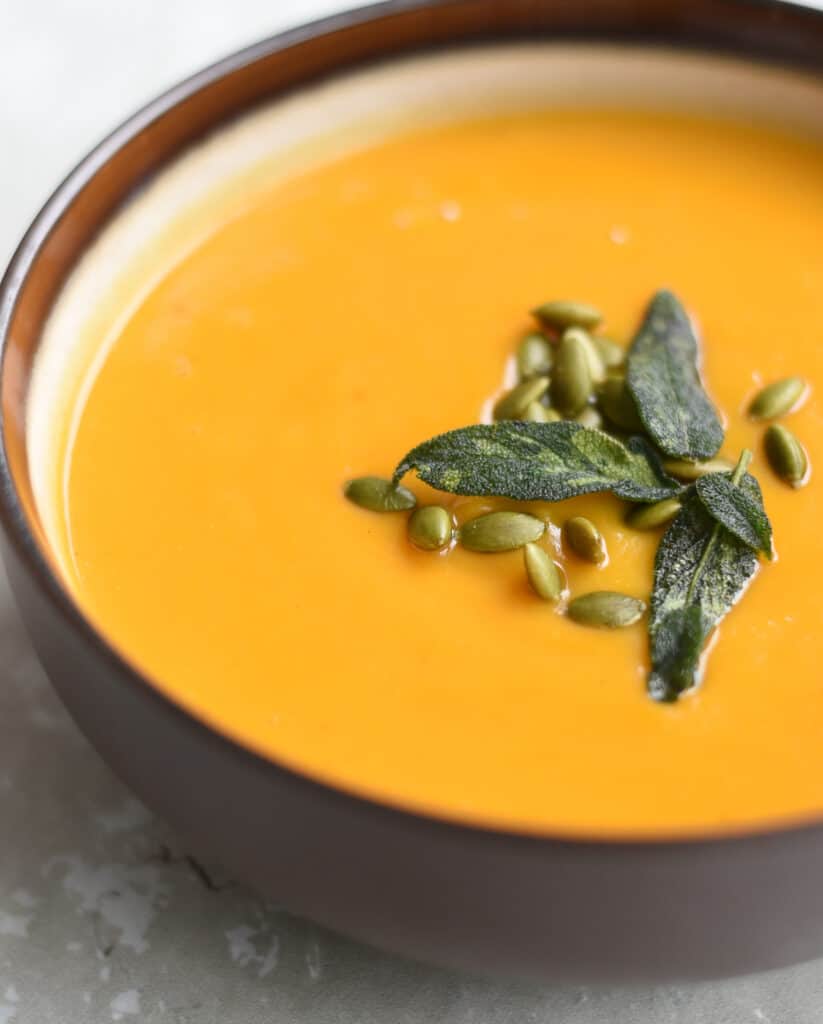 Here's a savory vegan recipe for you as we head into cooler fall weather – Apple Butternut Squash Soup! What's so lovely about this easy vegan recipe is that it's full of natural ingredients and unrefined sweeteners. This butternut squash recipe uses freshly roasted butternut squash and gets its delicate flavors from slow-cooked shallots, apple sauce and, of course, its featured toppings – crispy sage and toasted pepitas!
What's in My Kitchen to Make This Savory Vegan Stuffing Recipe Easier?
Want to know what tools and resources I keep on hand to make my vegan cooking even easier? Here's a short list of what helped me create this blog post and recipe. For the complete list, visit my Shop where you can find the kitchen gadgets I like as well as a list of books that I recommend.
These Pyrex glass casserole dishes are a must have for any kitchen. They're great for making dishes like my Easy Vegan Shepherd's Pie or my Easy Vegan Lasagna. I especially love the fitted lids — perfect for storing leftovers away in the refrigerator.
No, that's not the brand. It's just the idea! But, I own this set of Global™ knives and They're some of my most prized possessions in the kitchen. This set is universally well-rated for the at-home chef and will get you a good, solid set of knives without totally breaking the bank.
This garlic peeler is a simple silicon tube. Despite its simple design, it skillfully removes even the toughest of garlic skins. I'm so much happier not peeling garlic cloves with my fingernails. I'm pretty sure I'll collectively get at least a day of my life back because of this device.
I've read a dozen posts about why you shouldn't use a garlic press. One of them actually suggested that they take up valuable kitchen space. I mean, I guess if you have a tiny kitchen you might have to make those choices. They're smaller than a can opener. I love mine. I hate, hate, hate mincing garlic.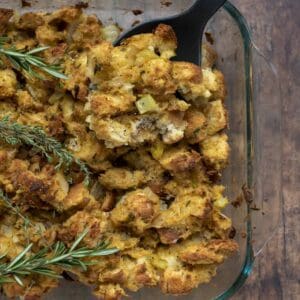 Savory Vegan Thanksgiving Stuffing
Are you celebrating Vegan Thanksgiving? If you're wondering how you're going to serve up some yummy vegan Thanksgiving side dishes, look no farther than this Savory Vegan Stuffing Recipe. This vegan take on the traditional recipe will make your entire Thanksgiving table happy!
Ingredients
1

loaf

white bread

rough cut into large cubes

1

cup

vegan butter

I like Miyoko's European Style Cultured Vegan Butter

1

yellow onion

finely diced

3

stalks

celery

washed and finely diced

1

tsp

salt

1

tbsp

fresh garlic

minced

1

tbsp

fresh sage

minced

1

tbsp

fresh rosemary

minced

1

tsp

fresh thyme

minced

2

cups

vegetable broth

fresh pepper

to taste
Instructions
Prepare the bread by cutting it into large bite-sized cubes. This recipe works best if the cubes are dry. To dry them out, leave them out on a countertop overnight or toast them in a low-temp oven.

Preheat your oven to 350º.

Warm a large skillet. Add the vegan butter and let it melt over medium-low heat.

Add the onions, celery and salt and sauté until soft. About 10 minutes.

Add the garlic, sage, rosemary and thyme and cook for 3-5 minutes more.

Add the vegetable broth, increase the heat and bring to a low simmer.

Lightly grease an 8×13 glass casserole dish with a small amount of extra virgin olive oil (or another plant-based oil).

Fill the casserole dish with the bread cubes. Pour the broth over the bread cubes and gently toss to coat the bread cubes.

Bake at 350º for 45-50 minutes on the middle rack until the stuffing is golden brown.
Notes
I recommend leaving your bread out for overnight to let it get stale. As it turns out, this recommendation is dependent on where you live. I live in an arid environment. Some of my followers have told me that it takes longer in a humid environment. In those cases, it might be better to toast the bread instead.
About Herbivore's Kitchen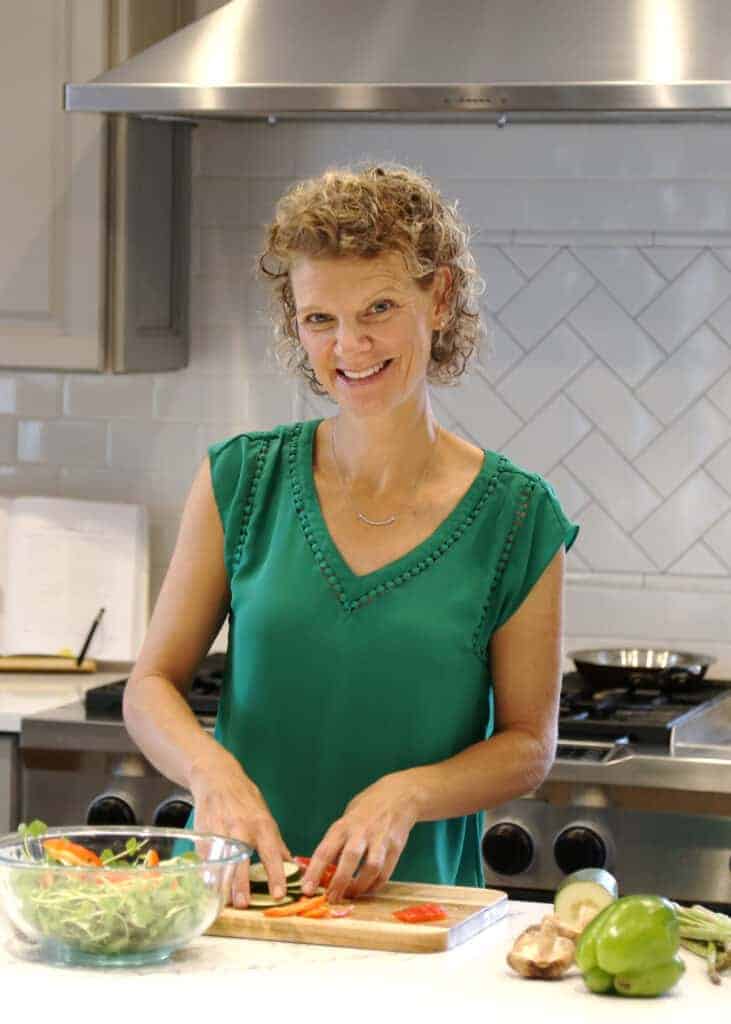 Herbivore's Kitchen is a blog run by me, a plant-based home chef and aspiring food photographer. I switched my and my family's diet to a plant-based diet after learning about the health benefits of going vegan. Making this change has prompted a variety of food and holistic-lifestyle related questions that I explore through this blog. I talk about how to pick and prepare the most nutritious foods, to how to reduce waste at home, to how to live a more sustainable lifestyle while on the road.