Jump to Recipe
This Peach Chia Jam: A Deliciously Easy Vegan Peach Jam Without Pectin* post includes affiliate links. When I find a great product or service, I like to share it with my readers. Sometimes I use affiliate links so I can earn a commission for my recommendations. Thank you for your support!
Peach Chia Jam: A Deliciously Easy Vegan Peach Jam Without Pectin*
This past August I made an incredible peach galette for my cookbook: 5-Ingredient Vegan Cooking. I was inspired, using fresh peaches that my local farmer's market has in abundance in the summer. Despite our cold, snowy reputation, Colorado's got quite a peach production operation on its western slope in the summertime.
To keep with the 5-Ingredient concept, I needed a simple, flavorful filling for my galette. I wanted the peaches to speak for themselves (i.e. be the primary ingredient), but to set properly so that my galette filling didn't run all over the place when I sliced it. Through this process, I discovered the beauty of chia seed plant-based jams.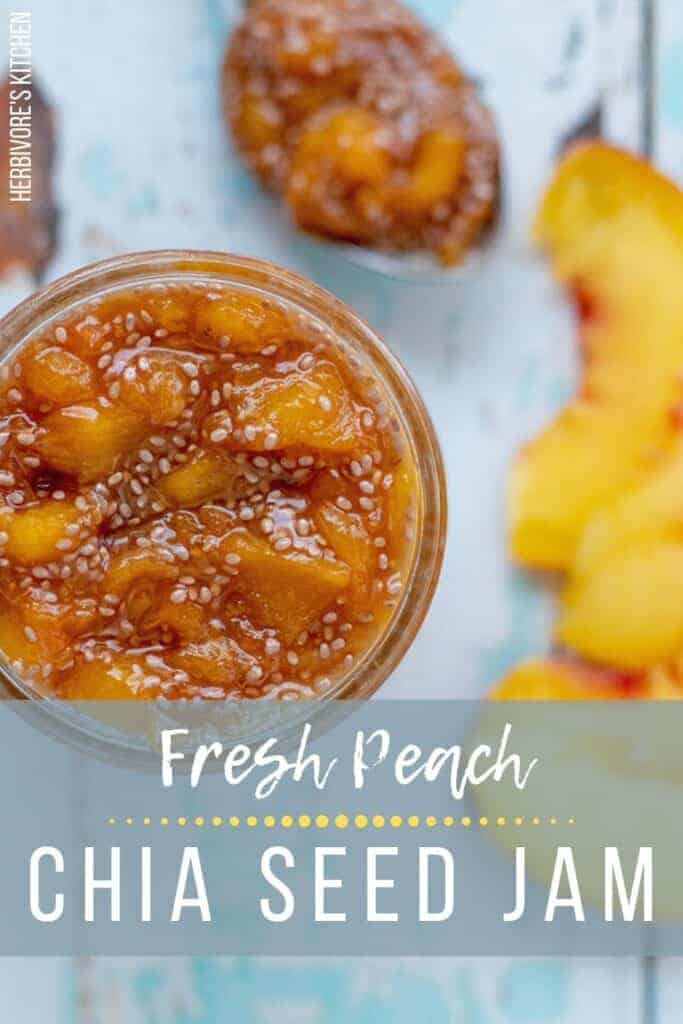 How To Make This Peach Chia Jam (or Any Homemade Jam)
Homemade jams typically include a small number of ingredients. These are usually the fruit itself, sugar, lemon juice and additional pectin (if desired).
As you may already know, fruit jams are a natural combination. This is because fruits naturally contain a soluble fiber known as pectin. When fruits are combined with sugar and acid and heat is applied, the pectin forms a gel that helps the jam to set. That is, pectin gives the jam a firmness that leads to all that spreadable goodness!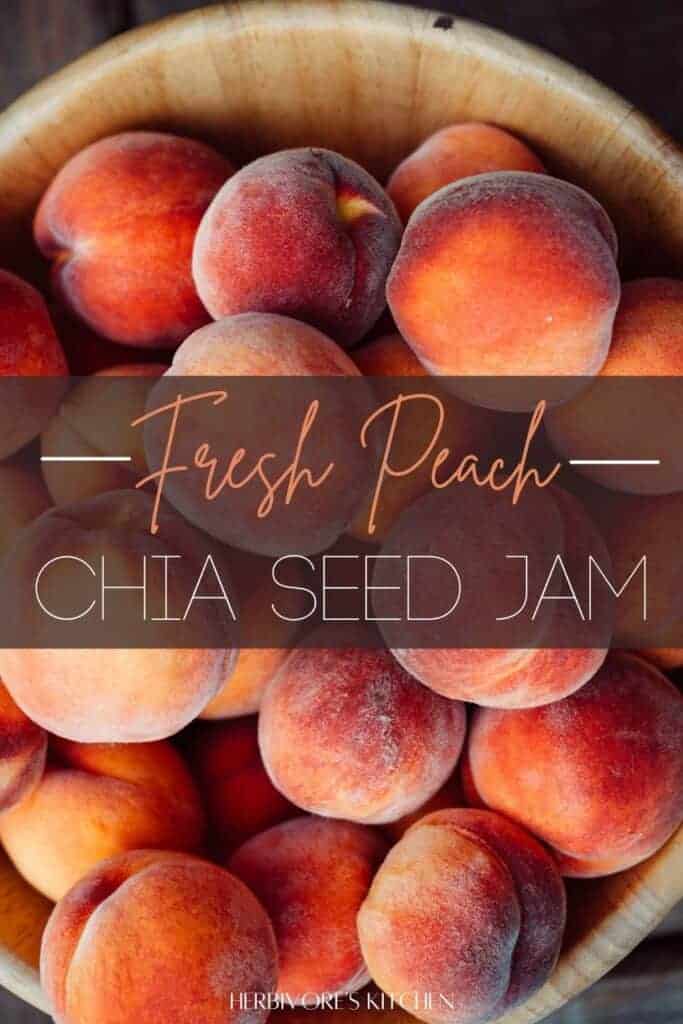 Do Peaches Have Pectin?
Yes. Peaches naturally have some pectin (hence the asterix in the title). But, peaches rank as a low-level pectin fruit. In the jam-making world, low-pectin fruits are often supplemented with commercial pectin to obtain the desired gel-like consistency in jam. Without additional pectin (or some other means of getting the jam to set…more on that below), a peach jam will be runny.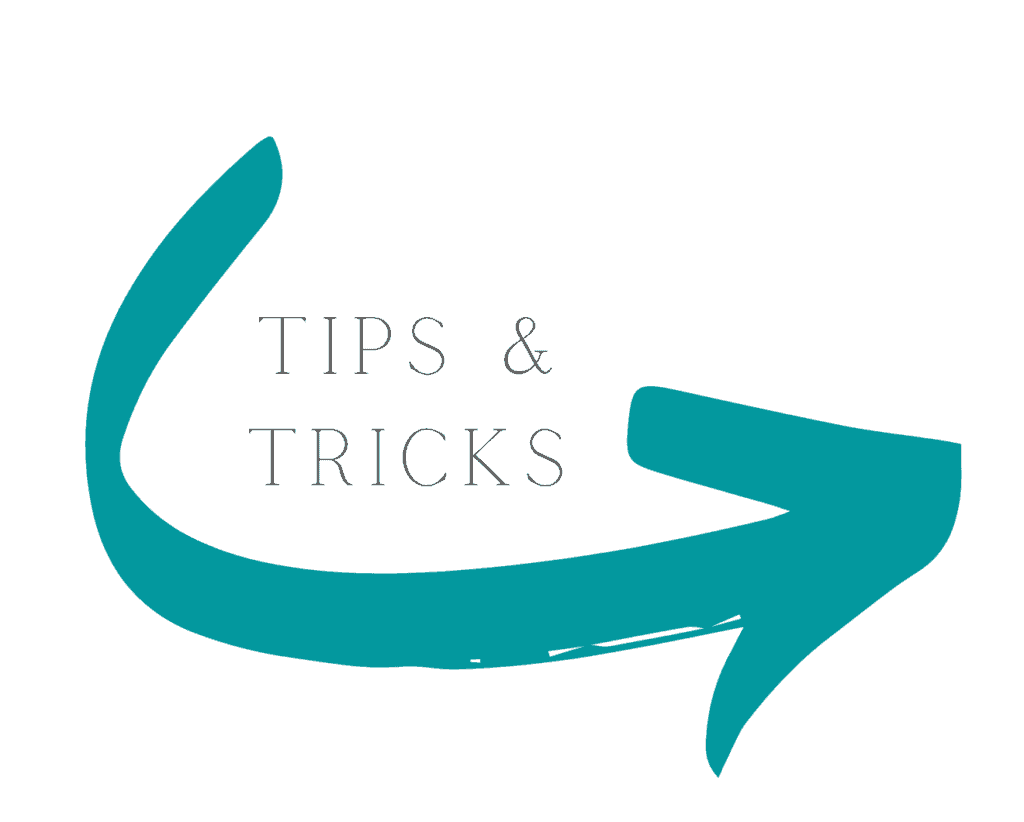 If you're curious to learn more about pectin, be sure to check out my How to Make Vegan Jam post!
Adding more sugar and cooking the peaches longer is one solution, but this has its drawbacks. First, your homemade jam is more likely to taste like sugar than the primary fruit. And, the additional cook time can often change the final texture of the jam – making it sticky. Finally, a longer cook time means less jam. As the jam cooks its volume will naturally reduce.
Vegan Peach Jam without Pectin
If you are looking to make a peach jam without additional pectin and you want to avoid longer cook times, there is a solution. Chia seeds.
If you're not familiar with them chia seeds are a vegan darling. These tiny little seeds pack a powerful nutritional punch, making them a healthier alternative than making peach jam with pectin. Chia seeds offer homemade jams protein and plenty of antioxidants.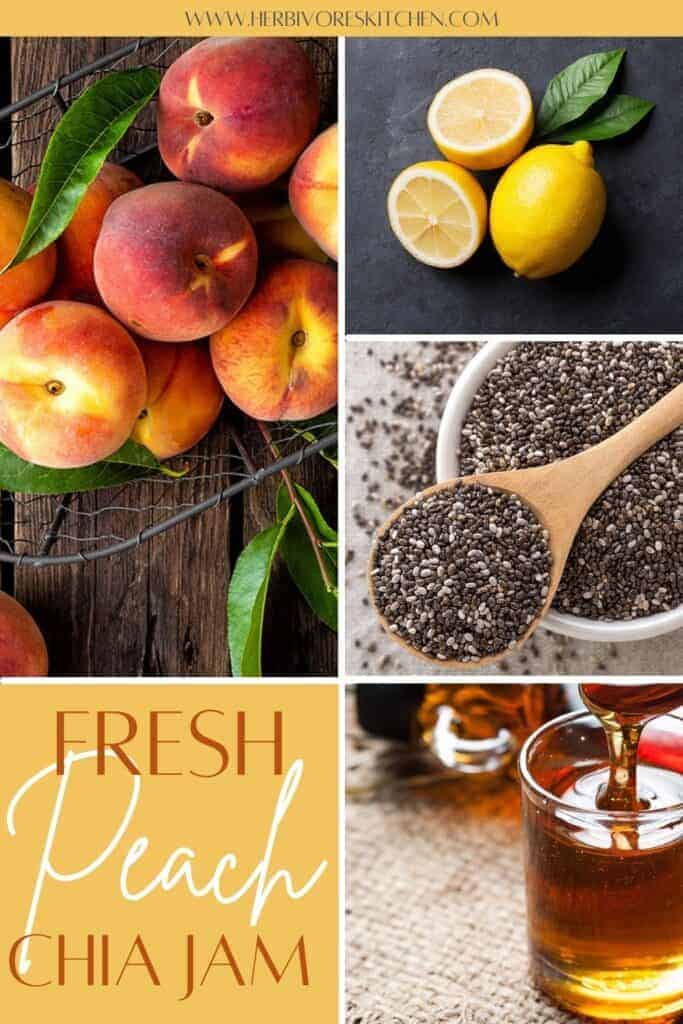 Chia seeds are also high in fiber, which is what makes them such a good replacement for pectin in homemade jam recipes. They can absorb up to 10-12 times their weight in water. So, as your low-pectin jam begins to cool, the chia seeds begin to absorb excess liquid. The final result is a thick, healthy, spreadable peach chia jam!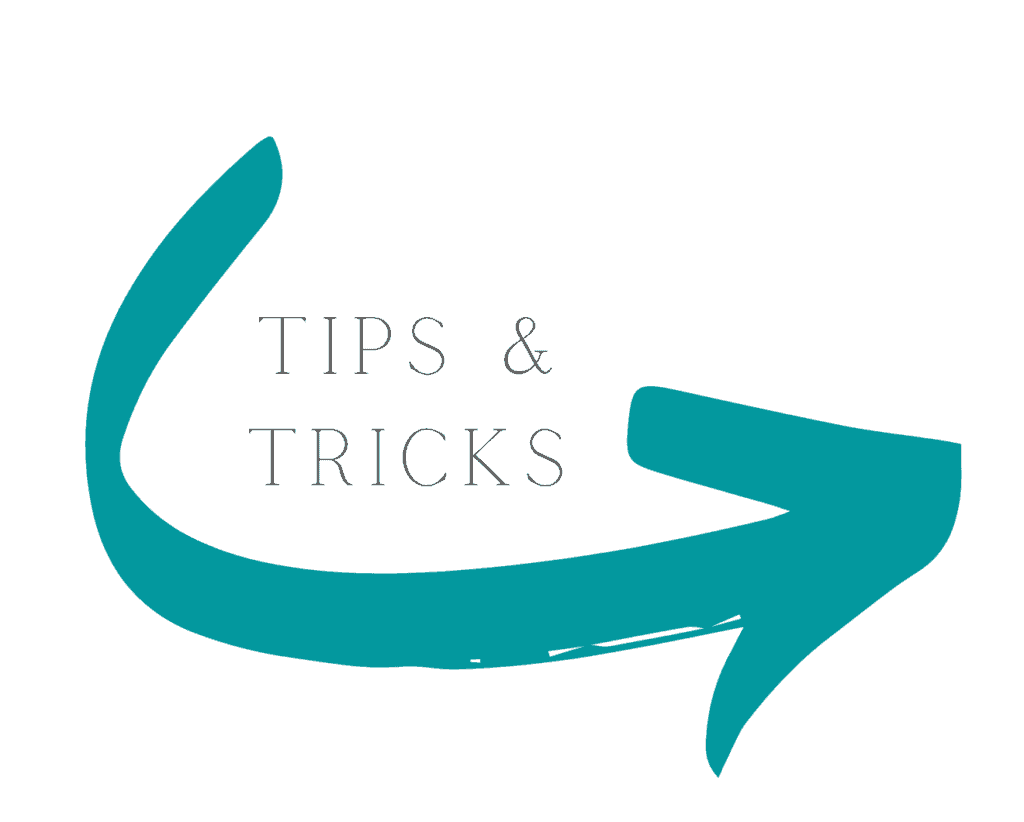 Do You Love This Peach Chia Jam Recipe?
Do you love this vegan peach jam recipe? Then be sure to check out my other homemade chia seed jam recipes. If you're into raspberries, then my Vegan Raspberry Chia Jam is for you. Dessert more your speed? Then you'll love how I used homemade Strawberry Rhubarb Jam in my Strawberry Rhubarb Galette!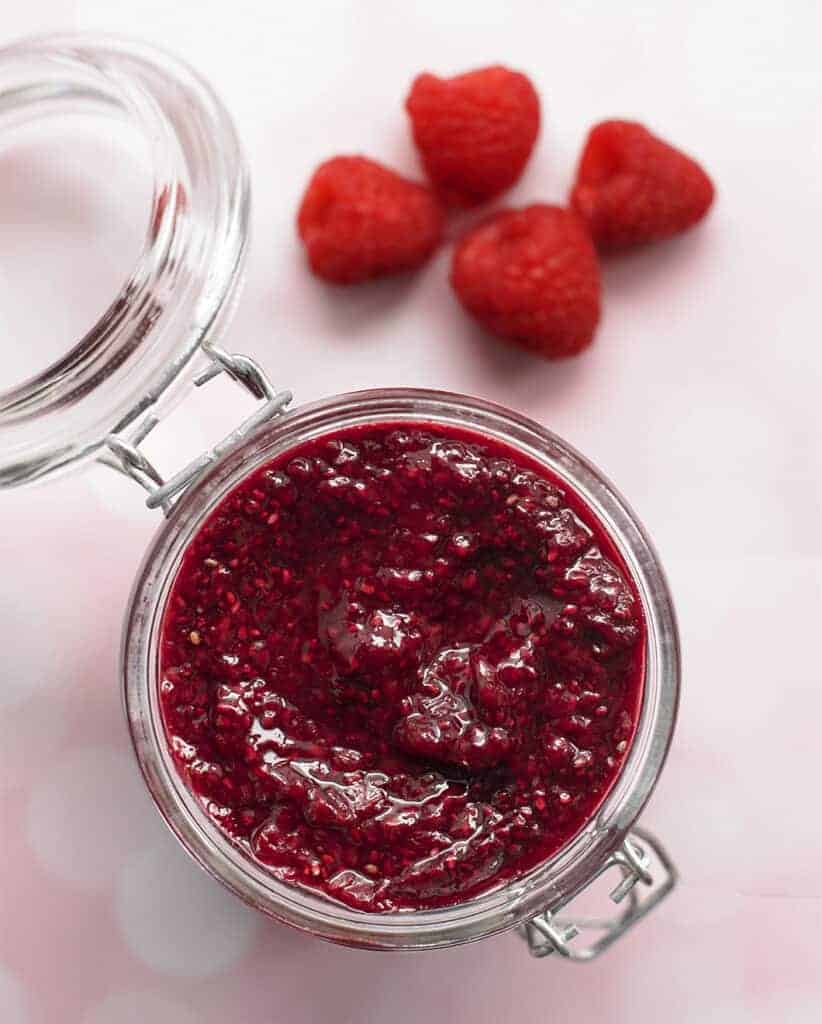 This fruit-forward vegan raspberry chia jam is easy to make and oh! so! tasty! You might not expect it from a frozen berry jam, but this chia seed jam recipe is every bit as good as it would be if made using fresh berries. It's truly the best in plant-based jam!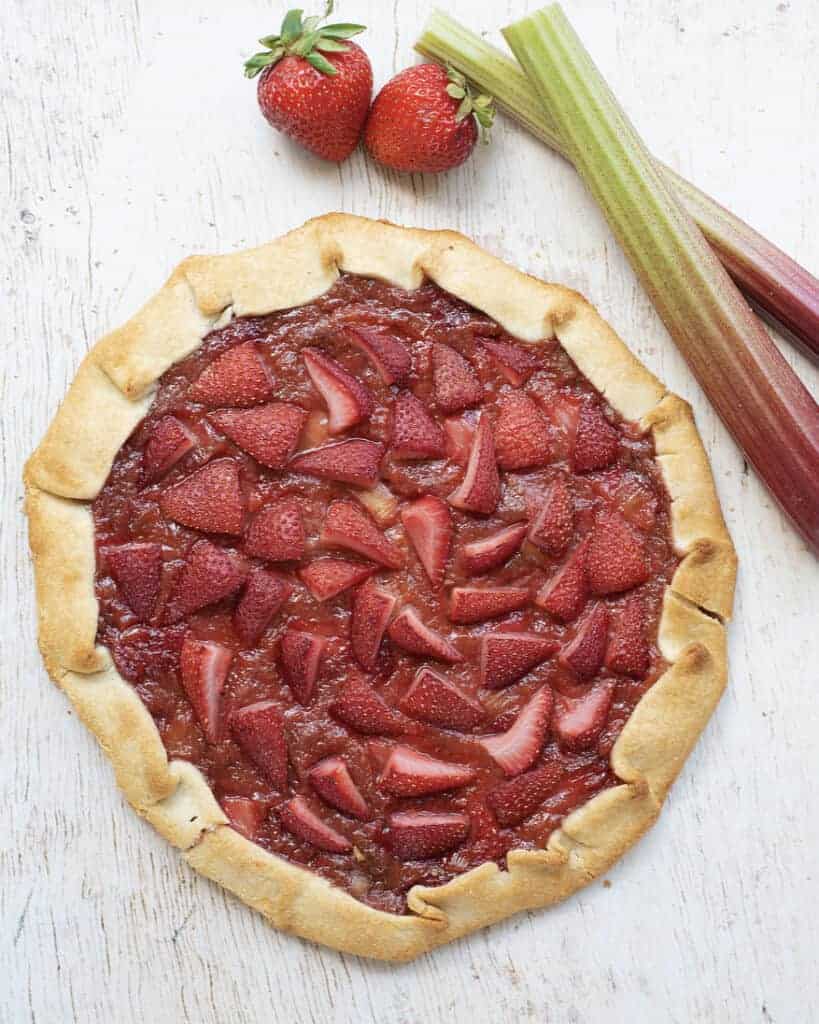 I am galette obsessed. Peach, plum, mushroom…this strawberry rhubarb galette. Not familiar with galettes? All you really need to know is how easy they are to make. This galette recipe features a homemade vegan pie crust, but you can make things even easier by using a store-bought crust for "practice" (as I like to call it). The filling for this strawberry rhubarb galette is silly easy. I made it with fresh strawberries and rhubarb, sugar and chia seeds.
What's in My Kitchen to Make This Peach Chia Jam Recipe Easier?
Want to know what tools and resources I keep on hand to make my vegan cooking even easier? Here's a short list of what helped me create this blog post and recipe. For the complete list, visit my Shop where you can find the kitchen gadgets I like as well as a list of books that I recommend.
I maintain that this is an essential kitchen tool. Yes, I know that you can squeeze a lemon (or lime, or orange) with your hands, but do that and then try this and see just how much more juice you get from each fruit. It also has the added benefit of separating (most) of the seeds from the juice.
How cute are these 8 oz mason jars! Let's be honest, if you're going to go to the trouble of making things like Pickled Red Onions, Peach Jam, Chimichurri and Homemade Herby Dressing, you want those ingredients to: (a) keep, and (b) look like all the effort you put into them.
These jars are the perfect size for homemade items. They come with decorative labels to keep everything straight in your fridge.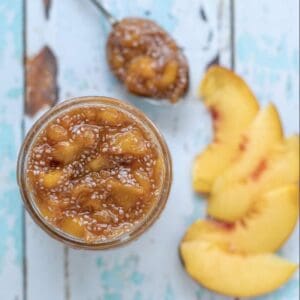 Peach Chia Jam
Satisfy your morning sweet tooth with this easy peach chia jam! Made using fresh summer peaches, this vegan peach jam uses unrefined sugar and chia seeds – making it a healthy alternative to store-bought peach jam!
Ingredients
4-5

fresh peaches

washed with the pits removed

1/4

cup

pure maple syrup

1

tbsp

fresh lemon juice

2

tbsp

chia seeds

see Recipe Notes
Instructions
Roughly chop the peaches.

In a small saucepan, add the chopped peaches, maple syrup and lemon juice. Simmer on low heat for 10 minutes. The peaches will become syrupy and soft. As the peaches simmer, break them apart with a wooden spoon.

Remove the peaches from the heat and then stir in the chia seeds. Set aside and allow the peach chia jam to cool. As it cools, it will continue to thicken.

Store the peach chia jam in the refrigerator in an air-tight container. I always use mason jars. The jam should remain fresh for about 5days.
Notes
For this recipe, I use white chia seeds. The difference is in aesthetics. I just find that the white seeds give the peach chia jam a better appearance.
About Herbivore's Kitchen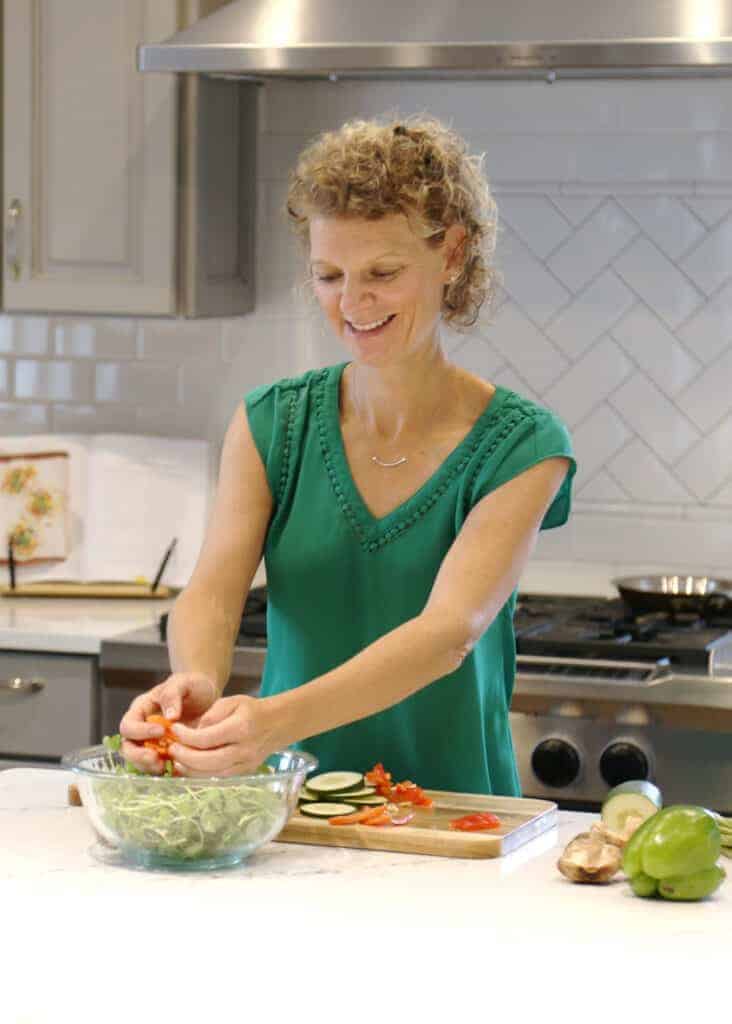 Herbivore's Kitchen is a plant-based food blog started by me, a vegan home chef, aspiring food photographer and how-to-be-a-better-food-blogger junkie. You'll mostly find creative and tasty vegan recipes and detailed deep dives into vegan ingredients (check out my Vegucation section) on my blog. I love knowing as much as I can about the food that I make. I'm also really into running a food blog as a business, so I've also got a section of my blog titled: Confessions of a Food Blogger where I get into the nitty gritty on how to build, manage, market and monetize a food blog.