Jump to Recipe
This Vegan Bagel Sandwich: Start Your Morning with a Vegan Breakfast Bagel with White Bean Mash post includes affiliate links. When I find a great product or service, I like to share it with my readers. Sometimes I use affiliate links so I can earn a commission for my recommendations. Thank you for your support!
Vegan Bagel Sandwich: Start Your Morning with a Vegan Breakfast Bagel Featuring a White Bean Mash
Coming up with a healthy, vegan-friendly breakfast is a chore for me. The problem is: I just don't like sweet breakfast. Sure, I have my morning date-sweetened smoothie and sometimes I'll have one of my small batch granola recipes (although I prefer eating handfuls of it as a mid-day snack). But, coming up with savory, plant-based breakfast options on the daily can be tricky.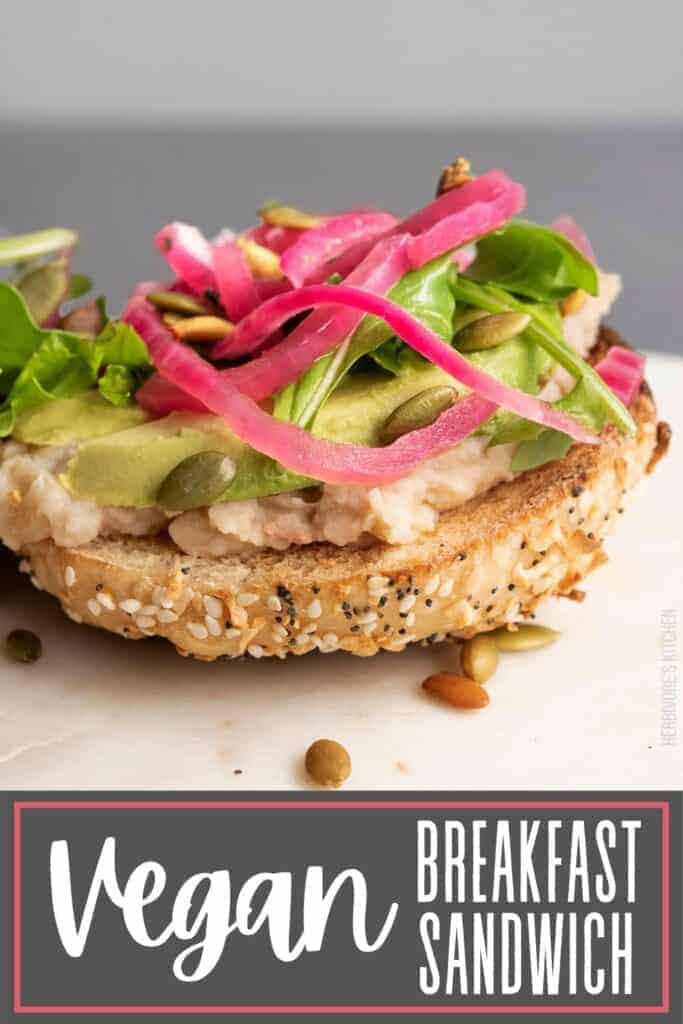 You might be thinking: I've got it! Avocado toast! Everyone's doing it! And, I thank you for thinking of me. The truth is, I don't particularly like smashed avocado on my toast. It's a texture thing.
This summer though, I was admiring a friend's breakfast. It was a piece of toast, topped with a poached egg, arugula, avocado and pickled red onions. It looked divine. I thought about it often – perhaps more than normal? And, I started to wonder – how could I recreate this into: (a) a vegan breakfast, and (b) avoid the smashed avocado/toast combination?
Enter this Vegan Bagel Sandwich.

Are Bagels Vegan?
This question comes up a lot, so let's get it out of the way. Bagels are vegan (mostly). Traditional bagel recipes include flour, water, yeast, sugar and salt. However, certain bagel flavors might contain non-vegan ingredients. This is usually obvious (for example, honey-wheat bagels). What trips up bagels though, are the toppings. Like peanut butter and jelly, bagels and cream cheese go hand-in-hand. Then, of course, there are dishes like bagels and lox.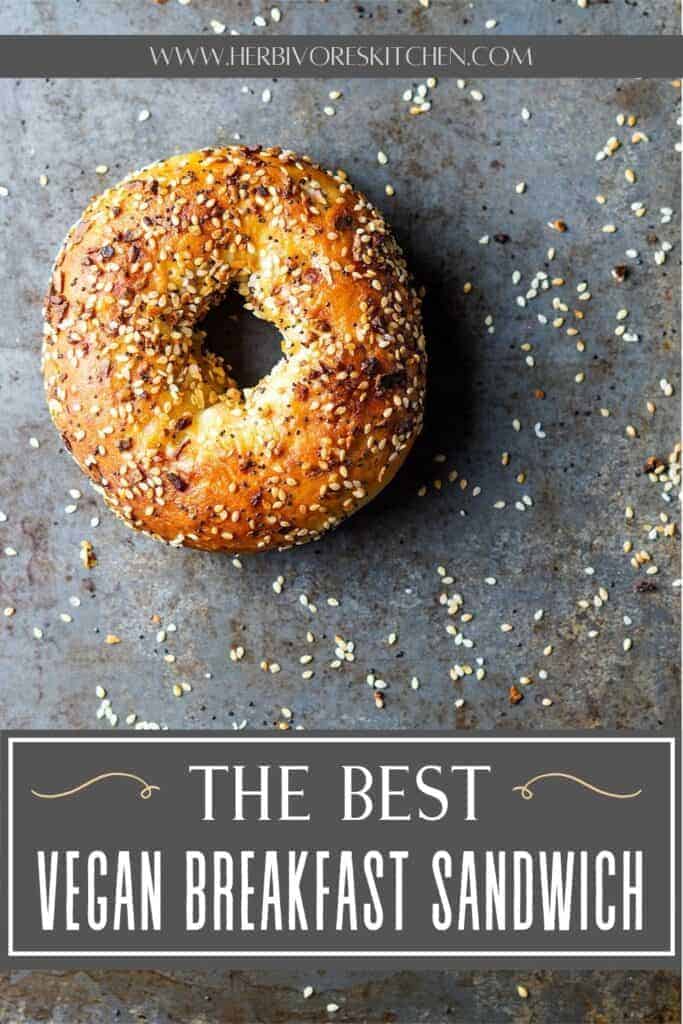 About This Vegan Bagel Sandwich…
First things first… start with an everything bagel. Always. Maybe that's just me (I don't like sweet breakfast, remember?), but I just don't see why anything but an everything bagel would be used for this vegan breakfast bagel.

What Is Everything Bagel Seasoning Made Of?
Well, not everything. But everything good!
Everything seasoning is the ultimate blend of sesame seeds (white & black), minced garlic flakes, minced onion flakes, flaked sea salt and poppy seeds. You can, of course, make your own everything bagel seasoning. It's also readily available for purchase, with my favorite being Trader Joe's Everything Bagel Seasoning (available at Trader Joe's and on Amazon).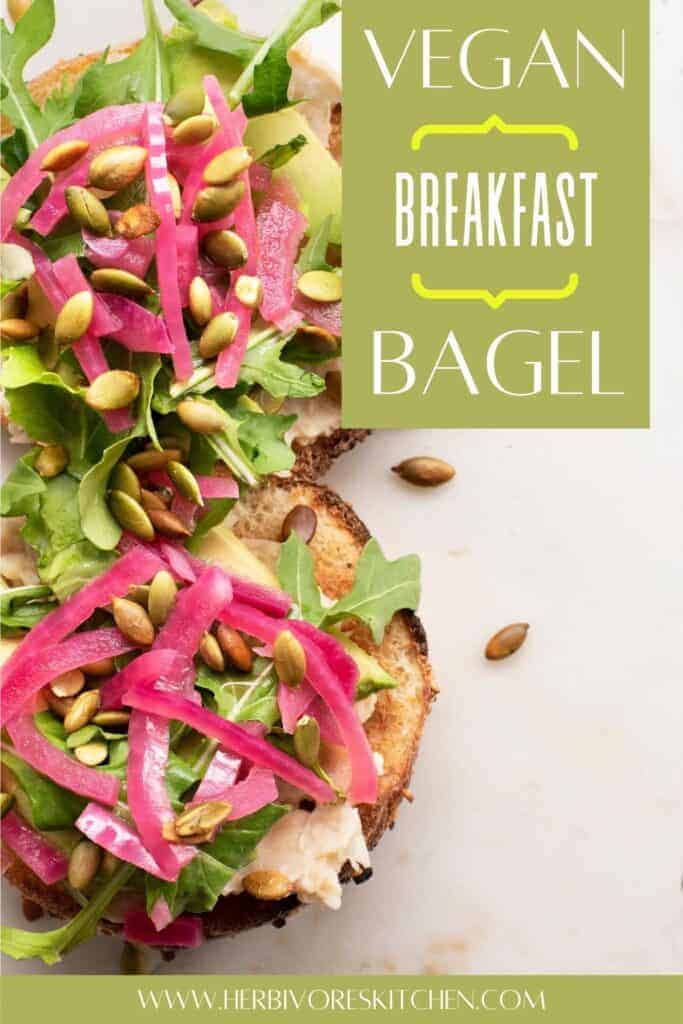 Forget Eggs! White Bean Mash is Where It's At!
In my quest to match my friend's beautiful breakfast, I wanted to create an actual substitute for the eggs and not just skip them altogether. If you follow me regularly, you might notice that I've been having a love affair with white beans. So, it could only be expected that I'd bring them in at every opportunity — including this vegan breakfast sandwich!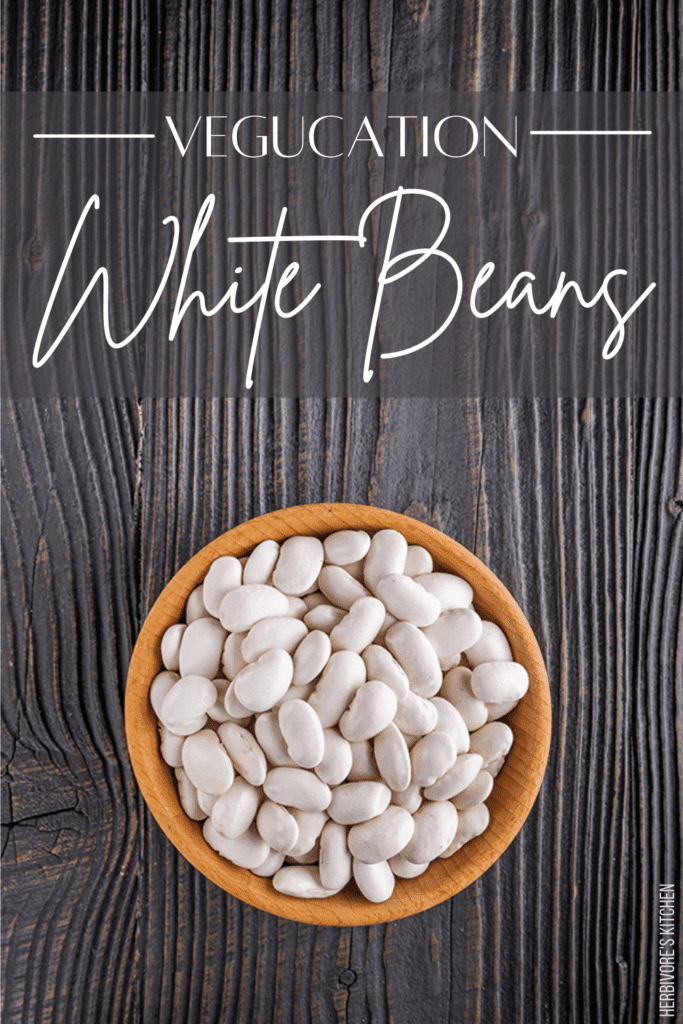 In this case, I made a really simple butter bean mash. If you're not familiar with butter beans, don't worry! I have you covered. Just click over to my White Beans: The Ultimate Guide post. Here, among other things, you'll learn that butter beans (also known as Lima Beans) are a mild white bean that becomes soft and creamy when cooked.
Using a butter bean mash in place of poached eggs is a vegan-friendly way to add protein to this vegan breakfast bagel. White beans are packed with protein and fiber and are also a source of copper, iron and folate for vegan eaters.
Arugula, Avocado & Pickled Red Onions
This trio of colorful plant-based ingredients packs a tremendous punch! One might argue that, in addition to being vibrant, these elements provide the real flavor to this vegan bagel sandwich.
If you're not well-versed in leafy greens, you need to try arugula STAT. Arugula (also referred to as rocket) has a lovely peppery flavor – due to being in the same family as mustard — that complements the creaminess of the avocado and butter bean mash.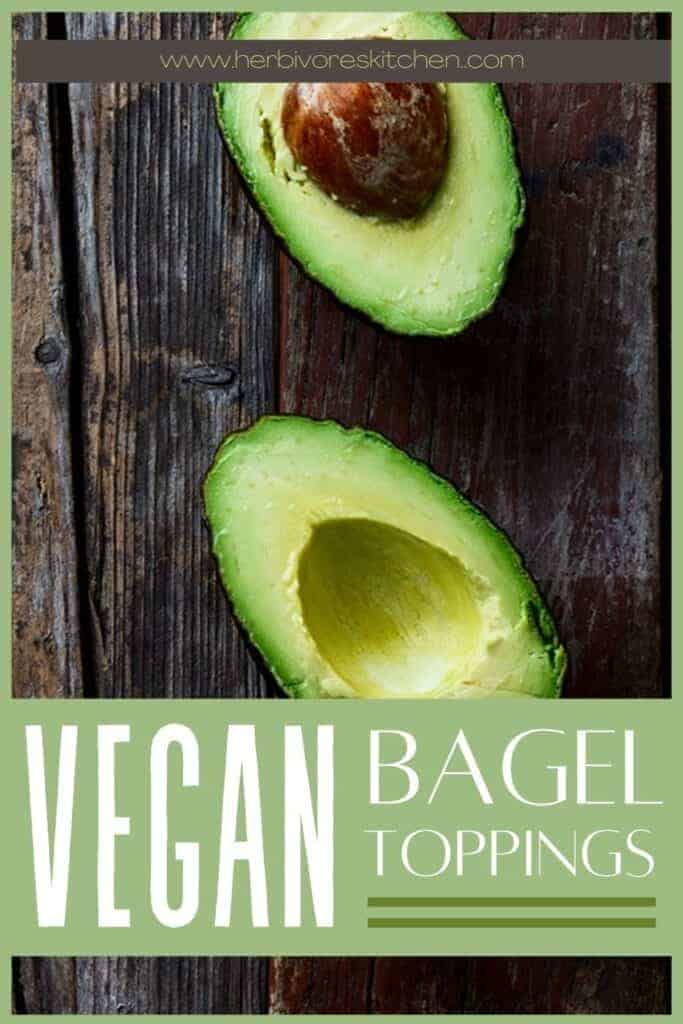 And pickled red onions… needs I say more. I LOVE pickled red onions. I almost always have a jar of them in my refrigerator. They're easy to make and offer up a bright, tangy contrast to this vegan breakfast bagel.
And, finally, no vegan recipe of mine would be complete without a sprinkling of roasted pepitas on top. Pepitas, or pumpkin seeds, give this vegan bagel sandwich a nutty crunch and a friendly punch of salt. Perhaps my favorite feature of roasted pepitas though, is the smell of them as they roast. It's reminiscent of popcorn.

What Are Some Other Good Vegan Bagel Toppings?
Glad you asked! As shown by this Vegan Bagel Sandwich recipe, there's room for creativity.
I love a good bagel breakfast. I do, however, feel a little bit guilty about a sudden, unfiltered carb load in the morning. Guilty and bloated, if I am being totally honest. I think it helps a lot to off-set all that gluten with a big dose of fiber and protein.
So, aside from a butter bean hash, what other vegan bagel toppings are there? Here are some vegan bagel topping options: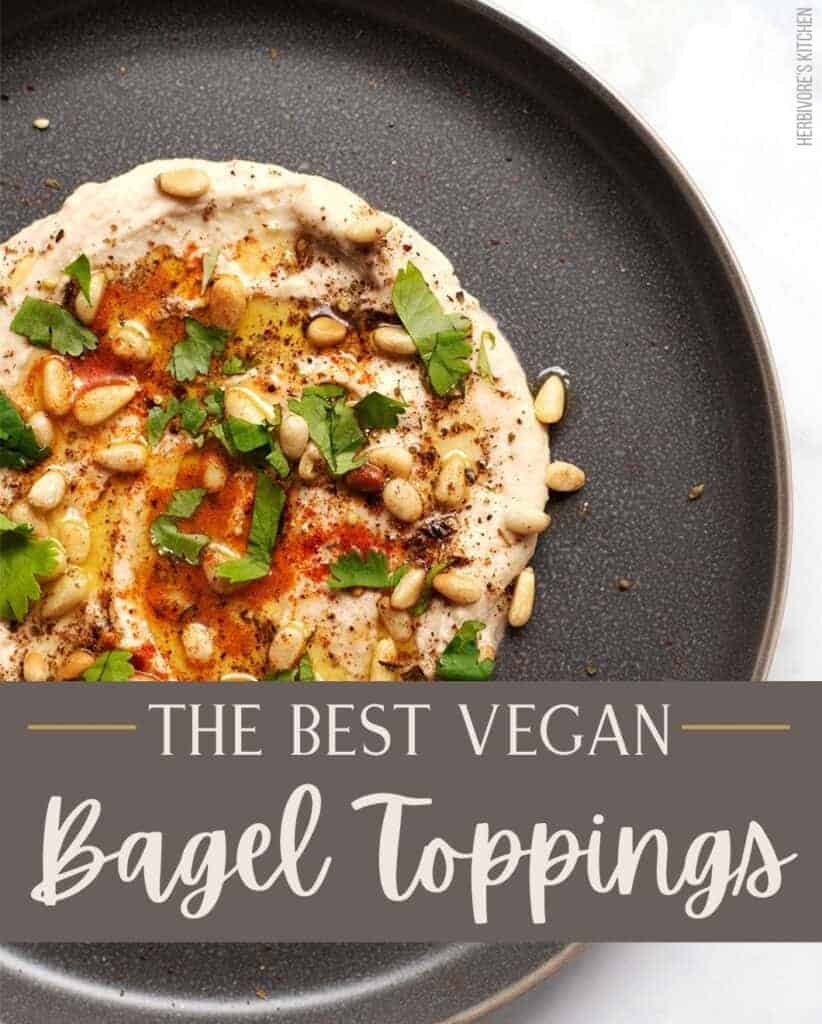 Hummus
Hummus, a thick spread made from chickpeas, is packed with fiber, healthy fat and protein. Add some spinach (or arugula) and red pepper slices for a delicious vegan breakfast sandwich!
Almond "Cream Cheese"
This dairy-free cream cheese alternative is made using blanched almonds. I like to spread my own personal recipe on an everything bagel, sprinkle on some everything bagel seasoning and top the whole thing with home-grown microgreens.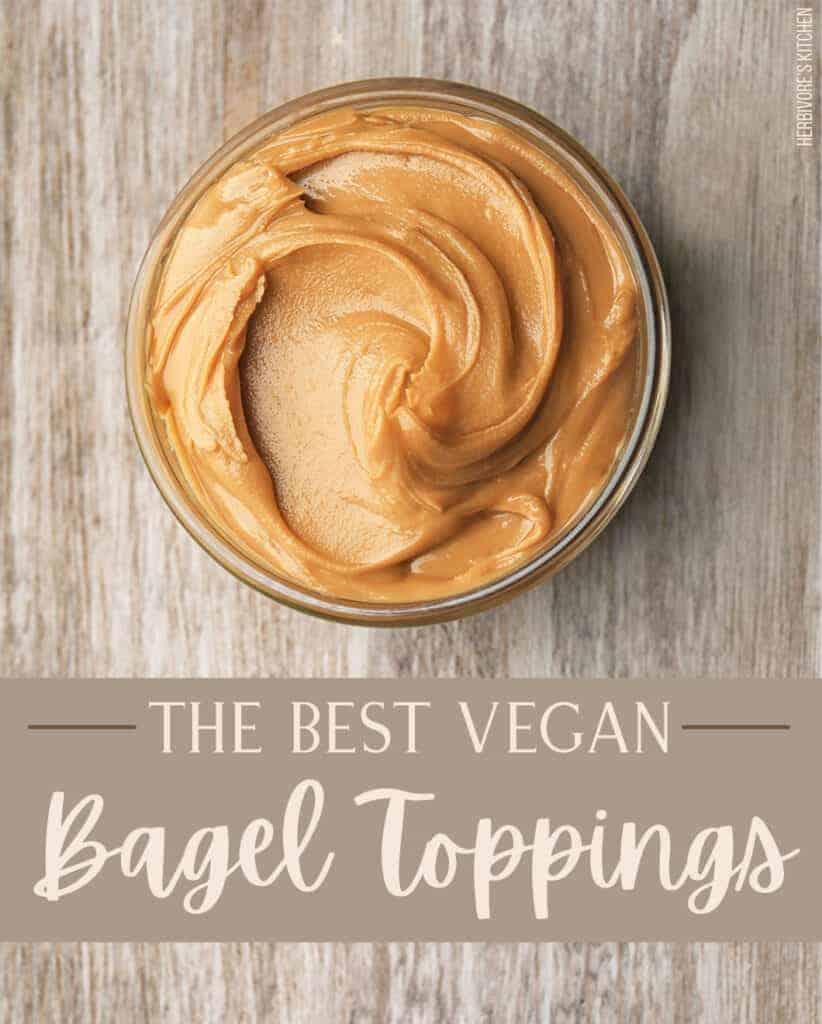 Nut Butters & Fruit
Whether you prefer peanut or almond, nut butters with apple slices are a great way to top your vegan bagel breakfast. I just don't recommend them on an everything bagel!
What's in My Kitchen to Make This Vegan Bagel Sandwich Recipe Easier?
Want to know what tools and resources I keep on hand to make my vegan cooking even easier? Here's a short list of what helped me create this blog post and recipe. For the complete list, visit my Shop where you can find the kitchen gadgets I like as well as a list of books that I recommend.
This garlic peeler is a simple silicon tube. Despite its simple design, it skillfully removes even the toughest of garlic skins. I'm so much happier not peeling garlic cloves with my fingernails. I'm pretty sure I'll collectively get at least a day of my life back because of this device.
I've read a dozen posts about why you shouldn't use a garlic press. One of them actually suggested that they take up valuable kitchen space. I mean, I guess if you have a tiny kitchen you might have to make those choices. They're smaller than a can opener. I love mine. I hate, hate, hate mincing garlic.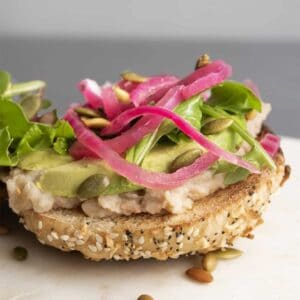 Vegan Bagel Sandwich
This Vegan Breakfast Sandwich features a butter bean mash, fresh arugula, sliced avocado, pickled red onions,roasted pepitas and, of course, an everything bagel!
Instructions
Heat up the olive oil in a small saucepan. When shimmering, reduce the heat to medium-low and add the onion and salt. Slow-cook the onions until they begin to brown. About 10-12 minutes. Add the garlic and cumin and cook until fragrant. 1-2 minutes.

Add the butter beans and the water. Increase the heat to medium and bring the beans to a low simmer.

Cover and simmer for 20 minutes, adding more water as necessary. Stir the beans at 20 minutes and continue to simmer, uncovered, until the water has cooked off. About 10 minutes. Mash the beans with a potato masher.

Spread the butter bean mash on each bagel. Top with fresh arugula, sliced avocado, pickled red onions and roasted pepitas. Season with additional everything bagel seasoning, as desired.
About Herbivore's Kitchen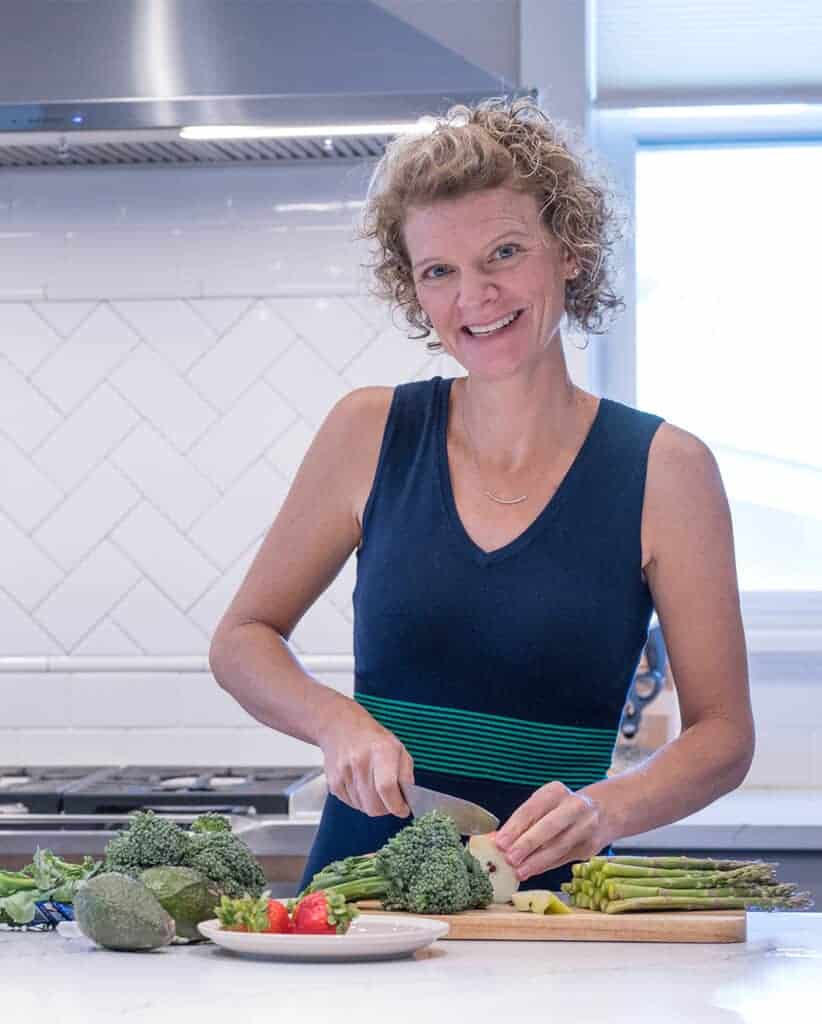 Herbivore's Kitchen is a plant-based food blog started by me, a vegan home chef, aspiring food photographer and how-to-be-a-better-food-blogger junkie. You'll mostly find creative and tasty vegan recipes and detailed deep dives into vegan ingredients (check out my Vegucation section) on my blog. I love knowing as much as I can about the food that I make. I'm also really into running a food blog as a business, so I've also got a section of my blog titled: Confessions of a Food Blogger where I get into the nitty gritty on how to build, manage, market and monetize a food blog.