Jump to Recipe
This Easy Vegan French Lentil Soup Recipe includes affiliate links. When I find a great product or service, I like to share it with my readers. Sometimes I use affiliate links so I can earn a commission for my recommendations. Thank you for your support!
This Plant-Based Soup is a Great Way to Put a Healthy Dinner on the Table
Oh-la-la! If you're looking for an easy vegan soup recipe, look no further than this Vegan French Lentil Soup. It's super savory and packed with nutritious ingredients, including green lentils, tomatoes, carrots, celery, onions and garlic. Seasoned with Herbs de Provence, this simple plant-based soup will make everyone at your table heureux!
That's French for happy.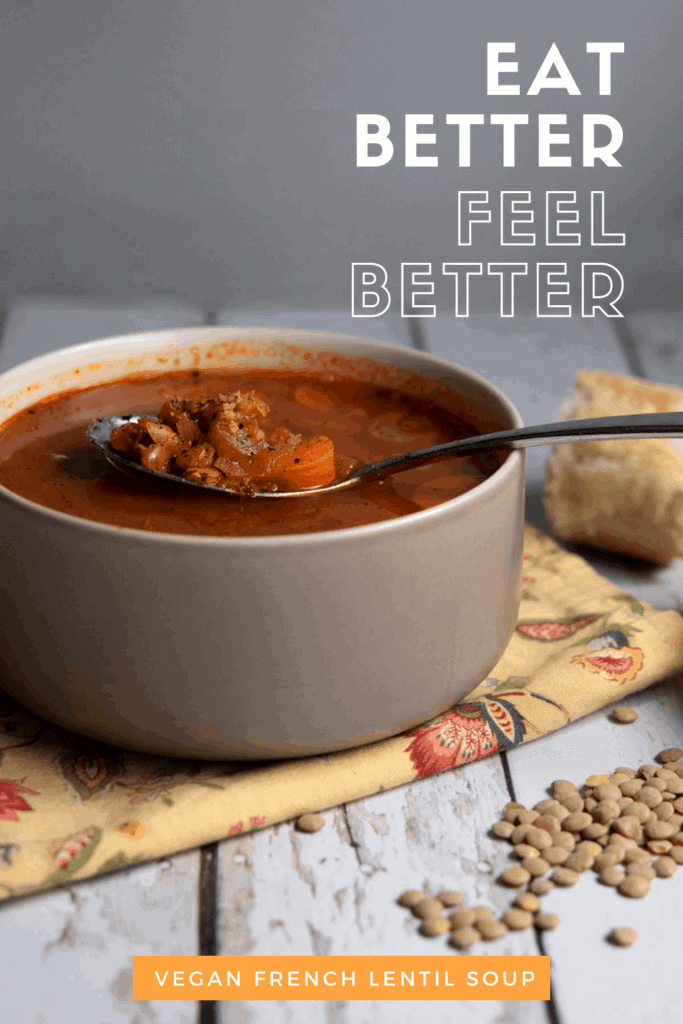 This Vegan French Lentil Soup recipe was inspired by my recent day on the couch recovering from my second Covid-19 vaccine shot. If you follow me on Instagram, you might remember my plea to have someone (anyone!) bring me a bowl of soup and spoon feed it to me.
Well, no one responded to my weak cries, so I ordered a French lentil soup from a local caterer and I think it made all of the difference. And therein lies the inspiration.
I'm also headed to Moab for a week-long camping/mountain-biking trip and I need a quick and easy campervan dinner. This easy vegan soup fit the bill.
What Makes This Lentil Vegan Soup French?
A couple of things actually. Green lentils, which I used in this vegan soup, have a sub-variety called lentilles du Puy. Puy lentils are a little on the pricey side and are harder to find, so I did use a standard green lentil. So perhaps it's just better to say that the lentils make this soup French-inspired?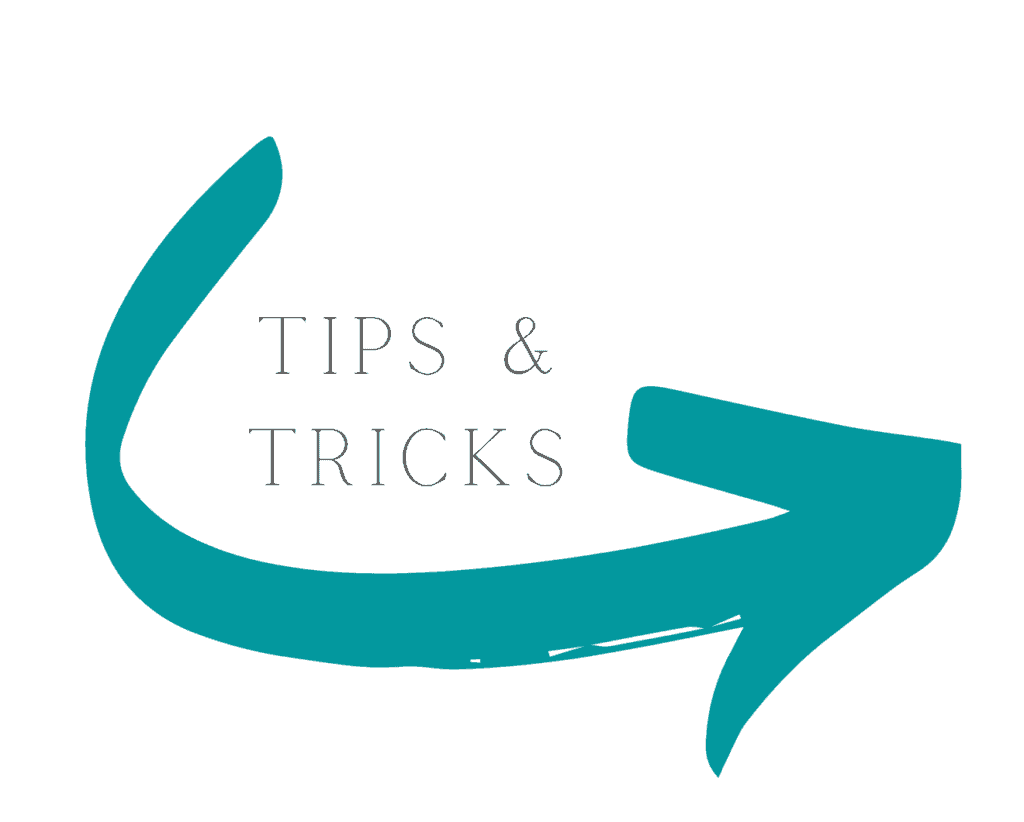 On the other hand, I did use Herbs de Provence to flavor this savory Vegan French Lentil Soup recipe. Herbs de Provence is an herb blend including thyme, basil, rosemary, tarragon, savory, marjoram, oregano and bay leaves. It's commonly used in French cooking.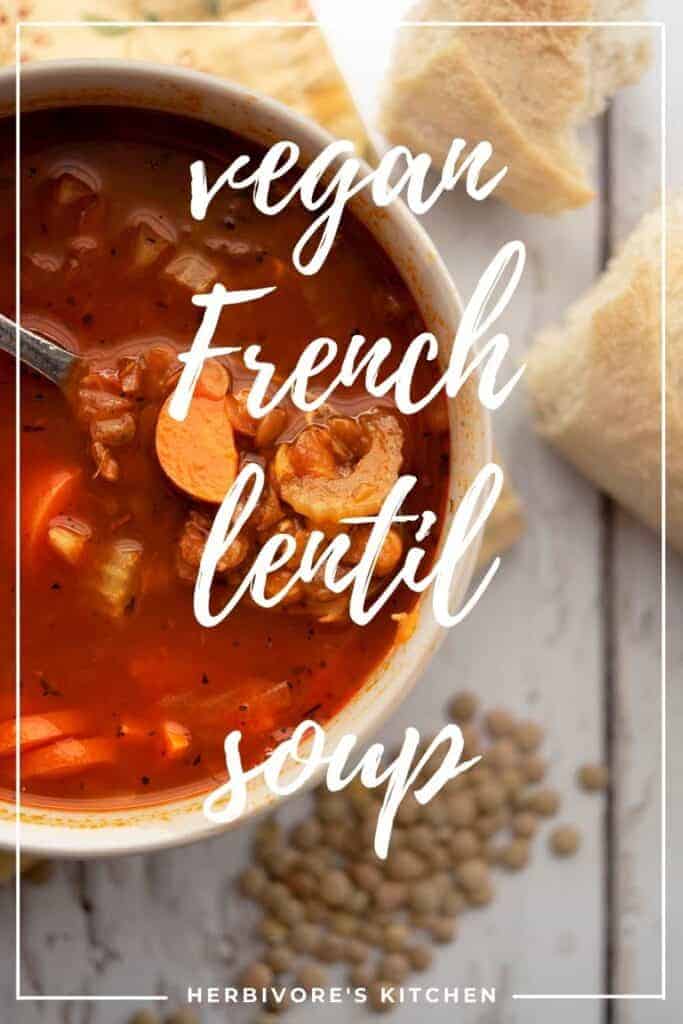 What Makes This French Lentil Soup So Easy?
This vegan soup is a one-pot wonder. I love recipes like this when I just don't feel much like cooking. It's about 15 minutes of layering ingredients and then, after that, it's just a matter of letting the soup simmer.
As I've said before, the trick to tasty vegan cooking is getting the most flavor out every ingredient. For example, in this vegan soup recipe I let the onions cook until they begin to brown. Then I add the garlic, Herbs de Provence and tomato paste and let them sauté for a few more minutes until the tomato paste becomes a rich, dark red. These simple stages allow the flavors to build, making the water-based broth very flavorful.
Do You Love This Vegan French Lentil Soup Recipe?
Do you love this Vegan French Lentil Soup recipe? Be sure to check out my other vegan soups. If you're into mushrooms, then my Creamy Vegan Mushroom Bisque is for you! Prefer bean-based soups? Then you need to try my Thirteen Bean Vegan Soup!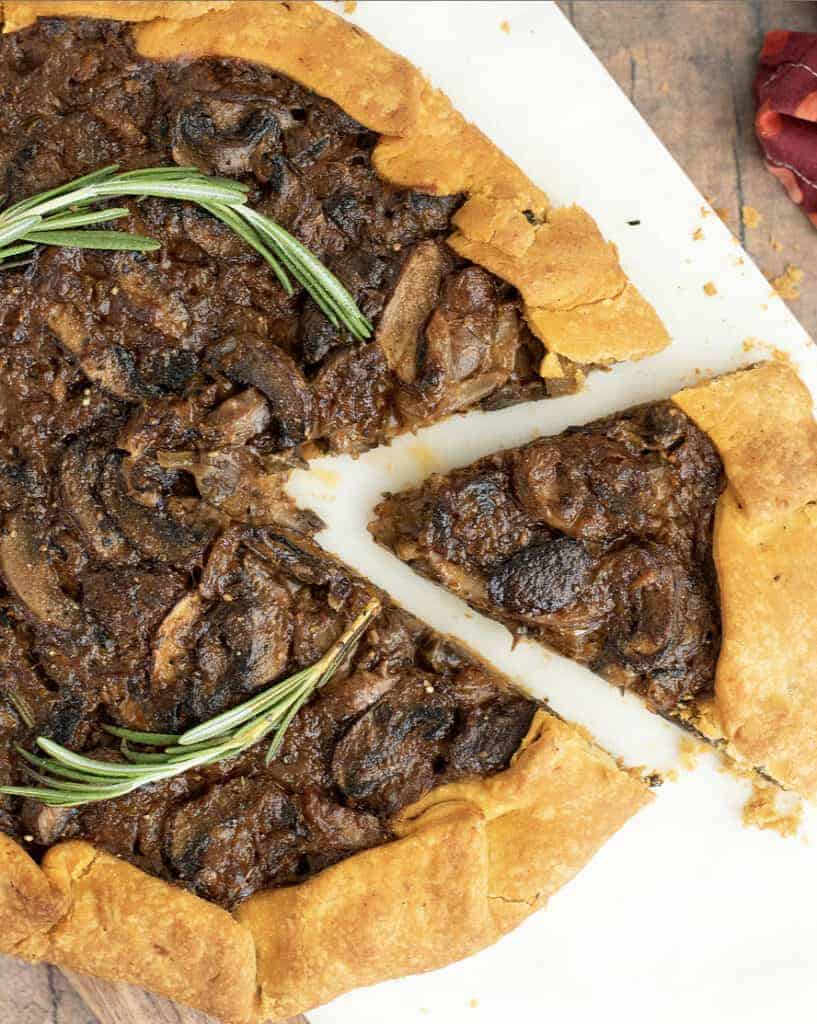 Looking for an easy vegan mushroom soup recipe? This creamy mushroom bisque is just what you've been craving! Savory cremini mushrooms simmered in red wine give this vegan soup recipe a ton of umami, while coconut milk gives it a richness that you'll swear can't be dairy-free. This easy vegan recipe is designed to appeal to vegan beginners and vegan veterans alike.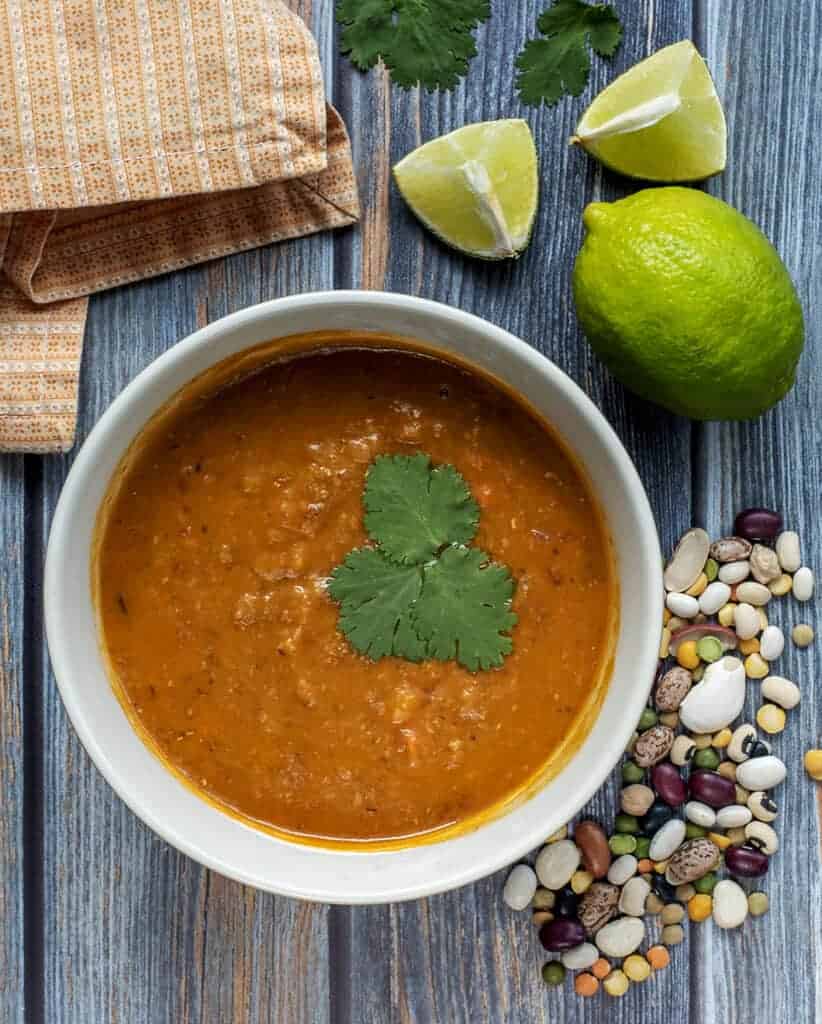 Looking for healthy vegan dinner options? This savory thirteen bean soup is packed with both flavor and protein. Seasoned with sautéed tomato paste and creamy coconut milk, this vegan bean soup is a meal in and of itself. It's an easy way to put a vegan dinner on the table in the chilly winter months!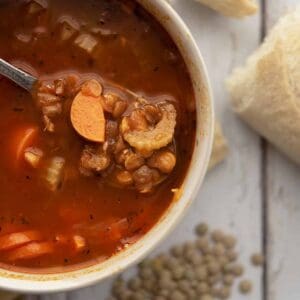 Easy Vegan French Lentil Soup
It doesn't get better than this Vegan French Lentil Soup Recipe! It's easy, tasty and healthy. And it comes together quickly with just a few ingredients.
Ingredients
2

tbsp

extra virgin olive oil

1/2

yellow onion

finely diced

1

tsp

salt

1

tbsp

garlic

minced

1

tbsp

Herbs de Provence

1/4

cup

tomato paste

2

carrots

washed and sliced

2

stalks

celery

washed and sliced

1

cup

green lentils

rinsed and picked free of debris

1

14 oz can

low-sodium diced tomatoes

6

cups

water

2

bay leaves

fresh ground pepper

to taste
Instructions
Preheat a large stockpot. When hot, add the olive oil and heat until shimmering.

Add the diced onion and reduce the heat to medium-low. Add the salt and slow cook the onions until they begin to brown. About 12-15 minutes.

Add the garlic, Herbs de Provence and tomato paste. Increase the heat to medium and sauté until the tomato paste becomes a rich, dark red.

Add the carrots, celery and green lentils and stir to coat.

Add the crushed tomatoes, water and bay leaves and bring the soup to a boil.

Reduce the heat and allow the soup to simmer for 1 hour until the lentils have become soft.

Remove the bay leaves and serve the soup with fresh ground pepper and crusty French bread.
About Herbivore's Kitchen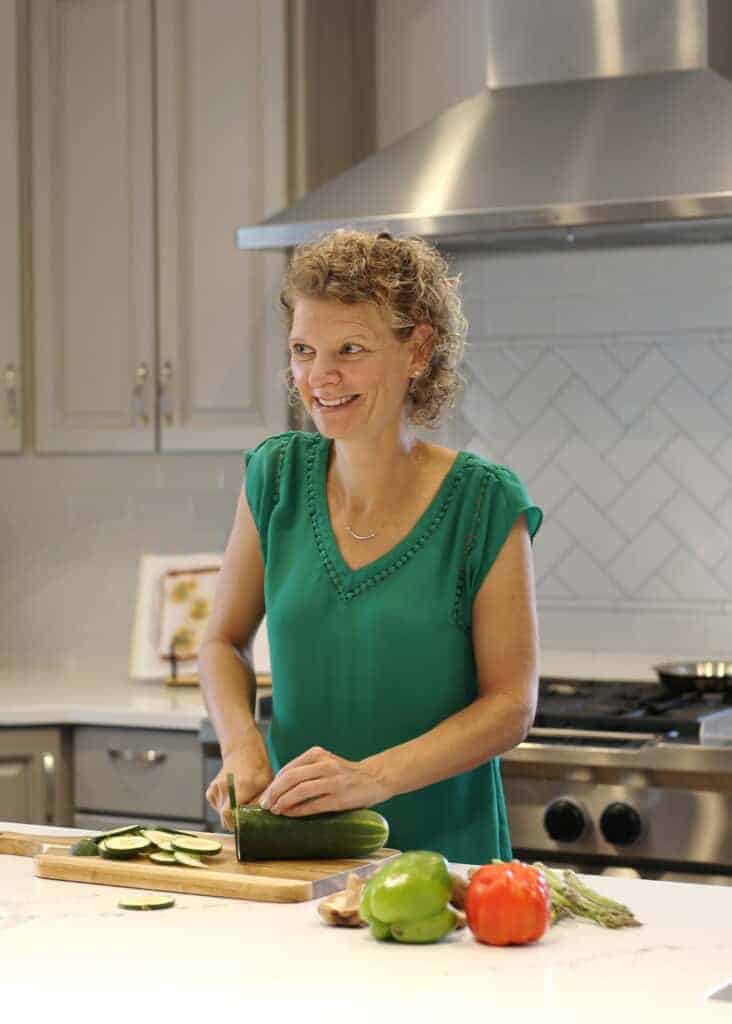 Herbivore's Kitchen is a plant-based food blog started by me, a vegan home chef, cookbook author, aspiring food photographer and how-to-be-a-better-food-blogger junkie. You'll mostly find creative and tasty vegan recipes and detailed deep dives into vegan ingredients (check out my Vegucation section) on my blog. I love knowing as much as I can about the food that I make. I'm also really into running a food blog as a business, so I've also got a section of my blog titled: Confessions of a Food Blogger where I get into the nitty gritty on how to build, manage, market and monetize a food blog.