Jump to Recipe
This Vegan Lemon Pound Cake: Make Your Taste Buds Sing with this Vegan Bundt Cake Recipe post includes affiliate links. When I find a great product or service, I like to share it with my readers. Sometimes I use affiliate links so I can earn a commission for my recommendations. Thank you for your support!
Make Your Taste Buds Sing with this Vegan Bundt Cake Recipe
I often claim to be not a sweets person, but I am starting to question this self-assessment. In truth, doubt started to creep in with my recently posted Dairy Free Chocolate Chip Cookies. With this Vegan Lemon Pound Cake though, I'm fairly certain that the tides have turned. I am a sweets person.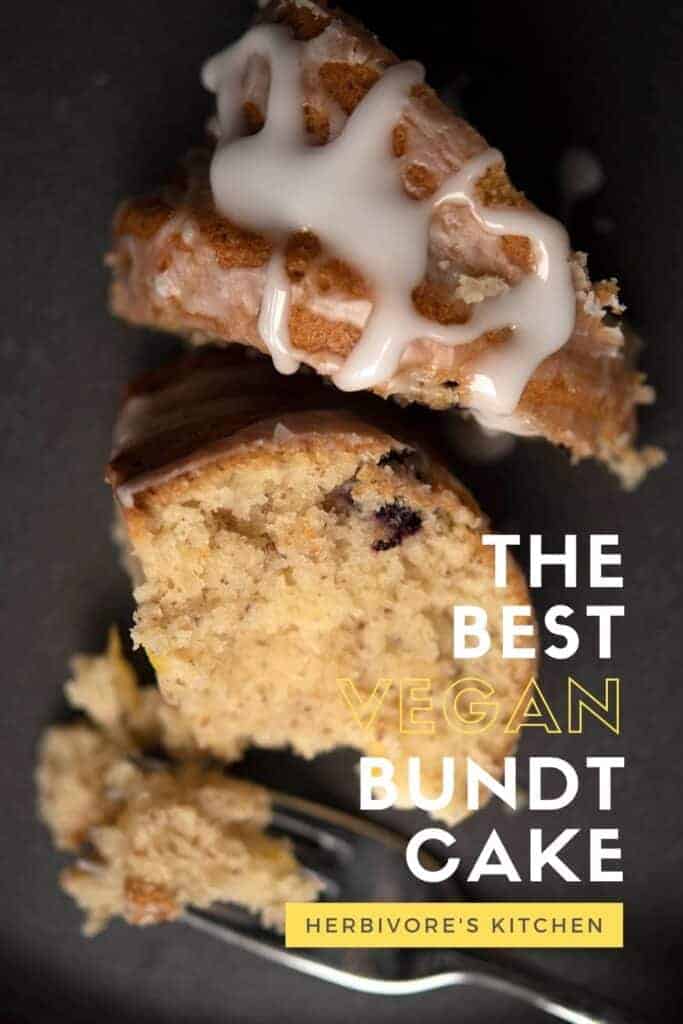 What is Pound Cake?
Pound cake derives its name from its ingredient list. Traditionally, pound cake includes a pound of flour, a pound of butter, a pound of sugar and… you guessed it… a pound of eggs.
As I'm sure you've observed, pound cake isn't exactly vegan friendly. Or particularly nice to your arteries or waistline.
What's in this Vegan Lemon Pound Cake?
Unlike its traditional counterpart, this vegan bundt cake recipe doesn't call for butter or eggs. Instead, it uses extra virgin olive oil and flaxseed meal. I also use oat milk with a tsp of lemon juice to make a plant-based buttermilk.
As you'll see below, both flaxseed and olive oil are healthier alternatives to butter and eggs. I also ease up on the sugar content, including only half of what traditional recipes call for (excluding that icing on top, which as I'll get into below is totally optional).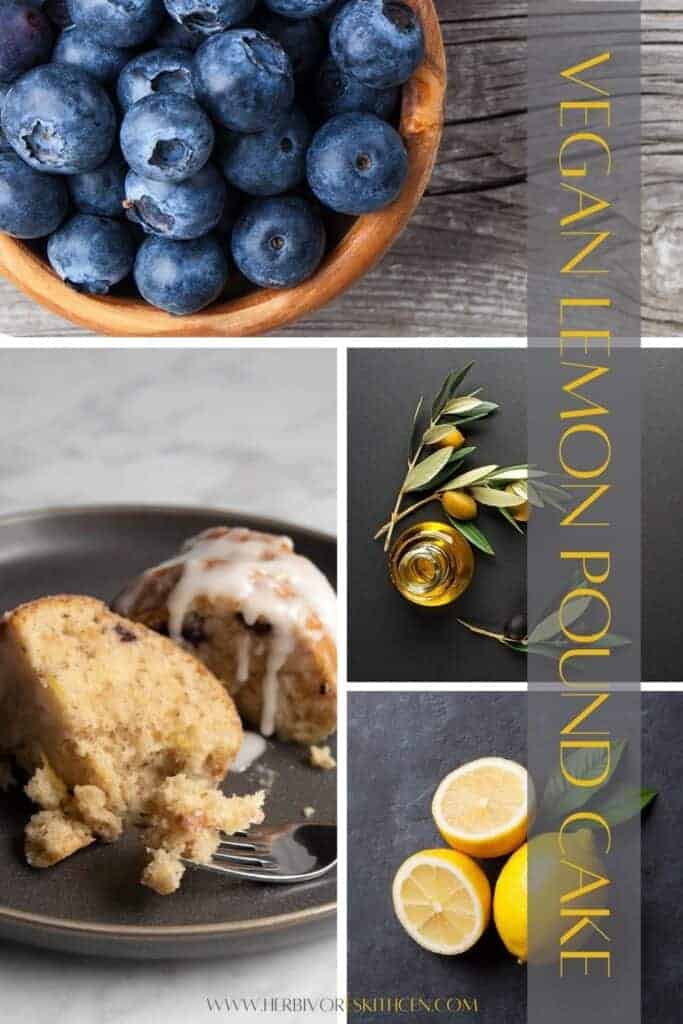 What Are Flaxseed Eggs?
If you're not familiar with flaxseed meal, it's an egg substitute often used in vegan baking. Flaxseed meal is simply ground flaxseeds. When it's combined with a small amount of water and left to rest for a few minutes, it takes on a consistency similar to that of an egg white.
In addition to being a good substitute for eggs, flaxseed meal also packs a fair amount of nutritional punch. Flaxseeds are high in protein, fiber and omega-3 fatty acids. They're thought to improve digestive health, promote a healthy heart and help to prevent cancer.
Using Olive Oil in this Vegan Lemon Pound Cake
I was a little hesitant to use extra virgin olive oil in my vegan baking, but a recent recipe I wrote for Good Old Vegan's plant-based Mediterranean cookbook made me think twice. On the day I worked out my recipes for GOV, I was craving muffins. Like craving them to the point of distraction.
Of course, muffins aren't traditionally a Mediterranean food, but I figured I could give the common American muffin a Mediterranean twist. And so, I made a first attempt at using olive oil as a butter substitute in my baking. I can honestly say, I can't believe it took me so long. It is WONDERFUL.
Olive oil can have a strong flavor, which is why I opted for extra virgin olive oil. Its richness plays incredibly well with the bright citrusy flavor of the lemon. Olive oil's density also serves this vegan bundt cake recipe well, giving the cake a moist density that matches butter's… well, pound for pound.
Olive oil varies from brand-to-brand and batch-to-batch, so I do recommend doing a taste test before adding it to your vegan bundt cake recipe. And, of course, olive oil isn't low fat. But it is predominantly a mono-saturated fat, which gives it an edge over butter. This Vegan Lemon Pound Cake uses ½ cup of extra virgin olive oil, which is the only fat (mono-saturated or otherwise) in this recipe.
The Icing on this Vegan Lemon Pound Cake
The icing on this vegan bundt cake recipe perhaps marks my last claim to not being a sweets person. Don't get me wrong. It's good. Really good. The combination of confectioner's sugar with fresh lemon juice gives it a bright, summery taste. That being said, I think you could also enjoy this plant-based bundt cake without it.
Do You Love This Vegan Pound Cake Recipe?
Do you love this vegan bundt cake recipe? Be sure to check out other plant-based desserts! If you're into cookies, then my Dairy Free Chocolate Chip Cookies are for you! Forever-searching for an easy way to get your pie fix? Then you'll love my Strawberry-Rhubarb Galette Recipe!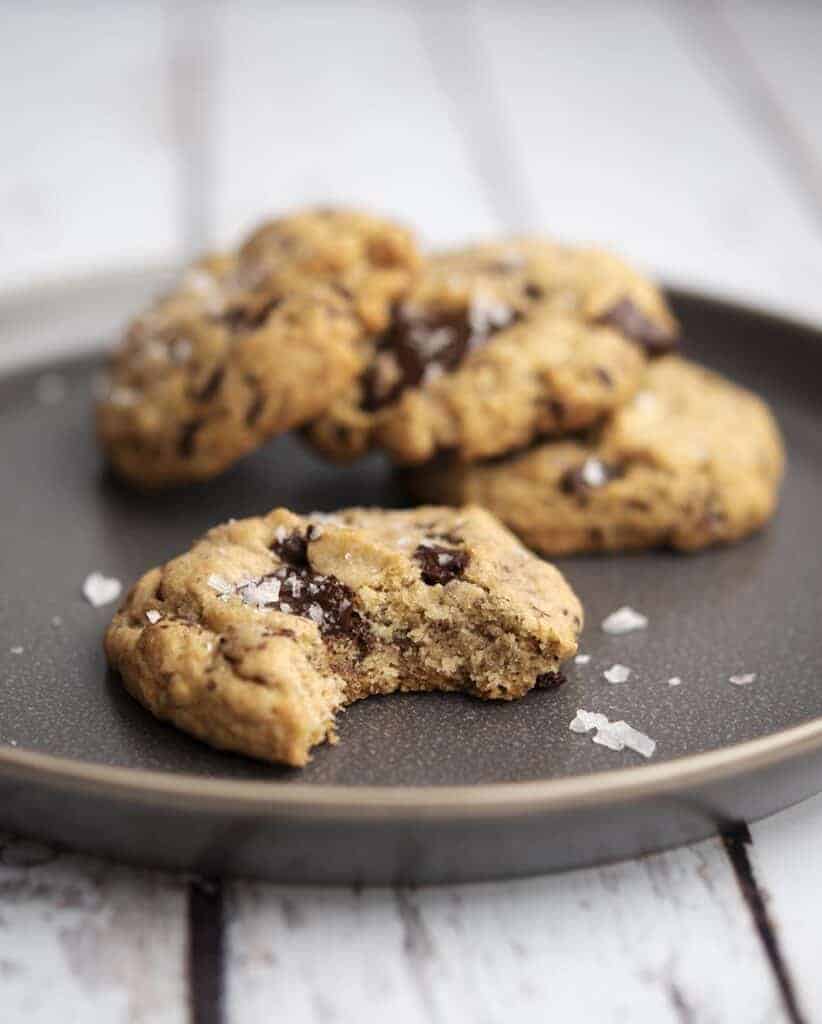 Going vegan doesn't mean that you have to give up dessert! Vegan desserts like these dairy free chocolate chip cookies are every bit as satisfying and delicious as traditional chocolate chip cookies. They're soft, chewy and buttery and 100% vegan!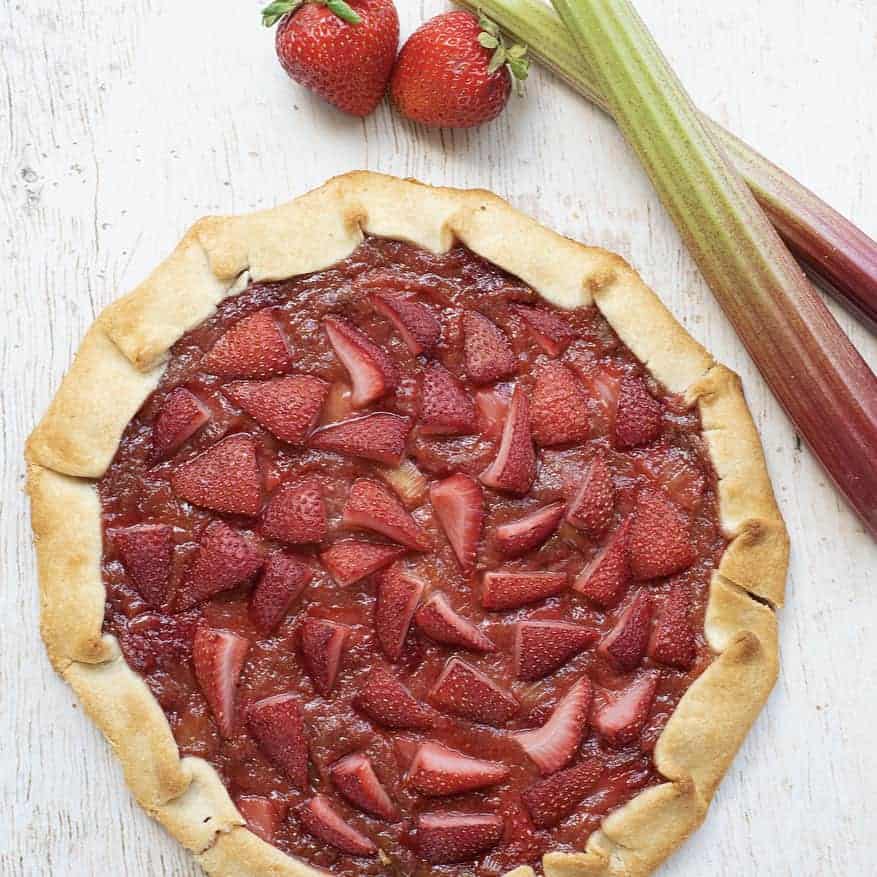 I am galette obsessed. Peach, plum, mushroom…this strawberry rhubarb galette. Not familiar with galettes? All you really need to know is how easy they are to make. This galette recipe features a homemade vegan pie crust, but you can make things even easier by using a store-bought crust for "practice" (as I like to call it). The filling for this strawberry rhubarb galette is silly easy. I made it with fresh strawberries and rhubarb, sugar and chia seeds.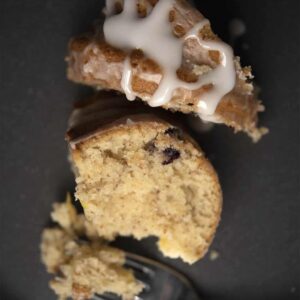 Vegan Lemon Pound Cake
This Vegan Lemon Pound Cake is richly dense and wonderfully flavorful! Get your plant-based dessert on with this vegan bundt cake recipe!
Ingredients
2

tbsp

flaxseed meal

5

tbsp

water

~3

oz

fresh lemon juice

divided; this is about 2 large lemons

1

tbsp

lemon zest

1/2

cup

oat milk

or other plant-based milk

2

cups

all-purpose flour

2

tsp

baking powder

1/2

tsp

salt

1

cup

organic cane sugar

+ ~ 1 tbsp for sprinkling on top of the muffins

1/2

cup

extra virgin olive oil

1/2

cup

frozen blueberries

1

cup

confectioner's sugar
Instructions
Combine the flaxseed meal and water. Stir to combine and set aside for 5 minutes.

Wash the lemons. Zest, then juice the lemons.

Add 1 tsp fresh lemon juice to the oat milk. Set aside

In a large mixing bowl, combine the flour, baking powder, salt and lemon zest.

In a separate, smaller mixing bowl combine the oat milk, sugar, olive oil, flaxseed eggs, 2 oz of fresh lemon juice and sugar. Stir until well-combined.

Add the wet ingredients to the dry ingredients and mix thoroughly.

Thoroughly grease the Bundt pan. See Recipe Notes.

Spoon the batter into the Bundt pan.

Bake for 30-35 minutes. Check for doneness by inserting a toothpick into a cake. If the toothpick comes out clean, the cake is done.

Allow the cake to cool for 15 minutes. While it is cooling, combine confectioner's sugar with 2 tbsp of lemon juice. Mix thoroughly to create the icing.

When the cake has cooled, drizzle the icing over the top of the cake.
Notes
A well-greased Bundt pan cannot be overstated. Make sure the cake pan is thoroughly covered to ease removing the cake from the pan.
This cake can be stored in an air-tight container. It should remain fresh for 2-3 days.
About Herbivore's Kitchen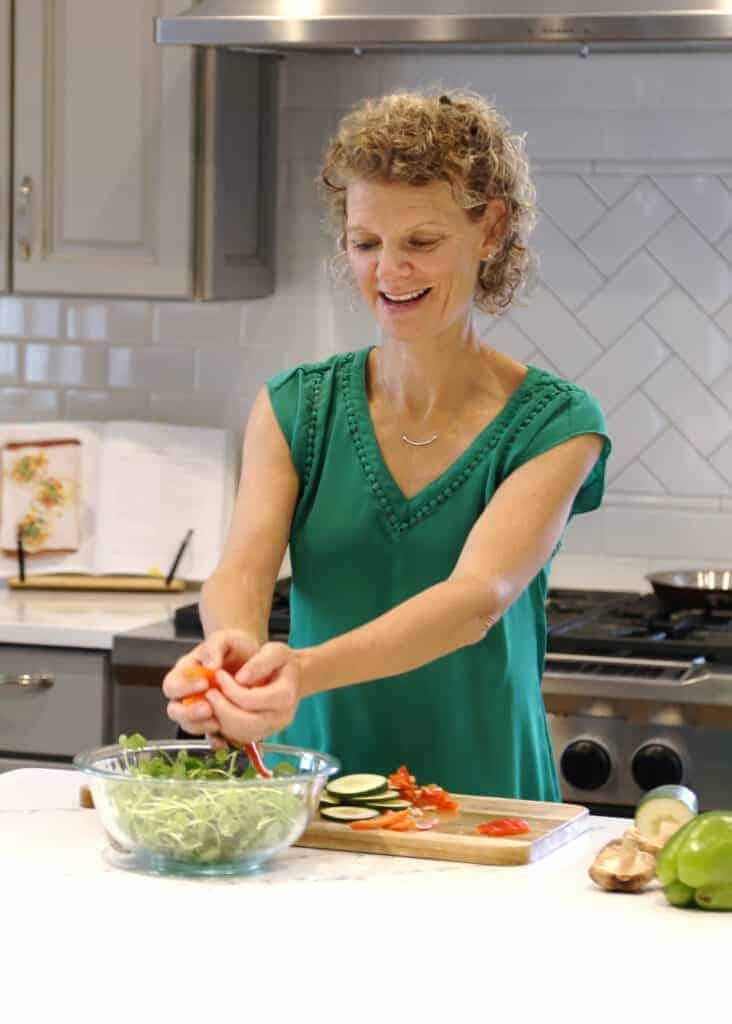 Herbivore's Kitchen is a plant-based food blog started by me, a vegan home chef, cookbook author, aspiring food photographer and how-to-be-a-better-food-blogger junkie. You'll mostly find creative and tasty vegan recipes and detailed deep dives into vegan ingredients (check out my Vegucation section) on my blog. I love knowing as much as I can about the food that I make. I'm also really into running a food blog as a business, so I've also got a section of my blog titled: Confessions of a Food Blogger where I get into the nitty gritty on how to build, manage, market and monetize a food blog.