This Vegan Miso Ramen Noodle Bowls recipe includes affiliate links. When I find a great product or service, I like to share it with my readers. Sometimes I use affiliate links so I can earn a commission for my recommendations. Thank you for your support!
Shiitakes, Bok Choy and Perfectly Chewy Ramen Noodles Complement this Savory Mushroom Ramen Broth
Is there anything more satisfying than vegan miso ramen? Spicy, salty mushroom ramen broth with chewy al dente ramen rice noodles? It's vegan comfort food at its finest!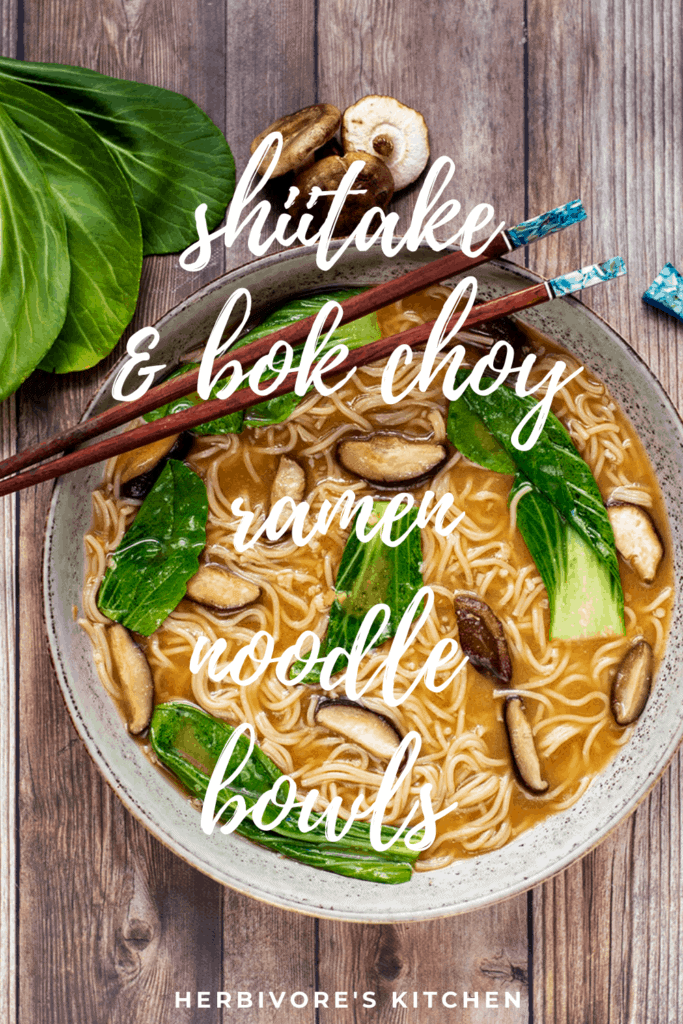 Vegan Miso Ramen is Oh So Easy!
I used to categorize ramen as a special, dinner out treat. Then I learned how easy it is to make ramen soup bowls and dinner hasn't been the same since!
I have several vegan miso ramen recipes in my repertoire, but this 30-minute ramen noodle recipe comes specially from my cookbook, 5-Ingredient Vegan Cooking: 60 Approachable Plant-Based Recipes with Few Ingredients and Lots of Flavor. In celebration of its June 24th release, I'm sharing a preview of the recipe here!
In addition to being easy, this vegan miso ramen recipe is gluten free & includes several healthy ingredients. Probiotics like miso paste, spicy bok choy and mineral-loaded shiitake mushrooms make this ramen noodle bowl a great way to put a plant-based dinner on the table.
Did You Catch the Instagram Live for this Mushroom Ramen Broth Recipe?
In case you missed it, I paired up with my friend Sara Tercero author of Plant-Based Diet in 30 Days and creator of Better Food Guru for a live cooking demonstration of this recipe. In that segment, we talked a bit about the vegan-friendly ingredients in this vegan miso ramen and how to prepare them for maximum flavor and benefit.
For example, I often simmer my shiitakes in water before cooking them in oil. This technique speeds up their cook time and requires less oil.
Likewise, we talked a bit about cooking with miso paste and the differences between red, yellow and white miso paste (it's all about the fermentation time). I demonstrated how to add miso paste to a broth by making a miso slurry using my favorite kitchen tool – a miso whisk.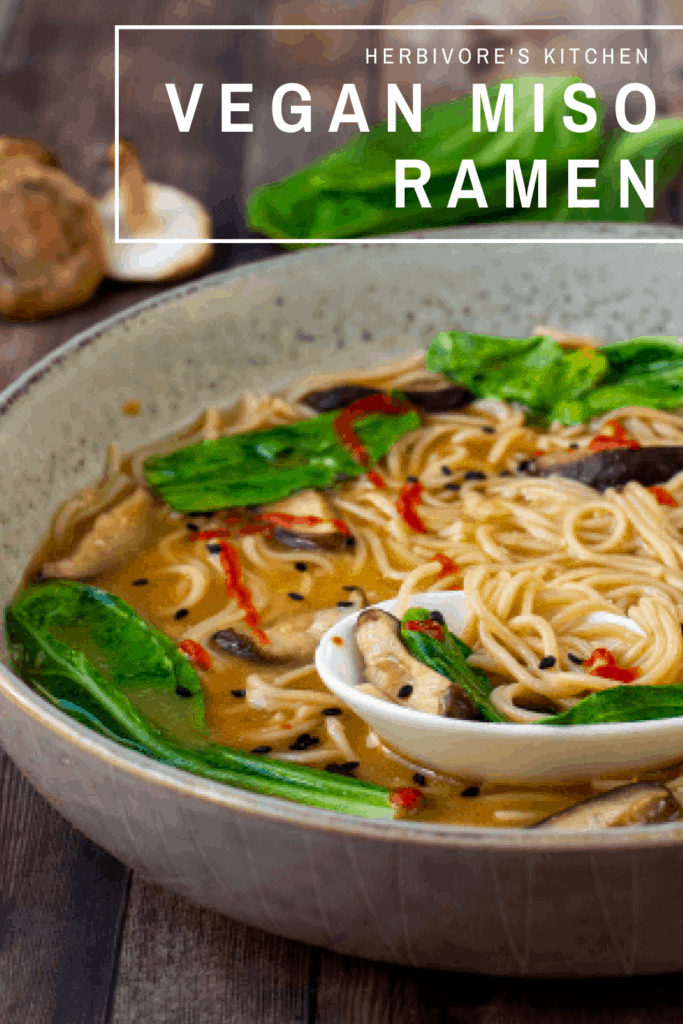 Instagram Live with Sara Tercero of Better Food Guru "Show Notes"
If you caught Sara's and my demonstration on IGTV and want to follow up on some of the topics we discussed, I put together these "show notes" for reference. Of course, if you have any specific questions, you can always contact me or Sara through our Instagram accounts and/or our blogs!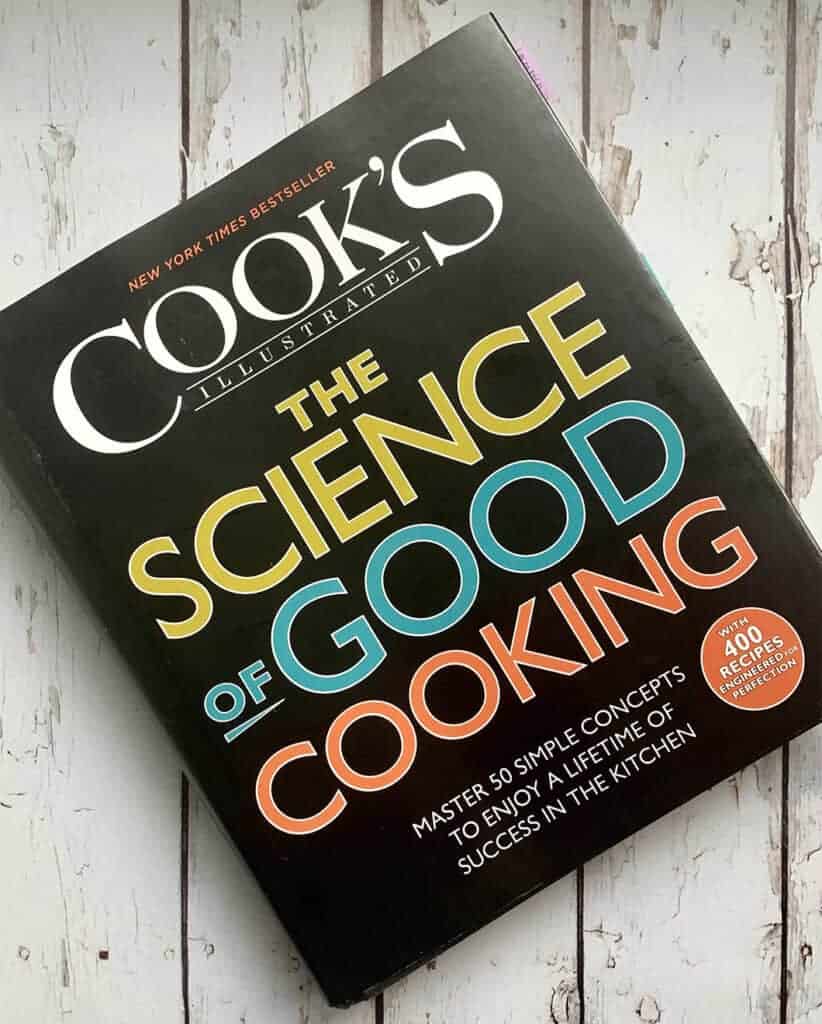 I referenced this book during the cooking demonstration. Cooks Illustrated has been a wonderful resource for me, teaching me tips like simmering your mushrooms in water before cooking them in oil. This reference guide isn't vegan, but there is plenty of information in there to assist the plant-based eater. Cooks Illustrated also has a vegetarian guide titled Vegetables Illustrated: An Inspiring Guide with 700+ Kitchen Tested Recipes.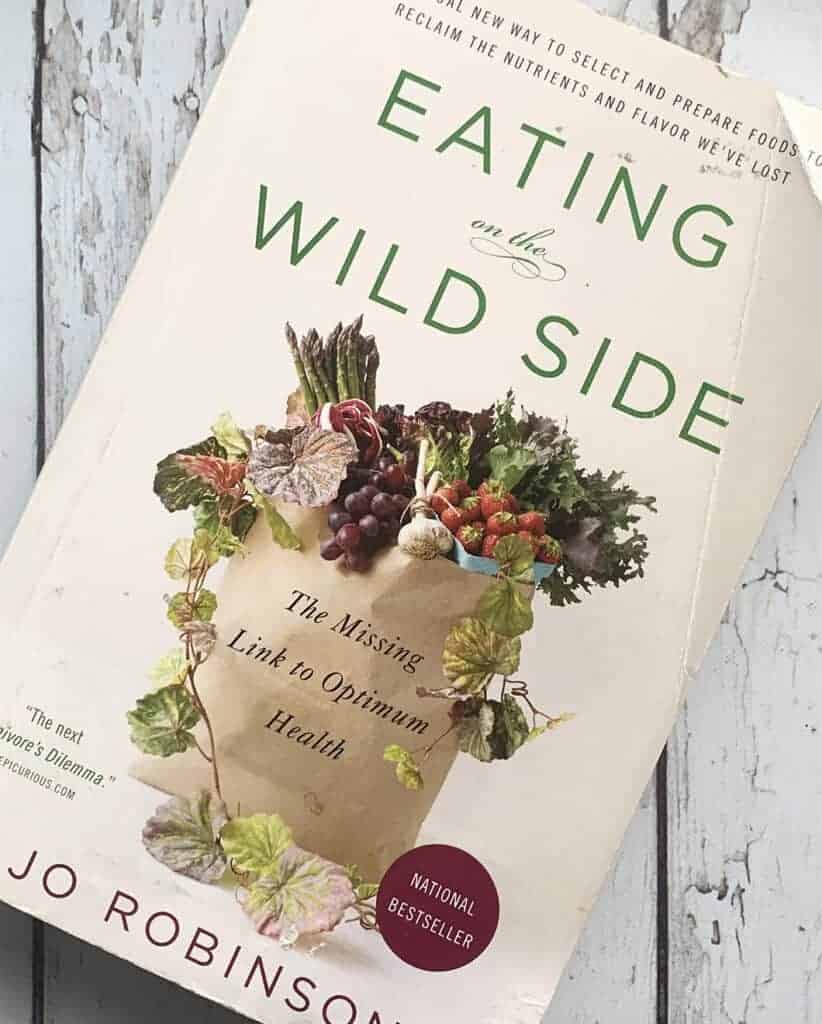 During the demonstration, Sara brought up a cooking technique known as "press, then rest." This technique for cooking garlic maximizes the nutritional benefits of garlic.
Garlic contains both alliin and allinase. When garlic is chopped, minced or pressed, these compounds combine to form allicin. Allicin is what gives garlic its anti-oxidant, anti-bacterial, and anti-cancer powers. To harness allicin, alliin and allinase need time to react, so the recommended technique is to disrupt the garlic and then let it rest for 10 minutes before exposing it to heat.
I learned all of this from a great reference text called Eating on the Wild Side by Jo Robinson. This national bestseller of a book contains a wealth of information about maximizing the nutritional benefits of plant-based foods.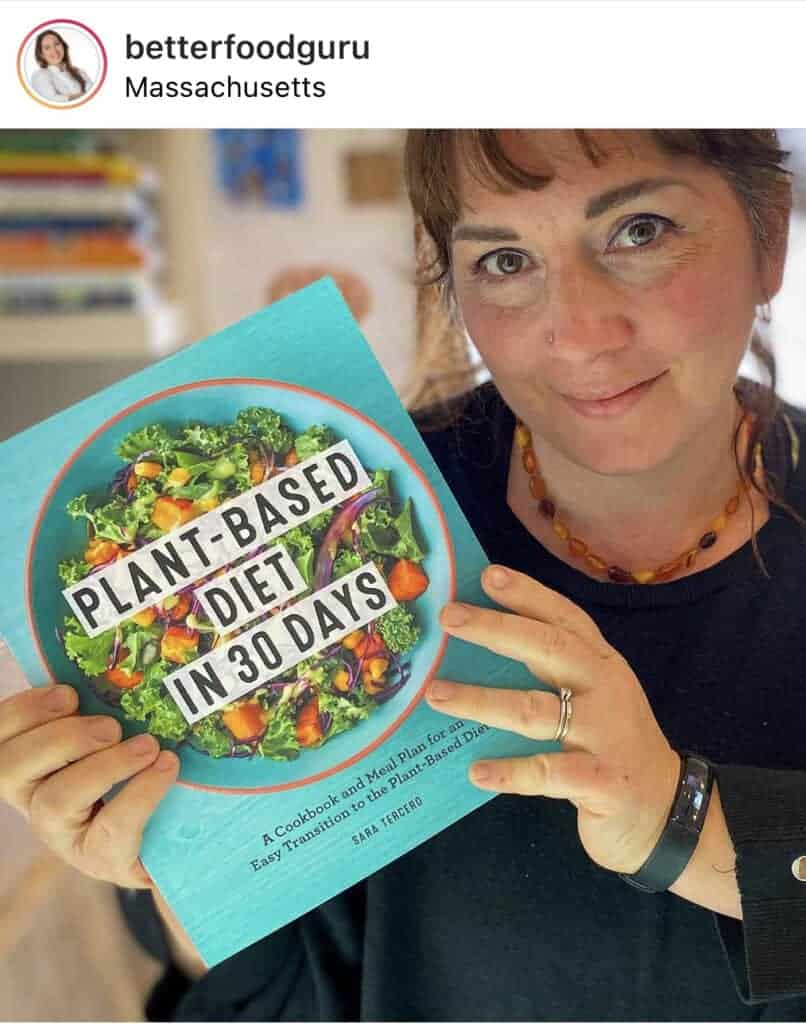 This is Sara of Better Food Guru's new cookbook. If you're new to plant-based cooking, you should definitely check it out. Sara's recipes are easy and healthy and filled with wonderful ingredients. If anyone can convince you to go plant-based, it's Sara!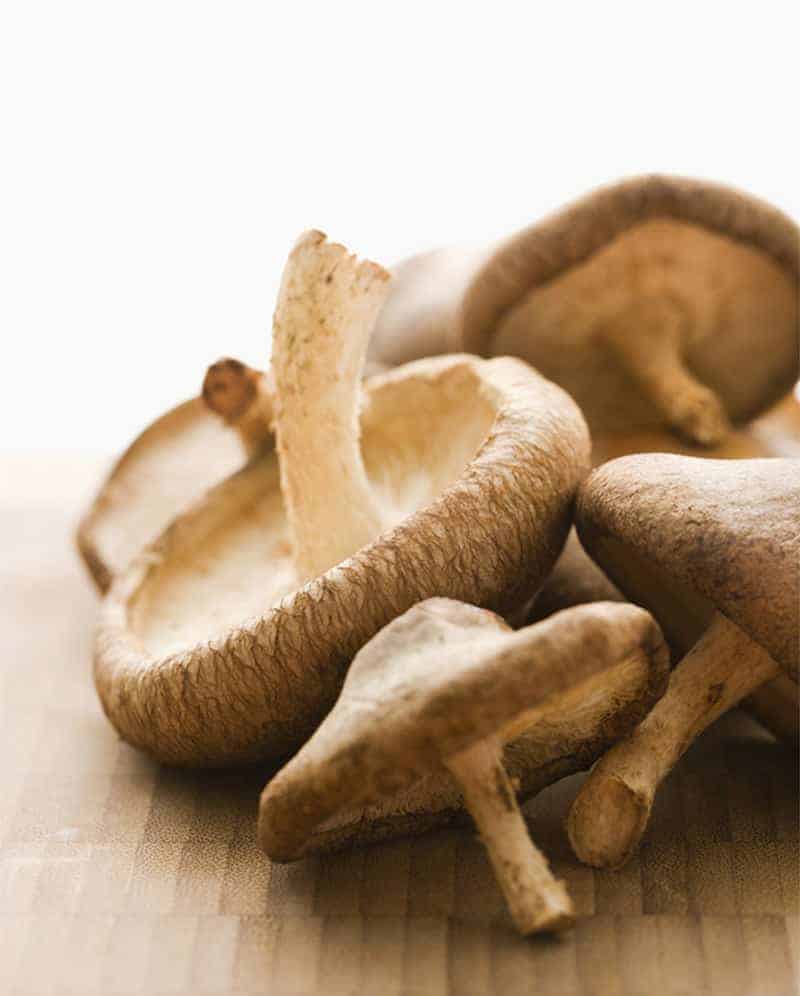 How to Cook Shiitake Mushrooms
Shiitake mushrooms are my favorite mushroom to cook with. They have a chewy texture and a mild flavor. Shiitake mushrooms are a good source of fiber, B vitamins and copper – an essential mineral for brain health. Shiitakes mushrooms are also rich in umami – the savory taste sensation.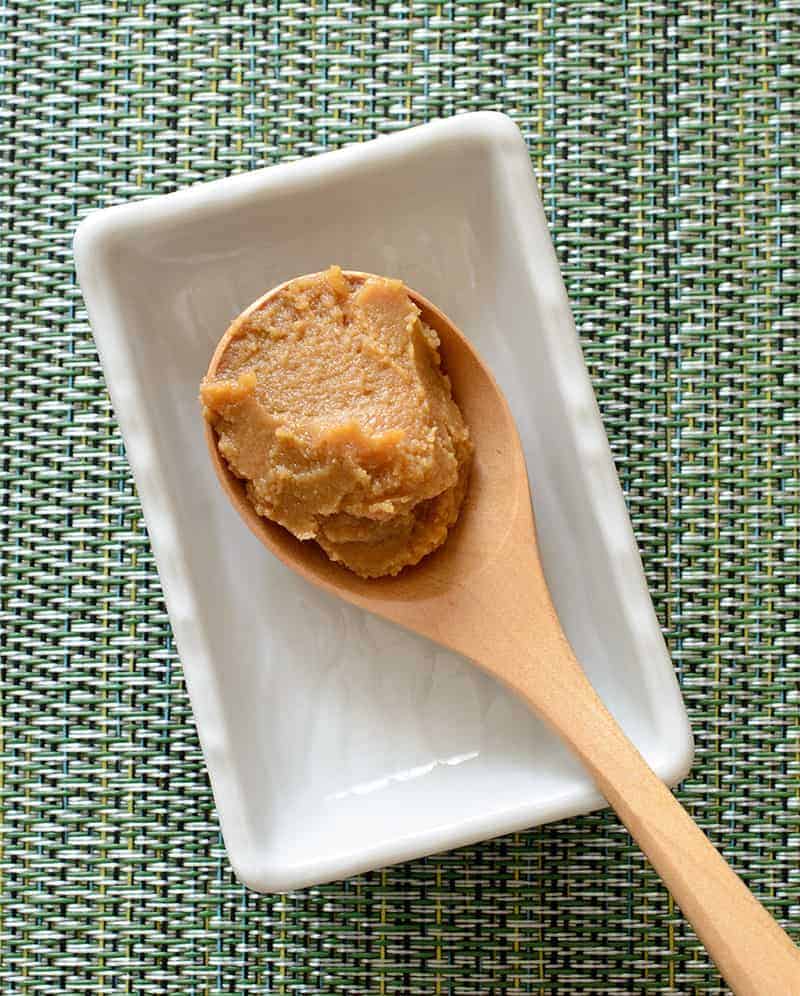 Miso Paste: The Key to Vegan Umami
Miso is what gives this broth its rich, salty flavor. Miso paste is a soy-based product. It is a probiotic, so it should be added after the mushroom ramen broth has cooled slightly. To add miso paste to the broth, combine it with a small amount of water and whisk it until the paste has dissolved. This is called a slurry. It prevents undissolved pieces of miso from find their way into your ramen soup spoons.
As I mention in the demonstration, most grocery stores carry three types of miso paste (although there are many specialty varieties as well). You'll find white, yellow and red miso paste in the refrigerator section. White is most mild, followed by yellow. Red miso paste is the richest, most flavorful as it's fermented the longest. My 30-Minute Shiitake & Bok Choy Ramen Soup Recipe uses yellow miso paste.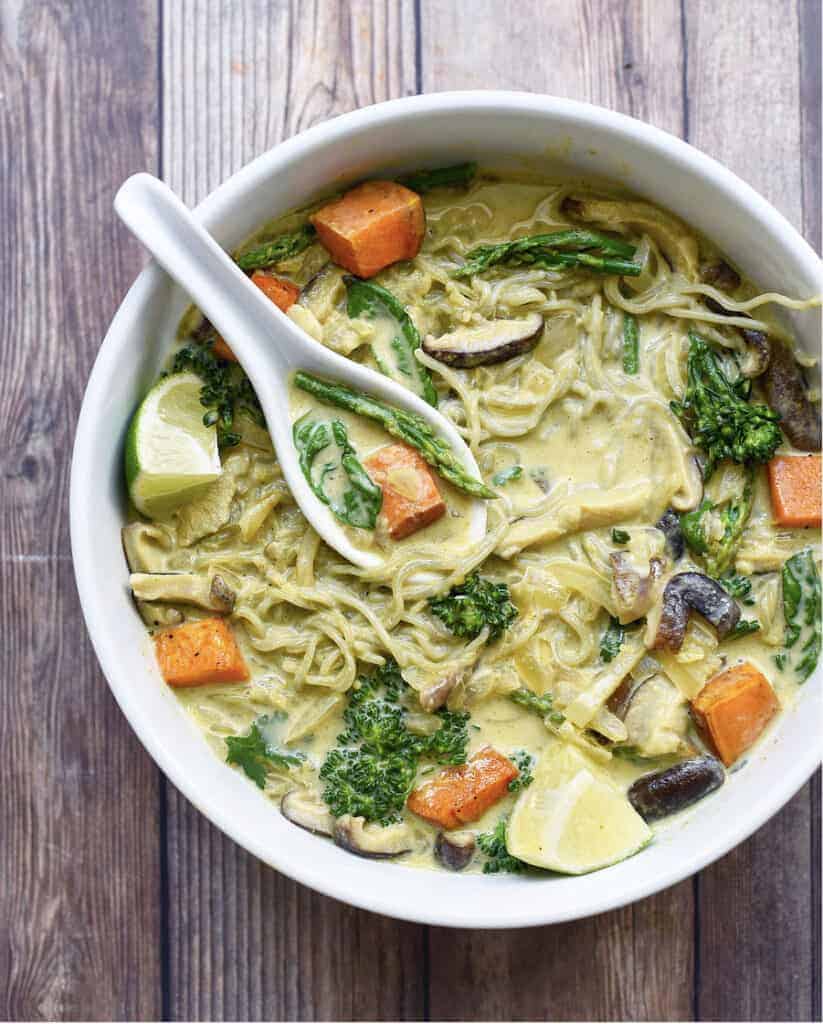 Look the Part: Ramen Noodle Bowls and Ramen Soup Spoons
Speaking of making this vegan miso ramen at home… in the demonstration, I showcased my favorite ramen noodle bowls and ramen soup spoons. These ramen specific bowls and spoons make slurping up this mushroom ramen broth all that more enjoyable!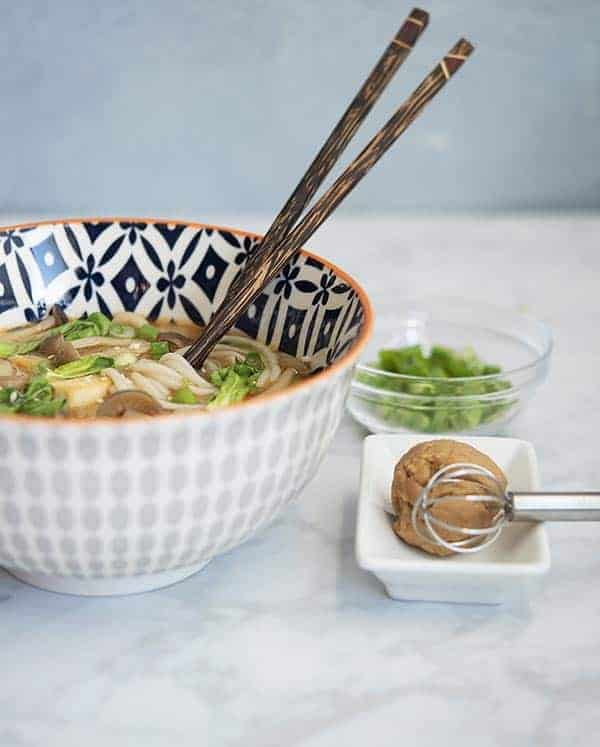 One of my favorite kitchen tools, this miso whisk makes measuring miso paste easy and precise! It's also the ultimate whisk for making that slurry I referred to earlier.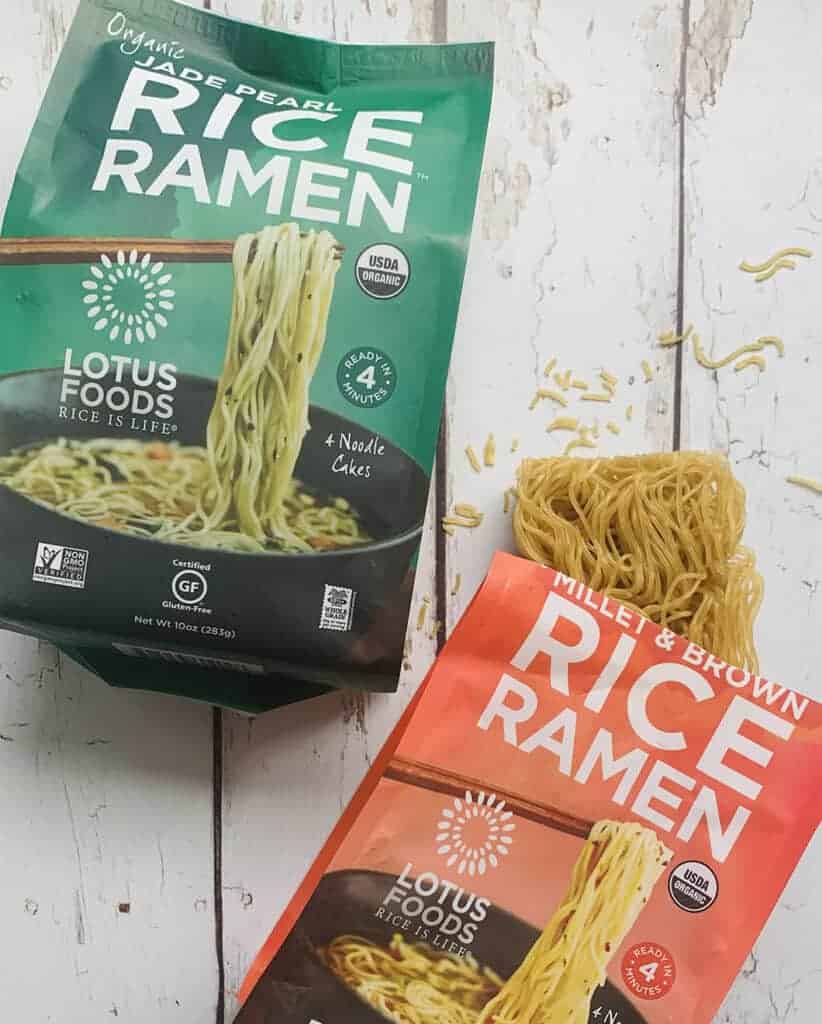 Without staging it, Sara and I both bought Lotus Foods' Rice Ramen for the cooking demonstration. She used the Jade Pearl Rice Ramen Noodles, while I opted for the Millet & Brown Rice Ramen. To make the perfect, al dente noodles, I slightly undercook them and then rinse them in cold water to stop the cooking process. They only get added to the broth at the time of serving so that they maintain that perfect, chewy texture.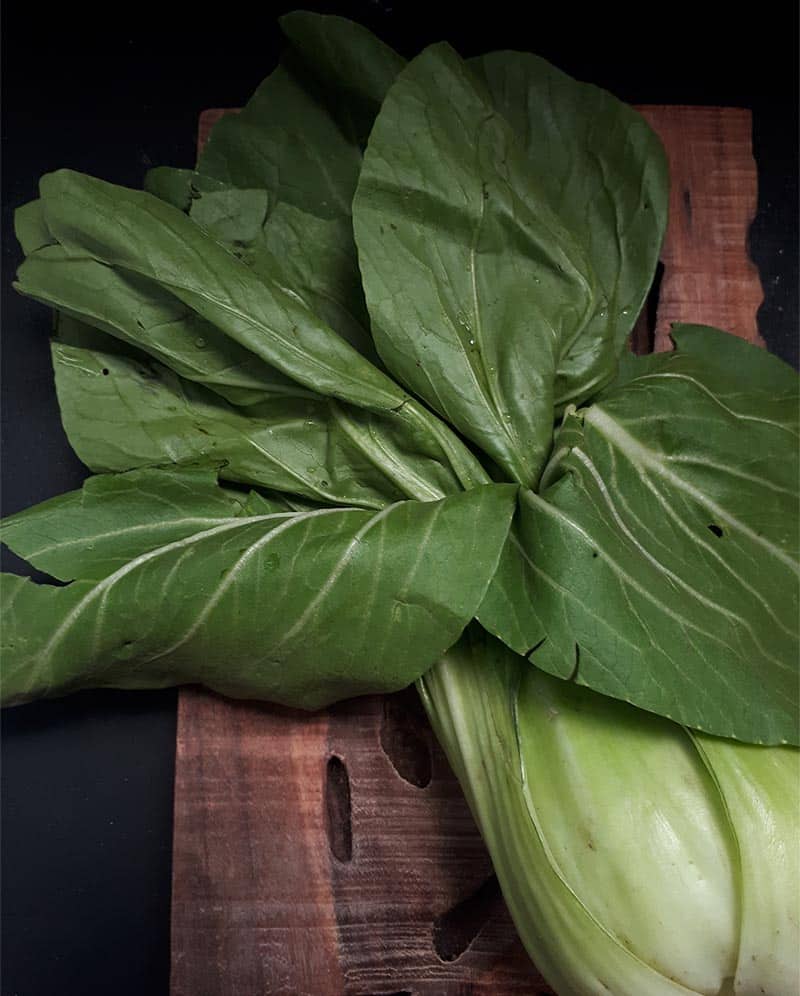 Bok Choy: Greens with an Attitude
Bok choy is a leafy green vegetable commonly found in Asian cooking. It's a member of the mustard family. I love it for this vegan miso ramen recipe because of its unique spicy flavor. I wash and separate the leaves and then add them to my serving bowls before adding the broth (or to the broth just before serving). This way, the bok choy maintains its vibrant, green color and crisp texture.
About 5-Ingredient Vegan Cooking
Whether you're new to vegan cooking or a vegan veteran, 5-Ingredient Vegan Cooking: 60 Approachable Plant-Based Recipes with Few Ingredients and Lots of Flavor is the perfect plant-based cookbook. Each recipe relies on a simple 10-ingredient basic staples list (and I do mean basic – salt & pepper are 2 of the 10 ingredients) and 5 or less ingredients to include on your weekly shopping list.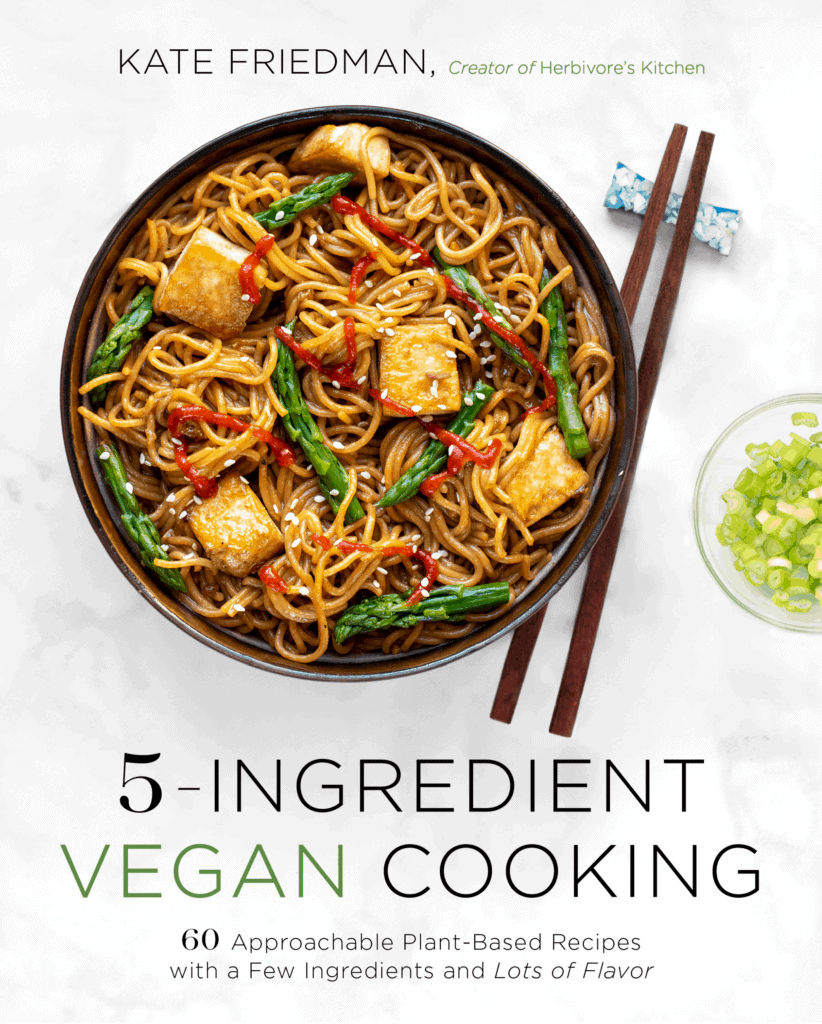 Do You Love This Vegan Miso Ramen Recipe?
Do you love this vegan miso ramen recipe? It's tough to beat this mushroom ramen broth, but if noodle bowls are your calling, be sure to check out my other plant-based ramen recipes!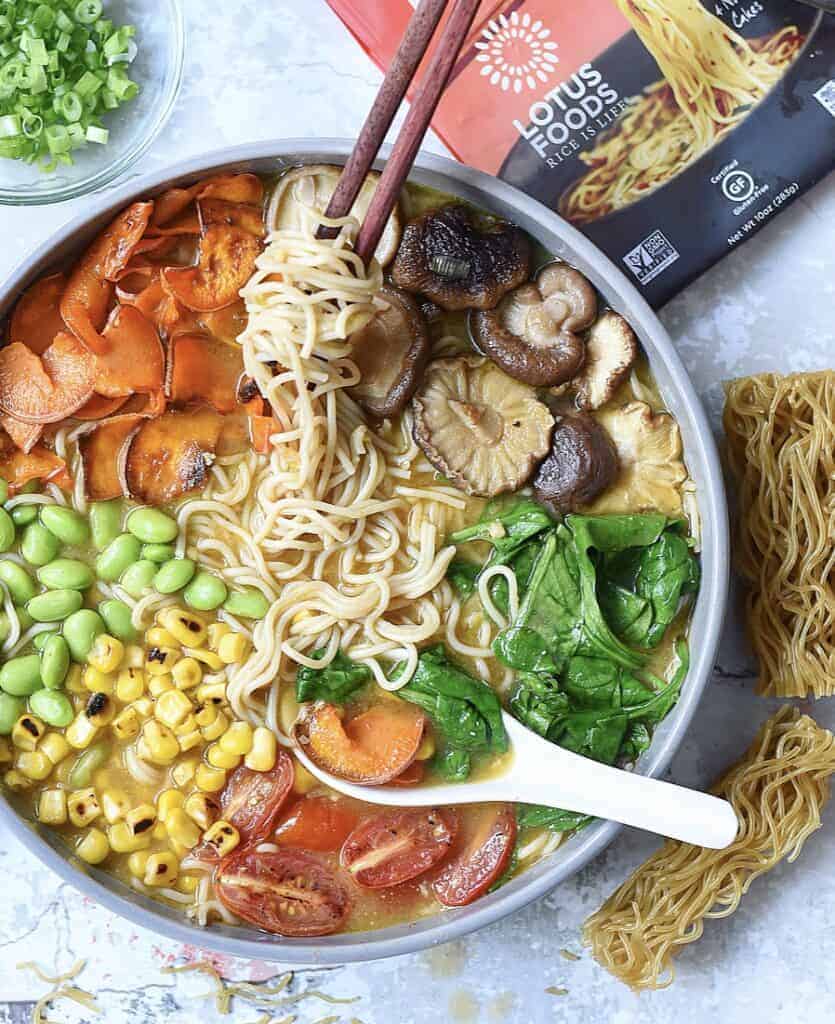 This easy vegan miso ramen soup will have you trading in your takeout for homemade ramen any day of the week! A rich, miso broth paired colorful vegetables and chewy al dente ramen rice noodles is the ultimate in vegan comfort food.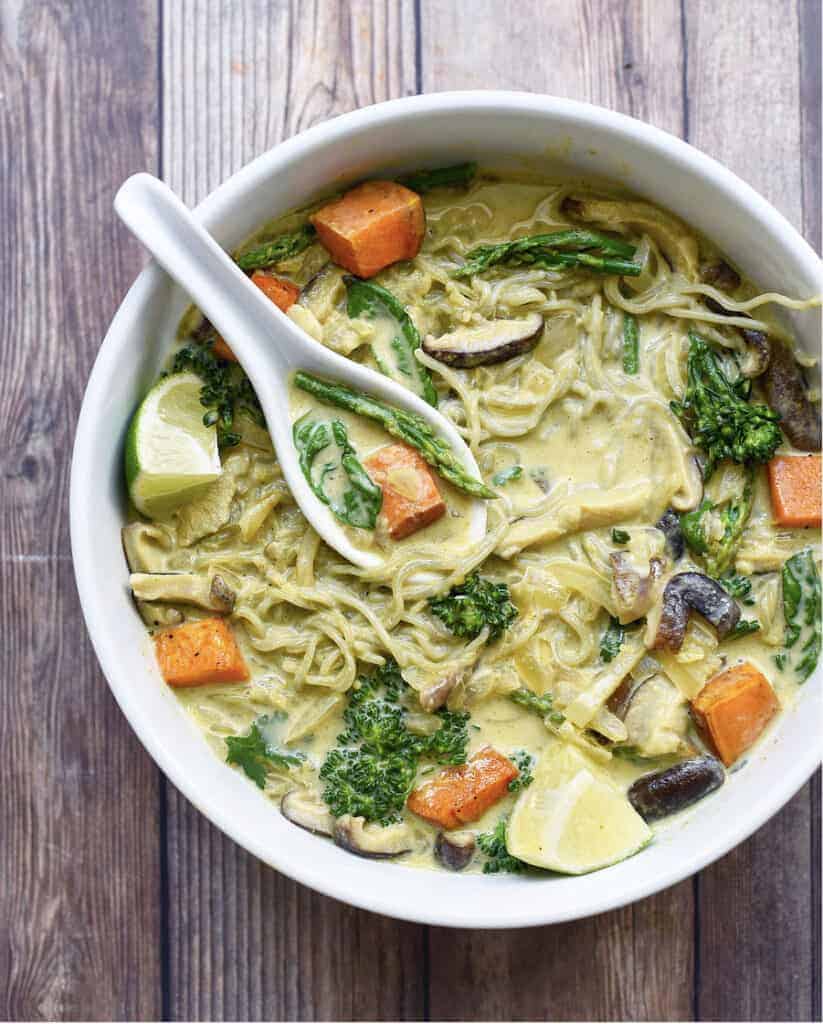 No vegan recipe collection is complete without a Thai green curry recipe! Green curry is spicy, rich and flavorful and makes for an easy vegan dinner option. I like to pack my green curry bowls with healthy vegetables and flavorful rice varieties to add in extra color and nutrition. For this green curry bowl, I added sautéed shiitake mushrooms, asparagus, broccolini and cumin-spiced sweet potatoes. I also swapped out the rice for ramen rice noodles to mix up my vegan dinner options.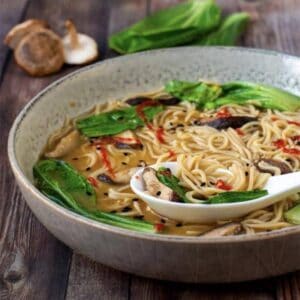 Vegan Miso Ramen Noodle Bowls
This vegan miso ramen features umami-rich shiitakes, spicy bok choy and satisfyingly chewy ramen rice noodles in a savory mushroom ramen broth.
Ingredients
12-15

shiitake mushrooms

stems trimmed and sliced into 1/4" pieces

2

tbsp

safflower oil

divided

1

tbsp

garlic

minced

1

tbsp

ginger

minced

1/4

cup

low-sodium tamari sauce

2

rice ramen noodle "cakes"

I like Lotus' Foods Organic Millet & Brown Rice Ramen

2

heads

bok choy

washed and trimmed

1/2

cup

yellow miso paste

sriracha sauce

optional; to taste
Instructions
In a large stockpot, add the shiitake mushrooms and 1/4 cup (60 ml) of water. Simmer the mushrooms until the water has almost cooked off, about 5 minutes. When a small amount of water remains, add 1 tablespoon (15 ml) of the safflower oil. Continue to saute the mushrooms until they are slightly crispy, about 2 minutes. Set aside.

Add the remaining tablespoon (15 ml) of safflower oil to the stockpot and heat until shimmering. Add the garlic and ginger and saute on medium-low heat until fragrant, about 1 to 2 minutes. Add the tamari sauce and 7 1/2 cups (1.8 L) of water. Simmer for 10 minutes.

While the broth is simmering, prepare the rice noodles according to the package directions. Drain the noodles when they are al dente and rinse with cold water to stop the cooking process.

Add the bok choy to the broth and remove the broth from the heat.

In a small bowl, combine the miso paste with 1/2 cup (120 ml) of warm water and whisk vigorously until the miso paste is dissolved. Add the miso slurry to the broth. Add the mushrooms to the broth.

Serve immediately by placing the desired amount of noodles in the bottom of your serving bowls. Top with the broth and add sriracha sauce for additional heat, if desired.
About Herbivore's Kitchen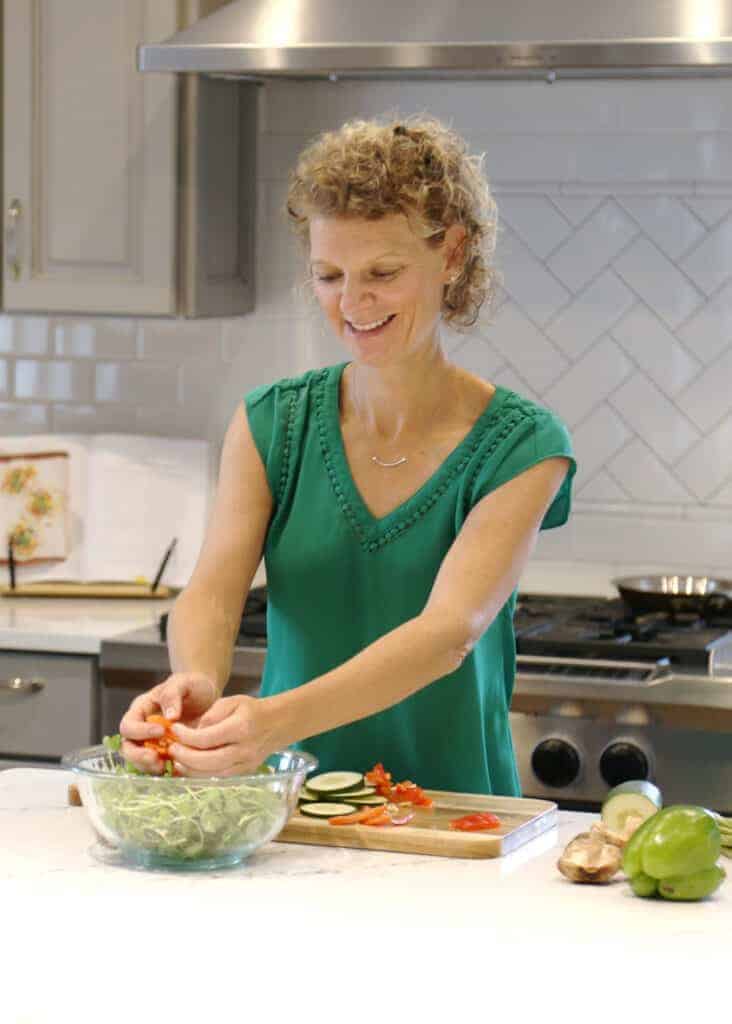 Herbivore's Kitchen is a plant-based food blog started by me, a vegan home chef, cookbook author, aspiring food photographer and how-to-be-a-better-food-blogger junkie. You'll mostly find creative and tasty vegan recipes and detailed deep dives into vegan ingredients (check out my Vegucation section) on my blog. I love knowing as much as I can about the food that I make. I'm also really into running a food blog as a business, so I've also got a section of my blog titled: Confessions of a Food Blogger where I get into the nitty gritty on how to build, manage, market and monetize a food blog.