This Red Bean Burger Recipe: Want to Try the Best Vegan Burger? Give These Vegan Kidney Bean Burgers a Shot! post includes affiliate links. When I find a great product or service, I like to share it with my readers. Sometimes I use affiliate links so I can earn a commission for my recommendations. Thank you for your support!
Want to Try the Best Vegan Burger? Give These Vegan Kidney Bean Burgers a Shot!
Going vegan doesn't mean that you have to give up the outdoor BBQ. In fact, learning how to make a Red Bean Burger might get you invited to more of them.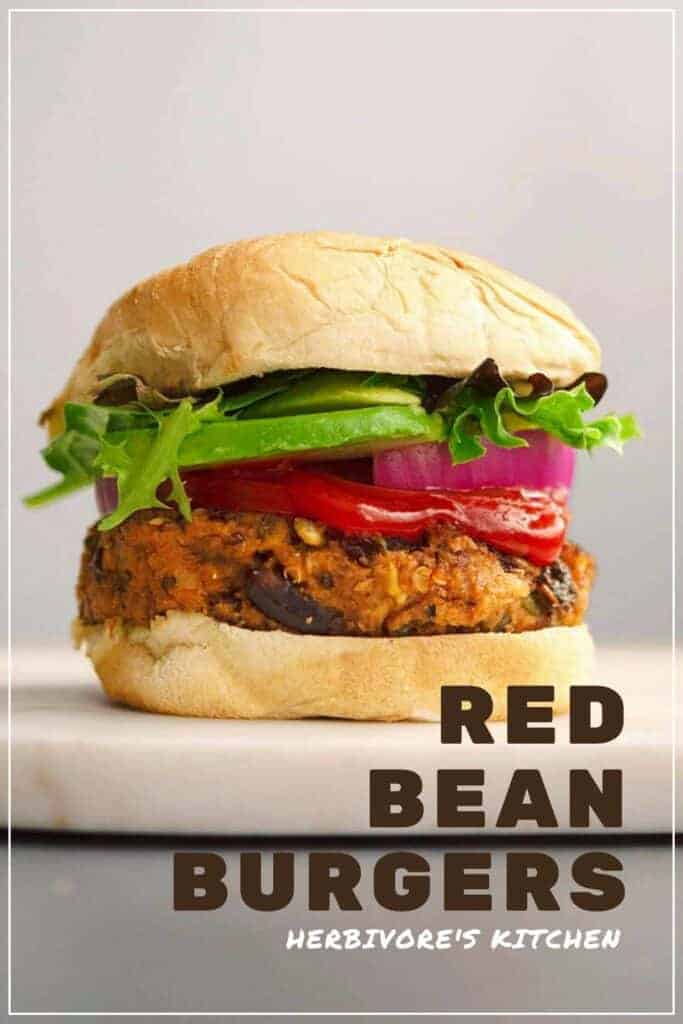 This vegan kidney bean burgers recipe is one of my summer favorites! These patties freeze well, so I often have them on hand for an easy plant-based dinner at home. Or, I'll take them along on camping trips as a nod to traditional camping food. No occasion calls for a burger more than an evening around a campfire.
The Best Vegan Burger! What Makes These Kidney Bean Burgers Taste So Good
These veggie burgers are made with a baked russet potato, kidney beans, quinoa, pumpkin seeds (peptitas) and flaxseed meal. There's a reason I've cited them as the best vegan burger!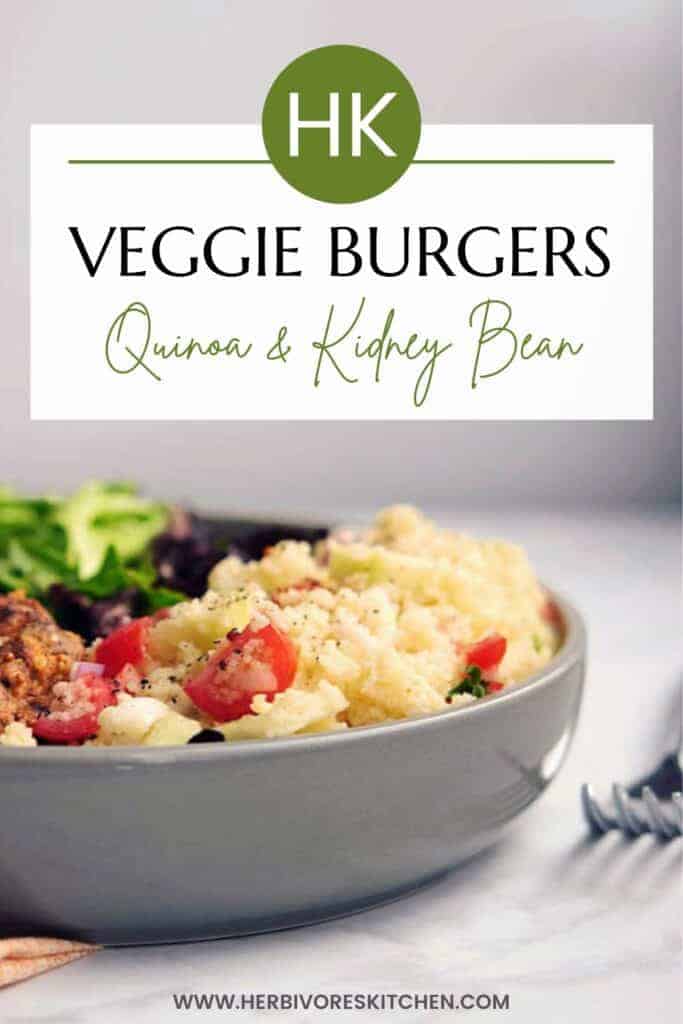 If you're new to plant-based eating, some of these ingredients might be unfamiliar to you. To convince you that a red bean burger really is the best vegan burger, I included some helpful nutritional information below.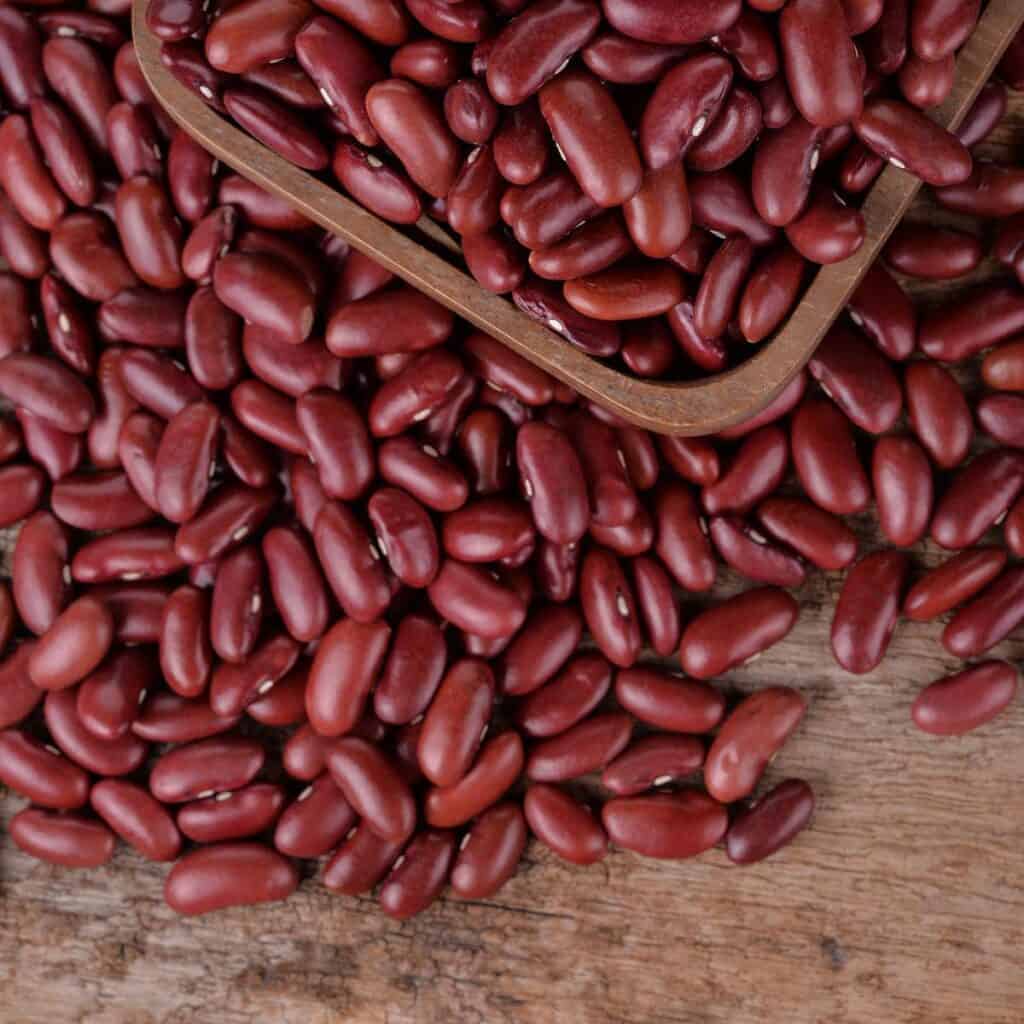 Kidney Beans
Sometimes called red beans, kidney beans are a good source of vegan protein and fiber. While kidney beans are a carbohydrate, they rank low on the glycemic index, making you feel full longer and keeping your blood sugar levels in check.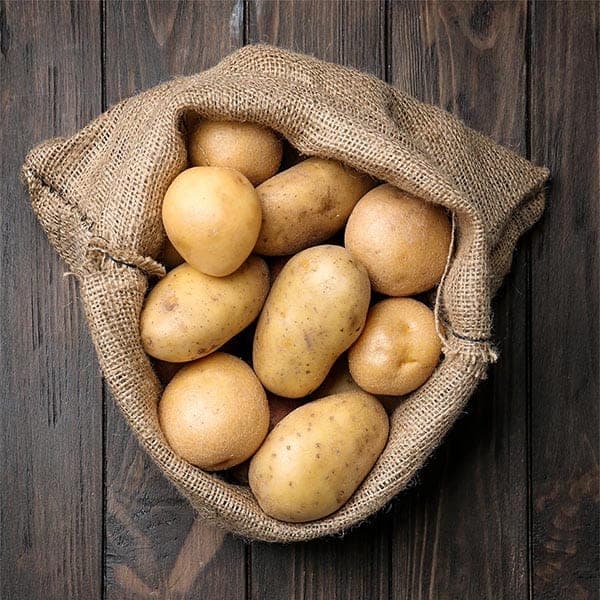 Russet Potatoes
White potatoes often get a bad nutritional rap – quite unfairly. Potatoes, like the Russet potatoes used in this recipe, are high in Vitamin C, B6, Potassium and Manganese. Many of the nutrients are found in the skin, which is why I kept in on for this red bean burger recipe.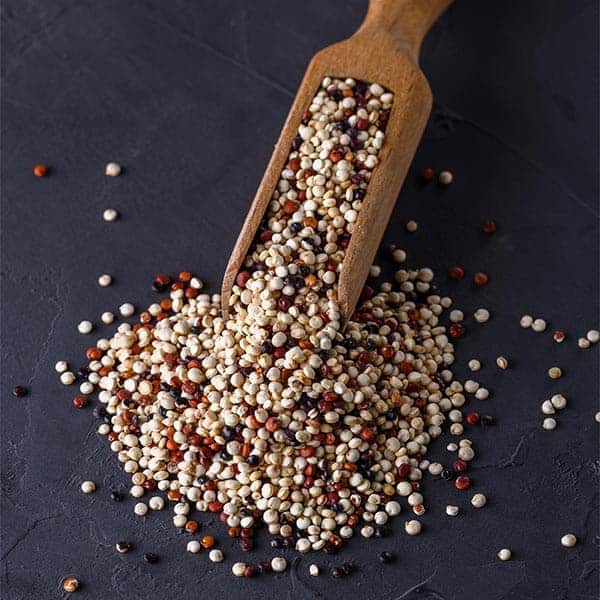 Quinoa
A super superfood, quinoa is a nutritional powerhouse. It's high in protein, fiber, iron, potassium, and calcium and it hosts all 9 essential amino acids.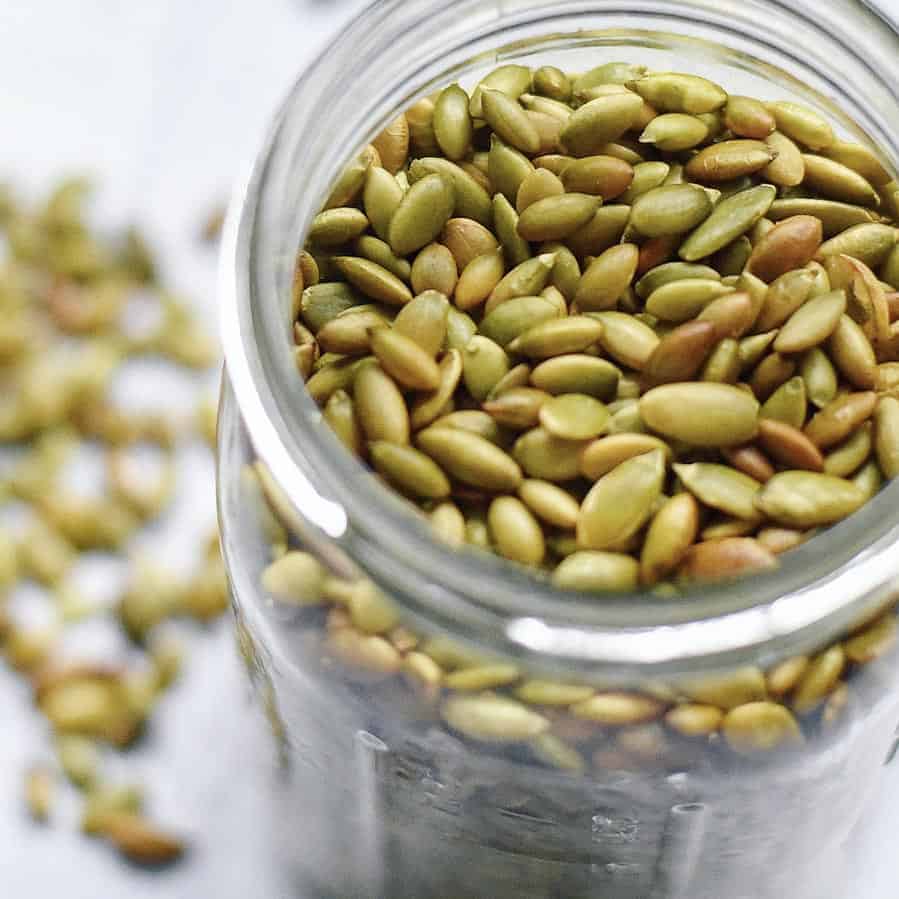 Pumpkin Seeds
Pumpkin seeds are a staple in my house. They're a great addition to soups and salads and give these kidney bean burgers a nutritional boost. Pumpkin seeds are high in manganese, phosphorus, magnesium, iron, zinc and copper.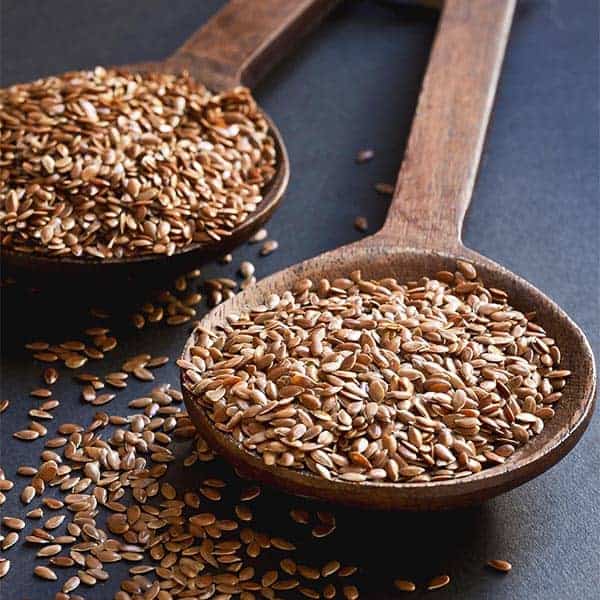 Flaxseed Meal
Like quinoa, flaxseeds are considered a superfood. They're high in protein and fiber and good source of omega-3 fatty acids. Omega-3s are good for your heart and are believed to have anti-cancer properties. Flaxseed meal, which is simply ground flaxseeds, are neutral in flavor.
How to Get Your Kidney Bean Burgers to Stay Together
Making veggie burgers that stay together took some time to figure out. It seems like the better tasting the veggie burger, the more likely it is to fall apart. Until now.
In my early red bean burger versions, I relied on the bean mash to keep them together. The problem was always that as the burgers cooked, the beans would dry and the burgers would crumble. What I needed, I decided, was more moisture and a better binding agent.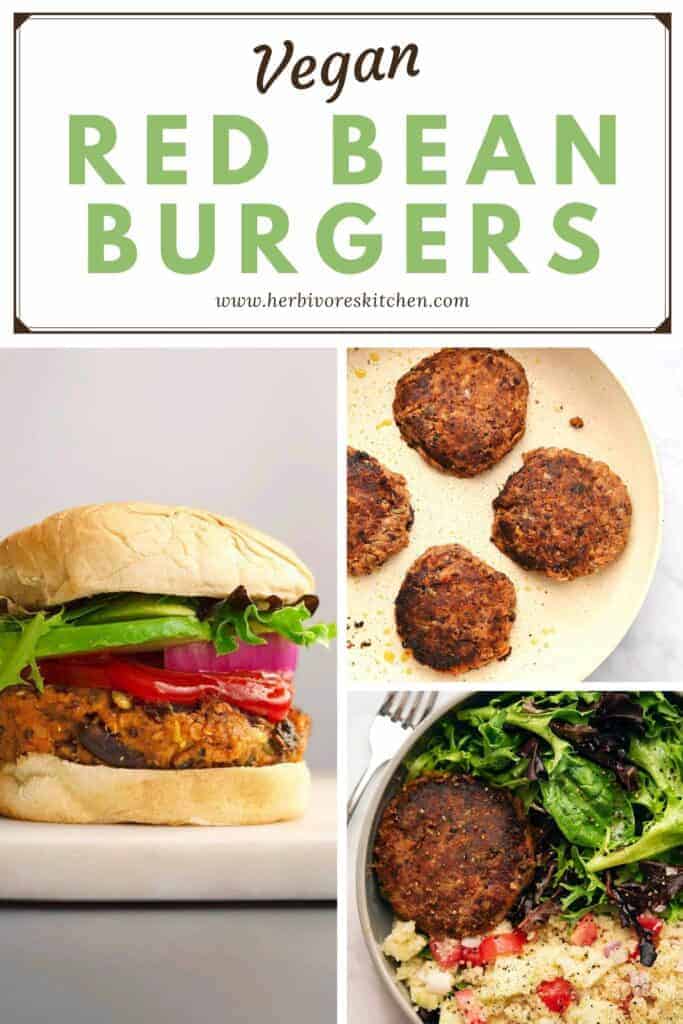 The answer: a baked potato and a flaxseed egg. The idea to use a baked potato and a flaxseed egg came from my potato pancakes recipe. The soft, creaminess of the pureed baked potato adds flavor, nutrition and when combined with a flaxseed egg, works as a great binding agent to get the burgers together.
What is a Flaxseed Egg?
Flaxseed eggs are a popular vegan baking hack. They're called eggs because they're a healthy way to replace eggs in plant-based baking.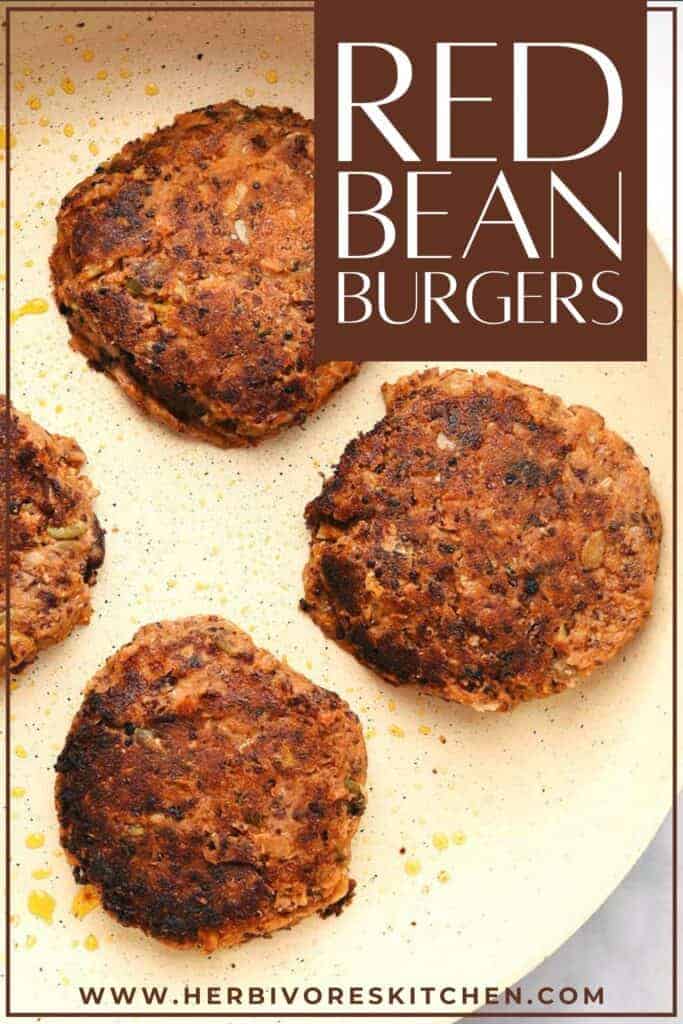 When flaxseed meal is combined with water it become gelatinous – much like an egg. When cooked, it helps to bind the other ingredients together. Even better, as I talk about above, flaxseeds are mild in flavor and packed with nutrition.
How to Serve These Veggie Burgers
These kidney bean burgers are wonderfully versatile. You can serve them in the traditional style – between two buns with lettuce, tomato, mustard and ketchup. If you're gluten-free, you can skip the bun and just serve the patties over a green salad or get creative and pile them high with fresh, fun flavors. I personally like spicy, peppery arugula and creamy, ripe avocado.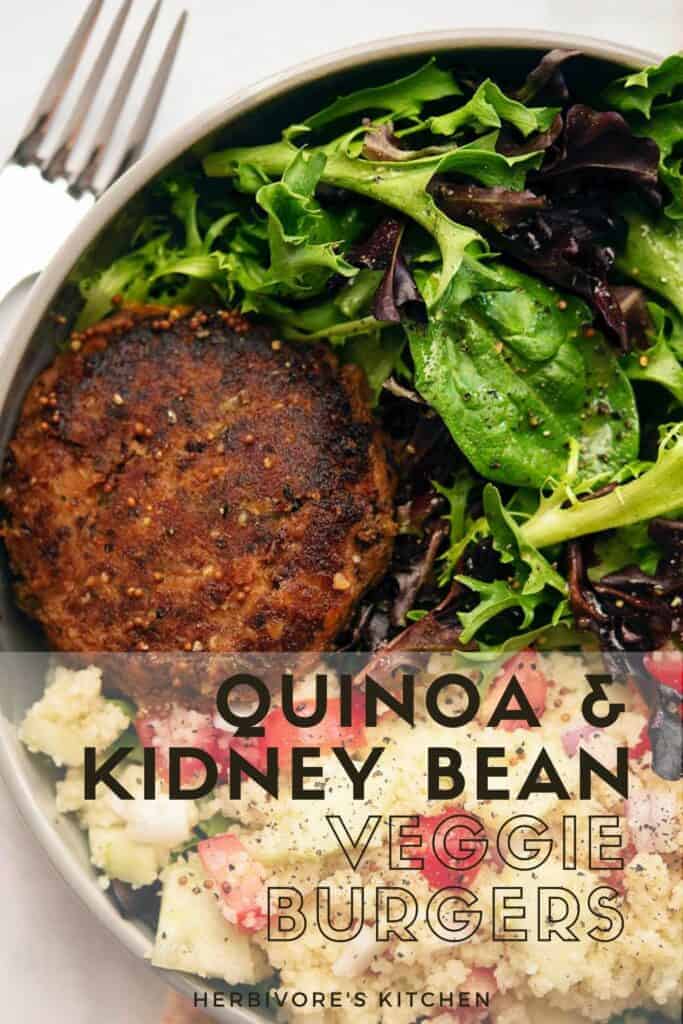 Do You Love This Red Bean Burger Recipe?
Do you love this kidney bean burgers recipe? Be sure to check out summer BBQ recipes! If you're into skewering your food, then my Teriyaki Tofu Shish Kebabs are for you! Forever-searching for a good guacamole recipe? Then you'll love my mango guacamole!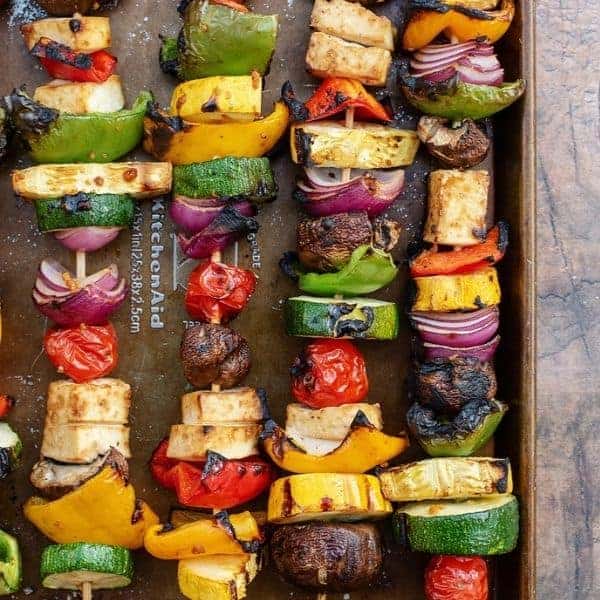 All the summer feels! Nothing tastes quite as good as shish kebabs right off the grill! Featuring teriyaki tofu, mushrooms, peppers and squash, this shish kebab recipe is an easy way to get plenty of healthy vegetables on the table.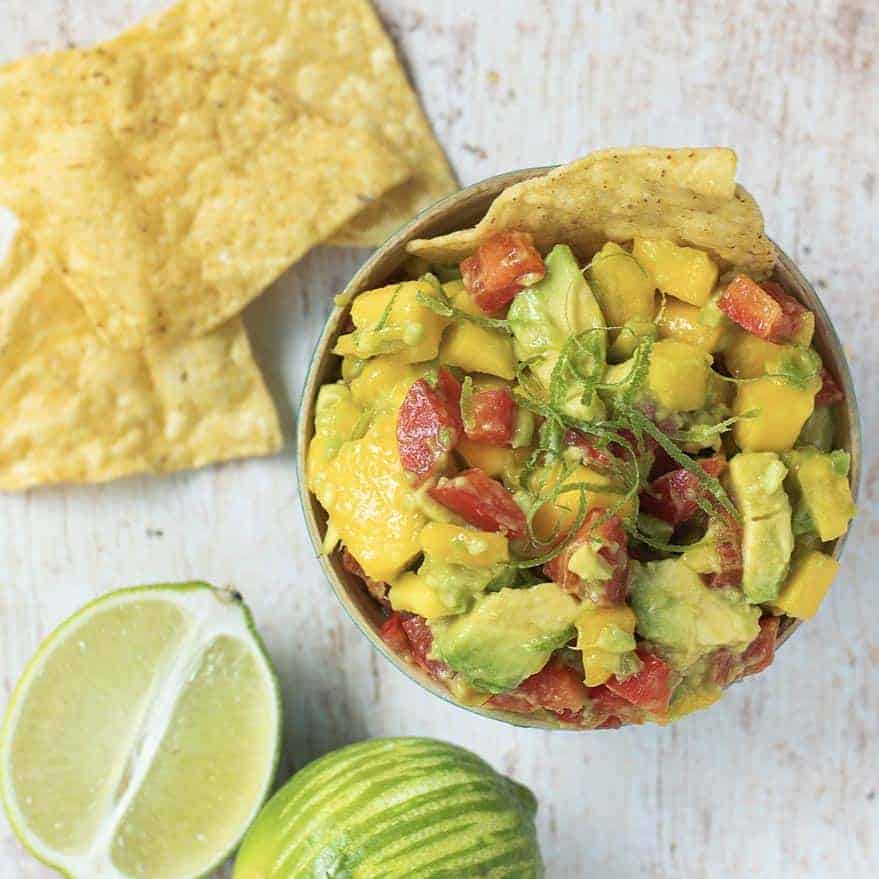 Looking for the best guacamole recipe to brighten up your summer recipe box? This homemade mango guacamole recipe is sweet, creamy and spicy! It features fresh avocado, mango, red pepper, spicy jalapeno, zesty lime and cilantro. This easy recipe is a simple way to dazzle your summer (vegan) BBQ guests!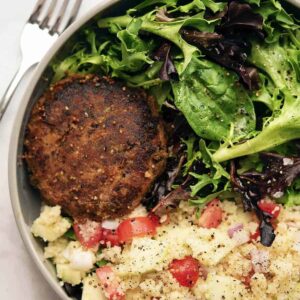 Red Bean Burgers
Get summer barbeques lit with this red bean burger recipe! These kidney beans burgers take the prize when it comes to the best vegan burger!
Ingredients
1

large

Russet potato

washed

2

14 oz cans

kidney beans

drained and rinsed

2

tbsp

flaxseed meal

1/4

scant cup

water

2

tbsp

safflower oil

divided

1/2

yellow onion

diced

1

tsp

garlic salt

1

stalk

celery

diced

2

tbsp

tomato paste

1/2

cup

roasted pumpkin seeds

find the recipe here

1

cup

quinoa

cooked in accordance with package directions

8

hamburger buns

fresh arugula

washed, as an optional topping

2

ripe avocados

sliced, as an optional topping

1

tomato

washed and sliced

ketchup & mustard

as optional toppings

red onion

sliced, as optional topping
Instructions
Preheat the oven to 400º.

Wash the baked potato and bake until it is easily pierced with a fork. About an hour.

While the potato is cooking, drain and rinse the kidney beans and add them to a small saucepot. Cover the beans with water. Bring the beans to a low simmer and cook for 20 minutes. Drain and set them aside.

Add the flaxseed meal to small bowl. Add the water and mix thoroughly. Set aside.

Heat the safflower oil in a medium-sized skillet. When shimmering, add the onion and reduce the heat to medium-low. Add the garlic salt and slow cook the onions until they're golden brown. About 12-15 minutes.

Add the diced celery and tomato paste. Increase the heat to medium and sauté the onions, celery and tomato paste until the tomato paste is dark red. Remove from heat.

Roughly chop the baked potato with the skin intact and add it to a food processor. Pulse until the potato becomes creamy and the skin is reduced to small pieces.

Add the drained kidney beans, flaxseed meal, cooked onions and celery, pumpkin seeds and cooked quinoa. Pulse until well combined and no large pieces remain.

Chill the mixture for 1 hour. This will make it easier to make into patties.

Using your hands, form the mixture into burger-sized patties. Add 1 tbsp safflower oil to a medium sized skillet and add 4 patties. Press the patties with a spatula and cover with a lid. Cook on one side for 2-3 minutes, until the burger is browned then flip and cook the other side for 2-3 additional minutes.

Serve immediately with burger buns (or bunless) with fresh arugula, sliced tomatoes, sliced avocado and ketchup and mustard.
About Herbivore's Kitchen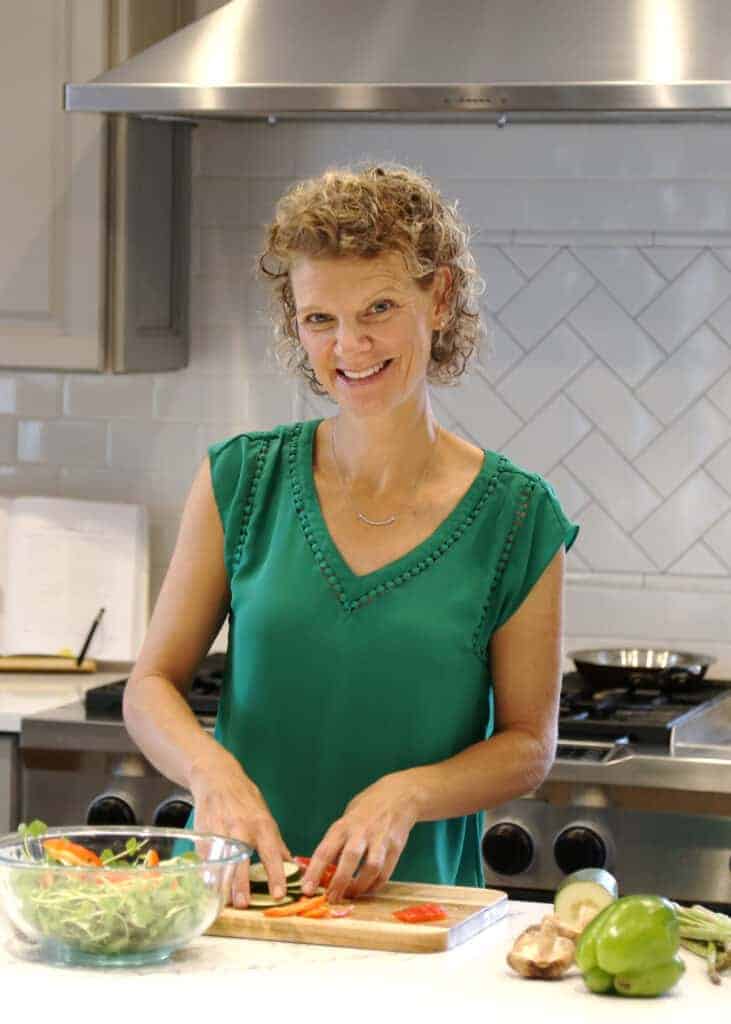 Herbivore's Kitchen is a plant-based food blog started by me, a vegan home chef, cookbook author, aspiring food photographer and how-to-be-a-better-food-blogger junkie. You'll mostly find creative and tasty vegan recipes and detailed deep dives into vegan ingredients (check out my Vegucation section) on my blog. I love knowing as much as I can about the food that I make. I'm also really into running a food blog as a business, so I've also got a section of my blog titled: Confessions of a Food Blogger where I get into the nitty gritty on how to build, manage, market and monetize a food blog.