Jump to Recipe
This Vegan Crab Cakes Recipe with Vegan Remoulade Sauce includes affiliate links. When I find a great product or service, I like to share it with my readers. Sometimes I use affiliate links so I can earn a commission for my recommendations. Thank you for your support!
Plant-Based Eating Gets Crispy with this Lion's Mane Mushroom Recipe
Never have I ever been so curious about mushrooms.
I've recently started working with a local mushroom grower, The Mushroom Mission, and my access to gourmet mushrooms has never been better – or tastier. And, oh what fun it is in the kitchen to play with some new ingredients.
This week, as I'm wont to do, I picked up some lion's mane mushrooms before having any idea what I was going to do with them.
Actually, that's not entirely true. I had a vague sense of what I wanted to do – make vegan crab cakes.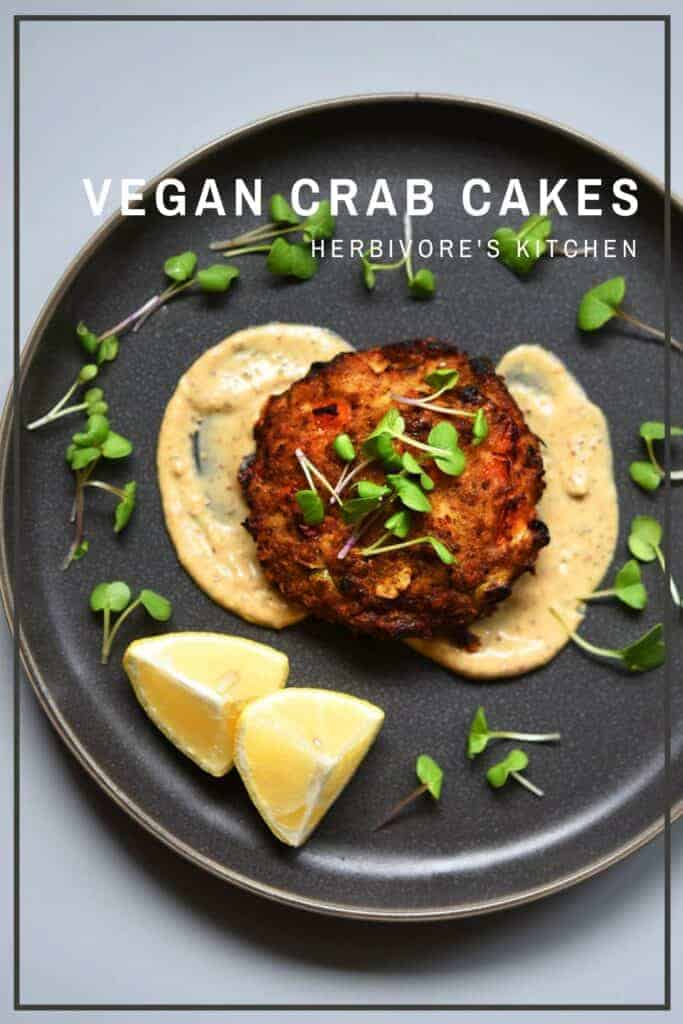 Vegan Crab Cake Recipes
Creating vegan crab cakes is not a novel idea. And for good reason. Why wouldn't a reasonable plant-based eater want to replicate the crispy exterior and warm, savory-spiced interior of a crab cake? Done right, with a side of remoulade sauce, crab cakes used to be one of my favorite appetizers.
Many vegan crab cake recipes utilize ingredients like hearts of palm and jackfruit as their vegan crab meat substitute. Both hearts of palm and jackfruit have a texture similar to crab meat, making them excellent candidates. I've made them this way myself and they were delicious!
But nothing beats a lion's mane mushroom as a vegan crab meat substitute. Trust me, the next time you see these guys in the grocery store, pick them up and give this lion's mane mushroom recipe a try!
What Are Lion's Mane Mushrooms?
If you've ever come across lion's mane mushrooms, I'm sure that you paused for moment just to check them out. They are a curious-looking fungi – not what you'd expect if your exposure to mushrooms was mostly limited to buttons and portobellos.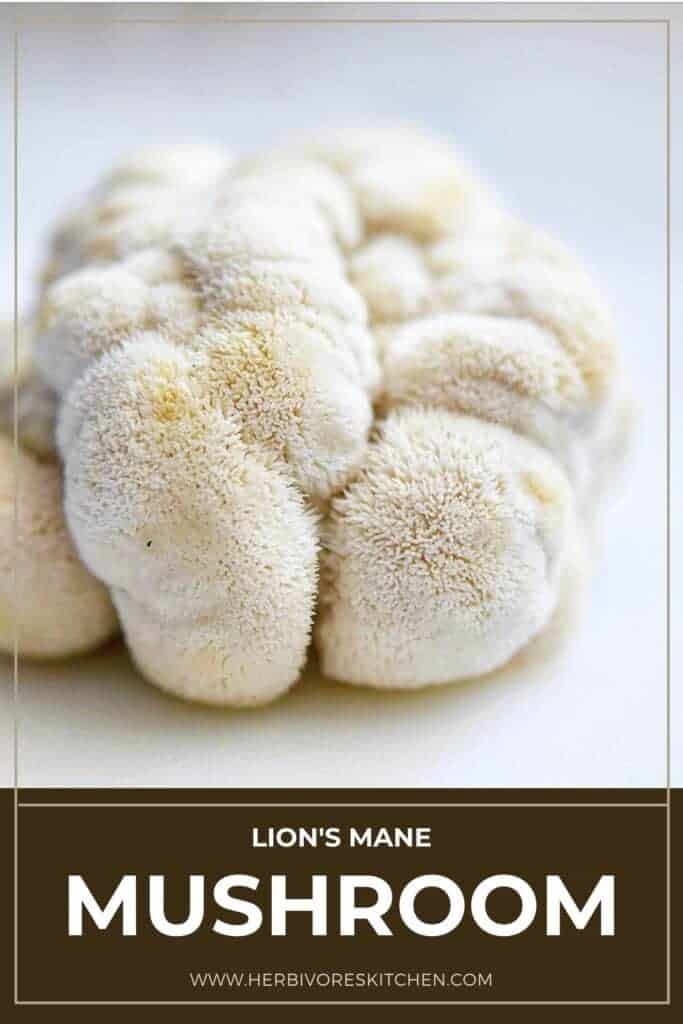 Lion's Mane Mushroom: Taste & Texture
Lion's mane mushrooms, as their moniker would suggest, have a shaggy appearance that resembles a lion's mane. They're a bit of a buzz-food these days, especially in the supplements category, as a way to boost brain health. Me, though, I just like them for their texture and flavor.
Texture is the Key to This Lion's Mane Mushroom Recipe
Texture is what makes lion's mane mushrooms so perfect for this vegan crab cakes recipe. If you've ever cooked with lump crab meat, you'll be surprised by how much a lion's mane mushroom resembles it. Lion's mane mushrooms are meatier than most mushrooms, giving them a slightly chewy texture that is very satisfying.
What Does Lion's Mane Mushroom Taste Like?
On their own, Lion's mane mushrooms taste a little like seafood (see, I told you that they were the perfect vegan crab meat substitute). They're excellent at absorbing flavors, so the predominant flavor will be whatever you cook them in. In this case, dulse flakes and Old Bay Seasoning (more on that below).
What Else Is in These Vegan Crab Cakes?
Lion's mane mushrooms aren't the only all-star ingredient in these vegan crab cakes. They also feature other healthy inclusions like white beans and flaxseeds.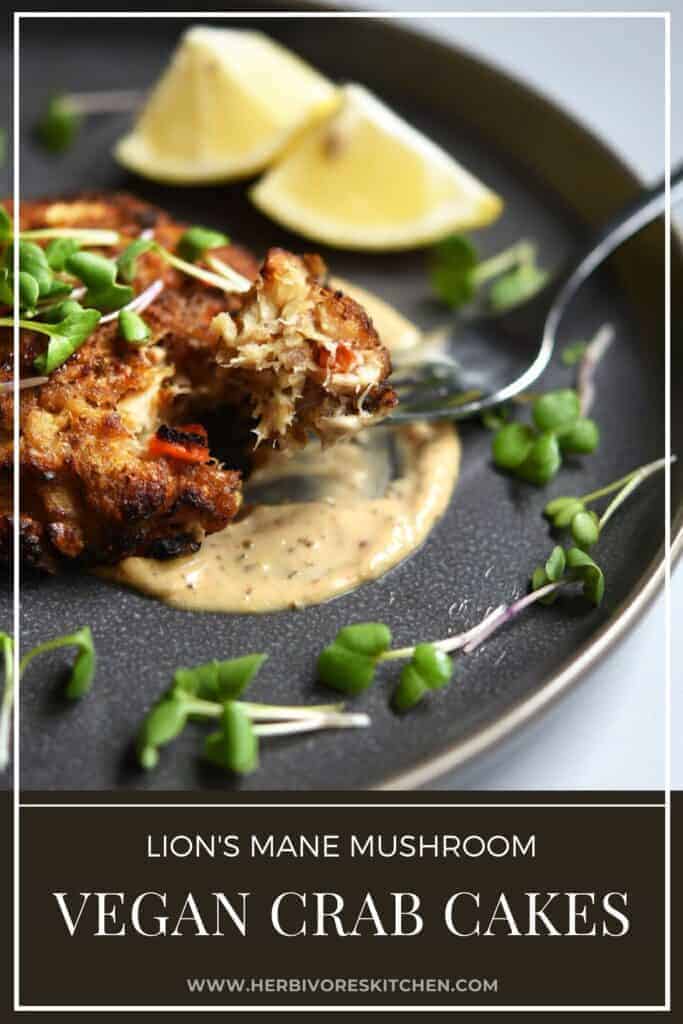 White Beans & Flaxseeds Make Great Binding Agents (and Give these Vegan Crab Cakes a Nutritional Edge)
Both the white beans and the flaxseeds were added to the recipe to help bind my "vegan crab meat" together. That they also add protein and antioxidants is a nice bonus.
I opted to use butter beans (also known as baby lima beans) in this recipe. Butter beans have a nice mild flavor and become creamy when cooked. Both of these characteristics play well in this recipe, as I needed the creaminess to hold everything together and I didn't want anything to compete with my homemade Old Bay Seasoning (oh yes, more on that below).
Flaxseeds are a nutritional wonder. The list of benefits is long, but among the highlights are a high fiber and omega-3 fatty acid content. Flaxseeds are thought to support digestive health and reduce the risk of cancer.
When they're ground up and combined with water, flaxseeds take on a gelatinous consistency similar to an egg. Like an egg, they also work really well as a binding agent in vegan cooking. The easiest way to buy them for vegan cooking and baking is as flaxseed meal (already ground).
What Gives These Vegan Crab Cakes Their Flavor?
Lion's mane mushrooms, as I mentioned above, have a flavor that some say resembles seafood. But, to enhance this, I recommend adding seaweed. Specifically dulse flakes. Dulse is a red seaweed that is commonly used in food preparation. As expected, it has a strong sea flavor, so a little goes a long way.
Dulse flakes are pretty easy to find in most grocery stores, but you can also pick them up on Amazon. They're also a pretty healthy food, providing magnesium, calcium and iron. Just try and find a sustainable brand and one that is conscious of heavy metal containment.
And, of course, no vegan crab cake would be complete without Old Bay Seasoning. If you happen to have Old Bay Seasoning, feel free to use that. I didn't and was doing everything I could not to go back to the grocery store, so I made my own. Funnily enough, I didn't have Old Bay Seasoning, but I had every spice necessary to make a substitution. And I pretend to keep the contents of my kitchen under control.
To keep this recipe simple, I just call for Old Bay Seasoning. If you find yourself in my shoes, I did include the recipe I used to make my own in the Recipe Notes.
Air Fryer Vegan Crab Cakes for the Win!
To reduce the amount of oil in this recipe, I opted to air fry these vegan crab cakes. I'm air frying everything these days. I'm totally hooked on how crispy and delicious air fried food can be.
I have two air fryers (haha – refer back to my comment about keeping the contents of my kitchen under control). One was intended to reside in my house and the other one rides along in our campervan. The thing is – I love the one in my campervan, so now I just move it back and forth.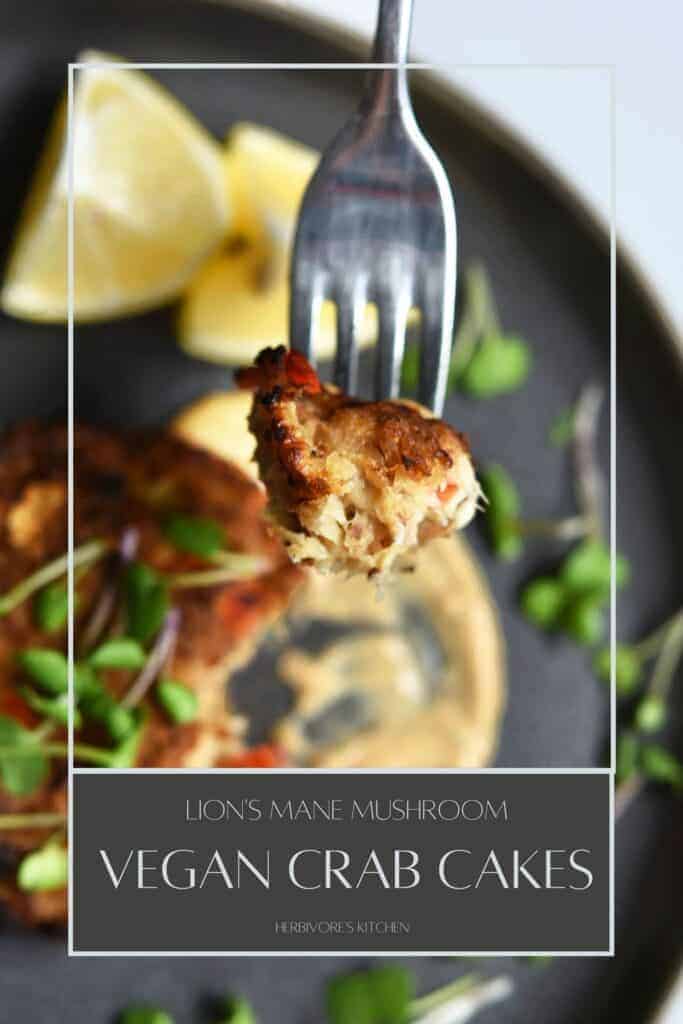 This new love of my life is a Cuisinart Compact Air Fryer. What makes it my favorite is that the food goes into the oven in a wire basket that is shallow and wide, making it possible to spread food out. I find that the other popular air fryer design – a deep, narrow basket, causes the food on the outside to burn before the food in the center is crispy.
If you don't have an air fryer you can have my second one. Just kidding.
If you don't have an air fryer, I find that baking these vegan crab cakes in a convection oven works very well. You can also opt to bake them at a high temp in a traditional oven. If you go with this third option, I would recommend quickly pan-frying before putting them in the oven so that you can maximize the crispy exterior.
How to Serve these Vegan Crab Cakes – With Vegan Remoulade Sauce!
As I mentioned above, crab cakes done right should be served with vegan remoulade sauce. Remoulade sauce is a French dipping sauce that features mayonnaise, vinegar, mustard, shallots, capers and chopped pickles. It's creamy, spicy, tangy and divine. And easy to veganize. I also simplified the recipe a bit, basing it off of a recipe I found on Driving Me Hungry.
For this recipe, I swapped out mayonnaise for vegan mayonnaise. If you haven't tried vegan mayonnaise yet, you should. And then make it a staple in your vegan kitchen. I think it tastes better than traditional mayonnaise.
Rather than being egg-based, vegan mayonnaise is an emulsified combination of plant-based milk and oil. It's seasoned with salt and vinegar and sometimes mustard and garlic. I buy it commercially, with Follow Your Heart being my favorite brand. They have a variety of Vegenaise options – from soy to avocado to grapeseed.
In addition to vegan remoulade sauce, I served these vegan crab cakes with fresh radish microgreens and wedges of lemon. They're best hot out of the air fryer, oven or frying pan – whatever you decide is best!
Do You Love This Vegan Crab Cakes with Vegan Remoulade Sauce Recipe?
Do you love this vegan crab cakes recipe? Be sure to check out other mushroom recipes! If you're into portobellos, then my Citrus-Marinated Portobello Fajita Recipe is for you! Forever-searching for a delicious vegan bacon substitute? Then you'll love my Vegan BLT Sandwich with Mushroom Bacon!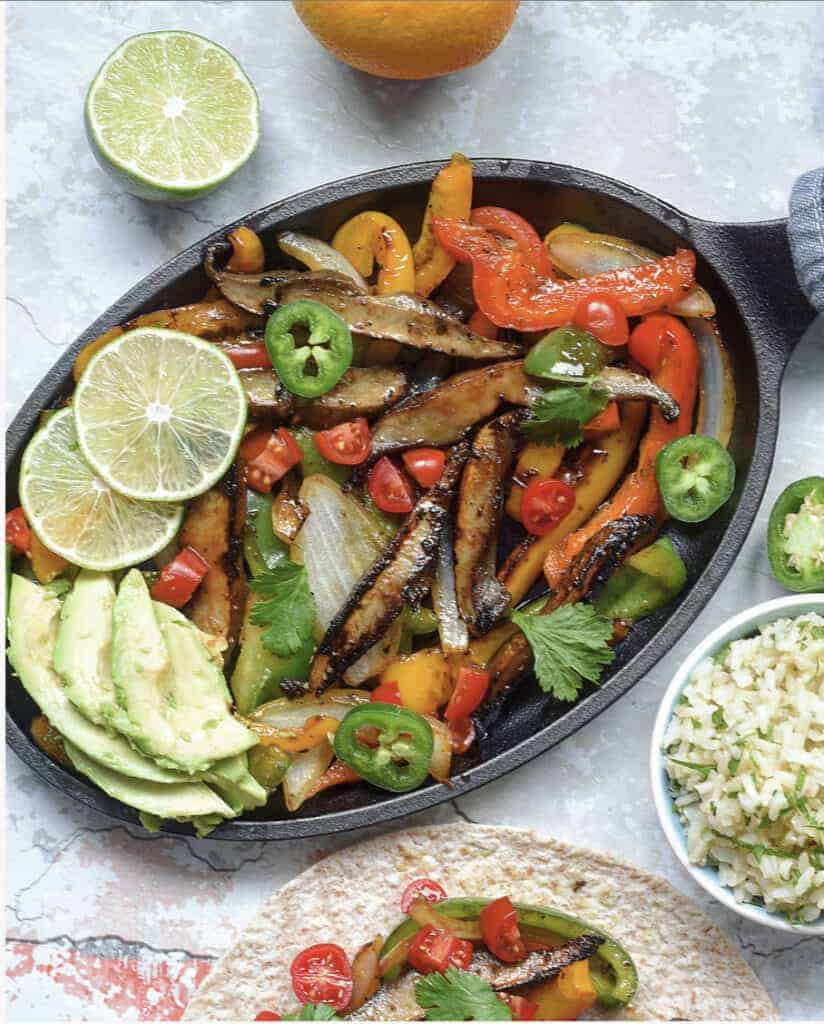 Don't tell tacos, but this vegan fajita recipe will have you picking favorites. This veggie-forward fajita recipe is easy and healthy, featuring citrus-marinated portobello mushrooms, tri-colored peppers and a sweet, spicy fajita seasoning! Bring this Mexican darling to your dinner table in a vegan-friendly way!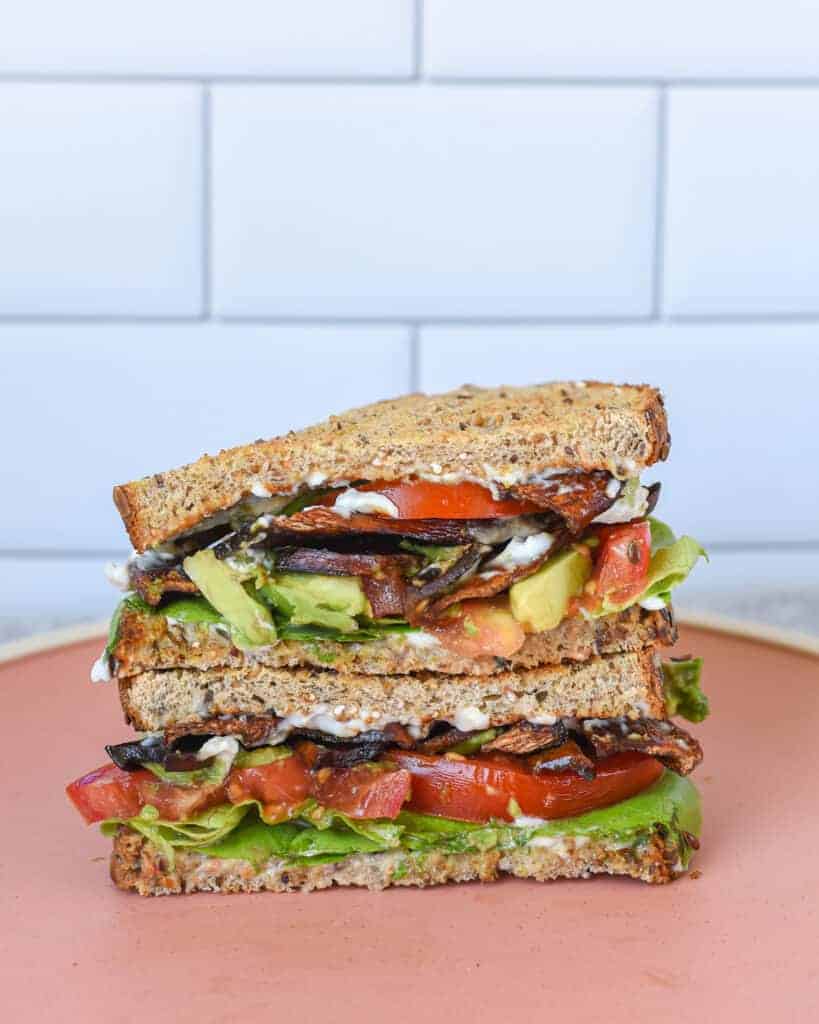 Nothing beats a BLT sandwich, especially this vegan mushroom bacon version! This easy vegan bacon recipe makes the most satisfying vegan BLT sandwich – salty and savory with a hint of sweet! And, of course, it's also loaded with tomatoes, lettuce, avocado and vegan mayonnaise.
Vegan Crab Cakes with Vegan Remoulade Sauce
This vegan crab cakes recipe with vegan remoulade sauce is the healthy, sustainable twist on the traditional. It features Lion's Mane mushrooms, white beans and flaxseed meal for a tasty, crispy vegan appetizer.
Total Time
1
hour
30
minutes
Ingredients
Vegan Remoulade Sauce
1

cup

vegan mayonnaise

1

tbsp

Dijon mustard

1

tbsp

fresh lemon juice

1

tsp

vegan Worcestershire sauce

1/2

tsp

smoked paprika

1/8

tsp

cayenne pepper

salt & pepper

to taste
Vegan Crab Cakes
0.5

lbs

lion's mane mushrooms

wiped free of debris and roughly chopped

1

14 oz can

butter beans

drained and rinsed

2

tbsp

flaxseed meal

5

tbsp

water

1/4

cup

vegan mayonnaise

1/2

tbsp

vegan Worcestershire sauce

1

tsp

fresh lemon juice

1

tsp

Dijon mustard

2

tsp

Old Bay Seasoning

1

tsp

dulse flakes

optional

1

tsp

salt

1/2

tbsp

granulated garlic

1

red bell pepper

washed, deseeded and finely diced

3

scallions + additional scallion as optional garnishment

trimmed and sliced

1

cup

oyster crackers

crushed

2

tbsp

safflower oil

or other high-temp tolerant oil

radish microgreens

as optional garnishment

lemon wedges

as optional garnishment
Instructions
Vegan Remoulade Sauce
Make the Remoulade Sauce in advance by combining all of the ingredients in a small bowl.Chill under ready for use.
Vegan Crab Cakes
In a small bowl, combine the flaxseed meal and water. Mix thoroughly and set aside.

Add the lion's mane mushrooms to a large food processor. Pulse 2-3 times to roughly chop the mushrooms. You do want some sizeable pieces.

Add the butter beans and pulse a few more times.

Combine the vegan mayonnaise, Worcestershire sauce, fresh lemon juice, Djion mustard, Old Bay Seasoning, dulse flakes, salt and granulated garlic into a small bowl. Mix thoroughly.

Add the mayonnaise mixture, red bell pepper, scallions and crushed oyster crackers to the mushroom mixture. Mix thoroughly.

Refrigerate the mixture for 1 hour. This will make it easier to make the cakes.

After the mixture has chilled, form the crab cakes with your hands.

Preheat your air fryer for 3-5 minutes. While the air fryer is preheating, brush both sides of each crab cakes with a light layer of oil.

Air fry the crab cakes for 6-8 minutes or until crispy. See Recipe Notes.

Serve immediately with Remoulade Sauce, scallion greens, microgreens and lemon wedges.
Recipe Notes
I'm usually a fan with washing my mushrooms, but I opt to lightly remove any debris from lion's mane mushrooms with a damp paper towel. I find that any water absorption results in a soggier end product.
If you find you don't have Old Bay Seasoning, I made a suitable substitute with ingredients that I had on hand.
1 tsp salt
1 tbsp celery seeds
2 tsp Cajun seasoning
1 tsp dry mustard
½ tsp pumpkin pie spice (choose one that include cinnamon, nutmeg, ginger, allspice and cloves)
¼ tsp crushed red pepper
½ tsp white pepper
5 bay leaves
Combine all of the ingredients in a coffee grinder or mini food processor and pulse until no large pieces remain. This recipe makes 2-3 times the amount of Old Bay Seasoning that you'll need for this vegan crab cakes recipe. Store the excess in an air-tight container for later use.
As I mention in my blog post, I have two air fryers at home and they cook differently. I recommend keeping an eye on your crab cakes to get the right crispy exterior. If you opt to use a convection oven, set the temperate at 400º and bake for 8-10 minutes, checking the crab cakes frequently.
About Herbivore's Kitchen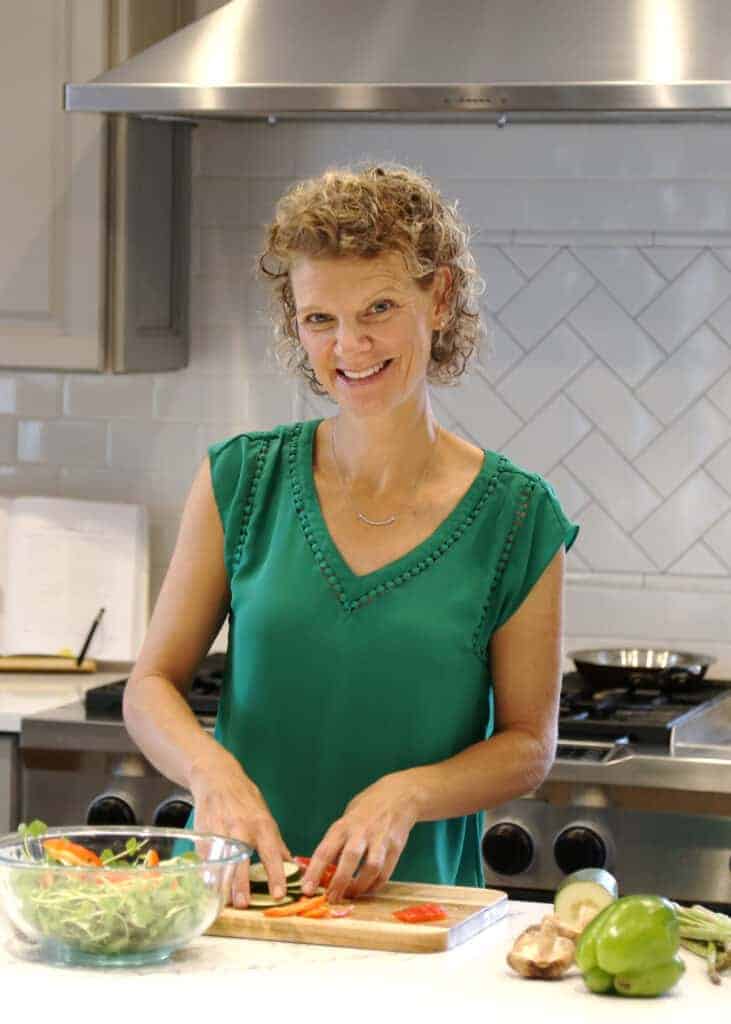 Herbivore's Kitchen is a plant-based food blog started by me, a vegan home chef, cookbook author, aspiring food photographer and how-to-be-a-better-food-blogger junkie. You'll mostly find creative and tasty vegan recipes and detailed deep dives into vegan ingredients (check out my Vegucation section) on my blog. I love knowing as much as I can about the food that I make. I'm also really into running a food blog as a business, so I've also got a section of my blog titled: Confessions of a Food Blogger where I get into the nitty gritty on how to build, manage, market and monetize a food blog.