Jump to Recipe
This Blueberry Peanut Butter Smoothie: Start Your Day Off Right with This Vegan Smoothie Recipe post includes affiliate links. When I find a great product or service, I like to share it with my readers. Sometimes I use affiliate links so I can earn a commission for my recommendations. Thank you for your support!
Start Your Day Off Right with This Vegan Smoothie Recipe
Late fall might not seem like the natural time to add this Blueberry Peanut Butter Smoothie to your diet. The weather is cooling off, the mornings are dark and fresh fruit is harder to find. But, consider this: fall is a gauntlet of diet pitfalls.
It starts with Halloween, with its piles of candy that you wouldn't reach for if it wasn't EVERYWHERE. Then comes Thanksgiving – the holiday that is best known for comfort food. Mashed potatoes, sweet potato pie and gravy. And, finally – Christmas. A wonderful time to be with your loved ones, in your pajamas, surrounded by cookies.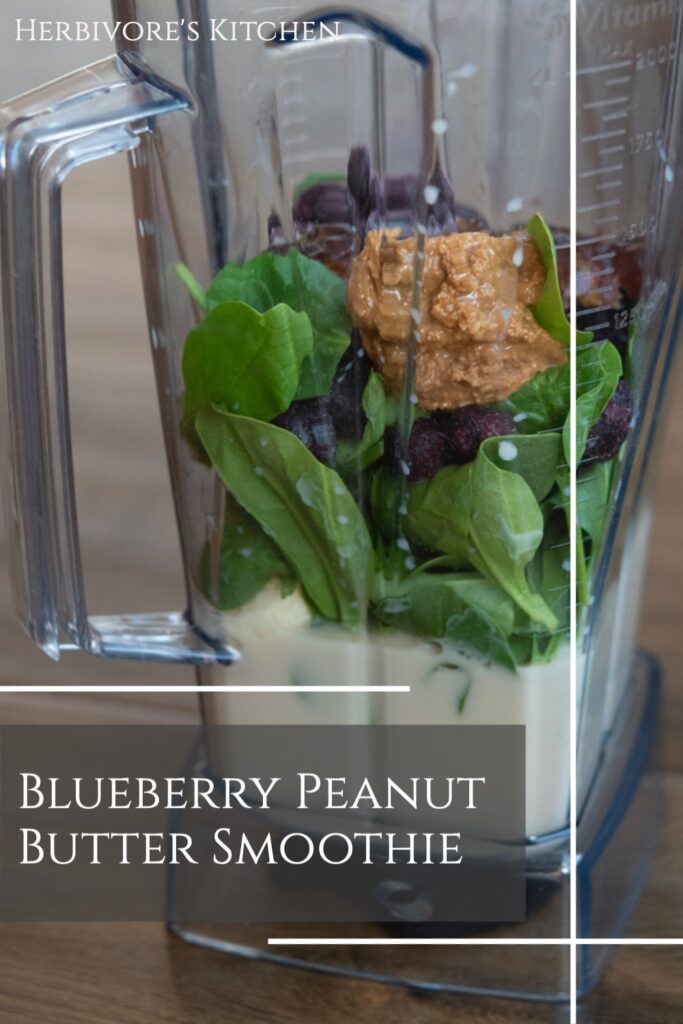 This time, every year, I fall off the wagon. The regular exercise, healthy diet, plenty of sleep wagon.
Now, I know that I'm likely never going to get through this time of year with flawless execution, but it has occurred to me that I could do better.
As a first step, I am turning my focus to my mornings. My hope is that if I start my day out on the right foot, the rest of my day is likely to follow suit. This includes some early morning yoga and a touch of meditation, but that's not what we're talking about today. Today, we're talking about this Blueberry Peanut Butter Smoothie.
Are Smoothies Plant Based?
Not always. Usually this depends on the type of milk used to make the smoothie. Yogurt is also a common ingredient in smoothies.
For this Blueberry Peanut Butter Smoothie, I use oat milk. Oat milk is one of my favorite non-dairy milk options. I also skip yogurt. I don't love the sour taste and this vegan smoothie recipe gets its health benefits from other ingredients. I just prefer fermentation later in the day.
If you like almond milk or another type of non-dairy milk, I welcome you to use it in this recipe.
What is the Best Vegan Smoothie for Breakfast?
I believe that this is totally up to you! It's usually the smoothie that you'll drink.
That being said, I like to use my morning smoothie to as an opportunity to get in as many nutrients as possible. I like it a bit sweet and not overly acidic. I also want it to be filling – something that can take me from breakfast straight to lunch without a significant drop in energy.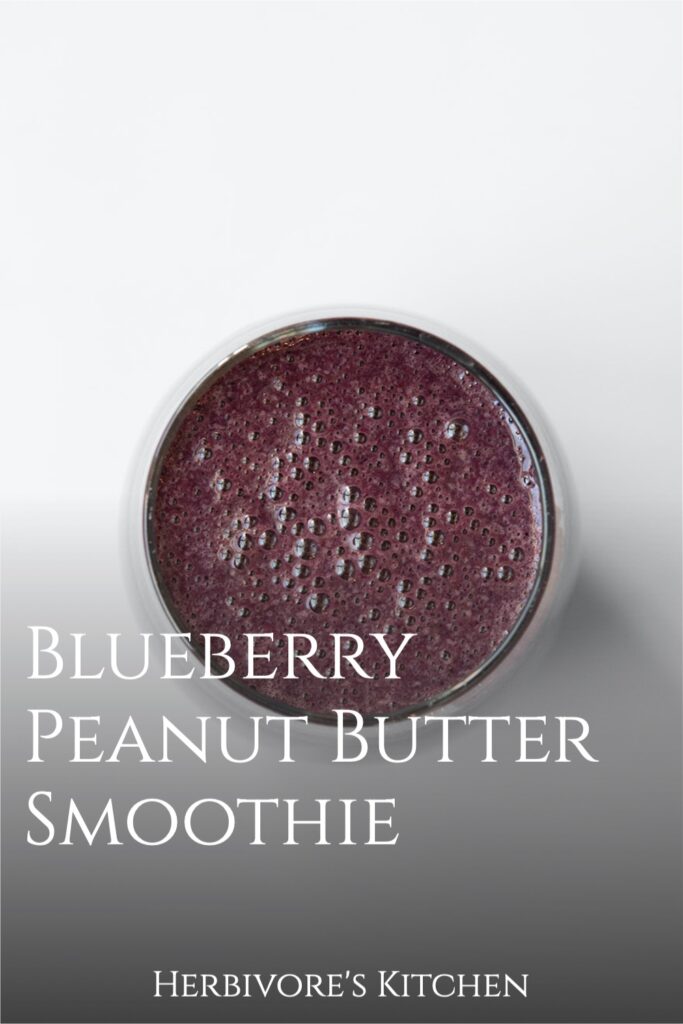 What's in this Blueberry Peanut Butter Smoothie?
In addition to oat milk, I add frozen blueberries, unsweetened peanut butter, banana, fresh baby spinach, dates and flaxseed meal. I've included my recommended proportions below, but this isn't a vegan smoothie recipe that requires a lot of precision. A lot of mornings, it's made with a few bleary-eyed tosses into the blender.
Is this Vegan Smoothie Recipe Good for You?
I like to think of this Blueberry Peanut Butter Smoothie as a morning dose of superfoods. Blueberries, spinach and flaxseeds are all included in that category.
The Benefits of Blueberries in this Vegan Smoothie Recipe
Blueberries are a low calorie, high fiber food with a high-water content (85%) – a good combination of elements to help maintain a healthy weight. They're also a good source of Vitamins C, K and Manganese, which are responsible for clotting blood, building bones and regulating metabolism.
Blueberries are also high in antioxidants, particularly a group of flavonoids called anthocyanins. This is what gives blueberries their deep, rich color. Antioxidants protect the body from diseases like cancer, heart disease, diabetes and mental decline.
Spinach: Another Superfood Addition to this Blueberry Peanut Butter Smoothie
Spinach, like blueberries, is high in fiber and contains a high-water content (91%), a combination that assists in a healthy digestive system. It also contains Vitamins A, C, B9, Iron and Calcium, the vitamins and minerals that are responsible for healthy skin, a robust immune system and proper cellular function.
Flaxseeds Take this Vegan Smoothie Recipe to the Next Level
And while blueberries and spinach are pretty amazing ingredients, flaxseeds take the superfood crown. These tiny seeds are rich in omega-3 fatty acids, as well as providing both protein and fiber.
The inclusion of Omega-3 fatty acids in this Blueberry Peanut Butter Smoothie is particularly important for both vegans and vegetarians, as they are usually absorbed by the body through the consumption of seafood. Flaxseeds are one of the best ways for non-fish eaters to consume Omega-3s.
Flaxseeds aren't digestible by the human body, so this vegan smoothie recipe uses flaxseed meal – a ground up version of flaxseeds. It's easy to find in the grocery store, often in the refrigerated section.
Flaxseed meal has the additional benefit of expanding with the absorption of liquid, helping this Blueberry Peanut Butter Smoothie keep you full all morning.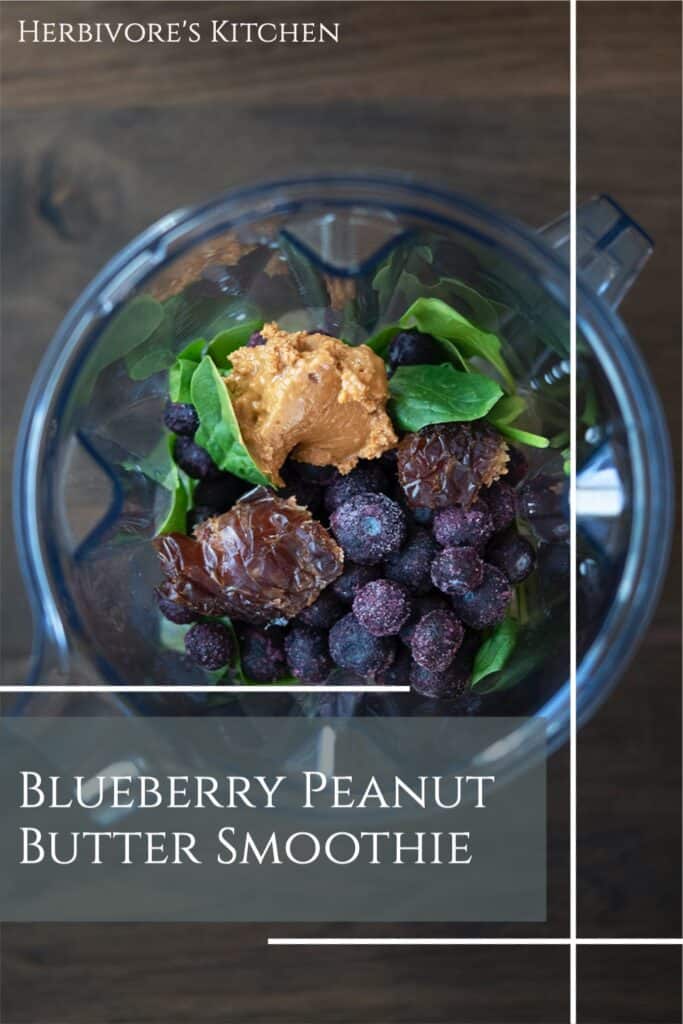 Is There Protein in this Vegan Smoothie Recipe?
Yes, I know: it is highly recommended to include protein in your morning meal because protein in the morning helps to regulate energy and mood by controlling insulin levels.
Protein intake, of course, is forever being asserted as the challenge to a vegan diet. Rest assured though, that it's not that hard to get protein, even in the morning, without animal products.
This vegan smoothie recipe provides protein through the inclusion of flaxseeds and peanut butter. But for an additional boost, I include a scoop of plant-based protein powder. My favorite is Four Sigmatic® Plant-Based Protein with Superfoods in the peanut butter flavor.
In addition to providing protein with a blend of hemp and pumpkin seeds, coconuts and peas, Four Sigmatic's blend also includes a combination of health-inspiring mushrooms, like Chaga, Lion's Mane, Reishi and Cordyceps. This mushroom blend is believed to improve immune function, brain health, energy and endurance.
What Does This Blueberry Peanut Butter Smoothie Taste Like?
Now, I know what you're thinking. First spinach and now mushrooms?
I don't blame you for being skeptical. Trust me though, it all works together. This vegan smoothie recipe is really quite yummy. So much so, that my 11-year-old asks me to make it for him most mornings.
The protein powder has a hefty peanut butter flavor, which assists in hiding whatever mushroom flavors may linger. And, remember, it's an optional addition. The date – an unrefined sweetener – gives this morning smoothie an inviting sweetness that complements the banana. And, I promise, you won't even notice the spinach.
Do You Love This Blueberry Peanut Butter Smoothie Recipe?
Do you love this vegan smoothie recipe? Be sure to check out my other plant-based breakfast ideas! If you're into granola, then my Lemon Granola is for you! Are chia seeds and fruit more your jam? Then you'll love my Vegan Raspberry Chia Seed Jam.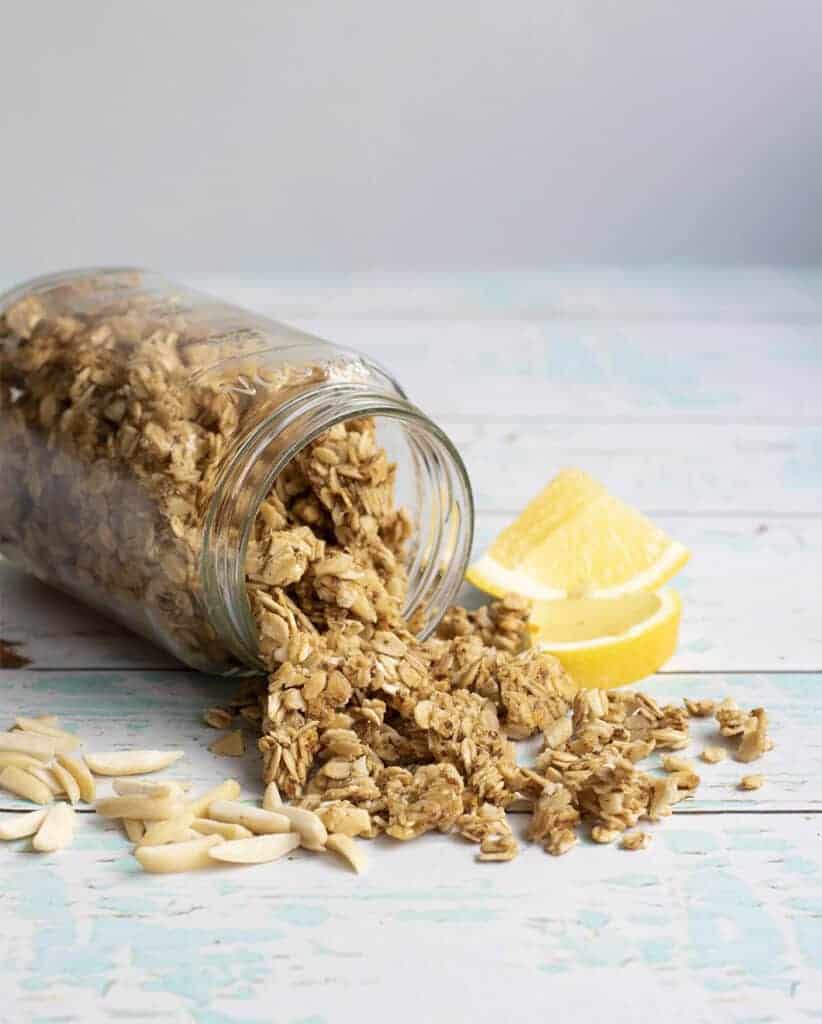 If you're looking to make your mornings sweeter, look no further than this homemade Lemon Granola Recipe. It's a little bit sweet, a little bit tart and a lot crunchy! It's made with just a few simple ingredients, including rolled oats, flaxseed meal, maple syrup and fresh lemon juice.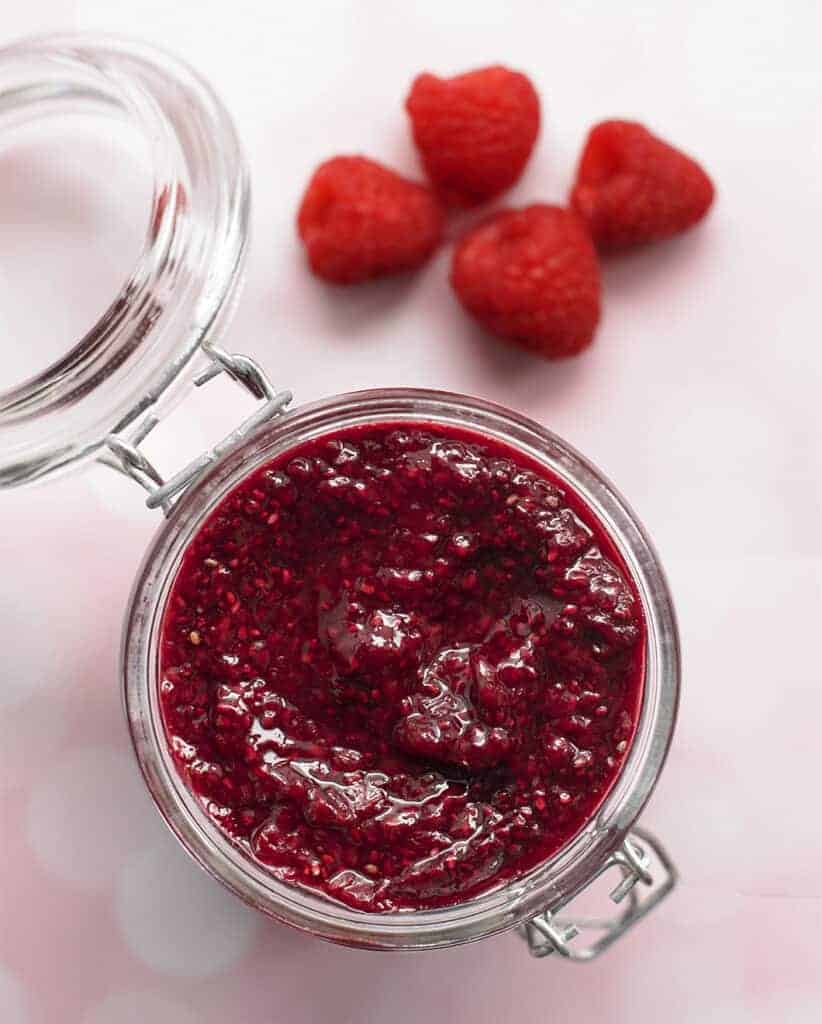 Looking for a healthy alternative to commercial jellies and jams? This fruit-forward vegan raspberry chia jam is easy to make and oh! so! tasty!
Best of all, this vegan chia seed jam recipe comes together with just four ingredients: frozen raspberries, pure maple syrup, fresh lemon juice and chia seeds.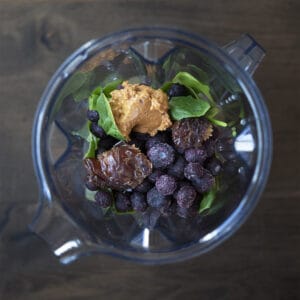 Peanut Butter & Blueberry Smoothie
Start your morning off right with this Blueberry Peanut Butter Smoothie! This delicious vegan smoothie recipe, featuring date-sweetened superfoods.
Ingredients
2

cups

unsweetened oat milk

1 1/2

cups

frozen blueberries

1

ripe banana

peeled and broken into chunks

2

handfuls baby spinach

2

tbsp

natural peanut butter

1

Medjool date

pitted and cut into quarters

1

tbsp

flaxseed meal

1/2

packet

FourSigmatic® Plant-Based Protein Peanut Butter

optional (you can find it here)
Instructions
Add the ingredients to a high-speed blender and blend until smooth.
Abut Herbivore's Kitchen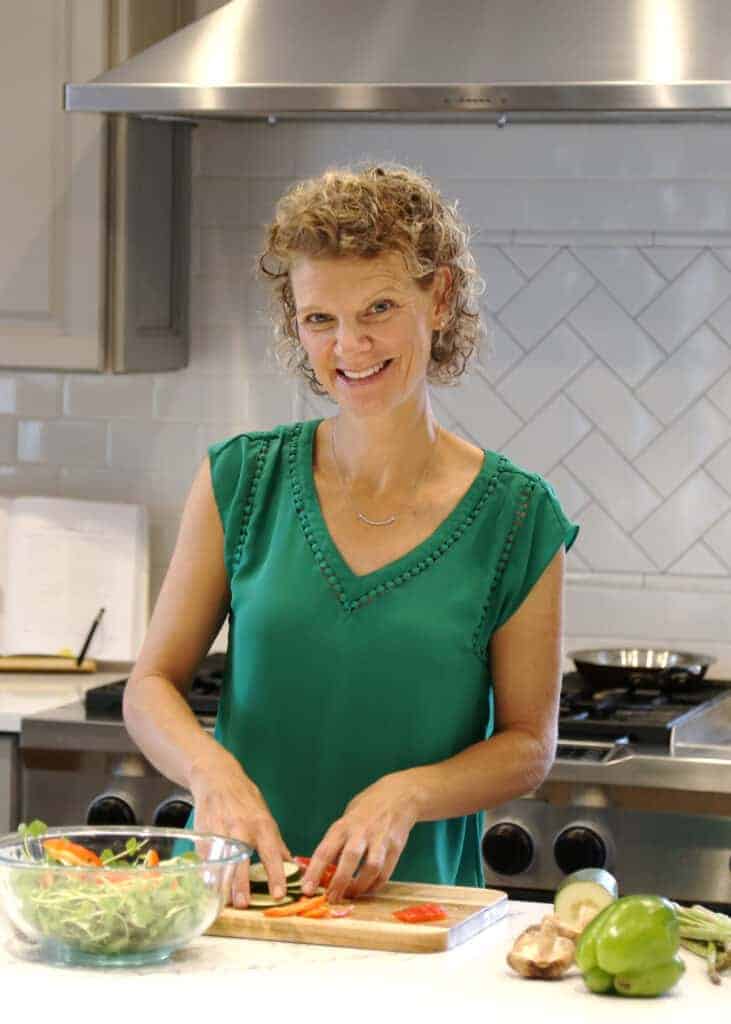 Herbivore's Kitchen is a plant-based food blog started by me, a vegan home chef, cookbook author, aspiring food photographer and how-to-be-a-better-food-blogger junkie. You'll mostly find creative and tasty vegan recipes and detailed deep dives into vegan ingredients (check out my Vegucation section) on my blog. I love knowing as much as I can about the food that I make. I'm also really into running a food blog as a business, so I've also got a section of my blog titled: Confessions of a Food Blogger where I get into the nitty gritty on how to build, manage, market and monetize a food blog.