Jump to Recipe
This Vegan Tuscan White Bean Soup: Get Cozy with this Dairy Free Italian White Bean Soup post includes affiliate links. When I find a great product or service, I like to share it with my readers. Sometimes I use affiliate links so I can earn a commission for my recommendations. Thank you for your support!
Get Cozy with this Dairy-Free Italian White Bean Soup
Are you looking for healthy ways to warm up this winter? This dairy-free vegan Tuscan white bean soup is for you!
This flavor-packed broth is made possible by slow-cooked onions, carrots and celery. It's layered with sautéed tomato paste, garlic and fresh rosemary. Creamy white beans give this soup its hearty texture, while fresh lemon and a dash of nutritional yeast give it depth.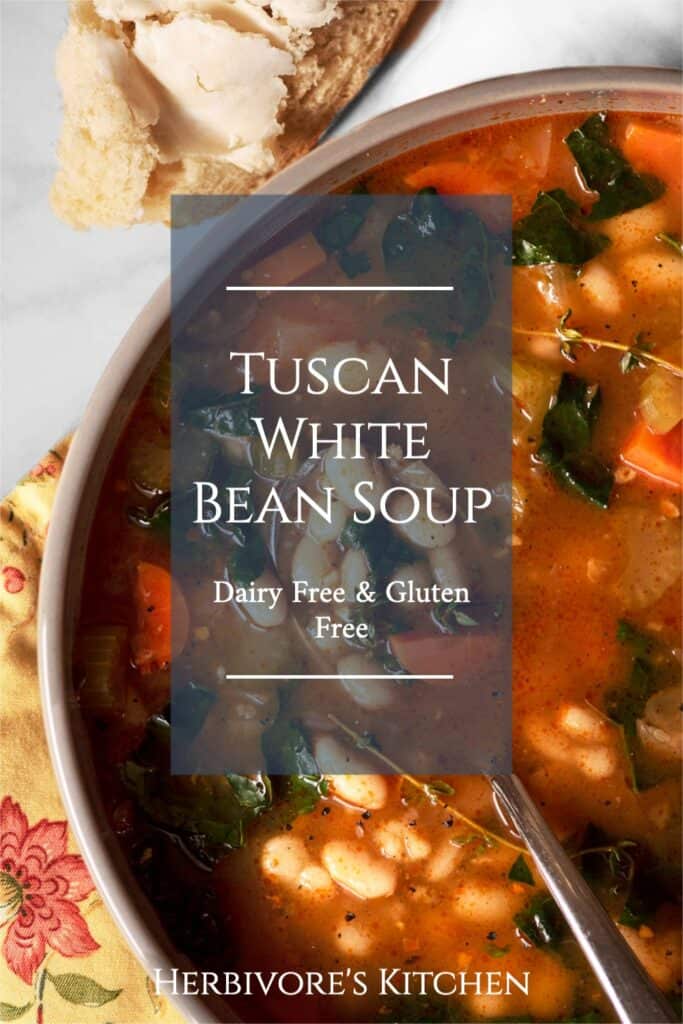 Of all the soups in my repertoire, this easy-to-make Italian White Bean Soup is a home run every time. Even my kids are excited when it hits the dinner table. And you know as well as I do that a healthy, plant-based meal that they'll eat is #winning every time!
What Are the White Italian Beans Called?
Ooh! Starting with a hard question! I like it!
The reason that it's hard to answer is because there is more than one type of white bean out there. There are Great Northern beans, cannellini beans, navy beans (confusing, I know) and Lima beans.
These different white bean varieties have different flavors, textures and qualities. So, while you can get away with using them interchangeably, it's better to pick the right white bean for your recipe. Luckily, I have a cheat sheet all made up to make this decision as easy as clicking on the link below.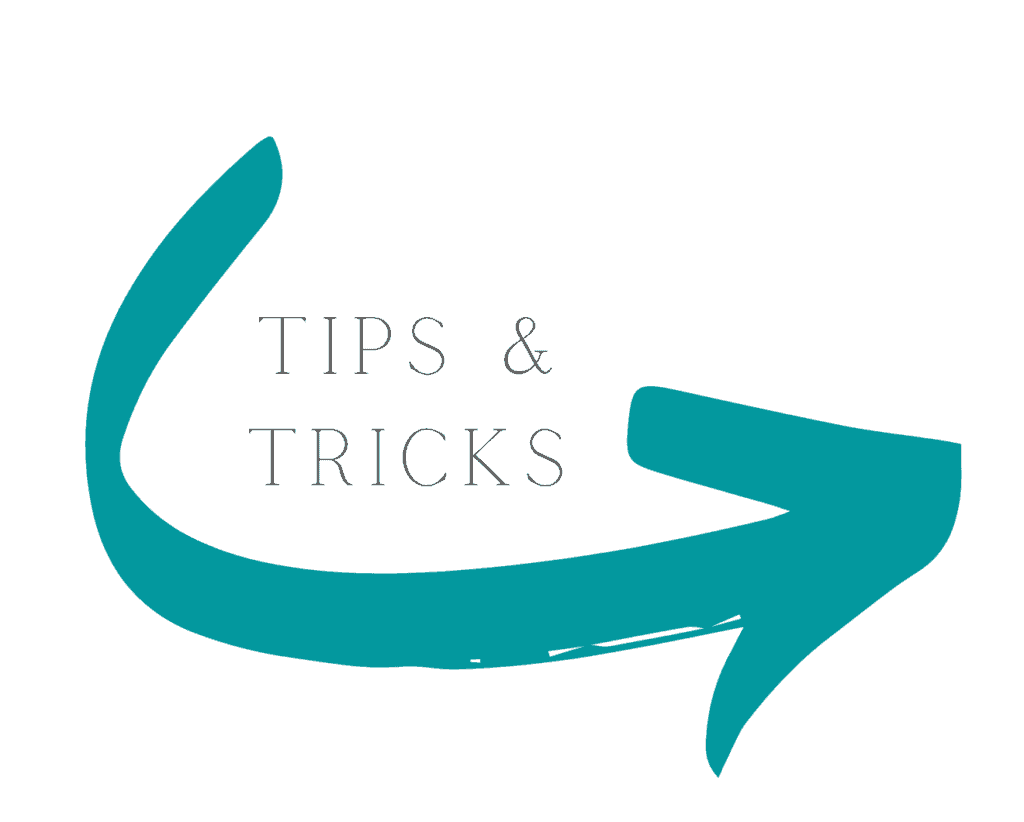 Wondering how to Choose the Right White Bean for your recipe? Check out my Ultimate Guide to White Beans. In this blog post, I'll teach you everything you ever needed to know about white beans (and I even include some tasty vegan recipes to try them out in)!
What White Beans Are Used in This Italian White Bean Soup?
I get it – you want to skip the Ultimate White Bean Guide for now. You've got dinner to get on the table!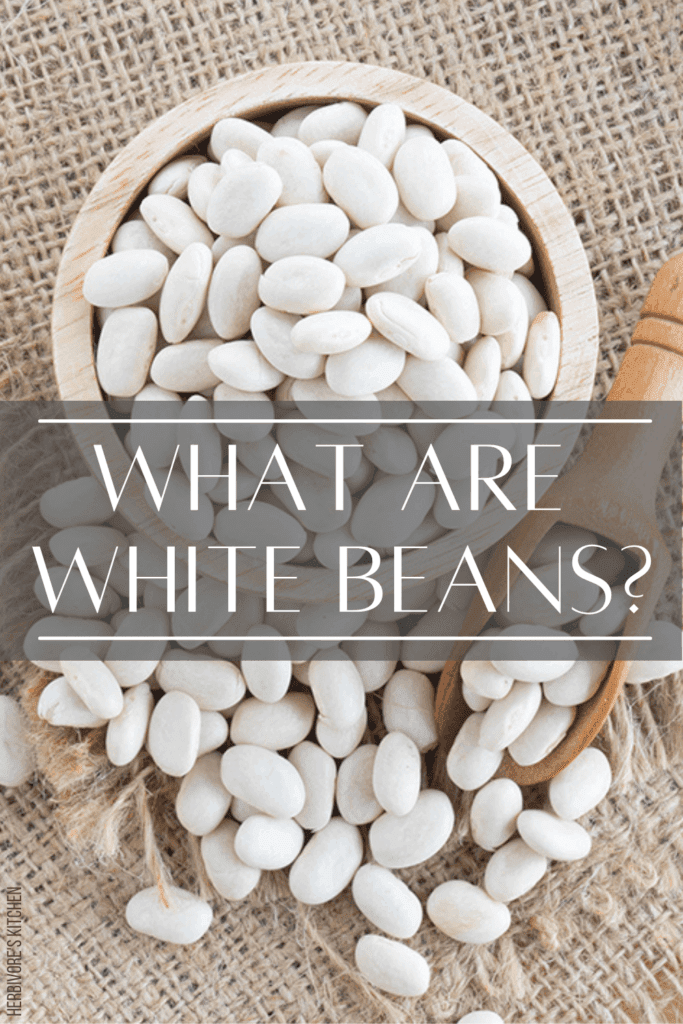 Here's the short cut: this vegan Tuscan white bean soup uses cannellini beans. Cannellini beans, also sometimes called White Kidney Beans, are on the meatier side of the white bean family. This helps them to maintain their structure when cooked – perfect for a hearty bowl of soup! They offer up a nutty, earthy flavor – a great match for the root vegetables used in this soup!
What is the Thickener in White Bean Soup?
If you guessed the white beans, you'd be right! As this vegan Tuscan white bean soup simmers, to softening beans thicken the broth. If that's not thick enough for your taste, skip the cornstarch and make a white bean slurry instead.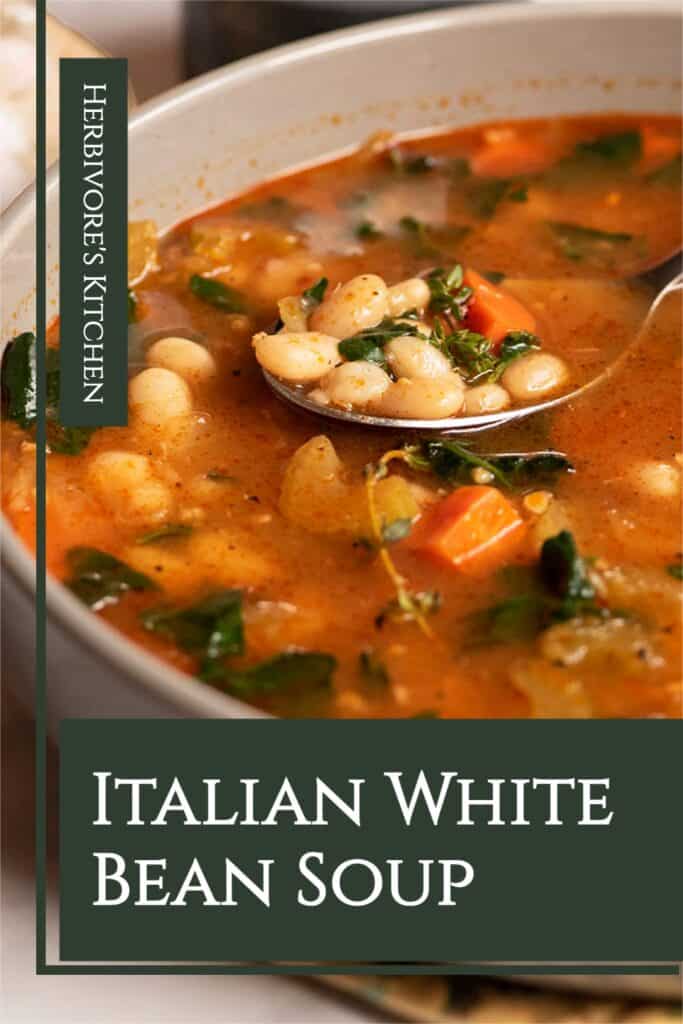 What's a white bean slurry? It's a simple blended combination of the hot broth and white beans. To make it, remove about 1-2 cups of hot broth and allow it to cool for a few minutes. Then blend it until it is a thick slurry and add it back to the soup.
Viola! Thick and rich Italian white bean soup!
Is White Bean Soup Good for You?
Aside from the extra virgin olive oil used to get this Vegan Tuscan White Bean Soup going, there's very little in the way of fat. Instead, this Italian White Bean Soup is packed with healthy vegetables like onions, carrots & celery. And don't forget about the kale! This superfood contains Vitamins A, K, B6 and C!
Where traditional Italian white bean soup gets much of its flavor from parmesan cheese, this vegan Tuscan white bean soup is seasoned with fresh lemon juice, garlic and nutritional yeast – a great way to get a boost of Vitamin B12.

How To Make this Vegan Tuscan White Bean Soup
This soup is super easy to make!
I like to start with dried cannellini beans. I cook them in my Instant Pot for about 40 minutes on high pressure and allow for a 10+ minute natural release.
While the white beans are cooking, I sauté my onions, garlic, carrots and celery with some crushed red pepper and tomato paste. This process gives this Italian White Bean Soup a ton of depth.
When the white beans are done, I add the sauteed vegetables to my Instant Pot along with some vegetable broth, fresh rosemary sprigs and two bay leaves and allow it to slow cook all afternoon. Just before dinner, I'll massage the kale and add it to the broth, along with the fresh lemon juice and nutritional yeast.
Then it's just a matter of removing the bay leaves and the rosemary sprigs and serving this delicious Italian white bean soup with some fresh ground pepper and some crusty bread!
Do You Love This Vegan Tuscan White Bean Soup Recipe?
Do you love this Italian White Bean Soup recipe? Be sure to check out other healthy vegan soups! If you're into beans, then my Vegan Enchilada Soup is for you! Forever-searching for a creamy mushroom soup? Then you'll love my Creamy Vegan Mushroom Bisque!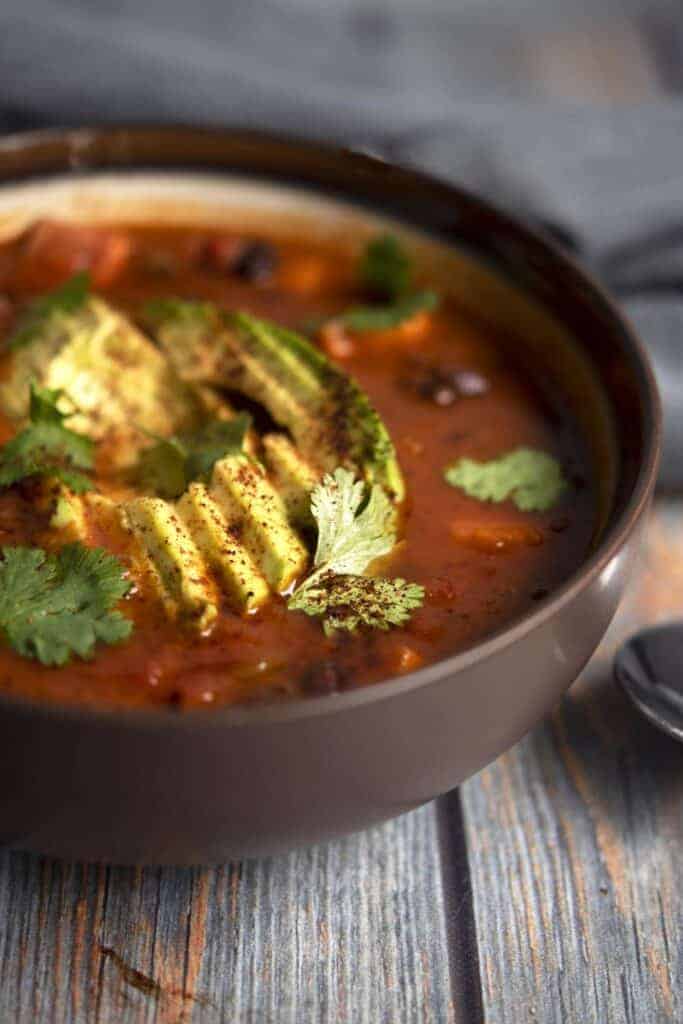 Looking for an easy way to put a vegan dinner on the table? This vegan enchilada soup is easy, tasty and healthy! It's a one-pot dish reminiscent of one of my favorite vegan Southwest dishes – black bean and sweet potato enchiladas.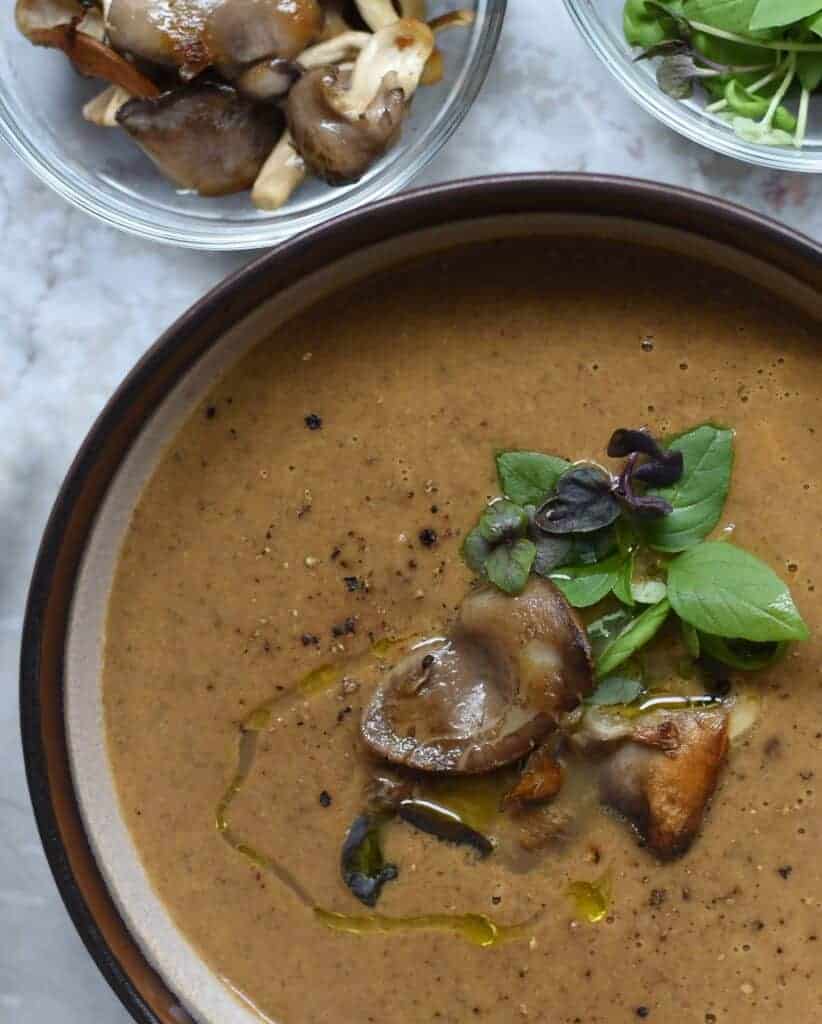 Looking for an easy vegan mushroom soup recipe? This creamy mushroom bisque is just what you've been craving! Savory cremini mushrooms simmered in red wine give this vegan soup recipe a ton of umami, while coconut milk gives it a richness that you'll swear can't be dairy-free. This easy vegan recipe is designed to appeal to vegan beginners and vegan veteran alike.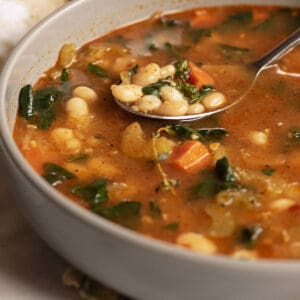 Vegan Tuscan White Bean Soup
Get cozy with this vegan Tuscan white bean soup! This dairy free Italian white bean soup is a great way to put a healthy plant-based dinner on the table!
Ingredients
1

cup

dried cannellini beans

see Recipes Notes

2

tbsp

extra virgin olive oil

1

medium

yellow onion

finely diced

2

tsp

salt

2

carrots

washed and finely diced

2

stalks

celery

washed and diced

4

cloves

garlic

minced or pressed

1/2

tsp

crushed red pepper flakes

2

tbsp

tomato paste

1

quart

low-sodium vegetable broth

2

cups

water

4

sprigs

fresh rosemary

2

bay leaves

1

tbsp

fresh lemon juice

1

tbsp

nutrition yeast

2

bunches

fresh lacinato kale

washed, destemmed, roughly chopped and massaged; see Recipe Notes

fresh ground pepper
Instructions
Cook the dried cannellini beans in your Instant Pot with 2 cups of water for 40minutes on high pressure. Allow for a 10+ minute natural release.

While the beans are cooking, add the extra virgin olive oil to a large skillet. When shimmering, add the onions and the salt. Reduce the heat to medium-low and allow the onions to slow-cook until golden-brown. About 10-12 minutes.

Add the garlic, carrots and celery and increase the heat to medium. Sauté the vegetables for 1-2 minutes. Then add the red pepper flakes and the tomato paste. Sauté for 1-2 minutes more. Remove from heat and set aside.

When the beans are down, add the sautéed vegetables to the Instant Pot with the vegetable broth, water fresh rosemary sprigs and bay leaves. Cover and slow cook for at least 1 hour (this soup is better the longer you let it cook).

Before serving, add the massaged kale and simmer until the kale has softened. About 10minutes.

Add the fresh lemon juice and nutritional yeast. Remove the rosemary sprigs and the bay leaves.

Serve with fresh ground pepper and crusty bread.
Notes
If you don't have dried beans or would prefer to use canned beans, you can swap the dried beans out for 2 15-ounce cans of cannellini beans, drained and rinsed.
If this soup isn't thick enough for you, skip the cornstarch and make a white bean slurry instead. To do this, add a few ladles of the soup with plenty of beans into a blender and pulse until it becomes a thick slurry. Then add it back to the soup.
To massage the kale, add a very small amount of extra virgin olive oil and the roughly chopped kale into a large mixing bowl. Then massage it with your hands. As you work, the kale will become darker and less structured. This makes it easier to eat and reduces the bitterness of the leaves.
About Herbivore's Kitchen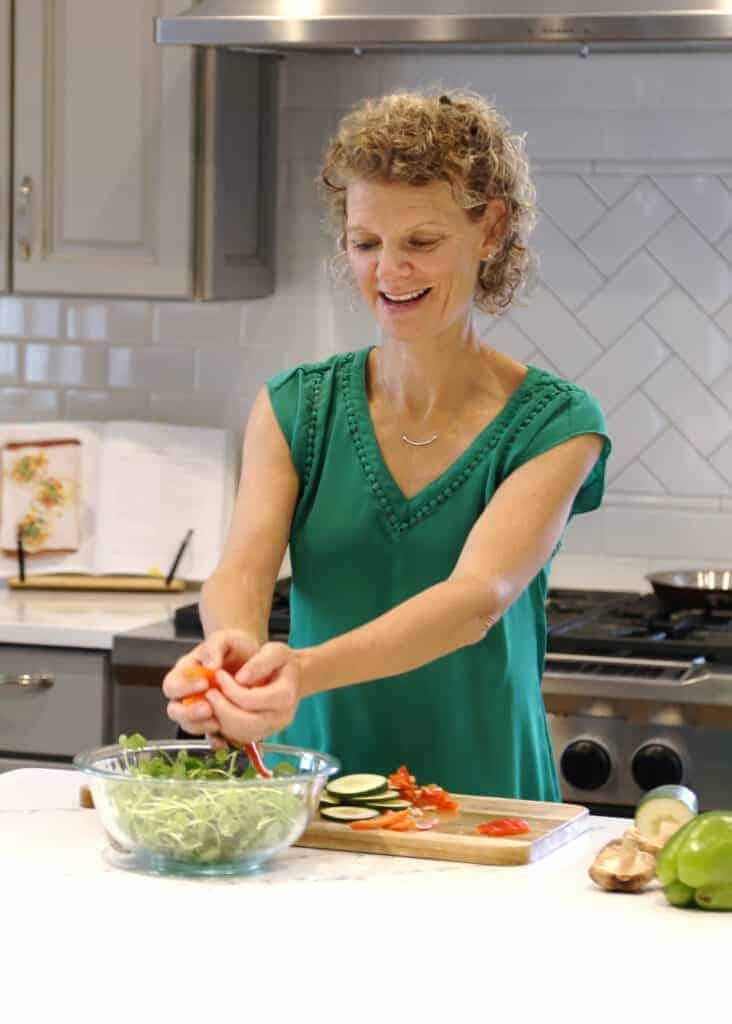 Herbivore's Kitchen is a plant-based food blog started by me, a vegan home chef, cookbook author, aspiring food photographer and how-to-be-a-better-food-blogger junkie. You'll mostly find creative and tasty vegan recipes and detailed deep dives into vegan ingredients (check out my Vegucation section) on my blog. I love knowing as much as I can about the food that I make. I'm also really into running a food blog as a business, so I've also got a section of my blog titled: Confessions of a Food Blogger where I get into the nitty gritty on how to build, manage, market and monetize a food blog.