This Red Miso Udon Soup: Get Cozy with this Warm Vegetable Udon Soup Recipe post includes affiliate links. When I find a great product or service, I like to share it with my readers. Sometimes I use affiliate links so I can earn a commission for my recommendations. Thank you for your support!
Get Cozy with this Warm Vegetable Udon Soup Recipe
One of my favorite ways to warm up on a chilly day is with a warm noodle bowl.
There are so many ways to make a tasty noodle bowl – just take a look at my Thai Red Curry Lemongrass Soup, Vegan Miso Ramen Bowls and Miso Ramen with Miso-Glazed Delicata Squash recipes.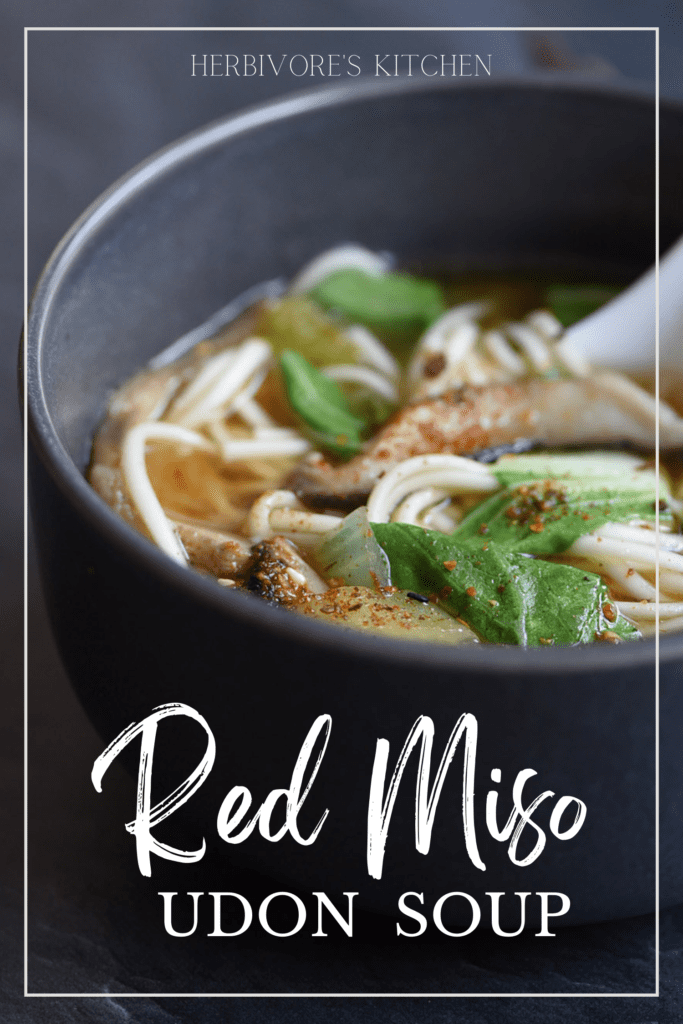 Today though, I want to share something a little different – this Red Miso Udon Soup. It's rich and savory, featuring umami-rich sauteed shiitake mushrooms, spicy bok choy and deliciously thick and chewy Udon noodles.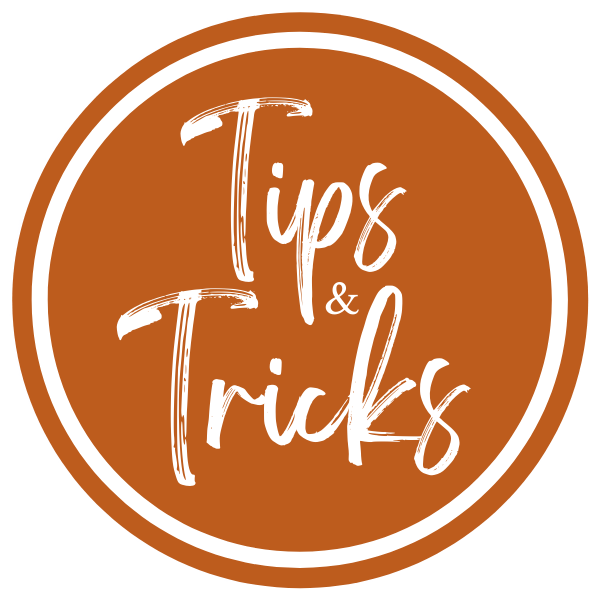 What Are Udon Noodles?
Udon noodles are a popular ingredient in Japanese cuisine. These wheat noodles are long and round, with a thick and chewy texture.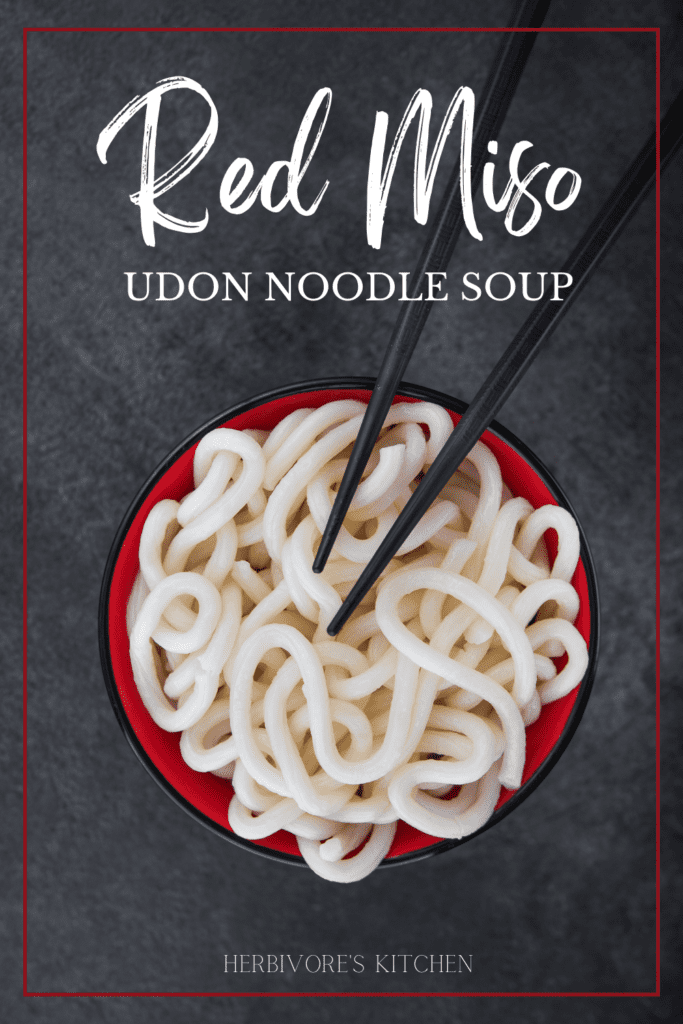 Udon noodles are most often used in soups like this one. Their hearty consistency have a way of making a simple broth bowl a filling and satisfying meal.
What Can I Substitute for Udon Noodles?
Udon noodles can be found fresh or dried in most grocery stores, but if you're having trouble finding them, there are many other types that will work. If you prefer a chewy wheat noodle, look for plant-based ramen noodles.
If you're looking for a gluten-free alternative, try using rice noodles. I'll often add pad Thai noodles to my soups.
What Kind of Broth Is Udon?
Udon noodle soup is typically made with a simple broth that includes dashi broth, soy sauce and mirin. This recipe differs from the norm by using a miso broth instead.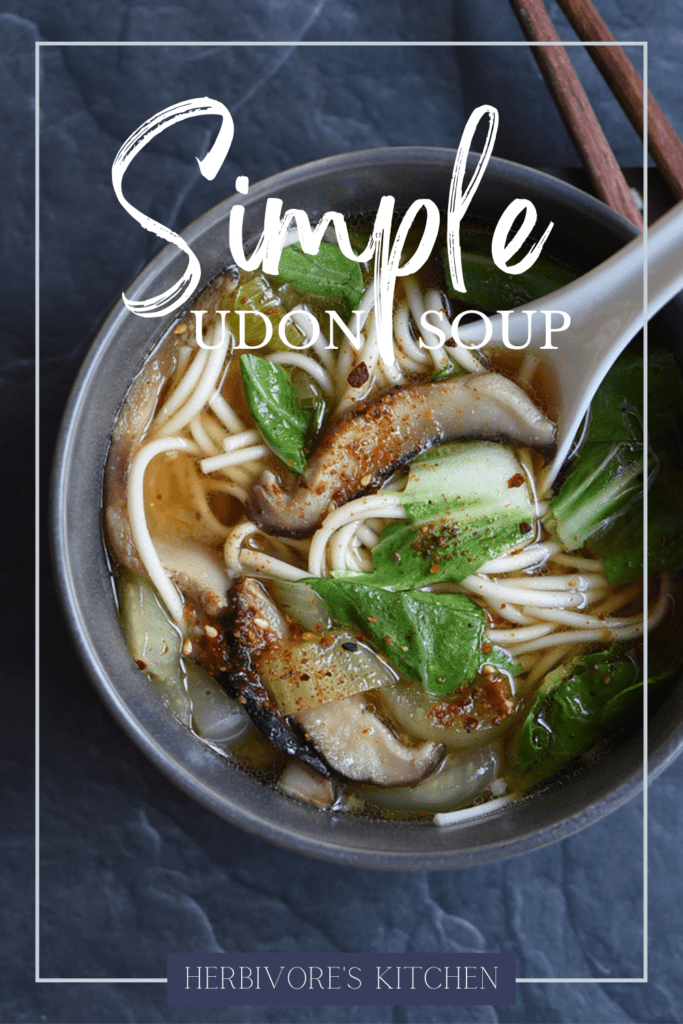 What is Miso Paste?
Miso paste, a popular ingredient in Japanese cuisine, is made from fermented soybeans. It's known for being rich in umami – the savory taste sensation. It's pungent, salty and sweet.
Miso paste is readily available in most grocery stores. You'll find it in the refrigerator section, usually in three different varieties: red, yellow and white. The longer the soybeans ferment, the richer and deeper the flavor… and the color.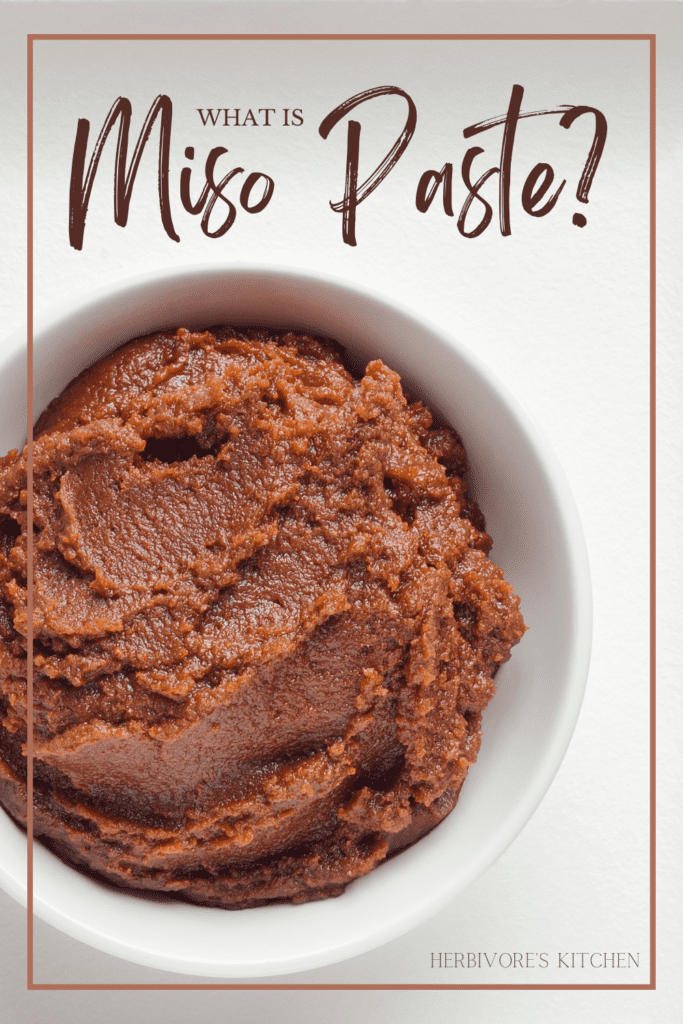 White is the most mild of the three. Along with yellow miso paste, white miso paste has a slightly sweet flavor. It's most often used in soups, dressings and light sauces. Red miso paste is richly pungent, making it a popular ingredient for soups, stews and glazes.
While I like the richness of red miso paste in this recipe, white or yellow miso paste will also work if you're having trouble finding red or find the flavor to be too strong.
What is a Good Miso to Water Ratio?
Miso broth is mostly a combination of miso paste and water. Miso paste is added to the water-based broth by making a slurry — a combination of miso paste and a small amount of liquid. The miso paste is whisked until it is fully dissolved and added to the broth. I use a ratio of 1 tablespoon to 1 cup of water when making a miso broth.
Other Ingredients In This Red Miso Soup Recipe
In addition to the miso slurry, I use some fresh garlic and ginger and soy sauce. That's it! As for toppings, I like to include Udon noodles (of course), sautéed shiitake mushrooms and bok choy.
Do You Love This Red Miso Udon Soup Recipe?
Do you love this Vegetable Udon Soup Recipe? Be sure to check out my other noodle bowls! If you're into ramen, then my Thai Red Curry Ramen Noodle Bowls are for you! Interested in new ways to use miso? Check out my Miso Ramen with Miso Glazed Delicata Squash!
This easy ramen recipe will get vegan comfort food on your table in less than 30 minutes. The Thai red curry paste, a twist on this traditional Japanese dish, makes this ramen noodle recipe both savory and spicy. I've also loaded it with healthy vegetables and brown rice noodles for a healthy nutritional punch!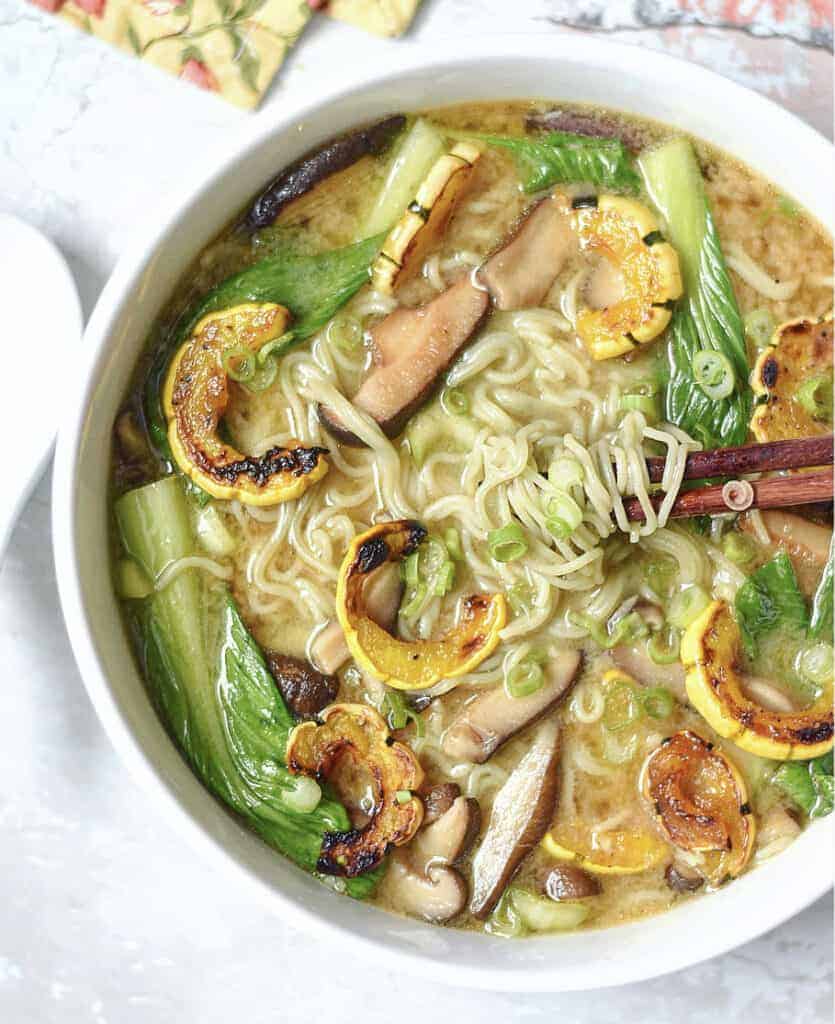 Miso ramen for the win! This easy miso ramen recipe features miso glazed delicata squash, shiitake mushrooms and bok choy making for an amazing vegan dinner idea. This vegan ramen recipe features a savory miso broth and ramen rice noodles for a gluten-free meal.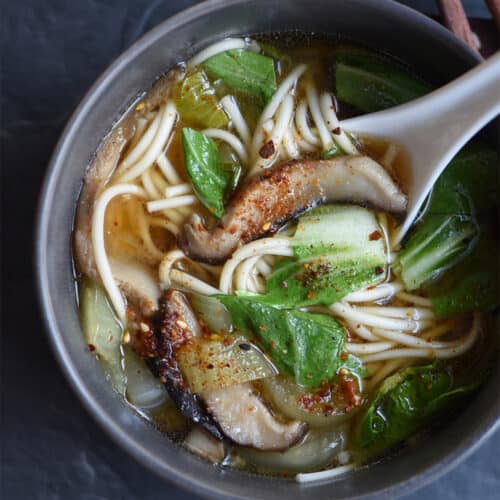 Red Miso Udon Soup
Get cozy with this Red Miso Udon Soup! This simple udon noodle soup recipe makes a tasty, easy plant-based lunch or light dinner.
Ingredients
12-15

shittake mushrooms

stems trimmed and sliced into 1/4" pieces

2

tbsp

safflower oil

divided

1

tbsp

garlic

minced

1

tbsp

ginger

minced

1

8 oz pkg

Udon noodles

1/4

cup

low-sodium tamari sauce

2

heads

bok choy

washed and trimmed

1/2

cup

red miso paste

sriracha

optional, to taste
Instructions
In a large stockpot, add the shiitake mushrooms and 1/4 cup of water. Simmer the mushrooms until the water has almost cooked off, about 5minutes. When a small amount of water remains, add 1 tablespoon of the safflower oil. Continue to sauté the mushrooms until they are slightly crispy. Bbout 2 minutes. Set aside.

Add the remaining tablespoon of safflower oil to the stockpot and heat until shimmering. Add the garlic and ginger and sauté on medium-low heat until fragrant, about 1 to 2 minutes. Add the tamari sauce and 7 1/2 cups of water. Simmer for 10 minutes.

While the broth is simmering, prepare the Udon noodles according to the package directions. Drain the noodles when they are al dente and rinse with cold water to stop the cooking process.

Add the bok choy to the broth and remove the broth from the heat.

In a small bowl, combine the miso paste with 1/2 cup (120 ml) of warm water and whisk vigorously until the miso paste is dissolved. Add the miso slurry to the broth. Add the mushrooms to the broth.

Serve immediately by placing the desired amount of noodles in the bottom of your serving bowls. Top with the broth and add sriracha sauce for additional heat, if desired.
About Herbivore's Kitchen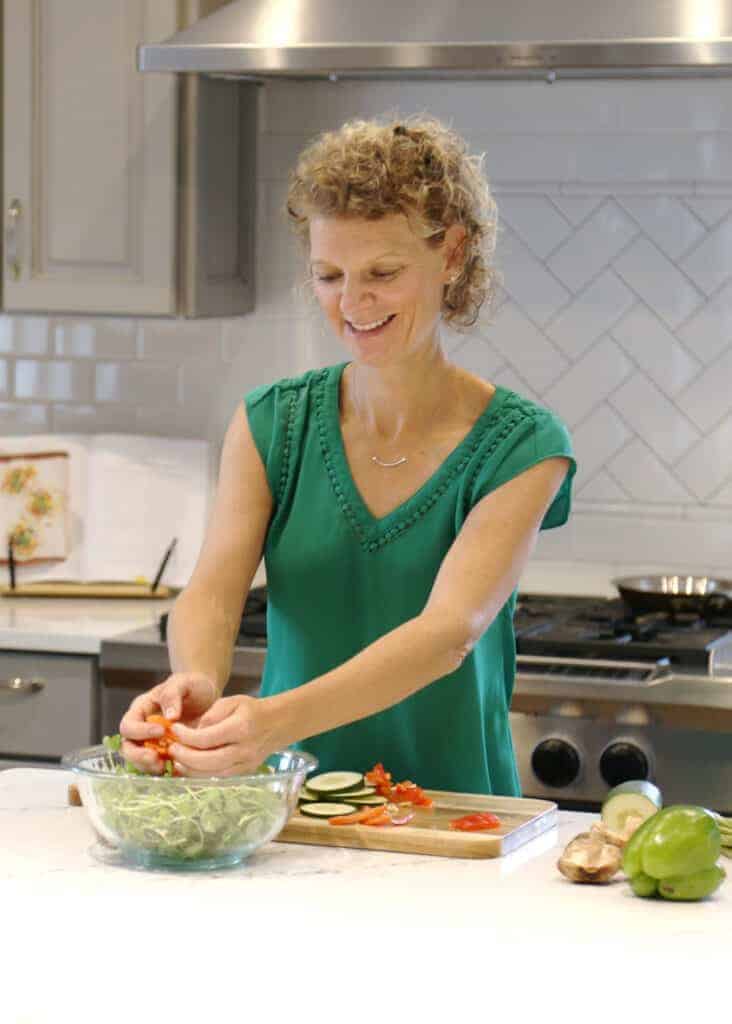 Herbivore's Kitchen is a plant-based food blog started by me, a vegan home chef, cookbook author, aspiring food photographer and how-to-be-a-better-food-blogger junkie. You'll mostly find creative and tasty vegan recipes and detailed deep dives into vegan ingredients (check out my Vegucation section) on my blog. I love knowing as much as I can about the food that I make. I'm also really into running a food blog as a business, so I've also got a section of my blog titled: Confessions of a Food Blogger where I get into the nitty gritty on how to build, manage, market and monetize a food blog.