Jump to Recipe
This Vegan Chocolate Chip Banana Bread Recipe includes affiliate links. When I find a great product or service, I like to share it with my readers. Sometimes I use affiliate links so I can earn a commission for my recommendations. Thank you for your support!
Simple, Delicious & Plant Based: Dairy Free Banana Bread
This Vegan Chocolate Chip Banana Bread is one of my favorites. Mostly because it's delicious, but also because it's a quick and easy way to address my over-zealous banana purchases.
Did Somebody Say Easy Vegan Banana Bread?
Yes! This Vegan Chocolate Chip Banana Bread recipe is super easy! It's a quick bread, which means that it's made without yeast. Instead, quick breads rely on baking soda or baking powder as a leavening agent. This dairy-free banana bread recipe only takes 10 minutes of prep-time and the rest is hands-free baking time.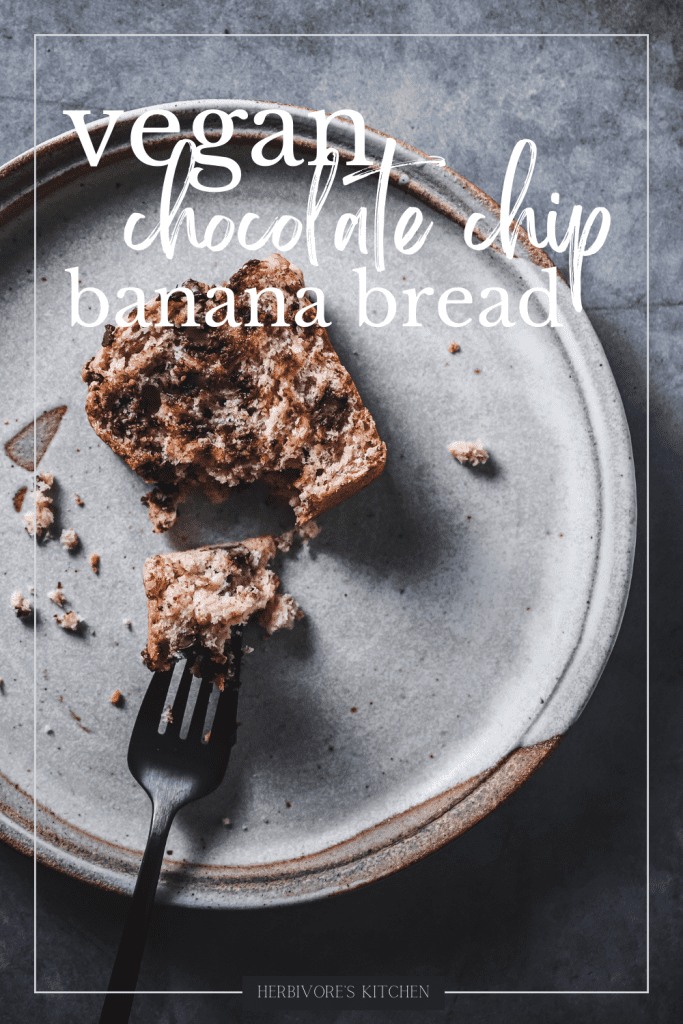 It's a frequent resident on my kitchen counter, available for a grab-and-go breakfast option, a tasty mid-afternoon snack or a satisfying plant-based dessert.
Dairy-Free, Eggless Banana Bread
Traditional banana bread recipes use butter and eggs, but this plant-based recipe is both eggless and dairy free. It uses pure maple syrup instead of a refined sweetener.
So how do you make a dairy-free, eggless banana bread? Well, as it turns out, Mother Nature does a pretty good job of it. Bananas are a very common plant-based substitute for eggs, creating a natural binding agent that helps to keep the loaf intact. Just make sure that you use overripe bananas – they make for a moist vegan banana bread.
As a dairy-free alternative to butter, I often turn to coconut oil. Like butter, coconut oil is solid at room temperature. This makes it an excellent candidate for vegan baking. And while the coconut flavor is present, it's not overwhelming. Instead, it adds a slight sweetness to the finished banana bread.
Do You Love This Vegan Chocolate Chip Banana Bread Recipe?
Do you love this Dairy Free Banana Bread recipe? Be sure to check out vegan sweet bread recipes! If you're into citrus, then you've got to try my Orange Almond Vegan Sweet Bread! Prefer muffins to bread? Check out this same recipe as Vegan Chocolate Chip Banana Bread Muffins.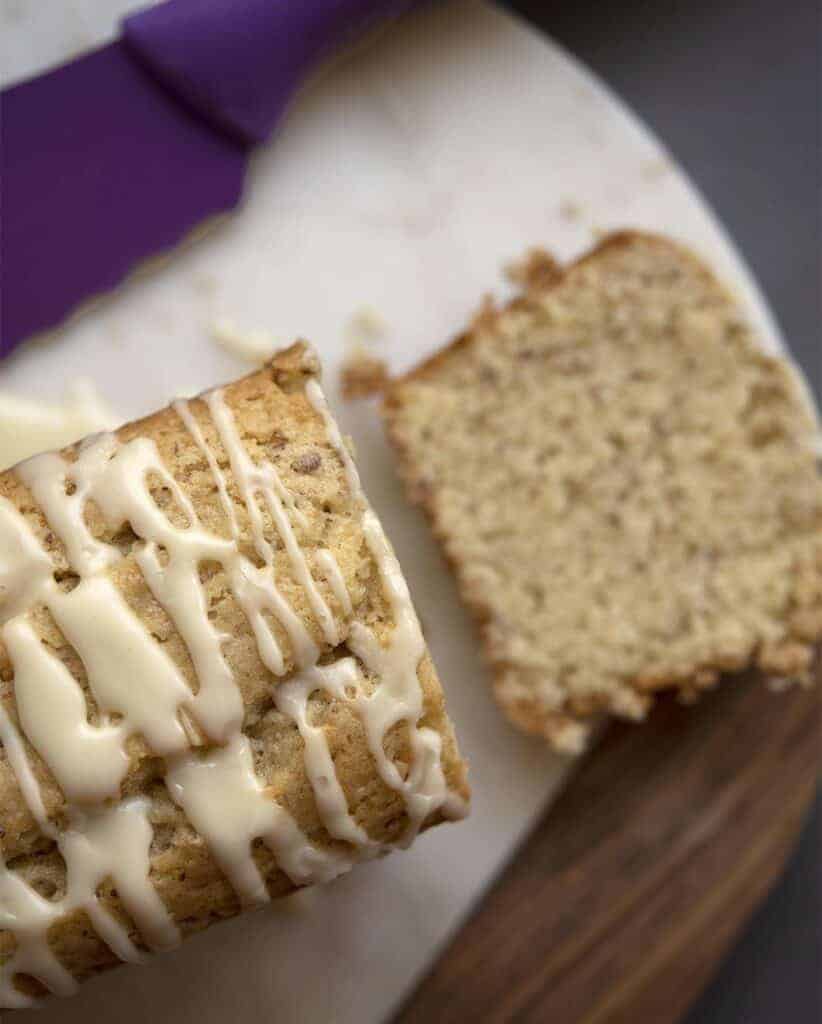 Mornings (and afternoon tea, if you're into that sort of thing) just got a lot better! Meet my Orange Almond Vegan Sweet Bread Recipe! This citrus spiked breakfast bread has a lustrous density made possible by baking with extra virgin olive oil. That's right – olive oil.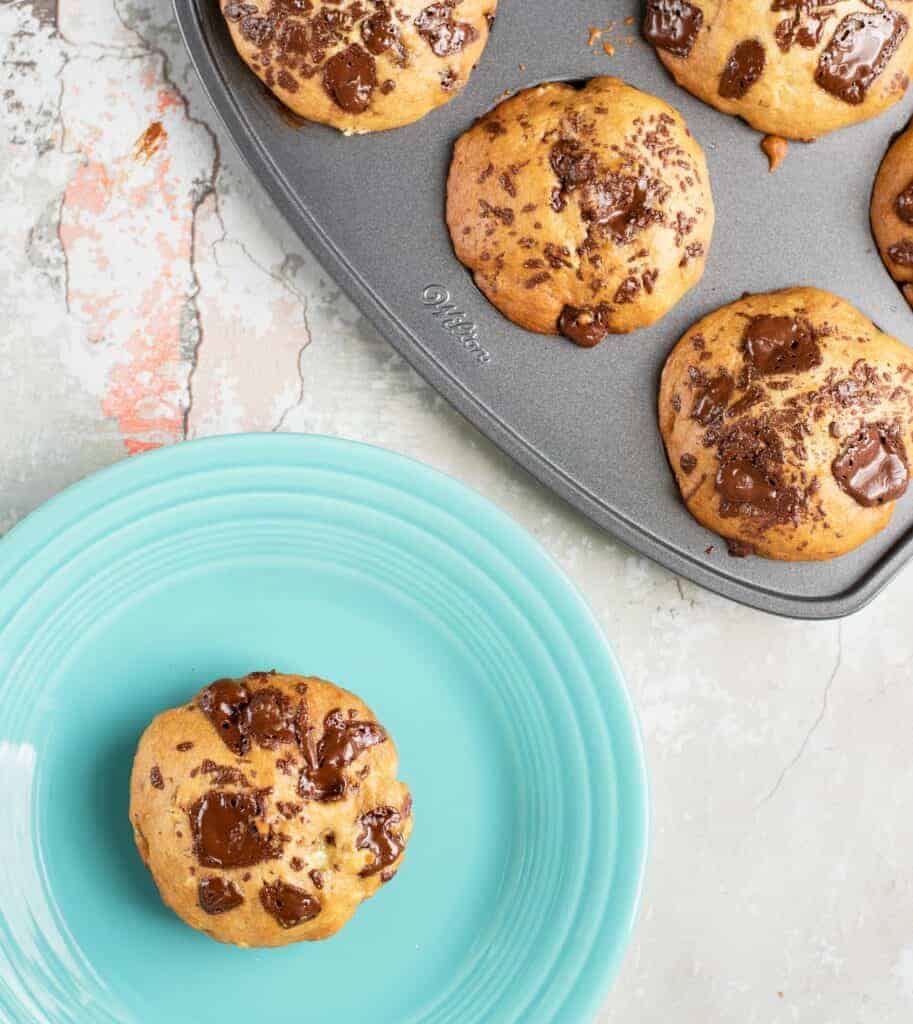 These plant-banana muffins are actually muffin tops — my all-time favorite part of the muffin. Rest assured though, if you (unlike me) don't feel the need to own every kitchen item ever invented, this recipe applies equally well to making the full muffin.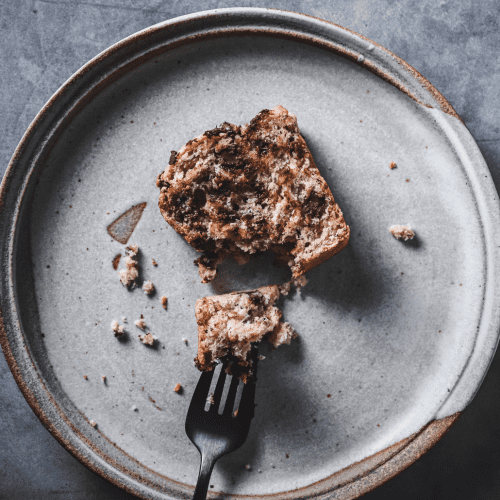 Vegan Chocolate Chip Banana Bread
This vegan chocolate chip banana bread is a delicious plant-based recipe that's perfect for any occasion.
Ingredients
3

ripe bananas

peeled

1/4

cup

coconut oil

+ additional oil for greasing the bread pan; see Recipe Notes

1 1/2

cups

all-purpose flour

1 1/2

tsp

baking powder

1/2

cup

pure maple syrup

1/4

tsp

salt

1

cup

semi-sweet vegan chocolate chips

see Recipes Notes
Instructions
Preheat the oven to 350º.

Thoroughly mash the peeled bananas in a large mixing bowl. Measure the coconut oil in a microwave-safe bowl. Then melt the coconut oil in the microwave on high in 20 second increments.

Add the melted coconut oil, flour, baking powder, maple syrup and salt to the mashed bananas and thoroughly combine.

Fold in the chocolate chips.

Lightly grease the bread pan with solid coconut oil. Then fill the bread pan with the batter until it is ~2/3rd full.

Bake the banana bread on the middle rack for about 30 minutes, until the top of the loaf is golden brown. Check the banana bread by pricking the loaf with a toothpick. If the toothpick comes out clean, the banana bread is done.

Allow to cool, then slice and serve!
Notes
I start with solid coconut oil. Although you're likely to find coconut oil in both solid and liquid states, liquid coconut oil is more highly processed. The processing removes the fatty acids from the coconut oil, which in turn eliminates some of the health benefits that coconut oil is thought to have.
Pay attention not to over mix the batter. This can lead to a denser, tougher loaf.
Vegan banana bread can be stored at room temperature for up to 3 days or in the refrigerator for up to 5 days. For later enjoyment, carefully wrap the banana bread and freeze it for up to 3 months.
About Herbivore's Kitchen
Herbivore's Kitchen is a plant-based food blog started by me, a vegan home chef, cookbook author, aspiring food photographer and how-to-be-a-better-food-blogger junkie. You'll mostly find creative and tasty vegan recipes and detailed deep dives into vegan ingredients (check out my Vegucation section) on my blog. I love knowing as much as I can about the food that I make. I'm also really into running a food blog as a business, so I've also got a section of my blog titled: Confessions of a Food Blogger where I get into the nitty gritty on how to build, manage, market and monetize a food blog.