Jump to Recipe
This Easy Instant Pot Chipotle Soup Recipe includes affiliate links. When I find a great product or service, I like to share it with my readers. Sometimes I use affiliate links so I can earn a commission for my recommendations. Thank you for your support!
Snuggle Up This Winter with This Healthy Hominy Soup Recipe
My fingers have been hovering over the keyword for weeks trying to write a post for this Instant Pot Chipotle Soup Recipe.
Why?
Because I'm not sure what it is, other than the perfect storm of inspiration, desperation and availability. Let me explain.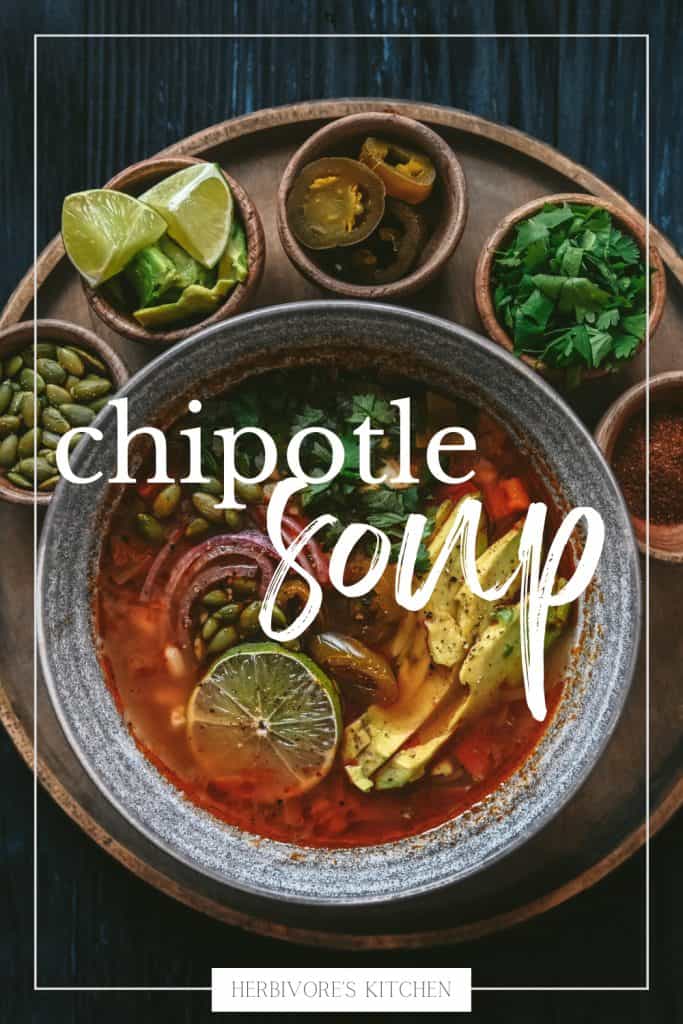 The Inspiration for This Instant Pot Chipotle Soup Recipe
First, inspiration. Early this winter, I was out skiing with some friends. And, as those who know me understand, I don't brave the winter elements without the promise of food at the end.
On this particular day, we ended at one of my beloved après locations, a bare bones establishment at the base of the mountain. What it potentially lacks in curb appeal, it makes up for in delicious, cozy, post-skiing fare, including a newly added item – Ancho Chili Tortilla Soup.
So divine was this soup, that I stopped at the grocery store on my way home and picked up what I guessed to be the necessary ingredients. All of them except for ancho chilies and tortillas. What can I say? Perhaps my brain was still defrosting.
Desperation: The Main Ingredient in this Hominy Soup Recipe
A couple of days later, I set out to recreate the Ancho Chili Tortilla Soup that had so captured my attention, when I discovered that I didn't have two of the primary ingredients.
Enter availability. With dinner looming, I did what I had to do. I took the hominy and chipotle pepper sauce and improvised.
Not Quite Posole, But Not Tortilla Soup Either
Normally when this happens, I cut my losses on the recipe I'm after and try again another day. The task just becomes getting food on the table. But this soup, borne of nothing but a short attention span, turned out to be really delicious. And really easy.
How To Make This Instant Pot Chipotle Soup
An Instant Pot is helpful for this plant-based soup recipe, but it's not required. I like it because it cuts the time down on the hominy. If you're more organized than I am, for example, you do things like make grocery lists, you can soak the hominy ahead of time. Canned hominy will also work.
What Is Hominy?
If you're not familiar with hominy, its dried field corn that is dried and treated with lye. This process makes the kernels softer and assists in preserving them for storage. Hominy is about 3 times the size of a sweet corn kernel and is chewier and more dense.
Hominy is a staple in Southern cuisine, serving as the key ingredient in grits. It's also heavily featured in Mexican and South American cuisine, becoming masa when ground. Masa is then used to make tortillas, arepas and pupusas.
How To Prepare Hominy
For this Chipotle Soup Recipe, I started with dried hominy. Like dried beans, hominy should be rinsed and soaked in water for several hours (or overnight) before being used in a recipe. If that doesn't fit your schedule, you can also buy canned hominy or you can pressure cook dried hominy in your Instant Pot to save time.
To cook dried hominy in a pressure cooker, simply rinse it and add it with water (using a 2:1 ratio) and a bit of salt. Pressure cook on high for 45 minutes, with a natural steam release. After this step, the hominy will be almost tender, perfect for adding the rest of the soup ingredients and simmering.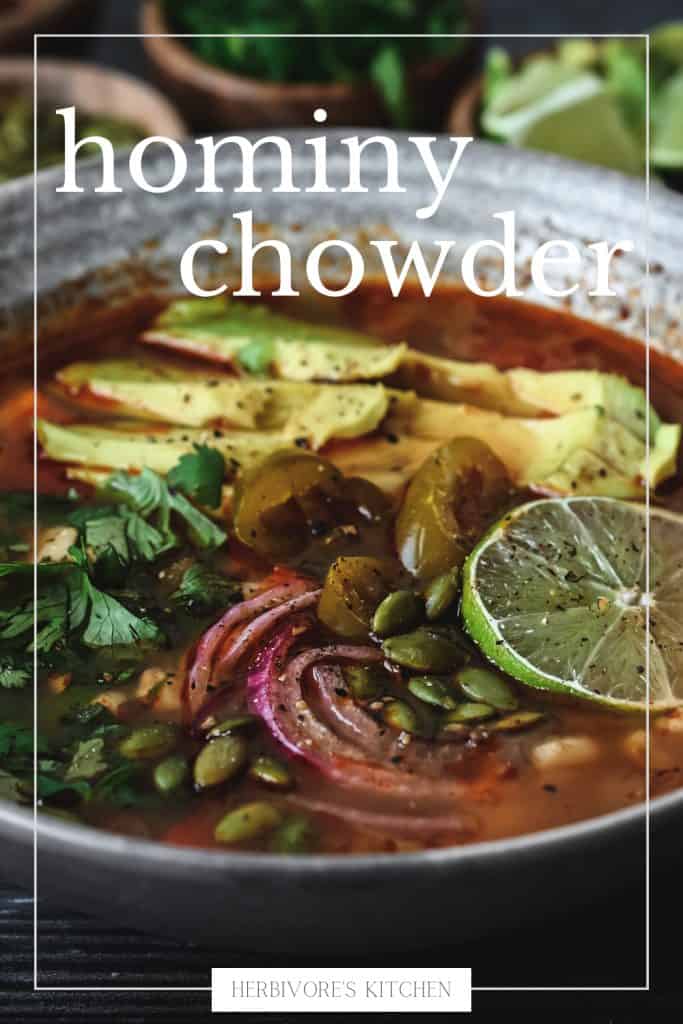 Making the Broth for this Chipotle Soup Recipe
After the hominy is cooked, I drain and rinse out my pressure cooker to make the broth. Like many of my plant-based recipes, I take the time to layer in flavor. It's a few extra steps, but it adds a lot of depth to this vegan soup.
I start with sauted onions, then add diced green chilies, fresh garlic and cumin. When these basics are browned and fragrant, I add chipotle pepper sauce and continue sautéing. Finally, I add diced tomatoes and water finish out the broth.
How to Top This Hominy Soup Recipe
The real stars of this hominy soup recipe are the toppings. I encourage you not to punt here. Especially with the fresh lime juice. I can't emphasize enough what a squeeze of fresh citrus can do for a dish.
Not to be outshined however, are the pickled red onions, toasted pepitas and diced avocado. Each of these ingredients adds something special to this chipotle soup recipe. Not only for the purposes of flavor, but also aesthetically as well.
Do You Love This Chipotle Soup Recipe?
Do you love this easy, plant-based hominy soup recipe? Be sure to check out my other vegan soups! If you're into creamy vegetable soup, then my Asparagus White Bean Soup is for you! Forever-searching for a plant-based stew alternative? Then you'll love my Vegan Beef Stew.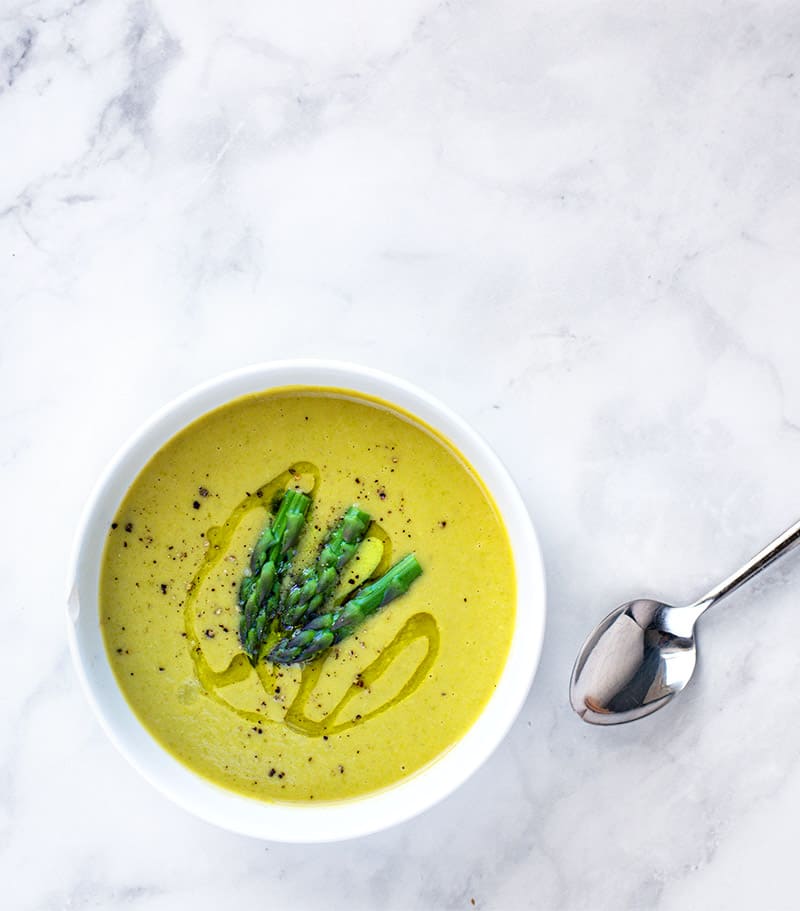 This vegan asparagus soup recipe comes directly from my new cookbook: 5-Ingredient Vegan Cooking! It's packed full of 60 approachable plant-based recipes that use just a few ingredients, but that are full of flavor! This asparagus white bean soup is just a little taste, so be sure to check out my book!
Personally, I think that there is no better vegan comfort food than stew. This vegan beef stew recipe is reminiscent of traditional beef stew with a thick, rich sauce and plenty of tender vegetables. It's hearty and healthy and makes getting a tasty vegan dinner on the table easy!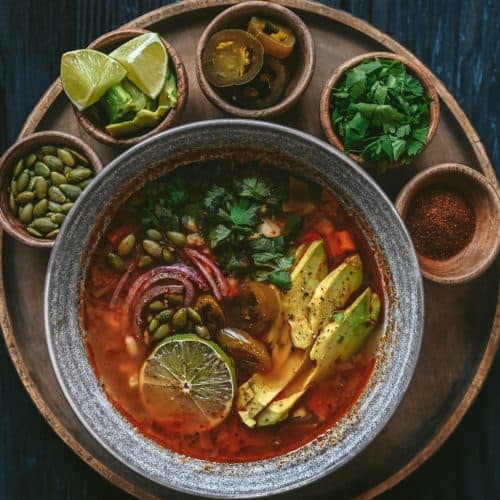 Chipotle Soup Recipe
Stay warm this winter with this easy, instant pot chipotle soup recipe! Plant-based and spicy, this hominy soup is sure to be a family favorite!
Ingredients
1

cup

dried hominy

rinsed

2

cups

water

1

tsp

salt

2

tbsp

safflower oil

or other neutral tasting high-temp tolerant oil

1/2

yellow onion

diced

1

tsp

salt

3

cloves

garlic

minced

1

5 oz can

diced green chilies

1

tbsp

cumin

1

7 oz can

chipotle pepper sauce

1

14 oz can

diced tomatoes

4

cups

water

fresh lime wedges

as optional garnish

pickled red onions

as optional garnish (find the recipe here)

fresh cilantro

rinsed and roughly chopped, as optional garnish

avocado

as optional garnish

toasted pumpkin seeds

as optional garnish (find the recipe here)
Instructions
Add the rinsed hominy, water and salt to your pressure cooker. Set on high for 45 minutes with a natural steam release.

When the hominy is done, drain and rinse. Wash out the pressure cooker.

Set on sauté and add the safflower oil. When shimmering, add the diced onion and salt and sauté until browned. About 6-8 minutes.

Add the garlic, diced green chilies and cumin. Continue sautéing until fragrant. 1-2 minutes.

Add the chipotle pepper sauce and cook for 1-2 minutes more.

Add the diced tomatoes, water and cooked hominy. Cover and simmer for 15-20 minutes.

Serve with fresh lime, pickled red onions, fresh cilantro, avocado and toasted pumpkin seeds.
Notes
If you do not have a pressure cooker, you can make this soup on the stove top and used canned hominy. Follow steps 2-6 and then add the canned hominy (drained and rinsed) as directed.
I HIGHLY recommend all of the toppings for this chipotle soup recipe. The limes and pickled red onions add a touch of tang to offset the spiciness of the chipotle peppers. Avocado gives this dish a creamy mouthfeel, while toasted pepitas add some crunch.
About Herbivore's Kitchen
Herbivore's Kitchen is a plant-based food blog started by me, a vegan home chef, cookbook author, aspiring food photographer and how-to-be-a-better-food-blogger junkie. You'll mostly find creative and tasty vegan recipes and detailed deep dives into vegan ingredients (check out my Vegucation section) on my blog. I love knowing as much as I can about the food that I make. I'm also really into running a food blog as a business, so I've also got a section of my blog titled: Confessions of a Food Blogger where I get into the nitty gritty on how to build, manage, market and monetize a food blog.