This Best Vegan Pizza Toppings: Learn How to Make Amazing Plant-Based Pizza with this List of Vegan Toppings for Pizza! post includes affiliate links. When I find a great product or service, I like to share it with my readers. Sometimes I use affiliate links so I can earn a commission for my recommendations. Thank you for your support!
Learn How to Make Amazing Plant-Based Pizza with this List of Vegan Toppings for Pizza!
If you're considering trying on a plant-based diet one of your first questions might be: can vegans eat pizza? The answer is a resounding yes! And it can be easy, healthy and delicious! The trick is in the toppings. In this blog post, I share some of my favorite vegan pizza toppings – perfect for making a really satisfying plant-based pizza!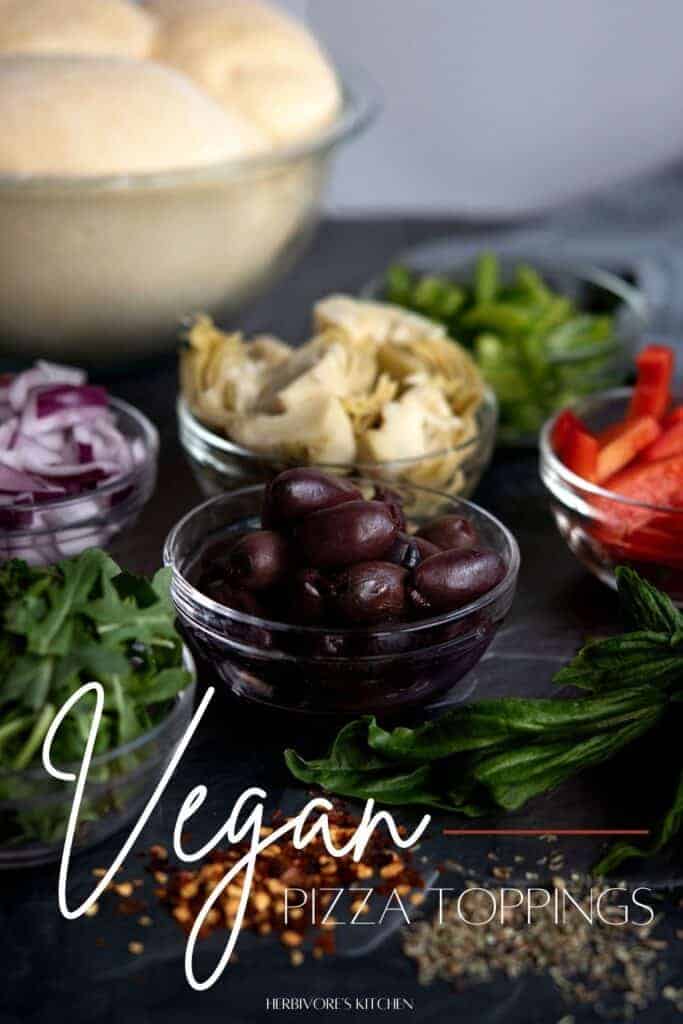 My Favorite Toppings for Plant-Based Pizza
Really, the list for plant-based pizza topping can be endless. And, this doesn't even touch on specialty vegan pizza ideas like BBQ Jackfruit pizza (which you can find in my new cookbook) or my Asian-inspired Moo Shoo Hoisin BBQ Jackfruit Pizza.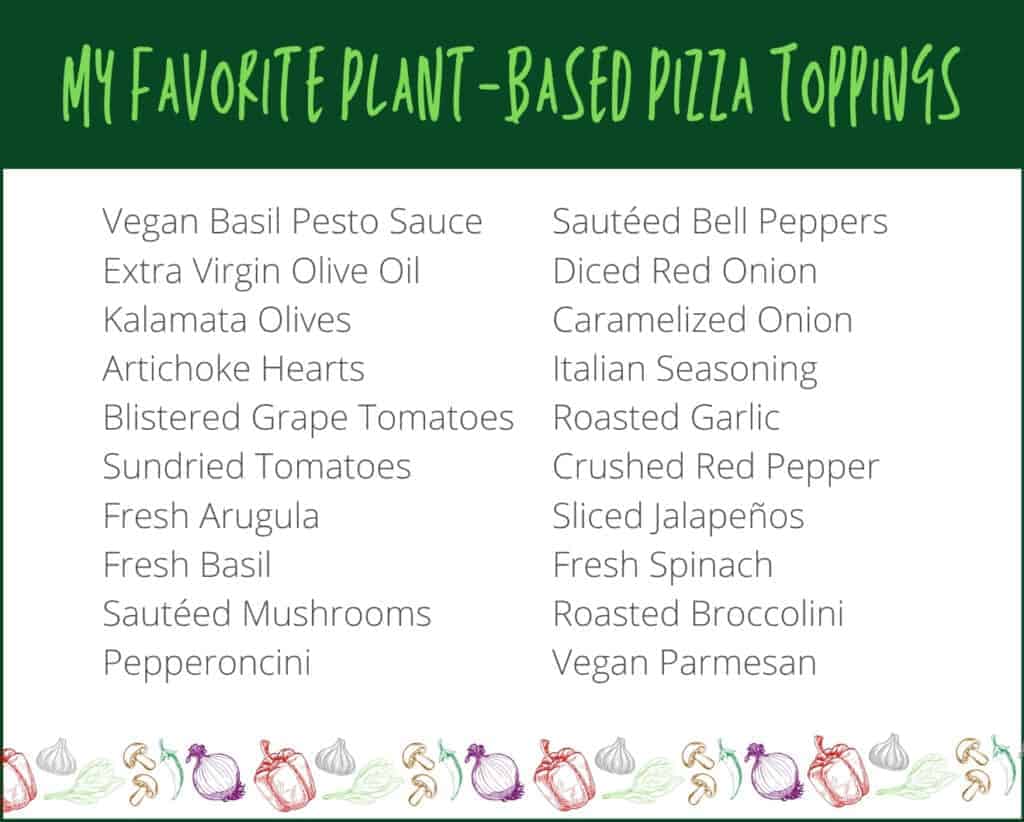 Making Dairy-Free Pizza Taste Amazing
As any vegan-curious person will tell you, the big hang up when it comes to dairy-free pizza is the cheese. I get it – it's a tough change to make. To be honest, pizza is still one of the hardest things for me and when we're out or traveling, I often just revert to vegetarian options. No one is perfect.
When I am home though, I really do like to get busy with a variety of toppings and go dairy free. One of my tricks – drizzling some extra virgin olive oil over my vegan pizza toppings then sprinkling on some fancy flaky sea salt. It's DELICIOUS! And, if you think about it, it really makes sense. I'm replacing the salty, fatty goodness that is cheese with… salt and fat, albeit in much better moderation!
And seriously, if you're new to the idea of plant-based pizza don't feel like you have to go all in. Start with vegetarian pizza toppings and see if you can slowly reduce the need for cheese. I find that I can really taste the flavors of the vegan pizza toppings when I don't douse the whole thing in heavy cheese, so you might be similarly inspired!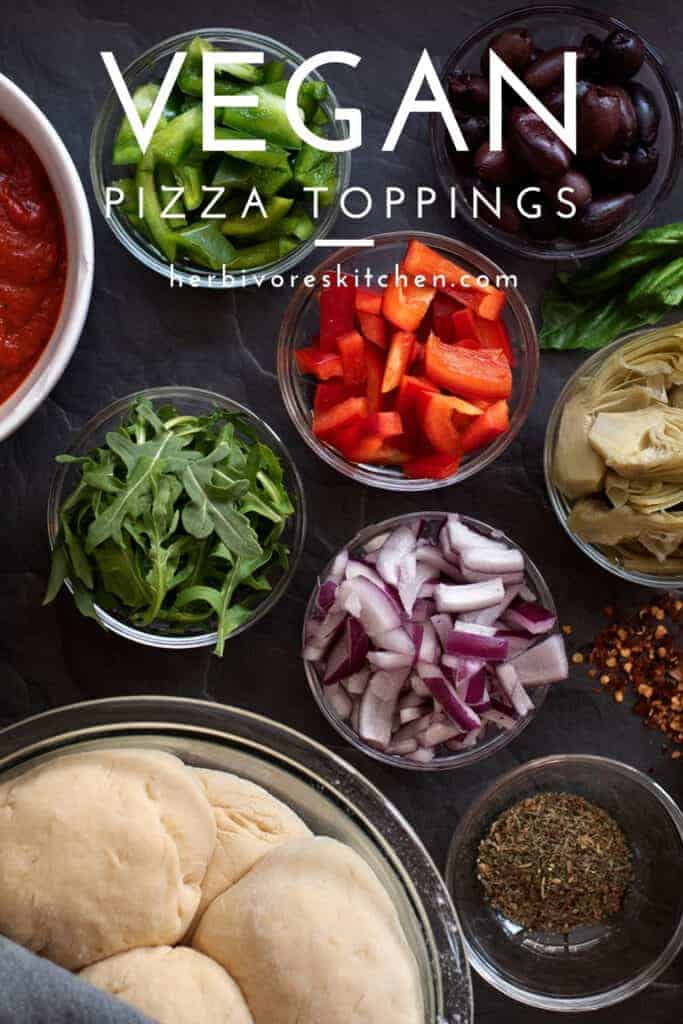 How to Prepare the Best Vegan Pizza Toppings
Preparing vegan-style pizza differs a bit from traditional pizzas (although, I do recommend some of these methods even if you're making old-style pizza). First, there is no need to bake the pizza so that the cheese melts because — as you know — this is a dairy-free pizza!
I like to pre-bake my crust to the almost-desired level of crispiness before I add any sauce or toppings. Using a pre-heated pizza stone helps to ensure a perfectly crisp crust.
Keeping It Simple — Making a Red Tomato Pizza Sauce for Your Dairy-Free Pizza
Speaking of sauce! I have never really been able to decide if I prefer red tomato sauce or pesto sauce on my pizzas. If I go with a red tomato sauce, I like to keep it really simple (like a true Italian-style pizza) – just a puree of tomato sauce, with a little salt, sugar and Italian spices.
Switching It Up – Putting Vegan Basil Pesto on Your Plant-Based Pizza
Vegan basil pesto sauce is one of my favorite things to make. In the summer, I grow fresh basil in my garden and keep a jar of homemade pesto sauce in the refrigerator. I love using it as a base for my vegan pizza, like this Vegan Pesto Pizza with Zucchini Ribbons & Roasted Broccolini I shared on Instagram last year.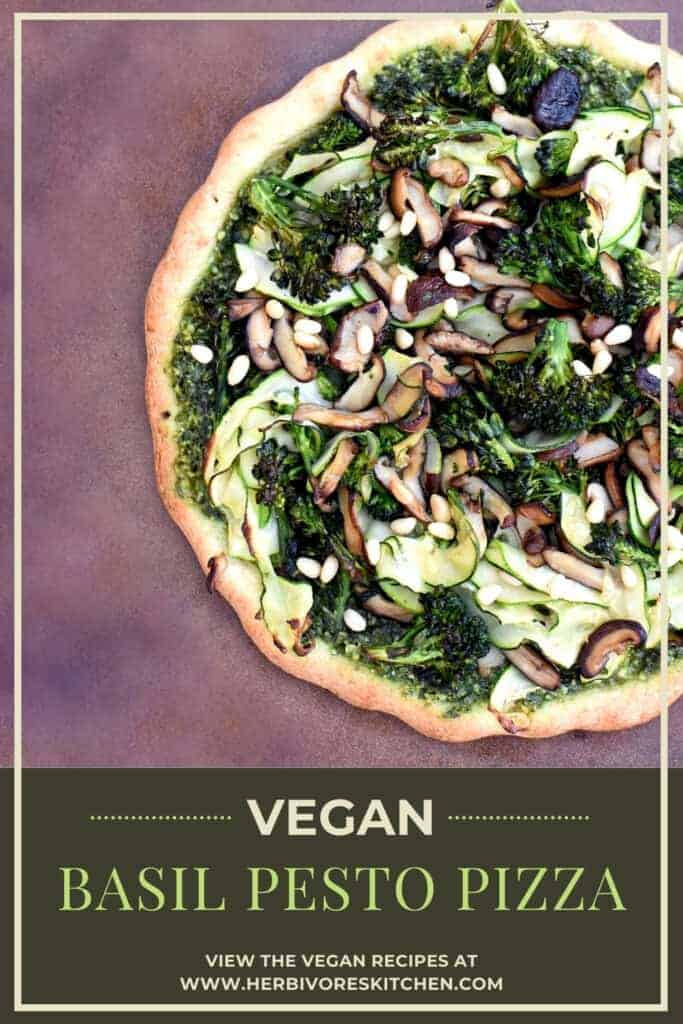 Mixing It Up – Combining Sauces for Extra Flavor
When I am in true doubt, I just combine the two. A blend of a simple red tomato sauce with a drizzle of homemade vegan pesto over the top is divine. I'm telling you – with this combination, you will not miss the cheese!
Pre-Cooking Vegetables Mean More Flavor and a Crispy Crust
I always pre-cook my mushrooms and bell peppers before adding them to my plant-based pizza. Why? Well, it's not because I love having extra dishes. Both mushrooms and bell peppers are high in water content. As they cook, they shed that water which can lead to a soggy crust. I am sure you've had this experience if you've ordered a veggie pizza for delivery. Pre-cooking these ingredients not only avoids having a soggy pizza crust, but you'll get so much more flavor out of these ingredients.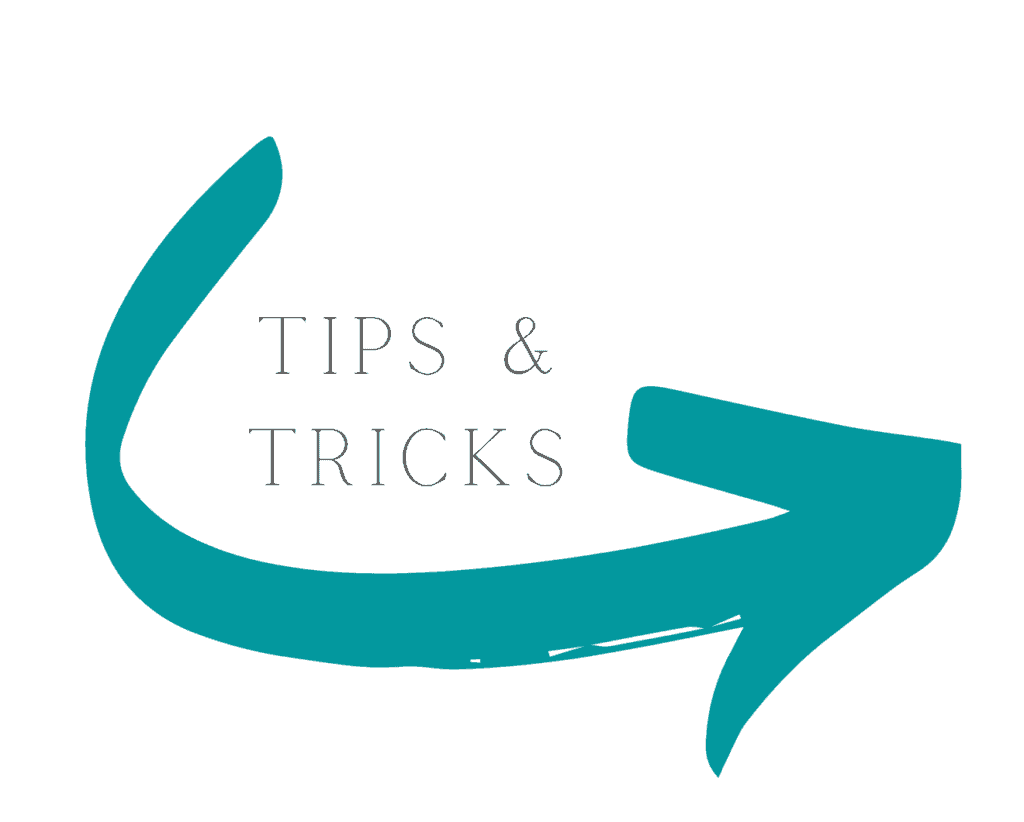 Sauté your mushrooms in ¼ cup of water first. When the water cooks down, add some olive oil and garlic salt. Pre-cooking the mushrooms in water reduces the amount of oil that you'll need to use by a big margin and leads to a crispier end result.
I also love roasted vegetables on my plant-based pizza. Toppings like roasted broccolini or blistered grape tomatoes. Timing these ingredients on pizza when adding them raw is really tricky. The tomatoes will blister long before the broccolini is ready and both ingredients will shed water as they cook – increasing the risk that you'll have a soggy pizza mess on your hands.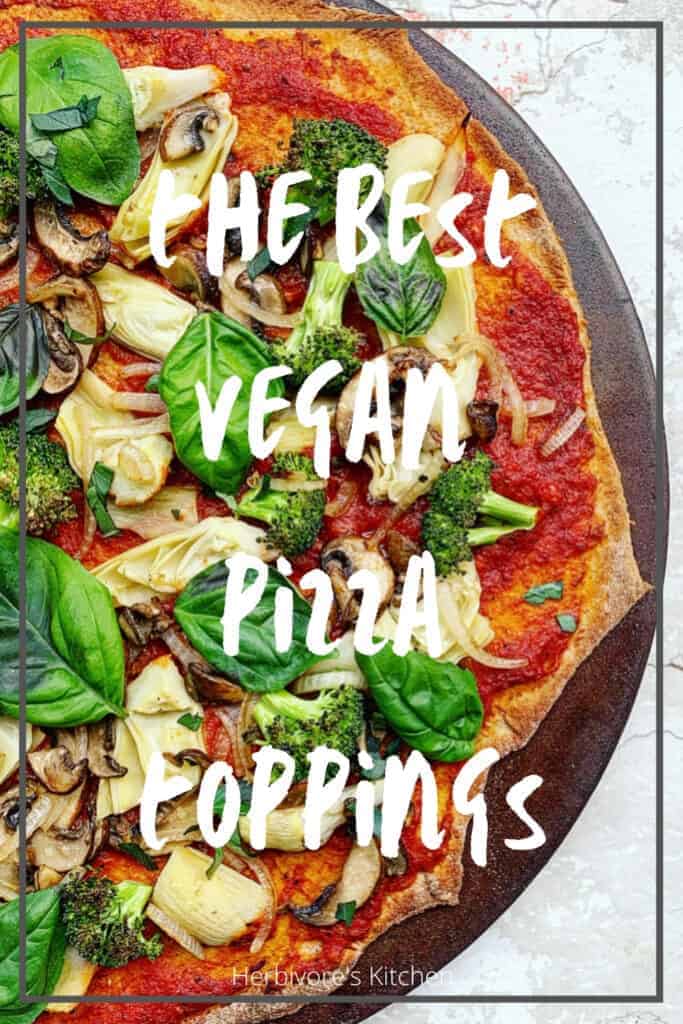 Roasted Garlic & Caramelized Onions – Vegan Pizza Toppings that are Worth the Effort
Caramelized onions and roasted garlic are two ingredients that I like to have for my plant-based pizzas, but they do take some time to create.
How to Make Vegan Caramelized Onions
Caramelized onions are onions that are slow-cooked so that the natural sugars in the onions caramelize. They're sometimes called melted onions because the texture becomes soft and creamy as the onions cook down. Here are some tips for making caramelized onions for your vegan pizza toppings:
Use Yellow Onions or Sweet Onions. Yellow onions are fairly mild in flavor and contain enough natural sugar to caramelize nicely. They're also readily available. Sweet onions, like Vidalia onions, work nicely as well, but I try to only buy them seasonally.
Start with 2 Onions. When caramelized, the onions' volume will reduce significantly. One onion covers about one pizza when the onions have been reduced. Because they take so long, I usually make a batch that I can use for other things (like my Vegan Smashed Potatoes with French Onion Dip in my new cookbook!).
Use a Large, Deep-Sided Skillet and Stir the Onions Often. This will enable you to move the onions around as they cook. You should be stirring them every 5-8 minutes.
Let 'Em Sweat. I cover the pan for the first 20 minutes. This lets the onions really sweat. Then I finish cooking them uncovered for the final 40 minutes.
Don't Burn Them at the End. The most common mistake people make when caramelizing onions is burning them at the end. The pan is much drier as much of the moisture from the onions has cooked off. If necessary, add a tablespoon or two of water to keep the onions moist in the final 10-15 minutes.
Vegan Caramelized Onions
Vegan Caramelized Onions are the way to make just about any dish sing! Use them in a variety of vegan recipes, like my Vegan French Onion Dip or as a vegan pizza topping!
Ingredients
2

yellow onions

2

tbsp

vegan butter

1

tsp

salt
Instructions
Slice the onions in half at the root end. Peel the skin and the outermost layers and discard.

Slice each onion half into thin slices.

Preheat a large, deep-sided skillet. When hot, add the vegan butter and heat until melted.

Add the onions and the salt to the pan and stir until coated. Reduce the heat to medium-low and cover the onions. Stir the onions every 5-8 minutes to avoid burning.

Remove the cover after 20 minutes. Stir the onions and continue to cook them on medium-low heat for an additional 20 minutes. Stir the onions every 5-8 minutes.

After 20 minutes, check the onions. They should be deep brown and creamy, but not crispy. If necessary, add 1-2 tbsp of water to add moisture. Continue to cook the onions for an additional 15-20 minutes. Stirring every few minutes to avoid burning.
How to Make Roasted Garlic
When roasted, garlic becomes a creamy, spreadable delight. Like caramelized onions, roasted garlic takes about an hour to make. And, like caramelized onions, roasted garlic can transform just about any dish from good to absolutely amazing!
Roasted garlic is easy to make! Here's how:
Preheat your oven to 400º.
Cut the top off of a head garlic so that the top of each clove is exposed.
Place the head of garlic in the center of an 8×8 inch piece of tin foil.
Drizzle the top of the head of garlic with olive oil and wrap the head of garlic in the foil.
Roast the garlic in the oven for 1 hour.
Remove the garlic from the oven and allow it to cool. When the garlic is cool enough to handle, gently squeeze the individual garlic cloves from the skins.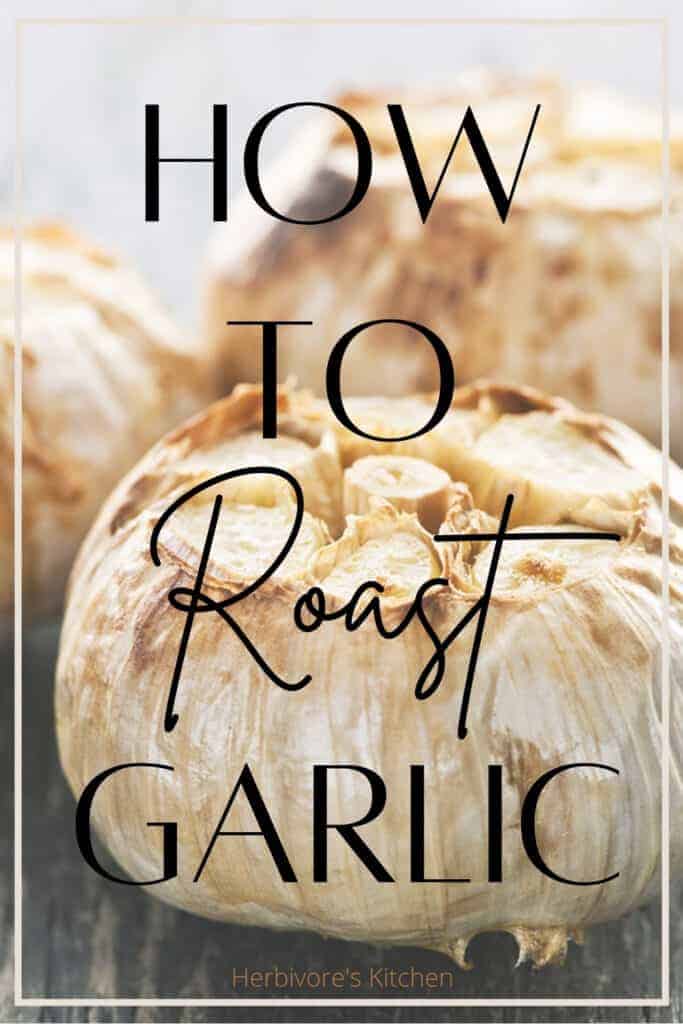 Served Straight – Vegan Pizza Toppings that Don't Require a Lot of Fuss
Vegan pizza toppings can also come straight from a can (or jar). Ingredients like sun-dried tomatoes, artichoke hearts, pepperoncini and kalamata olives add a ton of flavor to a dairy-free pizza. Likewise, fresh ingredients like arugula, basil and diced red onion don't require a lot of advanced preparation.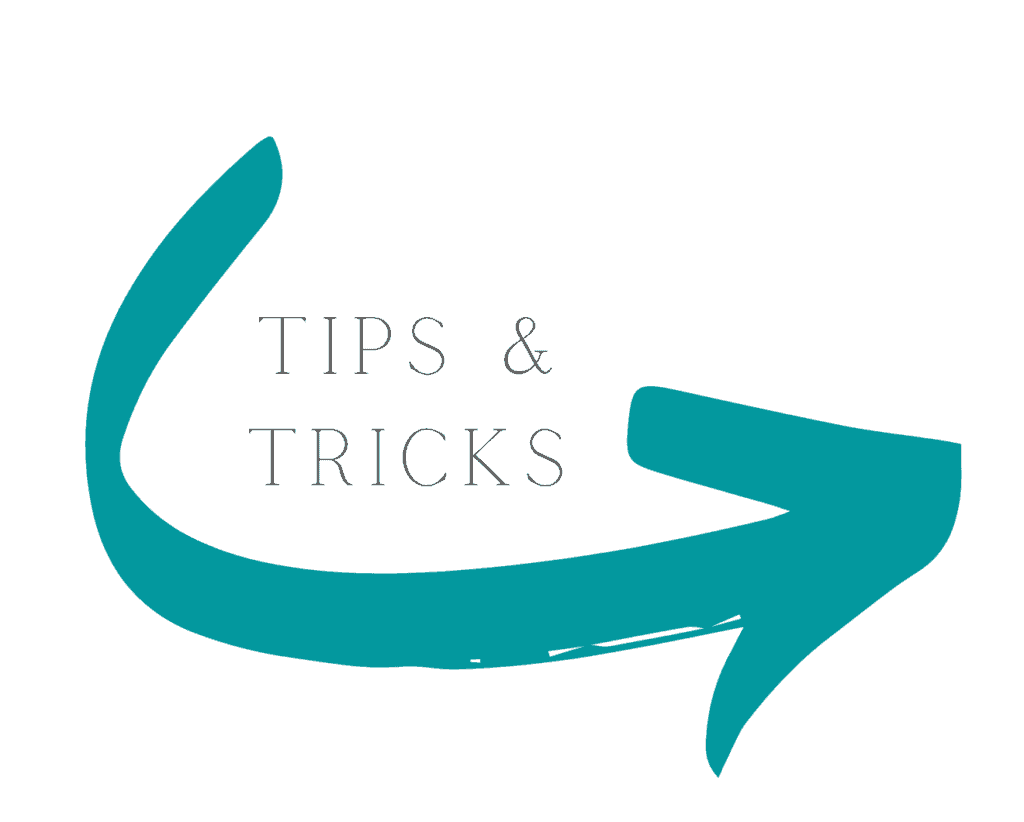 Add the basil and arugula at the very end. I don't put these ingredients on until the pizza has come out of the oven. This keeps them fresh and crisp!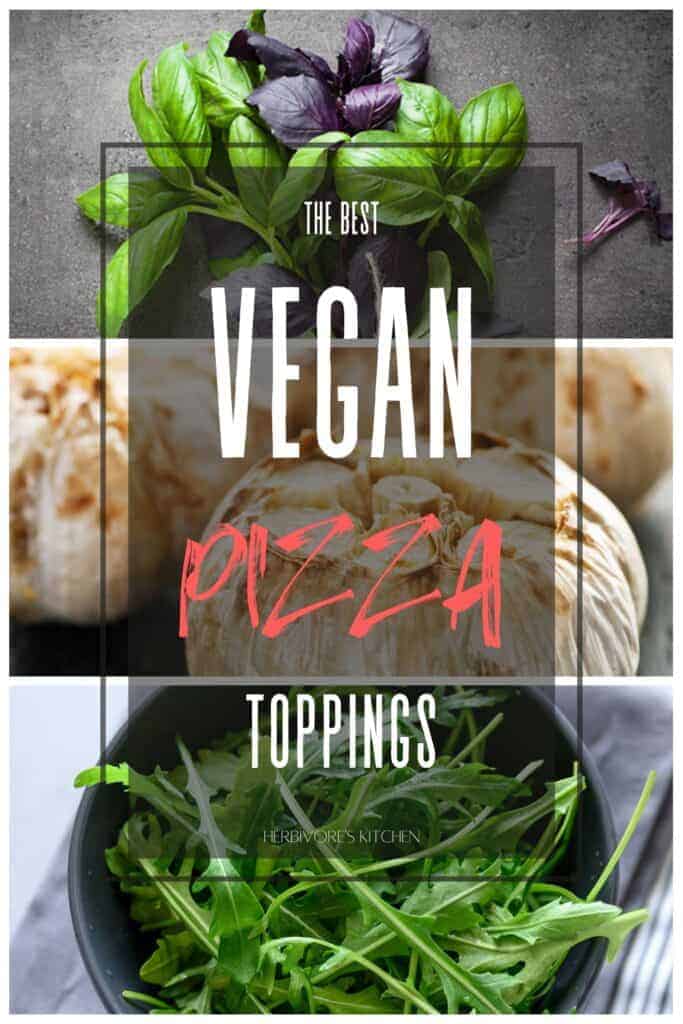 Do You Love This Best Vegan Pizza Toppings Post?
Do you love this Best Vegan Pizza Toppings post? Then be sure to check out other vegan Italian dishes! If you're into pasta, then my Vegan Baked Pasta is for you! Soup more your speed? Then you'll love my Vegan White Bean Stew!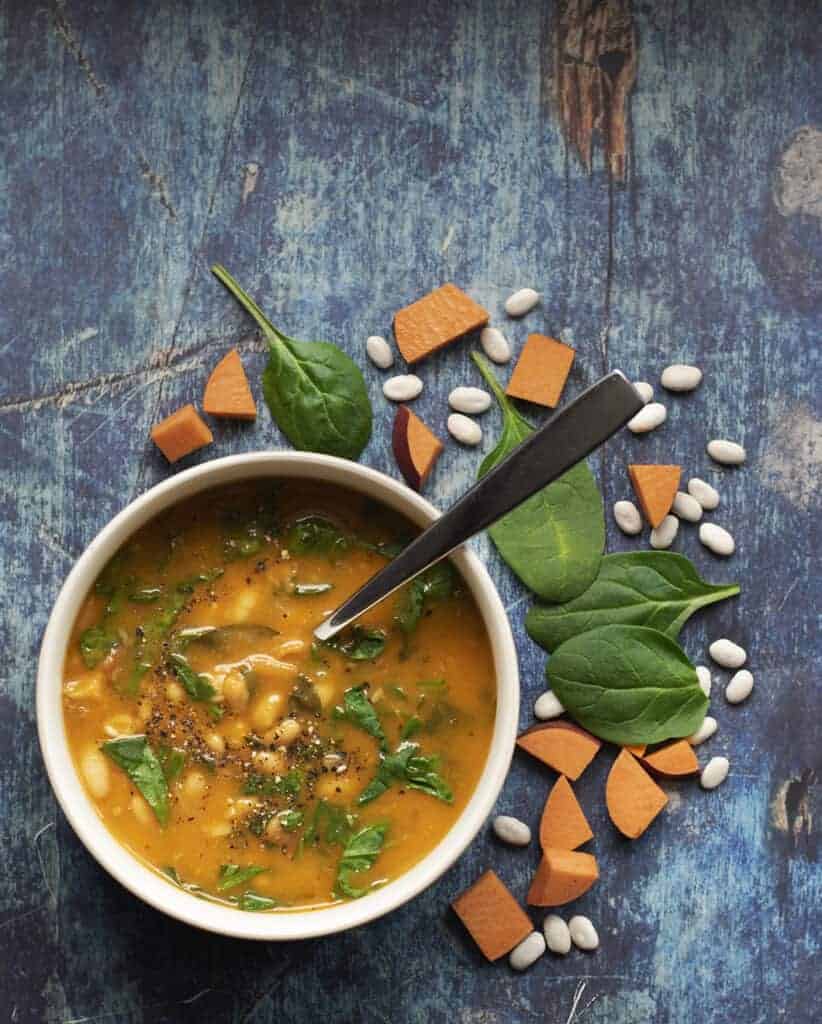 This Italian-inspired vegan white bean stew is a simple way to get a healthy, vegan dinner on the table. It's packed with good-for-you ingredients and is super easy to make!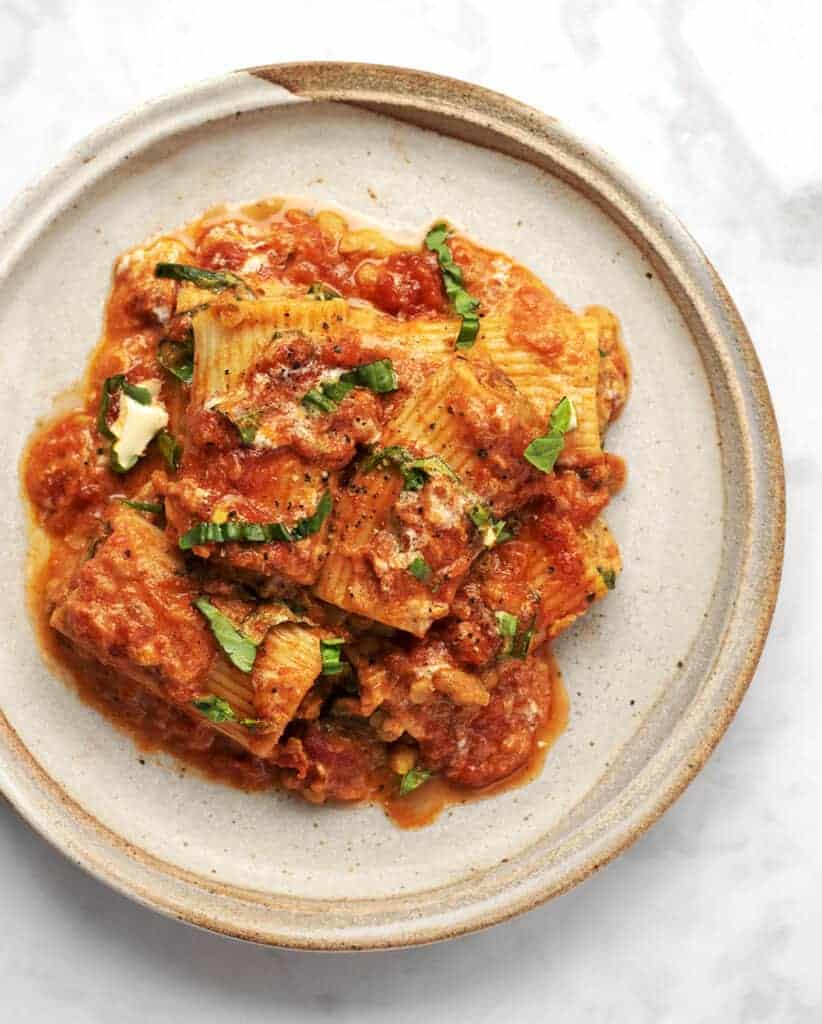 This Vegan Baked Pasta recipe is one of my family's favorites! Yes, it's a pasta dish, but there's a lot more to it than meets the eye! For example, it's packed with protein-rich red lentils and tons of healthy vegetables. It also features my super-delish cashew cream sauce, which gives it a rich, creamy feel.
What's in My Kitchen to Make These Best Vegan Pizza Toppings Easier?
Want to know what tools and resources I keep on hand to make my vegan cooking even easier? Here's a short list of what helped me create this blog post and recipe. For the complete list, visit my Shop where you can find the kitchen gadgets I like as well as a list of books that I recommend.
Nothing makes a pizza taste better than a perfectly crispy crust. And nothing makes it easier for a home chef to obtain this than a pizza stone.
I preheat my pizza stone and get a perfectly crispy crust every single time. Plus, this makes a GREAT gift for the pizza lover in your life!
I didn't own a pizza paddle for the longest time. I kept thinking I didn't need one. Then, in a particularly heavy pizza phase of my life, I had multiple pizzas foiled by not having the proper equipment to transfer curst from cutting board to pizza stone.
I bought this pizza paddle and have never looked back! As an added bonus — the handle folds down for easier storage!
About Herbivore's Kitchen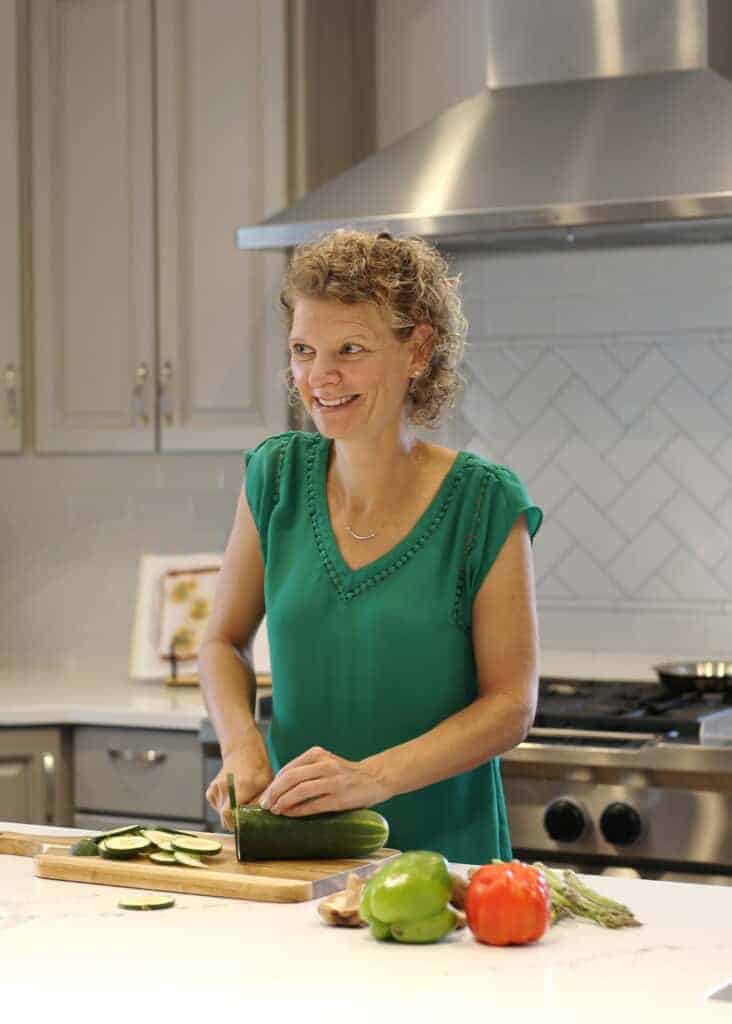 Herbivore's Kitchen is a plant-based food blog started by me, a vegan home chef, aspiring food photographer and how-to-be-a-better-food-blogger junkie. You'll mostly find creative and tasty vegan recipes and detailed deep dives into vegan ingredients (check out my Vegucation section) on my blog. I love knowing as much as I can about the food that I make. I'm also really into running a food blog as a business, so I've also got a section of my blog titled: Confessions of a Food Blogger where I get into the nitty gritty on how to build, manage, market and monetize a food blog.