This Vegan Sushi Rolls & Bowls: How to Make Sushi, Vegan Style post includes affiliate links. When I find a great product or service, I like to share it with my readers. Sometimes I use affiliate links so I can earn a commission for my recommendations. Thank you for your support!
How to Make Sushi, Vegan Style!
Do you think making sushi vegan is impossible? Are you skeptical that vegan spicy tuna can't be done? Think again! In this blog post, I'll have you so jazzed about sushi… vegan sushi… that you'll be imagining your next dinner party with a giant vegan sushi platter as your centerpiece!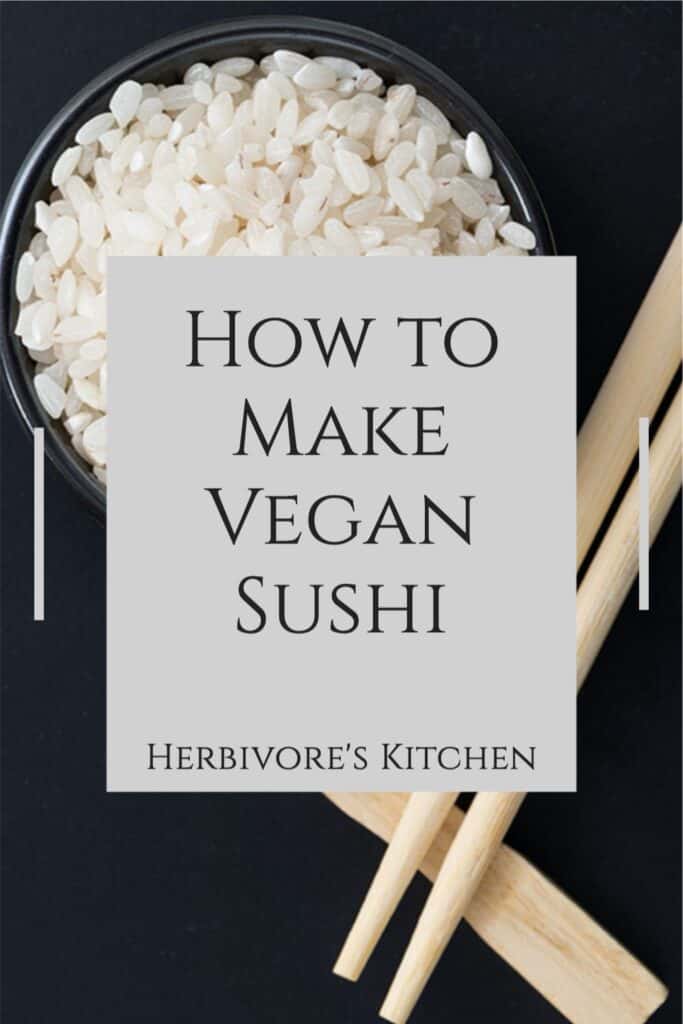 How to Make Vegan Sushi
Making sushi vegan requires a little bit of imagination, especially if you want to move beyond simple raw vegan sushi recipes. Not that those aren't delish. In fact, I have some really lovely vegan sushi recipes using raw ingredients like strawberry, avocado, cucumber, carrot and fresh herbs.
There are so many more vegan sushi options though! Vegan spicy tuna made with Roma tomatoes, panko-crusted sweet potatoes, unagi style eggplant and miso-glazed tofu are all wonderful ideas for filling your vegan sushi rolls with flavorful ingredients.

Authentic Sushi Rice – The Key to Making Sushi, Vegan Style
One of the keys to making vegan sushi taste amazing (and authentic) is taking the time to make authentic sushi rice.
That's right – the rice used in sushi roll recipes isn't just plain white rice. It's a special variety of flavored short-grain rice that becomes both fluffy & sticky when cooked.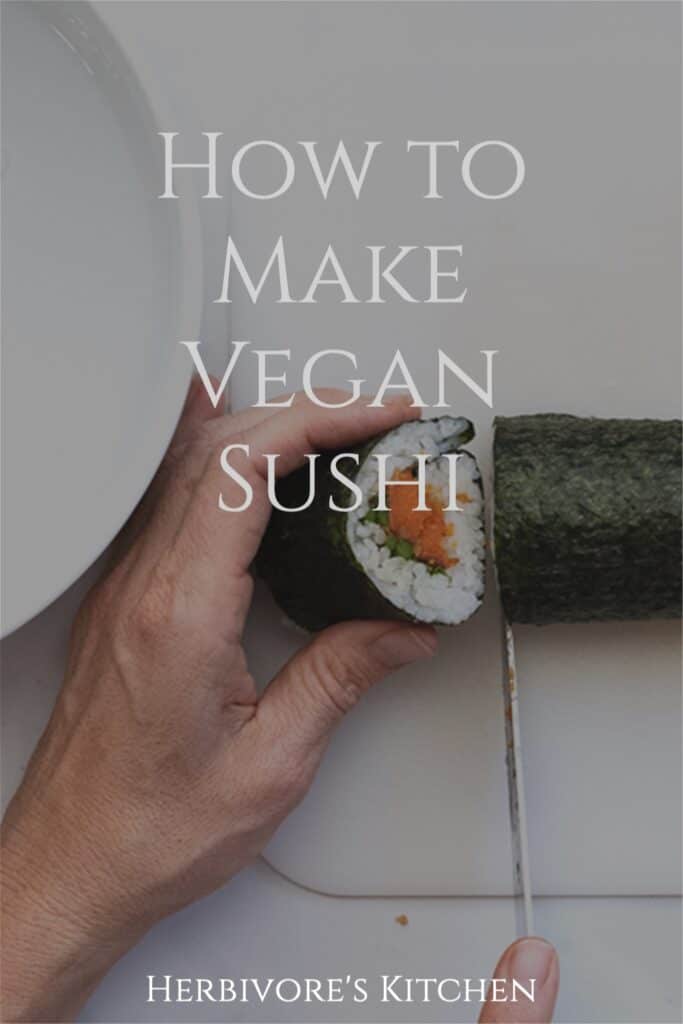 What Makes Sushi Rice Sticky?
The desired sticky result of sushi rice is due to the high starch content found in short-grain rice varietals. This is why, if you've ever tried to make sushi with a long-grain white rice, like Jasmine or Basmati rice, the end result has… well… probably fallen apart in your wasabi-soy sauce.
While you want your sushi rice sticky, you'll also want it to be fluffy. And too much starch will interfere with that balance. This is why you want to first soak and rinse the dry sushi rice before cooking it. I recommend soaking it for at least 30 minutes in cold water before cooking.
How to Cook Sushi Rice
Sushi rice, like other rice varieties, can be cooked over the stove. I really prefer (and recommend) making it in a rice cooker. They're timed and primed (temperature-wise) for delivering pretty perfect rice results. I personally don't have a rice cooker, but my KitchenAid Multi-Cooker has a rice setting on it that gets it right every time.
And what is the perfect result? Rice that is fully cooked and fluffy, but still firm. The rice should be sticky, but each grain should retain its shape. If the rice is mushy, then you likely added too much water and overcooked the rice. This is a common error made when making sushi rice on the stovetop.

Giving Sushi Rice a Sweet & Sour Flavor
Once the rice is cooked, you'll want to allow it to cool slightly before adding the vinegar mixture. The best way to do this is to spread the rice out on a baking sheet. This will prevent trapped heat that will continue to cook the rice even after you remove it from a heat source.
While the rice is cooling, you'll make the vinegar solution. The recipe is below. Once the rice is cooled, gently toss the dressing into the rice folding it in with a wooden spoon so as not to mash the rice. Then refrigerate the seasoned sushi rice until you're ready to put your vegan sushi rolls together.
Finding the Ingredients for Sushi Rice
If you're new to making sushi at home, don't worry. Finding the ingredients for authentic sushi rice is pretty easy. Typically, the short-grain Japanese rice used for sushi is labeled as sushi rice right on the bag.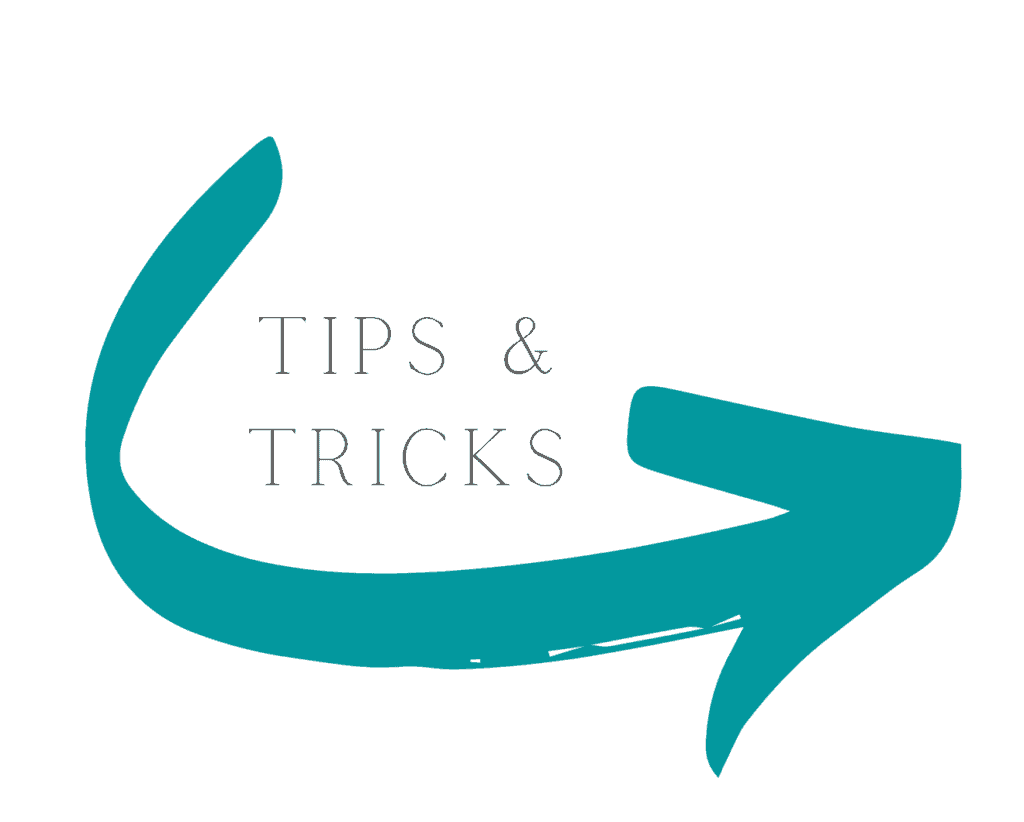 Did you know that the word sushi means "sour tasting." This is a nod to the way fish was preserved in Japan centuries ago – by wrapping it in fermented rice. This flavor is now captured by using rice vinegar to make the sushi rice.
Rice vinegar is available in most grocery stores. It's more mild that other popular types of vinegar that you might be familiar with, like apple cider vinegar or white vinegar. When you're shopping for it, be sure to buy unseasoned rice vinegar as seasoned rice vinegar has already been supplemented with sugar and salt.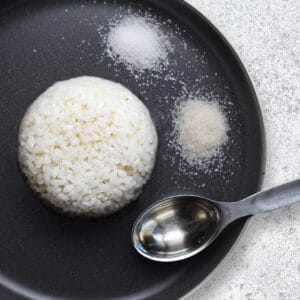 Authentic Sushi Rice
Oneo f the keys to making vegan sushi taste amazing (and authentic) is taking the time to make authentic sushi rice. That's right – the rice used in sushi roll recipes isn't just plain white rice. It's a special variety of flavored short-grain rice that becomes both fluffy & sticky when cooked.
Ingredients
1 1/2

cups

dry sushi rice

prepared in accordance with the package directions

2

tbsp

unseasoned rice vinegar

1

tbsp

sugar

1

tsp

salt
Instructions
Cook the rice in accordance with the package directions. Note the tips and tricks for making the perfect sushi rice in the blog above.

When the rice is finished cooking, it should be fluffy, but firm. Each rice grain should still have its shape.

Cool the rice by spreading it out on a baking sheet.

While the rice is cooling, bring the vinegar to a low simmer in a small saucepan. When simmering, add the sugar and salt and whisk the solution until the sugar and salt have dissolved. Remove the solution from heat and allow it to cool slightly.

When the rice and the vinegar solution have cooled, gently fold the vinegar solution into the rice using a wooden spoon.

Refrigerate the rice until its ready for use.
How to Roll Sushi
Making sushi at home is actually a lot easier than you might think, but it is really helpful to have a sushi rolling kit. Sushi making kits typically include two bamboo rolling mats, a rice spoon/spatula. This is all you really need, so be aware of kits that include a lot more.
Sushi making kits are pretty easy to use, but it does help to have a tutorial. Here's a quick visual guide to rolling your own sushi.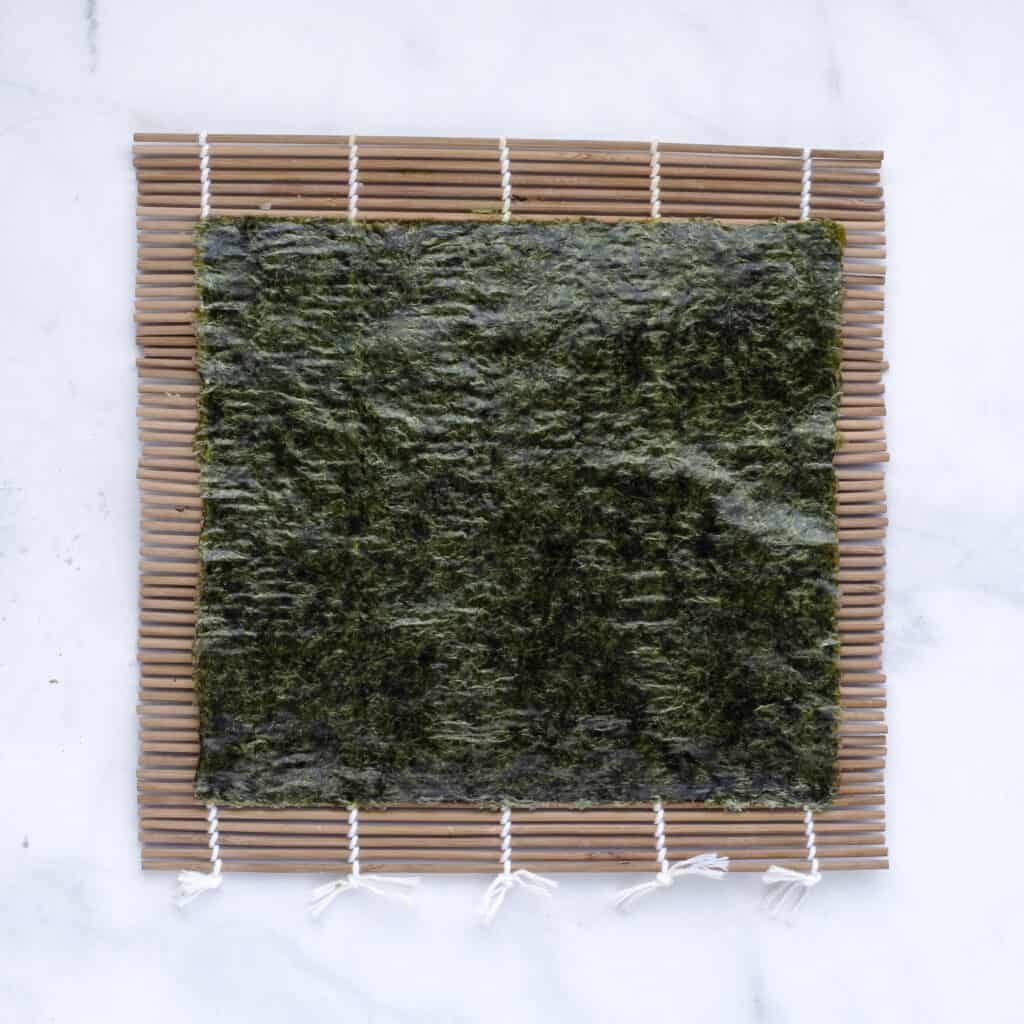 Step 1: How to Make Vegan Sushi
Start with a single sheet of nori and place it in the middle of your sushi rolling mat.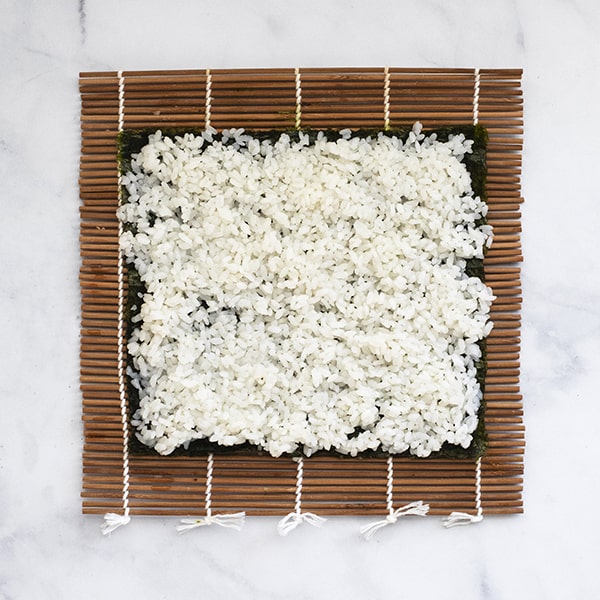 Step 2: How to Make Vegan Sushi
Add 1/4 of the sushi rice to the nori and gently spread it out. I find it works best to wet your fingers to keep the rice from sticking to your hands.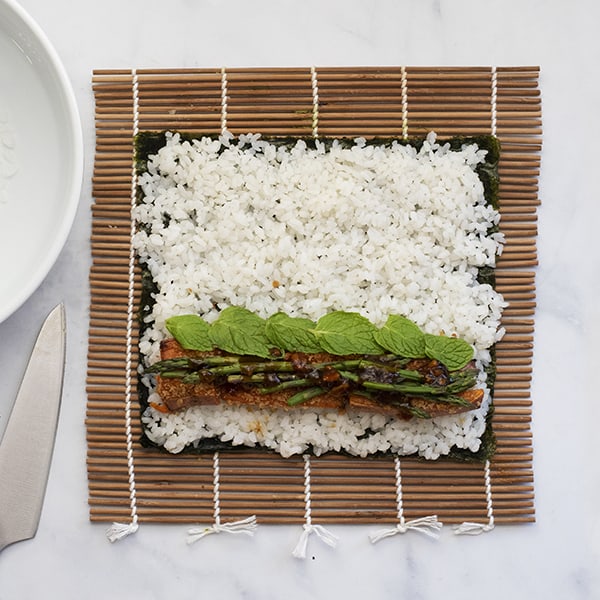 Step 3: How to Make Vegan Sushi
Add the ingredients to the bottom third of the nori. Stagger the ends of the ingredients — this will help your sushi rolls stay together.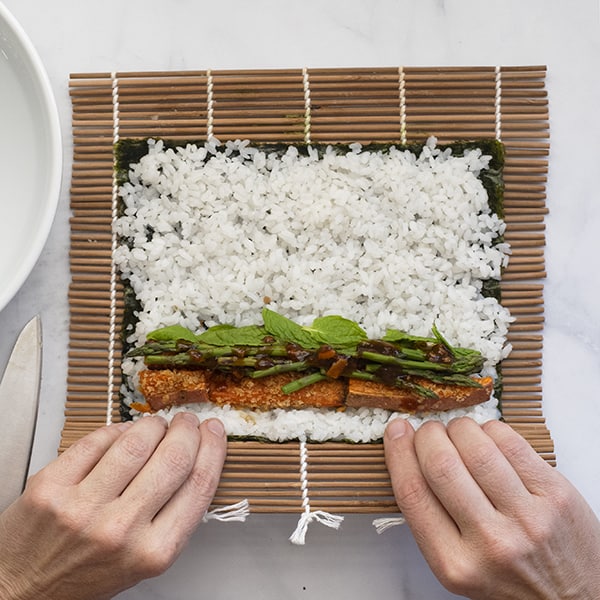 Step 4: How to Make Vegan Sushi
Starting at the bottom, bring the end of the sushi rolling mat up over the sushi roll filling.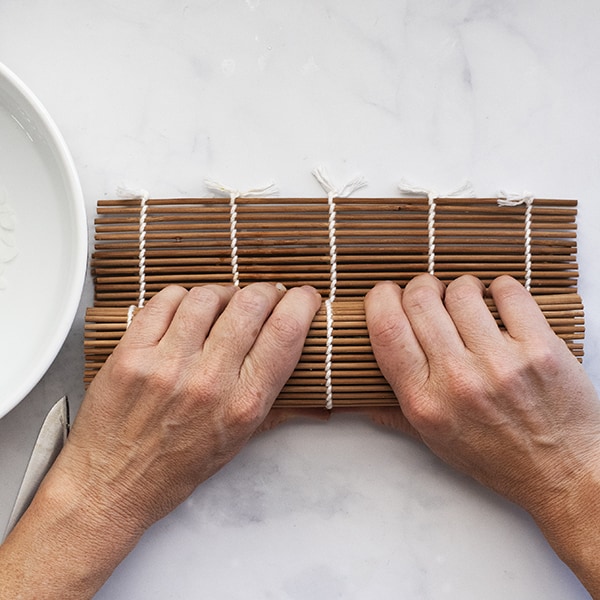 Step 5: How to Make Vegan Sushi
Gently press down on the mat as you roll the sushi. This will compress the ingredients together.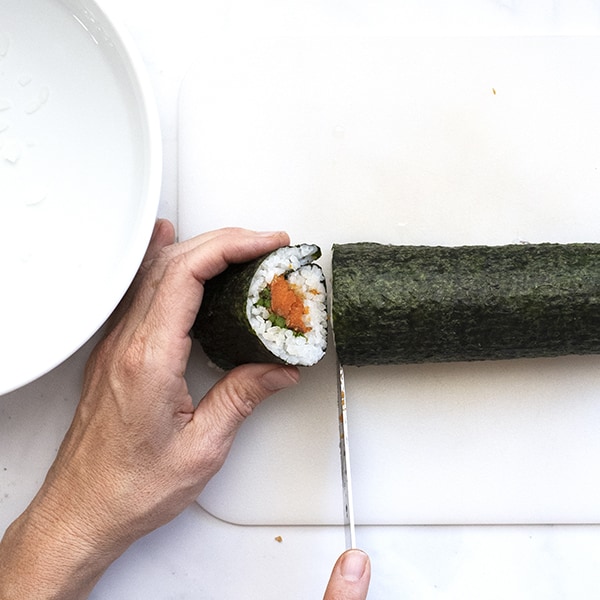 Step 6: How to Make Vegan Sushi
Use a sharp knife to cut 6-8 sushi pieces from each roll. I find that wetting the blade of the knife in between cuts makes for a cleaner cut.
How to Create Sushi Bowls & Sushi Towers
If sushi rolls have you feeling overwhelmed, vegan sushi bowls are an easy alternative. Instead of rolling your delicious vegan sushi fillings, just add them to a bowl of sushi rice. My only advice is to watch the balance of rice to fillings when you do this – it's easy to over-rice your vegan sushi bowls.
Vegan sushi towers are a little harder than sushi bowls, but still easier than vegan sushi rolls. To make a vegan sushi tower, you'll need what's called a food ring. Food rings are inexpensive and can be used for a number of different recipes (fried polenta cakes, anyone?).
For a live demonstration, check out my Vegan Tuna Tower video below.
Ready to Try Making Vegan Sushi?
Are you inspired? If you're feeding a crowd, a big vegan sushi platter is sure to be a home run! For a special meal-for-two, I recommend the vegan tuna sushi tower. Whatever you're after, you'll find some great options here: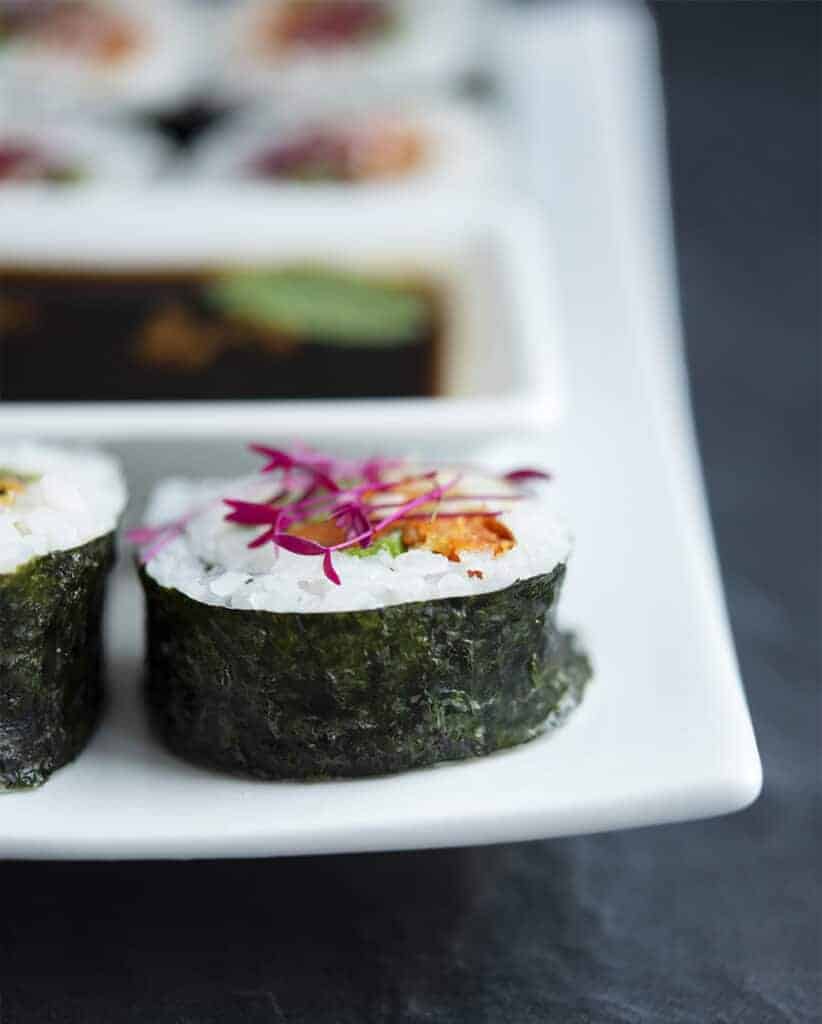 This sweet potato sushi roll recipe is hands down one of my favorite ways to make sushi at home. These vegan sushi rolls are full of flavor, including crunchy tempura-style sweet potato, fresh asparagus and mint. They're drizzled with homemade teriyaki sauce and then topped with home-grown microgreens and sesame seeds.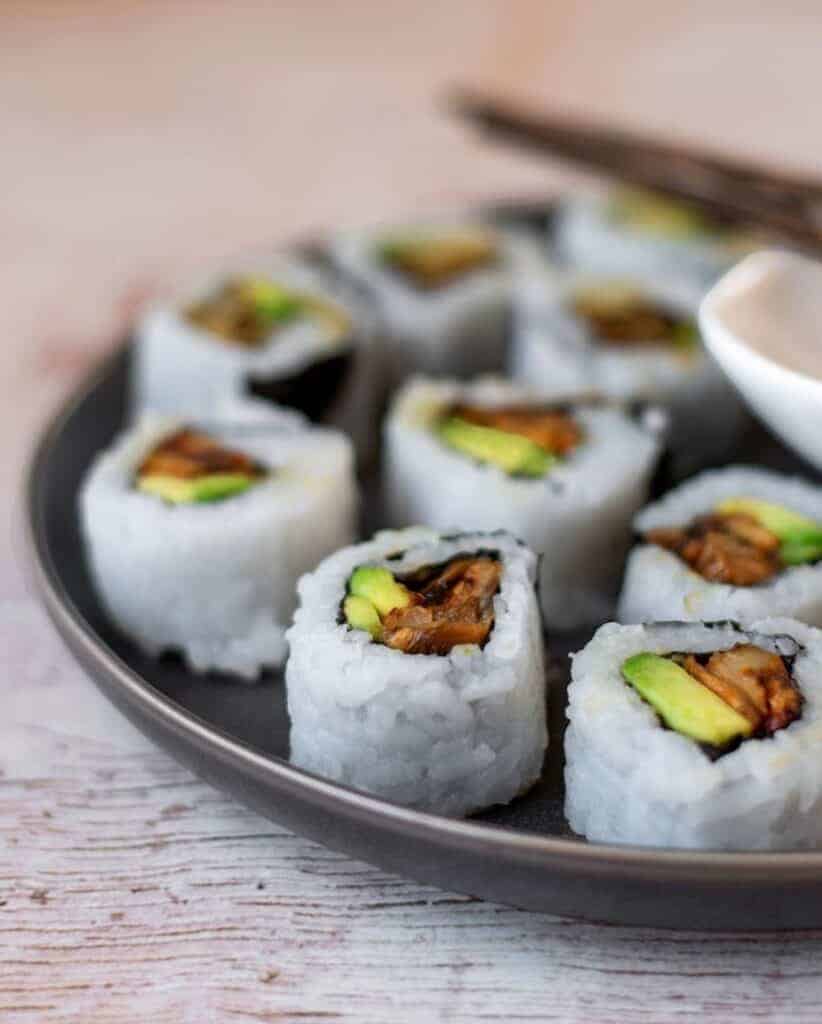 Sometimes I really miss going out for sushi. Unagi rolls especially. I pine for the salty sweetness of the teriyaki sauce combined with the cold creaminess of fresh avocado. I long for the tanginess of sushi rice and the spicy bite of wasabi. So much so, that I was inspired to make it a vegan version of unagi rolls using miso-glazed eggplant.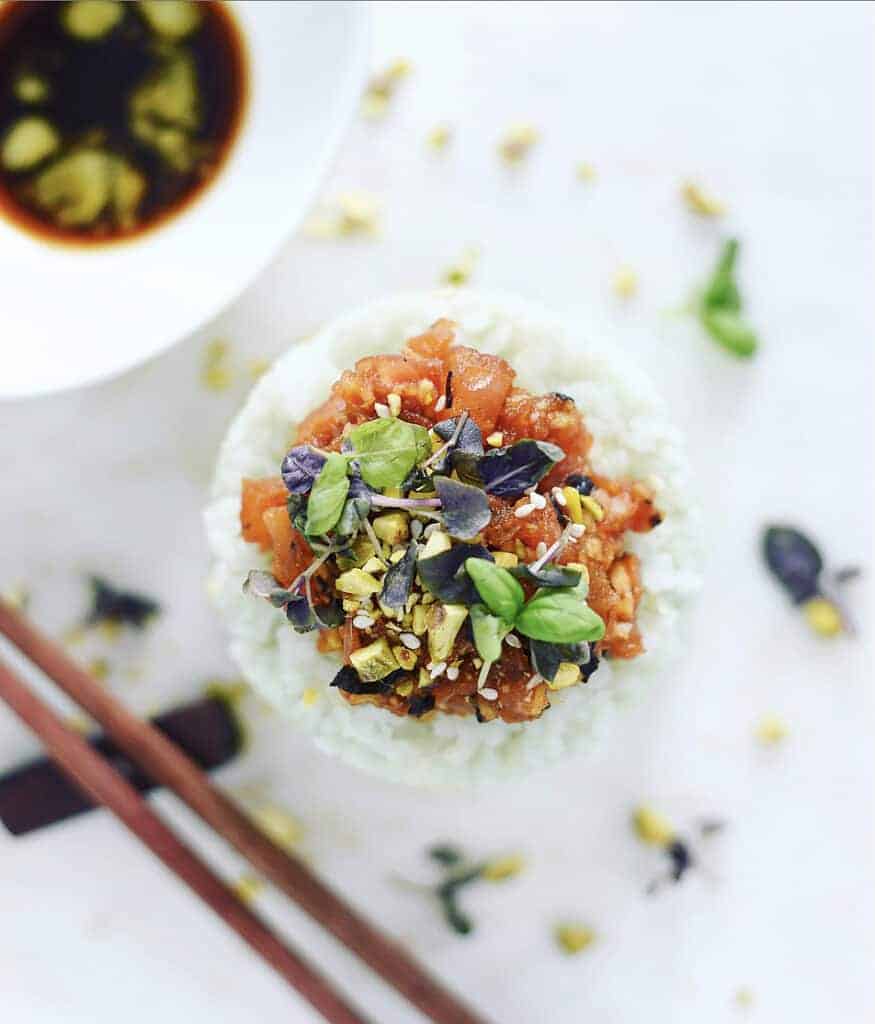 Did you think you'd have to give up sushi to go vegan? You were right! I promise you won't miss it though. Not with this vegan sushi tuna tower recipe. This dish is every bit as satisfying as the original, using tomatoes in place of the tuna. Sushi rice, avocado, sesame seeds and crushed pistachios make this homemade vegan sushi tuna tower better than any rolls you'd find at your local sushi joint.
About Herbivore's Kitchen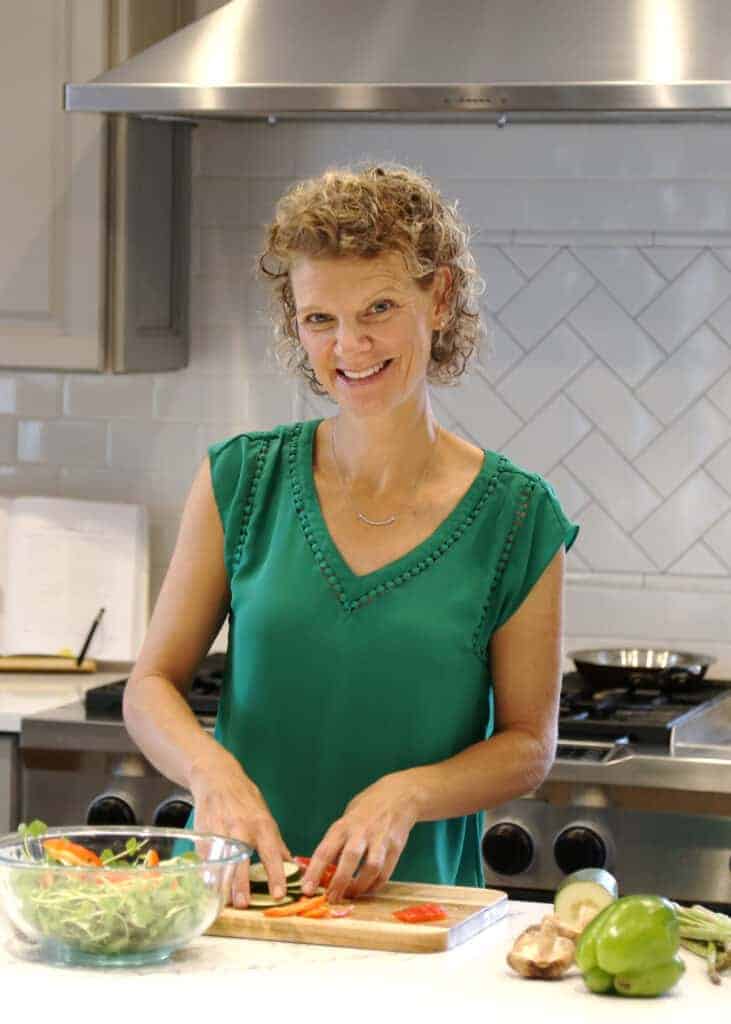 Herbivore's Kitchen is a plant-based food blog started by me, a vegan home chef, cookbook author, aspiring food photographer and how-to-be-a-better-food-blogger junkie. You'll mostly find creative and tasty vegan recipes and detailed deep dives into vegan ingredients (check out my Vegucation section) on my blog. I love knowing as much as I can about the food that I make. I'm also really into running a food blog as a business, so I've also got a section of my blog titled: Confessions of a Food Blogger where I get into the nitty gritty on how to build, manage, market and monetize a food blog.