This Umami Bomb Vegan Mushroom Broth: How to Make Mushroom Broth with Fresh Mushrooms & Miso Paste post includes affiliate links. When I find a great product or service, I like to share it with my readers. Sometimes I use affiliate links so I can earn a commission for my recommendations. Thank you for your support!
How to Make Mushroom Broth (Umami Infused!)
One of my favorite dishes – at home or when I'm out – is a big, steaming bowl of ramen noodle soup. As you might be able to tell from my recipe history, I've tackled this dish from every angle.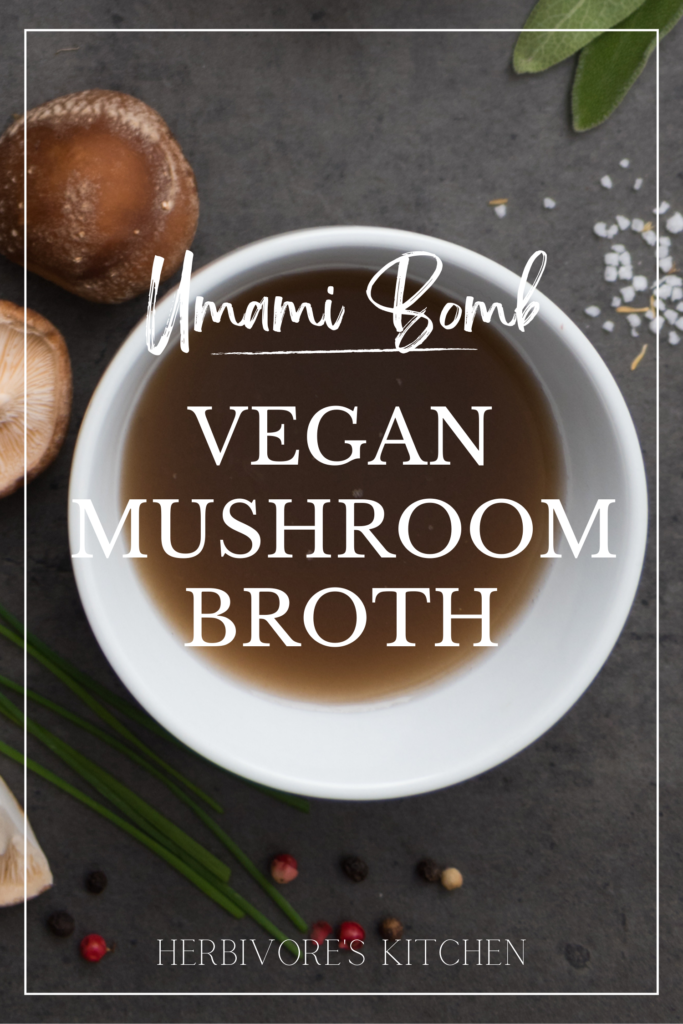 I double-down on miso paste with my Miso Ramen with Miso Glazed Delicata Squash and get veggie heavy with my Veggie-Loaded Easy Vegan Ramen Soup. Today though, I want to share a new recipe… for the broth.
This Vegan Mushroom Broth is an umami bomb. There's no other way to say it. It features the rich, savory flavors of mushrooms (both dried and fresh), onions, garlic, miso paste and soy sauce. It's so good that I sometimes sip it on its own as an afternoon snack.
What is Umami Broth?
Let's back up. What is umami, where do you find it and why do you care?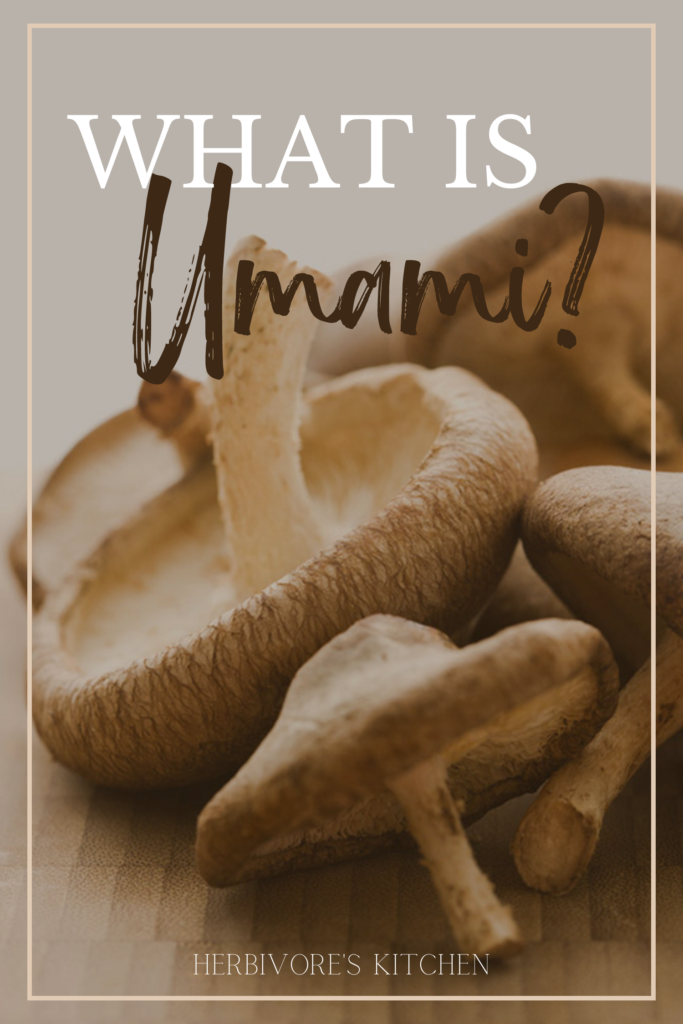 Umami is one of the five senses. Americans commonly refer to it as savory, but in Japan this taste sensation is known as umami.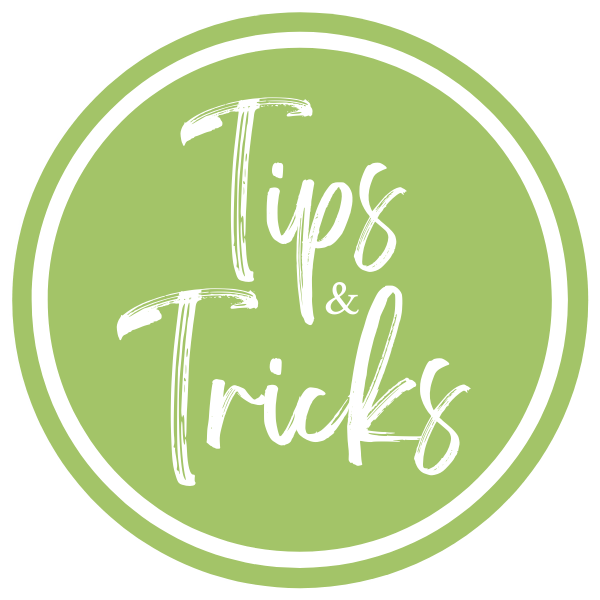 Want to learn more about plant-based umami? Be sure to check out my Vegan Umami post for more details on umami-focused vegan cooking.
Umami is the body's response to glutamates in food. When taste receptors recognize umami, they tell the body to expect protein, which in turns causes us to salivate.
Wait, protein? Does this apply to vegans?
Do Plant-Based Foods Have Umami?
Okay, first of all, it's not hard to get protein on a plant-based diet, but it is true that the average eater thinks meat when they think about protein. But plenty of foods deliver on the umami front. Cured meats and aged cheeses are high on the light, but these plant-based foods are also good sources of umami:
Onions,
Garlic,
Tomatoes,
Spinach,
Seaweed,
Asparagus,
Broccoli,
Peas,
Mushrooms,
Potatoes, &
Beets
Aging and fermentation tend to increase the umami sensation in foods as well, that's why ingredients like soy sauce, miso paste, dried mushrooms, nutritional yeast and kimchi are other really good sources of plant-based umami.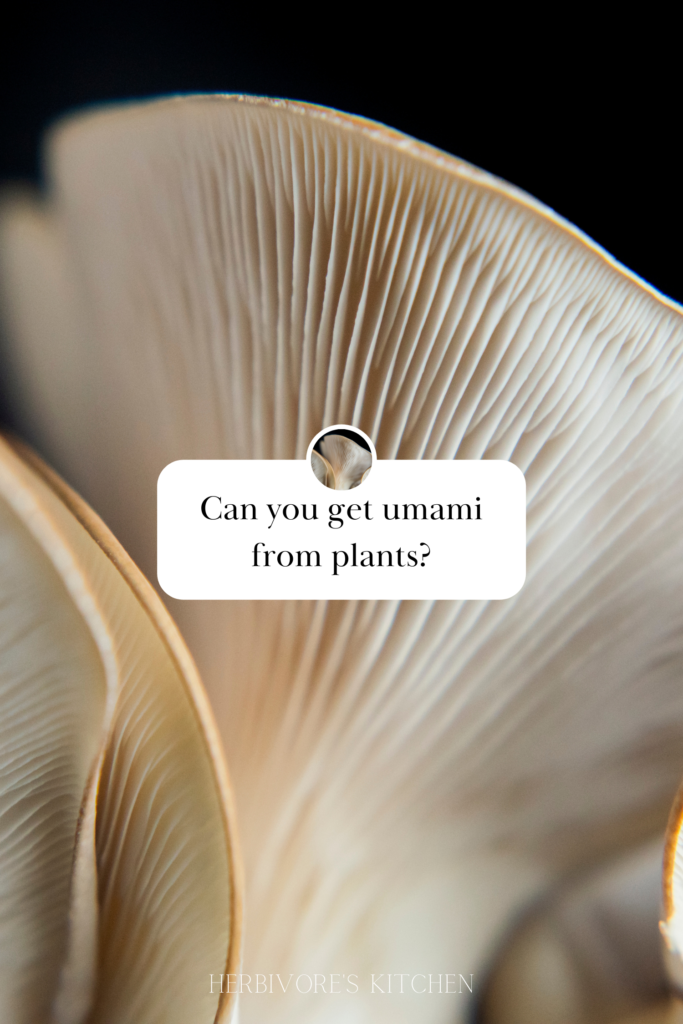 How to Make Mushroom Broth
The trick to mushroom broth – especially this umami bomb mushroom broth – is to layer in different umami flavors.
As you'll see when you read the recipe, I included several sources of umami. Time, another element in creating a rich, savory flavor comes into play as well.
This vegan mushroom broth recipe starts with fresh cremini mushrooms. I use these to make the mushroom broth, but I repurpose them to add to my finished soup. Cremini mushrooms are easy-to-find and inexpensive – they make a great broth on their own. If you can find shiitakes (or even better, dried shiitakes) – all the more umami for you.
I add onions, garlic and ginger to the broth and just let it simmer for an hour. After that, I strain out the mushrooms, onions, garlic and ginger and allow the broth to cool slightly. Why? Well, because it can't be too hot for the next layers of umami.
The Second Round of Umami
While the broth is cooling, I'll make a slurry of miso paste, tamari and sriracha. Both miso paste and tamari (a gluten-free alternative to soy sauce) are umami darlings. This combination adds salty, sweet, tangy sensations to this vegan mushroom broth making it a true umami bomb.
Is Vegan Mushroom Broth Good for You?
Food high in umami tend to be more filling, so you might be surprised that you don't need much more.
And that's only the beginning. Mushrooms have been long understood to be good for you. Cremini mushrooms – sometimes called baby bellas – are rich in antioxidants, fiber and potassium. They're believed to help protect against cancer, boost the immune system and assist in digestion
Add some shiitakes, Lion's Mane, oyster, portobello or other varietals and the mushroom broth health benefits just keep getting better.
Miso paste and tamari are both soy-based products which is believed to lower blood cholesterol and assist in women's health. And don't forget that onions and garlic are also high in antioxidants – just be sure to let your garlic rest for 10 minutes after you score it for maximum health benefits.
And, finally – ginger. Ginger is loaded with antioxidants and is thought to protect against high blood pressure, heart disease, digestive issues and the common cold.
How's that for a simple vegan mushroom broth?
Recipes with Vegan Mushroom Broth
As I mentioned earlier, this vegan mushroom broth is so tasty it makes a wonderful sipping broth.
It's a great option for any ramen noodle bowl you can think of, but here are a few of mine in case you are looking for some tasty ramen noodle bowl options: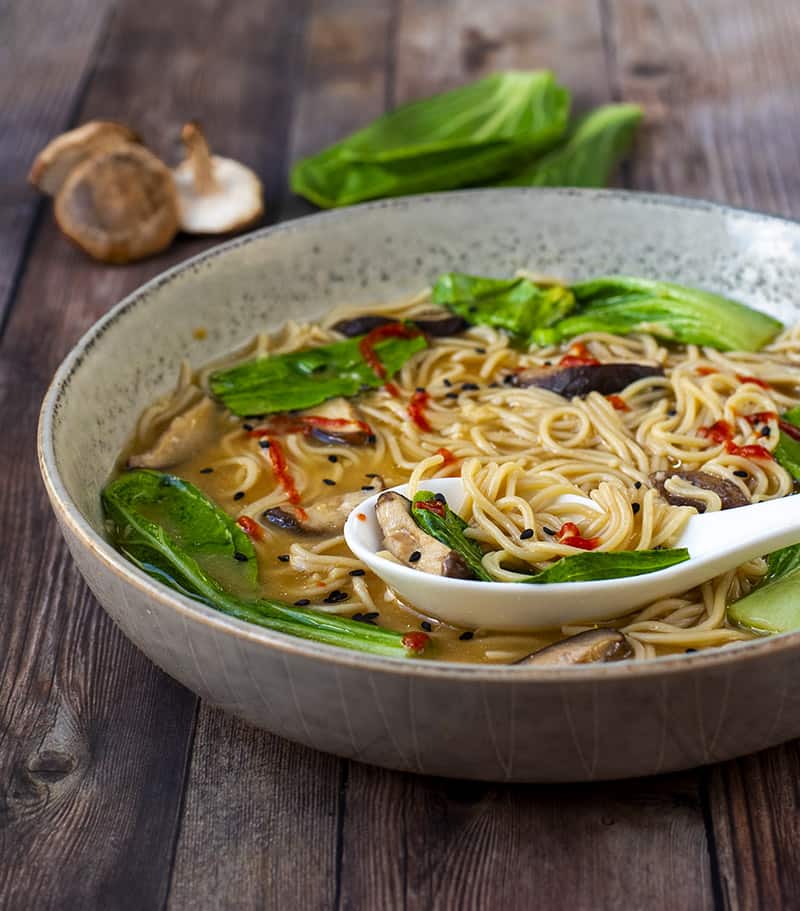 Is there anything more satisfying than vegan miso ramen? Spicy, salty mushroom ramen broth with chewy al dente ramen rice noodles? It's vegan comfort food at its finest!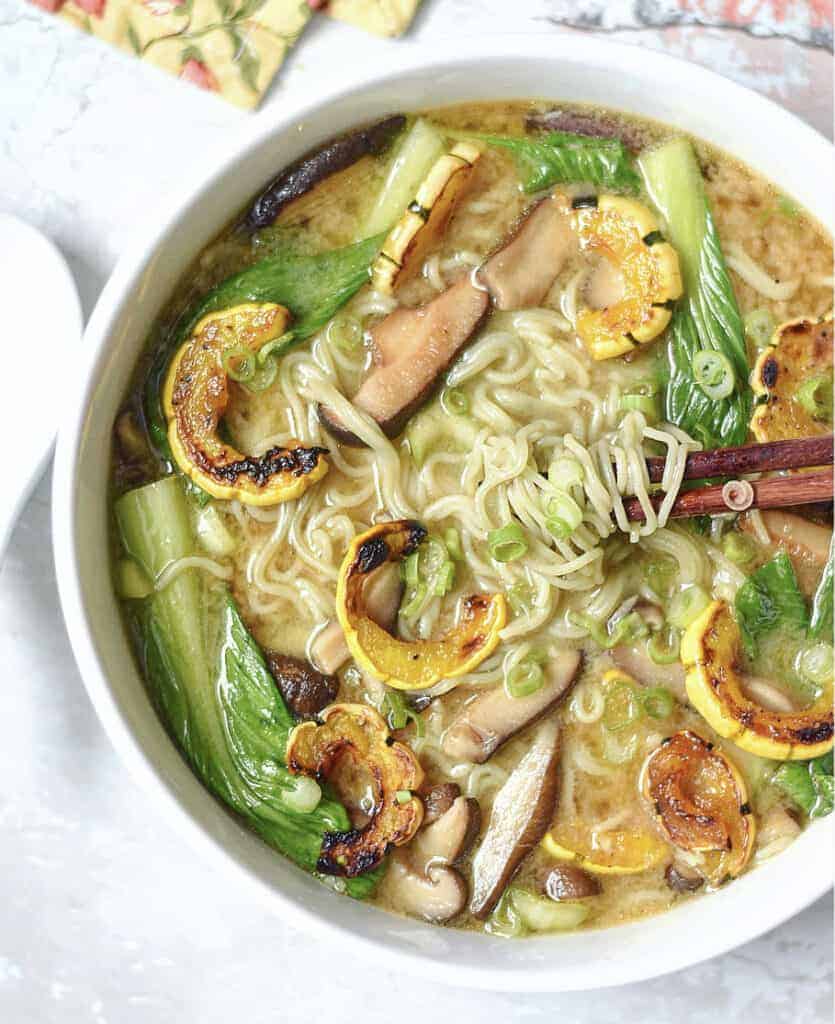 Miso ramen for the win! This easy miso ramen recipe features miso glazed delicata squash, shiitake mushrooms and bok choy making for an amazing vegan dinner idea. This vegan ramen recipe features a savory miso broth and ramen rice noodles for a gluten-free meal.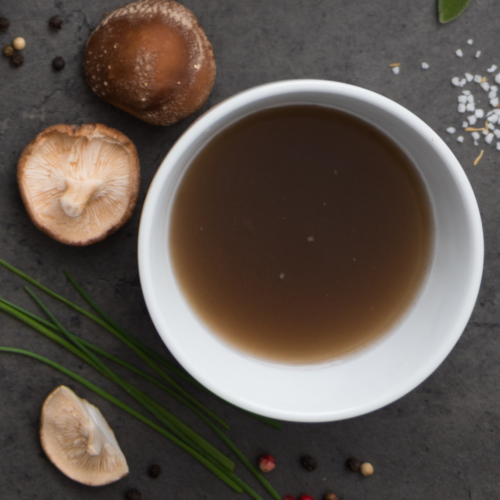 Vegan Mushroom Broth
This homemade umami bomb of a vegan mushroom broth with miso paste is the start to an excellent ramen noodle bowl!
Ingredients
1

lb

cremini mushrooms

wash & slice into equal-sized pieces

1

yellow onion

peeled and quartered

4

cloves

garlic

peeled and scored

1

inch

ginger

peeled and sliced into 1/4" coins

12

cups

water

1/4

cup

tamari or soy sauce

1/2

cup

yellow miso paste

sriracha

to taste
Instructions
Add the mushrooms, onion, garlic, ginger and water to a large stock pot. Bring to a low boil and then reduce to a simmer. Simmer for ~1 hour.

Drain the broth through a strainer into a large bowl. I like to save the sliced mushrooms to use in a later ramen noodle bowl.

Allow the broth to cool. While the broth is cooling, combine the tamari, miso paste and sriracha in a medium-sized bowl or measuring cup. Whisk until the miso paste is dissolved and the solution becomes a thick slurry.

Add the slurry to the cooled broth. Store in the refrigerator for 3-5 days or freeze for up to 3 months.
Notes
I used cremini mushrooms (also called baby bellas) for this recipe because they are easy to find and inexpensive. If you'd like to play with more depth of flavor, try adding shiitakes and other mushroom varieties, either fresh or dried.
About Herbivore's Kitchen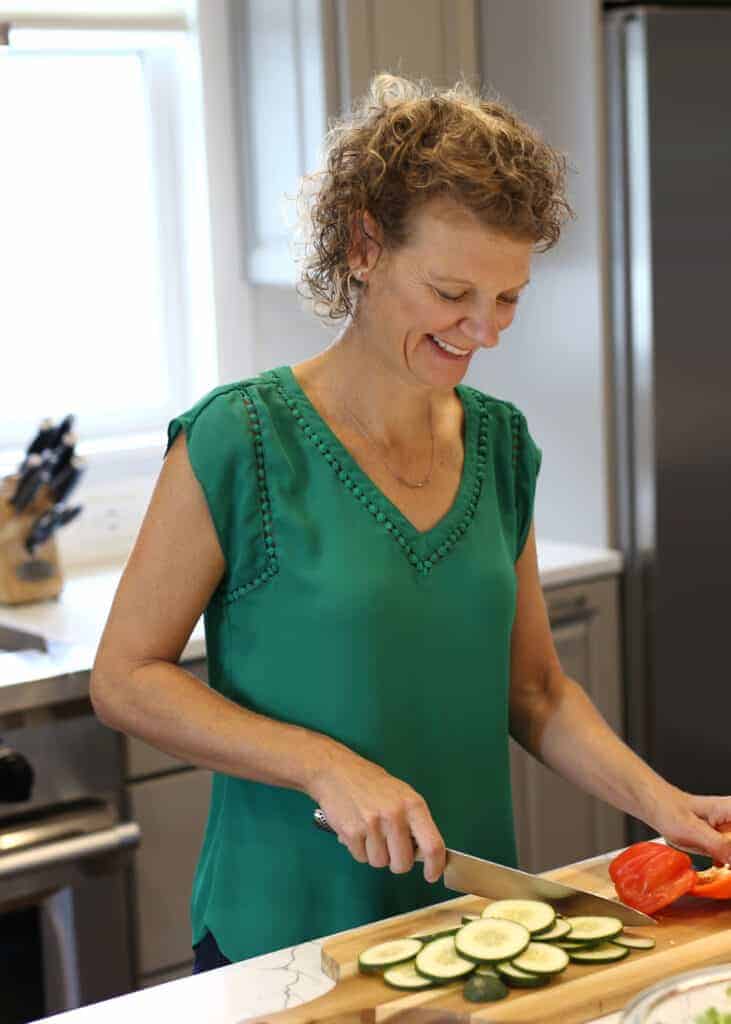 Herbivore's Kitchen is a plant-based food blog started by me, a vegan home chef, cookbook author, aspiring food photographer and how-to-be-a-better-food-blogger junkie. You'll mostly find creative and tasty vegan recipes and detailed deep dives into vegan ingredients (check out my Vegucation section) on my blog. I love knowing as much as I can about the food that I make. I'm also really into running a food blog as a business, so I've also got a section of my blog titled: Confessions of a Food Blogger where I get into the nitty gritty on how to build, manage, market and monetize a food blog.