Jump to Recipe
This Cashew Cream: 3 Different Uses for Cashew Cream Sauce in Your Vegan Cooking! Recipes Included! includes affiliate links. When I find a great product or service, I like to share it with my readers. Sometimes I use affiliate links so I can earn a commission for my recommendations. Thank you for your support!
Cashew Cream: 3 Different Uses for Cashew Cream Sauce in Your Vegan Cooking! Recipes Included!
I'm pretty excited to share this cashew cream recipe!
Of all of the recipes I've created, I go back to this one the most. Why? Because cashew cream has so many uses. With a basic cashew cream recipe you can make a wide variety of vegan recipes. From vegan cheese sauces like alfredo sauce, to nacho cheese dip, to vegan salad dressings, to creamy vegan soups, to rich vegan ice cream, cashew cream is truly a vegan workhorse!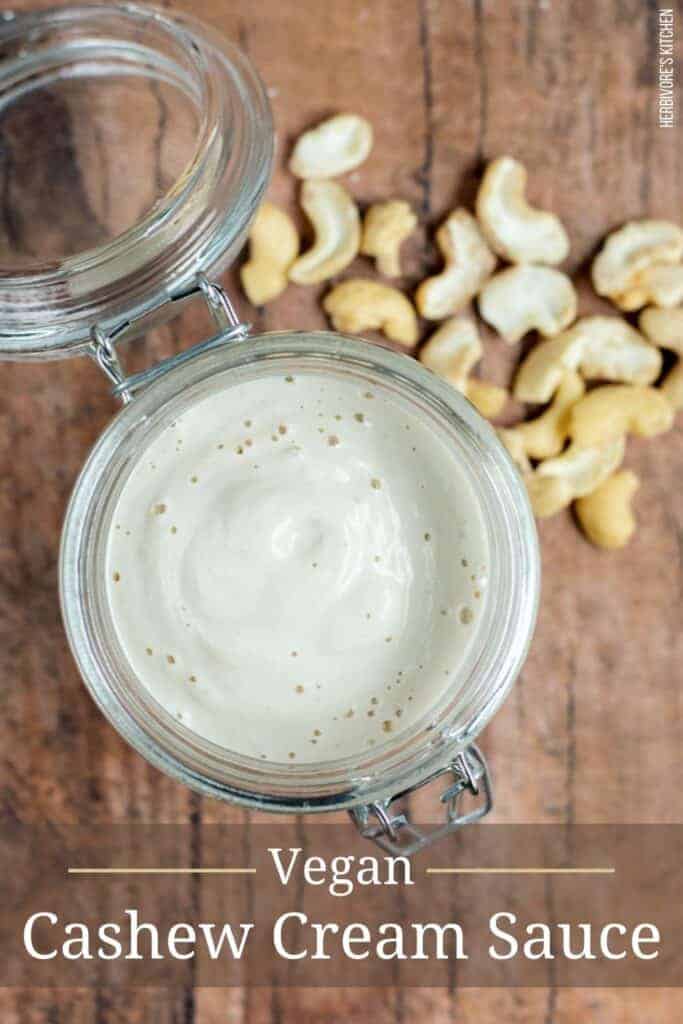 What is Cashew Cream?
Cashew cream is a simple blend of cashews and water. That's right! The base ingredient to this wildly versatile vegan ingredient is mostly cashews. If you're new to vegan cooking, you might not have cooked with cashews much. After you start using them though, you won't know what took you so long!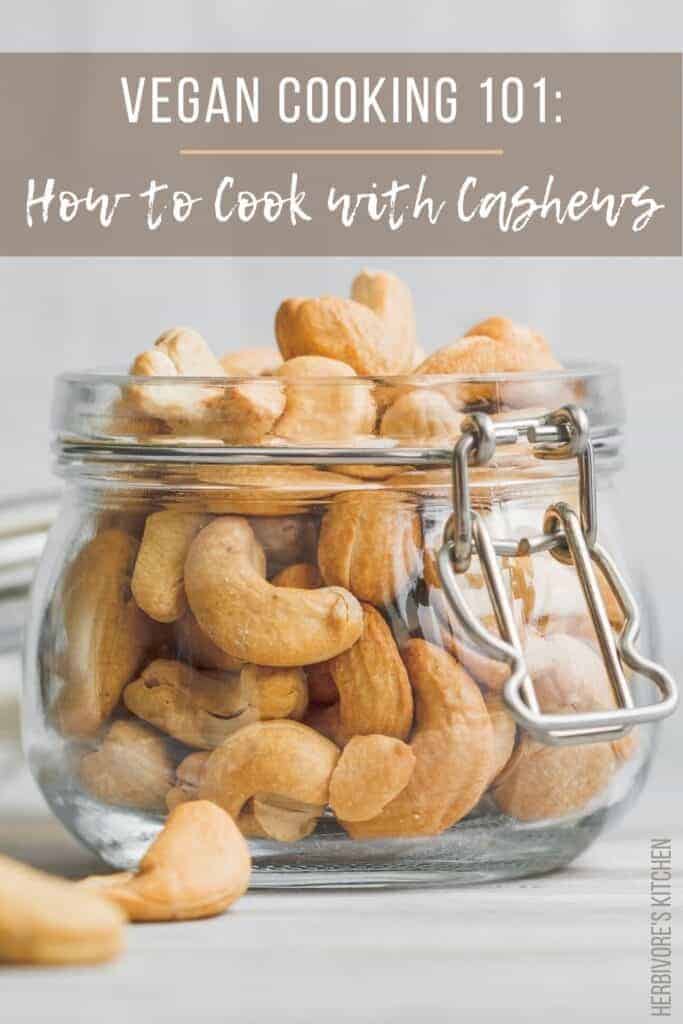 In my Vegu-cation post: Why Cashews Are King, I get down to the nitty gritty on cashews. I talk about how to shop for them, store them and, most important, I share a bunch of vegan recipes that showcase this heart-healthy vegan ingredient.
Cashew Cream Uses
By nature, cashews are a soft nut which makes them perfect for making a cream sauce. To capitalize on their creaminess, you need to soak them in hot water for at least 30 minutes before blending them. It also helps to have a high-speed blender, like a Vitamix.
My base cashew cream sauce (just cashews and water) is not very exciting. While it's decadently creamy, it's fairly bland in taste. Cashew cream gets interesting when you start adding ingredients to complement the dish you're preparing.
Cashew Cream Pasta Sauce
For example, if I want to make a pasta sauce, I add fresh lemon juice, nutritional yeast, garlic and salt. Nutritional yeast is a non-active yeast used in vegan cooking. It has a nutty, cheesy flavor that works well in vegan cheese substitutes. The fresh lemon juice gives the cashew cream that certain pucker-inducing tang that we've all come to expect from cheese. And salt, well… salt, as we all know, is a great flavor enhancer. It brings out the best in all the other ingredients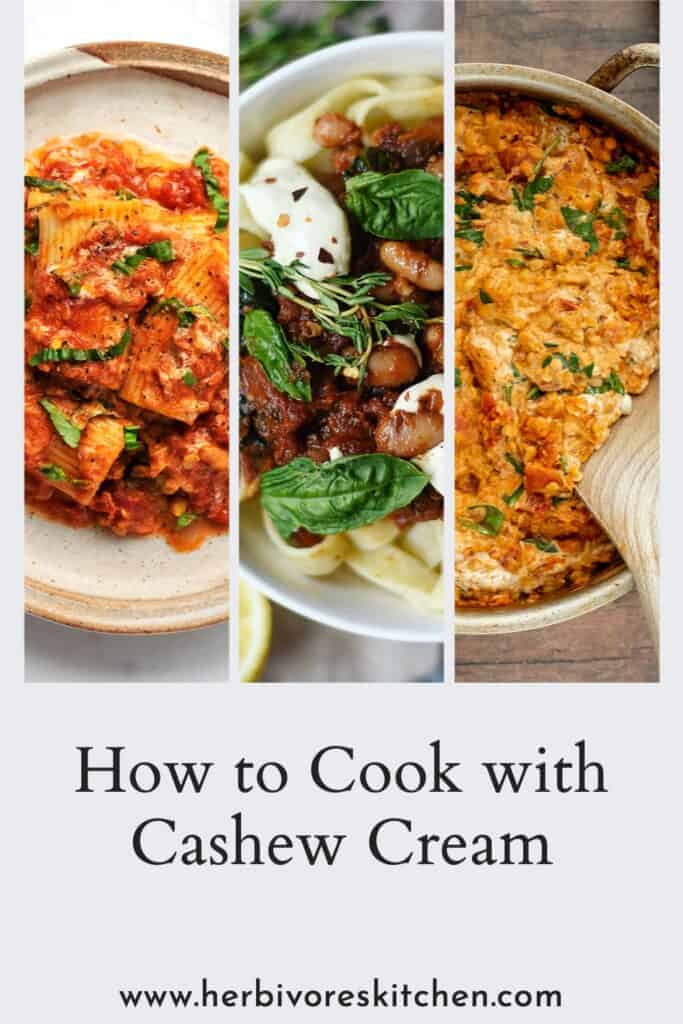 This basic recipe is what I use in my Vegan Lentil Bolognese which goes into dishes like my Vegan Baked Pasta Recipe and my Vegan Stuffed Shells.
Cashew Cream Also Makes a Great Mexican Vegan Cheese Sauce
That cashew cream sauce I described above isn't limited to Italian vegan food. I use the same combination in many of my Mexican-inspired vegan recipes too. For dishes like my Black Bean and Sweet Potato Enchiladas, I use the recipe as it is above. But for treats like my BBQ Black Bean Nachos, I'll throw in some red onion, mustard and tomato paste to make an epic Vegan Nacho Cheese Sauce!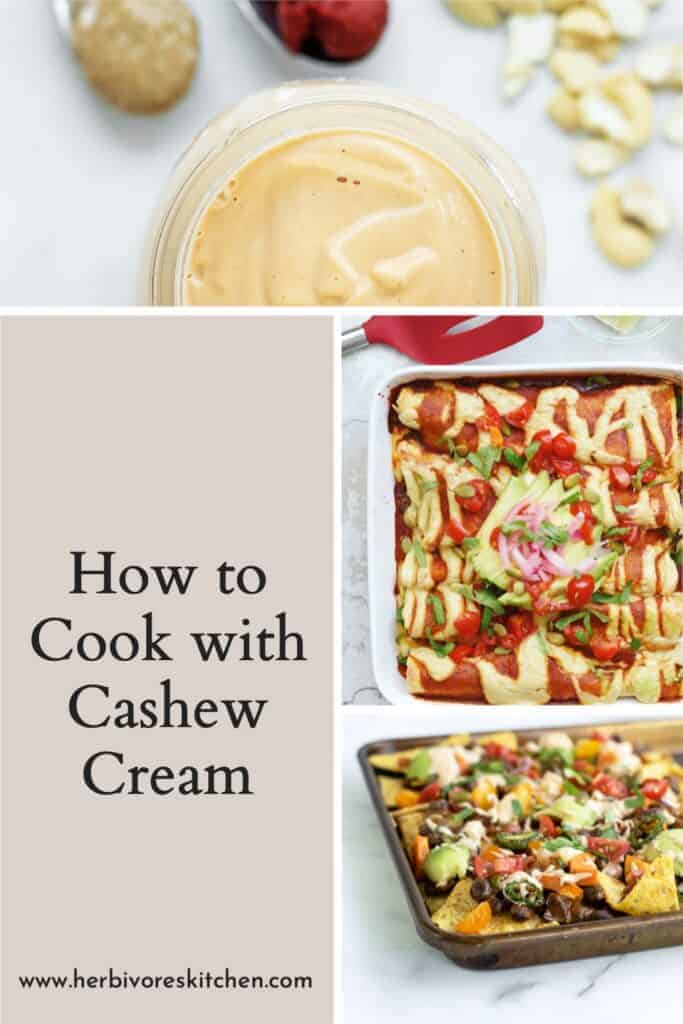 Sweet Cashew Cream – Make Amazing Vegan Desserts!
Using cashew cream for desserts wasn't a no-brainer for me. I was hard at work on my cookbook, 5-Ingredient Vegan Cooking, and racking my brain to make a really, really good vegan ice cream. Then it dawned on me: I could just use my cashew cream!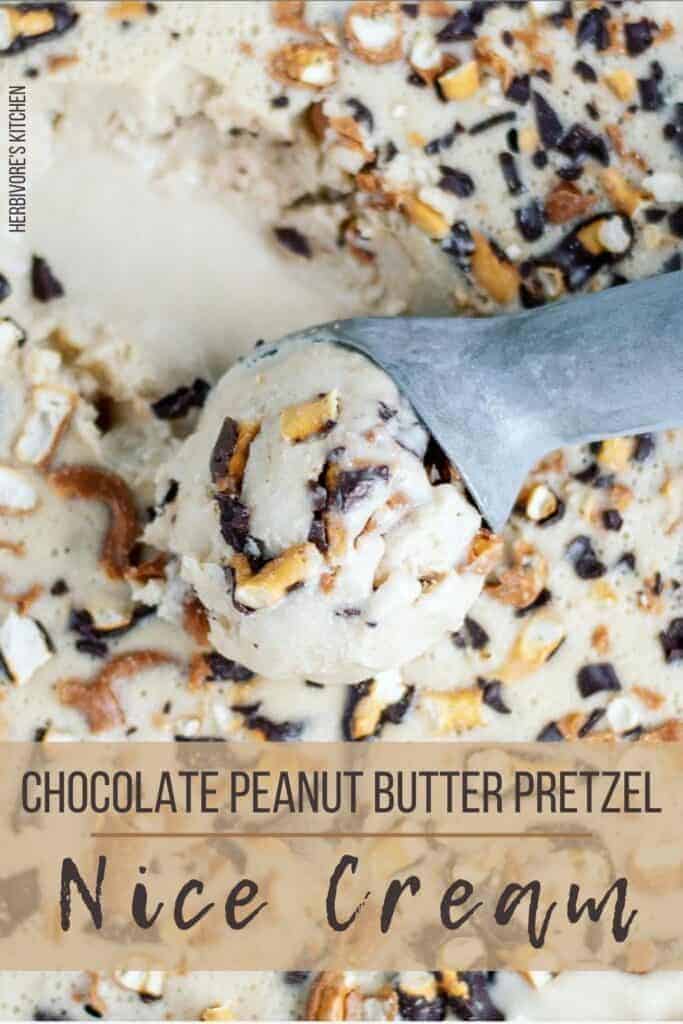 To do this, I swapped out the nutritional yeast, garlic, and lemon juice and added salt, vanilla extract and sugar. The result was a decadently sweet cream! Perhaps a little too decadent. My first batch of ice cream was a little too cashew-forward, so I swapped the water out for oat milk in my second batch. The result: creamy, sweet perfection! Check out my Chocolate Peanut Butter Pretzel Nice Cream!
What's in My Kitchen to Make Cashew Cream Sauce Easier?
Want to know what tools and resources I keep on hand to make my vegan cooking even easier? Here's a short list of what helped me create this blog post and recipe. For the complete list, visit my Shop where you can find the kitchen gadgets I like as well as a list of books that I recommend.
It's true – a Vitamix is an expensive blender. But, oh! The things it can do and do well. If you're interested in getting more into vegan cooking, or you just want to eat healthier, then I think that this is a must-have kitchen tool. I use my Vitamix daily for breakfast smoothies and it really gets the job done when making vegan cheeses.
There are many versions of the Vitamix on the market. This is the version that I have.
I maintain that this is an essential kitchen tool. Yes, I know that you can squeeze a lemon (or lime, or orange) with your hands, but do that and then try this and see just how much more juice you get from each fruit. It also has the added benefit of separating (most) of the seeds from the juice.
I know, I know! Not another kitchen gadget. But hey, I'm not going to tell you to not buy an ice cream maker!
Honestly, vegan ice cream (also known as nice cream) is easier to make and serve with an ice cream maker. I have an older version of this one and, despite it seeming like a frivolous purchase, I actually pull it often quite often in the summertime.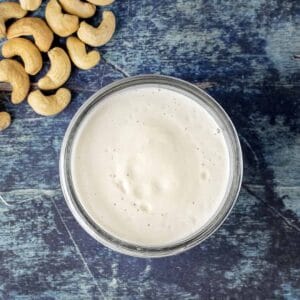 Cashew Cream Sauce
This cashew cream recipe is the key to good vegan cooking! Cashew cream can be used to make vegan cheese sauces, dips and desserts.
Ingredients
1

cup

raw cashews

soaked in hot water for at least 30 minutes

3/4

cup

water
Instructions
Drain and rinse the soaked cashews. Combine the cashews with the water in a high-speed blender and blend until creamy. If the sauce is too thick add more water 1 tbsp at a time.
To Make Cashew Cream Pasta Sauce
Add 1 clove garlic, 2 tbsp nutritional yeast, 1 tbsp fresh lemon juice and 1 tsp salt to the base cashew cream recipe above. Blend until creamy.
To Make Vegan Nacho Cheese Sauce
Add 1 tbsp yellow miso paste, 1 tbsp tomato paste, ¼ cup red onion (roughly chopped), 1 tbsp spicy brown mustard, 1 tbsp fresh jalapeno (optional; washed, deseeded and diced) and ¼ tsp smoked paprika
To Make Vegan Vanilla Cashew Ice Cream
Swap the water out with oat milk (1:1), add 1/3 cup sugar, 1 tsp salt and 1 tsp vanilla. Blend until creamy.
About Herbivore's Kitchen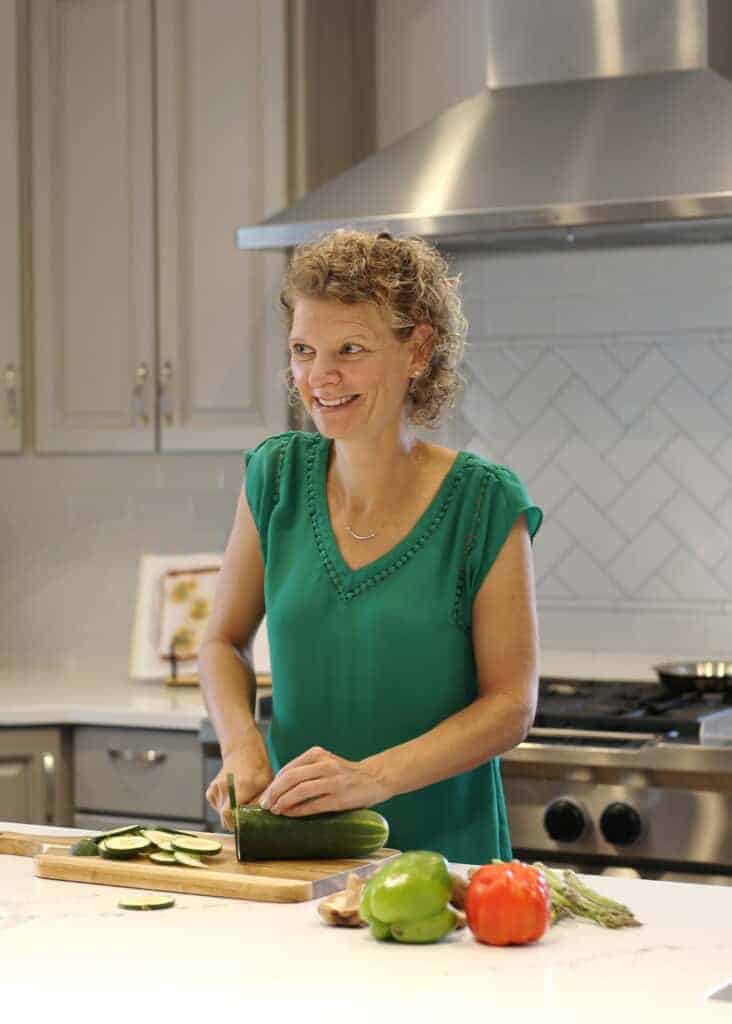 Herbivore's Kitchen is a blog run by me, a plant-based home chef and aspiring food photographer. I switched my diet to a plant-based diet after learning about the health benefits of going vegan. Making this change has prompted a variety of food and holistic-lifestyle related questions that I explore through this blog. I talk about how to pick and prepare the most nutritious foods, to how to reduce waste at home, to how to live a more sustainable lifestyle while on the road.