Jump to Recipe
This Creamy Cashew Alfredo with Vegan Pancetta and Peas recipe includes affiliate links. This Vegan Spanakopita: Get Your Greens with this Vegan Spinach Pie post includes affiliate links. When I find a great product or service, I like to share it with my readers. Sometimes I use affiliate links so I can earn a commission for my recommendations. Thank you for your support!
Get Your Greens with this Vegan Spinach Pie
Vegan entertaining just got a whole lot fancier with this Vegan Spanakopita recipe. This easy, plant-based casserole – sometimes called Vegan Spinach Pie – makes for a great group dinner and has tons of aesthetic appeal. It uses fresh spinach, a homemade almond feta cheese and flaxseed eggs for a tasty dairy free and eggless meal!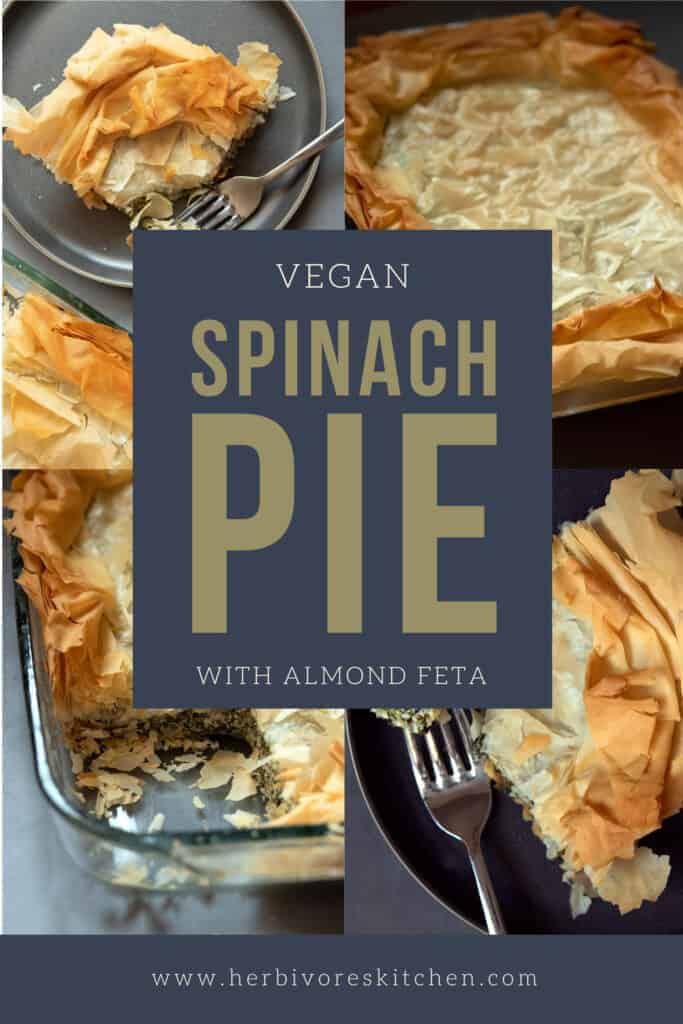 What is Spanakopita?
Spanakopita is delicate Greek dish that features feta, cooked spinach, fresh parsley and dill. It's made using phyllo dough, which is most often folded into triangles with the spinach filling inside and then baked to a flaky, crispy golden brown. For this recipe though, I took a twist on spanakopita's traditional geometry and made it as a casserole, often referred to as a Spinach Pie. This method is easier if you're new to working with phyllo dough and faster than making individual turnovers.
How to Cook with Phyllo Dough
Phyllo dough, also called filo dough, is thin sheets of a simple flour and water dough. It's easiest to use a commercially produced phyllo dough, which you can find in the freezer section at the grocery store.
Because of its fragile nature, it's best to defrost the phyllo dough overnight in the refrigerator. When you're ready to bake with it, remove it from the refrigerator and bring it to room temperature. Cover the phyllo dough with a damp towel in between uses to keep it from drying out.
Is Phyllo Dough Vegan?
Yes, phyllo dough is typically vegan. As I mentioned above, it's a simple combination of flour, water and a little bit of oil.
How to Make Vegan Spanakopita
While phyllo dough is vegan, traditional spanakopita recipes are not. Spanakopita includes feta cheese, butter, eggs and sometimes parmesan cheese. While the bad news is that spanakopita isn't an easy grab-it-from-the-freezer-section party appetizer, the good news is that it's easy to make a tasty vegan spanakopita without butter, eggs and cheese.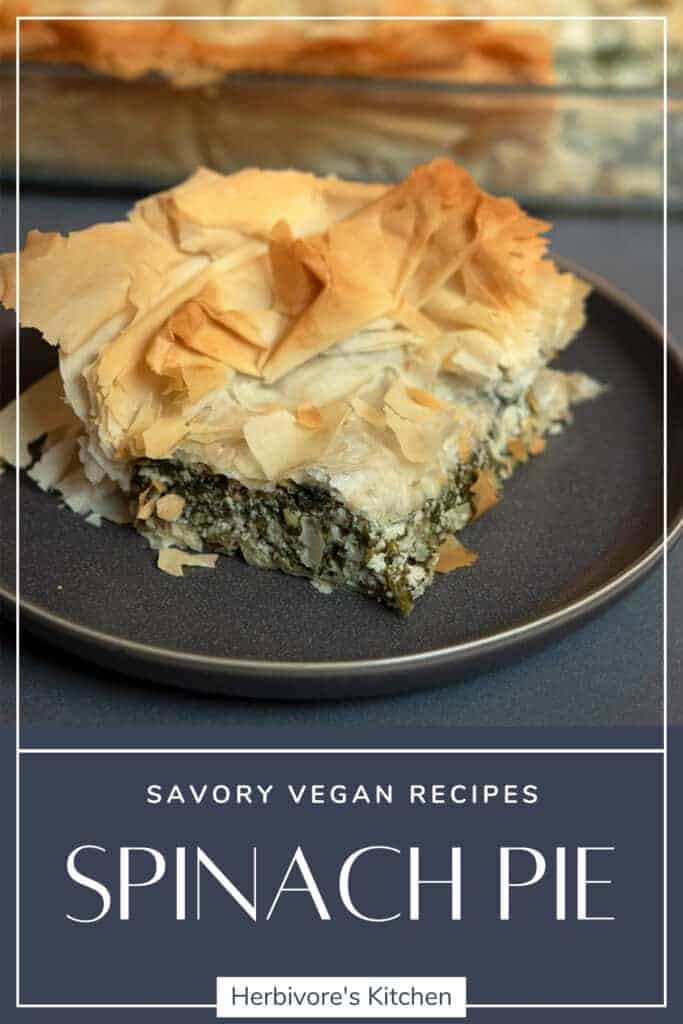 Vegan Egg Substitute
If you've ever baked, you know that eggs are a common ingredient. This is because they work so well as a binding agent. There are many plant-based egg substitutions though. Bananas (see my Vegan Banana Chocolate Chip Muffins) and chia seeds (check out my How to Cook with Chia Seeds post) are very common. But my favorite vegan egg substitute is a flaxseed egg.
Flaxseed eggs are a combination of flaxseed meal and water. When flaxseed meal is combined with a liquid and set aside to rest, it absorbs the liquid and becomes a thick, viscous mixture that works to bind ingredients together as they bake. Not only that, but flaxseed eggs add a nutritional boost to vegan dishes. Flaxseeds rank near the top of the superfoods list, providing a good source of fiber and omega-3 fatty acids.
Dairy Free Feta Cheese
Some vegan spanakopita recipes will simply tell you to swap out feta cheese with a store-bought vegan feta cheese. I don't find this option particularly satisfying (or appetizing) though. Commercially available vegan feta cheeses, even the best ones, are an uninspiring combination of oil and starch. It's a tough sell when compared to the rich, creamy, briny deliciousness that is feta cheese.
I'm not a fan of tofu-based cheese substitutes either. Beyond being white and able to absorb flavors, there's nothing about tofu that reminds me of cheese. I'll never say never, but when it comes to vegan cheeses, I think there's a better way.
Nuts.
When I make vegan cheeses, I almost exclusively use nuts. My go-to is usually cashews because they're soft and don't require a lot of soaking time. You'll find them in my Cashew Cream Sauce, which is super versatile. I use it in my Vegan Stuffed Shells and my Creamy Cashew Alfredo with Vegan Pancetta & Peas. For this Vegan Spinach Pie recipe though, I wanted to use a nut with a more-mild flavor and a grainier texture. Almonds fit the bill. Almonds do require a longer soak time, so it's important to plan ahead. And you want to start with blanched almonds (with the skin removed).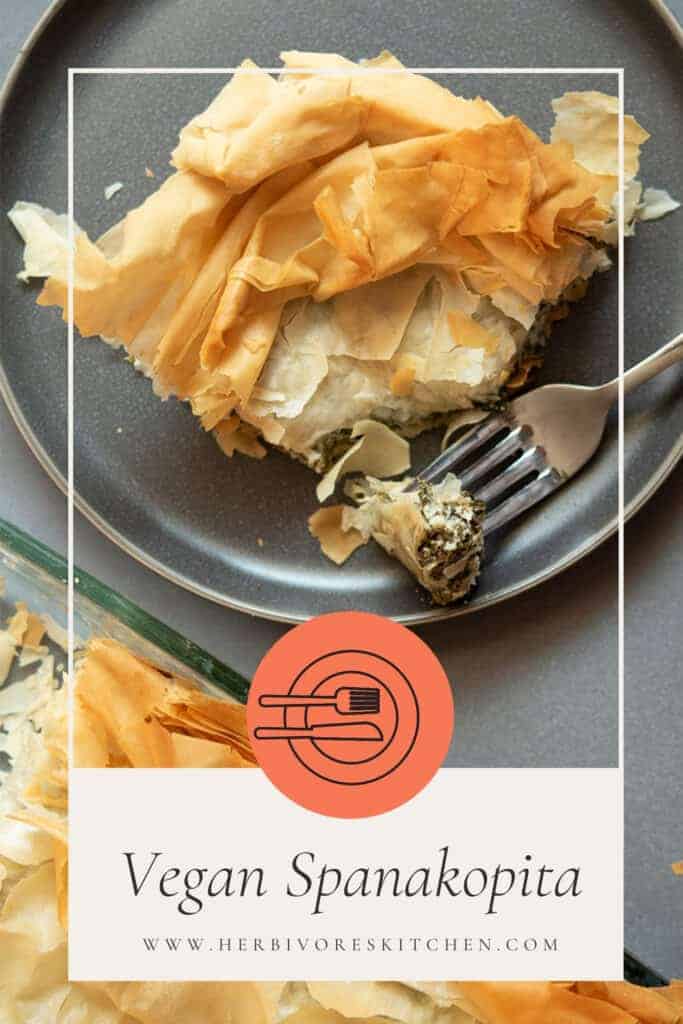 Soaking almonds to make a vegan feta cheese is a slight pain, but rest assured that the rest of this dairy free feta recipe is easy. Simply drain and rinse the soaked almonds, then blend them with a garlic clove, nutritional yeast, fresh lemon juice, a little salt and some water. The nutritional yeast gives this dairy free feta a cheese-like flavor while the lemon juice and salt add that briny tang.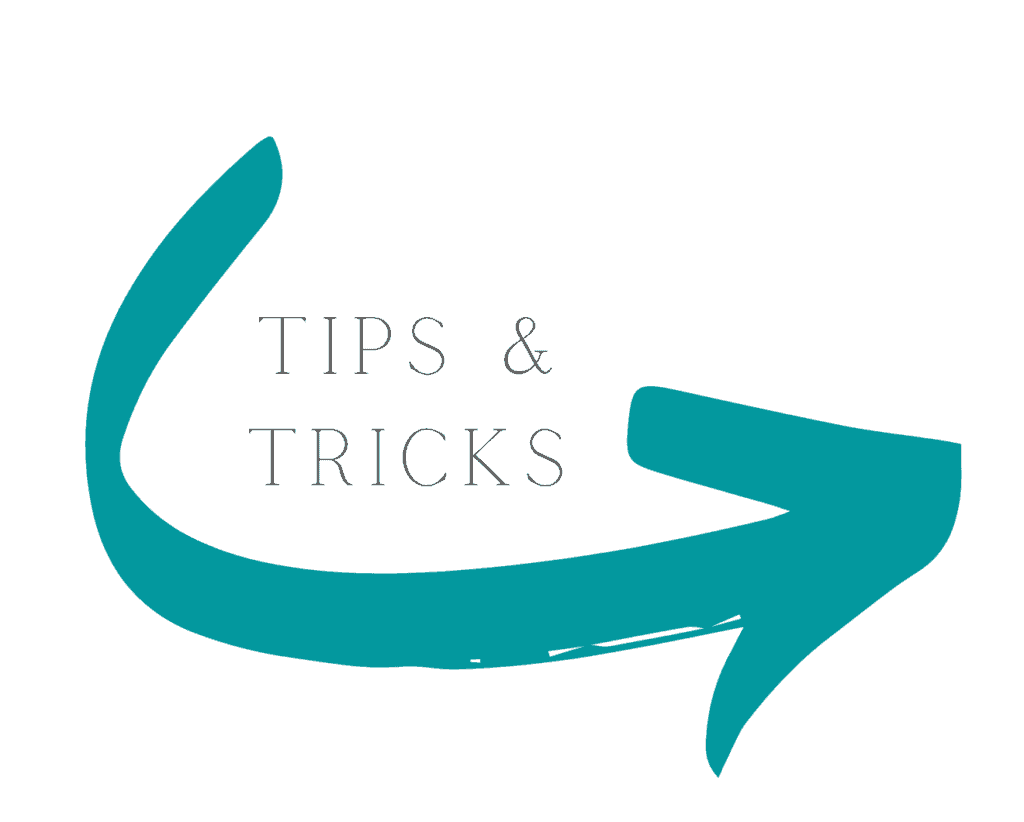 Making the Vegan Spinach Pie Filling
The filling for this Vegan Spinach Pie uses only a few ingredients (including those that are in the dairy free feta and the flaxseed eggs). The rest of the recipe includes only sautéed onions, garlic, LOTS of spinach, fresh dill and parsley. That's it!
Vegan Spanakopita: Fresh or Frozen Spinach?
Most recipes call for frozen spinach, which works really well. I happened to have a lot of fresh spinach to use up before a trip, so I sautéed that.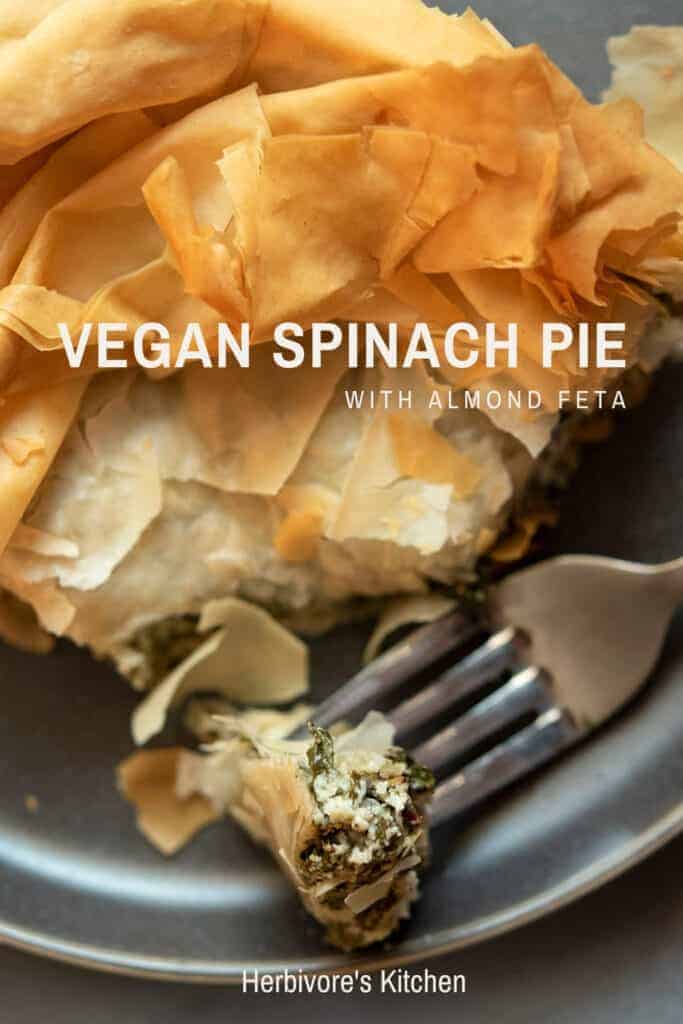 Whether you use fresh or frozen spinach, you'll make to make sure that you drain as much liquid as possible before adding it to your filling mixture. If it's too wet, you'll have a soggy mess on your hands. To do that, I simply added the cooked spinach to a strainer and pressed it with the back of a spoon to drain the liquid.
How to Layer Your Vegan Spanakopita
Phyllo dough may look complicated, but it's actually pretty easy to use. To start, you'll want to lightly oil your baking pan and then add two layers of phyllo dough. Follow those layers with another light layer of oil. Do this until you've added 10-12 layers to the bottom of the baking pan. Then add the vegan spanakopita filling. Follow this with 3 more sets of phyllo dough, adding a light layer of oil in between every set. As you're layering the phyllo dough, gather the edges of the sheets (they're likely hanging over the side of your baking pan) to form the crust. Make sure that this part of the crust is also brushed (or sprayed, see below) with oil. As the phyllo dough bakes this will form an artistic-looking golden-brown crust.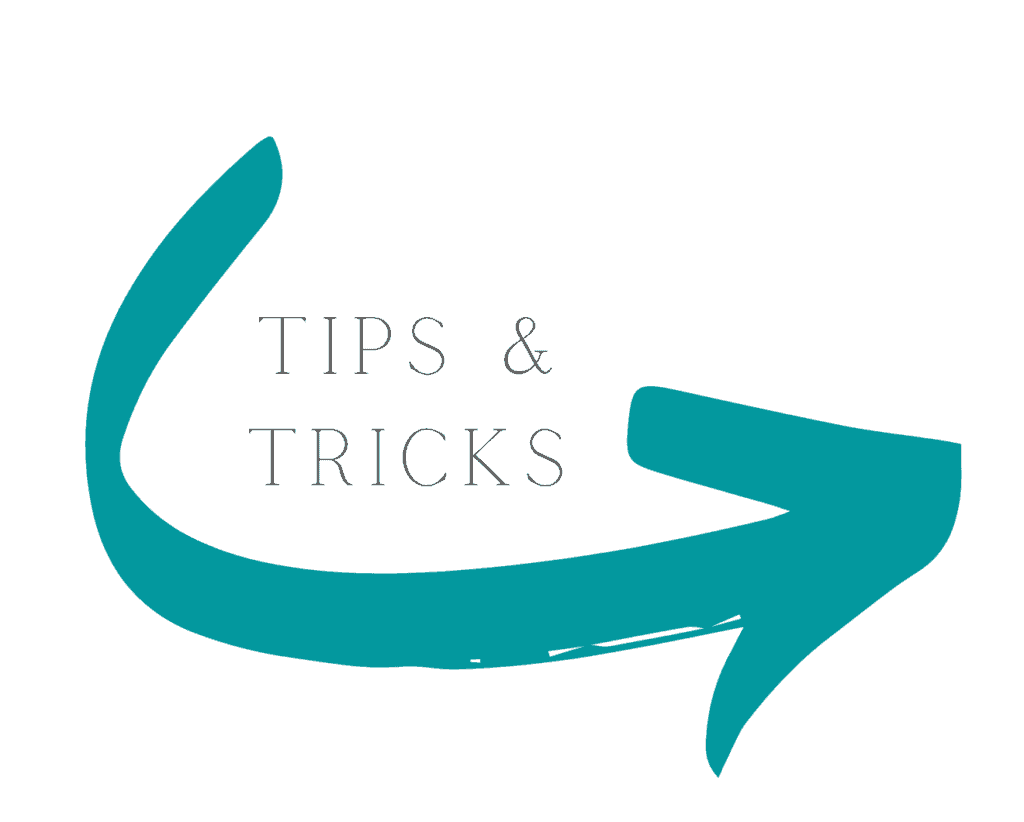 When making this Vegan Spanakopita recipe I really prefer to use a non-aerosol oil dispenser. This enables me to use less oil than I would if I brushed oil on to each phyllo dough sheet. I'm also less likely to tear the sheets as I add them. If you do tear a sheet, don't worry. Just move on. Once you're done with all your layers, give the top of the spinach pie and light brush of oil and then bake it on the middle rack for 20-25 minutes.
What to Serve with this Vegan Spinach Pie
This Vegan Spinach Pie is a quite savory, so I like to serve it with something light as a side. The last time I made this dish, I put together a simple arugula salad with cucumbers and tomatoes and a sprinkling of roasted pumpkin seeds on top. I tossed it with a very simple oil and vinegar dressing. The tartness of the dressing was a great complement to the vegan spanakopita.
Do You Love This Vegan Spanakopita Recipe?
Do you love this Vegan Spinach Pie recipe? Be sure to check out my other Mediterranean recipes! If you're into falafel, then my Baked Falafel Burgers are for you! Forever-searching for a new way to do hummus? Then you'll love my Navy Bean Hummus.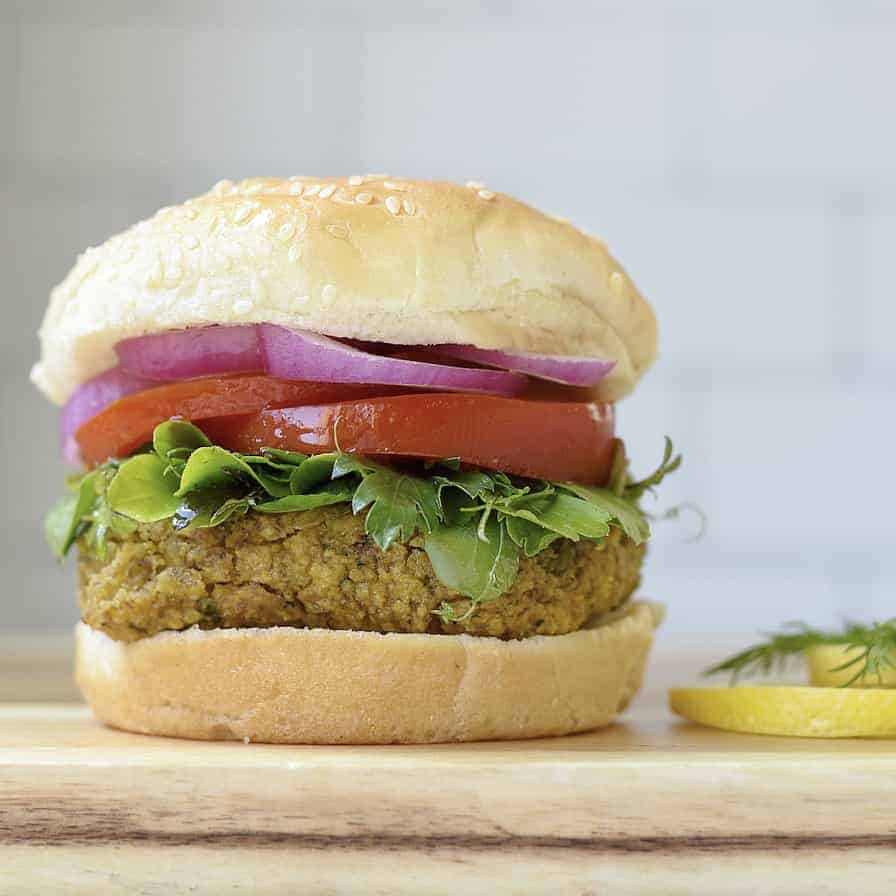 Check out these baked falafel burgers! Summer always has me trying to up my veggie burger game and this baked falafel recipe is one of my new favorites. Fafafel, which is made out of chickpeas, is a healthy alternative to traditional hamburgers and is super easy to make. I opted to bake these falafel burgers as well, making them less messy and better for you.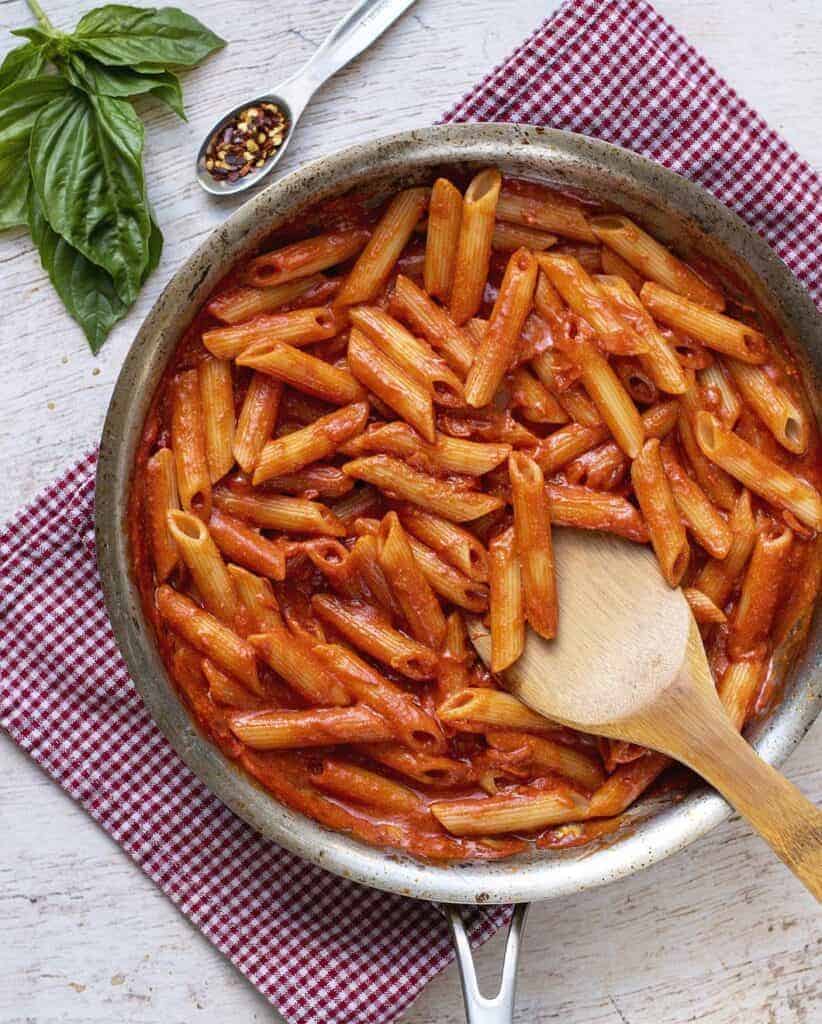 Did you know that there are other beans that make great hummus? White bean hummus, and specifically navy bean hummus, is one of the best alternative hummus recipes. Chickpeas are swapped out for white beans while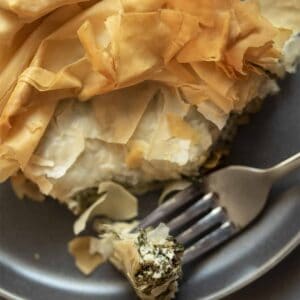 Vegan Spanakopita
Go Greek with this Vegan Spanakopita recipe. This dairy free spinach pie is a great way to get in your greens!
Ingredients
1

Cup

blanched almonds

soaked overnight

1

Whole

clove garlic

peeled

1

tbsp

nutritional yeast

1

tbsp

fresh lemon juice

1/2

cup

water + additional water, as needed

1

tsp

salt

1

box

13 x 18" phyllo dough sheets

defrosted overnight in the refrigerator

2

tbsp

flaxseed meal 

1/4

cup

water

1

tbsp

olive oil + ½ cup for brushing or spraying the phyllo dough

see Instructions

1/2

yellow onion

finely diced

1

tsp

salt

2

cloves garlic

minced

16

oz

fresh spinach

1

bunch

fresh parsley

washed and chopped

2

tbsp

fresh dill

minced

fresh ground pepper

to taste
Instructions
[Do this the night before making this recipe] Add the almonds to a large glass bowl and add water. You'll want at least 2-3 inches of water above the top of the almonds. Cover the bowl with a clean dish towel and leave the almonds on the counter to soak overnight.

[Do this the night before making this recipe] Remove the phyllo dough from the freezer and defrost it in the refrigerator overnight.

[Two hours before making this recipe] Remove the phyllo dough from the refrigerator and bring it to room temperature. Do not open the box. 

Preheat the oven to 375º.

Drain and rinse the blanched almonds. Then add the almonds, ½ cup of water, 1 garlic clove, nutritional yeast, fresh lemon juice and 1 tsp salt to a high-speed blender. Blend until no whole pieces of almonds remain. The almond feta cheese can be fully pureed, but it will be slightly grainy. If necessary, add more water to the blender to achieve this consistency. Set aside.

Make the flaxseed eggs by combining the flaxseed meal with ¼ cup of water. Stir to combine and set aside.

Add 1 tbsp olive oil to a large, deep-sided skillet. Heat on medium-low until the olive oil is shimmering. Add the onions and 1 tsp salt and sauté until the onions are golden brown. About 12-15 minutes.

Add the minced garlic and continue sautéing for 1-2 minutes.

Add the fresh spinach and continue sautéing on medium-low heat until the spinach is fully wilted. Remove the spinach mixture from the skillet and add the spinach to a strainer. Drain all of the excess liquid by pressing the spinach in the strainer.

Combine the spinach mixture, flaxseed eggs, parsley, dill and the almond feta in a large bowl. Add a few twists of fresh ground pepper and mix thoroughly.

Lightly oil a large 9x13 baking dish. You can do this by brushing olive oil on the dish, but I prefer to use a non-aerosol oil dispenser.

Gently unroll the sheets of phyllo dough and lay two sheets in the baking dish. The sheets will come up the sides of the dish and hang slightly over the edge of the dish. Cover the unused phyllo dough with a damp towel.

Brush or spray the sheets lightly with olive oil. Then add two more sheets. Brush or spray those sheets with olive oil, continuing until the bottom of the baking dish has 12 sheets of phyllo dough.

Add the spinach and feta cheese mixture.

Continue to layer 6 more sheets of phyllo dough on top of the spinach and feta mixture using the method described above. Gently gather the edges of the sheets along the sides of the baking pan to form a crust. Make sure that the crust is thoroughly brushed or sprayed with olive oil.

Bake the spinach pie in the oven on the middle rack for 20-25 minutes. Check the spinach pie frequently. The upper crust should be golden brown.

Remove the spinach pie from the oven and allow to cool for 10 minutes. Serve with a simple side salad featuring a tart dressing.
About Herbivore's Kitchen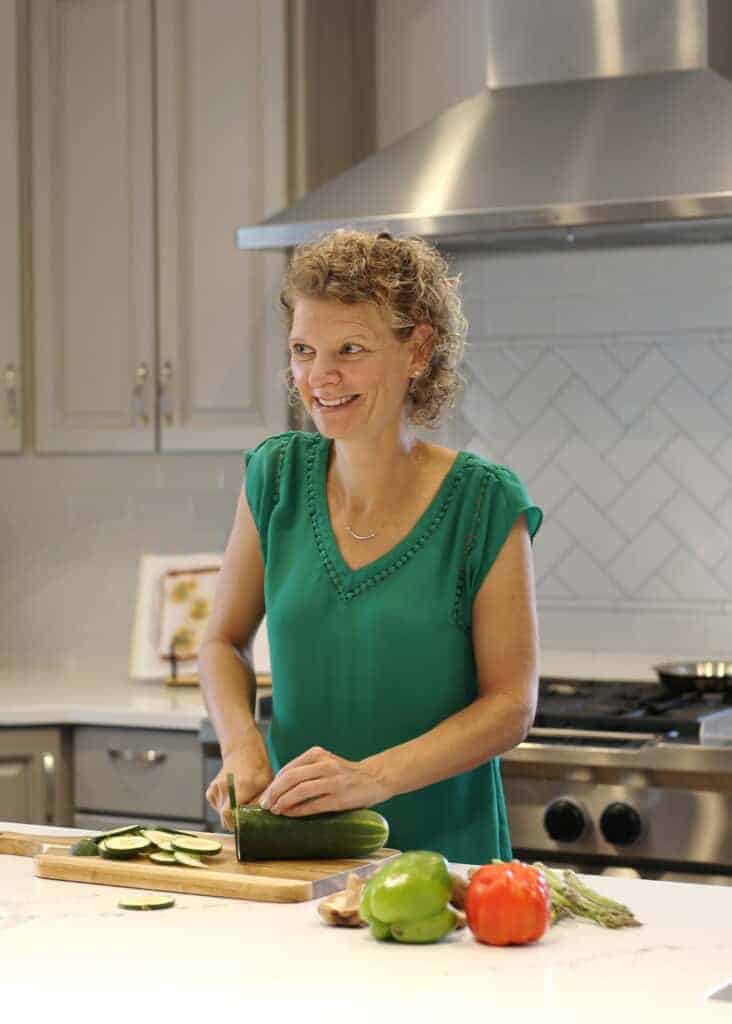 Herbivore's Kitchen is a plant-based food blog started by me, a vegan home chef, cookbook author, aspiring food photographer and how-to-be-a-better-food-blogger junkie. You'll mostly find creative and tasty vegan recipes and detailed deep dives into vegan ingredients (check out my Vegucation section) on my blog. I love knowing as much as I can about the food that I make. I'm also really into running a food blog as a business, so I've also got a section of my blog titled: Confessions of a Food Blogger where I get into the nitty gritty on how to build, manage, market and monetize a food blog.